I often get asked through the blog what are the best places to stay in Crete. At least once a week I receive an e-mail asking me which is the best place to stay! This is a query that comes up early, during the planning stage, and it needs to be decided soon to move on with your planning. In this article, I'll break down the answer by interest, as well as by region.
---
This site contains affiliate links to products and services. I may receive a commission for purchases made through these links.
---
Where to Stay in Crete According to Your Interests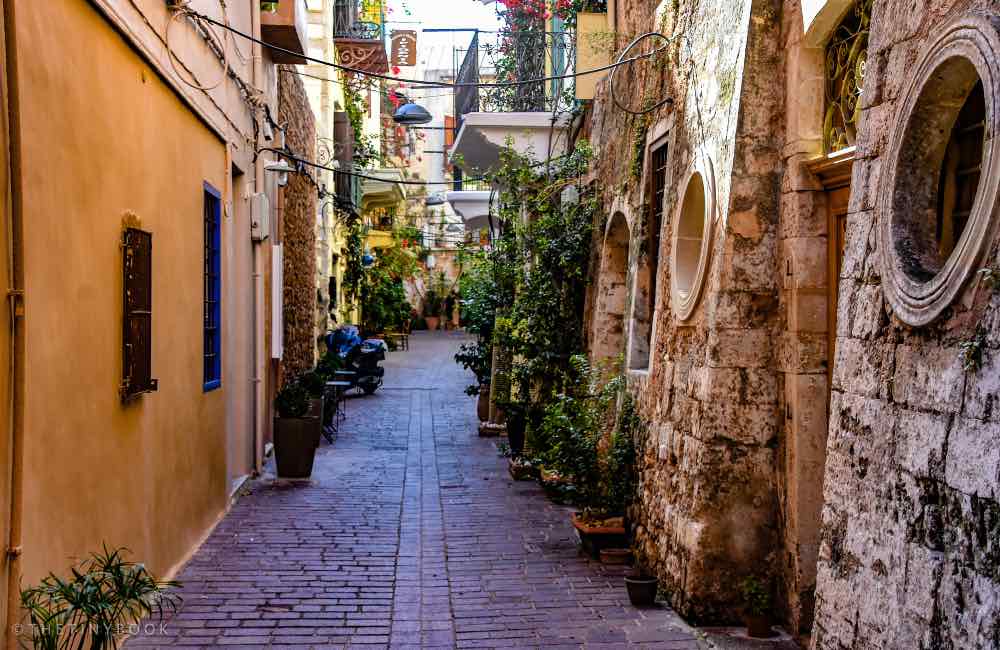 With this (incredibly long, I know!) article, you'll realize it's hard to choose where to stay on Crete without missing something. The island is big and you must juggle different interests to reach a balance.
Besides, not all travelers are equal! Some love to drive and explore, others drive all year round and don't want to hear about being behind the wheel on their holidays. Whatever your style is, a holiday should be about having a good time.
Therefore, in this guide, I will first discuss the best places to stay according to different interests. You can combine many places in one itinerary, or just go for one area at a time.
Then, I will explain the main characteristics of each region. To end with the example of an itinerary that covers a bit of everything. It was my first road trip in Crete.
Best Places to Stay in Crete for Beaches
There are also great shores in the south of Chania, and a stay in Paleochora is good to visit the coasts of Loutro, Glyka Nera, and Marmara, as well as Paleochora itself. You can also read my Airbnb guide to Chania.
Near Malia, the most popular resort on the northern coast of Heraklion is Hersonissos. To enjoy this area, Stalida is a good village where to stay. For more information, head to this hotel guide for Heraklion.
For the southern beaches of the East, a stay in Ierapetra allows you to discover the coast of Xerocampos and Chrissi island. If you are also into naturism, check them both.
Family Holidays: Convenient Places to Stay in Crete with Kids
What do families need when they're on holiday? Kids having a good time! For me, that equals kid-friendly beaches together with fun and engaging activities.
Add basic services (such as supermarkets, pharmacies & doctors). For some families, it's also important to have outdoor and cultural activities.
Add to that some basic services (such as supermarkets, pharmacies & doctors), likewise, for some families it's also important to experience outdoor and cultural activities good for all the family.
Chania for families
Chania is great for kids that love the beach. There're kid-friendly shores in the Akrotiri Peninsula, such as Stavros, Tersanas, and Kalathas. You can stay in any of these villages since they're very close to Chania.
If you want to take a day trip to kid-friendly beaches, head south for Frangokastello or Paleochora, where you can also stay.
Among the cultural activities, kids love both the Archaeological Museum of Chania as well as the Maritime Museum. The Archaeological Site of Aptera is a great cultural visit while the gorges of Theriso and Imbros are fairly close too.
Rethymnon for Families
Rethymnon is a good option for families. In the region, I recommend the towns of Pigianos Kampos or Adelianos Kampos with enough things to do at night without needing to go to the city.
Rethymnon is a good option for families. In the region, I recommend staying in the towns of Pigianos Kampos or Adelianos Kampos. Both offer enough things to do, also at night, without needing to go to the center of Rethymnon.
In the old town, kids love to explore the Fortezza and the old port. Day trips in Rethymnon for kids include the Archaeological Site of Aptera, exciting experience for little explorers. Young adventurers will enjoy Crete's nature in Patsos gorge, quite kid-friendly.
Heraklion for Families
The capital offers dozens of things for children, however, you will definitely need a car to go to the beach. The best places to stay for safe beaches in Heraklion are Ligaria and Stalida.
The capital offers dozens of things to do for children, including aquatic and thematic parks. However, you will definitely need a car to go to the beach and visit those attractions. The best places to stay for safe beaches in Heraklion are Ligaria and Stalida.
As far as things to do, first and foremost, no kid wants to miss the Minoan Palace of Knossos. Better if combined with a visit to the Archaeological Museum. A stay in the city is also comfortable to see the Natural History Museum, Labyrinth Park, Dinosauria, and the Cretaquarium.
Lasithi for Families
My two favorite places in the region of Lasithi for children are Agios Nikolaos and Ierapetra, both cities are fairly big to have enough things to do, without being overwhelmingly big. Close to Agios Nikolaos, the beaches of Sissi, Almyros, and Voulisma are perfect for kids, protected from the winds, and really safe.
Kids love to explore places such as Richtis gorge or the Lasithi Plateau to visit Zeus Cave. Both great opportunities to learn about Crete's nature and Greek myths.
In Ierapetra, instead, choose the beaches of Makrigialos and Myrtos, or take a boat to Chrissi. Children go crazy when they hear it's a desert island, and the trip is an authentic adventure.
Best Places to Stay in Crete for Nightlife
Things to do at night vary greatly according to your age and the style of nightlife you prefer. Platanias in Chania or Hersonissos and Malia in Heraklion. These are the places to be if you're into clubbing.
However, despite being the island so big, discos are not really a thing in Crete. If that's your style, you'll be better in Mykonos, Ios, or other Cycladic islands.
Nightclubs and music bars in Crete
Chania: Peacock Tail Bar, Chania Irish Pub Conor Pass, Kibar: The Monastery of Karolos, Sinagogi Bar (the last two are my favorite in Chania!).
Platanias: Eyes Live Lounge, Dielefsis Scandinavian DJ Bar.
Agia Marina: Level Cocktail Bar, Oki Bar.
Heraklion: Jailhouse
Hersonissos: New York Beach, Enigma Nightlife, Matrix, Club Sensation, Mojo Bar, Nostos Irish Bar, Palm Beach Club, Y.O.L.O (gay bar), Cameo.
Malia: Hideout, Zigzag, Apollo, Squeeze Bar, Help Bar.
Stalis: Slainte Irish Bar.
Agia Pelagia: Nefeli.
Elounda: SixtySix Shisha Cocktail Bar.
Sissi: The Jolly Roger, Peggy Gordon's Irish Bar.
Lounge bars, speak-easy, pubs
Nightlife for young adults in Crete is usually quite relaxed. People meet for a drink in lounge bars where decibels actually allow to have a conversation. Check the on the waterfront of Chania's Old Town, and the center of Heraklion.
In Agios Nikolaos, choose the bars close to the port and on the pedestrian road. There are also pubs in the Old Town of Rethymnon.
For many, night entertainment is about a good dinner. Or a traditional Greek night with live Cretan music. There are plenty of options like this all over Crete. You just need to ask around.
Best Places to Stay on Crete for Outdoor Adventures
Crete is fantastic if you're into sports and adventure. The offer of activities keeps growing as seasons go by. You can explore canyons and gorges or choose, go horseback riding, and face more extreme experiences, climbing the high peaks of our mountains.
Gorges & Mountains
Chania Region
The mother of all hikes is the impressive Samaria gorge. Thousands visit it every year to walk 5-7 hours (13 km + extra) to go from the north to the south of Crete. You can do it on your own or with an organized tour. But that's not the only one!
There are gorge hikes that take less time and effort. Agia Irini and Imbros (both about 3-hour walk) or Topolia (less than 2 hours) are just a few. The best area for adventures is Sfakia (where you can also do bungee jumping).
Rethymnon Region
If you choose to stay in Rethymnon, you can explore the gorge of Kourtaliotiko (3-hour hike), which ends in the amazing Preveli Beach.
Patsos Gorge is an easy walk, the gorge is green and there are refreshing water sources all around. Patsos is close to the Amari Valley and the stunning views of the Psiloritis, Crete's highest pick which many tourists climb.
Heraklion Region
In Heraklion, Rouvas Gorge is lush and green, with plenty of water along the way. Another magnificent gorge in Heraklion is Agiofarago, (the hike is shorter than an hour). This is my favorite because of the stunning solitary beach at the end of the walk.
In Heraklion, Rouvas Gorge is lush and green, with plenty of water along the way. Another magnificent gorge in Heraklion is Agiofarago, (the hike is shorter than an hour).
Agiofarago is one of my favorite hikes on the island because of the stunning solitary beach at the end of the walk.
Lasithi Region
Lasithi has the spectacular Valley of the Dead (Zakros), also ending in a fantastic beach. My favorite is the small Richtis gorge because of the pretty waterfall you encounter on the trail.
Lasithi has the spectacular Valley of the Dead (Zakros), also ending in a fantastic beach, solitary and completely off the beaten track.
My favorite hike in Lasithi is the simple but beautiful Richtis gorge. During our walks along the gorge, a few months ago, we managed to pick and eat wild berries as well as grapes! Besides, at the end of the gorge, you're rewarded with a refreshing beach and a magnificent waterfall.
Watersports in Crete
Windsurfing and motor-ski are popular in Falassarna. In Elafonisi, you can practice canoe and kitesurf. In the last couple of years, SUP (stand-up paddle) is growing everywhere, and there're endless places where to do it. I can recommend Marathi beach (Chania) as well as Agia Pelagia (Heraklion).
For scuba diving choose Plakias Beach in Rethymnon, Chelidoni Beach in Heraklion, and Georgiopouli in Chania. Also in Chania, there are scuba diving trips to explore Elephants Cave in Apokoronas.
Water sports are also popular in Kouremenos Beach (Lasithi). In some locations, you can also hire boats without the need for a sailing license.
Best Traditional Villages to Stay in Crete
Cretan mountain villages offer relaxation far from the cities, the noise, and the crowds. Besides, the mountains are a haven to get away from high temperatures.
For Couples: Romantic Places to Stay in Crete
A land made of dreamy landscapes, Crete is an awesome destination for a romantic holiday. There are several places that have become a traditional destination for a honeymoon in Crete. These are some of them.
Elounda
Definitely one of Crete's most romantic landscapes is Elounda, on the Gulf of Mirabello, in Lasith. A walk by the seaside, barefoot, and at sunset is as inspiring as it can get in this area of Crete.
In Elounda, many luxurious hotels offer a unique romantic experience for couples, including private shores, in-room pools and jacuzzis with a view, candle-lit dinners overlooking the sea, and wellness treatments for couples.
Go for an adult-only dreamy hotel facing the sea to experience the best honeymoon ever. This is the place I recommend for a much-awaited romantic escape, and it's TRULY AWESOME! (Aren't those capitals big enough??!!)
Elafonisi
I know I've talked about this beach a lot TBH. That's because Elafonisi is also one of the most romantic corners of Crete. It can be isolated and wild in May or October, ideal for a romantic walk by the sea. Why not trying a dreamy self-made picnic on the sand after sunset?
I've talked about this beach a lot TBH, I know! That's because Elafonisi is also one of the most romantic corners of Crete. It can be isolated and wild in May or October, ideal for a romantic walk by the sea. Want an idea? Why not trying a dreamy self-made picnic on the sand after sunset?
You can create beautiful and unique memories with your significant other. If you're an adventurous couple, hike to reach Kedrodasos, another — even more isolated — shore, for romantic swims and some alone-time soaking under the Cretan sun.
The Old Towns of Crete
What can be more romantic than walking, hand in hand, along the old Venetian ports of Chania or Rethymnon?
Nothing beats the magnificent sunset hour in Chania's Old Town when the skies are red behind the lighthouse, and all the harbor turns warm and pink.
Choose a boutique hotel in Chania or in the Old Town of Rethymnon. Some of them have rooftop jacuzzis, in-suite hammams, and super restoring spa treatments, a real must after the hassle of organizing a wedding.
Get lost in the old alleys with bougainvillea adorning the gardens and the balconies, and treat yourselves to a romantic dinner by the sea.
Day Trip to Santorini
Yes, Santorini is not Crete, and yes, a day trip usually implies missing Santorini's romantic sunset. However, a day trip to Santorini can be a superb romantic escape if you're on a budget and cannot afford a whole week or a honeymoon in Santorini.
Several companies sell one-day trips to Santorini from Crete, and some of these packages are real value for money.
Some of them depart from Agios Nikolaos (comfortable if you're staying in Elounda) or from Heraklion. There are also departures from the port of Rethymnon.
Other tours include the transfer to Rethymno's port from Chania.
Still, if your budget limits you a bit, you can easily book a ferry ticket from Heraklion (in Summer, also from Rethymnon), and enjoy your self-made romantic Santorini escape.
From April until late September, both Minoan Lines and Sea Jet Ferries have daily departures from Heraklion.
Sea Jet also departs from Rethymnon as of April 18th, 2020, on Tuesdays and Saturdays. You can also contact a ferry ticket company to take care of all your ferry tickets in Greece.
Best Places to Stay in Crete for History & Culture
Known as the cradle of western civilization, it's nothing short of logic that the island is a brilliant place to visit if you love history.
Crete's complex past spans over 7000 thousand years or more, shifting between times of hardship and prosperity. Therefore, you'll find fantastic museums, archaeological sites, monasteries, and ruins in every corner of the island, both on the land and under the sea!
Since the most famous of these sites and museums are in the region of Heraklion, it's logical that you will read suggestions claiming that it's Heraklion the region to stay if you love history. However, there are many other remarkable places to visit in Crete if you love history. And not all of them are in Heraklion!
Let's now see the highlights of Crete's historical sites, museums, and more.
Archaeological Sites and Ruins
The four Minoan palaces
Other than several stunning archaeological sites, here are four different Minoan palaces that have come to the light on Crete. Three of them are located in Heraklion, and they are the Minoan Palaces of Knossos and Malia, on the northern area of the region, and the Minoan Palace of Festos, close to the coastal town of Matala. The fourth palace is the Minoan Palace of Zakros, in the Lasithi region.
Other archaeological sites
Several are the ancient ruins and sites you can explore in the region of Chania. Close to the port of Souda, up above a hill, the imposing site of Ancient Aptera dominates the entrance of the bay of Souda.
If you're staying in Chania town, check the different remains of the ancient city of Kydonia in different corners of the city. Instead, if your stay is in Kissamos, you can't miss the ruins of Ancient Phalassarna as well as the remains of Ancient Polyrrenia.
In Rethymnon, it's possible to visit the imposing Ancient Eleftherna, described in this Rethymnon post, not far from the area of Arkadi Monastery, but also the Ancient Minoan Necropolis of Armenoi. Another important rest of Crete's ancient past is the Ancient City of Lappa, which you can explore in modern Argyroupoli.
Lasithi is rich in archaeological sites to visit. On the extreme coast, close to Vai beach, the Ancient Mycenean Site of Itanos is one of the many examples. Lato, instead, is an archaeological site located close to Agios Nikolaos, and it's one of the best-preserved ruins on the island.
Those interested in an even more curious archaeological site should pay a visit to the sunken Minoan city of Olous, not far from the resort of Elounda. Also in Lasithi, the important archaeological site of Gournias and its port are a clear example of Crete's important maritime past.
Religious Centers (Monasteries, Churches, Mosques & More)
The island of Crete is home to impressive monasteries, beautiful cathedrals, and lonely chapels in very inaccessible areas, either in the mountains or by the beaches of the south.
There are also several mosques, a testimony of the Ottoman occupation, as well as the last remaining synagogue of Crete, in Chania. Here are some of the religious buildings worth seeing in Crete.
Chania
My two favorite monasteries to visit in Chania are Agia Triada Tzagarolon and Gouverneto Monastery, both in the Akrotiri Peninsula. In the same area, it's possible to visit the virtually unknown Korakies nunnery.
Closer to the sea, the beautiful Chrysoskalitisa Monastery dominates the landscape above the Libyan sea. You can read about it here. In the old town, instead, check the magnificent churches, the few remaining mosques, and minarets, as well as the last synagogue on Crete, dating from the 15th century.
Rethymnon
The two most important monasteries in the area of Rethymnon, are key not only to the history of the island but also of Crete. They played a decisive role to free Crete from the Turkish occupation. Arkadi Monastery is a few minutes from the center of Rethymnon, while Preveli is on the southern coast of the region.
In the center of the city, you can also visit some unique churches as well as several mosques, one of them inside the magnificent Fortress of Rethymnon.
Heraklion
There are beautiful churches to visit in the center of the capital, such as Crete's most important cathedral, Agios Titos, and the curious building that hosts the church of Agios Minas in the center of town. These churches are described in this article.
However, my favorite churches in this region are not as famous. The first of them is the old Byzantine church of the Panagia, in the little village of Fodele. The second, Savvathiana Monastery is high above the mountain village of Rogdia. It's a fortified monastery badly damaged by the Turks during the period of the Turkish domination on the island.
Lasithi
There are unique religious buildings located all over Lasithi. Here you can read about the most beautiful ones in Agios Nikolaos and the surrounding areas.
The most famous and important monastery in Lasithi is Moni Toplou, close to the beach of Vai and the important center of Sitia. The impressive building is in a remote, solitary location, and it's currently one of Crete's best producers of wine and olive oil.
Closer to the Katharo Plateau, a few minutes from Agios Nikolaos, you can pay a visit to Panagia Kera, one of Crete's most important Byzantine churches and its remarkable frescoes.
Museums and Landmarks
The same as the archaeological sites to visit on the island are endless, there is no lack of museums and important monuments and constructions to visit on Crete. Here I list the top five places you can visit in each of the regions.
Best Places to Stay in Crete Region by Region
When we talk about Crete we must discuss long distances, besides, there's plenty to do in every region, and it's logic that with so much to see, you might want to see it all. So you might be wondering which is the best region to stay to experience the most.
Another thing you should consider during your planning stage is where you're arriving. There are two main airports receiving international flights, Chania (West Crete) and Heraklion (center of the island). Since it's not so important, we won't discuss arriving at the airport in Sitia.
Both Chania and Heraklion have ports receiving ferries coming from mainland Greece and cruise ships. Take into account as well, that some ferries dock in Rethymnon on some days during the summer.
We just saw above what region fits you best according to your interests, but let's now discuss, on a generic basis, the different regions of Crete. Each region has a map that includes the highlights of each area.
Best Places to Stay in Chania
Despite being only the second region in importance on Crete, when it comes to holidays, Chania is one of the most popular places to stay on the island.
Chania is, in fact, a great area to stay in Crete. It has great beaches and is home to the White Mountains, ideal if you are into outdoor adventures. There're are beautiful monasteries, archaeological sites, a picturesque old town, and a busy night scenario.
There are 7 municipalities in Chania (Chania, Platanias, Apokoronas, Kissamos, Sfakia, Kantanos-Selino, and Gavdos).
Highlights in the Region of Chania
Best Places to Stay in Rethymnon
Rethymnon sees a lot of activity during the high season. It's an area with beautiful beaches, especially in the south. There are some unique mountain villages and a wonderful landscape.
And if all those reasons weren't enough, many people stay in Rethymnon as a compromise region, halfway from Chania and Heraklion.
There are 5 municipalities: Rethymno, Mylopotamos, Amari, Anogeia, and Agios Vasileios (South coast).
Highlights in the Region of Rethymnon
Best Places to Stay in Heraklion
Heraklion is Crete's capital and the most populated area. Likewise, most of the flights arriving in Crete land in Heraklion, so there's a chance that you'll go through the city during your trip.
Moreover, Heraklion hosts Crete's most important archaeological site, Knossos, attracting visitors all year round. Everyone makes a point to visit Knossos, and you probably will too.
On the North coast, Hersonissos and Malia, are important vacation resorts with all-inclusive structures, a must if youìre into package holidays.
There are 8 municipalities in Heraklion where you can book a stay, Heraklion, Hersonissos, Viannos, Malevizi, Minoa Pediada, Gortyna, Festos, and Archanes-Asterousia.
Highlights in the Region of Heraklion
Best Places to Stay in Lasithi
One of my favorite regions for holidays in Crete is Lasithi, in the extreme East of Crete. It's a fairly small region, but there's plenty to do and see in the area.
Starting from the lively town of Agios Nikolaos, the capital of the region, but also including unique coastal villages, mountain settlements, great beaches, and magnificent natural scenarios.
The region of Lasithi is divided into 4 different municipalities, three of them home of stunning beaches you will definitely love. They are Agios Nikolaos, Ierapetra, Sitia, and Lasithi Plateau.
Highlights in the Region of Lasithi
What Kind of Accommodation to Book in Crete
Crete is an island with a wide variety of choices when it comes to accommodation. Suiting every need, every style, and — most importantly — every pocket.
---
You might also want to read:
---