The island of Crete has three airports, a small one in Sitia, an international airport in Chania, and Crete's main airport in Heraklion. Many people fly into Heraklion from other European cities, while many travelers coming from Athens also land in Crete's capital. If you're one of them, this article will show you how to get from Heraklion to Chania.
---
This site contains affiliate links to products and services. I may receive a commission for purchases made through these links.
---
How to Get from Heraklion to Chania, in Crete
Whether you plane lands in Heraklion or your ferry docks in Crete's capital main port, you can easily reach Chania with any of the following methods described below.
Being both cities on the northern coast of the island, the trip is pretty straightforward, no matter what travel method you choose.
Let's see now how to get from Heraklion to Chania and all the transport options you have.
Arriving at Heraklion
Nikos Kazantzakis International Airport is located under 10 minutes away from the center of Heraklion (about 6 km), while the Ferry Port of Heraklion is about 5 minutes from the center of town.
Many tourists landing in Heraklion choose to spend their holidays in Chania, a region home to some of Crete's best beaches.
While Heraklion is in the center of the island, Chania is located to the west, about 140 kilometers from the airport of Heraklion.
The most important road on Crete, the National Road, runs along the north coast, connecting the easternmost city of Sitia, to the western city of Kissamos.
No matter what transport method you choose, this is the road you need to take so as to reach Chania from Heraklion.
And the length of the trip will mostly depend on how you decide to get there. These are your options:
Before You Make Up Your Mind…
Depending on your budget, but also on your travel style and likes, you can get to Chania from Heraklion either with public transport or with a private car.
Taxis are probably the most expensive way to get there while renting your own car can prove a cost-effective solution since it will also let you explore the rest of Crete at your own pace and without trusting on buses and schedules.
Bear in mind, that bus travel is really easy when it comes to reaching cities and villages on the north coast of the island while getting to popular places in the south, such as Elafonisi, Loutro, Preveli, Matala, Ierapetra, or Plakias can be more difficult.
Oftentimes there are no buses connecting smaller villages, and a car becomes indispensable unless you have an unlimited budget to spend on taxis.
When it comes to buses, remember that services don't often run very late at night or very early in the morning, so don't forget to plan accordingly and always check this website for further accurate information.
How to Get from Heraklion to Chania by Bus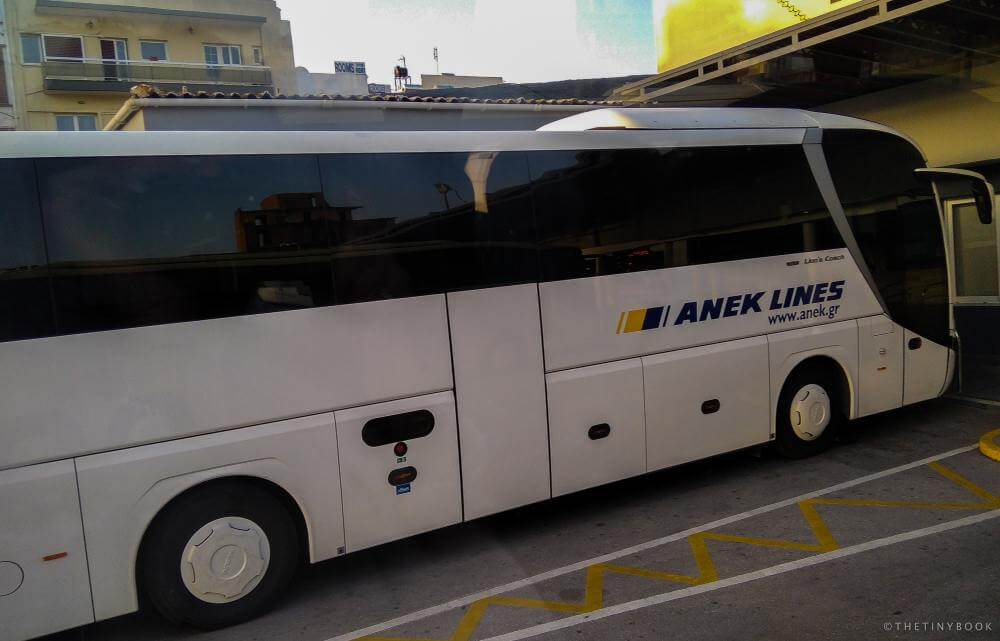 One of the most cost-effective ways to get to Chania from Heraklion is to get the bus. It leaves hourly from Heraklion's Central Bus A (New building – Efesou Street).
The station is just a few meters from the port.
The bus connecting the Airport of Heraklion with the Central Bus Station leaves you right behind the Station. It's a frequent, convenient service (the bus has ample space for luggage), and the ticket is under €2.
Once there, head to Heraklion's Bus Station ticket office to purchase your ticket to Chania.
There are buses covering the Heraklion-Chania route every hour, this frequency can increase during the high season, depending on the demand.
The service is reliable and quite affordable.
A ticket Heraklion-Chania is €15.10 one way. Buses usually depart on the hour, and always keep your ticket with you during the whole trip since ticket controls on the bus are not rare.
Buses from Heraklion to Chania leave every hour, starting from 5.30 in the morning.
The last bus departs every night at 9 pm. According to the official website, the trip is 2 hours and 45 minutes, however, it can be up to 3 hours with heavy traffic (sometimes even more, especially in summer).
The bus makes a few stops along the way, being the city of Rethymnon the most important one.
During the stop, you're not allowed to leave the bus for long (always ask the driver first if you need to get off the bus).
Those traveling with plenty of time and a flexible schedule can easily stop in Rethymnon for an afternoon or a couple of days, and then continue their trip to Chania.
Always check with the controller on the bus or at Heraklion's Bust Station (before your departure) whether your ticket will still be valid or if you need to buy a new one.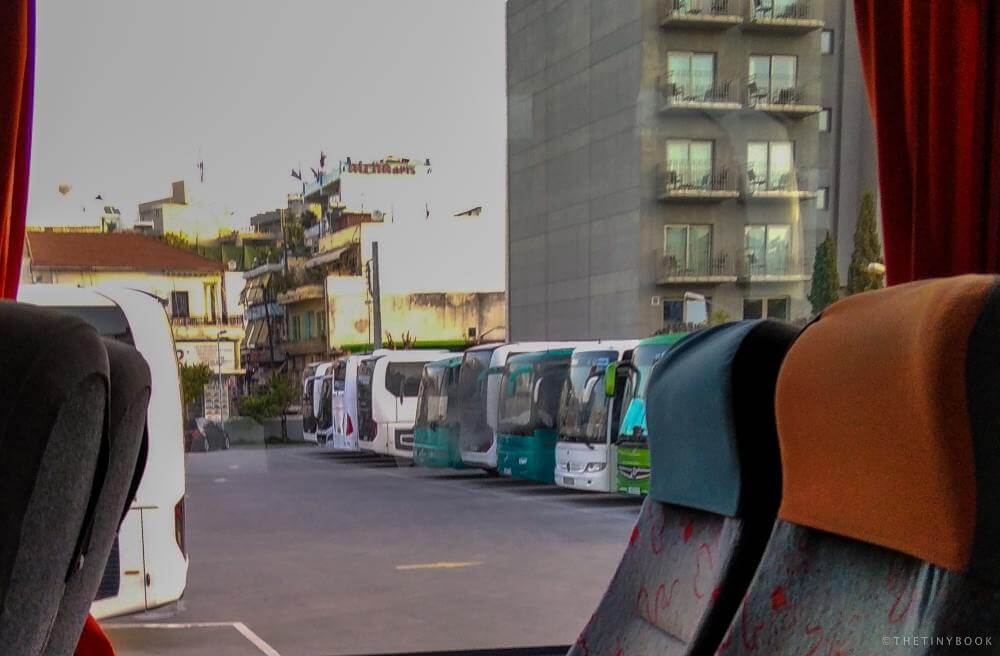 Traveling with a pet: Traveling by bus with your pet, according to the official website of the bus company, the itineraries on which two escort animals are accepted within the passengers' area are the ones departing at 5:30, 09:30, 11:30, 14:30, 17:30, and 21:30.
Luggage restrictions: Passenger luggage must be placed in the luggage compartment of the bus. Each passenger can carry 2 pieces of luggage for free.
There is an extra charge for every extra piece of luggage. Small pieces (hand luggage, backpacks, etc.) can be taken on the bus but must be placed in the special luggage racks inside the bus.
WiFi: All buses offer a free wi-fi network service, powered by external GSM antennas and advanced free wi-fi routers.
There is free wi-fi access inside the bus stations as well.
Discounts: Discounted rates are available for students, families with more than 3 children get a 50% discount on all routes.
People with disabilities have the same discount. Infants until 6 years old travel free of charge. Credit cards and debit cards are accepted to pay for all tickets.
Refunds: In case you pay a ticket and you don't travel, the company gives the passenger a 70% refund of the ticket price or a refund of 50% in case of a cancellation within 8 hours before departure time.
More info: Information for passengers is available daily from early morning to late at night on the phone at 2810-246530.
You can also call to learn about the timetable by calling this number 2810-245020 with an answering machine 24 hours a day.
Check ferry tickets to Greece here!
>> Bus schedules are published on this website <<
How to Get from Heraklion to Chania by Taxi
It's also possible to reach Chania from Heraklion by taxi. You can take a taxi at the Airport of Heraklion or at the Port of Heraklion.
The 140-km trip can take about 2 hours (always depending on the traffic and the season), and the ride can cost anything from 180 to 200 euros.
It is always advisable to discuss and agree on the price with the driver before you get into the taxi.
Taxis are a good way to get to Chania if you arrive late at night, when there's no bus service available, or when sharing the cost with other travelers.
Remember that it's not odd for taxi drivers to charge an extra fee for night rides.
How to Get from Heraklion to Chania with a Private
Pre-Booked Transfer
Pre-booked transfers are always more convenient than taxis since you can arrange the price beforehand and book online before your trip.
A driver will be waiting for you at the port or at the airport and will take care of your luggage.
Since everything will be arranged before the trip, you won't need to bargain for the price.
Prices can go from €150 to €180 depending on the company and the number of passengers.
Please check before hiring the service since the number of passengers inside a car might vary this season due to Covid-19 restrictions. If you want to save a few euros, check this service, it's really convenient.
For your own peace of mind, it's also a good idea to book the return trip in case you're flying out of Crete also from Heraklion Airport.
How to Get from Heraklion to Chania by Car
Hiring a car is probably the best way to get from Heraklion to Chania. Driving will allow you to stop all the times you want, and to reach Chania at your own pace.
I've written a complete guide with tips and suggestions about car rental and driving in Crete. Don't forget to check it before making up your mind.
Driving from Heraklion to Chania is quite straightforward too. You will be driving along the National Road for about 2 hours.
And of course, you can make a stop not only in Rethymnon but at any other village you find on the way.
A note on fuel: Most gas stations close at 7 pm but there are some others that usually stay open much later, especially the ones located on the highway.
Ask the locals for information.
Some stations accept credit cards but it's always a wise idea to have some cash with you, just in case. There's no self-service option in Crete, the staff will fill your vehicle and you will pay either him or inside the shop.
Remember: Unfortunately, you cannot buy fuel with your credit card automatically once the station is closed.
Experts say that…
Lead-free petrol can be found everywhere.
Regular unleaded petrol has an octane rating of 91 or 92 while the octane rating of super is 96 or 98.
Unleaded super petrol has an octane rating of 95.
---
How are you planning to get from Heraklion to Chania this season?
Let me know in the comments below!
---
Travel Plans for Crete?
More Resources to Organize Your Trip!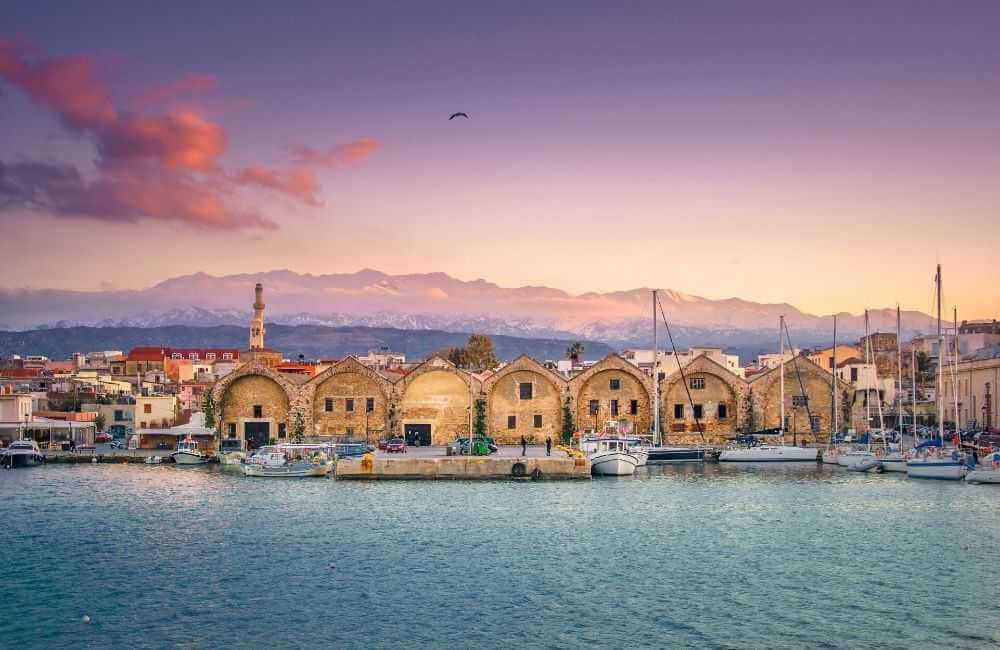 Start by heading right to my tips to plan a trip to Crete for in-depth details you need to know about Greece. You can also check my post to better know what to pack for a trip to the island or read this info to visit Crete with children!
Get in touch if you need extra help to plan your trip. If you want to tour West Crete, check my guide. Want more? Join my Private Facebook Group to connect with like-minded travelers who love Crete as much as you do!
Make Sure You've Got Everything For a Hassle-Free Vacation!
I never move around the islands without my Osprey backpack, a sturdy but light travel partner I just love. For short trips, I carry this little crossbody bag. If I drive, I pack my Nikon D7200 and a good travel guide: Lonely Planet's Best of Greece & the Greek Islands.
When it comes to plane tickets, compare prices with a powerful search engine. However, nothing beats traveling by sea in Greece. With Ferry Hopper, you can book in advance at the lowest price.
For accommodation, I use Booking.com. Traveling to remote places is easier with Discover Cars. Other times, I join organized tours with GetYourGuide, which features anything from cooking lessons to airport transfer!
Are you coming to Crete any time soon?
Get in touch and let me know!
Read more:
Gorgeous Villages in Crete You Should Visit
51 Great Things to Do in Chania (Region) for an Unforgettable Holiday
Falassarna Beach, Crete: Complete Insider's Guide
Safest Beaches for Children in Crete: Insider's Guide
Great Guide to Visit the Beautiful Botanical Park of Crete
This Belongs to a Board! Pin This Guide to Remember How to Get from Heraklion to Chania For Your Crete Adventures!
About the author of this blog: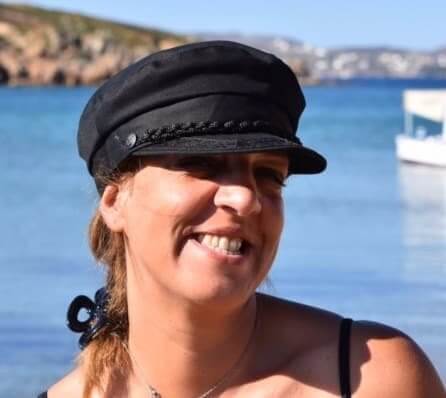 Gabi has been living in Crete for the last five years. Here, she juggles being a solo mom, hosting culinary tours in the summer, translating, and working as a tech advisor.
She's written for Greek Reporter, published two travel guides about Greece, and had more glasses of frappe than any regular person would be able to handle.
---
You might also want to read:
---