Crete is one of the biggest islands in the Mediterranean and the largest island in Greece. It's a palette of stunning colors, pink sand beaches, turquoise seas, brown mountains, and green olive groves. A land with an ideal climate all year round and incredible natural wonders. And also cradle of one of the healthiest diets in the world, the Cretan diet. All of these put Crete at the center of touristic interest making it a popular Greek island for vacations. Whether it's your first time or not, check this ultimate guide with practical Crete travel tips to plan your trip!
---
Disclaimer: Posts include affiliate links to products or services. I might earn a commission if you make a purchase, at no extra cost to you.
---
Crete Travel Tips
General Information about the Island of Crete
Let's Start by Getting Ready for Crete!
RESOURCES TO BOOK YOUR TRIP:
Book your flight: I use Skyscanner to compare prices before booking a plane ticket.
Book your ferry: When ferries are more convenient than air travel, I use Ferryhopper.
Book your accommodation: I've tried many different platforms for accommodation, but none of them beats the advantages of Booking.com.
Book your car: The best way to find an affordable car to rent is to use a powerful search engine that compares all the rental companies in the market. I use Discover Cars.
Book your tours: Live unforgettable adventures and cultural experiences with Get Your Guide. For instance, you can Visit Elafonisi, discover Balos Beach, hike Samaria, or explore Knossos.
Don't forget travel insurance: Things can go wrong at times, but travel insurance will protect you against illness, injury, theft, and cancellations. I recommend Safety Wing for peace of mind.
Where is Crete: Location and General Traits
Crete is a very large island and it can take years to discover it. It's, in fact, the largest Greek island and stands in the southernmost area of the country. It's located closer to North Africa than to the capital of Greece, Athens.
Crete is at the crossroads of three continents: Europe, Asia, and Africa, so the connections with Middle Eastern traditions are not minor.
Right in the center of the Mediterranean, Crete has a rich history. It has been inhabited since ancient times and it has been occupied by diverse civilizations during the centuries, among the most prominent ones stand the Venetians (1212- 1669) and the Ottoman occupation (1671-1898).
Every civilization that ruled on the island left a strong heritage that shaped Crete's present identity.
Crete is known as the cradle of civilization, but it's also a land of invaders, foreign occupants, and pirates. Crete has an identity of its own.
A quick guide to the best hotels in Crete
Budget: So Young Hostel in Heraklio, Cocoon City Hostel in Chania, Matthias Hotel Apartments in Rethymnon, and Villa Galini in Agios Nikolaos.
Mid-range: Capsis Astoria Heraklion in Heraklion, Porto Antico in Chania, Archipelagos Hotel in Rethymnon, or Hotel Port 7 in Agios Nikolaos.
Luxury: Galaxy Iraklio Hotel in Heraklion, Hotel OFF in Chania, Avli Lounge in Rethymnon, or Minos Beach Art Hotel in Agios Nikolaos.
Check more: Where to stay in Crete.
The Landscape of Crete
The coasts of Crete are washed by the Sea of Crete on the north coast and the Libyan Sea in the south.
Crete is divided into four different regions, from east to west they are Lasithi, Heraklion Rethymno, and Chania.
The capital is Heraklion is the largest city, followed in importance by the cities of Chania, Rethymno, Ierapetra, and Agios Nikolaos.
In general, Crete has a mountainous landscape with deep gorges and high mountains. The highest peak is Mount Ida (or Mount Psiloritis) at 2.456 meters above the sea.
There are 7 mountain ranges that divide the island into two very different areas, the more developed north coast, and a pretty isolated southern portion. Its widest point is 60 km, while it's only 12 km wide at its narrowest.
Driving from the westernmost coast to the extreme east can take from 4 to 6 hours.
What's the Weather Like in Crete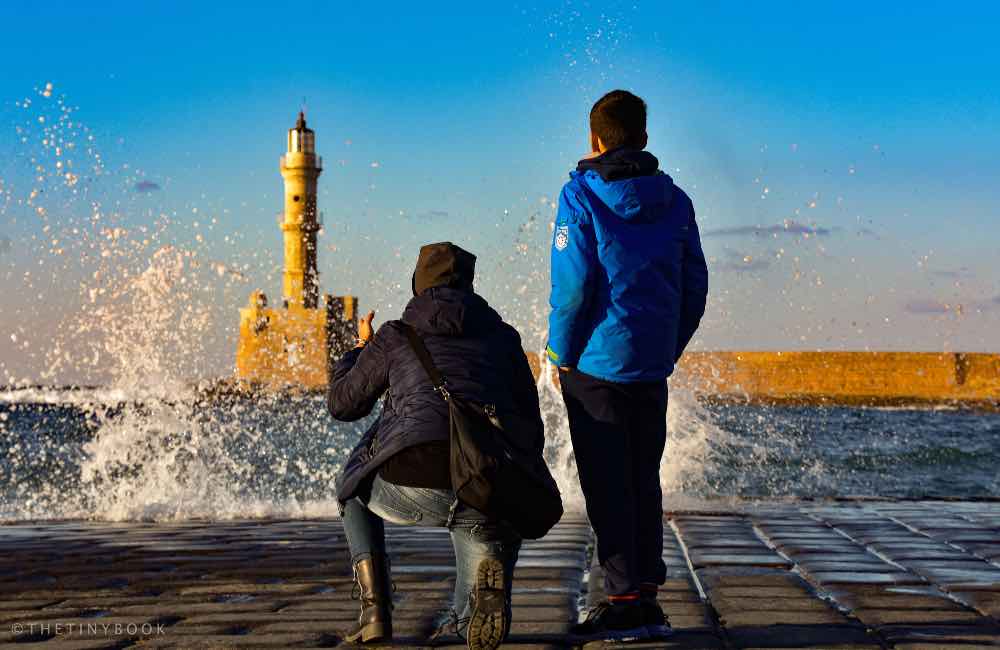 Crete lies between two different climatic zones, the northern coast has typical Mediterranean weather while the south is subtropical.
In general, summers are very hot and extended with scarce rains, while winters tend to be short and mild on the entire island (with snow in the inland alpine area).
Practical Details You Should Know to Plan your Trip to Crete
What Language Do they Speak in Crete
The official language of Crete is Greek, of course, yet English is a widely spread second language spoken in all major touristic areas since the island has been a popular destination at least during the last 40 years.
You will also find many local people making an effort to communicate in Italian, German, or French.
Cretans are extremely proud of their legendary hospitality, and nothing makes them happier than being able to talk with foreigners.
Despite Greek being a difficult language, it's fair to say that there are virtually no language barriers.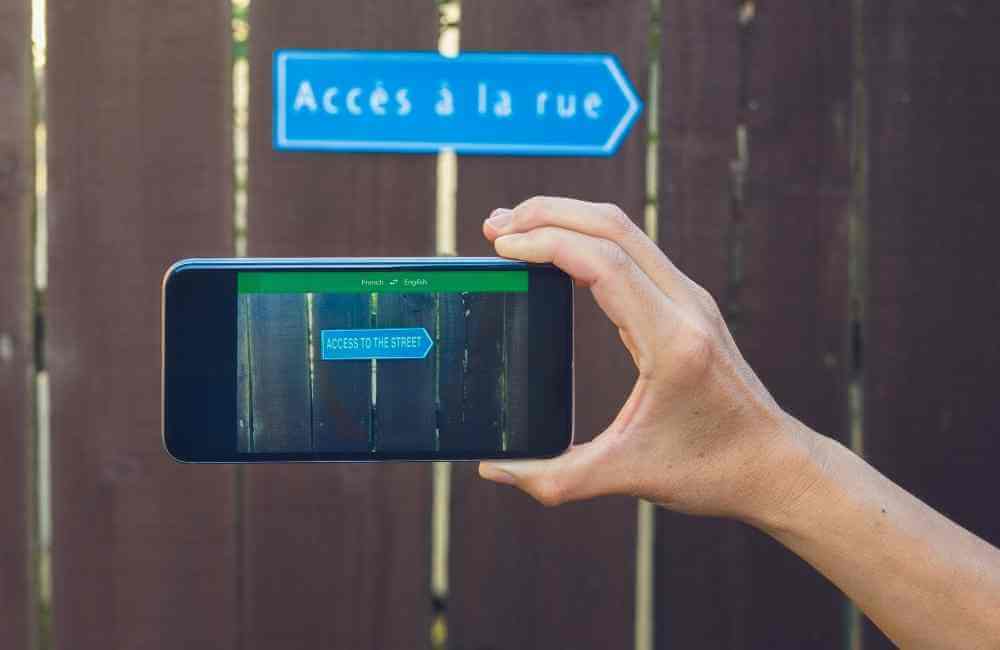 I've also noticed that Greek TV usually broadcasts foreign programs in their original language (just adding captions).
If I compare that to my almost 18 years living in Italy, where programs and films are dubbed, the difference is clear.
Even those with no formal education in English can give you a hand. If you are lost in a remote village, chances are that there's an old grandma who has been watching films in English
for many years. She will be able to help (it happened to me personally, many times!)
Currency in Crete
Euro is the official currency of the European Union, so it's also used in Crete. There are exchange offices in every main city and money can also be exchanged in banks, hotel desks, and the airports of Chania and Heraklion.
Almost every shop in big cities accepts credit and debit cards.
The same goes for hotels and resorts.
However, if you are staying in more isolated areas, check with the owner beforehand.
ATM points are also available all over the north coast, while some southern villages lack the service.
Save yourself a drive through the mountains (it also happened to me personally, just once though!) and check in advance.
You might also want to read: How much it costs to visit Crete.
Practical Travel Tips: Valid Documents to Visit Crete
Valid documents for European citizens
Greece is a Member-State of the European Union. Citizens traveling inside the E.U. just need their ID, however, a passport is needed for transactions such as currency exchange or to send money abroad.
Citizens of Member-States under the Schengen Agreement can travel without a visa for up to 3 months, still, some airlines might require a valid passport to board.
Valid documents for Non-European citizens
Citizens of countries that do not belong to the E.U. need a visa to enter Greece.
The Hellenic Embassy or Consulate in your home country will be able to tell you about the specific requirements.
You can also check online at the following link of the Greek Ministry of Foreign Affairs.
If you hold a valid passport of any of the following countries, you can visit Greece for up to 3 months without the need for a visa:
Andorra, Argentina, Australia, Brazil, Brunei, Canada, Chile, Costa Rica, Croatia, El Salvador, Guatemala, Honduras, Israel, Japan, Malaysia, Mexico, Monaco, New Zealand, Nicaragua, Panama, Paraguay, Saint Marino, Singapore, South Korea, US, Uruguay, Venezuela.
Crete: Planning Where to Stay
Accommodation in Greece is wide and for every pocket. Lodging can range from small hotels to luxurious stays at 5-star resorts. These are some of the most common:
Rooms to let (domatia)
With the rise of Airbnb and Couchsurfing, this option does not sound unusual anymore. However, not long ago, Greece was one of the few places in Europe where you could have a great budget vacation renting a room in a private house.
Studios
Studios are the most traditional type of accommodation in Greece. They are usually one-bedroom apartments equipped with a small but functional kitchen and a bathroom. Another convenient kind of accommodation that unfortunately is being lost in main cities.
Hotels
Being tourism the main source of income in the country, hotels are everywhere. Categories range from basic to 5 stars. Thematic hotels are also a new trend, there are gastronomic hotels, eco-friendly hotels, wine hotels, as well as hotels specially designed for kids.
Boutique hotels
Especially in the old town areas of Rethymno and Chania, but also in the capital and in other touristic areas, such as Elounda or Agios Nikolaos, boutique hotels are very common in Crete, categories also vary according to the services offered, and unfortunately not every boutique hotel is indeed one. Check reviews online before booking!
Property rental
Renting an entire house for an extended holiday has always been very common. The offer ranges from simple 2 or 3-bedroom apartments to luxury villas with pool, concierge, and housekeeping service.
All-inclusive resorts
There are several all-inclusive resorts mostly located a few kilometers from the main towns. Platanias and Agia Marina for Chania, or Kourna Beach and Panormo, close to Rethymno. In the area of Heraklion, resorts are mostly in Hersonissos, while Elounda is the resort area of Lasithi.
Camping
There are different alternatives in Crete for camping. The island counts with about 15 official camping sites, this website provides detailed information about each facility.
The Greek law forbids outdoor camping in public places, although many tourists disregard this and camp illegally, especially near the beautiful beaches in the south of Crete.
Spending the night on the beach (using a sleeping bag and not a tent), is not illegal. In any case, whatever camping option you prefer, always respect the environment. 
Keep away from Natura protected areas.
Don't leave any garbage behind.
Avoid starting fires.
Respect endogenous flora, cedar trees are a protected species. Don't use them to secure your tent, don't hang your clothes and don't cut off branches.
CRETE TRAVEL TIPS BY AN INSIDER (and personal opinion):
– Always prefer Cretan accommodation to experience authentic local hospitality. You will also be doing something more important, you will be helping every seasonal worker make a living for the rest of the year.
– The same goes for cart rental as well as for the so-called "local tours" that in fact belong to international tour companies! Be smart, Google it, and if it's a brand running tours in hundreds of cities all over the world… yeap, not local!
Check accommodation guides here.
You might also want to read these hotel reviews:
– Best Places to Stay in Crete for Young Couples – A guide to the best areas and hotels on the island.
– Best Places to Stay in Crete for Families – The best hotels and areas in Crete for families with children.
– Best Hotels with Water Parks in Crete – The ultimate list of fun places to stay in Crete.
– Best Places to Stay in Crete to Go to the Beach – All the best areas and resorts near the best beaches in Crete.
– Best Resorts with Spas in Crete for a Relaxing Holiday – The top-rated hotels with spa and wellness facilities.
– Best Beach Resorts in Crete – The best places for a stay right by the sea.
Crete Travel Tips: Mobile and Internet
Can I use my mobile phone in Crete?
There shouldn't be any problem if you want to use your (recent) mobile phone in Crete, however, take the following notes into account:
Inform your provider that you are traveling abroad.
Check what rates your provider applies for international calls.
Be aware of roaming expenses: Apps in your phone are usually using data, even when you're not online.
To avoid a surprise, you can turn off data (mobile settings). Messaging and calls won't be blocked but to use the internet you will have to log to any WiFi hotspot (the airport, your hotel, a restaurant, the city center). To check what is available, open settings, and look for connections.
In Crete, public buses, city centers, hospitals, airports, most lodgings, and many beach facilities offer free WiFi.
Check here the hotspots in Chania, Rethymno, and Heraklion.
This app is also helpful to check WiFi hotspots in he whole island and anywhere in the world!
If you don't come from a country within the European Union
It's possible to use your current device and number. In this case, check fees and special offers from your provider.
You can still use your current device and change the SIM card in Greece to use a local number – (popular providers are Wind, Cosmote, and Vodafone, with shops in every major city). A copy of your passport will be necessary to activate the new number. Choose a pre-paid plan for a short stay and top up as needed.
Or… you can always buy a new phone and number when you arrive in Crete (you won't need to change any of your main phone settings and you will still have your contact list).
Roaming within the European Union
According to EU legislation, citizens using their mobiles traveling outside their home country in any EU country don't pay any additional roaming charges.
Check the whole resolution here because fees do apply if you are not connected to a land-based network (fees to connect to a satellite-based network are very high).
Airports in Crete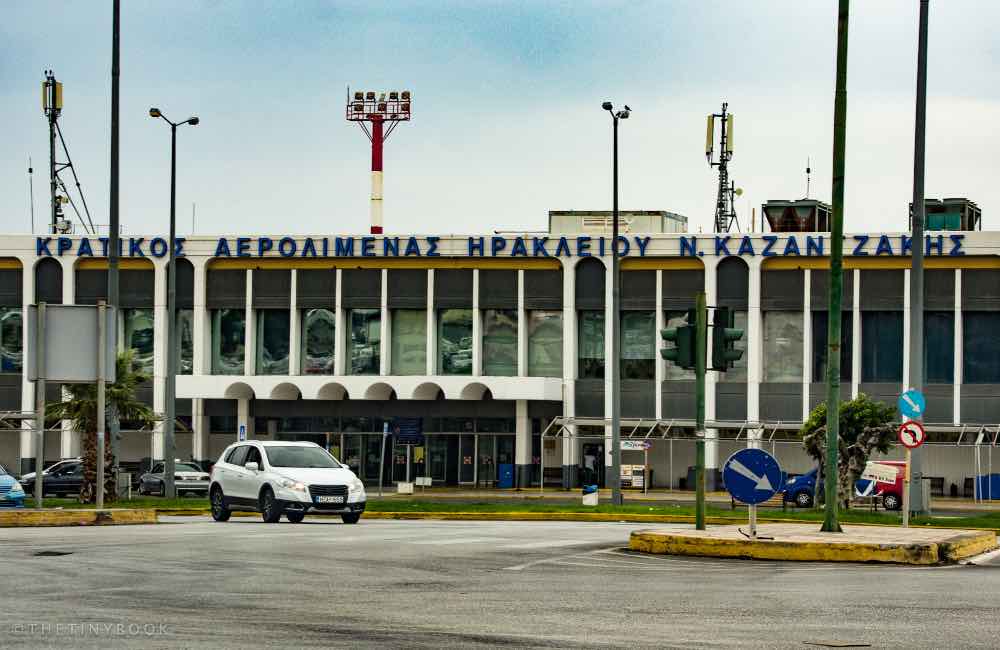 How many airports are there in Crete?
There are three airports in Crete, two of them serving the whole of the island (Chania and Heraklion), as well as the small airport of Sitia. Here are the most important details:
Heraklion International Airport "Nikos Kazantzakis"
(HER) This is the main airport in Crete (Greece's second busiest airport after Athens). It's located about 5 km from the city center.
Public transport: To reach the city center from Heraklion Airport the only option is the public bus (blue coaches – KTEL). 
The single fare from the airport to the city center is €2.00 and tickets are sold on the bus (cash and Eur only). The service runs from 6:00 am to 12.00 am, all year long with a 15-minute frequency.
Chania International Airport "Ioannis Daskalogiannis"
(CHQ) This international airport is close to Souda Bay on the west coast of Crete. It's in the heart of the Akrotiri Peninsula, about 14 km from Chania.
Public transport: To reach Chania Town from the local airport, the only public service is the bus (KTEL, green or yellow buses).
The single fare to the city center is €2.50. Tickets can be purchased on the bus or online. The ride takes about 25 minutes. Buses run with a 30-minute frequency until 11 at night.
Sitia Public Airport "Vitsenzos Kornaros"
(JSH) This small community airport is in eastern Crete, about 1 km from Sitia. There is no public transport to reach the center.
There are local taxis and car rental companies outside the arrival halls of all airports.
If you're looking for tickets to get to Crete, check this guide to traveling to Crete by air/by sea, it's full of super helpful resources.
Ports in Crete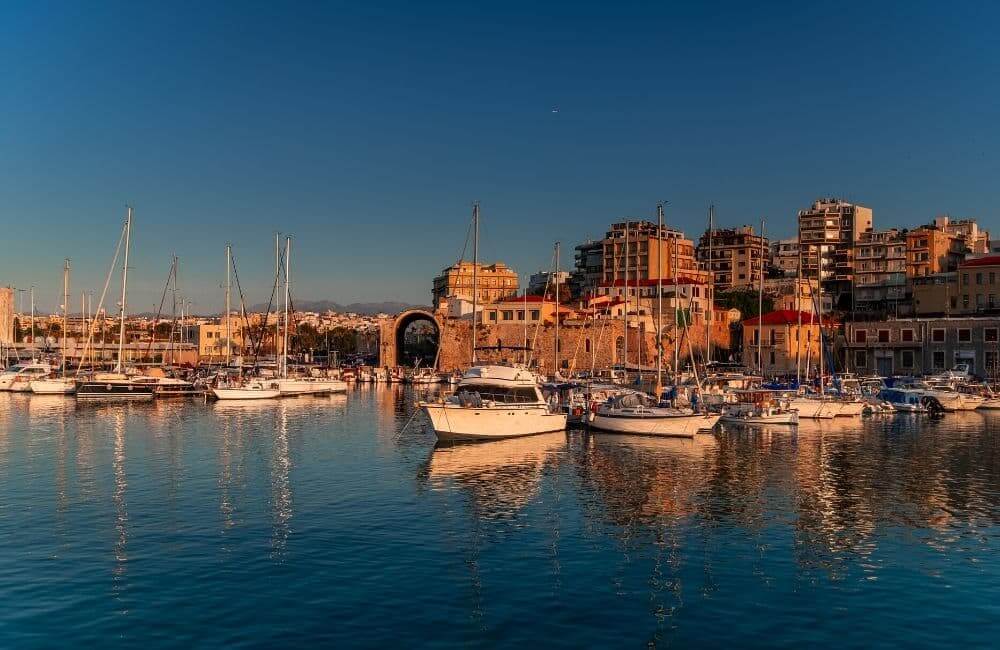 There are six different passenger ports on Crete, but chances are that you will be arriving either at Heraklion, Rethymno, or Souda (Chania).
Main Ports in Crete: Heraklion & Souda
A ferry boat trip from Athens (Piraeus port) to Crete can last from 5 to 6 hours and trips are usually at night. Updated information about the Greek ferry service to the island can be easily found on the website of the major ferry lines reaching Crete, such as Minoan Lines and ANEK Lines.
Other Ports in Crete
Rethymno
Kissamos (only excursions to Balos-Gramvousa, and ferries to the islands of Kythira, and Antikythira)
Agios Nikolaos
Sitia
Planning How to Move Around in Crete
Public transport in Crete
There are no trains or subway systems on the island, so the only way to move around with public services is by using the extensive bus network. 
Fares are rather convenient when compared to the rest of Europe. For instance, a three-hour ride from Heraklion to Chania is €15,10. The service is more frequent along the north coastal road than to the inland villages on the south coast.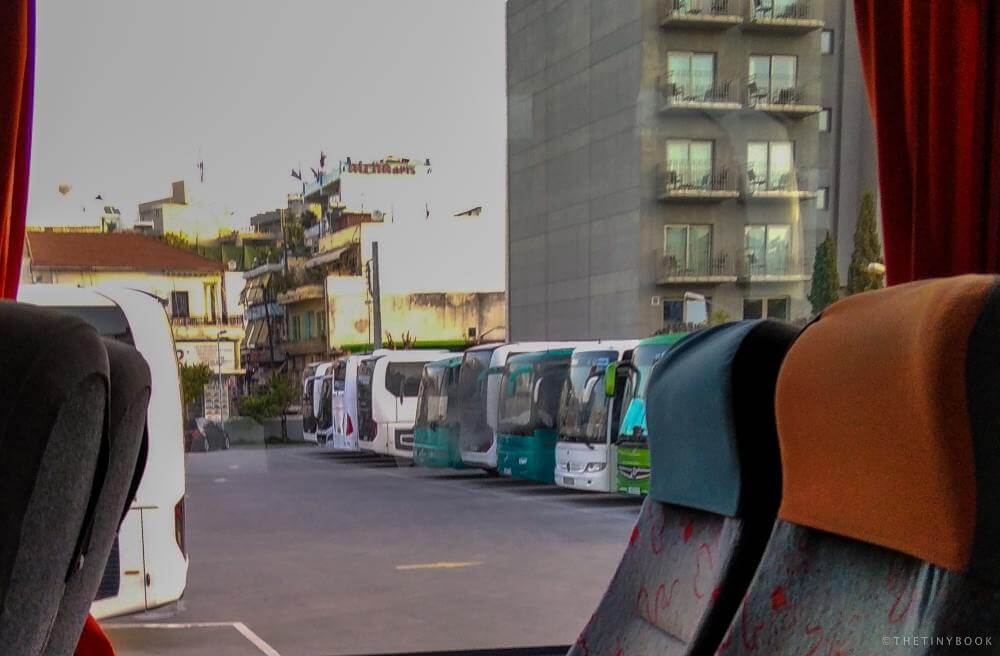 There are stations in the main cities (two in Heraklion) but in small towns, the bus stop is often close to a kafenio or tavern which also sells the tickets. 
Buying the ticket on the bus is also possible when you board in a small town (not if you depart from the main station with a  ticket office). 
During the peak season (May-October), it's a good idea to buy the ticket a day in advance to secure a seat. Schedules can be found in every station and online too.
Head here for departures from Heraklion, Agios Nikolaos, Sitia, and Ierapetra. Check here for routes from Rethymno and Chania.
Car Rental in Crete
Road travel in Crete is my absolute favorite way to see the island, the island is so big and the roads so challenging that everything makes Crete a special place for unique driving experiences.
Car travel in Crete offers a kind of freedom and spontaneity that no other means of transport ever will.
All major international rental car companies operate just outside the airports.
The best way to get a real feel of what the island really is about is to drive from coast to coast. If you're eager to get behind a wheel or have no clue how to get around when it comes to driving or renting a car on the island, check this guide with useful tips for driving.
Driving in Crete? This is the perfect on-the-road itinerary to see the highlights of the island!
Local companies usually offer more convenient fees but availability is reduced, so check your rental options way ahead of time.
The best way to find the cheapest rental car is by using a good car rental search engine. Compare prices for rental cars in Crete here.
Plan for Safety: Health & Insurance in Crete
Check your vaccines and medicine list with your doctor a few weeks before your trip, everyone should be up to date on routine vaccinations.
If you are a European Citizen, the European Health Card will give you access to free medical care with doctors belonging to the Greek public health system.
If you travel with private health insurance or travel insurance, check your policy for a better understanding of what is covered and where to go in case of an emergency.
There are general public hospitals in Chania, Rethymno, Agios Nikolaos, and Sitia.
There are two general hospitals in Heraklion, one of them, the University General Hospital, is the largest hospital in Crete and it's in the area of Stavrakia, 8 km from the city. The second one is on the road to Knossos, about 4 km from Heraklion.
When to Visit Crete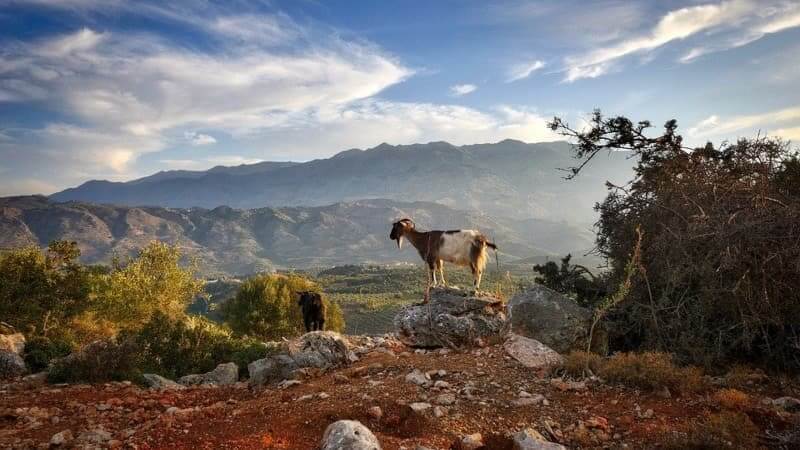 There's no best time to visit, Crete is a beautiful island any month of the year, and there are always plenty of things to do no matter when you come. It's not just a Summer destination. 
There are interesting cultural activities all year round, as well as festivals, religious celebrations, and other opportunities to get to know the local traditions of the island. 
Let's see what are the most important moments of the year in Crete. 
High Season
The high season is mostly half of June, July, August, and the first two weeks of September. The two central weeks of August are the busiest ones.
Get ready to queue and stand the crowds and the traffic and even to find tourists on remote beaches sometimes.
And, of course, most beaches tend to be full too. Prices tend to be higher than usual as well. The weather can be very hot during the days, while the evenings are more bearable. Usually, it doesn't rain and the sea temperature is warm.
Shoulder Season
From April to mid-June and from mid-September until October. Cities are less crowded but tourism is still pretty much active.
During the season you'll find the best weather conditions for outdoor activities, such as trekking, hiking, or cycling though there might be occasional showers (pack accordingly).
Hotels and rental homes are not fully booked and fees are more convenient in this period. 
Low Season
From November until March. The weather is colder and snow is not uncommon in the mountains. Very rarely it can also snow by the sea.
Resorts and hotels located by the sea are closed while it's easier to find accommodation in the cities.
Fees are affordable but many touristic shops, small museums, and restaurants are closed. Some historical sites, local restaurants, and a few shops operate with reduced working hours.
Planning What to Do in Crete According to the Weather
Crete in Winter
(December, January, and February)
During Winter, the days tend to get shorter and colder, sometimes it's also windy and rains are not uncommon, mostly on the west of the island. However, there are plenty of reasons why you should visit Crete in winter.
There is snow on the mountains but many gorges, including Samaria Gorge, are closed. 
With this kind of weather, focus on indoor activities, explore museums, and monasteries.
Locals are busy working in the vast olive groves. Olive trees are full of olives and local people are very busy since olive oil production is in full swing.
Others, slowly start restoration works in hotels and restaurants for the upcoming season. 
Winter days are also great for those looking for a short visit or city break in the capital of Crete.
Check my Chania's Old Town to-do list to visit this unique area. 
Head to my 10 best things to do in Rethymnon if you want to see both the old town and the wider Rethymno area or to my article about Agios Nikolaos if you plan to visit the east.
Those looking for information about the capital should head to my best itineraries of Heraklion blogpost.
You might also want to read: What to do in Crete when it rains.
There are always cultural activities, exhibitions, and other events going on in every region, including festivals and other events. 
If it's not too cold and it doesn't rain, winter is also a good month to visit archaeological sites.
They aren't crowded and you can explore in complete loneliness or enjoy a guide all for yourself. 
Christmas is less important than Easter in Greece, but it's still celebrated at home and in church.
New Year is dedicated to Saint Basil (Agios Vasilios), and it's the day locals exchange presents too. Families gather around the table to share the traditional sweet, the Vasilopita. 
A cake that normally hides a coin inside, is supposed to bring luck to the one that finds it. I've written an extensive article about Vasilopita for Greek Reporter, or you can also try my vasilopita recipe.
On January 6th Greeks celebrate Epiphany (also called Fota or Theofania).
On this joyful day, takes place the blessing of the waters by a Greek Orthodox priest, it's also customary that the priest throws a cross into the water and swimmers jump in to get it back, receiving a blessing for the whole year to come.
February is also the month devoted to Carnival, rather important in Greece.
The best celebrations are in Rethymno, a city that has been organizing the best carnivals in Crete for more than a hundred years. Check their official page.
Crete in Spring
(March, April, and May)
The atmosphere that invades Crete during Spring is, at the very least, festive. Fields blossom with wildflowers and everyone is getting ready for the major religious celebration in the Greek Orthodox calendar, Easter.
Most hotels and touristic activities open right during the week of Easter. Days start to get longer and it's not rare to find people swimming (usually not Cretans!).
By May the weather is definitely better, with warmer temperatures that allow for outdoor trips while the most intrepid ones start visiting the local sandy beaches for an early tan. 
If you are on the island during Easter, it's a good idea to participate in the celebrations. Either attend the candlelit processions on Friday night or assist in the spectacular fireworks of Saturday at midnight. If you can, try to join an Easter lunch on Sunday, there is an abundance of delicious dishes following the austerity of Lent.
Finally, another important date is May 1st, on Labor day locals normally head to the countryside villages for a family reunion or to have a picnic.
One of the most beautiful traditions is the Stefania, flower wreaths that women hang on the doors of their homes to welcome Spring.
Crete in Summer
(June, July, and August)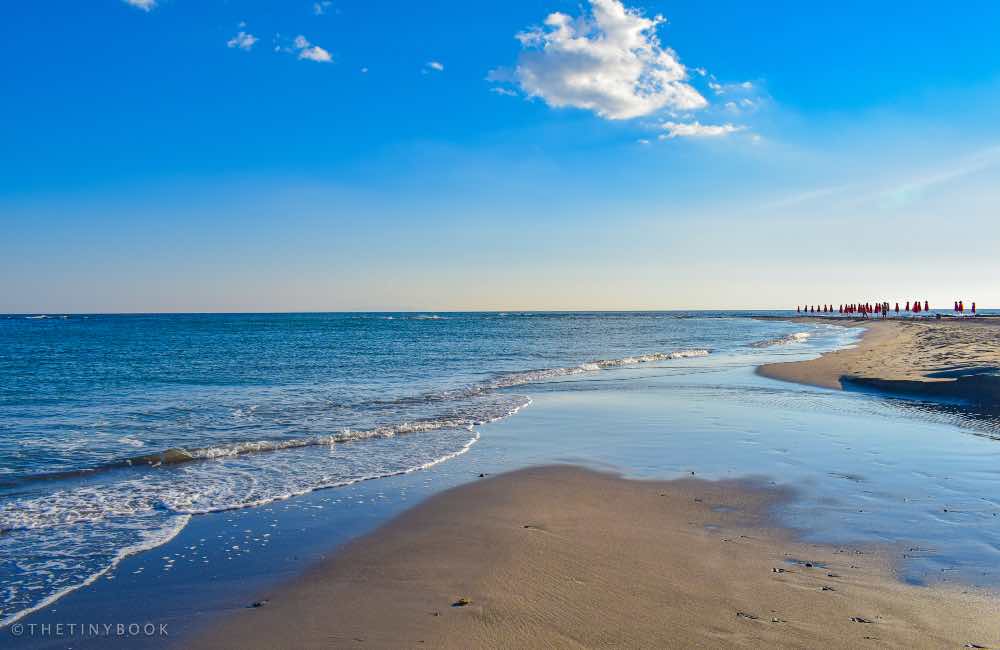 It's time to go to the beach! In Summer, Crete starts receiving visitors from all over Europe. Cities, as well as the south beach areas, get busier while traffic intensifies on the coastal road. On Crete, there are beaches for every taste.
The spectacular Balos and Elafonisi attract visitors during the whole season, while Preveli Beach, Vai, Falassarna and Malata beaches are also extremely popular.
There are more hidden beaches seaside gems in the Akrotiri Peninsula in western Crete, on the East Coast of Crete as well as countless Cretan beaches for naturists.
My absolute favorite beaches on the island are located on the West Coast.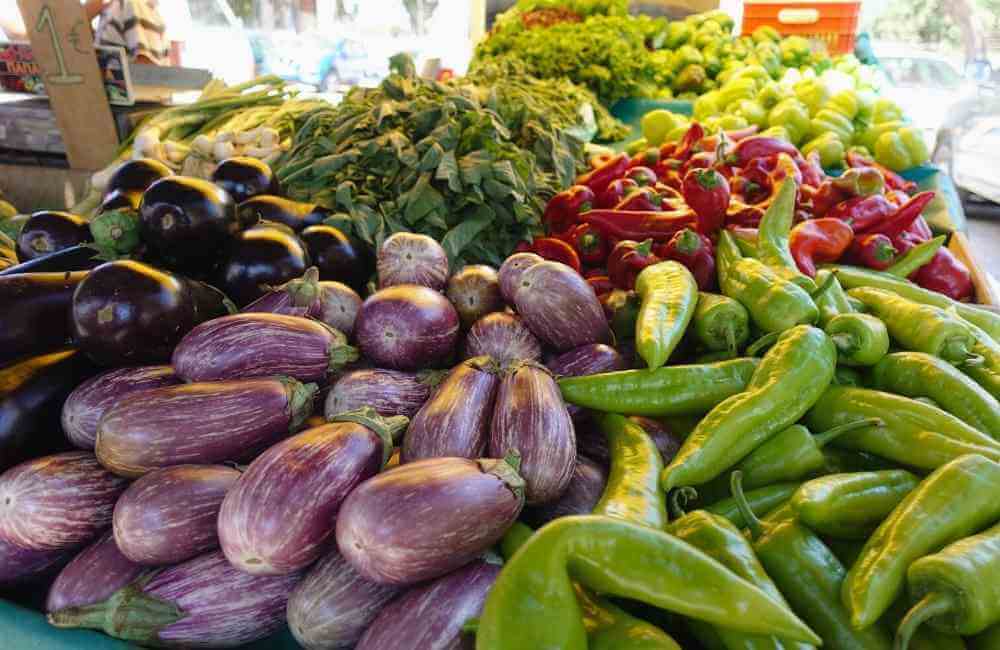 If you are into the local gastronomy, Summer is also the perfect moment to visit the farmer's market, with tons of delicious fresh fruit and vegetables at very accessible prices.
On August 15th, locals celebrate the Assumption of the Virgin, an important day on the island. It's customary for locals to visit their home villages and attend church.
Many commercial activities (supermarkets, shops, etc.) are closed, but not the facilities intended for tourists (such as tourist shops or restaurants in central areas, etc.).
The weather is very hot and it's a good idea to seek relief in the mountains. On some days, there might be strong winds.
Crete in Fall
(September, October, and November)
While the weather is still warm during the beginning of Fall, activities begin to go back to normal with schools opening in September, and many resorts closing their doors from October.
In the fields, locals get ready to harvest the grapes and to start the winemaking season. 
September is the best month for holidays on the island with small kids and for the elderly as well, the sun rays are still strong but the temperatures are not so high, therefore there's less risk of heatstroke.
Check what things you can do in Crete in September and the best things to do in Crete in October.
On October 28th, assist to the many parades in the different cities that commemorate the Oxi Day, the famous "no" that the Greeks answered to Mussolini upon his request to allow the Italian troops to enter Greek territory.
The date marks the entrance of Greece in the II World War. Of course, Wikipedia explains Oxi Day better than I do.
The end of October and a good part of November are dedicated to the production of the delicious Cretan spirit, tsikoudia (or raki).
You mist also want to read: Festivals in Heraklion, Crete.
What to Do in Crete According to Your Interests
This is by no means a "Best things to do in Crete" list, for more specific activities, click the different links in the following paragraphs.
Or you can also check these Crete guides. The following is just a list of ideas of the many things you can do on the island.
Best Beaches in Crete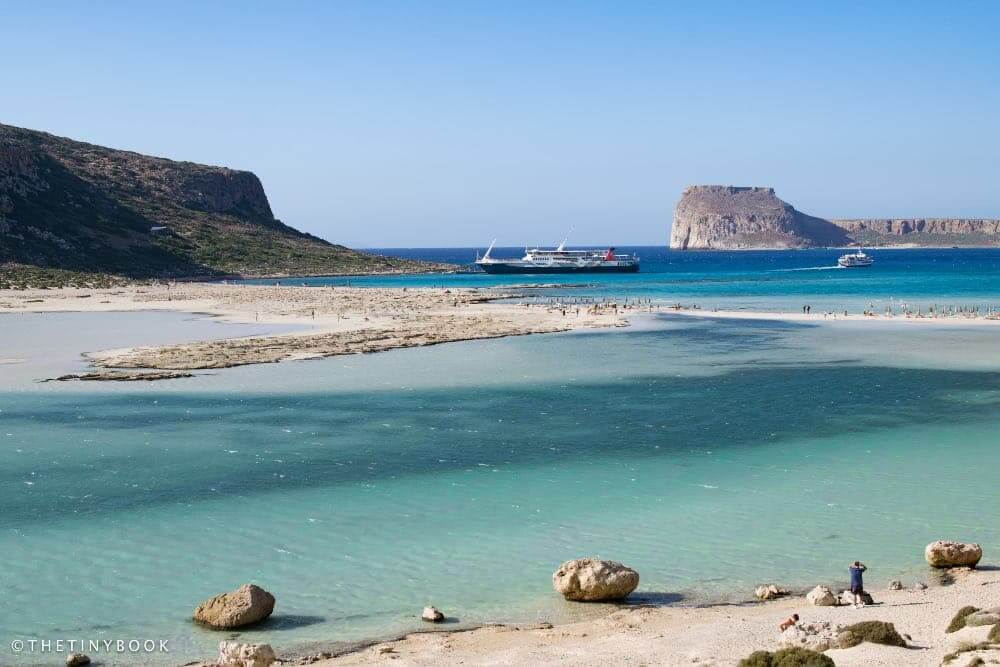 I get it! And I won't judge you. In fact, I used to be just like you: Beach Life Rules! There's nothing like forgetting a long year at the office by lazily sipping a cold beer by the sea.
If you love going to the beach, Crete is just the perfect place, it has plenty of choices. 
On the western coast, there are three famous gems every tourist wants to visit: Balos, Elafonisi, and Falasarna.
They are not the only beaches in West Crete, but they are stunningly beautiful. Balos Lagoon is a paradisiac beach located in the Gramvousa Peninsula, you have probably seen some stunning pictures online.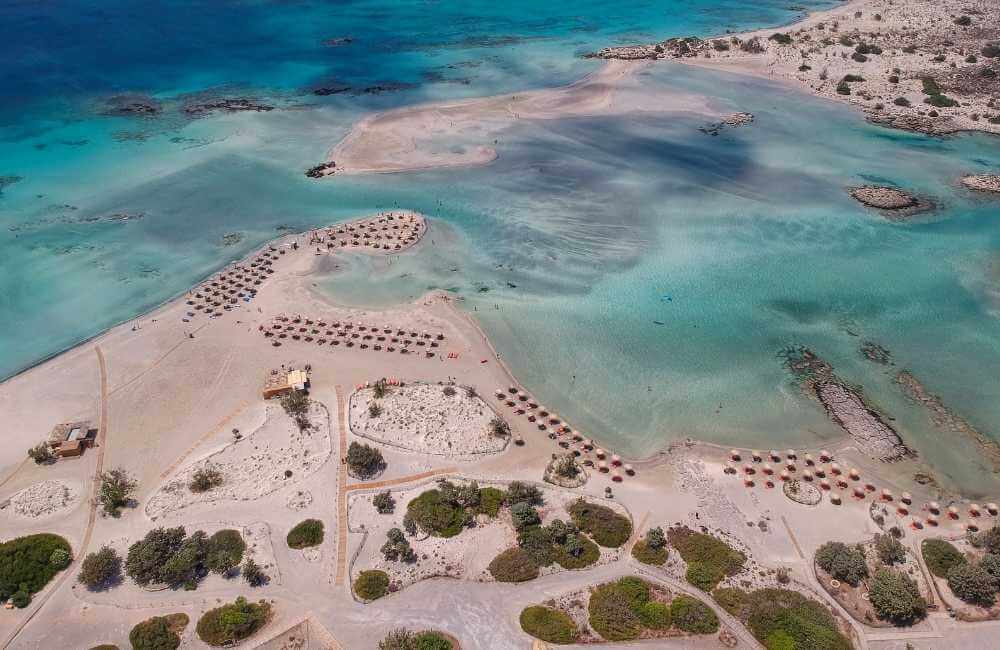 Falasarna is a long sandy beach located in the extreme west, sunsets in Falasarna are famous all over the world. Elafonisi is an islet located southwest of Crete, and it's famous for the pinkish color of the sand. 
There are also beautiful beaches in the Akrotiri peninsula, such as Stavros, Marathi, and Kalathas.
All of them are great beaches for kids too!
On the opposite coast, the beaches in East Crete also deserve a place in any Crete itinerary. Vai is a famous destination because of its palm trees. In fact, it's home to the most extensive palm grove in Europe.
However, there's another palm beach on Crete, Preveli, which is on the southern coast of Rethymno.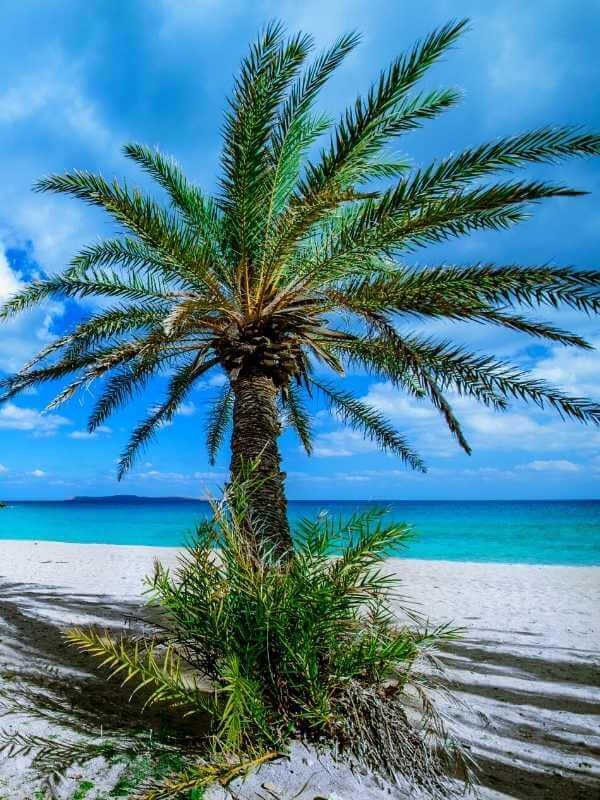 In the same area, there are top sites such as the beaches of Agios Pavlos and Plakias, all worth a visit for their pristine waters and calm atmosphere.
You can read about those, as well as about Loutro, Glyka Nera, Frangokastello, and Paleochora in this article about the beaches of the south. 
Some of them are perfect places for naturism, check which ones in this guide to Crete's nudist beaches.
Other places to visit for seaside relaxation are the fantastic, long coast of Paleochora, the village, the beach of Matala, and the neighboring Red Beach, as well as the southern city of Ierapetra.
You might also want to read: Useful guide to packing your beach bag for Crete.
Adventures in Crete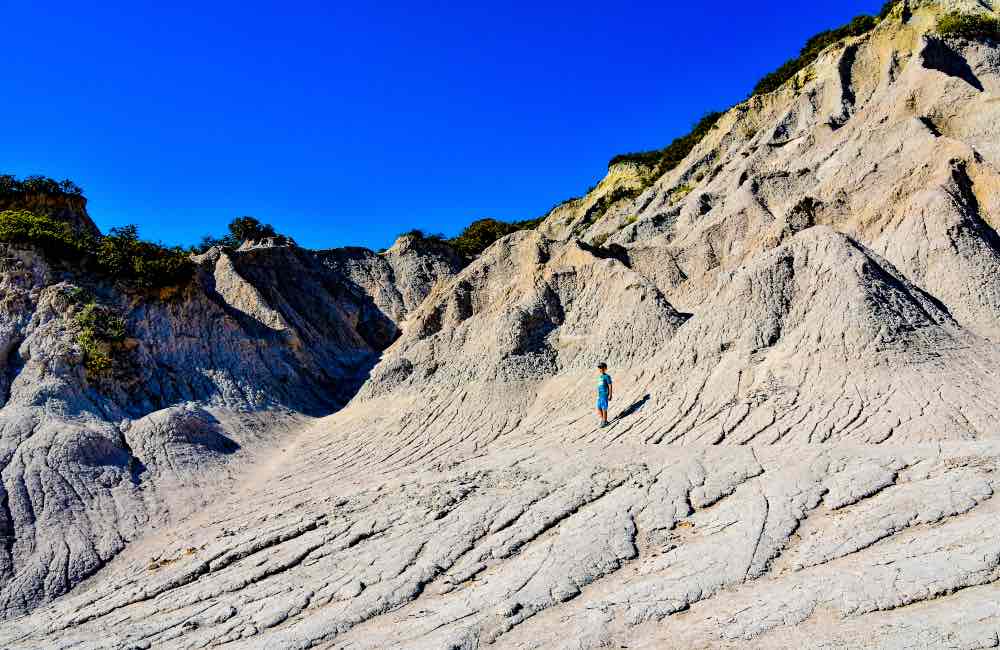 Crete is the perfect island to explore and a great place for adventure sports such as canyoning, hiking, trekking, and alpinism. There are also plenty of possibilities for those interested in water sports and subaquatic activities. 
On the beach of Paleokastro, in Heraklion, it's also possible to practice windsurfing, while the waves in Falasarna make it an ideal spot for surfing. Scuba diving in Crete is also very popular.
There are countless gorges on the island, from the most famous of all, Samaria, to Imbros, Patsos, or Agios Giorgos in Rethymno and Richtis and Zakros (the Valley of the Dead) in the east.
Those interested in bungee jumping will find a spectacular opportunity in the gorge of Aradaina, a short drive from Chora Sfakia.
Road trip in Crete: Learn what to pack for a road trip on the island.
Archaeological Sites & Museums in Crete
If your thing is the past of the island, and of the western civilization, you've come to the right place, it's here that everything began!
Located at the crossroads of three different continents, Africa, Asia, and Europe, and in the center of the Mediterranean, Crete is considered to be the cradle of civilization.
The island is, according to Greek mythology, the birthplace of Zeus. But more important, it was in Ancient Crete that the Minoan civilization flourished, as early as the 4th millennium BC.
Witnesses of that past are the many archaeological sites and Minoan palaces that you can visit on the island. Starting from the best-known of all, Knossos, discovered in the early 1900s by the British archaeologist Sir Arthur Evans.
The Minoan Palace of Knossos is located just a few minutes from the center Heraklion. Also in the area, the ancient ruins of Malia (north coast) and Festos (Phaistos, in the south), are both of decisive importance regarding the history of the island. You can read about Malia in this article I wrote for Greek Reporter. 
The Archaeological Museum of Heraklion has one of the most impressive collections of Minoan history in the world.
In the east, you can visit Gortyn Archaeological Site, in the Messara Plain, and it's the largest site in Crete. Also in the east, it's possible to explore the open-air site of Gournia and another major site, the Minoan Palace of Zakros. 
The Ancient Site of Eleftherna and its close-by museum, in Rethymnon, deserve a visit as well.
On the western coast, do not miss a visit to Aptera, overlooking the magnificent bay of Souda, as well as Ancient Phalassarna, a few kilometers from Falasarna, while the Archaeological Museum of Kissamos offers an interesting insight into the history of the area. 
This article lists some of the archaeological sites you can visit in Crete.
The Archaeological Museum of Chania exhibits remains of ancient Kydonia, and is one of the most important museums in west Crete. 
If you're interested in the religious past of the island, don't miss a visit to the several monasteries of Crete, all of them played a key role during the difficult years of occupation and foreign rule.
Mountains & Villages in Crete
Villages in the mountains have a very laid-back atmosphere and maintain traditions and costumes. Each one of them is worth visiting.
It's embarrassing and even impossible to choose just a few of them to include in this list. I encourage you to explore and visit as many as you can. 
For the sake of this article, I want to include Kritsa, in Lasithi, famous for its tragic history as well as for its beauty. Another favorite village for me is Mochos, located close to Heraklion, it has impressive views of the sea and the way up to the village is really beautiful.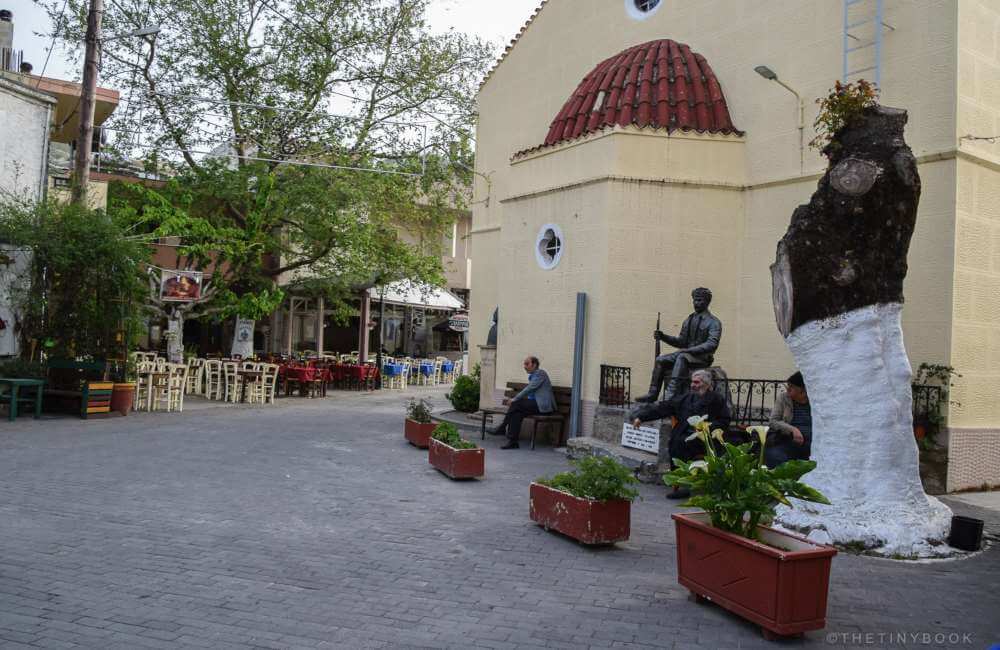 Towards the southern coast, the mountain village of Ano Vianos is small and pretty, and you can enjoy the quiet pace of life far from the hustle of urban areas. Also near Heraklion, the small village of Rogdia can be an excellent lodging solution if you want to avoid the chaos of the coastal resorts. 
You can also discover Anogeia, nested in the heart of the Psiloritis, Crete's highest mountain, is located between Rethymno and Heraklion, with its unique Cretan pride, its tragic history, and its traditions.
Near Rethymno, definitely check Thronos, Amari, and Asteri, while in the prefecture of Chania, my favorite places to visit include Therisso, with a beautiful gorge and great views, and Vouves, with its millennial olive tree.
If you want to read about the most gorgeous villages you can visit on the island, including seaside villages like the one in the picture below, check this article.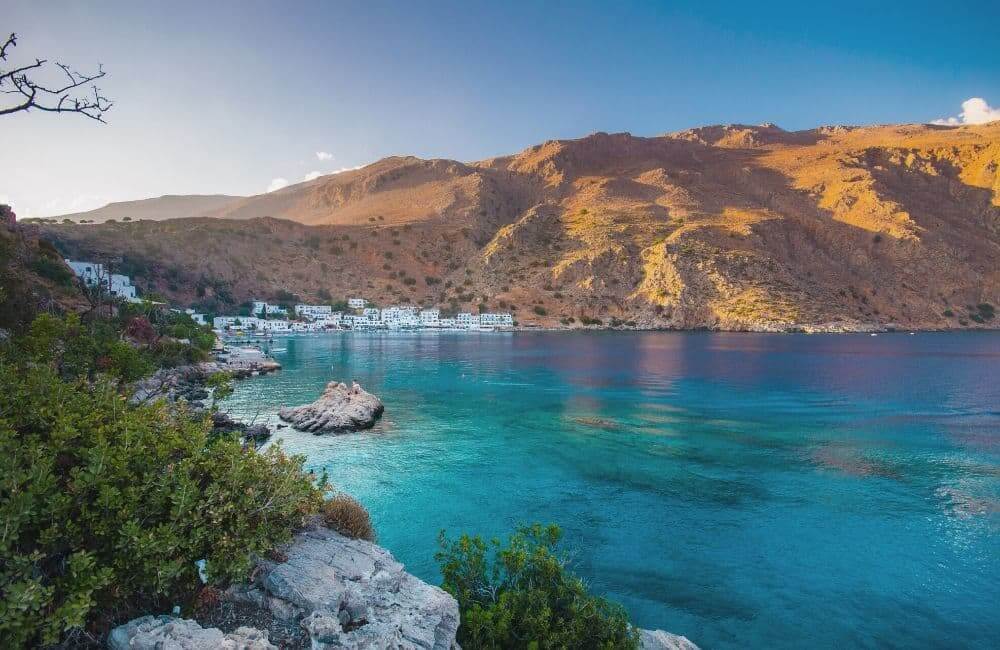 Another way to discover the island is going on a safari adventure. There are great opportunities on the island to jump on a Jeep and discover off-the-beaten paths and hidden mountain villages.
A safari is a great way to get a closer look at our natural landscape is you are afraid to drive on the narrow roads of the Cretan mountains.
Crete's Food & Wine
The best places where to start discovering Crete's traditions regarding its culinary habits are the markets. A visit to the Agora, the central market of Chania, or to Heraklion's 1866 street Market.
It's in the markets where you can see, smell, touch, and taste the authentic tastes of the island, the spices, the herbs, the bread.
Locals know: The Municipal Market of Chania will be closed for renovations until December 2023.
When it comes to dining, the offer ranges from comfort Cretan food to the most refined cuisine in some of Greece's best restaurants. In Chania, try the local mezes in a traditional kafenio or discover the authentic dishes that make the local diet a hit among visitors!
Wine is another chapter, you can read all about the island's network of wineries, as well as enjoy some wine tasting experiences.
I've loved Gavalas winery as well as Lyrarakis, both in Heraklion, and also enjoyed a lot the boutique winery concept of Klados, in Rethymno, and the delicious wines made by Dourakis Winery in the region of Chania.
You might want to read: Not your usual Greek food guide – What to eat in Crete.
Small Islands Near Crete
Several islands surround Crete, Spinalonga is famous for its intense and tragic history. Chrissi (Gaidouronisi), in the south, is an uninhabited island that you can reach from Ierapetra with a daily ferry.
We have already mentioned Elafonisi, while Imeri Gramvousa can be reached if you visit Balos with a boat, as it is usually included in the tour. 
The southernmost point in Greece is Gavdos. Gavdos is a place for those in search of unique solitary places, with a hippie vibe and unique panoramas of the Libyan sea… just one suggestion, avoid it in August!
Other interesting uninhabited islands you can visit are Dia Island, right in front of Heraklion, and Koufonisi, a cluster of islets on the southeastern coast of Crete, opposite the village of Makrigialos.
Do you have other Crete travel tips to share?
Let me know in the comments below!
You might also want to read these posts about Crete:
– Most Stunning Beaches in East Crete: Complete Insider's Guide – A guide to the best beaches in the Lasithi region.
– Top Nudist Beaches in Crete: Complete Insider's Guide – A guide to all the beaches where to sunbathe naked in Crete.
– Explore the Fantastic Unspoiled Beaches in South Crete – A guide to the best beaches on the South Coast of the island.
– Gavdos, Crete: The Only Guide to the Island you Need – A visit guide to Gavdos Island.
– Discover the Most Stunning Archaeological Sites in Crete – A list and description of the most important archaeological sites in Crete.
Let's Start by Getting Ready for Crete!
RESOURCES TO BOOK YOUR TRIP:
Book your flight: I use Skyscanner to compare prices before booking a plane ticket.
Book your ferry: When ferries are more convenient than air travel, I use Ferryhopper.
Book your accommodation: I've tried many different platforms for accommodation, but none of them beats the advantages of Booking.com.
Book your car: The best way to find an affordable car to rent is to use a powerful search engine that compares all the rental companies in the market. I use Discover Cars.
Book your tours: Live unforgettable adventures and cultural experiences with Get Your Guide. For instance, you can Visit Elafonisi, discover Balos Beach, hike Samaria, or explore Knossos.
Don't forget travel insurance: Things can go wrong at times, but travel insurance will protect you against illness, injury, theft, and cancellations. I recommend Safety Wing for peace of mind.
Pin it Now and Get Ready to Plan your Greece Vacation with these Crete Travel Tips!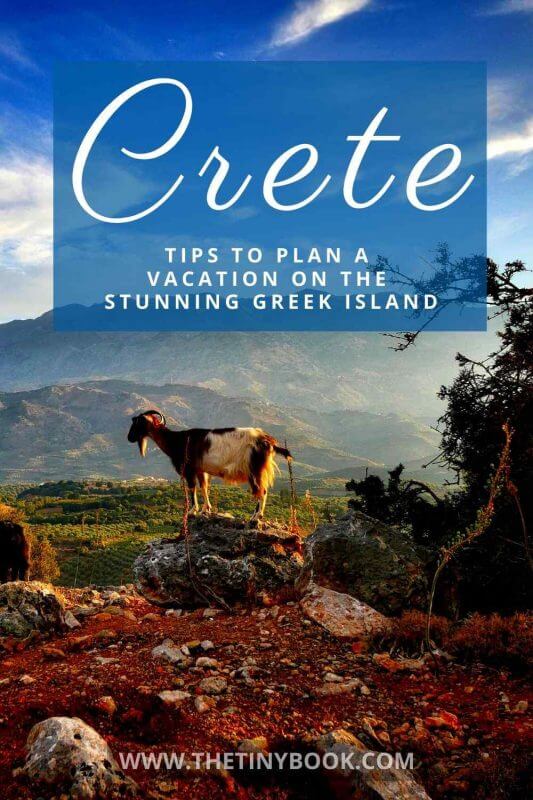 About the author of this blog: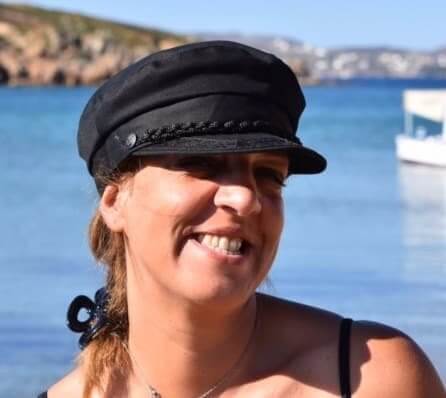 Gabi has been living in Crete for the last five years. On the island, she juggles being a solo mom, hosting culinary tours in summer, translating, and freelance writing.
She's written for Greek Reporter, published several travel guides about Greece, and had more glasses of frappe than any regular person would be able to handle.
COMING TO CRETE SOON?
Get in touch and let me know!
---