Interested in visiting Crete but not sure how much you would need? Or have you already made your plans and are wondering how much to save for the trip? Either way, this article is just for you. Keep reading to discover how much it costs to travel to Crete. And then prepare your luggage. Off we go!
---
Disclaimer: Posts include affiliate links leading you to products or services, I might earn a small commission if you make a purchase. This has no extra cost to you but allows me to continue writing articles that are helpful for your travels. I only recommend things I use myself or that I believe will deliver value to you. 
---
How Much Does it Cost to Spend a Vacation in Crete
The beautiful thing about holiday costs is that you can choose how small or big they are. In short, a holiday in Crete can cost as little or as much as you want it to be. Crete is an island that covers all budgets.
Depending on your lifestyle and what you want to do, you may need a different budget for your holidays in Crete.
You can start from as low as €40 per day and reach as much as you want. Indeed, there is no roof on how much you can spend in Crete.
To get a better idea of the budget you will need, it is best to think of the main expenses that you will have.
Because accommodation, food, and activities can take 80 to 90% of your budget, it is wise to examine the cost for each category.
A quick guide to the best hotels in Crete
Budget: So Young Hostel in Heraklio, Cocoon City Hostel in Chania, Matthias Hotel Apartments in Rethymnon, and Villa Galini in Agios Nikolaos.
Mid-range: Capsis Astoria Heraklion in Heraklion, Porto Antico in Chania, Archipelagos Hotel in Rethymnon, or Hotel Port 7 in Agios Nikolaos.
Luxury:  Galaxy Iraklio Hotel in Heraklion, Hotel OFF in Chania, Avli Lounge in Rethymnon, or Minos Beach Art Hotel in Agios Nikolaos.
Check more: Where to stay in Crete.
SMART STAY IN CHANIA: For business or a holiday, seasonal or throughout the year, Dimitris City Break Apts is a cozy, peaceful, and sun-drenched place to stay in town. Get in touch with the code TinyBook for a 10% discount!
Cost of Accommodation in Crete
The main daily expense that you will incur in Crete is no other than the accommodation. Studios and rooms start from as low as 40 to 60 euros for budget stays.
You can also rent entire houses for just around €100, or give the same amount for a better room in a hotel.
If you want to save 50 to 70% of your accommodation budget, remember that you can also choose to sleep in hostels, usually situated in major towns.
Sleeping in a hostel offers you a great way to save a lot from your trip. For just 15 euros per person per night, some would not mind sharing a toilet.
So, if all you need is a place to lie down and sleep, feel free to consider this option.
On the contrary, if you want and can afford to treat yourself with unparalleled luxuries, the accommodation options in Crete are limitless.
Choose anything from beachfront resorts to extravagant villas and deluxe apartments. If you are looking for a number, note that the sky is the limit.
In short…
Hostel: €15 – €25 per person per night
Budget hotel: €50-60 per room per night
Mid-range hotel: €100 per night
Luxury hotel or resort: (as much as you can afford)
You might also want to read: Best Hotels in Hersonissos For Your Fun Crete Holiday!
Cost of Food in Crete
There is no doubt that, during your holidays in Crete, you will taste some of the most authentic and delicious Greek food in Greece.
Unfortunately, unless your best Greek friend hosts you at their house, you most likely have to pay for the food.
And in general, the better the quality of the food, the more expensive it is. Just like with the accommodation, there are thousands of tavernas and restaurants on the island.
Although not two tavernas are the same, there is a rough guideline on how much they charge for each dish.
Traveling to Crete soon? Check these rookie mistakes you want to avoid making on the island.
If you head to an economy tavern, you can expect to pay anything from €3 to €6 per side dish, also called meze in Greek, or about €7 for a main dish such as moussaka.
In comparison, a more fancy restaurant will set you off about €10 to €12 for a salad or €15 to €18 for a plate of fresh fish.
When you come to Crete, you also have to try the street food. If you are used to big companies and franchises monopolizing the street food industry, prepare yourself for a surprise.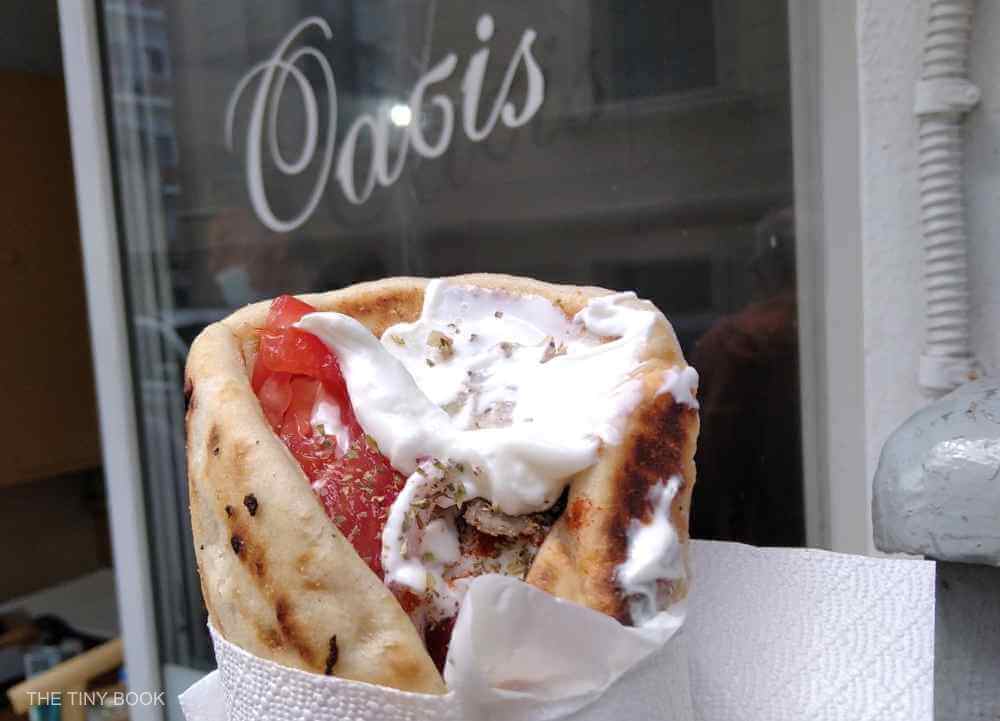 Greeks hate fast food companies and daily show their love to traditional Greek street food, usually offered by small entrepreneurs who strive daily for the quality of their meals.
For just as low as 2 euros, you can get a large slice of freshly baked pizza.
And of course, don't forget to try the king of street food in Greece: the infamous gyros. Under €3 for a gyro wrap, this is a steal in both quality and price for Western standards.
To get a better idea of how must the food in Crete costs, here are some examples of items you may consume daily:
Ice Cream: €1.8-3
Coffee: €1.80-2.5
Beer: €2.50-3.50
A glass of wine: €4-6
Bottle of wine in the supermarket: €7-15
Cost of Activities in Crete
Apart from food and accommodation, activities are the next big expense you will have during your holidays in Crete.
In contrast with food and accommodation, you can choose to do activities and things that come for free, such as visiting a beach, taking a city walk, or hiking a gorge.
There are so many free things that you can do in Crete.
However, many worthwhile and memorable activities do bring a cost.
For example, a day trip to the historical island of Spinalonga will cost around 25 euros per person. In comparison, hiking Samaria, the longest gorge in Europe, can take as much as 50 euros, including transport and entrance fee.
Next to its majestic landscape and incredible natural beauty, Crete is also full of history and museums.
Although the price can vary depending on the specific museum and the exhibits, you can expect to pay around €6-€10 per ticket.
For example, the Archaeological Museum of Heraklion has an entrance fee of €10, whereas getting to CretAquarium will cost around €7. Of course, many smaller museums and exhibitions ask only 2 to 3 euros.
Apart from hundreds of museums, Crete is also full of archaeological sites inherited from the glory of the past. The prices here are lower on average.
For example, the entrance fee to Spinalonga island is €8, €2 more than the ticket to the ancient city of Phaistos.
The most you can expect to pay for visiting an archaeological site is €15 for getting into the Minoan Palace of Knossos, one of the most famous buildings in Crete.
Even though the price may seem a bit too much for some, exploring this 8000-year-old site and its rich history will reward you with incredible scenery and memories.
How Much Do You Need to Travel Around Crete
When you are in Crete, you can decide whether you want to stay in one place or explore parts of the island.
Although you can have the time of your life in one single town like Chania or a village such as Elounda, you will most likely want to move around and explore the surrounding area.
Remember that unless you have a few weeks at your disposal, traveling the entire Crete can be daunting and tiring, let alone you will miss many things in the process.
And most importantly, it will hurt your wallet big time.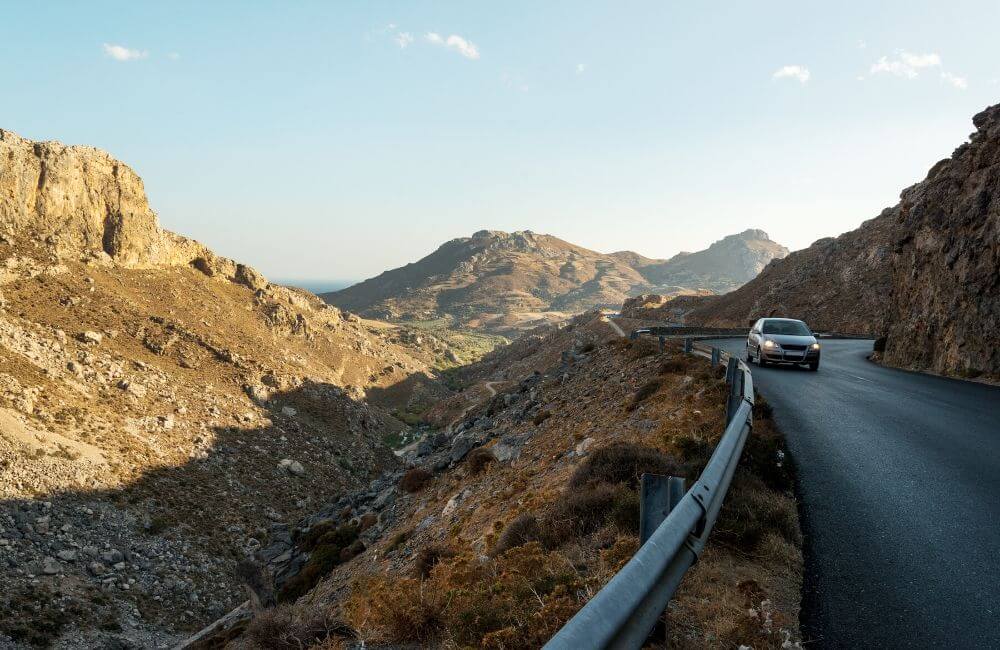 So if you want to appreciate and discover the most a region in Crete has to offer while staying on budget, it is clever to focus on one place and explore it at your own pace.
To do so, you can rent an economy car for as low as €25 per day.
Car rentals are almost everywhere around the island.
To save even more from your budget, try to rent a car for the days you really need it.
After all, you often do not use a vehicle for the entirety of your holidays.
For example, if you decide to stay in Chania, you can easily spend four days exploring the city without using any rented vehicle.
When you decide to head outside the city into the countryside, you can rent a car from the city town and discover the urban side of Crete.
If renting a car is a bit difficult for you, remember that you also have the option of public transport.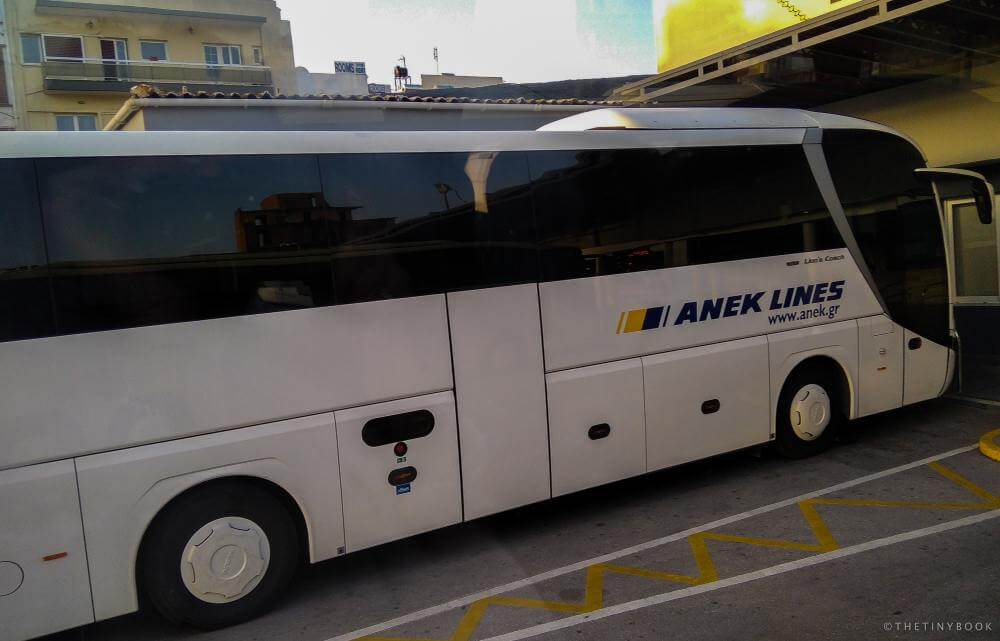 The average city ride will set you off about €1.8 to €2.5, whereas long-distance bus trips can cost anything from €8 to €15.
Although the buses in Greece and Crete are not as punctual as in other European countries, they will get you from one place to another without hurting your wallet.
You might also want to read: The Most Delicious Seaside Restaurants That You Should Visit in Crete!
How Much Does it Cost to Visit Crete?
Although getting around Crete is something that you can do without, there is no way you can avoid paying for getting to Crete in the first place.
However, you can try to limit the cost as much as possible.
The most economical way to get to Crete is by sea. The ferry from Athens will cost you around €38 per person for a standard seat.
Check ferry tickets to Greece here!
Although the trip can take anything between seven to twelve hours, you can save much of the cost of a direct flight to Crete.
If comfort is more important than the budget, you can also get a room on the ferry.
A cabin may cost up to €160, but you will have your private bedroom on a huge ferry.
As a result, you have the opportunity to get some quality sleep on the way to Crete.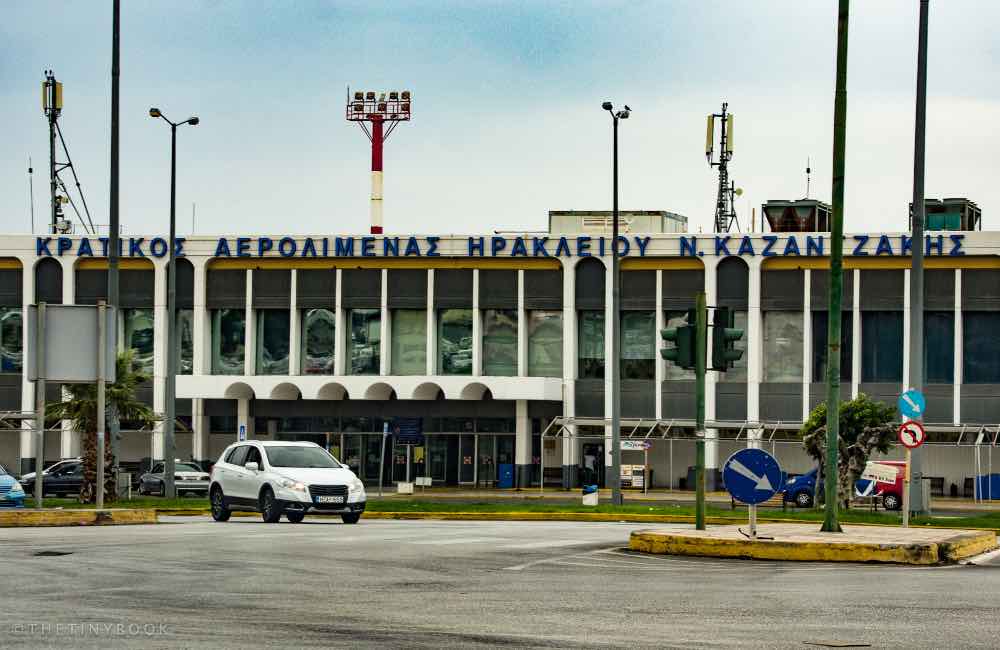 When it comes to flights, the costs can vary a lot. There are so many factors that are in play here.
The season you visit, how far ahead you book your flight, the international airport you land in Crete, where you take the plane from, or the airline, to name only a few.
Giving a cost estimate for a flight to Crete is not an easy feat. If you plan ahead and do your research, you can pay as little as €100 or less for an international flight to Crete from an airport in Europe.
However, the standard ticket would approach €300 or €400 depending on where your departure airport is.
Remember that international flights can be cheaper if your first head to the international airport in Athens.
Not only will you have the chance to spend a few hours or days in the birthplace of democracy, but you will save a lot for your trip to Crete.
Once in Athens, you can take an inexpensive domestic flight or ferry to Crete.
You might also want to read: How to Get from Heraklion to Matala, Crete without Getting Lost!
Crete Saving Tips: How to Save Money and Lower Your Crete Costs
No matter your traveling style, you have the power to follow a few saving tips and lower your budget. Here are five of the most effective ways to spend less money on your holidays in Crete:
Visit Crete in the Low Season
The most economically friendly time to visit Crete and still enjoy the warm Greek weather is undoubtedly the month of September.
Not only does this month have the ideal water temperature for endless swimming, but you will also notice that everything is so much cheaper than July and August.
And if you want to save even more, consider visiting the island between April and May. October is another month when there are only a few tourists on the island.
In short, those months are part of the so-called shoulder season, when accommodation and many activities are much cheaper than in the high season amid the summer.
You might also want to read: Unique Things to Do in Ierapetra For An Incredible Trip to South Crete!
Get Off the Tourist Trail
The easiest way to save money in Crete is to live like a local. Take the local buses, eat street food instead of typical restaurant food, and drink beer or raki instead of more expensive alcoholic drinks. Just notice how the locals behave, where they go, and follow their example.
Getting off the beaten path sounds like a cliche, but it is an efficient way to bring costs down while also getting an authentic experience of the place you are visiting.
And this applies to Crete as well. So, to the extent that it is possible, try to avoid big tourist centers and focus on visiting lesser-known parts of the island.
Your wallet will notice the difference right away!
You might also want to read: Incredible Vacations in Corfu: Best Things to Do in Corfu for a Great Adventure!
Book Tours when you Arrive… or Way Beforehand!
No matter what you're looking to do, you can wait until you get into Crete to book any tour or activity.
Travel agencies are everywhere on the island, so they are easy to find.
Of course, you could purchase these tours online a few days before you arrive, but you would be paying a lot more when booking last minute.
However, the best thing to do is book a few months in advance. This will save you a lot of money.
You might also enjoy reading: Chania vs. Rethymnon: Which Cretan City You Should Visit?
Limit Your Drinking
This is a no-brainer: you can save a lot of money by limiting how much alcohol you drink. When you can, go with the local raki, the most popular alcoholic drink in Crete.
And it is inexpensive too! If its taste does not suit you, the next best option for your budget would be a bottle of beer.
You might also want to read: What to See in the Minoan Palace of Phaistos, Crete.
Rent a Car from the Town or Online, not at the Airport
If you plan to get a car during your stay in Crete, rent it from a rental agency in a town, not in an airport.
The daily prices for renting a vehicle are usually higher in the airport than in the city center.
It is always a great idea to compare prices a few months before the trip, do so online, this way of booking in advance can save you some money!
Remember: Although getting a car from the airport can be convenient, you will save a lot if you rent one from an online agency a few months before the trip.
In addition, you will also be able to rent the car for just the days that you need it, rather than the entirety of your holidays.
Prices in Crete: Bottom Line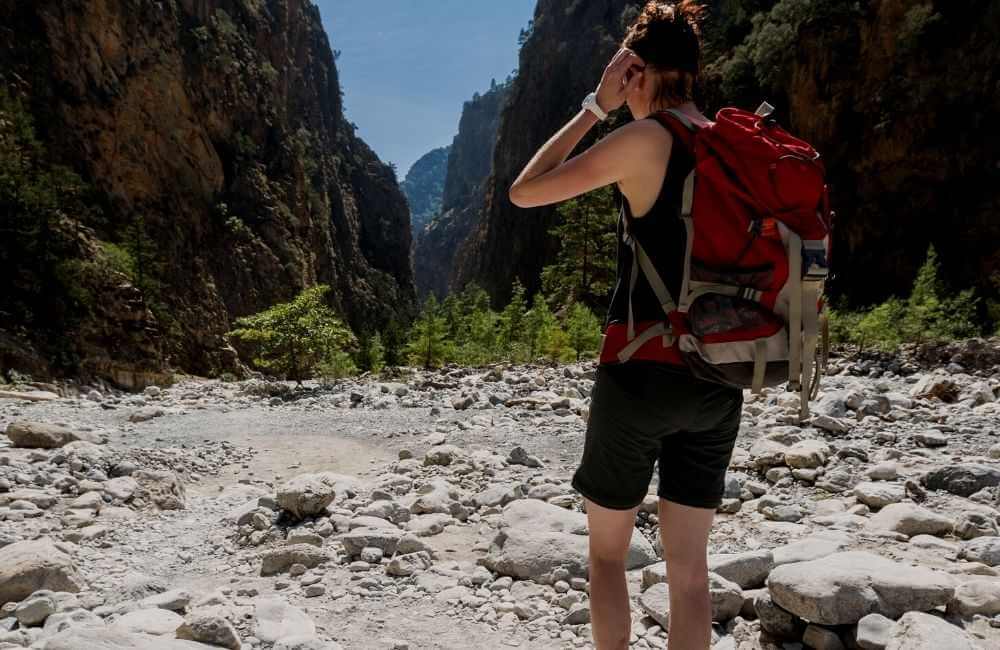 All in all, an average traveler in Crete can expect to pay about €80 to €100 per day. However, it all depends on the lifestyle and way you want to spend your holidays.
This budget is only indicative, and you can stretch it on both sides.
If you want to go super budget-friendly, you can spend as little as €25 per day, doing mainly free things and staying in hostels.
As for the other side, if luxury is your second name, Crete will treat you well. And this will come at the right price as well.
So here is a budget guide to Crete. You have all you need to plan your next holiday! Take your time, prepare your budget, and visit the island.
Crete will reward you with memories that last a lifetime and cost almost nothing in comparison.
---
Are you planning your trip and don't know about the prices in Crete?
Let me know in the comments below!
You might also find these Crete travel blogs interesting:
– Bars in Chania, Pubs & Other Fun Venues For Your Nights Out in Crete! – A guide to the best bars and pubs in Chania and the surrounding area.
– Dreamy Boat Trips in Crete: Discover Crete by Sea! – A list gathering the best boat excursions around Crete.
– How to Get to Crete: Best Air and Sea Routes to Travel to Crete Island! – All the tips you need to book your ticket to Crete.
– The Most Exhilarating Wineries in Heraklion, Crete – The best wineries to visit in Heraklion.
– The Most Fascinating Books About Greece You Can Read Anytime! – A guide to the best books about Crete.
LAST-MINUTE PLANS FOR CRETE?
– Use Ferryhopper and Skyscanner for the best ticket rates.
– Find great accommodation deals on Booking.com.
– Compare car rental prices with Discover Cars.
– Check the best tours with GetYourGuide.
– Visit Elafonisi, discover Balos Beach, hike Samaria, or explore Knossos.
– Pack the Lonely Planet Guide to Crete or get my digital guide to Chania.
This Belongs to a Board! Pin This Guide to Prices in Crete For Your Next Adventures!
Written by Dimitrios Tsevremes
Passionate about travel, spirituality, and sports, I have lived in 5 countries and traveled to more places than I have counted. Writing for me is a way to express myself and my creativity. Whether I write for my blog or a freelancing gig, I always fall in love with the process and often lose my sense of time. If you want, you can check out more about me and my work here.
---
About the author of this blog: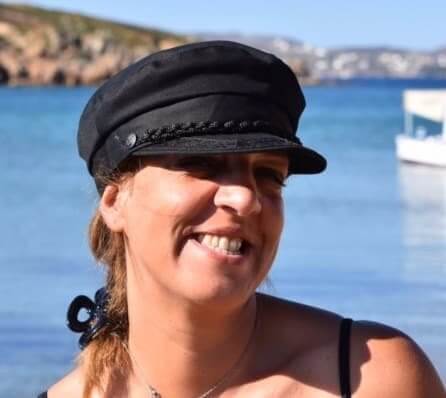 Gabi has been living in Crete for the last five years. Here, she juggles being a solo mom, hosting culinary tours in the summer, translating, and writing for The Tiny Book and her other blogs.
She's written for Greek Reporter, published three travel guides about Greece, and had more glasses of frappe than any regular person would be able to handle.
COMING TO CRETE SOON?
Get in touch and let me know!