Gyro, gyros, gyro wrap, souvlaki… call it the way you want, the fact is we know what we're talking about: one of the tastiest treats you can have when visiting Greece.
Are you visiting Crete and want to taste the best gyro wrap on the island? This guide tells you where to have the tastiest gyro in Crete!
---
Disclaimer: Posts include affiliate links leading you to products or services, I might earn a small commission if you make a purchase. This has no extra cost to you but allows me to continue writing articles that are helpful for your travels. I only recommend things I use myself or that I believe will deliver value to you. 
---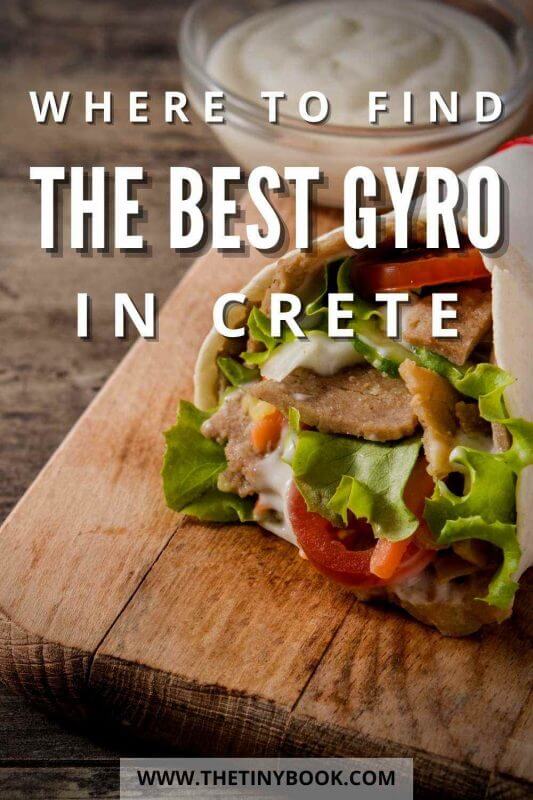 LAST-MINUTE PLANS FOR CRETE?
– Use Ferryhopper and Skyscanner for the best ticket rates.
– Find great accommodation deals on Booking.com.
– Compare car rental prices with Discover Cars.
– Check the best tours with GetYourGuide.
– Visit Elafonisi, discover Balos Beach, hike Samaria, or explore Knossos.
– Pack the Lonely Planet Guide to Crete or get my digital guide to Chania.
A quick guide to the best hotels in Crete
Budget: So Young Hostel in Heraklio, Cocoon City Hostel in Chania, Matthias Hotel Apartments in Rethymnon, and Villa Galini in Agios Nikolaos.
Mid-range: Capsis Astoria Heraklion in Heraklion, Porto Antico in Chania, Archipelagos Hotel in Rethymnon, or Hotel Port 7 in Agios Nikolaos.
Luxury:  Galaxy Iraklio Hotel in Heraklion, Hotel OFF in Chania, Avli Lounge in Rethymnon, or Minos Beach Art Hotel in Agios Nikolaos.
Check more: Where to stay in Crete.
Best Gyros in Crete to Taste During Your Trip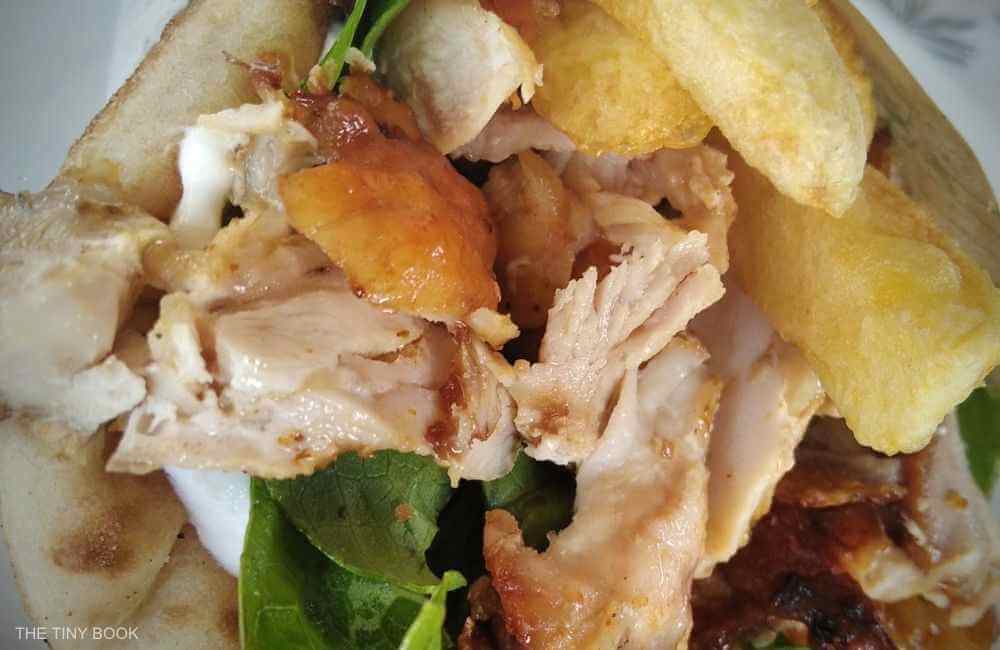 There are little things in life we enjoy more than food. And this is especially true in Greece. People here are crazy about eating well and eating a lot.
Lunches can take hours to complete and there is this tendency to eat slow and enjoy the food.
Apart from all the fancy restaurants and traditional Greek tavernas, there are also affordable and delicious fast food options. The most popular fast food is no other than gyros!
Everyone who's been to Greece has heard about it.
Greece and gyros go together. That is why this week's article. Here you can learn where to find the best gyros in Crete… Yes, anywhere on the island!
No matter where you choose to stay, there will always be a nearby place where you can taste delicious Greek gyros.
Best Gyro in Heraklion
These are, in no particular order, some of the places serving the most delicious gyros in the capital of the island…
Thraka tis Plateias
Location: Plateia Daskalogianni 1, Iraklio.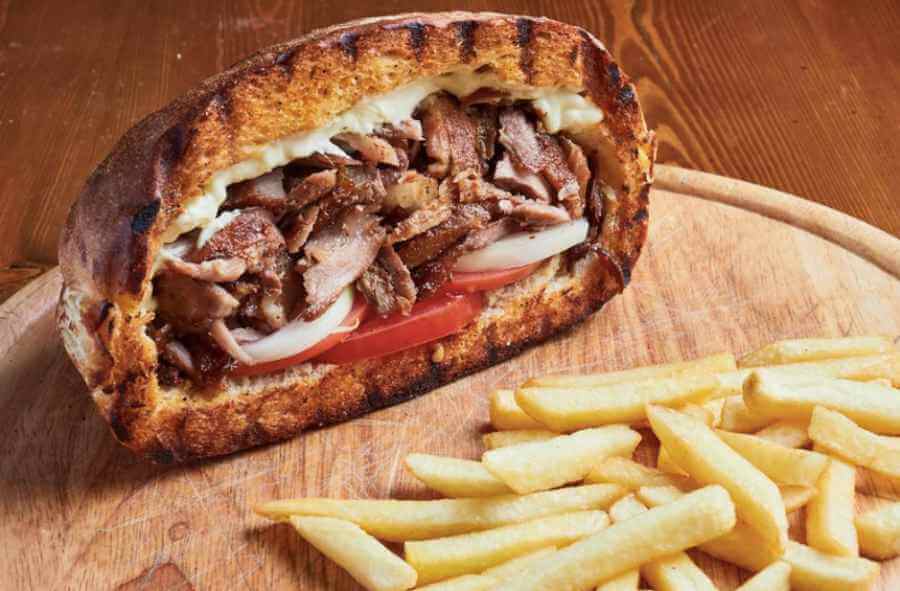 Located in the central area of Heraklion, this Greek restaurant has some of the best gyros in the city.
Because of its location, it is almost always busy which also means the ingredients are fresh. Next to the good food, you will also find great and quick service from the staff.
When you visit, don't forget to ask your Gyros to come with thrakopsomo. This is a special kind of bread only served in this store.
Finally, the portions are generous and the prices reasonable for the quality and quantity they offer. It is certainly worth the visit.
Cine Gyros
Location: Konitsis 29, Iraklio.
Although located in a less central and less touristy area, this snack bar is always busy with locals and tourists who know their way around.
Here, you can find the best gyros in the city, according to the local visitors.
What is more, there is not just a standard size for your pita Gyros. You can choose anything from small, medium to large!
And the best part is that everything is inexpensive, especially if you consider the quality of the ingredients. The owner is very serious about this matter.
Talking of him, he is very talkative and friendly, so don't hesitate to start a discussion or ask for a recommendation.
O Gyros tou Giannari
Location: K Manoli Mpantouva 65, Iraklio.
As its name suggests, this place has some of the finest gyros in the city. Situated in a lovely residential area, it is very much worth the short trip outside central Heraklion.
The staff is friendly and eager to help and make any recommendations.
Here, you can find a great variety of Gyros dishes. If you do not want the traditional version, consider trying the chicken gyros with yogurt.
No matter what you choose, the owner guarantees exceptional quality. And everything at local prices. It is without a doubt one of the best grills in the area.
Cretan Family Gyros & Crepes
(Ο γύρος της Γης)
Location: Agiou Ioanni 98, Stalida (Beach Road).
Would you like a game character to prepare your Pita Gyros live and in front of you? Well, this is the closest you can find to it.
The owner of this small snack bar is named Marios in Greek and he is always dressed like Mario from the popular game. He is very friendly and fun!
You can feel the love he puts into the food itself. When it comes to eating, you can have your takeaway Gyros or sit in the store and enjoy your meal.
When you are done with your Gyros and feel like you want a dessert, you won't need to go far as Mario can also prepare delicious crepes within a few minutes.
Petousis
Location: 62 Martiron 38, Iraklio.
For the biggest Gyro in the whole of Crete, you are welcome to visit Petousis.
The portions here are gigantic and you will find this place open almost 24/7.
For the quantity they offer, their prices are very reasonable, if not low. It is definitely a value-for-money option.
This grill bar is located next to many beach bars and other nightclubs.
This means it can get busy even during the early morning hours.
It is a very traditional snack bar with only a few sitting areas inside the store when it comes to decor.
It is worth the visit for a takeaway on your way to the beach or if you are simply too hungry.
Still hungry?
>>Head here for the best restaurants in Heraklion<<
Check ferry tickets to Greece here!
When it comes to the best and tastiest gyros in the second most important city on the island, Chania, these are the places I recommend you to visit.
Oasis
Location: Voloudaki 4, Chania.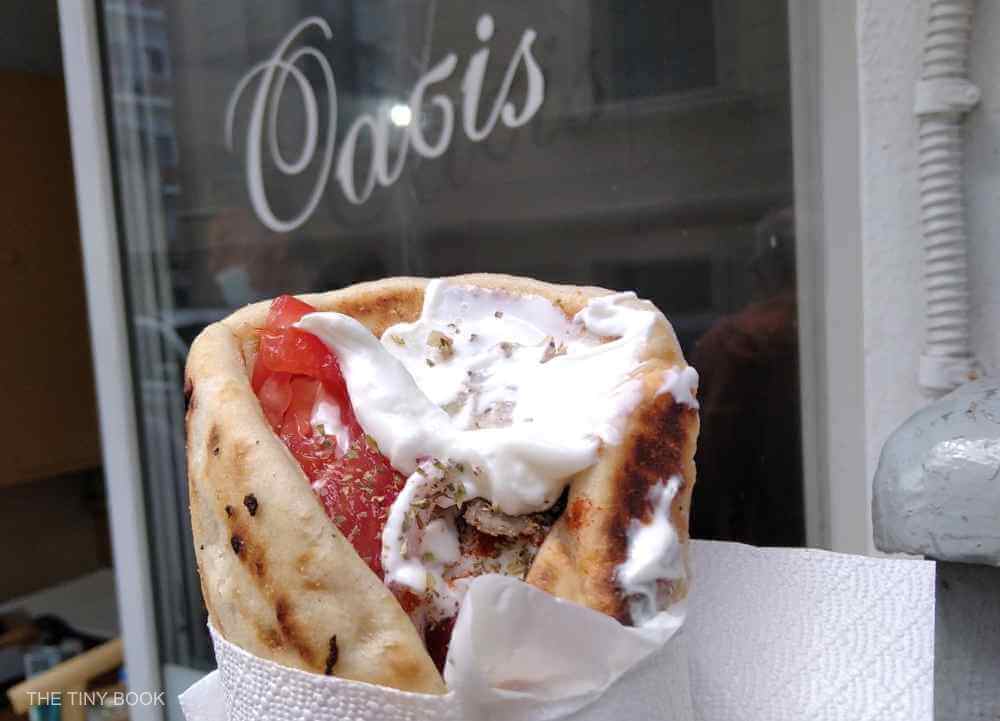 If you want something local and authentic, look no further than Oasis. Although off the beaten track, this snack bar is always running and full of locals.
You won't find a big variety of dishes other than the traditional Pita Gyros. According to locals and tourists alike, Oasis is The best gyros in Chania.
It is also one of the few places in Crete where you can still order Gyros for just 2 euros.
The only drawback is that there are no tables where you can sit down and have your meal.
It is all take-away like it has always been traditionally. This certainly gives it a different flavor altogether.
Delish Food Streat Story
Location: Tsouderon 32, Chania.
Delish is located in the Centre of Chania, only steps from the Old Chania Market. It is an ideal place to stop over after a shopping session in the city.
There, you can relax and fill up with delicious and fresh gyros. Make sure you try the chicken version.
Their prices are reasonable as you find a Pita Gyros from as low as 2.80 euros. In addition, there is a nice terrace to sit in and enjoy your meal.
It is usually busy because of its location. At the same time, this also means the vegetables and meat are fresh.
Grill Bar – Souvlaki & Burger
Location: Skalidi 14, Chania.
This small but cozy grill bar offers some of the finest gyros in Chania. The prices are reasonable for a bistro-style restaurant while the portion sizes are above average.
The service is quick and you can choose between different gyros plates.
What you will love most though is no other than the staff working there. They are very friendly and talkative, especially the owner.
Feel free to ask for any recommendations about your gyro choices or start a discussion about Greece!
All in all, you will love the vibe and atmosphere of this gyro bar!
Thraka
Location: Chatzimichali Giannari 34 & Anagnostou Gogoni 77, Chania.
Thraka is another popular grill bar in Chania. Here, you can find gyros among other dishes. Their service is quick and their prices reasonable.
The gyros itself is of good quality and is preferred by locals.
The atmosphere is what you will enjoy the most though. The store has a modern style, with elegant and sophisticated elements inside a black background.
There are both indoor and outdoor sitting areas, ideal if you want to chill out.
A perfect place for family gatherings or a day out with your friends.
Gyropoleion 144
Location: Kissamou 144, Chania.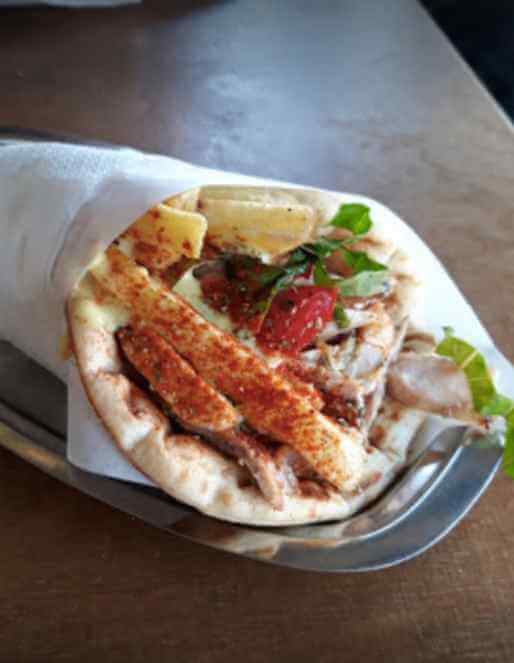 As the name of the store suggests, this is the place where you can find and buy ("poleion") Gyro. It is a traditional store in a local neighborhood, away from the hustle and bustle of the center of Chania.
If you happen to pass by, it is worth a stop.
They do not have a big variety in their menu but this is not needed after all. All you want is Gyros and this store has it! The place itself is small but cozy with a traditional flavor and vibe.
The only caveat is that it can get a bit noisy during rush hours because of the road next to the store.
Want to check more places to eat?
>>Read about the best Street Food in Chania<<
Best Gyro in Rethymnon
In no particular order, these are some of the top places to taste a fantastic gyro wrap when visiting Rethymnon, take a look!
Mr. Gyros
Location: Adelianos Kampos, Rethymnon.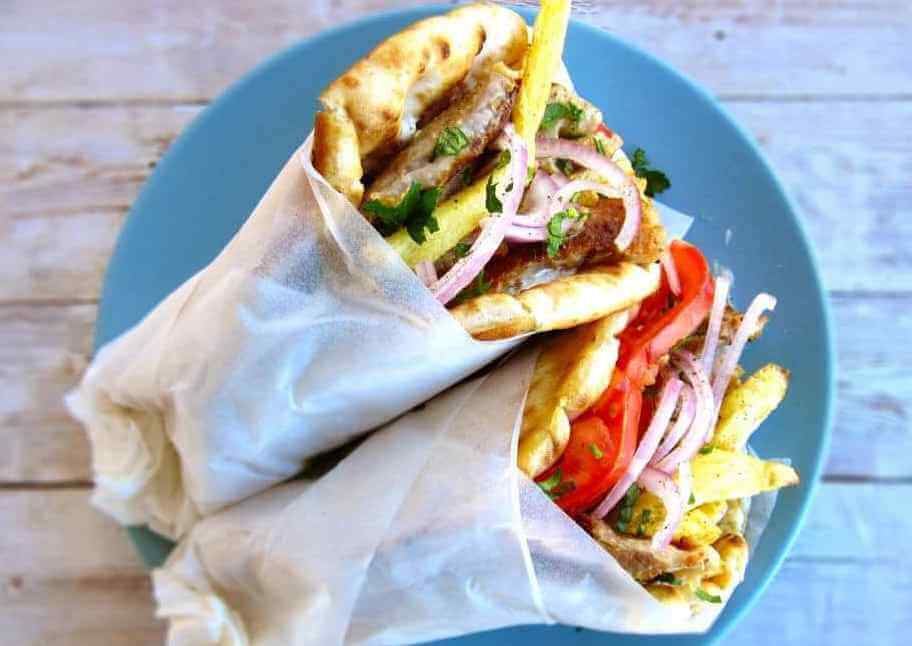 Mr Gyros is a grill restaurant that specializes in Gyros, hence its name. It's right next to the beach.
This means you can have a takeaway Pita Gyros for a walk by the sea or simply sit down for a proper meal, enjoying the Aegean breeze and the beach atmosphere around.
The prices are very reasonable, especially if you consider its location.
The staff and owner are very friendly. After all, it is a family business and you can feel that.
There is also a kids' room with different games and toys, so your children can go and entertain there. An ideal place for a family meal.
Souvlaki Nikos
Location: Arkadiou 70, Rethymno.
Nikos Souvlaki is located in the center of Rethymno, right in the middle of the old town.
Their Gyros is always fresh because of the sheer amount of customers who choose to buy from this store. Locals and tourists alike come together to create a nice atmosphere.
Although this place is almost always busy, the service is very fast and professional.
If you don't want a takeaway, you can enjoy your gyros at traditional Greek tables inside the store or outside in the middle of a pedestrian-only street.
It is certainly worth the visit after a walk or shopping session in the city.
Looking for other places to eat in the area?
>>Check the best restaurants in Rethymnon<<
Petrino
Location: Sofokli Venizelou 23, Rethymno.
Petrino is a bistro-like grill restaurant that offers some of the finest gyros in the city. Although the prices are a bit higher than the competition, the quality and service certainly make up for it.
Make sure you ask to put their special sauce inside your gyros wrap or dish.
Of course, what you will love the most is no other than the location.
Overlooking the port and right next to the main street of Rethymno, this restaurant offers an unparalleled view of the city.
This is especially true if you choose to stay on their balcony upstairs. Although a bit crowded at times, it is worth the wait if you have to.
To Parastratima
Location: Moskoviti 12, Rethymnon.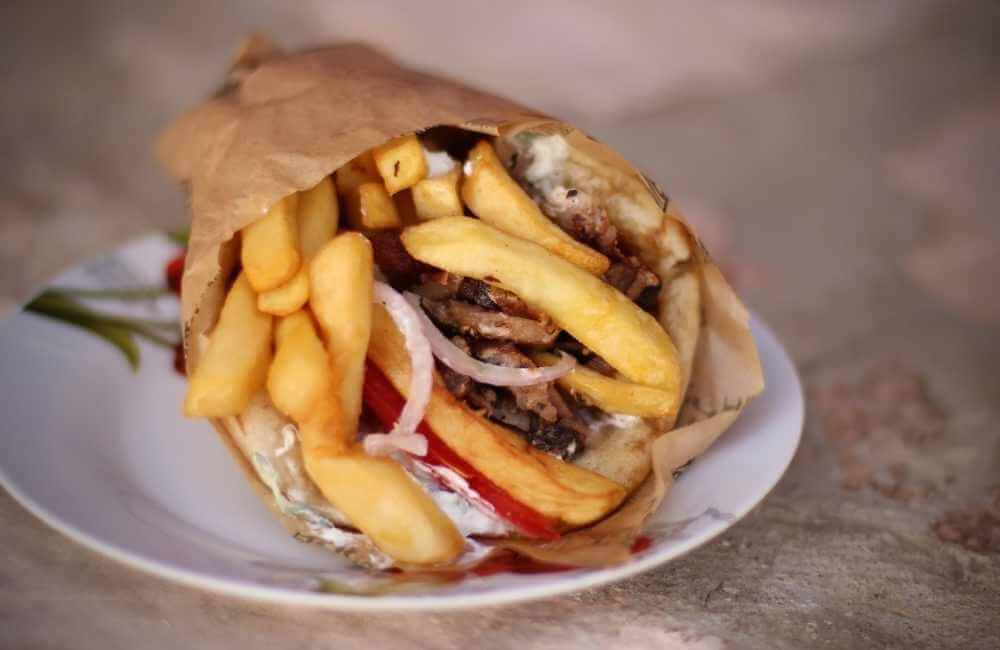 This cozy tavern is located in the old town of Rethymno. Although in a narrow alley, this place is known to tourists and locals alike. The atmosphere is warm and calm, away from all the noise and buzzing of the street.
An ideal place to peacefully enjoy your Gyros.
Speaking of which, here you can find fresh and delicious Gyros.
Although they have a lot of variety in dish choices, Gyros remains one of their most popular dishes. Finally, the staff is super polite and friendly.
All in all, if you want to visit the old town, consider making a stop here.
Taverna Klimataria
Location: Leof. Machis Kritis 31, Rethymno.
This Greek restaurant is about 400 meters from the beach and offers a variety of Greek dishes, with Gyros being one of them.
If you have kids and want to try gyros for your dinner, this is an ideal place.
There is also a kids' area where your children can play and you can enjoy your meal at peace.
This family-run business has quick service and friendly owners. As for the atmosphere, there is the usual traditional Greek setting but with a modern twist when it comes to decor.
You can find sitting areas both inside and outdoors, so feel free to choose the table you like the most.
Best Gyro in Lasithi
And our last region is Lasithi. These are some of the best gyro places that you can visit if you're touring East Crete.
Thraka Grill House
Location: B. Kornarou 105, Sitia.
Located in the most eastern part of the island, in the city of Sitia, Thraka Grill House is the place to go if you are looking for a traditional Gyro.
The meat is always fresh and cooked just minutes before it is on your plate.
This can mean some extra time until your Gyros is on your plate, but it is definitely worth the wait.
Apart from the authentic food, you will also love the people working there. They are all very polite and respectful. There is also a fireplace inside the store.
Although not open on hot summer days, the fireplace itself certainly creates a unique atmosphere.
Fresco Eatery
Location: Omirou 4, Elounda.
Fresco eatery serves some of the best gyros in Elounda. Their portions are large even though they are very inexpensive. It is a great value for money, especially if you consider the location.
The store has a clear 180-degree view of the small fishing port and village in front.
You can feel the vibe of the village.
Make sure you visit when the sun has set or otherwise it can get too hot to sit outside. In any case, you will love the two owners. They are very friendly and eager to help with any query about the village or Crete.
Greek hospitality at its finest!
Al Dente
Location: Akti Nearchou 3, Ag. Nikolaos.
In Agios Nikolaos, Al Dente is considered the place to go to try the local gyros.
Although you can find other dishes too, Gyros is one of the most popular choices among the locals.
The service is outstanding and very friendly. This is mainly thanks to Michalis, who is the owner of this restaurant. He is chatty, funny, and ready to recommend the next best place to go in Crete.
Don't hesitate to ask for his advice on any matter at all.
Spitiko Psitopolion
Location: Knossou 27, Ag. Nikolaos.
Still in Agios Nikolaos, Spitiko Psitopolion is another grill bar where you can find and taste delicious gyros.
The portions are large and the prices very reasonable. You can have your Pita Gyros for as low as €2.50.
You also have different options for what type of Gyros you prefer. Anything from pork, chicken to grilled chicken. Finally, the service is fast and friendly.
You can feel it is a family business that caters to its customers.
It is a great place for a stop-over after a shopping session in town.
Want to read more about other places to eat and things to do here?
>>Check the best things to do in Agios Nikolaos<<
Karnagio
Location: Kon/nou Paleologou 24, Ag. Nikolaos.
Probably my favorite in town. Karnagio serves stunning Cretan dishes different from what you would get anywhere else.
The portions are huge and the ingredients local. Prices are convenient. You usually have to wait in line because it's really popular.
Ther mezes are really very creative. Their hot dakos are unique. But when you come here for a gyro wrap you won't be disappointed!
They serve huge, top-quality gyros!
GrillHouse Makis
Location: Limanaki, Makrigialos.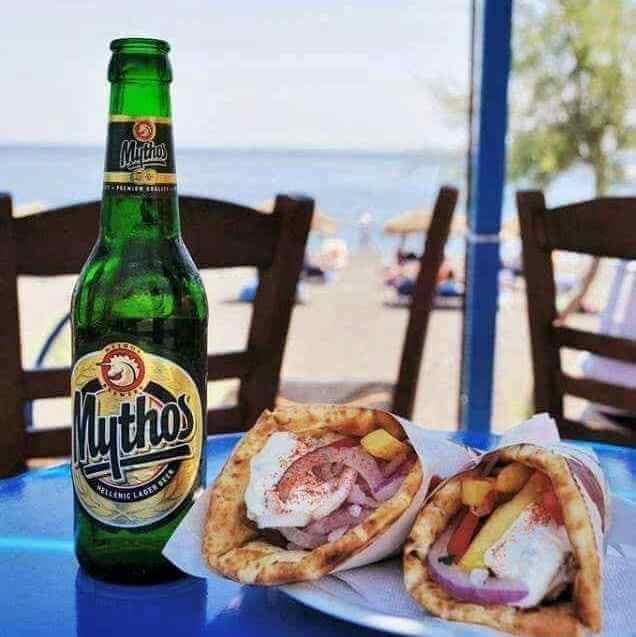 In the small village of Makrigialos, GrillHouse Makis is located right next to the beach with magnificent views.
You can literally sit half a meter above water and enjoy your Gyros dish with the Aegean breeze in your face.
No words can describe this feeling.
Because of the location and quality, they are almost always full; so make sure you make a reservation or come early enough to find an empty spot.
Despite that, prices are very reasonable for what they offer. It is definitely worth the visit if you pass by Makrigialos.
Want to read more about Makrigialos?
>>Check this post about Ierapetra<<
So… Don't you think there's a huge choice of places to have the best gyros in Crete? Trust me, you will love any of them!
---
Which of these best gyros in Crete would you like to try?
Let me know in the comments below!
---
This Belongs to a Board! Pin this Guide to The Best Gyro Restaurants to Check on Crete!
Written by Dimitrios Tsevremes
Passionate about travel, spirituality, and sports, I have lived in 5 countries and traveled to more places than I have counted. Writing for me is a way to express myself and my creativity. Whether I write for my blog or a freelancing gig, I always fall in love with the process and often lose my sense of time. If you want, you can check out more about me and my work here.
---
You might also want to read:
---
About the author of this blog: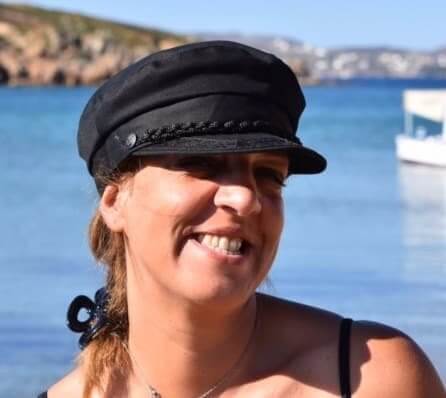 Gabi has been living in Crete for the last five years. Here, she juggles being a solo mom, hosting culinary tours in the summer, translating, and writing for The Tiny Book and her other blogs.
She's written for Greek Reporter, published three travel guides about Greece, and had more glasses of frappe than any regular person would be able to handle.