No matter how many times you visit Crete, its beauty and charm will keep surprising you. The more time you spend on the island, the more you fall in love with it… To the point where to make your first visit even more memorable, you wish you could tell your younger self a few travel tips about Crete.
These insight ideas and travel tips for Crete will help you make the most of your visit to the island. Keep reading to learn 20 of the best-kept Crete travel tips you cannot easily find out there.
---
Disclaimer: Posts include affiliate links to products or services. I might earn a commission if you make a purchase, at no extra cost to you.
---
Secret Travel Tips for Crete
When getting ready for your trip to Crete, you should also get ready to meet a new culture, unique and peculiar, fairly different from the usual Greece you are used to!
So read on to learn lesser-known details about the island and make the most of your adventure in Crete.
A quick guide to the best hotels in Crete
Budget: So Young Hostel in Heraklio, Cocoon City Hostel in Chania, Matthias Hotel Apartments in Rethymnon, and Villa Galini in Agios Nikolaos.
Mid-range: Capsis Astoria Heraklion in Heraklion, Porto Antico in Chania, Archipelagos Hotel in Rethymnon, or Hotel Port 7 in Agios Nikolaos.
Luxury: Galaxy Iraklio Hotel in Heraklion, Hotel OFF in Chania, Avli Lounge in Rethymnon, or Minos Beach Art Hotel in Agios Nikolaos.
Check more: Where to stay in Crete.
Rent a Car in Crete
If there is one tip you have to remember from this list, it would be no other than renting a car. Crete is an island full of natural wonders and spectacular sites worth visiting.
So, if you want to explore as many places as possible, renting a vehicle is your best chance.
Although you can rent a car at the airport, it is often less costly to get it from a local rental agency in the city.
Just visit their office and ask for a vehicle to rent. They will give you options, and in less than an hour, you can hit the road.
It is time for that road trip you had in mind; there is no better way to discover Crete.
Book Accommodation Online
Long gone is the time when you could visit Crete and negotiate a price for a hotel room.
Although it is still possible to find accommodation at the last moment, it will probably not be the most value for your money.
The best places to stay usually sell out way before you get to the island.
Almost every hotel or studio has its own website or works with booking platforms like hotels.com, booking.com, Airbnb, even Agoda.
As a result, the competition is more intense online than it could ever be on the streets. It is no wonder there are better offers online.
Just make sure you do your research before you choose where to stay.
Whenever Possible, Prefer a House over a Hotel
With the rise of house rentals, it has never been easier to find accommodation online. At the same time, your options have increased.
As good as some hotels can be, there are many reasons to book a house instead of a hotel room.
Lower price, faster access to the city, more kitchen amenities, and even more.
But most importantly, you want to stay in a house for its atmosphere.
You will have a closer look at how the locals live, exchange a few words with the neighbors every morning, and be part of the community.
Not to mention the more space and privacy you can have in a house.
Visit in September
Crete is an all-year destination. Yet, there are times when the island is at its best. And this period is no other than September.
It is the time of the year when the hot summer temperatures give way to the first signs of autumn.
Although still hot, it is now possible to hike the mountains or walk around the city center at noon; this would be unthinkable during July.
At the same time, the sea is at its best: calm, warm, and less crowded. Although there are still tourists around, it is nothing compared to the crowds of August. You cannot but love September.
Find cheap flights with Skyscanner.
Visit the South When you Can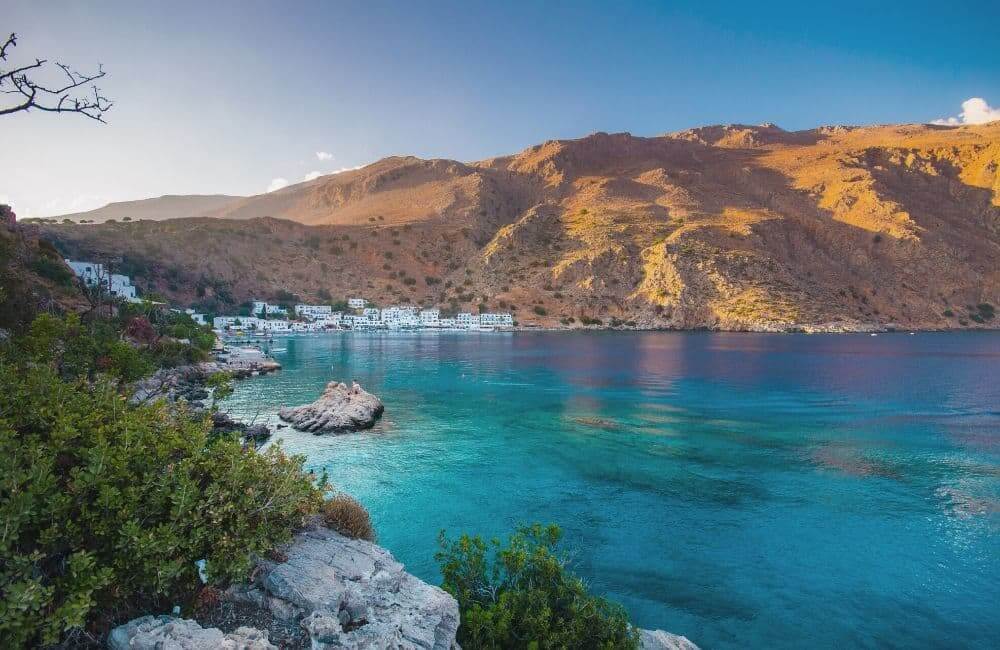 Your journey to Crete will most probably start at one of its main hubs: Chania or Heraklion where you can find the biggest harbors and airports on the island.
Although you should spend a few days exploring those areas, you would love a visit to the south of Crete as well.
Southern Crete is a more undeveloped area, mainly because it is cut off from the touristic north by a wall of high mountains, deep canyons, and forests.
As a result, it is a more traditional side of the island. If you rent a car, make sure to visit and stay a few days in southern Crete.
The South owns more than meets the eye.
Make Sure you Walk
Although renting a car is one of the best ways to discover Crete, do not forget this is just a means to an end.
The goal is to enjoy the island and meet its wonders.
So, if you plan to see the beauty of Crete, make sure you wear those sneakers of yours and set off for a walk.
Especially if you are in a beach town or a mountain village, grab this opportunity and explore as much as you can.
For example, take the Old Town of Chania. There is no better way to embrace its charm than strolling around its narrow alleys, picturesque harbor, and historical sites.
Bring a Good Pair of (Hiking) Shoes
Another reason to plan a few walks in Crete is no other than its spectacular gorges and mountain terrain.
And to enjoy that type of walk, make sure you bring with you a light pair of hiking shoes with good traction. Or even a sturdy pair of sneakers.
These will be your trusty companions in many of your adventures.
The island is full of one-of-a-kind canyons, such as Kourtaliotiko and Samaria, the longest gorge in Europe.
As you walk through these canyons, the landscape keeps changing and surprising you. You do not want to attempt that hike with sneakers or god-forbid sandals or flip-flops.
And the same applies to other hiking trails, such as the ones in the White Mountains of Crete.
Hike Samaria Gorge on Your Own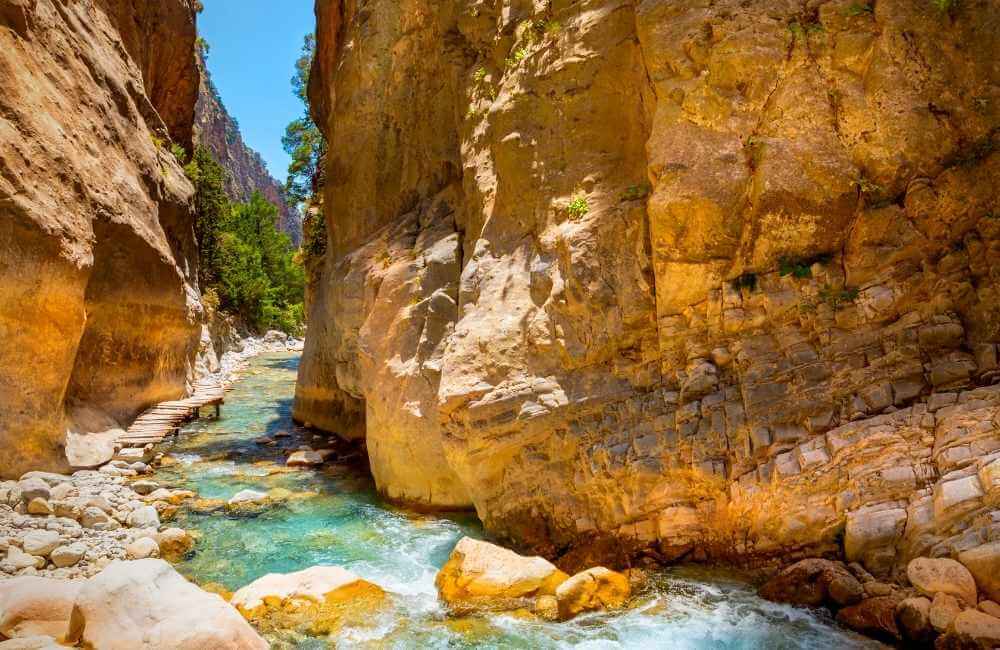 Samaria is the most famous gorge in Crete and attracts thousands of visitors every day. Most of them choose to make the hike with an organized tour.
Although an agency can arrange everything for you, it will also take away some of the freedom and adventure of hiking.
After all, you have to follow a plan; this is not always the best way to discover Mother Nature.
When you hike, you want to have the freedom to do whatever you please.
Stop where you want, choose your preferred path, and move at your own pace.
To do all that, you are better off making the hike on your own.
Just hop on the bus from Chania to Omalos and return to Chania via ferry and bus links.
Among everything else, it will also cost far less than the tour charge.
Leave the Laptop at Home
One thing that you don't need to bring with you to Crete is your laptop.
Unless you are a digital nomad, your laptop will only be an unwanted distraction from the beauty of Crete.
There is no reason to play any games or check on your social media while you are in Crete. You have your smartphone for it.
And even then, try to use more of your camera than any other app on your phone.
There are countless locations worth a picture in Crete.
Whether that is a remote gorge, an ancient monument, an exotic beach, a mountain village, a cosmopolitan town, or a local vineyard, you will love looking back at the photos when you are home.
That is an okay time to open your laptop if you really missed using it.
Eat Local Food, a Tasty Travel Tip for Crete!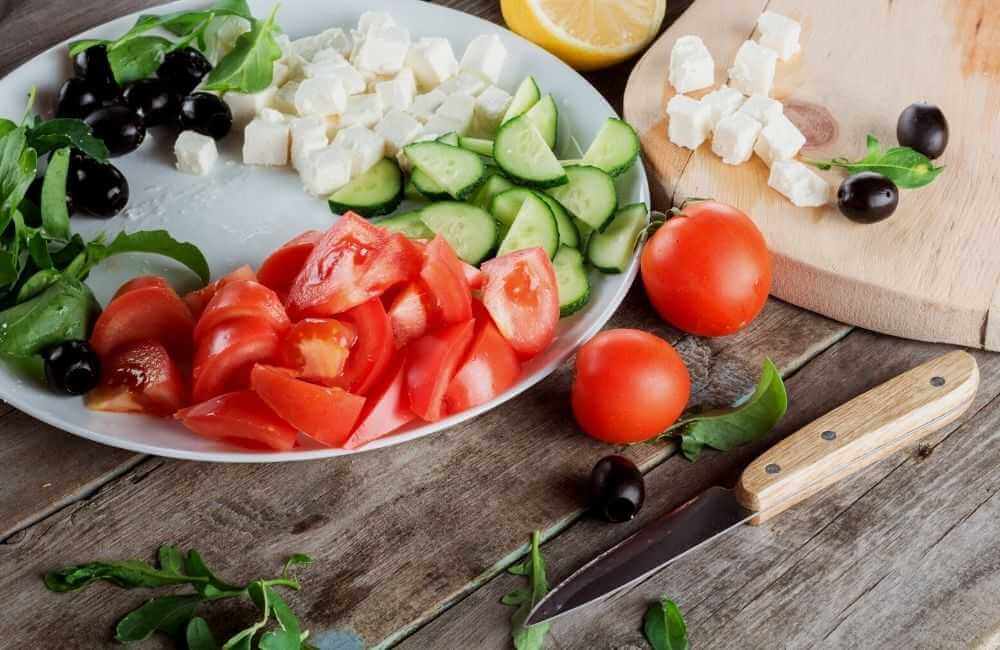 In today's world of globalization, you may find all types of products in Cretan restaurants and grocery stores.
You can select your preferred cuisine from any part of the world, and it won't be long until you find a restaurant or market with this food on the island.
However, you will miss a big part of Crete if you skip the local food.
It is like visiting Thailand and eating at McDonald's all the time. You do not want that.
The island of Crete has some of the most delicious cuisines you can try in the world.
Whether you pay someone to prepare a traditional dish for you or visit a local store to get fresh Cretan ingredients, you will love how tasty Cretan food can be.
Be Patient with the Local Timing
Before you visit the island, know that 5 minutes in Crete are not exactly 300 seconds, like in other parts of the world.
It is like the locals here have their own time-keeping system.
When they tell you they will be back in 10 minutes, prepare to wait about half an hour. This is normal.
And it is all part of the Cretan way of life. You will notice this mentality the more you get away from the touristic parts of the island.
Life rhythms are slow in Crete, especially in remote mountain villages. So prepare to wait; it is all part of the appeal.
Eat Where the Locals Eat
The moment you land in Crete, you will notice the many options available for taverns and restaurants.
Although it may seem challenging to pick one at first, there is a quick way around it. One that does not need any research online or moving from store to store to compare prices and menus.
All you have to do is check where the guests in the store mostly speak Greek. You then visit the one tavern or restaurant you see there are more locals.
And for an extra tip, Greeks are usually a bit louder than their European counterparts.
So follow the noise, and your appetite shall be satisfied.
One of the Best Travel Tips for Crete?
Discover the Small Hidden Villages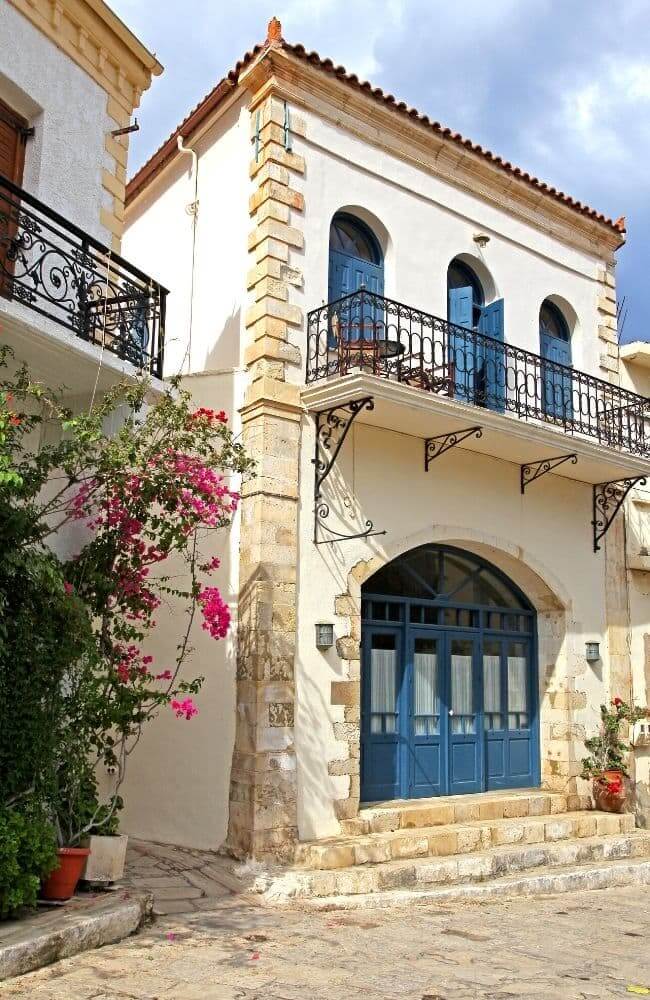 If you want to experience the local lifestyle, make sure you plan a visit to any small random village in the mountains.
It does not need to be a popular destination. After all, the more touristic a place gets, the more difficult it is to witness the traditional way of life.
And here, you do not even need to pre-book any hotel or guest room.
Just get into the car and allow yourself to get lost in Crete. Literally.
Turn off your phone and move to the interior of the island.
The moment you notice the streets get narrower, you know you are on the right path. Look for a sign of civilization, and you should be in a village within a few minutes.
Head to its square, and ask the locals for any accommodation options. You will love every bit of this adventure.
Visit a Local Winery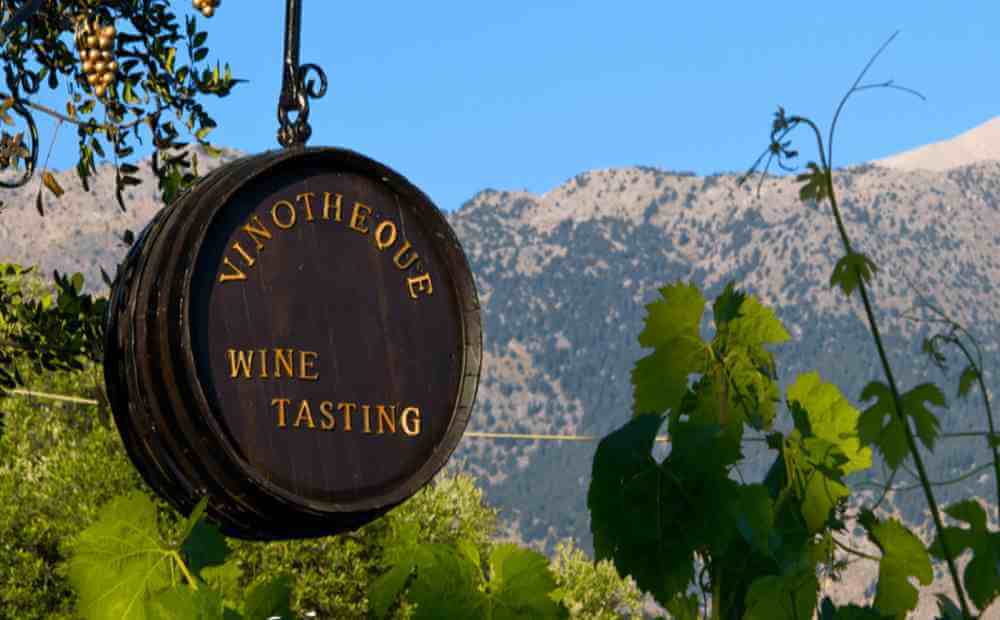 You already know Crete is full of natural beauty and exotic beaches. On top of that, the island is also home to thirteen of the finest grape varieties that dominate the Greek wine scene.
As a result, you will find plenty of local wineries around the island.
Make sure to visit at least one of them while you are in Crete. You will not regret it.
If you have trouble choosing a region to go wine tasting, know that every area in Crete focuses on specific varieties.
No matter where you go, make sure to try the local wine first. From Chania to Lasithi, your winery options are hundreds.
You can even go wine tasting in real-life monasteries, such as the one at Toplou. How cool that is!
Discover the Turkish Quarter in the Old Town of Chania
The Old Town of Chania is probably the most picturesque historical center of a city in Crete.
You have every reason to explore it. And its Turkish Quarter, also known as Splantzia, is another one.
Although less visited, this quiet neighborhood of the Old Town will surprise you with its beauty and charm.
Splantzia is home to local restaurants, authentic kafenia, artisan workshops, and a lot more. Its atmosphere is vibrant and reminds you of its glorious past.
And most importantly, you will find a lot fewer tourists in this part of Chania. It is a win-win.
You might also want to read: How to Travel More and Better when you Have Limited Time Off.
Try your Sailing Skills on the North Coast of Heraklion
Among the hundreds of activities that you can do in Crete, there is nothing compared to sailing. When you have the chance, rent a boat and go explore the majesty of coastal Crete.
Because many secluded beaches and water caves are not accessible by car, you will get to see a remote and quiet side of Crete.
An ideal place to put into use your captain skills is the northern coast of Heraklion.
There, you will find a laid-back atmosphere, away from the noise and crowds of neighboring Hersonissos and Malia.
Beaches such as Agia Pelagia or Ligaria have protected bays where it is possible to rent sailing boats, kayaks, or even fishing boats.
Walk Around the Mountain Springs in Argyroupoli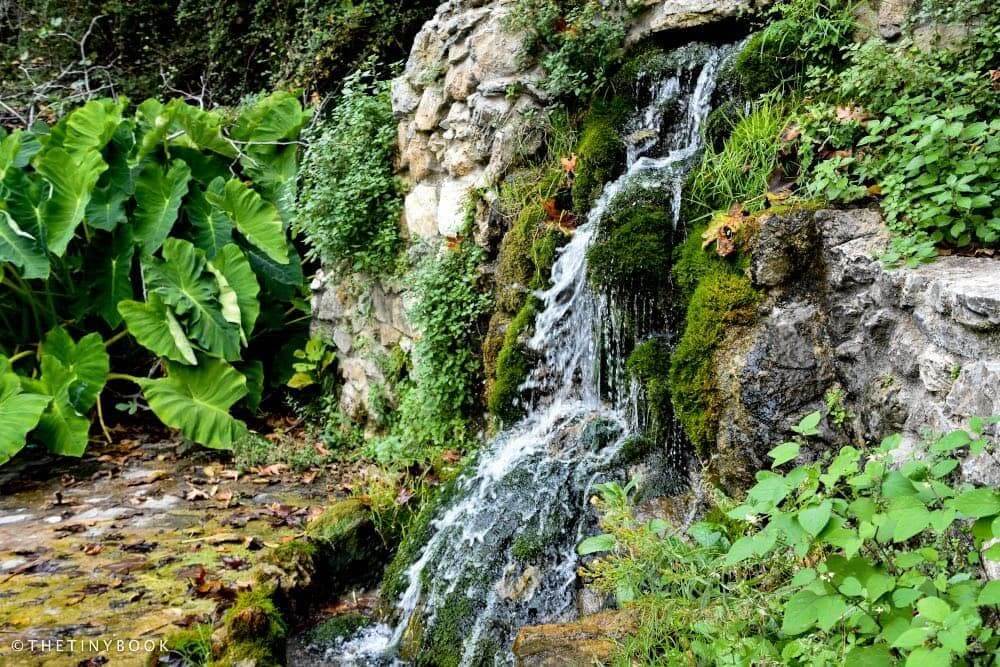 From sea to mountain, Crete never stops to surprise you. If you are near the city of Rethymnon, you have to make time for a day trip to the mountain village of Argyroupoli.
This was once an imposing Roman settlement, known as Lappa, where you can still witness the glory of ancient Rome.
The location is packed with Roman architectural wonders, anything from aqueducts and public baths to standing Roman villas of unique beauty.
Above all, you will fall in love with the exotic waterfalls and tens of springs.
A hike through Argyrouplis is a hike through both history and nature.
For that reason, it deserves a place on the list of things to do in Crete.
You might also want to read: Where to Stay in Crete for History and Culture.
Spend a Few Days in the Lasithi Region
Moving further east, you will get to the Lasithi region, a rather forgotten part of Crete.
Even though this is the least visited destination on the island, the landscape and local settlements are equally beautiful, if not more.
Think of remote beaches, exquisite taverns, lonely monasteries, or unique archaeological sites, to mention a few.
And then, there is the Lasithi Plateau, a high valley surrounded by the spectacular mountains of eastern Crete.
If you are after unique and unexplored parts of the island, you need to arrange a day trip through this plateau.
Among the many surprises along the way, you will love the traditional mountain villages that decorate an otherwise rough and alien landscape.
You might also want to read: More than 35 Fun & Interesting Facts about Crete that will Surprise You!
Visit Secluded and Remote Beaches
When you come to Crete, everyone will be talking about Elafonisi, Balos, and other known beaches on the island.
Although getting to those places is worth it, you will miss a lot if you skip a visit to any secluded beach. Crete is full of them.
Think of places like Vai Palm Tree Beach or the lonely beaches around Xerokampos.
Although they may not make for the perfect Instagram photo, those remote beaches bring with them a unique charm you cannot easily find elsewhere.
This is something that you can best understand if you experience it. So, set aside an afternoon to do just that.
Find a random remote beach, even if it has no name. Then, spend a few hours chilling, sunbathing, and swimming just by yourself. You won't regret it.
Choose One Place and Make the Most of It
Crete is full of holiday destinations that will make you fall in love with every part of it.
Yet, although it can be tempting to travel around the whole island, you are better off focusing on one region and making the most of it.
Not only will this save you a lot of time from traveling, but it will also help you connect more with the specific region you visit.
You have more room to spend quality time with locals, get to know remote neighborhoods, and explore less frequented sites that will surprise you with their beauty.
There will always be more to discover in Crete. So unless you plan a 4-month holiday on the island, there is no point visiting every attraction. Leave something for the future too.
And above all, enjoy every moment while you are in this paradise. This is the best tip you can get.
Pack your smile and prepare to be amazed.
---
Are you planning to travel to Crete next season? Do you have any secret travel tips for Crete of your own?
Let me know in the comments below!
You might also be interested in these blogs about Crete:
– Dreamy Boat Trips in Crete: Discover Crete by Sea!
– The Most Delicious Seaside Restaurants That You Should Visit in Crete!
– How to Get from Heraklion to Matala, Crete without Getting Lost!
– Discover + 45 Most Gorgeous Beaches in Crete (A guide by an insider!)
Let's Start by Getting Ready for Crete!
RESOURCES TO BOOK YOUR TRIP:
Book your flight: I use Skyscanner to compare prices before booking a plane ticket.
Book your ferry: When ferries are more convenient than air travel, I use Ferryhopper.
Book your accommodation: I've tried many different platforms for accommodation, but none of them beats the advantages of Booking.com.
Book your car: The best way to find an affordable car to rent is to use a powerful search engine that compares all the rental companies in the market. I use Discover Cars.
Book your tours: Live unforgettable adventures and cultural experiences with Get Your Guide. For instance, you can Visit Elafonisi, discover Balos Beach, hike Samaria, or explore Knossos.
Don't forget travel insurance: Things can go wrong at times, but travel insurance will protect you against illness, injury, theft, and cancellations. I recommend Safety Wing for peace of mind.
This Belongs to a Board! Pin These Secret Travel Tips for Crete to Better Organize Your Next Adventure!
Written by Dimitrios Tsevremes
Passionate about travel, spirituality, and sports, I have lived in 5 countries and traveled to more places than I have counted. Writing for me is a way to express myself and my creativity. Whether I write for my blog or a freelancing gig, I always fall in love with the process and often lose my sense of time. If you want, you can check out more about me and my work here.
About the author of this blog: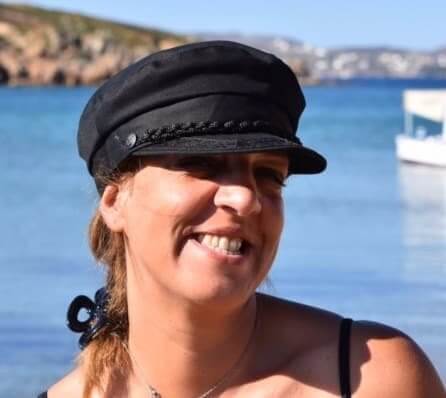 Gabi has been living in Crete for the last five years. Here, she juggles being a solo mom, hosting culinary tours in the summer, translating, and working as a tech advisor.
She's written for Greek Reporter, published two travel guides about Greece, and drunk more glasses of frappe than any regular person would be able to handle.
COMING TO CRETE SOON?
Get in touch and let me know!