Dourakis Winery is one of the most prestigious wineries in Crete. Here is an in-depth review to help you decide whether a visit is worth it. Spoiler alert: it is. Keep reading to learn about the premises, services, and wine tasting in this Dourakis Winery review.
---
Disclaimer: Posts include affiliate links leading you to products or services, I might earn a small commission if you make a purchase. This has no extra cost to you but allows me to continue writing articles that are helpful for your travels. I only recommend things I use myself or that I believe will deliver value to you. 
---
LAST-MINUTE PLANS FOR CRETE?
– Use Ferryhopper and Skyscanner for the best ticket rates.
– Find great accommodation deals on Booking.com.
– Compare car rental prices with Discover Cars.
– Check the best tours with GetYourGuide.
– Visit Elafonisi, discover Balos Beach, hike Samaria, or explore Knossos.
– Pack the Lonely Planet Guide to Crete or get my digital guide to Chania.
Best Hotels in Chania
Affordable: Aelia Apartments or Polixeny's Suites in the old town.
Mid-range: Elia Estia in the old town and Civitel Akali Hotel in the new town.
Luxury: Casa Delfino in the old town or Domes Noruz by the sea.
Check also Chania Accommodation Guide and Boutique Hotels in Chania.
Why You Should VisitDourakis Winery
These are some of the reasons to visit one of the most prestigious wineries in the Chania region, Crete
Premises: Quaint
Located in the picturesque village of Alikampos, Dourakis Winery is 35 minutes by car from either Chania or Rethymnon. Because it is a convenient getaway from the hustle of the two large Cretan cities, the winery can get quite busy, especially during rush hours or high season.
As you approach the estate, you cannot but notice the spectacular landscape surrounding the village and the vineyard. The mountains of Alikampos and the ideal microclimate in the region are the perfect additions to the breathtaking views.
An advantage of the rocky terrain in Alikampos has to do with the natural cellars available to store and age the wines. Dourakis, the founder and owner of this winery, chose Alikampos to build his vineyard for that exact reason, as well as the conducive micro-climate.
Dourakis Winery consists of a botanical garden, an enormous vineyard, and a traditional winepress located in the main building. Inside, the production, bottling, and aging facilities explain why Dourakis wine is internationally recognized, with exports as far as America.
Although the tour will take you to almost every corner of the winery, you will spend most of the time in the tasting room, specially designed to spotlight the deep taste of Dourakis wine.
Depending on your booking plan, you may also visit the restaurant on the premises. After all, there is no better way to enjoy good wine than having a meal in a traditional winery.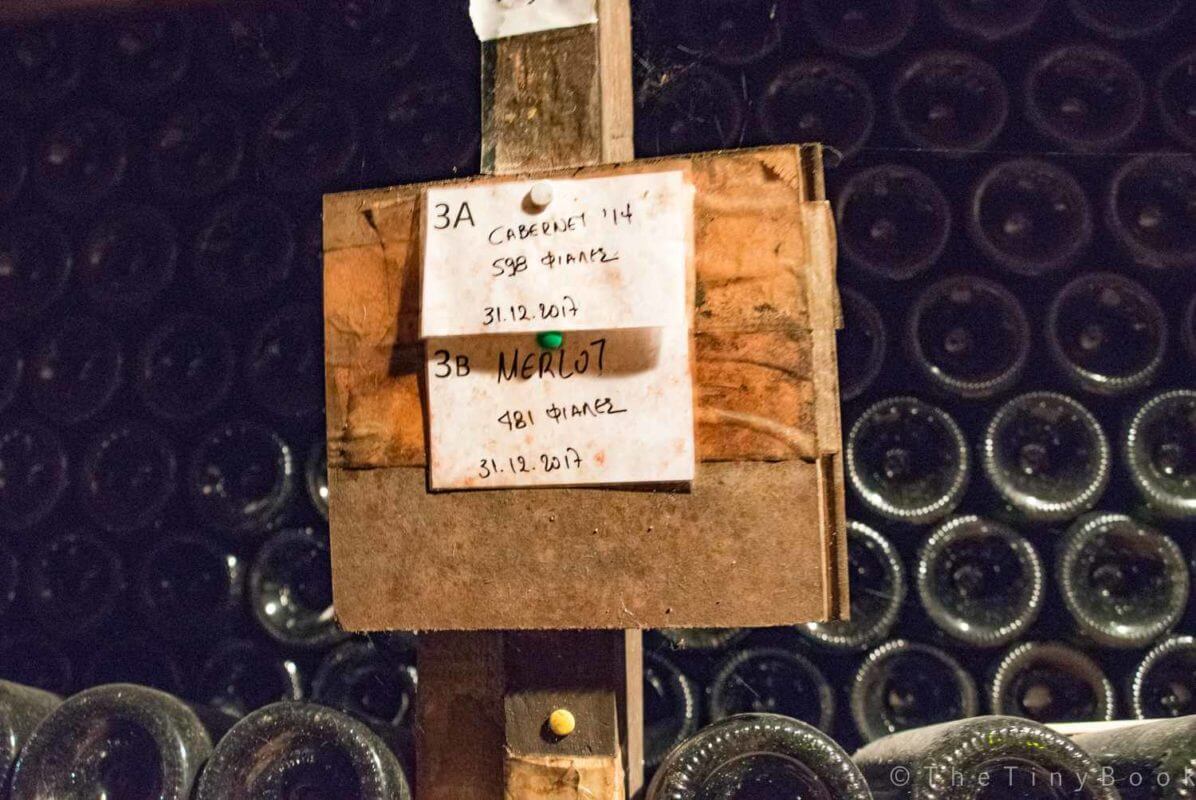 And if you have time, feel free to visit the folklore museum or the art gallery on the premises. Dourakis Winery will surprise you in many ways.
The level of professionalism comes in perfect harmony with their Cretan hospitality and friendly attitude. You only have to visit to experience that first hand.
The Service
If you want to reserve a spot for a tour around Dourakis winery, you have to book beforehand, either online on their website or through a travel agent. Because the winery can get busy at times, it is not recommended to visit without a reservation. To double-check that, you can call them at +30 2825051761 and get the latest update on the availability.
Often, they are flexible enough to quickly accommodate demands, such as changing the agreed time or making a last-minute reservation. Yet, it is best not to get to that last resort. Better opt for the safer option of reserving a spot online.
In addition, they appear to care about your feedback and take action to content you. After all, with about sixteen thousand guests per year, it is a certainty that some visitors will not be satisfied.
Even in those cases, the team accepts the client's comment and is willing to make up for it. If anything else, this shows a great determination to become better.
Apart from visiting the winery as a guest on a private tour, you can also book an entire venue just for yourself. This is a handy opportunity to organize any event you may aspire for, either it is a wedding celebration or a casual evening out with friends and family.
And the list goes on. Art exhibitions, culinary events, concerts, or birthdays to name just a few.
The premises are also easily accessible to individuals with reduced mobility. They even organize kids' activities to keep them entertained while you enjoy your glasses of fresh wine. If interested, you can visit Doutakis Winery from 11 am to 6 pm daily, and take a tour in English, French, Greek, or even Spanish.
Exceptional Wine Tasting
Although climate and service are important factors, nothing beats the significance of wine quality and taste. Thankfully, Dourakis winery pays a great deal of attention to creating some of the best grape varieties on the island. Seventeen, to be precise. And each of them has its own unique taste and flavor.
There are many reasons why the final wine varieties in Dourakis are of top quality. A crucial factor is no other than the traditional viticulture methods they use to cultivate the grapes.
Above anything else, it is a sign that Dourakis Winery cares about nature and the environment.
And it seems Mother Nature rewards them with unparalleled grape varieties, perfect for wine production. Hence, no matter your taste and preference for wine, Dourakis has you covered.
Red, Rose, White, Sparkling, or Dessert wine are all available for tasting and sale on the premises.
When it comes to wine tasting, there are three main activities you can take part in. The first is the Classic Wine Tasting, where you will taste four to six wine labels within one hour.
The tour also includes a guided walk in the production area and vineyard, where you will learn more about the Dourakis vine cultivation processes and phases of winemaking.
The second activity is called Premium Wine Tasting and follows the schedule of the Classic course. However, this time you will taste eight Dourakis premium wines accompanied by Cretan rusks and olives grown at the estate.
The only inconvenience would be that they often ask you to use the same glass for all wines. Although this does not sound premium, the order you drink the wines is made in that way so that they all come in harmony.
Finally, Wine and Cheese is the third activity in Dourakis Winery and lasts about ninety minutes. Here, you will explore the fascinating relationship between cheese and wine.
You will drink every wine accompanied with a matured local cheese that will elevate the taste of wine even more.
All in all, Dourakis Winery brings together a beautiful landscape, considerate services, and an exceptional wine tasting experience. If you happen to be in Chania or Rethymnon, a visit to this winery is more than worth it!
---
Are you thinking about visiting this winery?
Let me know in the comments below!
---
Read more:
Bars in Chania, Pubs & Other Fun Venues For Your Nights Out in Crete!
Dreamy Boat Trips in Crete: Discover Crete by Sea!
Unique Things to Do in Ierapetra For An Incredible Trip to South Crete!
The Most Delicious Seaside Restaurants That You Should Visit in Crete!
How to Get from Heraklion to Matala, Crete without Getting Lost!
This Belongs to a Board! Pin This Guide to Visiting Dourakis Winery for Your Next Adventures!
---
You might also want to read:
---
About the author of this blog: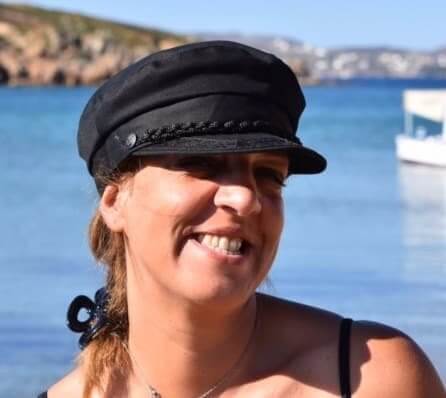 Gabi has been living in Crete for the last five years. Here, she juggles being a solo mom, hosting culinary tours in the summer, translating, and writing for The Tiny Book and her other blogs.
She's written for Greek Reporter, published three travel guides about Greece, and had more glasses of frappe than any regular person would be able to handle.