Chania is a city full of life. Its many pubs and bars are a testimony to how festive the city gets every night. Yet, there are specific bars that stand out. This article will talk about them. Continue reading to discover more than 20 of the best bars and pubs in Chania! These are the places you want to go for an unforgettable night out in town and around.
---
Disclaimer: Posts include affiliate links to products or services. I might earn a commission if you make a purchase, at no extra cost.
---
Best +20 Bars in Chania, Crete
Get Ready for Crete!
RESOURCES TO BOOK YOUR TRIP:
Book your flight: I use Skyscanner to compare prices before booking a plane ticket.
Book your ferry: When ferries are more convenient than air travel, I use Ferryhopper.
Book your accommodation: I've tried many different platforms for accommodation, but none of them beats the advantages of Booking.com.
Book your car: The best way to find an affordable car to rent is to use a powerful search engine that compares all the rental companies in the market. I use Discover Cars.
Book your tours: Live unforgettable adventures and cultural experiences with Get Your Guide. For instance, you can Visit Elafonisi, discover Balos Beach, hike Samaria, or explore Knossos.
Don't forget travel insurance: Things can go wrong at times, but travel insurance will protect you against illness, injury, theft, and cancellations. I recommend Safety Wing for peace of mind.
The Best Bars and Pubs in Chania, Crete
Are you planning to spend some time in Chania? Well, the region has more to offer than a collection of amazing beaches. When the night comes, get ready to go out and sip a drink in the same places where locals go!
This article takes you to discover the best pubs, bars, and other nighttime venues that you can visit in town, including music bars, wine bars, shisha bars, and more.
Chania, the prettiest city in Crete, wears its shiniest dress and gets ready to welcome you, so read on to choose where to spend your evenings when the sun goes down in the old town, take a look!
Best Hotels in Chania
Affordable: Aelia Apartments or Polixeny's Suites in the old town.
Mid-range: Elia Estia in the old town and Civitel Akali Hotel in the new town.
Luxury: Casa Delfino in the old town or Domes Noruz by the sea.
Check also Chania Accommodation Guide and Boutique Hotels in Chania.
SMART STAY IN CHANIA: For business or a holiday, seasonal, or throughout the year, Dimitris City Break Apts is a cozy, peaceful, and sun-drenched place to stay in town. Get in touch with the code TinyBook for a 10% discount!
Sinagogi Open Air Bar
(My Favorite Bar in Chania!)
Location: Parodos Kondilaki, Old Town, Chania.
Sinagogi is an open-air bar not far from the Venetian port in the old city of Chania. It first opened in 1995 and has since been serving cool drinks and cocktails.
Upon entering the bar, you can feel how unique it is. Sinagogi is built next to Chania's old synagogue and has no roof inside, apart from a few trees and reeds. The scenery is truly majestic.
You will love the mix and variety of cocktails here. And if you appreciate music, you are in for a treat too! The only caveat is that the bar often gets busy with tourists and locals alike. Yet, this proves how special Sinagogi is.
The Monastery of Karolos
Location: Xatzimichali Daliani 22, Old Town, Chania.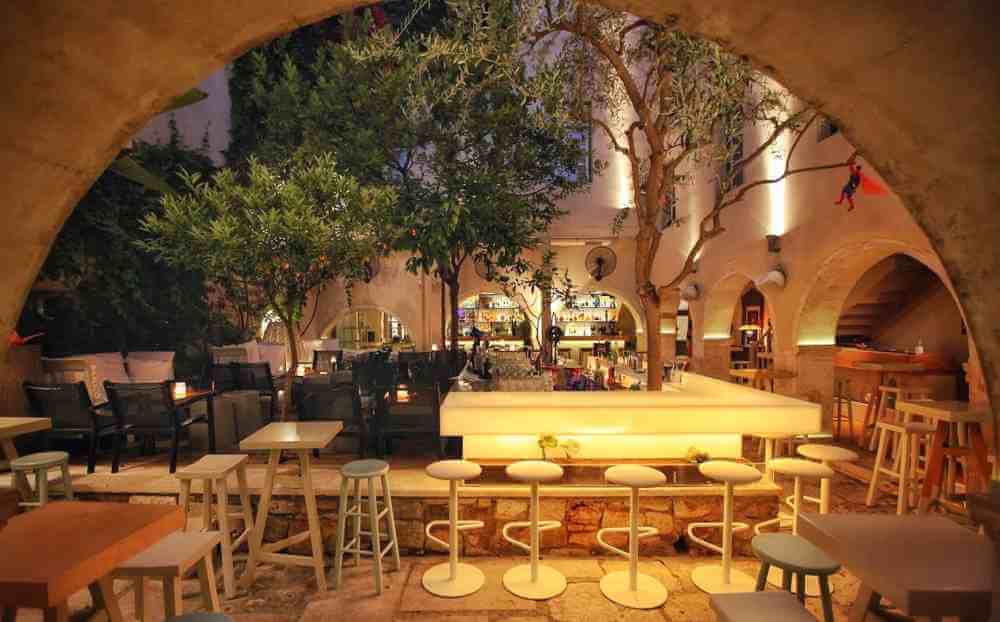 One of Chania's most surprising places, right opposite a beautiful old minaret, this place is set on the former patio of a gorgeous monastery. Sit by the old well or enjoy a glass of wine in the stunning bars around the central yard.
The Monastery of Karolos has been turned into a modern gem. It plays trendy music, and it can be loud and crowded, but it's one of the places you can go for a fun night out in town.
Fagotto Jazz Bar
Location: Aggelou 16, Old Town, Chania.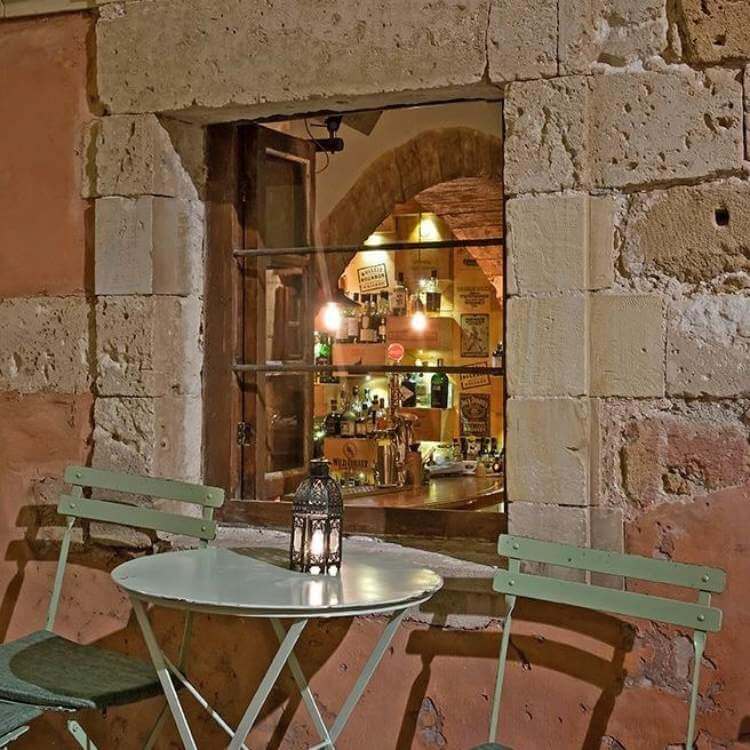 Located on a backstreet right behind the Venetian harbor, Fogotto is a romantic jazz bar ideal for those of you looking for a quiet night out.
If you decide to spend your night here, you will love the incredible romantic ambiance, the large variety of drinks, and the attentive staff.
You can sit inside the cozy and air-conditioned bar area, or you can choose to use the tables along the walkway. No matter your choice, Fagoto Jazz Bar is meant to impress you with its quality music and atmosphere.
Barfly Rock Bar
Location: Potie 14, Old Town, Chania.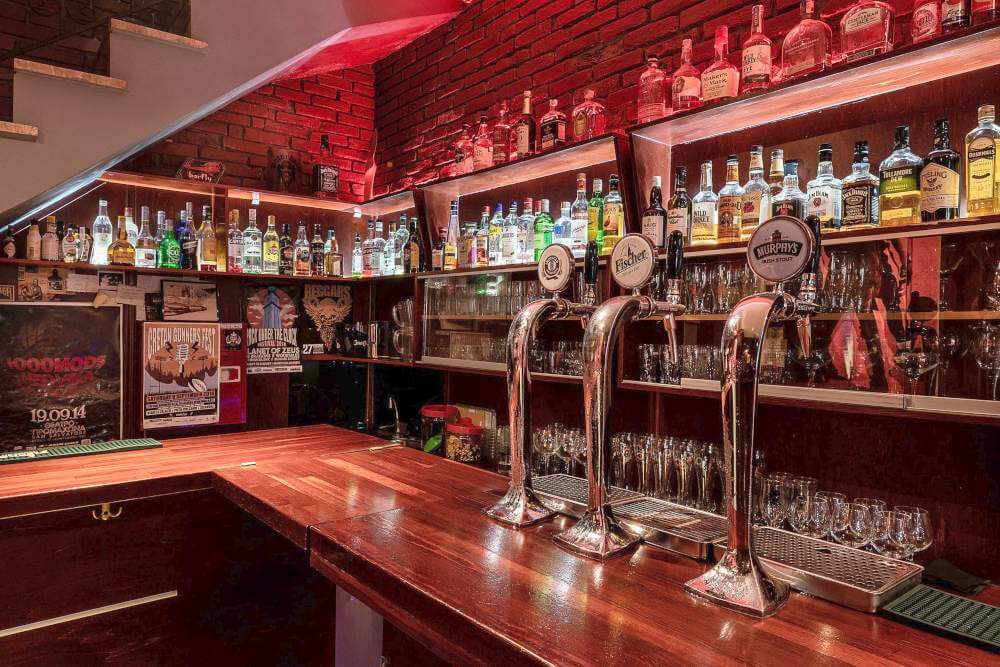 In a quiet corner of the old town, Barfly is a small yet charming rock bar. Some could argue the bar is hidden from the crowds, as it resides on a back street. Yet, the place is always full of locals, something which speaks of its quality.
Here, you can find a wide variety of bottled and draught beers you can enjoy over quality music. Speaking of music, Barfly is a place where you can listen to Rock'n'Roll and other rock variants.
If you also consider its relatively low prices, you start to understand why the place is usually busy.
Local's tip: Try their cocktail made with gin and orange marmalade, it's insane!
Looking for a place to stay in Chania? Check the best Rental homes in town.
Mamouth Bar Chania
Location: Potie 4, Old Town, Chania.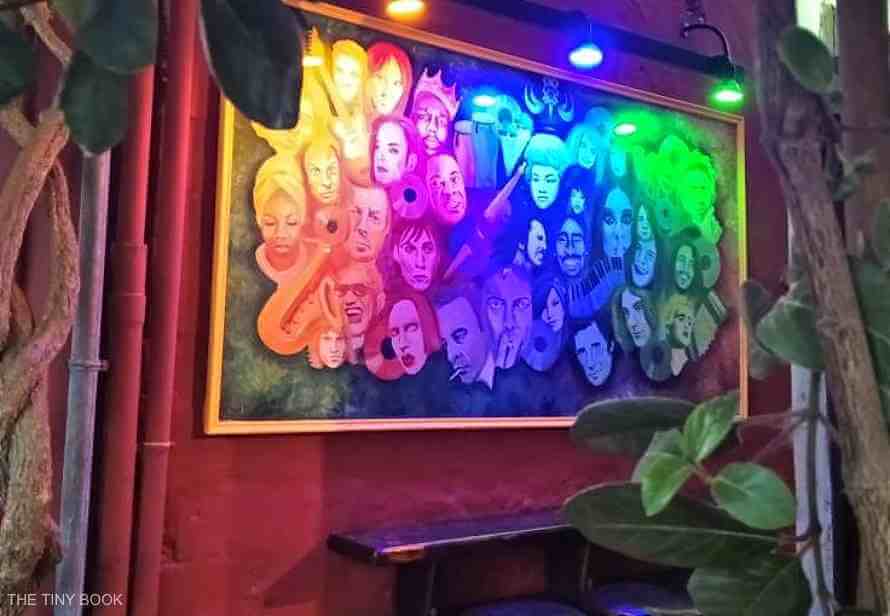 If you are looking for a lively bar to visit during the day, for a beer or a refreshing drink, then look no further than Mamouth.
Located in the old town, this local bar is a quiet place with energizing music and relaxing vibes.
You can think of Mamouth as an alternative bar, with its aesthetic decoration and caring staff. It is an ideal spot to spend a few hours in the day chi-chatting with your friends or reading a book over a few sips of alcohol.
There is no better way to avoid the heat and heavy sunlight of the Cretan sun than to spend a few hours at Mamouth.
Prassein Aloga
Location: Kallergon 20-22, Old Town, Chania
Always in the old town, Prassein Aloga is a stylish bar with a variety of cocktail options. It is a cozy place to spend your night, with charming music vibes and professional service. You can come here with your friends, your partner, or solo. You will surely meet lots of friendly people.
The goal of the bar is to entertain you and help you have the time of your life. If you come here later in the evening, prepare to dance.
The place gets full of young people every night. Without a doubt, after a few hours in Prassein Aloga, you will feel the Greek summer in your veins.
Klik Scandinavian Bar
(Chania's Most Famous Club)
Location: Sourmelis 2, Old Town, Chania.
In the center of the old down, Klik is a crazy disco bar with a modern ambiance. This lively club usually gets crowded during the night when heaps of international people and tourists come to meet each other, dance and have fun. Apart from the main dancing floor, there is also a romantic balcony where you can relax and enjoy your drink.
Klik even has its own DJ who mixes pop songs and commercial music to create upbeat soundtracks. If you want to hear your favorite song, do not hesitate to ask the DJ. He always plays all requests promptly. All in all, Klik is an ideal club to dance your way into the night.
Plaka
(A Lovely Beer Bar in Chania)
Location: Sifaka 8, Old Town, Chania.
Plaka is a traditional bar and cafe in the middle of the old town. It offers a shady place to sit and enjoy watching people come and go in the street, ahead of the ancient Byzantine city wall.
It has a magnificent selection of Greek and Cretan beers!
Apart from the views, you will also appreciate the colorful and artistic elements you will notice in the decoration.
The building is a living canvas! In addition, their clever and funny menu includes plenty of dishes and drinks to keep you hydrated while you enjoy the surrounding landscape of Sifaka street.
Bras de Frères Cocktail Bar
Location: Epimenidou 2, Old Town, Chania
One street away from the Arsenali in the old Venetian harbor, Bras de Frères is an ideal spot to enjoy your cocktail, amidst the hot Greek weather.
Either you visit the bar during the day or you come here after the sun has set, you will fall in love with the warm modern atmosphere and top-quality cocktails.
Bras de Frères has a rotating menu with unique cocktails and other refreshing drinks. The owners even organize theme nights to add a sense of freshness and give you an extra reason to go out every night
53 Rock Bar Fifty Three
Location: Daskalogianni 53, Old Town, Chania.
As you start to understand, the old town is full of lively and worth-visiting bars. In this category, 53 Rock Bar is an authentic pub that plays every type of Rock music. Often, it has live music, with local bands playing Rock and Jazz.
If you consider bar hopping in Chania, you can mark this place for the late hours.
After all, 53 Rock Bar stays open until early in the morning, true to its identity as a rock corner.
Looking to have fun also under the sun? Check these awesome tours departing from Chania.
Peacock Tail Bar
Location: Kanevarou 7, Chania.
Still, in the old town, Peacock Tail Bar is a local bar you want to visit during your night out. Here, you can find plenty of cool and refreshing cocktails that will make your mouth water.
And if you are not sure which cocktail is the best option for you, feel free to ask the owner or the staff about recommendations.
They are all super friendly and ready to make a customized suggestion for you. All in all, Peacock Tail Bar is an ideal venue to get the night started!
Aramis Billiard Club
Location: Kissamou and Saridantoni, Chania.
If you're looking for an alternative bar in Chania, then this is it. Located on the road that leads to Kissamos, but still close to the city center and the tranquil neighborhood of Nea Chora, Aramis Billiard Club serves stunning cocktails, original sweets, and light meals all day long.
The place, ideal for those interested in a more relaxing atmosphere, offers a unique terrace with great views of the White Mountains, and the cherry on top of the cake, over 15 billiard tables for a classy and different evening in Chania.
You might also want to read: Chania Nightlife: Thrilling Things to Do in Chania at Night!
KaMon Irish Pub
Location: Pl. Katechaki 13, Chania.
If you are a Rock'nRoll fan, you have to spend some time at KaMon Irish Pub. In front of the old Venetian harbor, this unique Irish bar can make you feel at home with its varied music, charming decor, and bohemian vibes.
The owners even have guitars available in the store for everyone to play. Feel free to ask for your favorite song, and the owner will be more than happy to play it for you.
In general, they are very friendly and want your time in KaMon to be unforgettable.
Puerto Coffee Food & Cocktails
Location: Akti Tompazi 13, Chania.
Great atmosphere, incredible sunset views, and even better music for this lively venue right opposite the Lighthouse of Chania.
Head to Puerto for an exciting night in town, right in the heart of the area with the best cocktail bars and pubs in town. Sight right by Chania's pier, enjoy delicious fruit cocktails, a glass of freddo coffee, or smoke nargile (shisha). Favorite drinks include Mango Aperol and Strawberry Colada, among others.
Pick a comfortable sofa and get there early enough to catch one of the most magnificent sunset views in Chania!
Nama Resto Bar
Location: Akti Tompazi 19, Chania.
Another favorite of mine, serving great drinks (do try their Piña Colada, it's excellent!) and playing good music until late at night.
The magnificent interiors feature some impressive stone walls from the original Venetian mansion, incredible atmospheric lights, and a warm, inviting atmosphere. And if you're feeling hungry, give their chocolate cake with ice cream a try. You won't regret it!
Kānva Bar
Location: Chalidon 98, Chania.
This new place (it just opened turned 1 year old) is a cool bar with plenty of open spaces, and great music, right on the most important pedestrian street in town, Chalidon Street. Just head down the stairs and pick a table for a great time in Chania.
Despite being super new, it has soon turned into a must meeting point in town, perfect for an informal dinner. The place offers a terrific selection of beers and cocktails as well which have earned tons of great reviews in no time.
Live DJs and explosive drinks such as Potemkin, Jungle Speed, or Rose Tears will help bring your night to another level!
Carte Postale
Location: Michail Kalorizikou 2, Chania.
If you want to take a break from going out in the old town, Carte Postale can be an ideal alternative. Situated on top of a hill west of Chania, this bar-restaurant has a breathtaking view over the entire city. And if you come here in the late afternoon, you can enjoy some of the best sunset views on the island.
Although you can also order food, you will understand that drinks are your best company to appreciate the majestic scenery in Carte Postale.
And if you manage to come here early enough, you may find a table next to the viewpoint. In that case, make sure to bring the camera with you to take incredible photos of your cocktails and the view.
Baralia Beach Bar
Location: Akti Papanikoli 27, Chania.
Chania is home not only to great nightclubs and pubs. You will also find beach bars where you can enjoy your cocktail while taking a few dips in the water in between.
One such place is Baralia beach bar, located in front of Nea Chora beach.
Here, you can order plenty of refreshing drinks and cocktails to keep you cool during the hottest day of the Greek summer.
While you enjoy your drink, you can watch thousands of tourists and locals walk by on the footpath in front of you, between the sand and the bar.
Aktaion Theory Cafe-Bar
Location: Akti Miaouli 12, Chania.
Again in front of the beach, Aktaion Theory is a unique bar right next to the waves. Located in Koum Kapi Beach, this establishment offers unparalleled views over the Sea of Crete. This time, however, there is only sand between you and the water.
When it comes to drinks, you can find a wide variety of cocktails, coffee, and sides. They even make a daily fresh cake which they serve as a side to coffee and other beverages.
No matter whether you drink alcohol or not, you will fall in love with the refreshing and fresh Aegean breeze that keeps falling on your face.
You might also want to read: Unique Things to Do in Rethymnon at Night.
Mylos Dance & Night Club
If you can move a bit outside Chania, to the beachfront area of Platanias, you will be treated to an unforgettable night at Mylos Club. From a cozy pool and beach bar during the day, this venue transforms into one of the most lively clubs you can find in Crete.
No matter the time of your visit, you will greatly appreciate the quality and variety of the available cocktails. Here, you can choose whether you want to peacefully enjoy your beverage on the modern couches by the sea, or you prefer to stand with your drink in the middle of the dancing floor
Eclipse Bar
Like the old town, Platanias is a place full of worth-visiting bars and pubs. Eclipse is on that list. Here, you can find a modern outdoor seating area with pop music playing in the background.
It is an ideal setting to enjoy one of their refreshing cocktails.
For a change of atmosphere, you can head inside the bar and embrace the unique vibe of the bar. If you come here late enough, you can even watch pole dancers make their moves and entertain the audience.
Splendid Bar
Location: Platanias Square, Platanias.
Splendid is another cozy bar in Platanias, not far away from the other bars and clubs in the area. What makes this club unique is its renowned DJ.
His mixes are so popular that already from midnight, the bar is full of guests, and the party is on.
If you do not want to drink your cocktail standing on the dancing floor, you have the option to come here during the day. Things are quieter, but the top quality of their cocktails remains.
Utopia Cocktail Bar
If you are looking for a place with tropical vibes in Crete, Utopia is your first bet. Located in Platanias, this cozy bar has decoration and an atmosphere that remind you of life in the Tropics.
The palm trees and the variety of colorful flowers keep the air clean and provide more than enough shade to forget the Cretan heat. The staff is also friendly and eager to make any recommendations needed.
All in all, it is an ideal place to enjoy a cool drink or cocktail in Platanias.
Which of these Bars in Chania will you visit during your next time in Crete?
Let me know in the comments below!
You might also want to read these other articles about Crete:
Oh Hey! Pin this Before You Leave: Best Places Bars to Hang Out in Chania at Night!
About the author of this blog: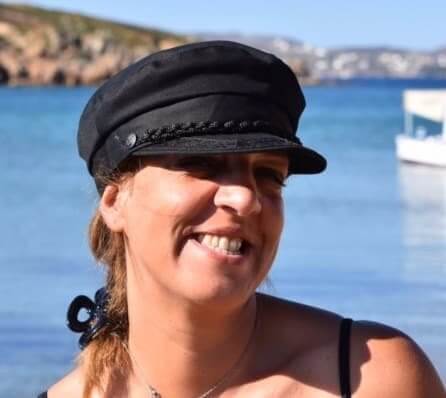 Gabi has been living in Crete for the last five years. On the island, she juggles being a solo mom, hosting culinary tours in summer, translating, and freelance writing.
She's written for Greek Reporter, published several travel guides about Greece, and had more glasses of frappe than any regular person would be able to handle.
COMING TO CRETE SOON?
Get in touch and let me know!