One of Crete's most popular seaside resorts is Hersonissos, a coastal town a few kilometers from the capital of the island. Also known as Chersonissos, the village is often chosen by those who prefer package holidays and all-inclusive resorts, exciting nightlife, and being close to Heraklion. This article brings you the best hotels in Hersonissos and a few ideas to make the most of your time in the area.
---
Disclaimer: Posts include affiliate links to products or services. I might earn a commission if you make a purchase.
---
Hotels in Hersonissos
Where to Stay Near Heraklion, Crete
Hersonissos is a very popular resort located on the north coast of Crete in the Heraklion region.
People of all ages chose this lively coastal town for a vacation full of entertainment, sunny days spent at the beautiful beaches, great Greek food, and unforgettable nightlife.
The village of Hersonissos is better known for its wide range of clubs and beach bars, however, it is also a great compromise for families with teens, who are still very young and have to travel with their parents but still want their share of nightly fun during the summer.
In the area, you will mostly find budget accommodation opportunities, for instance, small apartments and studios, but also beautiful hotels and top-class, all-inclusive resorts.
Especially the latter are tempting enough for you not to leave the property, however, I encourage you to explore the region and discover all the things you can do in Heraklion, you won't regret it!
Reasons to Spend the Holidays in Hersonissos
There are many reasons to choose a Hersonissos hotel, and some others for you to book a stay in a different area, let's take a look.
A few advantages to keep in mind when choosing Hersonissos for your holidays in Crete:
Hersonissos is not just a fun destination. It is also a great place to visit archaeological sites (Malia and Knossos Palace are minutes away) and small traditional villages in the area.
It's one of the best areas to have fun in nearby water parks and theme parks in Heraklion.
It's a perfect place for groups of friends and young couples with tons of things to do at night.
The magnificent Archaeological Museum of Heraklion is just minutes from the town.
It's close both to Heraklion and Agios Nikolaos, two of the main cities in Crete, allowing enjoying great day trips.
It is also one of the best places to stay for family holidays with several arcades and other attractions in the city center.
There are some great sandy beaches with crystal clear water only a short walk from the main attractions in town.
From the small port of Hersonissos, it's possible to take a few different boat trips to discover hidden gems and less crowded beaches on the northern coast of Crete…
… Ok, it looks like Hersonissos has it all, and it may have, however, it can have its downside too.
These are some of the things that you also want to consider before booking a stay in Hersonissos:
It's not the most authentic part of Crete, for instance, there are tons of international franchise companies (think Subway or Starbucks for instance… nothing to do with our authentic gyro or our Greek coffee!)
It tends to be overcrowded during the peak of the season
It can be noisy and chaotic, not the ideal destination if you're trying to have a relaxing holiday
Now, it's up to you. Are you looking for a typical holiday resort town? If the answer is no, then check this article or plan a trip to the south coast with this other one.
Best Hotels in Hersonissos Crete for a Low Budget
Despite being populated by important all-inclusive hotel chains, it's still possible to find family-run hotels and studios offering budget accommodation in Hersonissos.
As you already know, Crete is arguably one of the top convenient destinations in Greece for cheap holidays. Traveling to Crete on a budget is not odd since it's possible to find good deals.
When it comes to Hersonissos, you will be able to find comfy studios and modest hotels in town as well at quite convenient fees.
These are some of the best places to can stay in Hersonissos within a budget limit of €60-€75 per night.
Home Suites
Home Suites is a very convenient place to stay in Analipsi, one of the prettiest beach areas in the village. The place is comfortable for a small family and the location very relaxing too!
Surrounded by a beautiful garden and only 500 meters from Analipsi Beach, you can choose this self-catering accommodation with great mountain views.
The suites are near convenience shops and tavernas which makes it a good choice if you plan not to move around much.
The units feature a seating area and a well-equipped kitchen with a dining area, and one or two rooms.
The place has good reviews mostly praising the location and the comfortable facilities.
This is a great place to stay if you enjoy the privacy of a home, with every basic comfort you need.
Click here for more information and the latest prices.
Kasapakis Hotel & Apartments
Also in the small village of Analipsi, right on the promenade and 50 m from the beach, Kasapakis Hotel & Apartments boasts a furnished summer terrace, a swimming pool, a children's pool, and a bar.
The studios and rooms are simple and self-catered, either with sea views or overlooking the garden, or the swimming pool.
Village Heights Resort
Village Heights Resort in Hersonissos Crete has superb reviews and is a property you should not miss if you want a top hotel in Hersonissos for a budget fee.
The place has gained an enthusiastic audience of travelers who come back year after year!
Located within walking distance from the Crete Golf Club, the hotel features a spa center with a fitness area, sauna, hot tub, hammam, 2 outdoor pools, an indoor heated pool, and 2 pools for children, making it a good choice for family holidays.
The studios and villas feature a true traditional Cretan style which comes with panoramic views of the countryside and the sea.
The units feature a satellite TV, a fully equipped kitchen, and a super practical coffee machine. However, it's also possible to enjoy meals at the on-site restaurants and poolside snack bar.
Sports facilities such as a tennis court, a mini-golf, and a volleyball court are available while kids can enjoy a mini club with a playground, a games room, and table tennis.
Click here for more information and the latest prices.
Heronissos Hotel
Heronissos Hotel (yes, Heronissos, you read it right!) is among the top budget hotels in Hersonissos. You will find this property only 100 meters from the sandy Hersonissos Beach.
Here, you can take advantage of the outdoor pool and garden but also of the poolside bar and a restaurant.
Rooms are ample and bright and feature comfy balconies with mountain or sea views and air conditioning.
Asterias Village
Asterias Village is a super convenient place to stay in Hersonissos, this time in the small village of Piskopiano.
This family-run hotel is just 1 km away from the picturesque port of Hersonissos, one of the best areas for night entertainment, bars, and restaurants.
The property features 10 buildings spread out over an area of 12.000 square meters, boasting comfy studios and apartments designed in traditional Cretan style.
The hotel also has a 300-square-meter swimming pool and a hot tub where you can enjoy a refreshing drink.
The on-site Oliva Restaurant offers a unique view of Hersonissos while you sample authentic Cretan cuisine.
For after-dinner entertainment, guests can walk down to Cohilia Bar & Grill, the hotel's poolside open-air bar.
Click here for more information and the latest prices.
Mid-Range Hotels in Hersonissos, Crete
If you're wondering where to stay in Hersonissos with a more flexible budget, the next section was written having you in mind!
You'll certainly find the perfect place to stay in the area, including the unique Koutouloufari, one of the prettiest villages in Hersonissos.
These are my places of choice when it comes to a price range between €80 to €150 per night in Hersonissos and around.
Pilot's Villas Luxury Suites
Exceptional reviews distinguish Pilot's Villas in Hersonissos, guests love the comfort and privacy that a stay in these villas brings along.
Newly built and luxurious, the property features suites, maisonettes, and studios in the heart of the traditional village of Koutouloufari, only 1.5 km from the beach.
The complex is in a great location. It boasts traditional stone architecture and a magnificent view of the Cretan Sea and the local harbor of Hersonissos.
On the other hand, the convenient location offers opportunities for walks through the narrow alleys of Koutouloufari or dining in one of the several traditional tavernas.
Click here for more information and the latest prices.
Star Beach Village & Water Park
Star Beach Village & Water Park is a fantastic place to stay for the whole family, kids love this place which is one of the best hotels in Hersonissos for families!
Located just 50 m from the sandy beach and the port in Hersonissos, it features a spacious outdoor pool complex with water slides, a children's playground, and free on-site parking facilities.
This family-friendly complex offers spacious accommodations with spectacular sea views, modern rooms with spacious terraces or balconies, and special family rooms.
Among the best things about staying on the premises, there are plenty of dining options on-site, including the main restaurant, a restaurant serving Cretan cuisine, a lobby bar, and a pool snack bar.
There's also an internet corner with desktop computers.
Star Beach Village is a 10-minute walk from Hersonissos' main road, where travelers will find shops, bars, and restaurants too.
Star Water Park is right next to the property.
Click here for more information and the latest prices.
Grand Hotel Holiday Resort
The Grand Hotel Holiday Resort is another local favorite with good reviews and affordable prices for a stay in Hersonissos, and an ideal place for family holidays!
Located only 25 km from Heraklion International Airport and 2.5 from Hersonissos, this 4-star hotel offers newly constructed bungalows with captivating views of the sea and the best beaches in the area.
It has 4 swimming pools and beautiful poolside bars. American breakfast is served daily while Dionysus Restaurant offers a dining terrace serving Greek and International cuisine.
The place is surrounded by well-kept gardens, it features a wellness center and a supervised mini club with a special program of activities for children.
Click here for more information and the latest prices.
Esperides Resort Crete, The Authentic Experience
"Such a beautiful hotel with lovely staff. Great views over the city and sea".… just an example of what travelers love and comment about the Esperides.
The place is located in the center of Koutouloufari, just 1 km from the main town of Hersonissos.
The resort is amphitheatrically built, featuring 105 suites of various types and comfort options including private hot tubs, private pools, and sea view rooms.
The 4 lifts and the 2 airlifts provide comfortable access to all suites and public areas.
The resort has one main pool which is heated during specific periods and an activity pool only for adults with hydromassage jets that is located right next to the kids' pool… this way, all the family can have fun and relax at the same time.
The property also comes with a spa center, an outdoor gazebo, and an open-air mini-gym corner.
Within the resort area, there is one main restaurant, an Italian a la carte restaurant, an Asian a la carte restaurant, and a traditional Cretan cuisine restaurant, the Monastery Eatery.
Drinks and coffee are served at the pool bar as well. Here, everything is simple and classy with modern facilities.
Click here for more information and the latest prices.
Stella Village Hotel & Bungalows
Great beachfront accommodation in Hersonissos, Stella Village Hotel & Bungalows is a family-friendly place to stay in Hersonissos.
It's located 10 meters from its private beach in Analipsi and features 2 swimming pools with poolside bars surrounded by gardens and a few palm trees.
Other facilities include 2 restaurants, 2 tennis courts, and a kids' club.
Rooms at Stella Village are air-conditioned and feature a furnished balcony overlooking the gardens.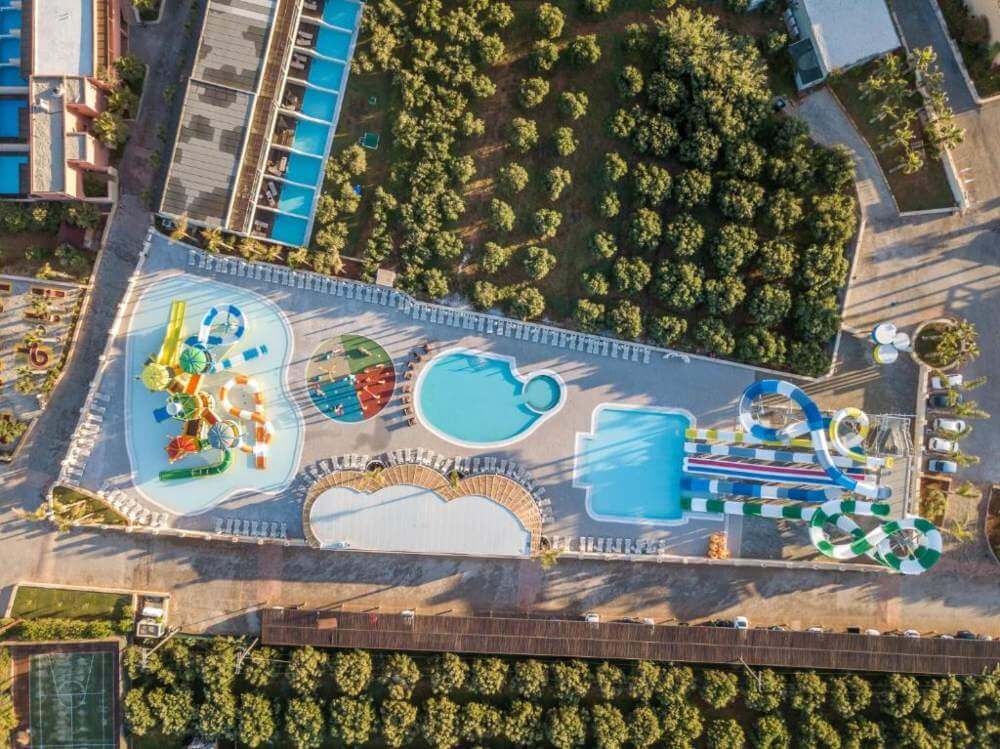 Every week, there are special themed nights for all guests. One of the on-site restaurants, Elia, prepares Mediterranean and international cuisine.
Coffee, refreshments, and drinks are served in the 2 pool bars.
Wellness options include water aerobics sessions, a football pitch, and beach volleyball facilities. Kids love the 3 children's pools and the games that the animation team organizes.
Click here for more information and the latest prices.
Creta Blue Boutique Hotel
If you're looking for boutique accommodation in Hersonissos, then this is the place you should check: Creta Blue Boutique Hotel, in Koutouloufari, one of the best hotels in Hersonissos.
This small boutique hotel offers luxurious accommodations with breathtaking views of the sea, an infinity pool, and a la carte dining. From the rooms' balconies or terraces, guests can enjoy garden, pool, or sea views
In the evening, the pool bar changes into a romantic open-air restaurant where guests are invited to enjoy homemade recipes using locally sourced ingredients in an intimate environment.
For utmost relaxation, guests can enjoy a massage in the privacy of their room.
Creta Blue Suites is just a 5-minute walk from the center of Koutouloufari and only a 10-minute drive from an important 18-hole golf course.
Click here for more information and the latest prices.
Did not find what you were looking for?
Check these other mid-range hotels in Hersonissos:
Akasha Beach Hotel & Spa
Urban chic accommodation in the center of Hersonissos. Rated 8.7 on Booking.com.
Arminda Hotel & Spa
All-inclusive 4-star hotel with 4 large salt-water pools and a spa with a sauna, a hammam, and a hot tub.
Luxury and 5-Star Hotels in Hersonissos
There are dozens of exclusive hotels in Hersonissos. Some in the inner villages, others facing the beautiful northern coast of Heraklion. All of them feature top-class amenities and curated details for a stunning stay in the area.
A stay in any of these beautiful venues starts from €165 per night. If you want to spend the holiday of a lifetime in Crete, book in advance since the area is really popular. You won't regret it!
Stella Island Luxury Resort & Spa (Adults Only)
Excellent location for this top-class hotel which has become one of the top luxurious picks in the area.
Already featured in my 17 picture-perfect luxury resorts in Crete, Stella Island is a classic in Analipsi and is often listed as the best hotel in Hersonissos and one of the hottest hotels on the Greek Islands.
Beautifully styled and impeccably furnished, all accommodation options offer direct access to the unique lagoon-style pool.
The venue features an international cuisine buffet restaurant that is situated in an idyllic location overlooking the pool and wooden deck, over the water.
Click here for more information and the latest prices.
You can also check the sister property, the gorgeous Stella Palace Resort and Spa.
Nana Princess Suites, Villas & Spa
Nestled in a private beach in Hersonissos, Nana Princess Suites Villas & Spa features a state-of-the-art Health Club & Spa, 3 restaurants, and 2 outdoor swimming pools.
There are over 100 sumptuous suites and villas, with a unique design, many of them with a private swimming pool and spacious outdoor areas.
Some villas come with a sauna or a private gym area too. Signature cocktails and refreshing drinks can be enjoyed at the on-site bars or the cigar lounge and shisha bar.
Guests can enjoy holistic therapies, beauty treatments, and hairdressing services while sports facilities are shared with its sister property including a tennis court, beach volley, mini soccer, and children's animation programs and shows.
Click here for more information and the latest prices.
Mitsis Laguna Resort & Spa
A truly amazing hotel in Anissaras, right by the sea, the Mitsis Laguna Resort and Spa has some unique features that will transform your stay into an unforgettable holiday in Crete.
Located only 3 km from Hersonissos, the place features sports and leisure facilities such as a tennis court, a mini soccer field, and a spa center.
There are 5 pools, including a seawater pool, a freshwater pool with a slide, and a complex of 3 more pools.
The elegant rooms and bungalows are air-conditioned and feature a super convenient Nespresso coffee machine.
All rooms feature a balcony or terrace with spectacular views over the best beaches in the area.
Mitsis Laguna Resort & Spa features 7 restaurants including one main buffet restaurant and à la carte restaurants including a Cretan Tavern, Tex-Mex, Pan-Asian, Italian, and Fish delicacies.
There are 5 bars, including a champagne bar, a wine bar, and a sushi bar. Two of them are set by the pools and 3 in the main building.
Kids can enjoy a full entertainment program, a pool with water slides, and an outdoor playground for a truly fun time.
Click here for more information and the latest prices.
Did not find what you were looking for?
Check these other top hotels in Hersonissos:
Creta Maris Beach Resort
This all-inclusive beach resort combines Cretan hospitality and a green-oriented environment and exclusive 5-star services.
Abaton Island Resort & Spa
One of the top hotels in Hersonissos, this resort features a remarkable collection of luxurious guest rooms, suites, and villas.
General Info About Hersonissos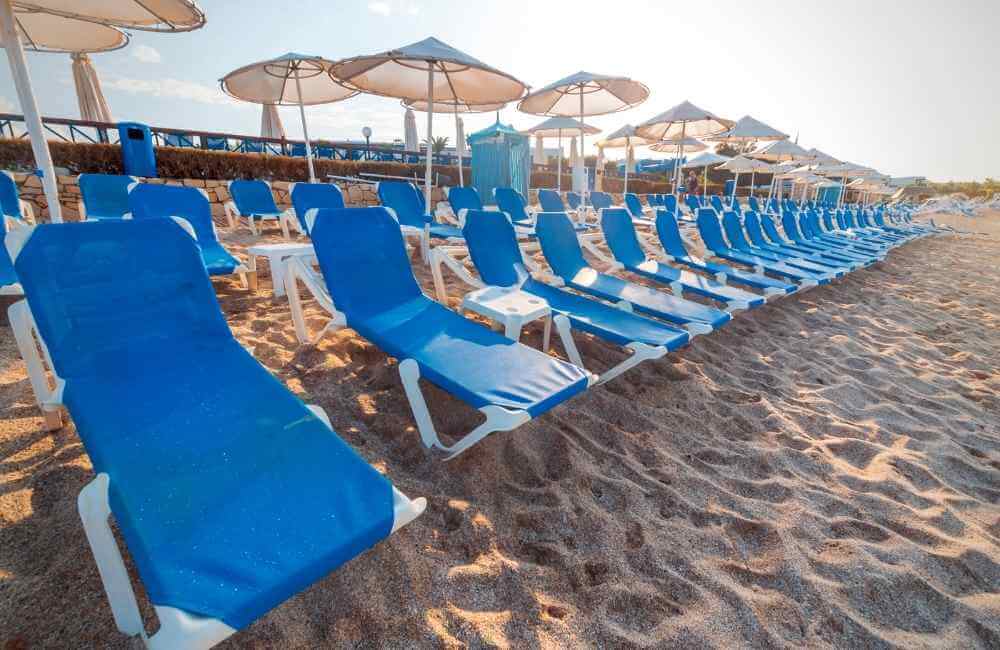 Located about 30 minutes east of Heraklion, along the northern coast of Crete, Hersonissos is a popular place in Crete for a seaside vacation.
Being so close to Crete's capital, Hersonissos is a perfect base to explore the city and spend your days by the sea.
When landing in Heraklio, you can get to Hersonissos by car or by public bus (the ride is about 45 minutes and the tickets it €3).
This typical holiday resort features amazing beaches, good bars and tavernas, plenty of shops, a vibrant nightlife, and loads of entertainment for small kids too.
There are dozens of bars and discos, beach clubs, as well as more relaxed entertainment, such as pubs and bars too.
What to Do in Hersonissos
The place can be great both for fun and relaxing holidays. It's not as quiet as the southern coast of Crete, but you can enjoy some fantastic sandy beaches during the day and find plenty of things to do at night.
You can either stay close to the port for more nightlife opportunities or in the nearby Koutouloufari or Piskopiano, two tranquil villages with a more relaxing atmosphere.
The area boasts amazing beaches, such as Sarandari Coves, included in this article with the best beaches in Heraklion. Sarandaris is one of those places where you can spend a great day when in Hersonissos.
Another great thing to do is to spend a day visiting Piskopiano.
The place has traditional alleys, a beautiful central square, and a nineteenth-century church dedicated to the Holy Virgin.
Lychnostatis is an interactive, open-air museum in the center of Hersonissos, perfect for a family day spent discovering the past of the island… and of Europe!
Kids also enjoy the water parks in the area, you can opt for Water City, located in Anopolis, a village halfway between Heraklion and Hersonissos, or the local option, Acqua Plus with special areas designed for adults as well as kids' pools and slides. Here you can purchase Acqua Plus tickets online.
Families can also enjoy some nearby theme parks, such as the Labyrinth and Cretaquarium, about 15 minutes from Hersonissos.
>> Purchase tickets to CretAquarium here to avoid waiting in line.
Best Beaches Near Hersonissos, Crete
The main beach of Hersonissos is a long narrow sandy beach that stretches for quite a few kilometers. The beach is well-organized, and there is no shortage of facilities, including beach bars and tourist shops.
There are other different beaches you can check in the area, including Sarandari Coves. This secluded beach has soft white sand and shallow waters of vivid blue hues.
An area of this beach is popular for gay travel on the island.
The beach of Analipsi is long and sandy and also organized on the eastern side while there are some big rocks towards the western part of it, perfect for some secluded swimming and fishing.
Also quite close to Hersonissos, Drapano is a beach that attracts visitors thanks to its natural beauty. Crystal clear waters allow you to see rocky sea bottom.
At the beach, you'll be amazed at the unique rock arch, a perfect spot for a memorable photo.
You might also enjoy reading about the best beaches in Heraklion.
Best Clubs in Hersonissos
Hersonissos is famous for its stunning nightlife, usually focused along the street that faces the sea, populated by many nightclubs and beach bars that organize insane parties every evening.
Choose among the several discos and beach bars or go for a more relaxed evening at an Irish pub in the center of town.
King Skorpio Beach Bar is in the heart of Hersonissos Harbour, and it is perfect for a drink and good music with superb views of the Cretan Sea.
Another popular place on the beach is Anissa Beach Shisha Point, visited often both by locals and tourists, while New York Beach Club, probably the best-known club in the area, is a classic in town for drinks and good music, open until the early morning hours.
There are several other places to check when in Hersonissos. There are some great restaurants, tavernas, bars, and other places to hang out.
There are video game arcades, entertainment facilities, and a lot of things for perfect family holidays too.
I hope this guide will be of help when looking for the best hotels in Hersonissos. You can go for an all-inclusive resort near the sea or up in the mountains facing Hersonissos Bay.
No matter where you decide to stay in Hersonissos, you will find a lot to do in the region to have a great time in Crete. Have you made up your mind yet? Do you already know where to stay in Hersonissos?
Read more about Crete
🛌 Suggested accommodation in Heraklion:
🗺️ More resources to book your trip to Crete:
Don't Leave without Pinning! Pin this Guide to Your Top Hotels in Hersonissos, Crete!
---
You might also want to read these posts about Crete's regions:
---
About my blog: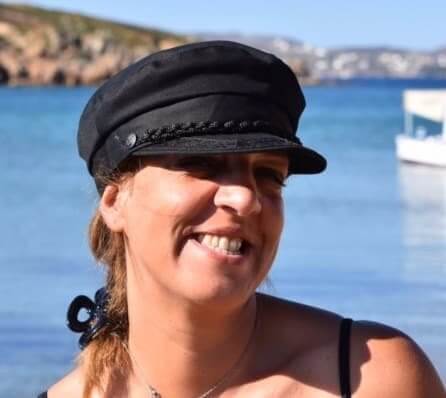 I moved to Crete in 2016. During these years, I learned much about the island.
In Crete, I juggle being a solo mom, hosting culinary tours, and writing for several travel blogs.
I've written for Greek Reporter, published travel guides about Greece, and had more glasses of frappe than any regular person could ever handle.