Heraklion, the capital of Crete, is certainly one of the regions you will want to visit when spending your vacation on the island. There are a lot of fantastic places to visit in the area and in the neighboring regions, including the marvelous Lasithi Plateau, the hippie beach of Matala, and the wonderful archaeological sites of Knossos, Malia, and Festos. From Heraklion, it's fairly easy to join a guided tour to visit the more remote region of Chania on the western side of the island. Check these convenient day trips from Heraklion and pick the one you like best!
---
Disclaimer: Posts include affiliate links leading you to products or services, I might earn a small commission if you make a purchase. This has no extra cost to you but allows me to continue writing articles that are helpful for your travels. I only recommend things I use myself or that I believe will deliver value to you. 
---
LAST-MINUTE PLANS FOR CRETE?
– Use Ferryhopper and Skyscanner for the best ticket rates.
– Find great accommodation deals on Booking.com.
– Compare car rental prices with Discover Cars.
– Check the best tours with GetYourGuide.
– Visit Elafonisi, discover Balos Beach, hike Samaria, or explore Knossos.
– Pack the Lonely Planet Guide to Crete or get my digital guide to Chania.
Best Hotels in Heraklion
Affordable: Candia Studios & Rooms or Rea Hotel in the city center.
Mid-range: Capsis Astoria and Veneziano Boutique Hotel in town.
Luxury: GDM Megaron H. M. Hotel or Galaxy Iraklio in the center.
Check also Heraklion Accommodation Guide and Best Places to Stay in Crete.
Heraklion Tours: Endless Things to Do in Crete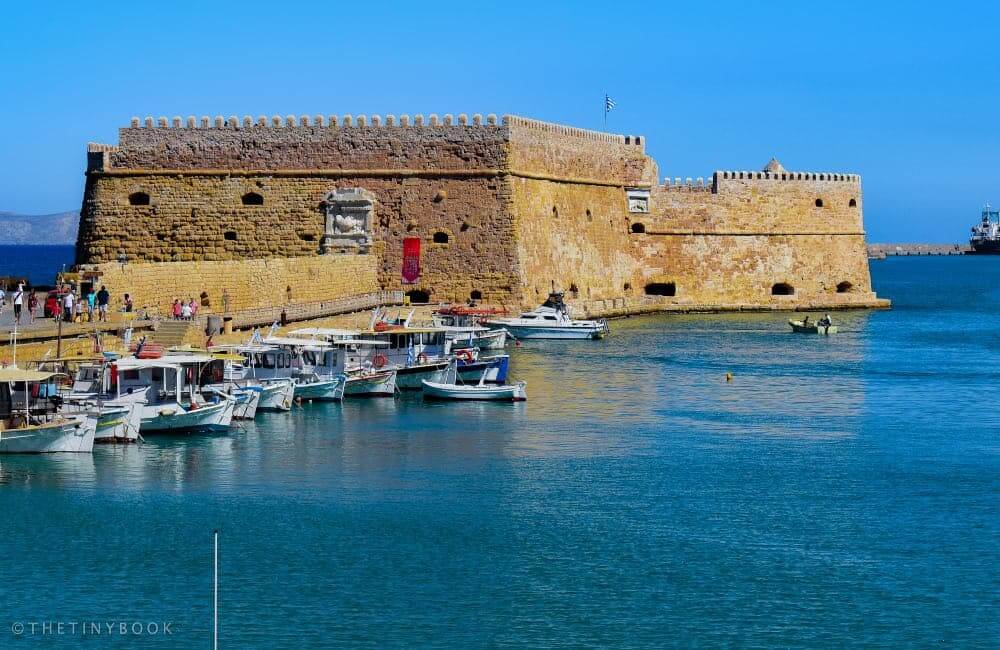 Heraklion sits between the easternmost region of Lasithi and the fantastic Rethymnon region. The southern coast of Heraklion has a collection of stunning beaches and it's ideal for day trips. The mountainous inland villages host one of the best wine regions in Greece.
The capital of Crete, Heraklion, is a perfect base and place to stay when spending your holidays in Crete. From Heraklio, it's easy to get to almost every corner of the island. Here, you'll never be short of ideas when it comes to things to do in the area.
If you've been following my blog, you know that driving on Crete is my favorite way to travel. I simply love road trips on Crete. I've even written a guide to help you plan road trips on the island.
However, the more I talk with visitors during my own tours, the more I discover that many tourists don't feel like driving on their holidays. That's not a reason to miss the impressive places the island has to offer.
Therefore, I've prepared this guide for you not to miss the top Heraklion tours and day trips departing from Heraklion. It includes the best Heraklion excursions that will help you better explore Crete even when you don't want to drive!
Top Day Trips from Heraklion, Crete
So, if you're staying in the Heraklion region, you might have wondered what day trips you can take there, these are some of the top-rated ones, and certainly among the most convenient tours departing from Heraklion, take a look!
Knossos Palace Skip-the-Line Entry with Walking Tour
Knossos Palace Guided Tours: This outstanding archaeological site remains Crete's most visited tourist attraction. There's no way you make it all the way to Crete and miss this visit. You can have a lot of fun visiting Knossos on your own. Or you can go on a guided tour to learn the secrets of the mysterious Minoan civilization.
This particular tour has a ticket that also allows you to visit the Archaeological Museum of Heraklion as well. You'll be able to skip the line and tour the palace with a licensed tour guide for about 90 minutes.
>> CHECK REVIEWS AND BOOK HERE
Land Rover Safari on Minoan Route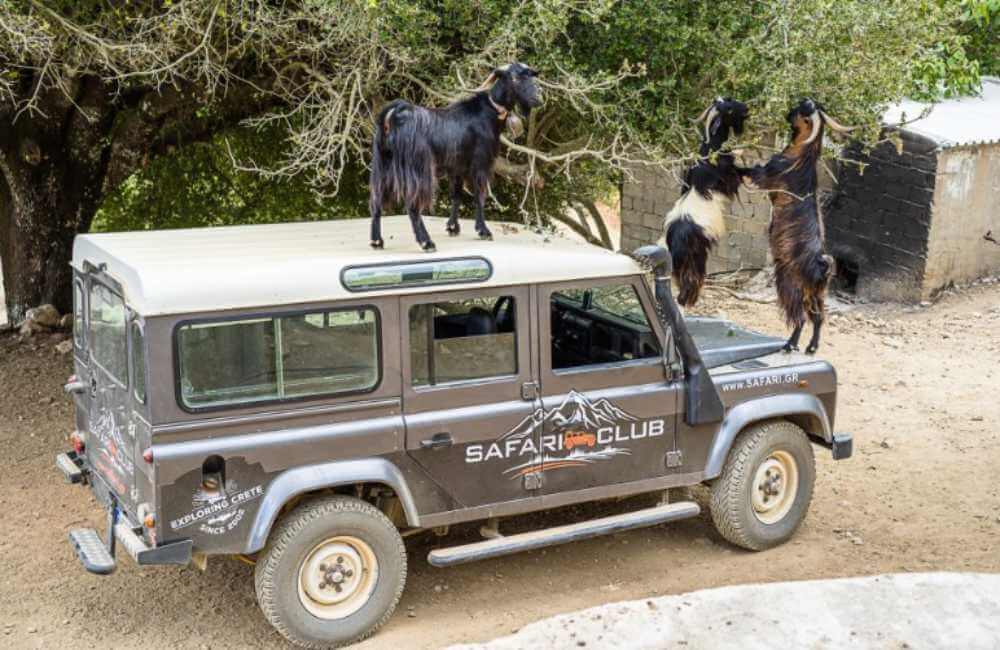 Safari on a Minoan Route: A top-rated full-day adventure to see a different side of Crete!
Expert drivers take on an 8-hour Land Rover safari to travel off-road along the old Minoan Path. Enjoy panoramic views, visit quaint villages, and taste an authentic Cretan barbecue with wine on the Lasithi Plateau.
This day trip from Heraklion also features a visit to the cave of Zeus. You'll also check a shepherd's shelter in the mountains and sample raki. Finally, visit the traditional Lassinthos Eco Park to discover gorgeous handcrafts made in Crete.
>> CHECK REVIEWS AND BOOK HERE
Day Tour to Spinalonga, Elounda, Agios Nikolaos, & Kolokitha Beach
Day Trip to Spinalonga, Elounda, Agios Nikolaos, and Kolokitha Beach: Wake up early and embark on an unforgettable adventure. Explore the former leper colony of Spinalonga and the picturesque Elounda, facing the tranquil waters of Mirabello Bay.
The tour includes a stop at the unspoiled beach of Kolokitha, as well as a visit to the city of Agios Nikolaos, the capital of Lasithi.
The full-day tour picks you from Heraklion. It does not include the entrance fee to Spinalonga island nor the fee for the boat ticket.
>> CHECK REVIEWS AND BOOK HERE
Full-Day Bus Trip to Elafonisi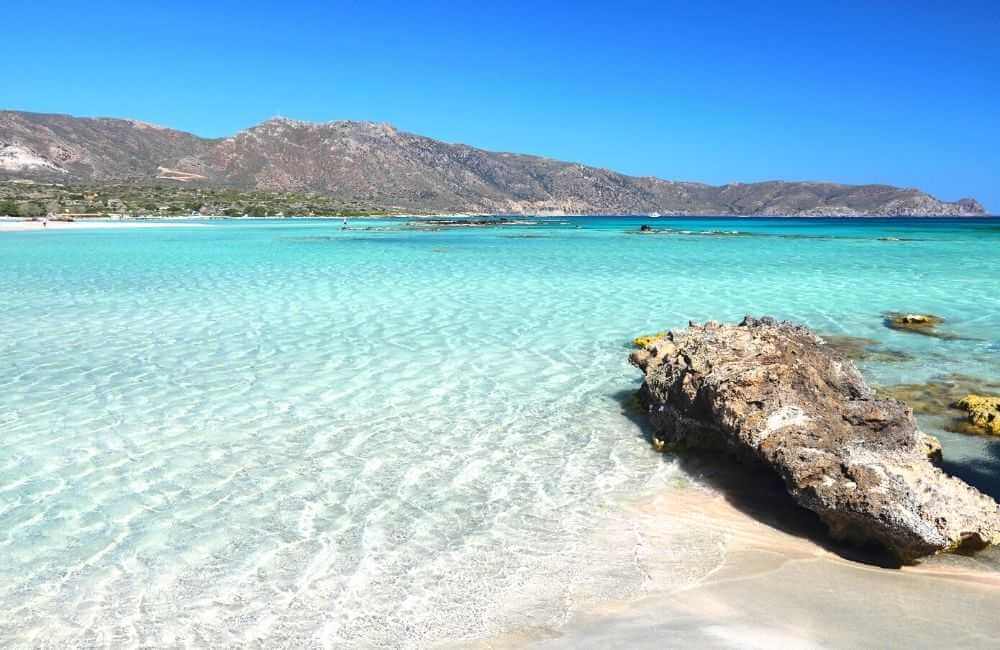 Full-Day Trip to Elafonisi Beach: Just like a visit to Knossos, or a trekking excursion in Samaria, spending a day on the famous pink sand beach of Elafonisi is a must-do in Crete. And you can easily enjoy the trip even if you're not staying in Chania.
Avoid the long, stressful drive by booking a full-day tour. You'll experience the magnificent wonders of this Chania beach, reaching the area aboard a comfortable bus. Spend a relaxing day on the small islet of Elafonisi and soak up the sun on this heavenly corner of Crete.
>> CHECK REVIEWS AND BOOK HERE
Day Trip to Chrissi Island
Chrissi Island Day Trip: Don't miss one of the most marvelous places in Crete, Chrissi island. This southern gem on the Libyan sea is a tiny uninhabited island. It boasts some of the most beautiful, crystal clear waters you'll ever encounter in Europe.
You'll get to the southern coast driving on a modern bus with a guide. Once at the pier, you'll need to pay an extra fee for the boat ride.
Enjoy a boat trip through the beautiful sea of southern Crete and spend an unforgettable day in paradise!
>> CHECK REVIEWS AND BOOK HERE
Full-Day Gramvousa and Balos Tour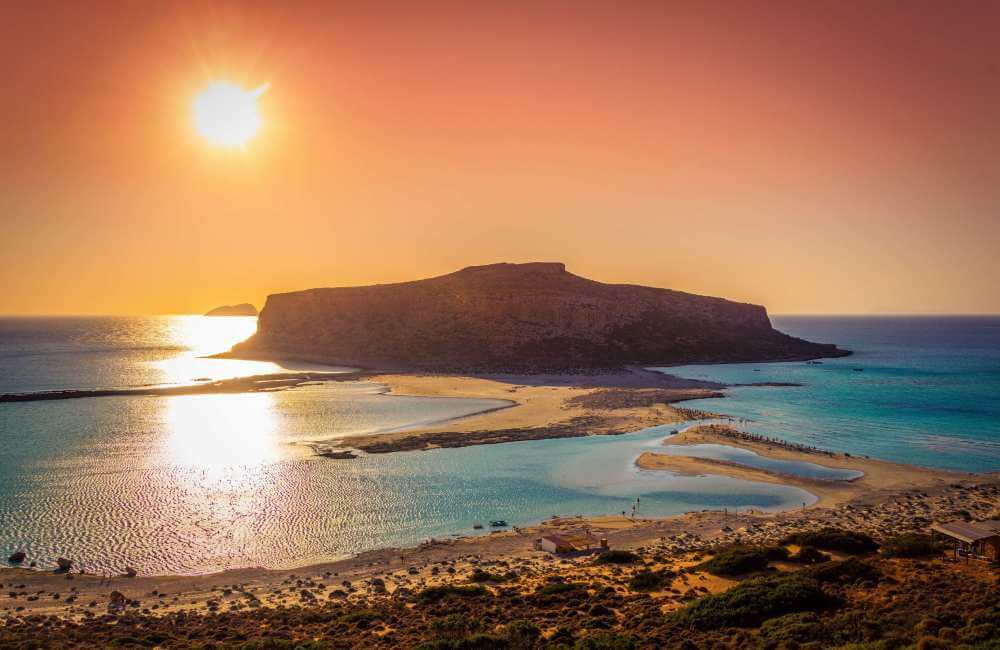 Balos and Gramvousa Island from Heraklion: Take this 12-hour tour to one of the most famous spots on Crete, the awesome Balos Beach. Depart from Heraklion and travel in a comfortable bus all the way to the Chania region until you reach the small port of Kissamos.
After some sailing time, disembark on the island of Gramvousa, with its Venetian castle, but also one of the most remarkable biotopes of the Mediterranean. Later, sail to the dreamy beach of Balos, with its shallow lagoon. The place is ideal to spend an afternoon in total relaxation.
The boat ticket and lunch are not included in the price.
>> CHECK REVIEWS AND BOOK HERE
Cretan Cooking Lesson with Dinner in Aerolithos
Cooking Lesson and Dinner in Aerolithos: A memorable day trip to learn everything about the mouthwatering tastes of the Cretan diet.
This Heraklion day trip is organized by Arolithos Traditional Cretan Village. It features traditional Cretan cooking lessons and a delicious diner during which you'll savor everything you've cooked! You'll also visit the museum of Aerolithos to learn about the folklore and the traditions in the area.
>> CHECK REVIEWS AND BOOK HERE
Cretan Wine Tasting Tour & Gourmet Lunch
Wine Tasting Tour & Gourmet Lunch: Taste 15 different wine labels original from the island during this great private food and wine tour in the Heraklion region. Did you know that Heraklion is one of the most important wine areas on the island?
The tour continues with a gourmet restaurant experience. Here, sample local olive oil and immerse in the authentic flavors of the island.
>> CHECK REVIEWS AND BOOK HERE
South Crete: Hippy Beach and Gorge Tour
Matala Beach and Agiofarago Gorge Day Tour: Visit the south of the Heraklion region and two of the most iconic spots facing the Libyan sea, the hippie beach of Matala, and the stunning gorge and beach of Agiofarago.
The trip includes a hotel pick-up, a stop in the village of Moires, and a visit to the hermit monastery of Panagia Kaliviani. Admire the spectacular Asterusia Mountains and witness one of the most romantic sunsets surrounded by the hippie caves of Matala.
>> CHECK REVIEWS AND BOOK HERE
Scuba Diving Experience
Discover Scuba Diving Experience: This is a memorable day excursion for all the family (10 years and up accepted). Taking this tour you'll be looked after by a personal instructor, learn the basics to submerge, and be able to observe the stunning marine life in the area.
The tour includes pickup from and drop-off at your hotel, a 20-minute theory lesson before the dive, full diving equipment and instructor, and a super rewarding diploma of the experience!
>> CHECK REVIEWS AND BOOK HERE
Day Trip to Santorini from Heraklion (or Agios Nikolaos)
Santorini Day Trip from Crete: Particularly popular among those who are visiting Greece for the first time and have limited time to squeeze in a longer trip to Santorini… This day tour to the romantic Cycladic island is just what you were looking for.
Your Santorini experience includes boarding a luxury high-speed catamaran in Heraklion to sail for Santorini. Upon arrival, tour the island, visiting the village of Oia and the capital, Fira.
In the afternoon, go for a stroll along a black sand beach at Perissa. The return boat departs some minutes before 6 pm. You'll be back in Heraklion just on time for dinner.
>> CHECK REVIEWS AND BOOK HERE
There you go, unique experiences, tours, and day trips from Heraklion that let you experience the best of Crete… and beyond!
---
Which of these day trips in Heraklion would you like to book?
Let me know in the comments below!
---
Read more:
Amazing things to do in Heraklion
Top things to do in Matala
Top tours, day trips, and excursions from Heraklion
Comfortable Airbnbs in Heraklion
What to do in Heraklion in 1, 2, or 3 days
Don't Leave Before you Pin These Fabulous Day Trips from Heraklion for Your Crete Vacation!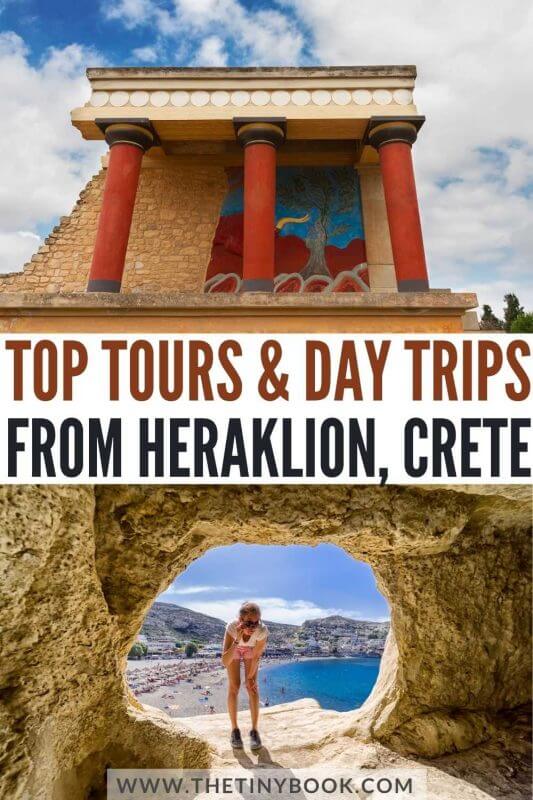 About the author of this blog: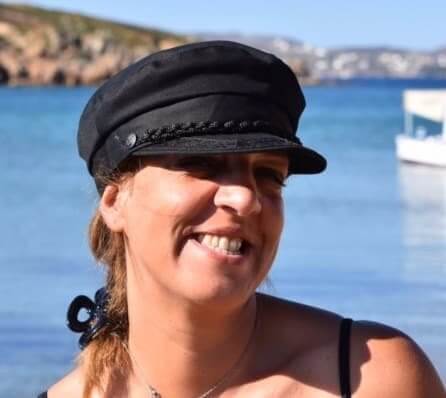 Gabi has been living in Crete for the last five years. Here, she juggles being a solo mom, hosting culinary tours in the summer, translating, and writing for The Tiny Book and her other blogs.
She's written for Greek Reporter, published three travel guides about Greece, and had more glasses of frappe than any regular person would be able to handle.
---
You might also want to read:
---