Heraklion's bright nightlife is well-known all around Greece. As the capital of the country's biggest island, Heraklion offers many choices…from the hottest nightclubs and bars to the most romantic settings for dining out.
Check out this list of the best things to do in Heraklion at night and choose what you'll do next!
---
Disclaimer: Posts include affiliate links to products or services. I might earn a commission if you make a purchase at no extra cost.
---
Heraklion at Night
If you're coming to Heraklion to enjoy the best restaurants in town, the museums, and the thrilling lifestyle of the capital, the best thing to do is to book a place in the center, this way, it'll be easy to walk everywhere without stressing about transport.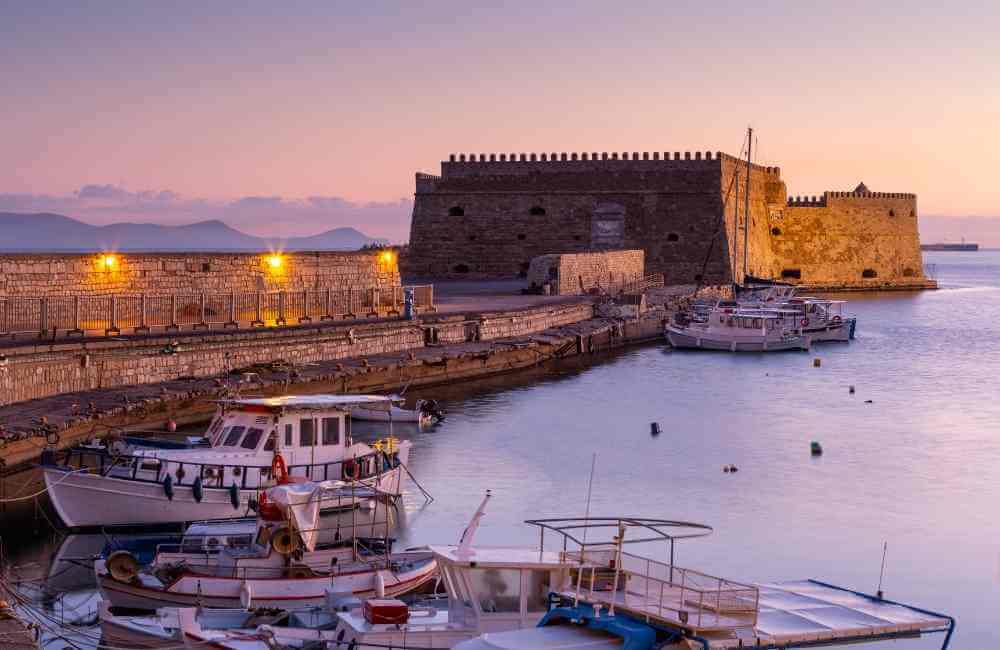 Let's begin by checking out some basic information that you need in order to explore the city better…
General Info About Heraklion, Crete
Heraklion, the capital of Crete, is a huge city with a plethora of things to do at all hours.
It's home to some of the most important landmarks of the island, including the Archaeological Museum of Heraklion, Knossos Palace, and the legendary Matala Beach.
There are many reasons why the region of Heraklion is a unique destination for a summer vacation. It's a place loved by young crowds, family travelers, and couples alike. As a result, nights in the area are exciting and full of things to do!
When is the Best Time to Visit Heraklion
As with the rest of the island, summer is the best time to discover Heraklion. There are hundreds of seaside resorts with impressively beautiful beaches for you to discover, no matter what coast you choose.
However, it is also possible to visit off-season, when the weather can still be pleasant (although the sea might be cold for long swims) and there are fewer visitors.
The island is genuinely at its best in the shoulder season.
Spring and fall are great times to enjoy walks in nature, hikes, visits to archaeological sites and museums, and even picnics on the beach.
⛴️ Check out ferry ticket fees and schedules
The city is also home to many different educational institutions, including the well-known University of Crete, making it an ideal place for young people to have fun and make new friends.
All in all, Heraklion is a top destination if you intend to visit Crete to enjoy yourself.
Top Things to Do in Heraklion at Night
After the sun has set, a different side of Heraklion comes to life. With so many great things to do at night, get ready to have a truly unique and enjoyable night-time experience…
Do Some City Walking
Don't rush to pop into the bars. Instead, enjoy a pleasant evening walk and rediscover the city.
Start from the main square, Plateia Eleftherias – a bustling place known as the main meeting point in Heraklion. Here you'll find numerous bars and restaurants, as well as live bands performing international and traditional music.
Keep going until you find the famous Liontaria, the Lions Fountain, which is beautifully illuminated every evening.
Around the fountain area, you will find many lovely bars and tavernas, welcoming guests to spend a pleasant evening.
You can stop here for a while, then continue until you reach the Church of Agios Titos. Keep going and pass by the Venetian Loggia, a historical building now functioning as the city hall.
There is a wide square between the Loggia and the church of Agios Titos. It's a favorite place for locals to gather in the evenings to share a cold coffee to go and a chat.
Continue with your walk towards the sea and you will reach the Marina. Stop for a while to admire the view over the gorgeous Rocca a Mare Fortress, which is even more stunning at night with its strategic lighting.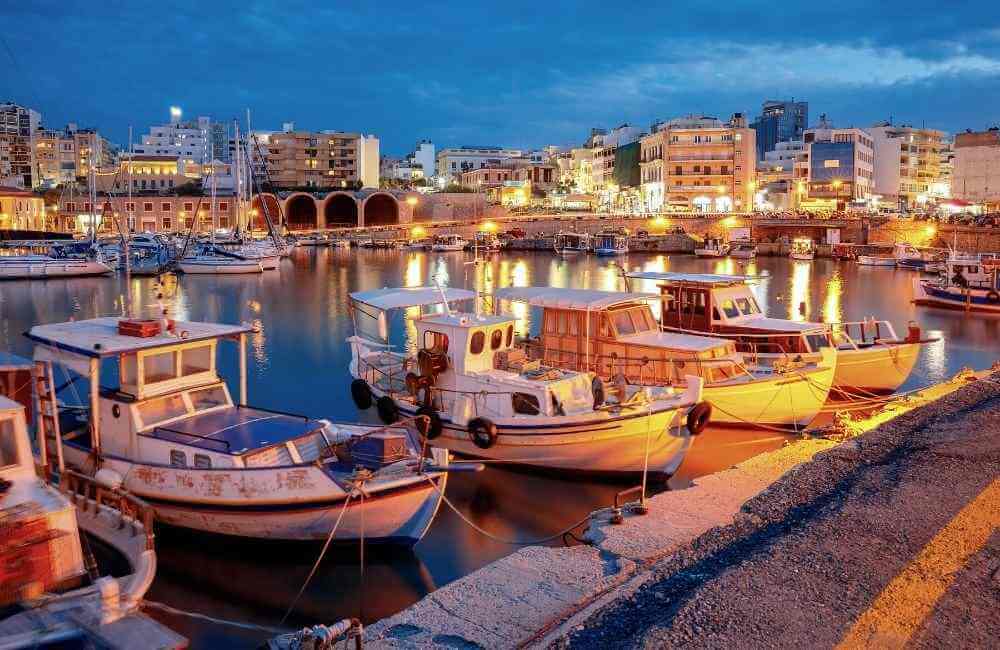 The nocturnal image of the fortress is something you don't want to miss, especially if you're looking for that one memorable photo.
For more unforgettable pictures, move on to the Fortress and marvel at the Marina and the remains of the domed Arsenals.
Once there, you can't miss the weird-looking Lighthouse. Did you get there a bit early? Don't worry! This promenade is especially beautiful during sunset.
After the sun has gone down, the city lights illuminate the Marina and are reflected in the calm waters of the harbor… isn't it magical?
Only have a little time in town? Discover what to do in Heraklion in two days.
REMEMBER: Keep in mind that Heraklion is home to some of the best bars on the island, check them here
Good Food, Good Mood
Don't want to start your night adventure on an empty stomach? Then check out Heraklion's best of the best restaurants and tavernas.
Places like Plateia Eleftherias and Liontaria showcase plenty of choices, both for traditional Greek cuisine and international gastronomy.
If you are searching for a more authentic experience, then I suggest discovering the narrow streets around Liontaria Square where you will find small tavernas with homemade food and several rakadika (a small traditional venue where you can taste Cretan raki and taste local finger food – mezedes).
Very often, tavernas and restaurants have live music, ranging from Jazz to old and modern Greek tunes. They sometimes also organize the so-called Greek nights.
During these evenings, these small restaurants treat their guests to signature Cretan dishes, like delicious, and super tender, grilled free-range lamb.
Such evenings are usually accompanied by live music, featuring Cretan Lyra players and oftentimes, by professional dancers, too.
If you wish to treat yourself to fresh seafood, then follow my advice and visit one of the tavernas right by the sea… they will gladly (and tastefully) see to your seafood craving.
Freshly caught fish and mussels cooked the Greek way promise a delicious start to a great evening.
Don't forget to add a bottle of specially selected Cretan wine to enhance the atmosphere. My favorite to accompany fish? A good local Vilana.
Sip Happens…
If you are looking for a great bar to spend the evening in, then Heraklion has a lot to offer. Check Milatou Street for some of the best night bars in the city.
From famous speakeasy bars with signature cocktails to elegant wine bars where you can taste the best Greek and Cretan labels…follow the narrow and picturesque streets around Agios Titos Church where some outstanding bars are hidden.
Another great location to explore in the evening is Theotokopoulos Park. Here you will find great beer pubs.
For a more romantic setting head to the seaside road Leoforos Sofokli Venizelou, where you will find great spots to sip your drink with a perfect view over the sea.
It's a great idea to come here before sunset, as the picture of the sun drowning in the sea just in front of you will add a touch of unforgettable magic to your night.
Wondering where to stay in Heraklion? Check the best Airbnbs in the area.
Keep Calm and Party On
Nightclubs in Heraklion drag people from all around the globe, offering up an amazing party time. Huge dance floors, outstanding DJs playing international and Greek hits, and all-night-long events are part of Heraklion's nightlife.
The narrow alleys in the old part of town hide several nightclubs. Tired of just dancing? Then try something new, like foam, glowing, or bubble parties
Even though Heraklion has a lot on offer, there's nothing like heading to Hersonissos and Malia for the younger crowd.
These two seaside towns are about 30 km away from Heraklion. Both of them are home to the hottest spots for the best partying experience.
In Hersonissos, the nightlife is focused along the street that faces the sea, where it'll be hard to choose just one among the many nightclubs and beach bars that organize insane parties every day.
The 2 km Malia Strip is the all-in-one street in Malia Town full of bars and clubs. From a classic dining experience to the craziest parties, it offers everything to be found and done in Malia.
Crash the dance floor or hit the sand: either way, an awesome party time until early in the morning is guaranteed in Heraklion and the nearby seaside towns.
Cretan Folklore Nights in Anopolis
You can have an exceptional adventure in the small village of Anopolis, 17 km outside Heraklion.
The Cretan Folklore Night is a once-in-a-lifetime experience to learn about Greek and Cretan myths in the form of a performance with live traditional music and great dancers.
Learn about ancient legends and myths, discover the history of the Olympian Games, witness authentic dances, and admire great theatrical performances.
You will also savor traditional Greek food and local wine.
Have fun in a bouzoukia just as the Greeks do. Learn how to dance and see how Cretans party! The show is usually three hours long and starts at about 7.30 pm, giving you plenty of time to enjoy the performance.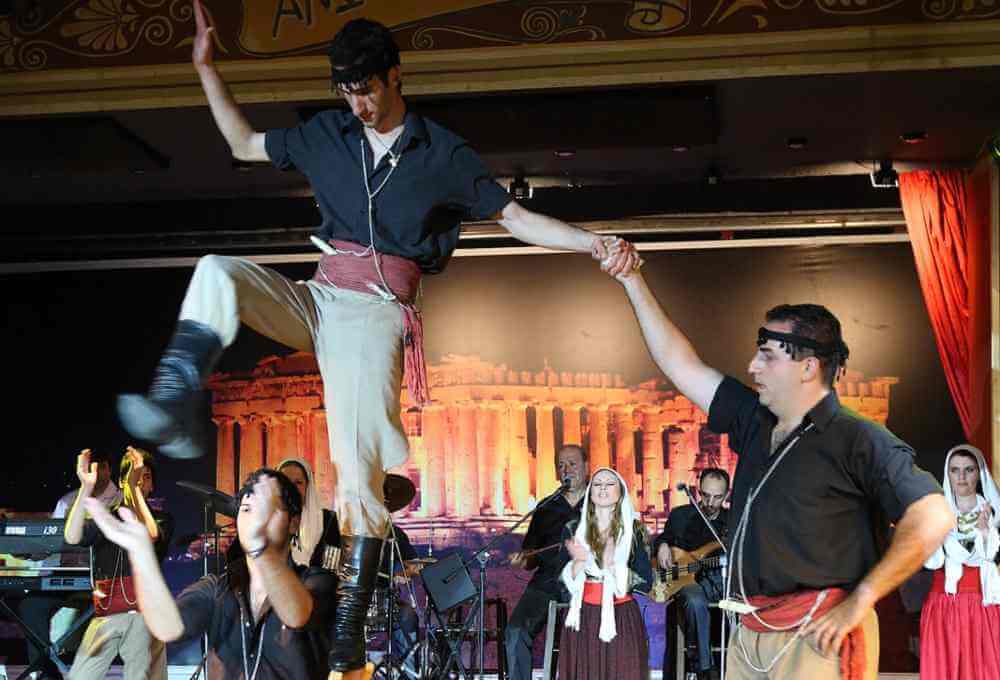 If you worry about how to get to the village, worry not! The organizers offer comfortable return-trip transfers from any selected point in town. So relax and enjoy some authentic Cretan fun!
Useful tip: You can directly book with the Anopolis Cretan Nights for a better price. And if you book online you will get a 15% discount!
Heraklion Summer Arts Festival
Heraklion Summer Arts Festival is held from June until the end of September and is a perfect opportunity to get familiar with the different Cretan artists and art forms.
The program is very diverse. Theatre performances, dancing, musical concerts, open-air cinemas, artists painting directly in front of you, open-air workshops of all kinds… the choice is unlimited.
The events are held until quite late in the evening almost every day, so you won't get bored. And the best part is that many events have free entrance!
Just check the program, choose what you are in the mood for, and enjoy the festival!
Check the official site of Heraklion's Municipality for more details.
Night Diving in Heraklion
You can't even begin to describe how beautiful the underwater world of Crete is!
During the daytime, you can see everything through the crystal-clear waters of the sea. But what about night diving? This is a completely different experience!
If you are a fan of diving and you want to try something special, check out this night diving experience with StayWet Dive Club at Mononaftis Beach. Mononaftis is a stunning beach 20 km from Heraklion town, making the trip out there worth it. Plus, they can organize your transfer, so no worries!
All you need to do is to marvel at the wonders of the deep. Meet the night habitats of the Cretan Sea, discover the seabed under the diving lights, and who knows, maybe even find a treasure!
Relax. Refresh. Recharge
If you come to Heraklion for peace and relaxation, then the perfect thing to do at night is to take a walk along the beachfront.
There is a comfortable pedestrian path with breathtaking views. It's a good idea to start from the Natural History Museum of Crete and head west. Nothing is as relaxing as a fresh evening breeze after a hot summer day!
After walking some distance, you will find yourself at Karavolas Park, a popular place among locals to gather in the evenings. It has a wide skating area as well as a huge children's playground.
But the jewel of the park is its fountain. Beautifully lit and colorful in the dark.
There are also several good bars and restaurants not far from the park, in case you want to continue your evening savoring some Greek cuisine or a signature cocktail.
Heraklion is a city full of diversity. So, whether day or night, you will find many interesting things to do and events to participate in.
Wander around and discover the city on your own, or ask locals for advice. Either way, Heraklion is full of endless surprises!
Have you ever experienced nightlife in Heraklion?
Read more about Crete
🛌 Suggested accommodation in Heraklion:
🗺️ More resources to book your trip to Crete:
Pin it Down and Get it Done!
Pin these Best Things to Do in Heraklion for Your Next Vacation!
---
You might also want to read these posts about Crete's regions:
---
About my blog: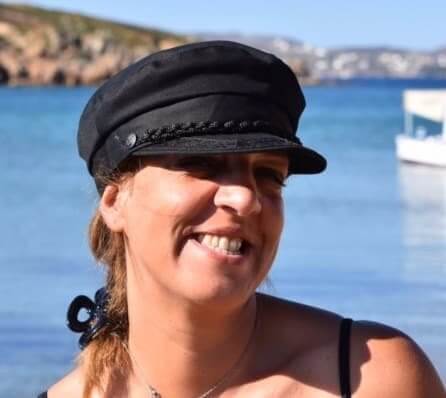 I moved to Crete in 2016. During these years, I learned much about the island.
In Crete, I juggle being a solo mom, hosting culinary tours, and writing for several travel blogs.
I've written for Greek Reporter, published travel guides about Greece, and had more glasses of frappe than any regular person could ever handle.