If you love History, Art or you're just curious about the past, there's a place in Crete that you shouldn't miss. And it's not the Palace of Knossos, not this time. It's the Archaeological Museum of Heraklion… Why not combine a morning tour of Knossos with an afternoon at the Museum? Your day will be truly amazing.
---
Disclaimer: Posts include affiliate links to products or services. I might earn a commission if you make a purchase, at no extra cost to you.
---
Let's Start by Getting Ready for Crete!
RESOURCES TO BOOK YOUR TRIP:
Book your flight: I use Skyscanner to compare prices before booking a plane ticket.
Book your ferry: When ferries are more convenient than air travel, I use Ferryhopper.
Book your accommodation: I've tried many different platforms for accommodation, but none of them beats the advantages of Booking.com.
Book your car: The best way to find an affordable car to rent is to use a powerful search engine that compares all the rental companies in the market. I use Discover Cars.
Book your tours: Live unforgettable adventures and cultural experiences with Get Your Guide. For instance, you can Visit Elafonisi, discover Balos Beach, hike Samaria, or explore Knossos.
Don't forget travel insurance: Things can go wrong at times, but travel insurance will protect you against illness, injury, theft, and cancellations. I recommend Safety Wing for peace of mind.
Best Hotels in Heraklion
Affordable: Candia Studios & Rooms or Rea Hotel in the city center.
Mid-range: Capsis Astoria and Veneziano Boutique Hotel in town.
Luxury: GDM Megaron H. M. Hotel or Galaxy Iraklio in the center.
Check also Heraklion Accommodation Guide and Best Places to Stay in Crete.
Archaeological Museum of Heraklion
The Archaeological Museum of Heraklion is one of the most important museums in Europe. It's been built on what used to be a Venetian-Franciscan friary destroyed during an earthquake back in 1865.
The museum covers over 5500 years of Crete's history, spanning from the Neolithic period (7000 BC) to the Roman times (200 AD). Most objects belong to prehistoric times as well as to the Minoan era, a period named after the mythological King Minos.
Impressive pieces of pottery, amazing jewelry, seals, sculptures, and metal objects arrayed following a logical narrative that guides visitors through the different themes the collections present.
Therefore, you will find exhibits related to trade, others dedicated to death, religion, or even settlements. Twenty-seven galleries on two floors full of impressive beauty.
The Exhibition at the Archaeological Museum of Heraklion
These are a few of the things you should not miss when paying a visit to the museum.
What to See on the Ground Floor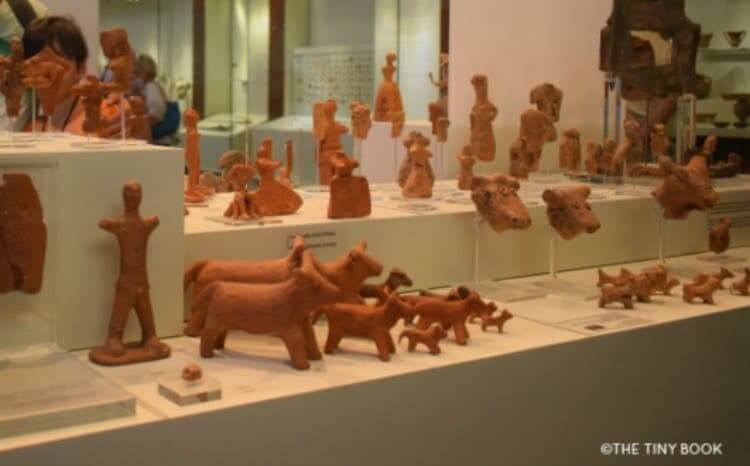 Here, the museum presents the Minoan prevalence in the Aegean sea. There are clay pots and other ceramics with stunning detail. They range from miniature vases to those huge pithoi (the typical Cretan large containers used to store olive oil, wine, and grain in bulk).
There are incredible amounts of labrys (the symmetrical double-bitted ax), one of the oldest symbols of Greek civilization, specifically associated with female divinities. Some of the most beautiful ones are even taller than a person.
Researchers believe that those enormous axes could have been used during religious ceremonies and sacrifices.
Phaistos Disc
Want to discover more about the Minoan civilization?
>>Visit the Minoan Palace of Knossos<<
Another key element visitors will appreciate during the visit is the famous Phaistos Disc, found in the Minoan palace of Phaistos, a few kilometers south of Heraklion.
Arguably the most important exhibit you can check in the museum is the famous Phaistos Disc which was found in the Minoan palace of Phaistos (Faistos or also Festos), a few kilometers south Heraklion.
This clay disc, about 15 cm in diameter (smaller than I expected, but still captivating) has on both sides a spiral of stamped symbols of unclear meaning. Symbols that turn it into one of the best-known mysteries of archaeology.
Even with such an obscure symbolism, many have concluded symbols might stand for an alphabet or even a syllabary.
Minoan Jewelry
Other magnificent elements worth admiring are the pieces of Minoan jewelry, so rich, detailed, and precise that you'll easily think you are in a fancy boutique more than in a museum.
Minoan skills were probably influenced by Egyptian artisans, but the craft on the island evolved to become an extremely refined art.
Several different techniques allowed Minoans to transform gold, silver, bronze, and semi-precious stones into a fantastic array of designs.
Stunning are also the famous Kamares vessels, objects decorated with vibrant colors and representations of nature.
But color is not the only important trait of the vessels, some of them are known as egg-shelled because of their thinness.
The Snake Goddess
Of the several pieces to be discovered during a visit, the Minoan Snake Goddesses certainly deserve a few words. Snakes are normally associated with the renewal of life.
On the other hand, different studies also suggest that in Minoan society, snakes were the protectors of the household.
Another important detail that can be seen on the little statues is the knot between their breasts, many consider the knot a symbol of holiness.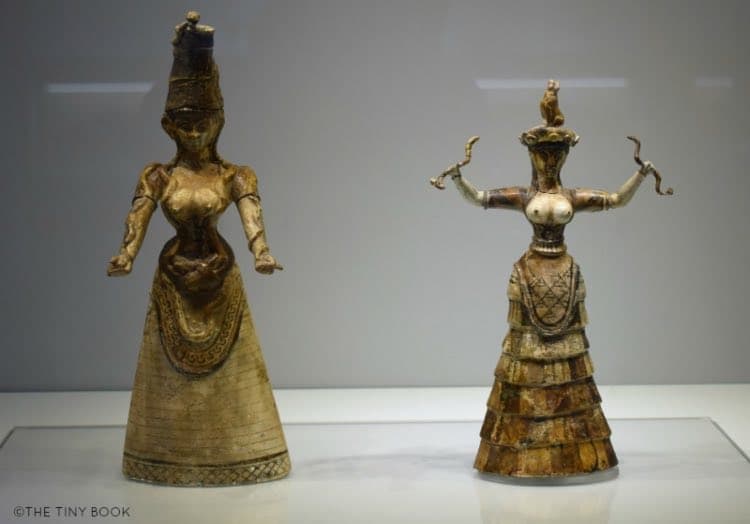 What to See on the First Floor
The first floor welcomes visitors with the most amazing array of Minoan frescoes and mosaics. It's the "Hall of the Frescoes" which represents Minoan's love for nature as well as for vibrant colors.
From the explosive reds, the visitor will see in Knossos, the frescoes in the museum are a more faithful snapshot of the Palace of Knossos.
Other than that, the main theme of the galleries on this floor is the evolution of the city-state, from the Iron Age through the Roman era, a very important historical moment on the island, often overshadowed by the splendor left by the Minoan civilization.
Archaeological Museum of Heraklion for Kids
>>You might also want to read about the most important Archaeological Sites in Crete<<
We visited the museum during a very hot morning last September. I would've imagined that my kids would've rather been on a beach instead, but I was wrong.
I'm sure their previous visit to Knossos had already ignited their curiosity. Honestly, they are very much into all that's related to Ancient Civilizations. Still… summer and museum do not always match, or not for everyone.
However, they took hundreds of pictures of bulls and axes and were impressed by the spectacular wooden reproduction of the Palace.
What's more, there is a nice entertainment area, right before reaching the stairs, where kids can take a rest, play, and discover the ancient symbols of the Minoan era. When in Crete… don't miss it!
General Information about the Archaeological Museum of Heraklion
Entrance: Full ticket, €10; Reduced ticket, €5.
Special ticket package: Full package, €16; Reduced package €8 (valid for 3 days. It includes the entrance to the Heraklion Archaeological Museum and the Palace of Knossos)
Xanthoudidou Str. 1-2, Heraklion
Phone: 2810 279000 Mail: [email protected]
Archaeological Museum of Heraklion: Read more!
---
Have you been to the Archaeological Museum of Heraklion?
Let me know in the comments below!
---
Read more:
2 Fantastic Days in Chania: A Unique City Break in Crete
Heraklion Tours: Top Day Trips from Heraklion, Crete
17 Picture-Perfect Luxury Resorts in Crete for a Top Class Experience
Stunning Free Things to Do in Agios Nikolaos (and the Rest of Lasithi), Crete
Missing Travel? Eleven Fun Crete Travel-Related Activities to Do at Home!

Pin this Super Useful Guide to the Visit the Archaeological Museum of Heraklion for Your Crete Holiday!
About the author of this blog: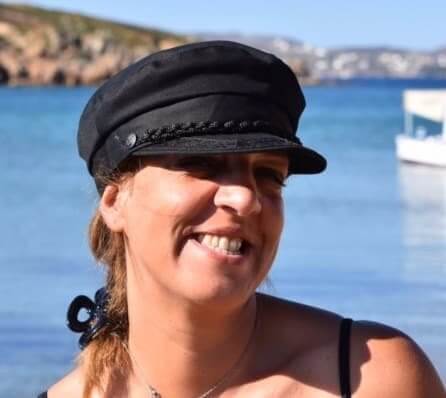 Gabi has been living in Crete for the last five years. On the island, she juggles being a solo mom, hosting culinary tours in summer, translating, and freelance writing.
She's written for Greek Reporter, published several travel guides about Greece, and had more glasses of frappe than any regular person would be able to handle.
---
You might also want to read:
---