Are you thinking of visiting the archaeological site of Malia? Then you, my friend, are in the right place. Here is everything you can expect from this well-preserved monument of Ancient Greek history.
I guarantee that if archaeology and history interest you, this is the real deal. So, follow along as we unravel the wonders of ancient Malia's Minoan Palace together.
---
Disclaimer: Posts include affiliate links to products or services. I might earn a commission if you make a purchase at no extra cost.
---
Archaeological Site of Malia: Unraveling the Mysteries of the Ancient Minoans
Why Visit Malia's Minoan Palace?
It all boils down to the reason you are in Crete. If you want to embrace the depth of the Cretan lifestyle and explore every aspect of the island, visiting such an important archaeological site is a no-brainer.
After all, we are talking about the third largest Minoan city in the nation, measuring 7,500 square meters. With this large of a palace, it is no coincidence archaeologists found priceless jewelry hidden in the ruins of Malia.
So, to help you decide and prepare for a trip to Minoan Malia, here is what to expect from the site.
What to See in the Archaeological Site of Malia, Crete
The Museum
Once you enter ancient Malia, you'll immediately see the site's two-room museum. I recommend checking it out to feed your imagination for the next few hours.
As you walk through, pay attention to the scale model recreating the two-floor palace complex in its glory days, and picture it in your mind once you start moving through the ruins.
There is little else to see since all the significant relics are at the Archaeological Museum of Heraklion. You could, however, admire the photographs and a few minor finds before heading out in the open.
The Palace
The major attraction of ancient Malia is no other than the ruins of the palace in the central court, which covers more than 1000 square meters.
Imagine a two-story structure lined with wooden or stone pillars on the north and west sides.
Once you enter the palace, you'll be greeted by tens of rooms, many of which remain a mystery for archaeologists trying to determine their past use.
And that has not been particularly easy, especially when they run into finds such as an unusual altar or eight mysterious circular structures, possibly working as water tanks or granaries.
Kernos
The excavations are still ongoing, and the ruins of Malia remain a real-life puzzle you are invited to check out.
Among the so-called holy apartments, storerooms, and endless corridors, a small round table known as Kernos has stolen the show.
This notorious table, which looks more like a big rock, is hollow and has 34 small holes around it.
Allegedly, the Minoans would use those holes to insert seeds as an offer to the gods for a fruitful crop. However, we are unsure of its use, so feel free to let your imagination loose when you see it.
Other Sites
Other points of interest include the throne chamber, a shrine room in the south wing, an assembly chamber with a lustral basin, the treasure room, and a big building called Loggia, where religious rites took place.
Nearby, you'll find the storage rooms called Magazines, where the famous vases Pithoi used to hold wine, oil, and cereals.
The Old City
The north wing of the palace is facing the old city of Malia. So little is known about this area that archaeologists have yet to agree on its name.
The most likely candidate is Quartier Mu. Doesn't that sound somewhat Chinese, or is it just me?
Regardless, historians speculate that the city was dedicated to manufacturing pottery and had a separate life from the palace.
Hypostyle Crypt
A mysterious building between the palace and the residential area gives way to more theories and speculations.
The Hypostyle Crypt contained a large underground room where secretive meetings were said to occur.
Some suggest it was the gathering point for a town council, while others say it was used for commercial purposes. You are welcome to put forward your own suggestions if you wish.
Chryssolakos
Finally, 500 meters north of the palace in the area now known as Chryssolakkos, you will find your way to the ancient graveyard, a grand house tomb with over 40 chambers.
It was in those cemeteries that they uncovered one of the most exquisite Minoan finds. The Golden Bee Pendant shows two bees holding a honey cake and is displayed in the Museum of Heraklion.
History of Malia Crete
While you roam through the ancient ruins of Malia, remind yourself that you are standing on land occupied already from the early Minoan period of 6000 to 2000 BC.
It was in 1900 BC when the first palace was built to be destroyed in 1700 BC when the ancient Minoans erected a new one.
We have little historical evidence but plenty of mythological stories that associate with the Minoan palace of Malia.
For example, according to mythology, here ruled the third son of Zeus and Europa, Sarpedon, who also was a brother of the legendary King Minos.
Unfortunately, following the fate of the other prominent Minoan sites in Crete, Malia was again destroyed in 1450 BC—the ruins you see now date back to that time. And for more than two millennia, nobody knew of its existence.
So, about thirty-four centuries later, in 1880, the land owner of the Chrysolakkos area discovered a few sheets of buried gold.
It wasn't long till the news reached the ears of gold diggers who illegally excavated the wider region. Imagine how many artifacts got lost during that time.
Finally, in 1915, official excavations began by Joseph Hatzidakis. They continued by the French Archaeological School in 1921, when they found one gold jewel depicting bees, the Golden Bee Pendant.
What to Expect from Your Visit to Malia Archaeological Site
First things first, don't expect a restored site like Knossos. Everything here is in its authentic form, the way time has made them. Still, ancient Malia is one of Crete's finest and best-preserved ancient Minoan palaces.
It differs from its most prominent cousins of Knossos and Festos because Malia was never reoccupied after its last destruction. That means everything here is almost unchanged like the first Minoans dreamed it to be.
Of course, time and the elements have made their impact, so don't expect to see any standing buildings. Still, the remaining ruins and the ongoing excavations shed enough light on the glorious past of ancient Malia.
Finally, although the site is of unprecedented importance, there are few to no information boards explaining what you see.
In other words, it is less of a theme park experience and more of a get-to-know-it-by-yourself endeavor.
Add in the picture that you'll be walking in wide open fields filled with flowers, trees, and shrubs, and you are in for a treat.
Tips for Your Visit to Malia Crete
Follow these smart tips to make the most of your visit!
Research
If you want to enjoy your visit to Malia, Greece, the most crucial tip I can give is to do your research beforehand since there are few signs on-site.
You don't want to be walking among ruins you know nothing about. But since you're already reading this guide, I think you are on the right track.
Guide
A guided tour is the best alternative if you don't have the time or energy to read. However, you may need to arrange this well before your visit since guides are not always readily available.
As a last resort, you could pull up a web description or this guide on your phone to have it in hand as you wander through the ruins.
Sports shoes, Hat, Sunscreen
While you explore the site, you'll quickly realize the archaeological venue is quite big and spread out, with several different areas.
In other words, prepare to walk for a while if you plan to see the entirety of ancient Malia. And since many of the ruins are directly exposed to the sun, bring your hat or visit on a cloudy day.
This guide to what to wear in Summer in Crete's archaeological sites will certainly give you a hand to find a comfy outfit, remember that most sites have big areas exposed to the sun.
Times
The opening times may vary, but the archaeological site is usually open all year round, despite the ongoing excavations.
Officially, the visiting times are 8 am – 8 pm in summer and 8 am – 3.30 pm except Monday in winter, but if you want my advice, call their number +30 2897 031597 for confirmation.
Costs
The total ticket price is at €6, which is a great deal if you are into history and willing to research before visiting. The reduced fare is €3, while it's free for students below 25 years of age from the European Union.
How to Get There
The archaeological site of Malia is about three kilometers east of the resort town of Malia, so you can even walk from the city if you wish.
Alternatively, you could hop on a bus from Stalis to the Malia Antiquities bus stop and walk less than 10 minutes to the site entry.
Finally, if you're based in Heraklion, you can reach ancient Malia by car in about 30 minutes.
Which car rental service is the best to choose?
If you want to rent a car for your trip and look for the best service, then I am here to help you! Consider choosing Discover Cars, an international car rental booking service present worldwide. This way, you will find the best car for your trip wherever you are!
Other Things to See in the Area
The modern city of Malia is a cosmopolitan resort known for its upbeat tempo and nightlife; definitely worth a look if you're in the area.
The gorgeous old part of Malia is another incredibly beautiful place to visit, especially if you enjoy quaint settlements with narrow alleys, colorful courtyards, and a bunch of traditional taverns.
Just south of the town is the Cave of Maria – another historical landmark all cave lovers must visit. Then you have sites such as the Azilakon Forest, the windmill ruins of Milotopi, and the famous sandy beach of Malia.
One of the most impressive sights in Malia is located opposite the main beach of Malia, it's a tiny islet named Afendi Christos hosting the church of Metamorphosis tou Sotiros.
This is a small church where every year, on August 6th, many people gather to participate in the service and the church's celebration.
Close to the church, there is a spring that, according to the locals, has holy water that helps women who want to conceive. The islet can be reached by swimming since it's quite close to the coast
As you can see, a visit to the archaeological site of Malia can easily take a full day, especially if you also want to discover the wider area.
However, I highly urge you to devote at least three hours to exploring the ancient ruins of Malia.
Do your research, let your imagination loose, and I promise you'll love every second of being in this historical yet mysterious part of Crete.
Where to Stay Near Malia's Archaeological Site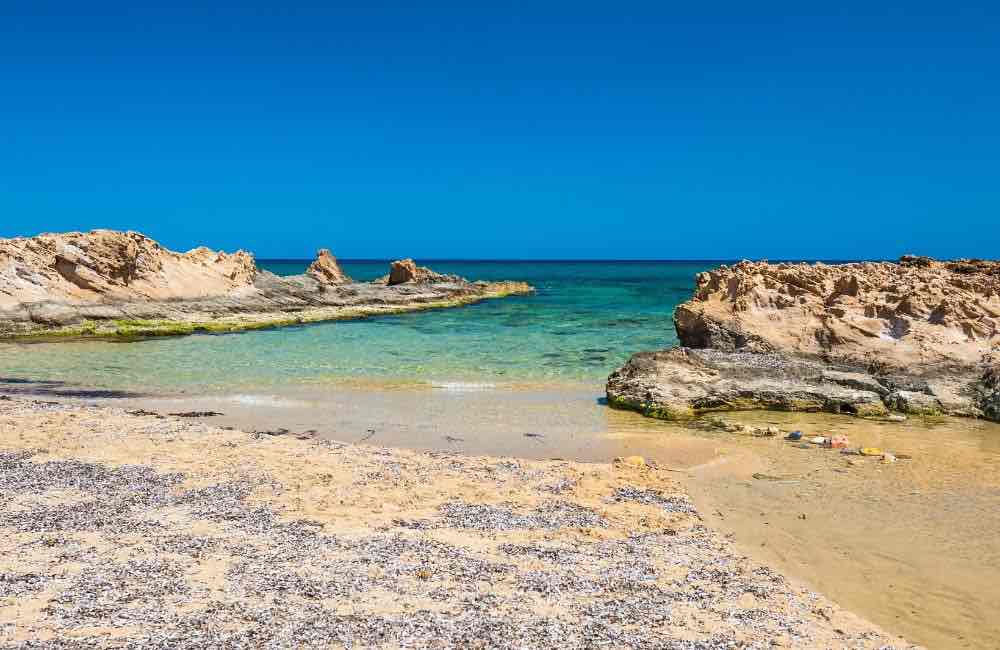 Although staying in Heraklion would be the obvious choice as it is the capital of the island and a place with plenty of things to do, many people stay in Malia to explore the eastern side of Crete.
This offers easy access to the archaeological site and a good choice of hotels, rooms to rent, and seaside resorts. Check these out before booking a stay in Malia:
Are you visiting the Archaeological Site of Malia any time soon? Let me know in the comments below!
Read more about Crete's Archaeological Sites
🛌 Suggested Accommodation in Crete:
🗺️ More resources to book your trip to Crete
Written by Dimitrios Tsevremes
Passionate about travel, spirituality, and sports, I have lived in 5 countries and traveled to more places than I have counted. Writing, for me, is a way to express myself and my creativity. Whether I write for my blog or a freelancing gig, I always fall in love with the process and often lose my sense of time. If you want, you can check out more about me and my work here.
Pin This Helpful Guide to Visit the Minoan Palace of Malia in Crete!
---
You might also want to read about these other places near Malia:
---
About my blog: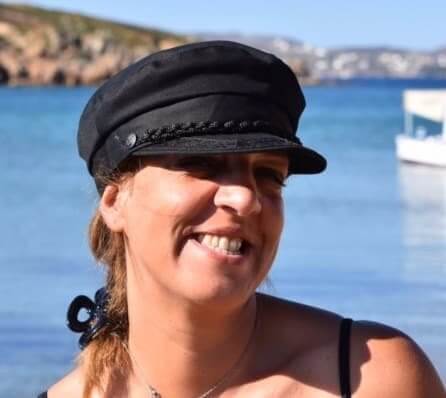 I moved to Crete in 2016. During these years, I learned much about the island.
In Crete, I juggle being a solo mom, hosting culinary tours, and writing for several travel blogs.
I've written for Greek Reporter, published travel guides about Greece, and had more glasses of frappe than any regular person could ever handle.