Are you spending a vacation in Crete and have decided to spend two days in Heraklion? Are you on a European city break in Crete?
Is the Palace of Knossos your next visit? This guide helps you decide what to wear to visit this (or any other archaeological site) in full comfort, taking into account the high temperatures on the island!
---
Disclaimer: Posts include affiliate links to products or services. I might earn a commission if you make a purchase.
---
What to Wear to Visit an Archaeological Site: Dress comfortably to visit Knossos Palace
Spending a few hours exploring the archaeological site of Knossos, in Heraklion, is probably one of the main reasons you have to visit the region.
It's quite common for tourists to stop for a day or two in the capital of the island to explore Knossos Palace and, why not?, also the Archaeological Museum of Heraklion.
As most visitors reach the island during the hot season, which on Crete tends to be quite long (from late April to early October), it's a good idea to pack sensible clothes to enjoy the visit.
Go for loose-fitting clothes, light fabrics, and clear colors. A hat and comfortable footwear are also a must if you want to enjoy the day and focus on your visit rather than on uncomfortable clothes or painful blisters.
Besides, being most of the site exposed to the sun for long hours, there's not much shade to protect you, so a hat, sunglasses, and even a high UV factor lotion are important too.
Remember to also carry plenty of water to keep you hydrated during the day. There are many archaeological sites you can visit in Crete, this guide works perfectly for all of them too!
What to Wear to Visit Knossos for Women
Comfy Clothes to Visit an Archaeological Site
The most sensible piece of advice I can give you is this: Dress as comfortably as you can. The visit is usually long (at least two hours), and you'll be most of the time under the sun.
Try to avoid synthetic fabrics and go for pieces made in light cotton or linen which will allow your skin to breathe.
It's also a good idea to avoid dark colors since they attract more heat than clear fabrics.
Choose loose-fitting trousers, Capris or Bermudas, and combine them with a cotton T-shirt or a light shirt. For further comfort, avoid tight-fitting T-shirts and tight shorts.
If you don't like to wear pants choose a light summery dress like this one. For extra comfort, avoid dresses that are either extremely long or extremely short.
Comfy Footwear for Women
The ground in Knossos is thousands of years old. In some spots, the stone has worn with the ages, so it can sometimes be slippery as well.
In general, the ground you'll be walking is irregular and dusty, and there are plenty of stairs as well.
Therefore, shoes should provide not only comfort but should be sturdy and solid for you to feel safe, especially if you're not that young anymore.
For all these reasons, forget flip-flops! Anything without a good sole will prove painful after some time walking on the stones too, therefore, very flat sandals are not a good idea either. Aim for comfortable shoes, such as hiking sandals or cushioned running shoes.
High heels are forbidden in every archaeological site in Greece, so in case you were wondering, those are a no-no too, plus there's no way you'd be comfortable wearing those!
I know that some women want to keep it elegant and go for wedges. I don't think they're the most comfortable in the world, but they are allowed and I've often seen them on the site, even worn by local guides!
Bag or Backpack?
Here's all about personal likes… and what you're planning to carry. In any case, keep it as light as possible, and don't go for bulky or heavy items.
If you're a fan of photography and your big camera is a must, a small backpack (this is mine) is the right choice. It will allow you to have your hands free to hold the camera and to move around freely.
When visiting archaeological sites, and if I want to carry my camera, I simply add a padded insert for the camera in my regular backpack to avoid using my big camera bag.
If you're planning to take pictures with your phone, you can pass on the backpack and go for a small and more comfortable crossbody bag that carries your essentials: wallet, tickets, your travel guide, sunglasses, and sunscreen lotion.
If it has a pocket for a bottle, even better. Other good ideas to carry your stuff are those inexpensive light canvas totes or sling bags like this one.
I've found a wonderful crossbody bag that I carry everywhere and that I even use on my gastronomic tours. It is stunningly comfortable and although it is not that new anymore,
I just throw it in the washing machine from time to time and that leaves it as good as new.
Always pack sunglasses, sunscreen, and a hat since most sites are not covered.
What to Wear to Visit Knossos for Men
Men's Comfy Clothes to Explore an Archaeological Site
Follow the same advice, choose light clothes that do not stick to your skin and that allow your body to breathe and air to cool you down.
Light colors are always great for summer, so don't show up in a black T-shirt to avoid sweating a lot (trust me, you will sweat in Knossos!).
Short-sleeved linen or cotton shirt or a shirt with quick-dry properties like this also works fine. No matter how trendy they can be, avoid slim fit if you can.
If you are ok with shorts, go for canvas Bermudas. Avoid any synthetic fabric as well as swimming trunks, this is not the place where you want to wear those!
If instead, you rather wear long trousers, the cotton-or-linen rule is still valid. Choose a loose-fitting pair of trousers to be able to walk in total comfort.
The hiking type is quite fine to wear in Knossos, but you will also use them during all your holiday if you intend to explore the outdoors.
Walk Like a King: Footwear
The rule of comfort is still valid when it comes to what shoes to wear in Knossos.
The surface of the site is irregular and quite slippery in some spots, so you want to choose shoes that are sturdy and offer stability, but that also let your feet breathe freely.
Hiking sandals are my favorite and can be used on plenty of other occasions during your trip to Crete. But you can also opt for breathable walking shoes like these. Comfortable summer loafers with a good sole can also work fine.
The same suggestion I gave to women is valid for you, no flip-flops, please!
Bag or Backpack?
It's a good idea to carry a small crossbody bag where you'll store your water bottle and other personal belongings, including your wallet, entrance tickets, your phone, and your sunglasses.
There are crossbody bags of any size, from the small ones just for essentials to bigger models that can also fit your camera equipment.
If you prefer something bigger to add eventual books or souvenirs you can buy in the shops outside of the site, a canvas backpack can be comfortable as well, but you can also choose a hiking daypack if you plan to take day trips in the mountains as well.
When it comes to backpacks, a light, foldable, waterproof model can also be repurposed for your days at the beach.
What Should Children Wear to Visit Knossos
Comfy Clothes for Little Explorers!
Children love to visit the archaeological sites in Crete, Knossos in particular is full of legends and stories that children enjoy and are curious about.
You can choose from the list at the bottom of the right guided tour geared for children, one that is truly kid-friendly. This way, they will certainly enjoy the day even more.
But also make their visit comfortable! If you're wondering what should your kids wear to visit Knossos, follow the same rules for your clothes when it comes to their outfits.
Choose clear and breathable fabrics. Go for loose-fitting models that allow them to move freely around to explore.
Light and airy summer dresses are also a good idea for girls while cotton shorts and light T-shirts work great both for boys and girls.
Shoes for Kids
Above all, think about their comfort. Kids usually tend to get tired faster when walking for long hours, so make their feet feel as rested as possible.
Go for breathable shoes or light sandals with a soft, flexible soles.
Avoid rubber shoes with thick rubber soles and even plastic clogs if you can.
Pair everything with a hat, good-quality sunglasses, and a good dose of sunscreen too.
Other Essential Things to Bring or to Wear in Knossos
These are some other things that you should consider having with you during a hot day exploring an archaeological site in Greece…
Hat
Don't forget a hat. Hats are a key piece to wear in Knossos. A light hat is necessary since you'll be walking under the sun a lot.
Use a hat made of breathable fabric, something that you can roll and put away in your backpack if you don't want to wear a hat all day long.
Hats are also sold in the souvenir shops right opposite the site entrance. Prices are not the most convenient unless you want to settle for a very old, dusty model (which in any case would do its job too!).
Sunscreen Lotion
Go for a high SPF for extra protection (at least anything over 45), and choose a non-greasy, fast-absorbing, waterproof formula that you can also use when going to the beach.
I've personally added this lip protection product to my list of things to always carry with me on the island, although I tan quite easily and don't need sunscreen over 50 SPF (which turns to 30 SPF once I'm tanned), my lips are quite sensitive to the sun on Crete.
It's my magic help, it quickly fixes my chapped lips and never leaves my bag.
Sunglasses
I've never been a real fan of sunglasses but made a point of wearing them as much as I could a few years ago and now I always carry them with me. Go for a good-quality model, with real UV protection.
Water Bottle
You cannot buy water once you've passed entered the site, so either buy your bottle of cold mineral water in the kiosks outside or refill your bottle before you enter.
Inside the site, it will be hot and you'll certainly sweat, being thirsty is also part of the deal.
It's certainly easier to buy your water as you go, mineral water is cheap in Crete. However, I am personally trying to reduce plastic waste.
Getting rid of plastic is already difficult, even more on an island, so I always try to carry a refillable water bottle. Since the temperatures are scorching hot, you can buy a bottle of iced water before going inside to refill your portable bottle and keep it fresh longer.
I've found that the water in Crete is quite good, to be honest, and at home, I normally drink tap water, so why not do the same when I'm around?
If you have a refillable water bottle that keeps your liquids cold long, remember to chill it in your hotel room the night before your visit and carry it with you.
Guide to Knossos
You can print my article for a self-guided visit to Knossos and toss it inside your bag, or you can go for a more in-deep version. This one here is my favorite.
Camera and Electronics
Don't forget your camera, extra batteries, and extra sim cards as well.
If you visit the site very early in the morning, it will be much easier for you to get great shots without the crowds standing in the middle.
On the other hand, if you visit at sunset, the light will be great for unforgettable pictures.
Remember that you cannot access the site with tripods or drones and that you need a special permit to take shots with professional equipment.
My camera is as big as this one plus it also has a battery grip power pack which makes it even bulkier, yet, I've never had any issue entering this or any other site in Greece with it.
Items you Need If You're also Visiting the Archaeological Museum
I've often insisted that visiting the Archaeological Museum of Heraklion is the logical thing to do either before or after checking the archaeological site.
Remember though, that inside the museum you'll be protected from the extreme heat and sun that you encounter in the Palace, so you won't need to wear your hat here (that's why I also suggested wearing a foldable hat).
Shorts and T-shirts are still ok, but remember that in museums, rooms are kept at special temperatures since most of the exhibits are old.
A tank top is fine in summer, but those who get chilly in air-conditioned rooms might want to throw a light cotton jacket, a foldable cardigan, or a very light sweater in their bags.
Remember that to access the museum, all your belongings are scanned, so avoid carrying with you elements that might get you in trouble.
There is a cloakroom as well to leave any bulky bag that you're carrying, it's not possible to enter the museum with big backpacks or huge bags that might damage the objects exposed.
Basic Information About Knossos Palace
It's easy to reach the Archaeological Site of Knossos from the center of Heraklion.
You can get there in your car if you've chosen to rent and drive on Crete, or you can take the bus and be there in less than 15 minutes.
Remember that it's always better to visit early in the morning or just before sunset. If you are traveling with small kids, or if you're not as young as you used to be, try to avoid the hottest hours of the day.
Visiting early also helps you avoid crowds. It's totally up to you how much time you need to visit.
A guided tour never lasts more than two hours, but if you're a real fan of archaeological sites, you might even spend up to 3 or 4 hours wandering around.
Tickets & Special Fees
Tickets: Full €15, Reduced €8.
There's a special package that includes the entrance to the Archaeological Museum of Heraklion: Full €16, Reduced €8. This is the most convenient option and a good way to save a few euros.
Reduced fees apply to:
Greek citizens and citizens of other European countries over 65 years old (ID card or passport needed).
Escorts on educational visits (primary schools)
University Students (high education institutes or equivalent, student ID card needed).
For free admission categories, check this site.
Opening Hours & Closing Dates (2021)
Winter: January 7 to March 31 (2019) 8:00 – 17:00. (Last admission at 16:45)
Summer: 8:00 – 20:00. (Last admission at 19:45)
The site is closed on the following dates: January 1, March 25, May 1, Easter Sunday, August 15, December 25 & 26.
The site is open with a limited timetable on the following dates: Easter Friday, Easter Saturday, October 28.
Bus To Knossos
From Heraklion Central Bus Station: Bus Number 2 – Knossos. The bus runs 3 to 5 times per hour. Its final stop is Knossos. For 2019, the fee is 1.50 € one-way.
Running hours: from 8.00 to 19.00 in summer and from 8.00 to 15.00 in winter.
CHECK THIS ORGANIZED TOUR OF KNOSSOS
Convenient combo: Skip the line + ticket + licensed tour guide + Archaeological museum ticket.
Read more about Crete
🛌 Suggested Accommodation in Crete:
🗺️ More resources to book your trip to Crete
Pin this Guide About What to Wear to Visit Knossos Palace for Your Next Adventures in Heraklion!
---
You might also want to read these posts about Crete's regions:
---
About my blog: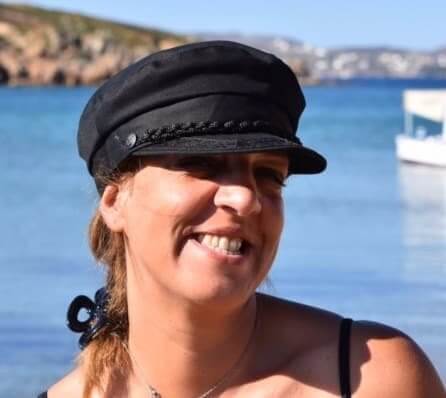 I moved to Crete in 2016. During these years, I learned much about the island.
In Crete, I juggle being a solo mom, hosting culinary tours, and writing for several travel blogs.
I've written for Greek Reporter, published travel guides about Greece, and had more glasses of frappe than any regular person could ever handle.