The Archaeological Palace of Knossos, in Heraklion, is the most famous Minoan site on the island. Subject to heavy restoration works, the site has always brought up controversy. However, that's how today we get a better picture of how wonderful the place must have been. Discover the best things to see in Knossos Palace, Crete with the help of this incredibly useful guide to visit this remarkable archaeological site.
What to see in Knossos Palace, Crete
This article may have affiliate links to products and services that I use. If you make a purchase through these links, I might earn a small commission at no extra cost to you. Some of the articles in this blog have affiliate links to properties and services provided by Airbnb. As an Airbnb Associate, I might earn a small commission – at no extra cost to you – if you book through one of these links.
The myth: Theseus & the minotaur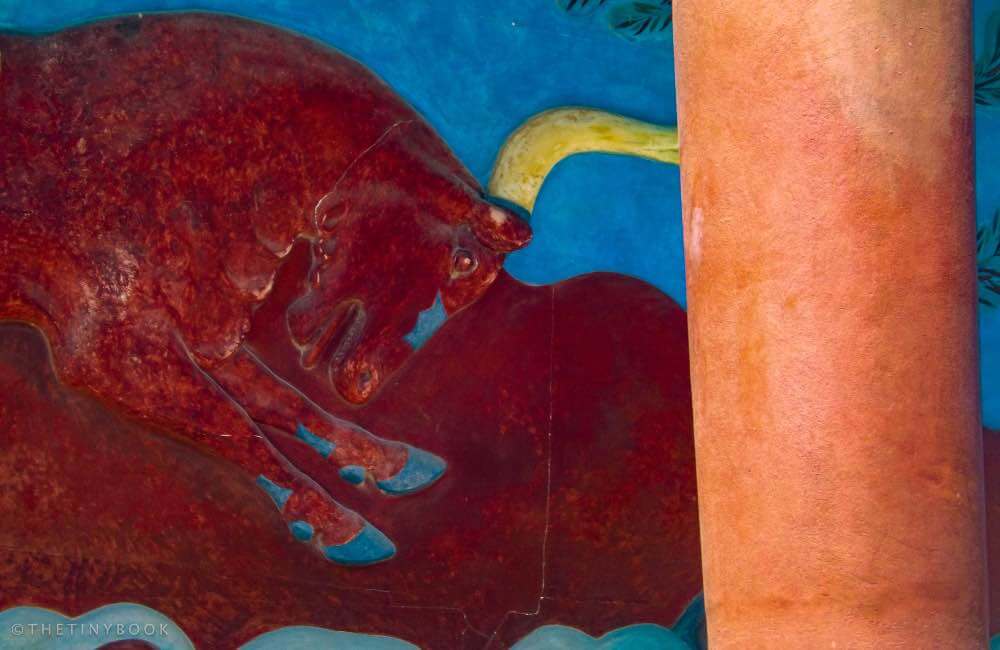 Let's face it, it's more romantic to tour Knossos knowing about the myth of Theseus. One of its versions tells that King Minos, from Crete, had won a battle over Athens. Therefore, every 9 years Athens had to send 7 boys and 7 girls to Crete to feed the Minotaur. The Minotaur lived in a Labyrinth inside the palace and it was half man and half bull.
Theseus volunteered to reach Crete and try to kill the monster. He promised his father, Aegeus, that in case of victory he would have returned with white sails, but if he had been killed, the sails would have been black.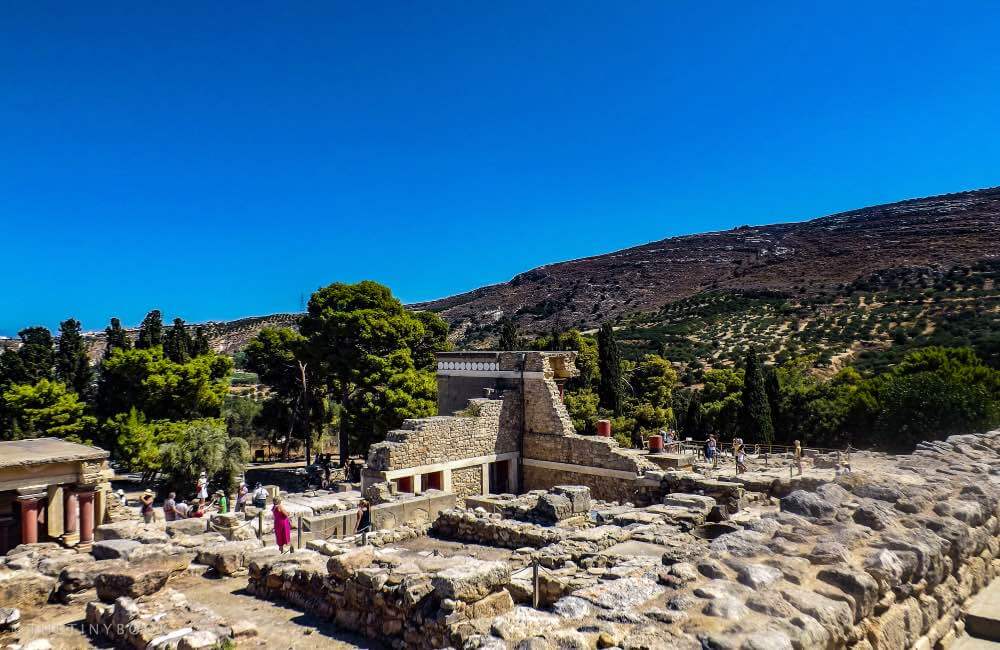 On Crete, he fell in love with Ariadne, King Minos' daughter. She gave him a ball of thread to find his way out of the Labyrinth. The hero managed to defeat the beast, left the Labyrinth, and sailed away with Ariadne. But he abandoned her in the Naxos on his way back.
In despair for the loss of Ariadne, Theseus forgot to change the sails of his boat. His father, seeing his ship approaching with black sails, believed him dead and he threw himself in the sea – in Cape Sounion. He died and thus gave his name to the Aegean sea.
>> Check this guide to know exactly what to wear for a comfortable visit to Knossos Palace <<
Find the best accommodation in Heraklion to visit Knossos
When it comes to Heraklion, the capital of Crete, prices for accommodation are quite convenient, however, early booking will guarantee a better deal. Hotels in the center of Heraklion sell out early since everyone wants to see Knossos! Don't book your room last minute!
– There are great places to stay in Heraklion with a limited budget (under €50 per day). One of the top picks is So Young Hostel Cocoon City Hostel, where a bed in a mixed dorm starts at €42 per night!
– Mid-range options go from €50 to €150 per night. A higher budget offers more possibilities to choose from. My favorite in town has always been Galaxy Iraklio, one of the few hotels in the center with a spectacular pool. Prices start at €103 per night.
– With a higher budget, from €120 per night, you'll be able to stay in the most exclusive hotel in the capital. GDM Megaron is a historical monument hotel and a landmark in Heraklion.
General information about Knossos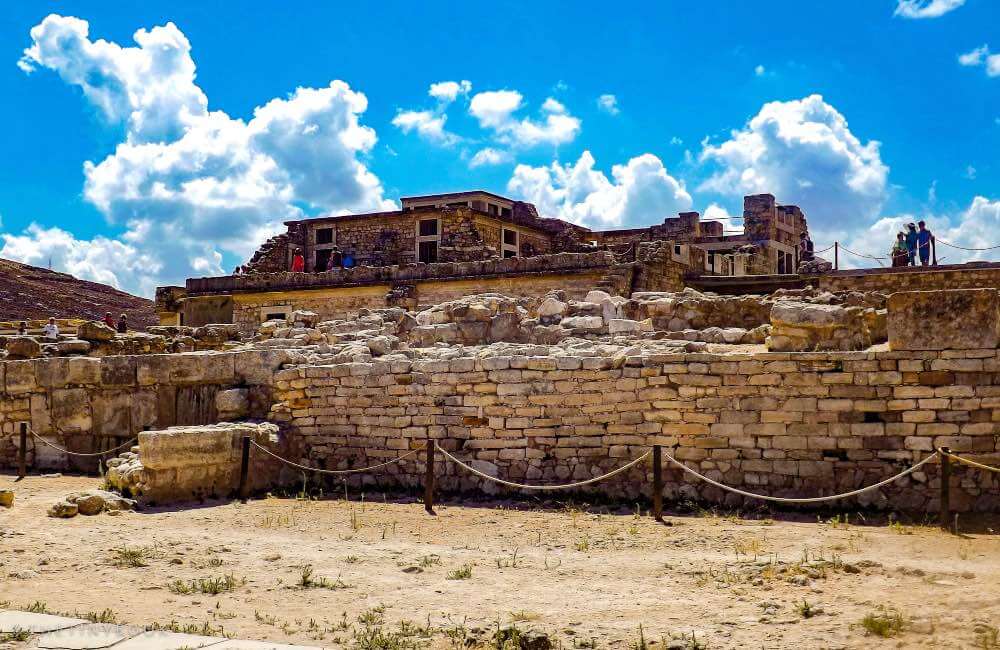 It's easy to reach the Archaeological Site of Knossos from the center of Heraklion, either by car or bus. The trip takes about 15 minutes. Remember that it's always better to visit early in the morning or just before sunset.
This way, you will avoid crowds as well as extreme heat in summer (at the end of the post there is also a list with more practical tips). If you intend to visit it thoroughly, allow about 3 to 4 hours.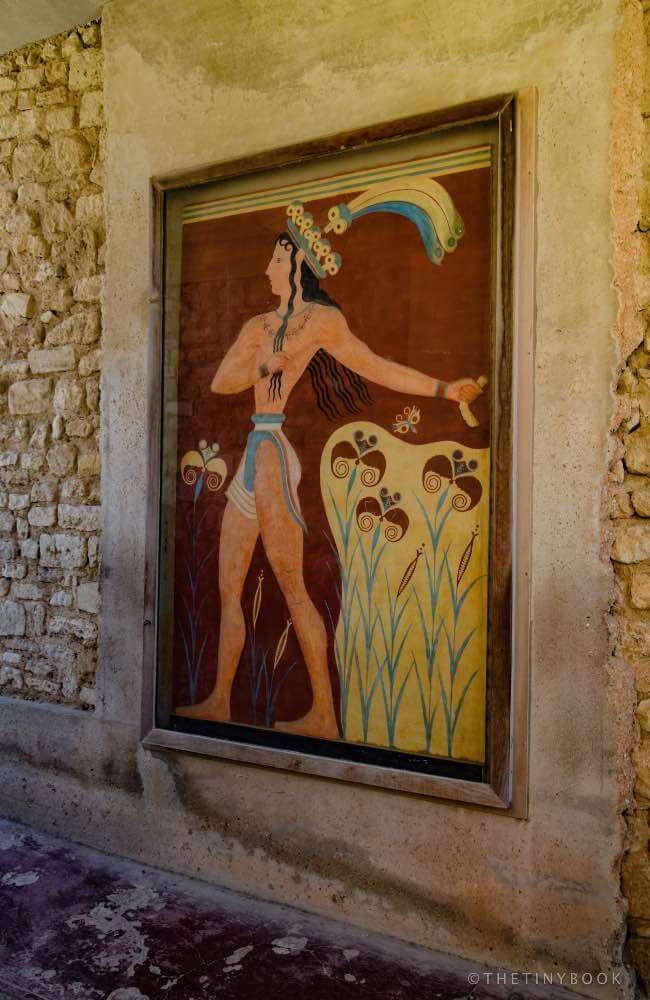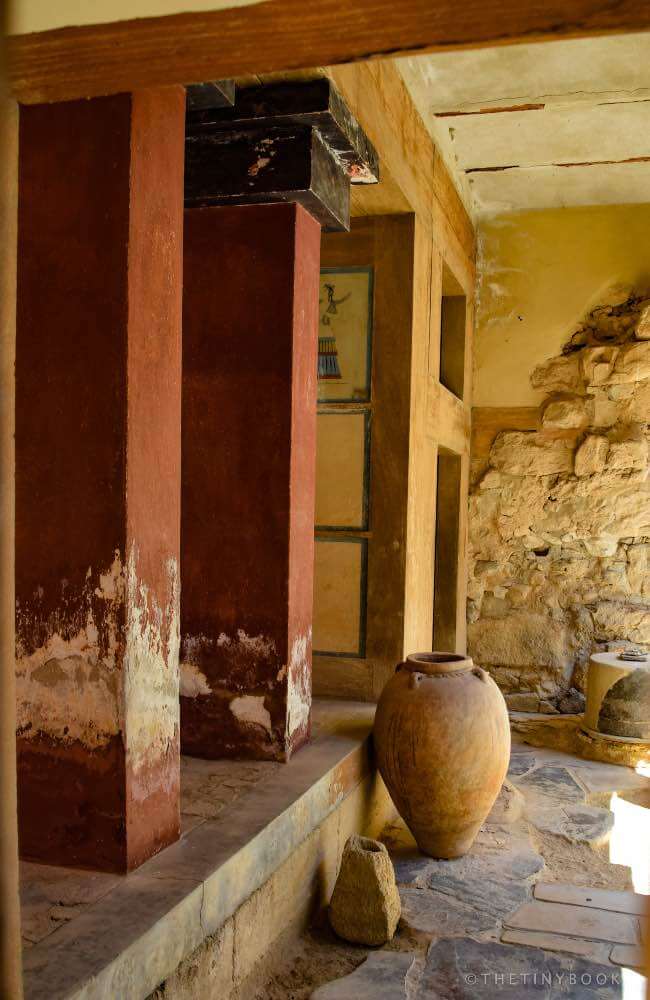 Crete's Minoan Palace of Knossos is only 5 kilometers from Heraklion. It is on a low hill known as Kefalas, in the valley of river Kairatos. The area is rich in vineyards, fruit trees, and olive groves, prosperous since ancient times for its resources.
Some agree that the Palace of Knossos was the largest of the Minoan palaces in Crete. The most important fact is that Knossos was the center of a sophisticated civilization that lived on Crete thousands of years ago.
Chronology
The first settlement goes back to the Neolithic, about 7000 BC. The palace was built around 1900 BC and it is proof of the advanced economic and social structure of the civilization.
Knossos was a palatial complex with sanctuaries, residences, workshops, and storage chambers. There were also royal rooms, terraces, and shelters.
During that period, the area was the capital of the state of King Minos, which included dozens of other cities as well as the current Cycladic islands.
The first palace belong to 19th – 17th centuries while the second ones date back to between 16th – 14th century (BC).
A massive quake wrecked important parts of the complex in 1700 BC. But the palace and the city underwent immediate reconstruction.
Its final destruction is thought to be due to a Mycenaean invasion from Greece. However, Knossos was a prosperous city until the end (1370).
Discovery of Crete's most important Minoan palace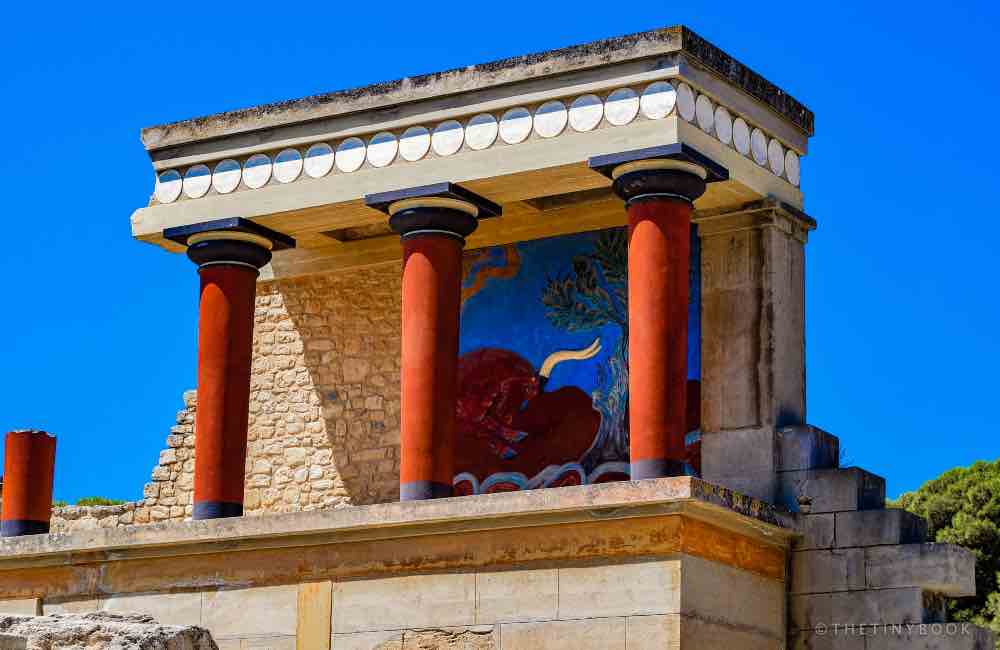 Knossos existed only in Greek mythology until its discovery, at the dawn of the 20th century. The German scholar Heinrich Schliemann was convinced that there was an important Minoan site in the area of Heraklion.
However, Crete was under the Ottoman domination, and the Turkish authorities didn't allow the excavations.
Years had to go by until Sir Arthur Evans, a rich British archaeologist, took Schliemann's ideas and bought a big quantity of land in the area.
Being now private property, digging works began in 1900. He only needed a few days to find the first evidence of the Minoan civilization.
Controversial restoration works
The controversial intervention of Evans gave new shapes and colors, reinventing the area according to what he deduced the place might have been.
It was Evans the one to give the name Minoan to the civilization, after King Minos. With this intervention, Evans put Knossos forever at the center of discussions.
He replaced different columns and rebuilt the famous Grand Staircase. He also put a roof over the Throne Room and revived the frescoes.
If you are interested in seeing the real walls, don't miss a visit to the Archaeological Museum of Heraklion.
Despite the controversy, it would have been extremely difficult to understand what the palace would have looked like without Evans' conjectural intervention.
On the other hand, I recommend visiting the nearby site of Malia or the well-known Festos for a more authentic take on the Minoan civilization.
What to see in the archaeological site of Knossos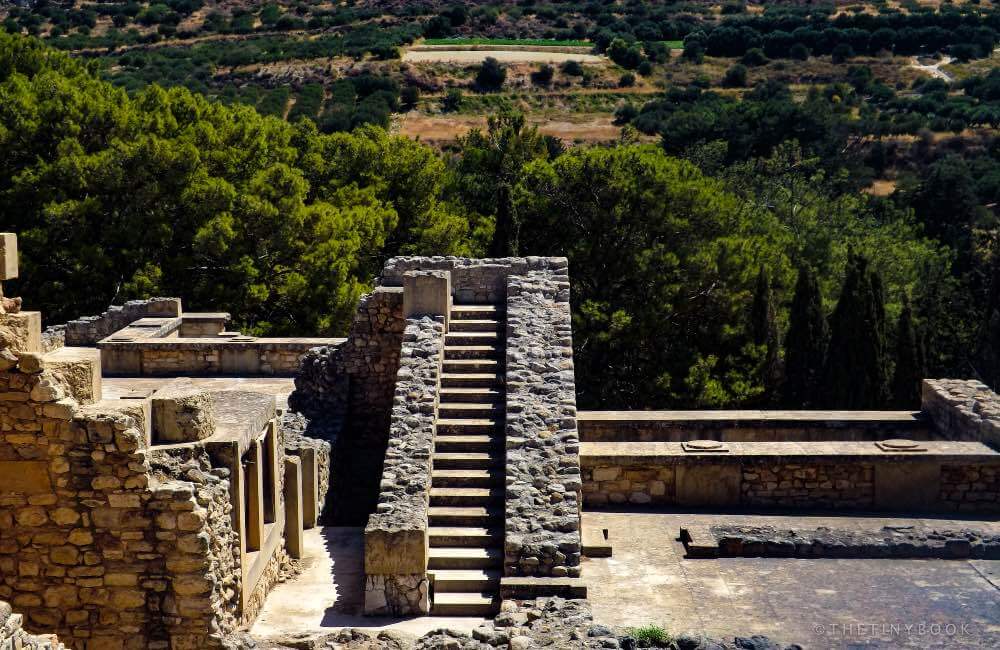 Once inside, from the ticket office, get yourself a good plan of the site (which you can also get in the shop). It will help you highlight what areas you should see.
The complex is quite impressive, there are about 1300 rooms connected with corridors. There is an entrance gate on each of its cardinal faces.
It's interesting to pay a look at the enormous storage rooms with containers made of clay (pithoi) used to keep grain, beans, olives, oil, and dried fish.
Tour of the Palace
To better understand where you're standing, here is a small list of the best places to visit inside the Archaeological Site of Knossos.
The courts
The central court
Located in the central area of the palace there is an important courtyard, here a new floor lays over the oldest remains which belong to the Neolithic era.
Many believe that it was here that the bull-leaping ceremony used to take place. However, space wouldn't have been enough for the acrobatic movements required for the performance.
If you want to read more, check Wikipedia. For an even more fascinating explanation, here you will find a great article on the ceremony and bulls in Crete.
The west court
The west court was probably a gathering place for public meetings or even the area devoted to the marketplace.
The place also presented sidewalks that connected the west of the palace to the theatre. In the court, there are 3 circular pits that might have been silos or storage places.
The piano nobile
As I have mentioned before, the area known as Piano Nobile is an addition of Evans from scratch.
Archaeologists don't give importance to the place, but you can use it to have a privileged view of the dimensions of the site. And take great photos!
Those who know better say the area is confusing and totally out of place.
The royal rooms (one of the best things to see in Knossos!)
The throne room
Probably the most popular spot in Knossos Palace, after the bull fresco, is the Throne Room, get ready to queue. Inside there is a stone seat and the wall, colored in vivid red and with frescoes, is lined with a continuous bench.
According to our guide, more than a throne, the seat was meant to be used by a priest, also because there is a sunken bath not connected to the drain system. For this reason, the water in the bath was probably used for ritual baths.
>> Check these amazing guided tours if you want a local guide to ell you everything about Knossos <<
The royal apartments
Through the Grand Staircase, you will reach the Royal apartments. Comfortable and luxurious, these beautiful rooms were probably used by the highest rulers and authorities since, despite their beauty, many think that their small size was not enough for the royalty.
The famous fresco of the dolphins decorates one of the rooms in the Queen's Suite (again, the original version is in the Archaeological Museum). Right above, visit the King's Room. It includes a reception and a personal chamber known as the Hall of the Double Axes.
The room known as the Queen's Bathroom includes a bathtub made of clay as well as a lavatory connected to the complex's drainage.
Other points of interest in Knossos
Theatral area
This open space resembles an amphitheater and it was probably used for public entertainment, dances, and representations. However, according to our guide, space would have been limited for such events, so it still remains one more of the enigmas of Knossos Archaeological Site.
The workshops
Probably the place where potters, artisans, and smiths worked and sold their products. There are also some pithoi, the famous vases of impressive capacity used to store goods. From here you can take good photos of the Bull relief fresco (minus the crowds!).
The drain system of Knossos
Several terracotta pipes and drains were interconnected underneath the whole extension of the complex. Very close to the external walls, it is also visible a system baffles that was specially designed to avoid floods.
Sites to check outside the palace
Just behind the theatre, the Royal Road leads to numerous small sites. The Little Palace is worth a visit for its Roman remains. If you can, also visit Villa Dionysios for its mosaics and the Royal Villa which faces the main complex from the north.
The small sites outside the main complex are often closed or have very limited visiting hours. Check at the entrance or at the ticket office for updated information.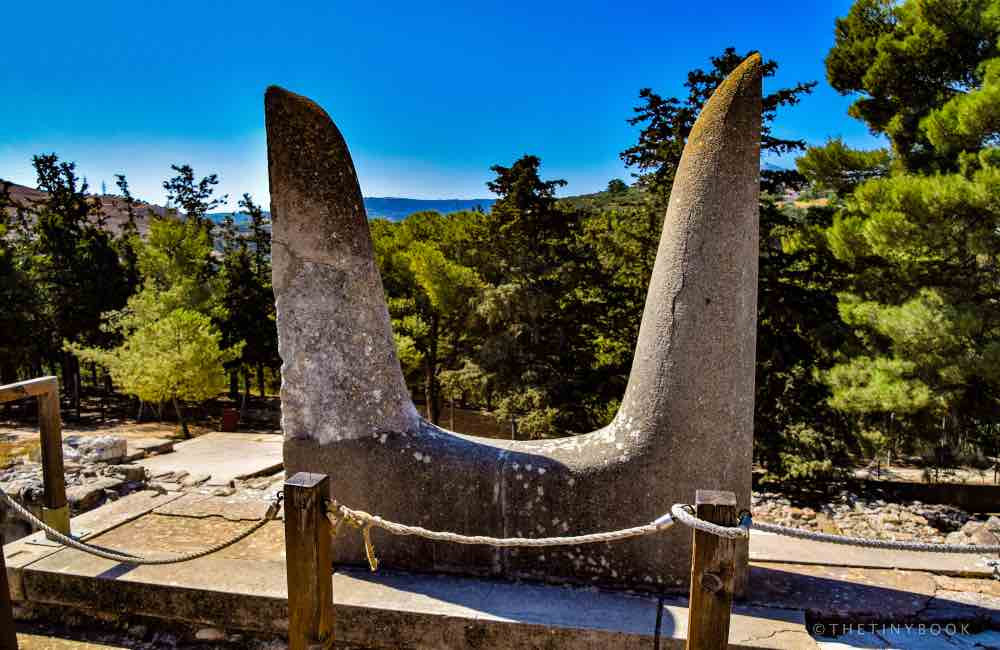 Useful tips to visit Knossos
Tickets & special fees
Full €15, reduced €8.
There's a special package that includes the entrance to the Archaeological Museum of Heraklion, it's only 1 more euro: Full €16, Reduced €8.
Reduced fees apply to:
Greek citizens and citizens of other European countries over 65 years old (ID card or passport needed).
Escorts on educational visits (primary schools)
University Students (high education institutes or equivalent, student ID card needed).
For free admission categories, check this site.
Opening hours & closing dates (2020)
Winter: January 7 to March 31 (2019) 8:00 – 17:00. (Last admission at 16:45)
Summer: 8:00 – 20:00. (Last admission at 19:45)
The site is closed on the following dates: January 1, March 25, May 1, Easter Sunday, August 15, December 25 & 26.
The site is open with a limited timetable on the following dates: Easter Friday, Easter Saturday, October 28.
Bus to Knossos
From Heraklion Central Bus Station: Bus Number 2 – Knossos. The bus runs 3 to 5 times per hour. Its final stop is Knossos. For 2019, the fee is 1.50 € one-way.
Running hours: from 8.00 to 19.00 in summer and from 8.00 to 15.00 in winter.
INSIDER'S TIPS: Just a few meters from the entrance, a traditional taverna, Pasiphae, is an oasis. Order their jugs of freshly made orange juice from their own trees. Try their freshly baked Cretan pastries, Kalitsounia, filled with sweet cheese and honey. I've never tasted something so delicate, soft, gently cloying, with a refreshing perfume of lemon drops and strong cinnamon powder… We ordered twice.
Bus N° 20 takes you there and back to the port of Heraklion. This is the bus stop in front of the palace.
Other important tips to visit Knossos
The Palace of Knossos is the most important Minoan site on Crete, so it's very popular. The place is busy all year round, but mostly in Summer. Expect lines at the ticket booth or buy it in advance from the Archaeological Museum in the center of Heraklion if you also intend to visit the museum.
The best way to understand the palatial complex is to combine a tour of Knossos with a visit to the Archaeological Museum, better if previous to the visit to the site.
Allow at least 2 hours to see the site, more if you're really interested in a guided tour. Also leave plenty of time to see the Archaeological Museum in Heraklion.
Most of the palace is exposed to the sun and there's no shadow. Bear in mind that Crete is very hot and sunny in Summer. Bring a hat, water, and sunscreen (if you forget, the three items are sold in different shops and kiosks out of the entrance. Sunglasses are a good idea too.
Wear light clothes and comfortable walking shoes or trainers. Do not wear flip-flops or heels. This great dress code guide tells you what's best to wear to visit Knossos in full comfort!
Don't forget your camera. It's possible to take pictures, but tripods or large professional equipment is not allowed without previous written consent.
Hats, sunscreen, souvenirs… if you forget anything, you'll find it there.
Guided tours are available on the site from 10 € per person. I experienced a guided tour last August and it was the most disappointing experience! However, I believe that with a tour booked in advance, things might be more enjoyable. You'll only visit Knossos once, don't go with the wrong tour guide!
>> ThIs tour has good ratings on the Get Your Guide tour platform <<
Our guide kept talking of King Minos and Queen Pasiphae as they had really existed. I didn't really enjoy the guided visit, but it's also true that if you have no idea about the Minoan civilization, it can be a good starting point.
Guides for different languages are available at the entrance (they're usually quite unfriendly, maybe it's a problem of the category in Crete, never found a smiling licensed guide in my life in Crete!
---
Have you ever been to Knossos Palace?
Let me know in the comments section below!
---
Travel plans for Crete?
These resources will help you organize the trip!
Start by reading these helpful tips to plan a trip to Crete or check family holidays in Crete if you travel with kids. To visit Crete's heavenly beaches, check my guide to the best beaches. Discover what region is best to stay in or check what to do in Crete.
Get in touch if you need extra help to plan your trip. If you want to tour West Crete, check my guide. Want more? Join my Private Facebook Group to connect with like-minded travelers who love Crete as much as you do!
Make sure you've got everything for a hassle-free trip!
I never move around Crete without my Osprey backpack, a sturdy but light travel partner I just love. For short trips, I carry this little crossbody bag. If I'm driving around, I pack my Michelin map and my Nikon.
When it comes to plane tickets, compare prices with a powerful search engine. However, nothing beats traveling by sea in Greece. With Ferry Hopper, you can book in advance at the lowest price.
For accommodation, I personally use Booking.com and Airbnb.
Traveling to remote places is easier with Discover Cars. Other times, I join organized tours with GetYourGuide, which features anything from cooking lessons to airport transfer!
Are you coming to Crete any time soon?
Get in touch and let me know!
Read more:
Discover + 45 Most Gorgeous Beaches in Crete (A guide by an insider!)
A Sommelier's Guide to Cretan Wines for Wine Lovers
Where to Stay in Heraklion: Accommodation Guide
Day Visit to the Gorgeous Gavalas Winery in Heraklion, Crete
Trip to Spinalonga Island, Crete – Visit Guide
Pin this article and read it later!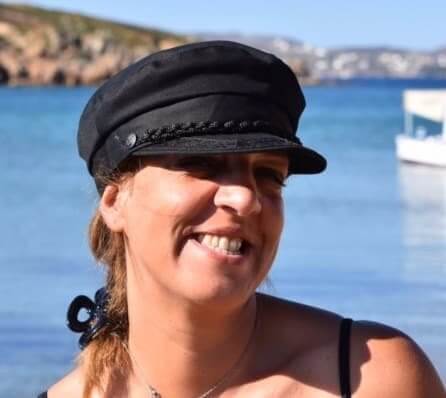 About the Author
Hola! I'm Gabi. Welcome to The Tiny Book – Crete Travel Blog! I moved to Crete to explore the island all year round. I love taking pictures and driving on the mountain roads of Crete. I'm a beach freak and on this island I've found heaven on earth!
---
You might also want to read:
---