Crete is one of the five most prominent islands in the Mediterranean and it's divided in half by high mountain ranges. In the north, crowded beaches are perfect for active holidays.
The southern coast of Crete, instead, has some of the most spectacular and solitary beaches on the island. A land of isolated traditional villages, and impressive landscapes.
Let's check out together the fantastic and unspoiled beaches in South Crete.
---
Disclaimer: Posts include affiliate links to products or services. I might earn a commission if you make a purchase.
---
The Best Beaches in South Crete
The Beaches in South Crete and General Characteristics of Southern Crete
Crete's most developed area remains the northern coast, with its capital – Heraklion – located in the central portion of the island.
The same goes for the remaining important cities of Crete, and therefore the most visited centers. Chania, Rethymnon, and Agios Nikolaos are also in the North.
As a consequence, it's in the north of the island where airports are located, as well as many major touristic resorts.
For those permanently living on the island, this coast also offers a highway and better roads, but also hospitals, universities, and more developed commercial centers.
The geography of Crete has also played a role in maintaining this status, being the island divided by at least three different mountain ranges, some of them of difficult access in winter months, about 90% of the local population lives in the North.
As a result, villages in the South have remained more or less the same as time went by.
Mostly agricultural or fishing centers, where tourism is more of a side dish rather than the main economic income and where the family-owned business builds the local character.
Map of South Crete (The Best Beaches)
We've identified 42 stunning beaches in the South of Crete… a lot of places to put on any map! Check the references below to know their names and region.
South Beaches of Crete – Map References
Chania Region: (1) Aspri Limni – (2) Elafonisi – (3) Kedrodasos – (4) Paleochora – (5) Gialiskari – (6) Sougia – (7) Agia Roumeli – (8) Marmara – (9) Loutro – (10) Glyka Nera – (11) Illingas – (12) Chora Sfakion – (13) Frangokastello.
Rethymnon Region: (14) Rodakino – (15) Plakias – (16) Damnoni – (17) Ammoudi – (18) Skinaria – (19) Preveli – (20) Katsouni – (21) Ligres) – (22) Triopetra – (23) Agios Pavlos – (24) Agia Galini.
Heraklion Region: (25) Kalamaki – (26) Kommos – (27) Matala – (28) Red Beach – (29) Agiofarago – (30) Lentas – (31) Tsoutsouras – (32) Keratokampos – (33) Tertsa.
Lasithi Region: (34) Myrtos – (35) Paralia Ierapetras – (36) Chrissi island – (37) Agia Fotia – (38) Makrigialos – (39) Dragon's Cave – (40) Goudouras – (41) Xerocampos – (42) Koufonisi island.
Frequently Asked Questions About South Crete
How do you reach the South Coast of Crete?
To reach the South of Crete it is necessary to leave from any arrival point on the north coast, and head South to cross any of the mountain ranges that divide the island in half. The shortest road is from Pachia Ammos to Ierapetra, and it is in the region of Lasithi (Eastern Crete).
Why should you visit the South Coast of Crete?
The South of Crete is unspoiled and rather off-the-beaten-track. It's less populated and not as developed as the northern coast of the island. There are fewer tourist structures and it maintains a rural character. The South is the best place to experience the authentic traditions of the island and see how the locals live. It's also ideal for relaxation and isolation.
Which are the best beaches in South Crete
There are many beautiful beaches on the southern coast of Crete, the most beautiful as well as popular are Elafonisi, Paleochora, Sougia, Plakias, Matala, Chrissi Island, and Xerocampos.
Where is it better to stay in South Crete?
The most popular resorts to stay in include Paleochora, Agia Galini, Matala, and Ierapetra. In these towns, there are more possibilities to find a wide range of accommodation since they are more developed than other isolated towns of South Crete.
The Lonely and Fascinating South
It's a common belief that those who want to know Crete better choose the isolated south for their vacations, while first-time visitors tend to spend their time on the north coast.
It might be true, what's a fact is that travelers need no less than 1.5 to 2 hours from any airport to reach the South.
That's something that the traditional holidaymaker on a package tour would not want to do.
But well… I don't write for the package tour traveler, nor would I expect him or her to read this blog.
Those who come to Crete looking for some authentic rest and a taste of the local traditions are happy to cross any of Crete's mountain passes to settle for as long as their holiday lasts.
That's key in their Cretan adventure.
They know that by doing so, they'll avoid the crowds and enjoy Crete's most stunning beaches.
Day Trips to South Crete
Some areas in the south of Crete have become overcrowded in the last years through the development of what I define as day-trip tourism.
In short, people staying in the North jump on any given van to spend one very fast day in some of the most popular southern beaches, aka Elafonisi, Matala, and Loutro to name a few.
At a lower scale, the same occurs with day-hikers, — who would not hike a mile back home — but overpopulate Samaria or the easier Imbros gorge.
These day trips have devastating consequences in these once-virgin places. As a result, small villages have now to tackle litter, noise pollution, disrespect for endangered species, and heavy traffic that our roads can't cope with.
Always keeping these considerations in mind, I've decided to include both some remote as well as more popular locations on this list hoping to create awareness about Crete's incredible resources and landscape uniqueness.

But most of all, I believe that the only way to respect and protect our island and our environment is not precisely by hiding its beauty. Nor the consequences of mass tourism.
On the contrary, if we are aware of our actions, we will be able to take better care of our environment, no matter what beach we choose for our holidays.
Best Beaches in South Crete: Chania Region
The Region of Sfakia in Chania, Crete
General Information About Sfakia
The region of Sfakia is located in the southern area of the Chania Regional Unit, counting with about 2500 permanent, 500 of which are in the capital, Chora Sfakion. However, Sfakia is more than Chora Sfakia.
Sfakia is a region famous for the character of its inhabitants, and for the role they played in the history of the island during the hundreds of years of occupation.
It was the Sfakians who fiercely resisted the Venetians, the Ottomans, and the Nazis, often helped by the indomitable local landscape.
A rugged scenario made of deep gorges, cliffs, and the blue Libyan sea. Sfakia is also a region rich in traditions, with distinctive local gastronomy, music, and dances, as well as one of the hardest-to-access areas in Crete.
Chora Sfakion, the Capital
The small capital of the region of Sfakia, Chora Sfakion, is located between the high White Mountains and the sea.
It's a must-go place if you are staying in an isolated village nearby and you need a bank, a pharmacy, or the post office.
In the capital, you can find traditional tavernas on the seafront promenade, as well as good options for accommodation.
Those interested in visiting some of Crete's most remote beaches normally depend on the boats departing from the small harbor of Chora Sfakion if they don't intend to hike some of Chania's gorges or the E4 European path.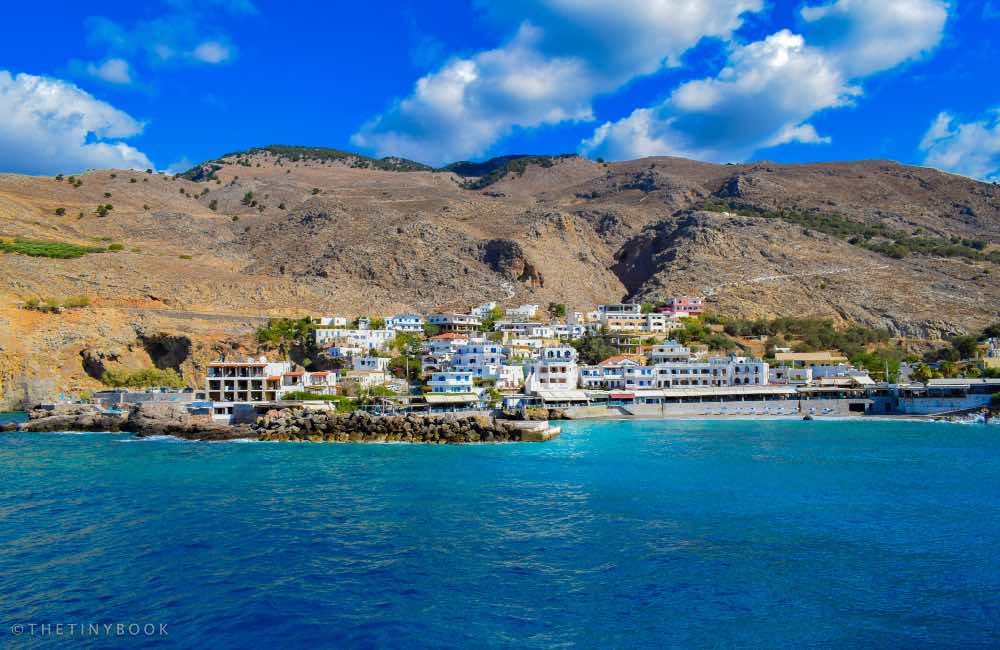 A must in Chora Sfakion is the delicious Sfakian Pita, a flat cake made of light dough, filled with mizythra cheese, and drizzled with local honey.
Sfakian thyme honey is known for its unique density, taste, aroma, and qualities.
From the small port of Chora Sfakion, daily ferries depart to Loutro, Agia Roumeli, Sougia, Paleochora, Glyka Nera, Marmara, and the island of Gavdos.
In Chora Sfakion, it's a good idea to visit the Cave of Daskalogiannis. A milestone in Cretan history was a hideout in the cliffs where the Cretan rebels planned their revolutionary moves.
Also interesting is the nearby mountain village of Anopolis (600 m height above sea level).
Best Beaches in the Region of Sfakia
These are the beaches I suggest you visit when exploring Sfakia…
Loutro
Latitude: N 35.19919 | Longitude: E 24.07828
Characteristics: Pebbles – Organized beach
The well-known, small fishing town of Loutro is located between Chora Sfakion and Agia Roumeli. It represents a good example of what the southern beaches in Crete look like. Pristine crystal waters, a laid-back atmosphere, and not much to do.
Popular activities include hiking, swimming, and splurging in local tastes in one of the many fish tavernas on the seafront.
You can easily reach Loutro by ferry from Chora Sfakion. If you prefer to walk, the hiking trail from Chora Sfakion takes about two hours.
It's common for hikers to take a resting break in Glyka Nera. If you keep walking west you can reach Marmara and, after a while, Agia Roumeli.
There is not much to be done in the village, just lay your beach towel on the smooth pebbles and chill until it's time to sail back to Chora Sfakion.
At lunch try the local fish in Notos, a small taverna almost at the end of the promenade with convenient prices.
Glyka Nera (Sweetwater Beach)
Latitude: N 35.201796 | Longitude: E 24.107225
(Anopolis Gorge, Chora Sfakion)
Characteristics: Sand mixed with pebbles – Very little organization
Another wonderful beach in Sfakia is Glyka Nera (meaning "sweet water"). A wide sandy-pebbled beach with usually cold and blue waters.
There are abundant tamarisk trees and it's not weird to find goats on the cliffs that abruptly end on the sand.
More tourists started visiting the beach when the London Times included it in the list of the 20 Best Beaches in Europe. However, it still retains a lonely atmosphere since it's not so easy to visit.
Remember that the water in Glyka Nera is generally cold because of the springs, even in midsummer.
Frangokastello Beach
Latitude: N 35.181586 | Longitude: E 24.231458
Characteristics: Soft sand – Organized beach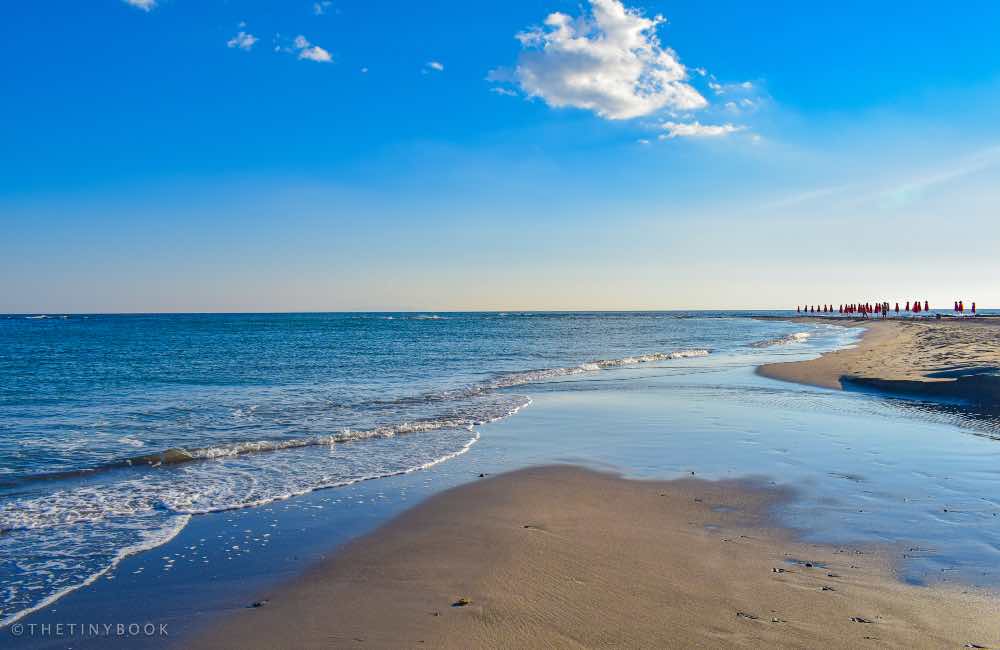 About 14 km east of Chora Sfakion lies Frangokastello. This village is famous for its wonderful Fortezza right before the sea.
The only attractions in town are the castle and a fine sand beach, ideal for children.
Water is shallow but it can get a bit windy on occasion. Frangokastello is the perfect place to disconnect from everyday life, enjoy the local food, and get to know the traditions of the island.
The Castle
Even though it seems rather impressive from a distance, or even from the beach, nothing much remains but its huge walls and the corner towers.
The Venetians built the fortress between 1371 and 1374 to deter pirate attacks and to bring order to the area of Sfakia, whose inhabitants are still known for their rebel character and spirit.
A curious legend lives among the walls of the castle. During an important battle fought at Frangokastello, in May 1828, hundreds of Sfakiots, in an attempt to spread the War of Independence from mainland Greece, occupied the castle but were killed by the Turks.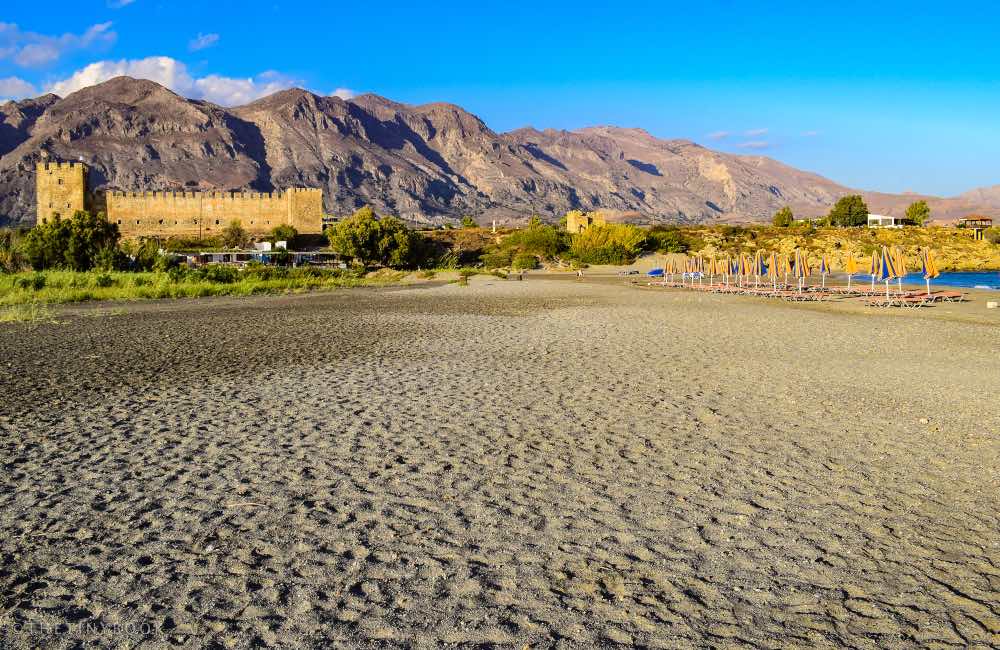 As a consequence, imagination fuels the legend. In fact, the locals claim that around the anniversary of the battle, shadows of the armed Cretan soldiers seem to march toward the castle.
They're known as Drosoulites (the dewy ones) because they appear in the mist at dawn. A phenomenon that has often been explained as meteorological.
Where to Stay in Frangokastello
In need of some utter disconnection, we spent about five days in Frangokastello and chose a family hotel. We were incredibly happy to discover a host who was also an amazing cook… So much so, we never looked for a restaurant in town.
Paleochora
Latitude: N 35.231045 | Longitude: E 23.681817
Characteristics: Sandy, pebbled, and mixed, depending on the beach you visit in Paleochora – Many of the beaches are organized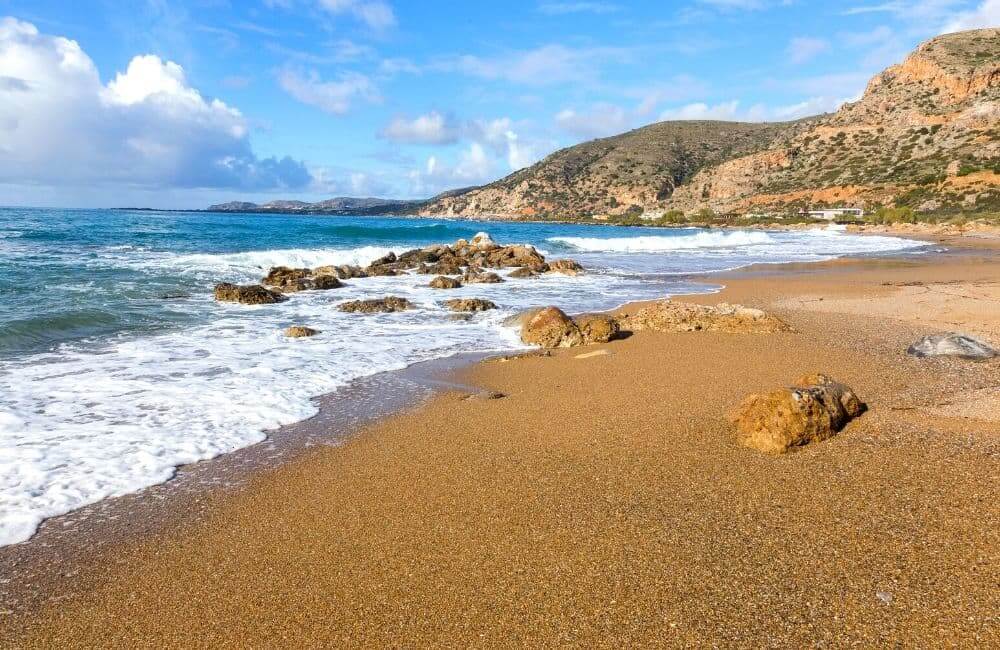 Paleochora is a village about 77 kilometers from Chania, located on a small peninsula. It has the traditional atmosphere of Cretan villages plus some amazing beaches to enjoy.
Paleochora is a relaxing destination popular among locals and visitors alike. Several visitors that travel to Crete every year often keep coming back and staying in the area.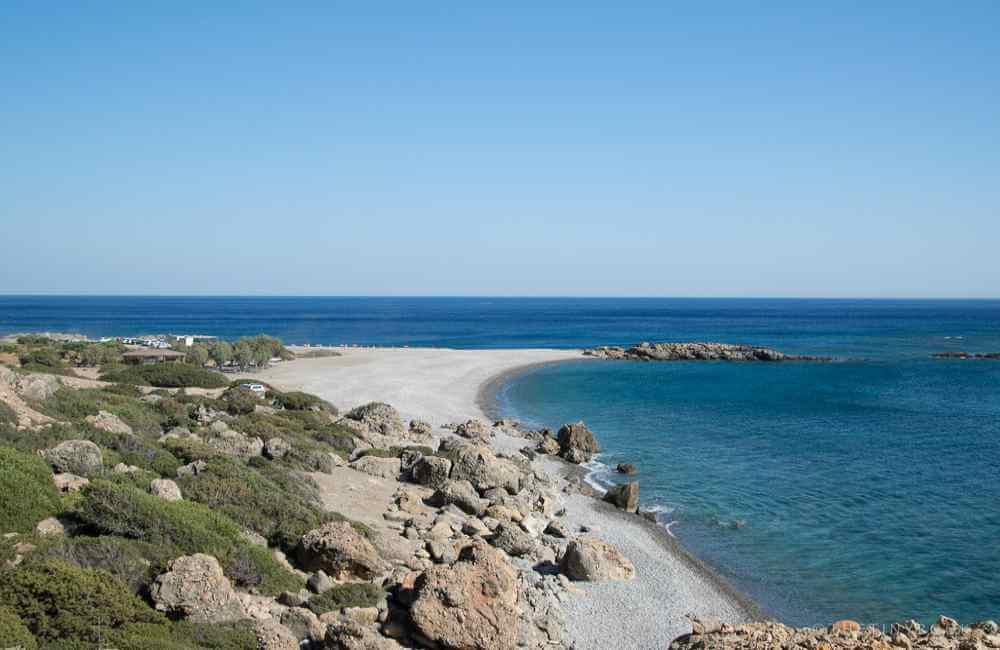 Not only do they find the village a perfect, relaxing place for a vacation in Crete, but there are also beautiful organized beaches with very clear waters.
Agia Roumeli
Latitude: N 35.228682 | Longitude: E 23.963295
Characteristics: There are beaches with fine pebbles as well as with big pebbles, and rocky coves – Partially organized and limited access
Agia Roumeli is a small village on the southwest coast of Crete, located less than 2 km away from the exit of the imposing gorge of Samaria.
There's not much to do in the village, and it is mostly populated by those exiting the gorge, both staying in the village for a night or two or just enjoying the beach for a couple of hours before going back to Chora Sfakion or Sougia, after a day hiking the gorge.
Agia Roumeli is a good place for holidays in complete isolation, there are a few small shores within walking distance from the main beach of Agia Roumeli that could be rightfully included among the best naturist beaches on Crete.
The beach is a good spot for water sports, such as diving and snorkeling, as well as for those keen on hiking and climbing.
Towards the western extreme of Agia Roumeli, there are some stunning pristine beaches hidden by some cliffs, which means you can only reach them after some trekking (this made them quite inaccessible, and a favorite among naturists.
In general, this is considered a remote and isolated village, which can only be reached by walking or by sea.
Pink Sand Beaches in the South of Chania
Some of the best beaches in West Crete are on the southern part of the island, check the following or read this article about the best beaches in West Crete.
Elafonisi Beach
Latitude: N 35.272627 | Longitude: E 23.541815
Characteristics: Pink sand, rocky coves – Organized beach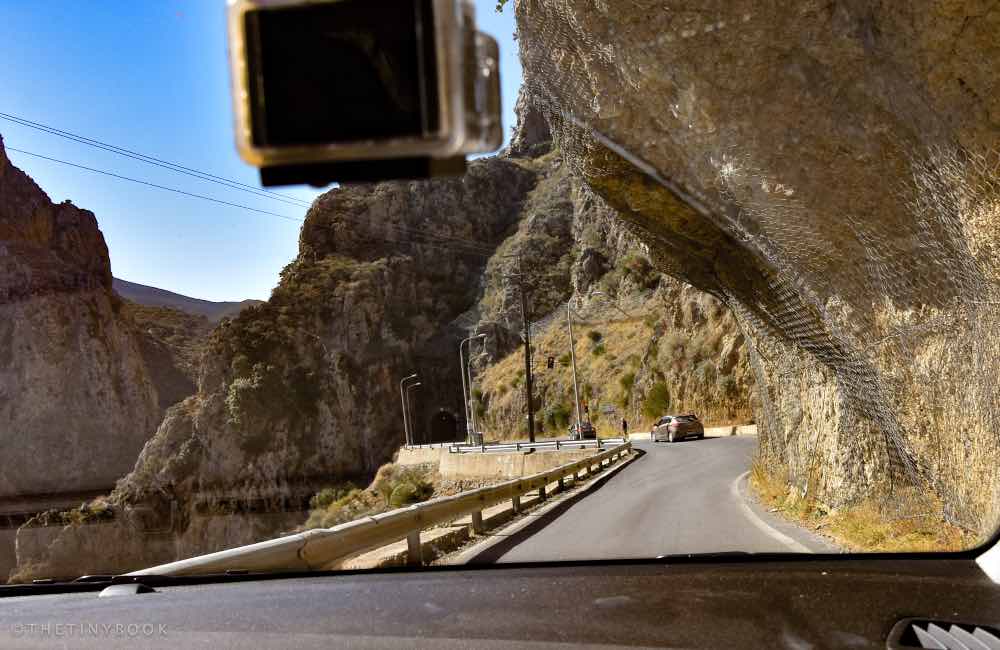 Elafonisi is the real Pearl of the South. Since I moved to Crete, there's nothing like knowing I'll be spending a day in Elafonisi.
You may also want to check this super complete guide to Elafonisi Beach.
The guide includes all the details regarding the alternative routes to get there, the beach facilities, Elafonisi hotels, and other attractions in the area and on the way to Elafonisi.
Elafonisi is famous for its unique turquoise waters that contrast against the pinkish tones of the sand.
Elafonisi is, in fact, an island, within walking distance from the mainland. Most times to reach it, it's necessary to walk through the water, but sometimes you won't get wet at all. It depends on the tides.
The waters are shallow which makes it an ideal spot for families with children.
The islet of Elafonisi is a Natura 2000 protected area and has more than once been included in different lists of Best Beaches in the World.
Exotic and with bizarre vegetation, Elafonisi is a beach that shines bright against the bare Cretan mountains.
There is a lot to explore in the area: coves, rock formations, and over 100 species of plants that easily put this place among the 10 best beaches in South Crete.
How to Reach Elafonisi
Elafonisi is located 75 kilometers from Chania. There're several roads to get to Elafonisi (Google Maps suggests 3), locals recommend going through the gorge of Topolia, dangerously narrow at times but with gorgeous views.
The second choice on the list is the coastal road that passes in front of the beaches of Sfinari and Falasarna.
Where to Stay (and Eat) in Elafonisi
On the main road leading to the beach, Glykeria is a fantastic tavern with great sea views. To sleep we recommend Elafonisi Resort, a pretty array of bungalows among olive groves.
Finally, if you happen to drive around Elafonisi at night, open your eyes wide… chances are you encounter a deer or two wandering in the darkness. It was impossible to take a picture of them, but they were a feast for the kids!
Kedrodasos Beach
Latitude: N 35.26903 | Longitude: E 23.557351
Characteristics: Sand beach – No organization (bring cold drinks and lunch)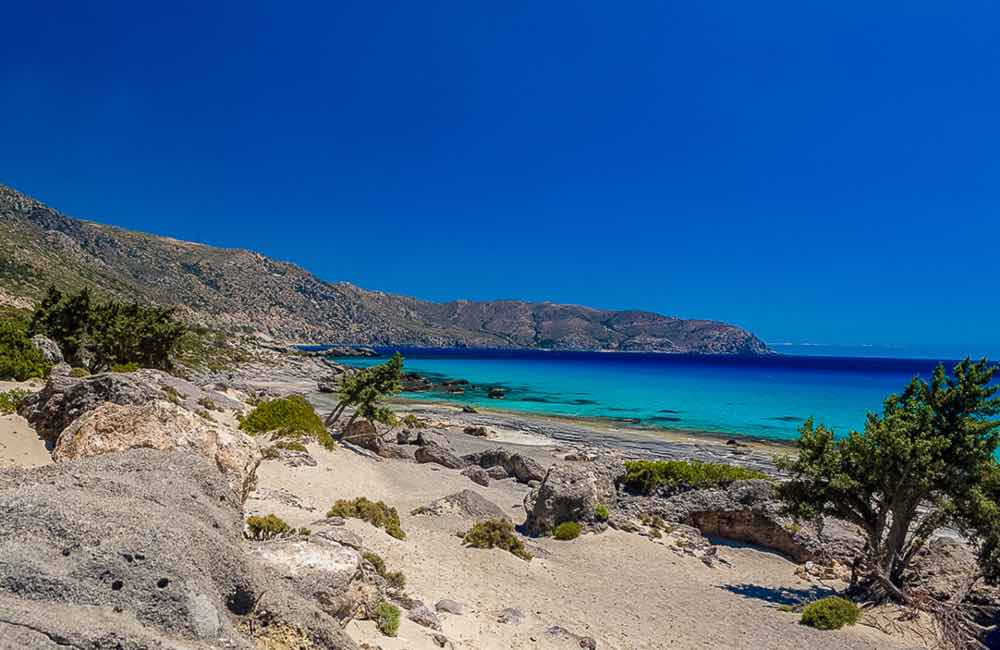 This stunning place is 1 kilometer east of the lagoon of Elafonisi. There is a juniper grove all over the area which offers comfort and shade under the hot Cretan sun. Naturists are usual visitors to the beach, some even camp there for days.
The sand is white and there are some rocks all over the area. This is a completely secluded beach, so pack lunch and drinks if you visit for a day trip.
When visiting Kedrodasos, do remember that the area is home to a very fragile ecosystem that should always be respected. if you can, avoid camping in the area or damaging the unique juniper trees that grow by the sea.
Where to Stay in Southwestern Crete
Here are some options to book accommodation in the different areas mentioned above:
Chora Sfakion: No Problem Luxury Suite is a one-bedroom apartment ideal for couples, just a few meters from the waterfront. Lefka Ori 2 Luxury Suites is a beachfront place to stay, with a restaurant, a bar, and a seaside terrace. Livikon Hotel is just a few minutes from the main beaches of Iliggas and Ammoudi. There's a sea-view tavern too.
Loutro, Glyka Nera, and nearby beaches with access by boat: Taverna Akrogiali has a fantastic location on the seafront area of Loutro. Daskalogiannis Hotel is one of the top-rated places to stay in Loutro, it's located on the beachfront and there's a nice restaurant.
Frangokastello Beach: Votsalo Studios and Apartment is just a few meters from fro beach of Koutelos and has excellent reviews. Kallicrates Village offers a shuttle to the airport as well as a spacious swimming pool. A favorite in Frangokastello is also Captain Tom, with great reviews. The facilities are located 700 m from the beach of Orthi Ammos and there is a large garden with a terrace and a swimming pool.
Elafonisi Beach as well as Kedrodados: Musagores Rooms is just 700 meters from Elafonisi Beach, the facilities feature stunning mountain views. Glykeria Hotel is another favorite in the area (I love the food they serve in the restaurant and the views from the terrace).
Paleochora: Art Apartment is a top place to stay, it's hard to find availability because of its privileged location and the services provided. Finally, if you want to enjoy a stunning view of the beach, Paleochora Apartments is the place for you. Excellent reviews and services, you can also check pictures and prices in the link above.
You might also want to read about Gavdos island in Crete.
Best Beaches in South Crete: Rethymnon Region
These are the best-known beaches on the southern coast of Rethymnon. Also, check this guide for more beaches in the region.
Preveli Palm Tree Grove & Beach
Latitude: N 35.152323 | Longitude: E 24.473218
Characteristics: Sand with pebbles, palm trees, river – Not well organized, protected region
Preveli Beach is about 35 kilometers from Rethymno, and it's located at the exit of the Kourtaliotakos Gorge.
Its river, Megas Potamos or Big River, flows through the gorge to reach the sea.
The palm forest on the margins of the river has also made the beach very well-known since they add a tropical note to the landscape.
At the exit of the river, a sandy beach with pebbles and sand is formed, with sea water being very cool due to the river.
In the eastern part of the beach, there is a beautiful rock reminding of a heart. The beach is not well organized because the area is protected.
Plakias Beach
Latitude: N 35.190429 | Longitude: E 24.39392
Characteristics: Sand, coves with small pebbles – Some shores in Plakias are organized
If you approach the south from Rethymno, you will go through a few spectacular gorges to reach the sea. You can either drive through the narrow Kotisfou Gorge or the imposing Kourtaliotiko.
If you drive through Kotsifou, you will find that the bends of the road produce stunning landscapes, forcing you to pull over to admire the scenery all around you. There's a wonderful church perched on the side of the mountain once you've passed the gorge.
The whole area is worth the drive. There are several beaches in the area of Plakias, other than the more crowded Plakias itself.
Most of them are divided by rocky promontories offering dramatic views of the sea.
Damnoni is a fantastic long beach with golden sand, clear waters, and a secluded angle for naturists.
Other pretty places to spend the day include the beaches of Amoudhi and Skinaria, popular among divers for their submarine landscapes.
Triopetra Beach
Latitude: N 35.119377 | Longitude: E 24.547915
Characteristics: Small pebbles and sand in some areas – Organized beach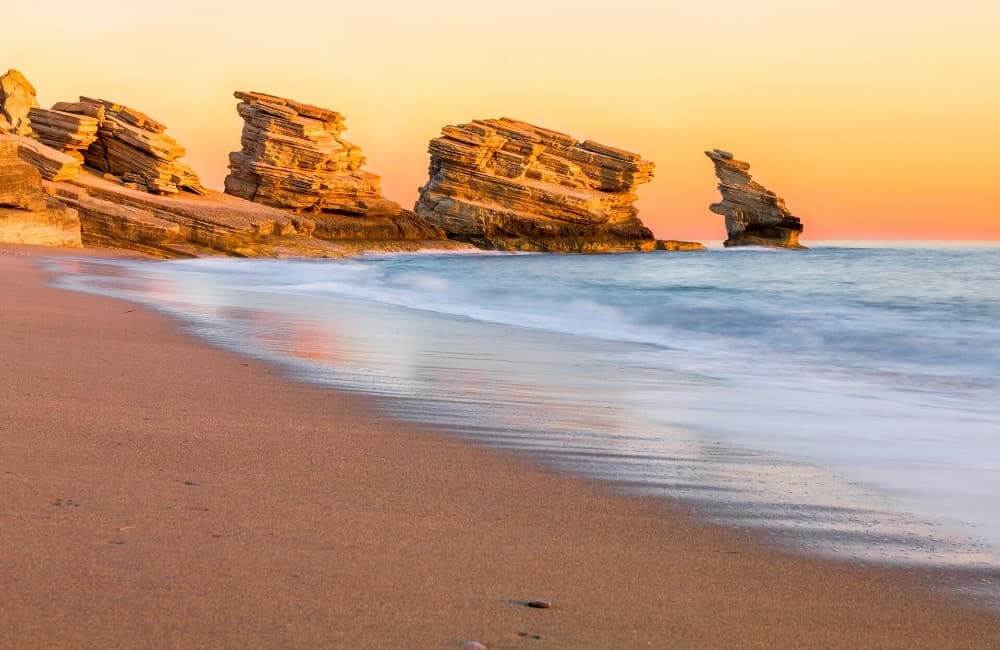 One of the most stunning beaches on the southern coast of Crete is probably the lonely Triopetra Beach (sometimes also written as Triapetra).
This extremely long and wide shore extends both west and east of the three-rock formation that gives the name to the beach.
Triopetra can be reached by driving from Rethymno (it's about a 52-km drive), through the small mountain village of Spili, worth a lunch stop as well.
From Triopetra it's possible to reach the next beach on our list, Ligres, either walking or through a scenic semi-off-road trail, with some breathtaking cliffs by the side of the road.
After Ligres, you can check out the fantastic sandy beach of Katsouni, also good for naturism and complete relaxation.
Ligres Beach
Latitude: N 35.137884 | Longitude: E 24.530168
Characteristics: Sand and small pebbles – The beach is not organized, there's a taverna overlooking the beach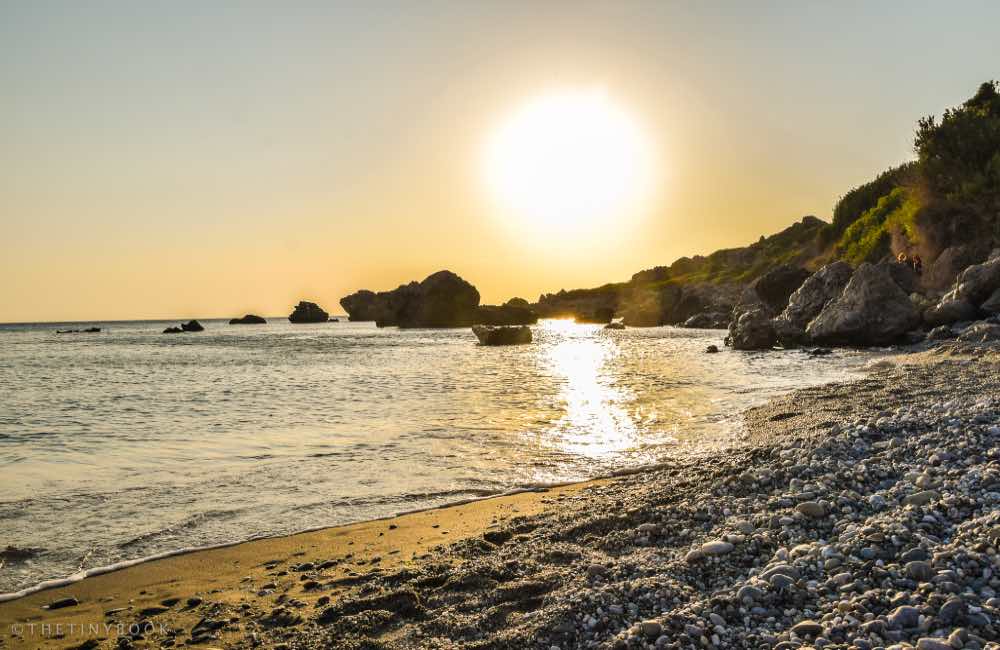 Probably one of my favorite beaches in Crete is the lesser-known Ligres. Ligres is about 5 km from Triopetra, and it's a perfect place for complete isolation.
The vast sandy beach of Ligres has deep shores perfect for submarine exploration and interesting rock formations as well as a small collection of waterfalls on one of the ends of the beach.
Since reaching the area is not simple, it still maintains a rather secluded atmosphere, with very few tourist structures.
On the beach, there's a wonderful tiny taverna serving exquisite fish and local salads.
Where to Stay in South Rethymnon
Here are some options to book accommodation in the different Rethymnon beach areas mentioned above
Preveli (Kerames area): Kionia Apartments is located on a slope, right above Agia Fotini Beach in South Rethymnon. The views of the Libyan Sea, as well as the gardens, make this a top-rated place to stay very near the beach of Preveli. Also in Kerames (which is probably the closest place to choose to stay if you're visiting Preveli), Petrino Paradosiako is a 3-room villa just 4 km from Preveli Beach.
If you prefer to stay in Damnoni and also visit that great beach on the southern coast of Rethymnon, check Schoinaria Bay, a family accommodation with great views of the sea, also close to Plakias Beach (10 km).
Plakias Beach, but also Triopetra and Ligres: Check the great reviews of Lamon Hotel, a few steps from the sandy beach of Plakias and a 5-minute walk from the village. It features a snack bar and a swimming pool. Kalypso Cretan Village Resort and Spa has its own private, secluded shore on the beach of Karavos, there are a swimming pool, a tennis court, and a spa overlooking the Libyan Sea.
Belvedere Apartments and Spa is a wonderful place to stay close to Plakias Beach in Rethymnon. They serve continental breakfast every morning, and there is also a fantastic spa center. Alianthos Garden is another top-rated property, hard to find available, close to the beach of Plakias. This is a family-run complex, opposite the beach, a few minutes from the village.
Best Beaches in South Crete: Heraklion Region
The following are three of the most beautiful beaches on the southern coast of Heraklion… But if you want more, read this list.
Matala Beach
Latitude: N 34.992533 | Longitude: E 24.749378.
Characteristics: Sandy beach with small pebbles – Organized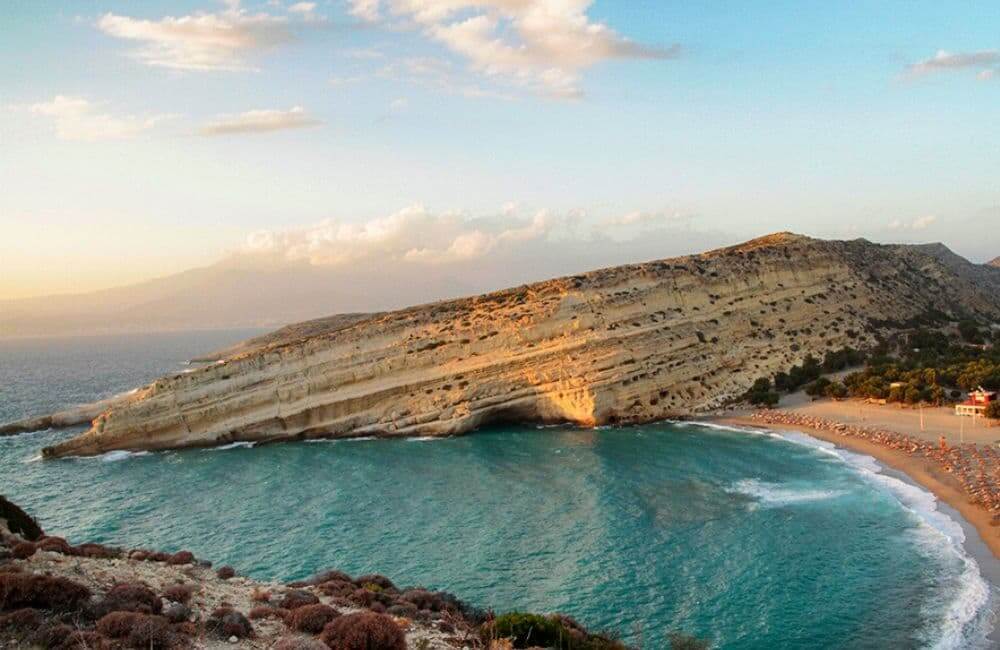 Planning to visit Matala? Check How to Get from Heraklion to Matala.
The hippie village of Matala is located about 75 km south of Heraklion, the capital of Crete. It is, in fact, one of the best places to spend a few days at the beach when you're staying in Heraklion.
But also, Matala is a place rich in history, and legend… and ideal to explore both the areas to its west and east.
Matala is a natural harbor which makes it well-protected from the winds. It is located on the beautiful bay of Messara, with soft sand and pebbles, and clear, cold waters, as in the rest of the south.
Matala is one of the favorite beaches in Crete with many returning tourists every summer.
Kokkini Ammos, the Red Beach
Latitude: N 34.986066
Longitude: E 24.314797
From Matala Beach, you need to hike to Kokkini Ammos as there's no other way to access it. The hike is about 1.7 km and it can take you about an hour. Take enough sun protection, water, and a hat!
Characteristics: The beach is poorly organized and it has a distinct red sand surface. It's exposed to the western winds while it features clear waters with green and blue hues.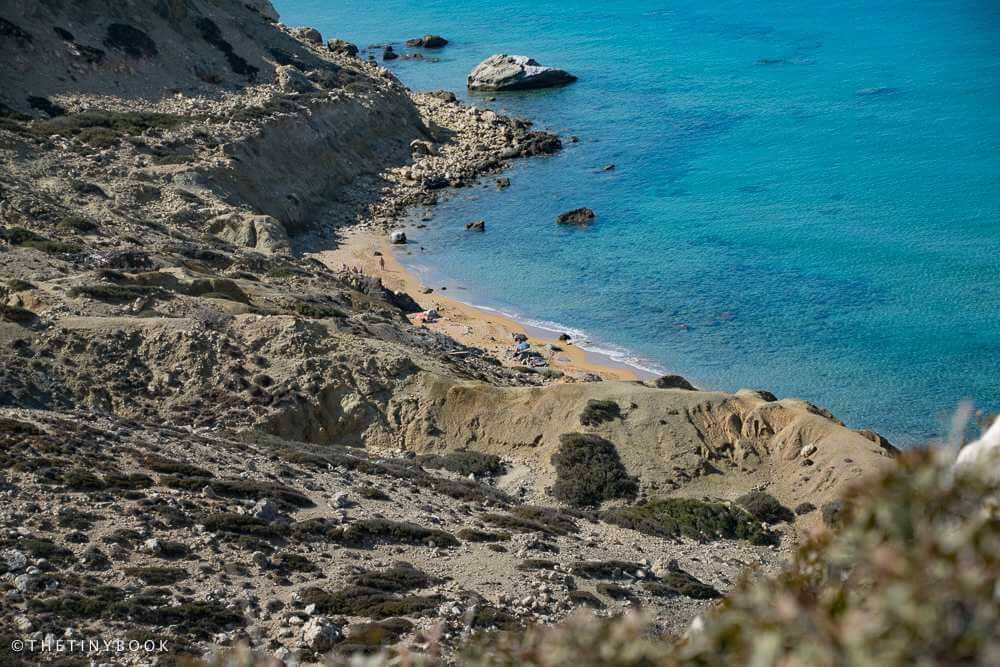 This secluded beach with an amazing landscape hides near the village of Matala. To reach it you need to hike for around 45-60 min. If you are not into hiking then there are small boats departing from Matala that can take you there too.
If you're fit enough to face a 2-km path, then I recommend hiking. In fact, from the top of the cliff, you will be surprised by the breathtaking view of the beach and the sea.
The beach has amazing reddish sand which gave it its name (Kokkini Ammos means red sand in Greek).
If you plan to spend the day, you better carry some shade in the form of a light umbrella as well as a beach mat as there are only a few of them available for rent.
Agiofarago Beach
Latitude: N 34.925487 | Longitude: E 24.778493
Agiofarago, Kali Limenes, Faistos Municipality
Characteristics: Sand and small pebbles – The beach is not organized, but naturism is forbidden – Basics you need: cold drinks, lunch, tennis shoes to explore the gorge
About 80 kilometers from Heraklion, at the exit of the gorge of the same name, the beach of Agiofarago is a wonderful place to visit.
You reach the beach after crossing the gorge, after a hike that can last up to an hour. It is also possible to visit by boat, departing from Matala or Agia Galini.
Agiofarago Beach is a place of unique beauty, with clear waters and very fine pebbles. Towards the west part of the beach, there is a nice rocky arch, perfect for photography fans.
Kokkinos Pyrgos Beach
Latitude: N 35.077339
Longitude: E 24.744107
Distance from Heraklion: 61-78 km South, depending on the route you pick.
Characteristics: Well-organized sandy beach, clear azure waters, exposed to western winds.
This long sandy beach is well-organized and features facilities such as sunbeds, umbrellas, and showers.
There is a road alongside the beach with many bars, tavernas, and cafes which are great for an evening cocktail admiring the great southern coast and a beautiful sunset.
The beach is sandy and the sea bottom is also made of soft sand, this is a great stop for families with children. The views over the coastline and the Libyan Sea are simply stunning!
Vathi Beach
Latitude: N 34.952238
Longitude: E 24.754860
Distance from Heraklion: About 65 km to the South.
Characteristics: Not organized sandy beach with breathtaking scenery. The sea has magnificent turquoise color and the area is protected from the wind.
This magnificent beach hides in a bay that's protected by the walls of a gorge.
Vathi Beach is not spoilt with any infrastructure and it usually welcomes just a few visitors with a wild natural beauty. It has clear waters with a vivid shade of turquoise, ideal for snorkeling or just swimming and relaxing.
The coast is well protected from the winds and it features very calm waters even when nearby shores are wavy or windy. The beach can be easily reached by car following the dirt road that starts in the village of Sivas.
Where to Stay on the South Coast of Heraklion
Matala Beach, Agiofarago Beach, Red Beach, Kalamaki, Kamilari areas: Boutique Hotel Die Zwei Brüder is a hotel close to Matala Beach, run by German staff, it offers bicycle rental service and car rental service.
Check the pictures, prices, and reviews of the beautiful Nikkon Summer Home 70 meters from the beach of Matala. The self-catered apartments of Beach View Matala are just a few steps from the beach and offer comfortable rooms and every facility you need for a vacation feeling at home.
Best Beaches in South Crete: Lasithi region
These are some of my favorite beaches in the south of Lasithi, in no particular order…
Xerokampos Beach
(One of the most stunning beaches in South Crete!)
Latitude: N 35.033636 | Longitude: E 26.216042
Characteristics: Pebbles, sand, clay, rocks, there are different options on every beach of Xerokampos – A few beaches are organized – Depending on where you go, you might need to pack a lunch and cold drinks.
Xerokampos (or Xerocampos / Xerocambos) is a stunning group of several beaches on the southeastern coast of Crete. In the area, there are beaches for every taste: sandy, pebbled, and even a cove of clay!
As you drive down the main road from the north (usually from Sitia or Zakros), the road takes you down to Xerocampos, you will be impressed by the massive extension of this coast, usually not crowded, unspoiled, and very peaceful due to its remote location.
There are wide sandy beaches, both completely unorganized or with the possibility of renting sunbeds and umbrellas.
Among the different shores, Alatsolimni is a sandy beach worth mentioning because of the salt lake that lies behind it.
With a harsh landscape of rocks and scarce vegetation, the place is simply perfect for a holiday on the beach for those travelers looking to put their brains completely offline!
Makrigialos Beach
Marina of Makrigialos
Latitude: N 35.037216 | Longitude: E 25.973475
Sandy beach – Organized.
Makrigialos is a rare gem in the south of the island, not very popular among tourists so not usually crowded. It's only a few kilometers east of Ierapetra, about 30 minutes by car.
It's also easy to reach from the nearby Sitia (just an hour away).
The village is mostly developed along the coast, where you can find nice and convenient tavernas for lunch and dinner, and lovely little venues for an afternoon drink.
It is a sandy beach with shallow waters and is rather calm due to the shape of the bay. Don't miss the impressive mountain backdrop and the gorges of the area.
Makrigialos is a great place for a day at the beach when staying in nearby bigger towns.
Still, you should consider it's also a good place to spend a few days too since there are several hotels, apartments, and rooms for rent.
The relaxed atmosphere makes it a great place for family holidays or couples.
Beaches on Chrissi Island
Chrissi Island, Ierapetra, Crete, Greece
Latitude: N 34.873509
Longitude: E 25.70358
Characteristics: Sand, some coves have small pebbles – Organized areas.
Basic you need: there are canteens, take your drinks and lunch to save some money.
Finally, this list could not be complete without another paradisiac beach in South Crete, Chrissi Island, or Gaidorounisi.
The island is about an hour by boat from the port of Ierapetra, (about 9 nautical miles to the south), and it is also a Natura 2000 protected area of unique beauty.
Since it's isolated and also uninhabited, Chrissi is considered one of the last gems in the Mediterranean. A day trip to Chrissi is a day trip to heaven.
The island is pretty small, there are no houses, structures, roads, or cars.
It has very exotic waters, with a wonderful shade of turquoise and green, the beaches are sandy, some with rock formations.
On Chrissi Island, there is a unique cedar tree forest too, which is about 200 years old. Chrissi can be reached from Ierapetra every day (weather conditions allowing).
The boat departs in the morning (11.00 am) from the port of Ierapetra. However, please check the timetable because it is a seasonal service.
The tickets start from €29, kids up to 2 years old travel for free, and meals are not included in the price.
Planning a visit? Read Day Trip to Chrissi Island, Crete: Guide to Visit.
Where to Stay in South Lasithi
Ierapetra is the best place you can choose to stay, it's ideal to visit the beaches of Myrtos, Makrigialos, Agia Fotia, and more beaches close to Ierapetra, as well as to spend the night when planning a visit to Chrissi Island. Here's a list of over 100 hotels, apartments, and villas to book in the area of Ierapetra.
Xerokampos (as well as Kato Zakros beach): Close both to Kato Zakros and Xerokampos, Katerina Apartments is a property perched on a green hill in Kato Zakros, 500 m from the beach. It offers self-catering units with panoramic views over the Libyan Sea.
Villa Paris is just 60 m from Xerokampos Beach with beautiful balconies overlooking both the Libyan Sea and the mountains. In high season, there's a 5-day minimum stay.
If you're lucky enough to find Villa Kalliopi available, don't hesitate to book a stay there. This magnificent villa in Zakros has very convenient prices. It's surrounded by an olive grove and features a private pool with a furnished sun terrace. The two-bedroom villa includes a seating area with a fireplace
The Beaches in South Crete with Kids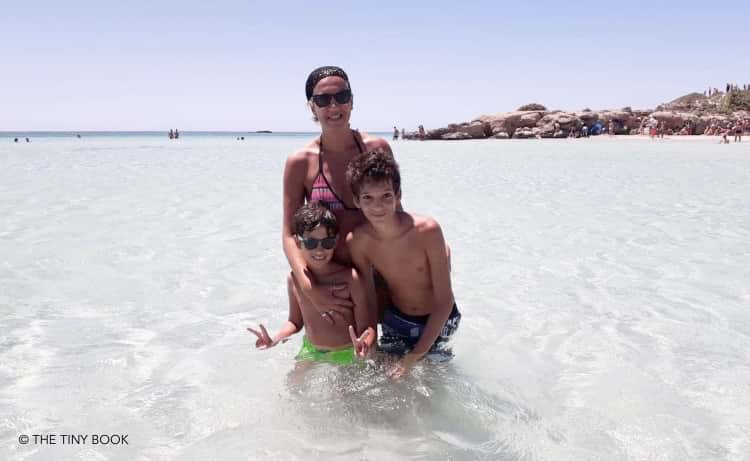 Families with kids looking for safe beaches and a relaxing atmosphere can easily head to the southern coast of Crete. These are the best and safest sandy beaches for kids in the South.
Elafonisi: sandy and shallow, with a safe lagoon.
Paleochora: a rather big village with basic facilities, and a few sandy shores.
Frangokastello: somewhat isolated, but sandy and safe beaches.
Plakias: sandy, some basic facilities in the village.
Myrtos: quite close to Ierapetra for basics, sandy and wide.
Xerocampos: a bit isolated but wide, sandy beaches available for kids.
Makrigialos: better beaches than Ierapetra and amenities in town.
For kids interested in archaeological sites, check all the things to see in the southern Archaeological Site of Phaistos.
There are not many attractions in the South for children. For amusement and themed parks or better and bigger museums, you will need to reach the North.
For families with teens, it's good to know the nightlife is very limited in the South.
What's your favorite beach in South Crete?
🏖️ Please, help us protect the beaches in Crete. Respect the environment and don't leave any trash behind.
Read more about Crete
🛌 Suggested Accommodation in Crete:
🗺️ More resources to book your trip to Crete
Hey! Don't Leave Before You Pin This Guide to Help You Decide What are the Top Beaches in South Crete!
---
You might also want to read these posts about Crete's regions:
---
About my blog: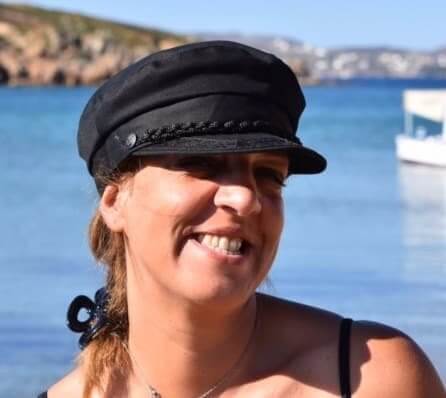 I moved to Crete in 2016. During these years, I learned much about the island.
In Crete, I juggle being a solo mom, hosting culinary tours, and writing for several travel media.
I've written for Greek Reporter, published travel guides about Greece, co-authored DK Eyewitness Top 10 Crete, and had more glasses of frappe than any regular person could ever handle.