Agios Nikolaos is the capital of the Lasithi Region, East Crete. It's a beautiful seaside town, popular among tourists for its beaches and the mild climate all year long: It's warm, and there's plenty of sunshine.
Besides, there're dozens of things to discover near Agios Nikolaos too. If you're wondering what to do in Agios Nikolaos, Crete, why don't you check this guide to plan the perfect itinerary?
---
Disclaimer: Posts include affiliate links to products or services. I might earn a commission if you make a purchase.
---
Things to Do in Agios Nikolaos, Crete
Let's start by sorting out some important things that you need to know to get there and visit Agios Nikolaos:
General Information about Agios Nikolaos
Regional unit: Lasithi
Location: Northeastern Crete
Latitude: N 35.208517
Longitude: E 25.612737
Map of Agios Nikolaos & Location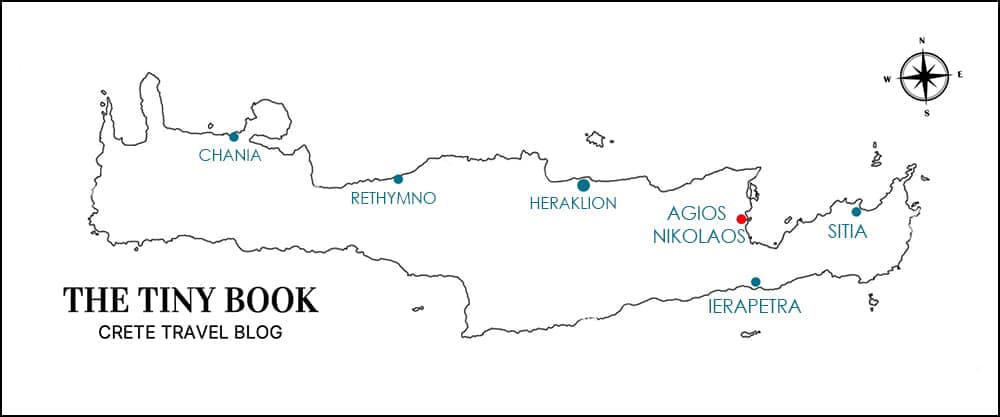 Distances to Agios Nikolaos from Crete's Main Cities
Sitia – Agios Nikolaos: 66,5 km, 1 h 20 m.
Heraklion – Agios Nikolaos: 62,4 km, 1 h.
Rethymno – Agios Nikolaos: 139 km, 2 h.
Chania – Agios Nikolaos: 202 km, 3 h.
How to Get to Agios Nikolaos
How to get to Agios Nikolaos by car: We've often stated that the best way to see Crete is to travel by car. This is a flexible and cost-effective transport on such an extensive island and with so much to do.
Crete's National Road: There's one National Road on Crete that runs along the northern coast of the island. It's known as Greek National Road 90 (or with the acronyms ΒΟΑΚ/ sometimes VOAK). The road connects Kissamos (West coast) to Sitia (East coast) and passes through the main cities of Chania, Rethymnon, Heraklion, and Agios Nikolaos. There are upgraded sections (designated as A90). Since the road is part of the European route E 75, the road is also known by that name.
How to get to Agios Nikolaos with public transport: Buses depart from Heraklion, Sitia, and Ierapetra.
If you're traveling to Agios Nikolaos from Chania or Rethymnon, you must change the bus when you get to Heraklion's Public Bus Station.
Let's now dive into all the things you can do in town. I've also included a few interesting attractions and places to see in the surrounding area. However, if you're looking for more activities in the region (Lasithi), check out these 52 things to do in Lasithi.
Top Things to Do in Agios Nikolaos
There's a lot to do in Agios Nikolaos and sometimes it might look as if time is not enough to experience everything.
The town is not as extensive as other Cretan cities, and if you're not in a rush, you will need at least 2 days to see the things in the following list.
If you also want to explore near places, mountains, or coastal villages, consider adding two or three more days to your itinerary.
As a general rule, four days in Agios Nikolaos is a good time to see a bit of everything in and out of the city. Let's take a look at the best things to do in Agios Nikolaos.
Visit Lake Voulismeni
One of the landmarks of Agios Nikolaos is Lake Voulismeni, located right in the heart of the city. The sweetwater lake is connected to the sea.
Around the lake, several bars and restaurants make the place pretty animated at night.
Like almost everything in Crete, the lake is surrounded by several legends. For instance, according to Greek mythology, it was here where the goddesses Athena and Artemis would bathe.
A local legend wanted the lake to be bottomless, as it was believed that it was a passage to communicate with evil spirits.
However, in 1853, it was discovered that the lake is 64 m deep at the center.
The lake, as locals call it, has a rocky wall on one of its sides, there are fishing boats and ducks, and it's a traditional place of gathering.
To get the best view of the lake and the sea, it's better to reach the street that borders the upper part of the lake.
Check the best vacation homes in Agios Nikolaos for an authentic stay in Crete
Learn about Greek Mythology with the Local Sculptures
If you walk along the sea in Agios Nikolaos, two different sculptures will attract your attention.
Together with Lake Voulismeni, these have quickly become a landmark of the city. And it's not odd to spot tourists taking a selfie with them.
The Horn of Almathea is located near Kitroplateia Beach. It recalls the myth of Zeus and the connection that the god has with the area (see the nearby Cave of Zeus).
According to the legend, while Zeus was hidden by his mother Rhea in a cave, the goat Almathea nourished the little god.
One day, however, while he was playing with Almathea, the young god accidentally broke one of her horns.
Feeling sad and sorry (according to my son's version of the myth!), Zeus blessed the damaged horn by adding a hole, so that everything would be found in abundance pouring from it.
This myth is at the base of the Cornucopia, the eternal symbol of abundance locally known as the Horn of Almathea.
The Abduction of Europa is a sculpture in the port of Agios Nikolaos. It's also connected with Zeus who, falling in love with Princess Europa, transformed into a white bull to approach the girl.
Captured by the beautiful animal, Europa tried to ride the bull. When she did so, the bull ran into the sea, taking Europa with him to the South of Crete (many legends say to Matala).
Check the City Museums
The Archaeological Museum of Agios Nikolaos hosts archaeological objects from Lasithi that belong to different Minoan periods.
Among the findings, there are objects from the seaside cemetery of Agia Fotia (close to Ierapetra) and a remarkable skull of an athlete with a gold wreath and a coin from Polyrrinia in his mouth.
This exhibit comes from an Ancient cemetery in Lato, the best-preserved town from the Hellenistic period.
At the date of writing, the museum is closed since it's currently undergoing renovation, so it might be a good idea to drive to the nearby Lato Archaeological Site if you're interested in Crete's Hellenistic past.
The museum has always had a free entrance. However, this could change after the reopening.
Also, visiting hours might change. Check the official website periodically to get updated information if you plan to visit.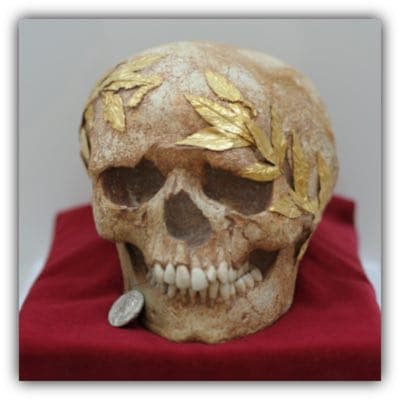 Zde [creativecommons]
The Folk Art Museum of Agios Nikolaos is easy to access since it's right in front of the lake, next to the Tourist Information Bureau.
Here, it's possible to see authentic objects, part of the Cretan way of life (such as furniture, handmade textiles, and pottery).
There are also religious icons and other crafts on display.
Folklore Museum
Admission fee: € 3 for adults, children free.
Opening hours: 10.30 am-2.30 pm and 6 pm-8 pm. Closed on Mondays.
Enjoy Art in the City Stairs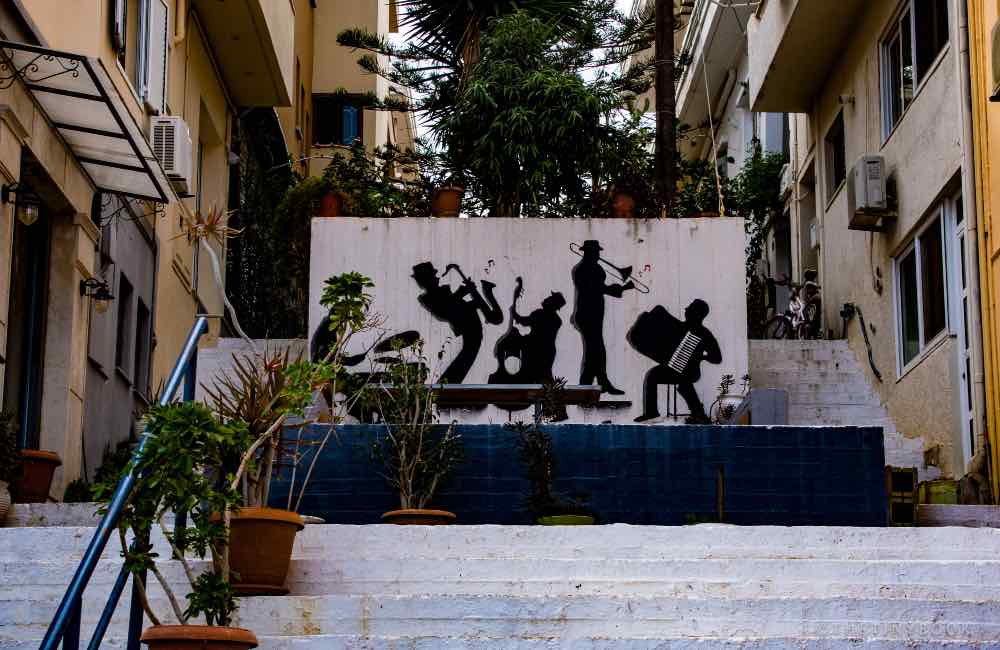 The Spirit of the Stairs is a contemporary art project which started back in 2018. It's all about making the city even more appealing through the decoration of its stairs.
The project promotes the architectural and cultural heritage of Agios Nikolaos and its impressive network of stairs (over 70!).
Paintings and sculptures can be admired on 11 different stairs in town. The idea refers to the identity of Agios Nikolaos, the stairs that connect the upper and lower parts of the town, and the relationships they create.
Artists make use of both the natural landscape and the culture of each neighborhood where the stairs are located.
Each of them develops a unique theme, incorporating elements from yards and private gardens.
Discover the Churches and the Monasteries
There are 7 monasteries and 28 historical churches you can visit in the region. Most of them host unique icons and frescoes and they are usually open to the public.
Let's first take a look at some of the ones you can check in town.
Central Churches of Agios Nikolaos
Agios Nikolaos in Ormos
The first and most beautiful church is the one that gives the name to the city. The church of Agios Nikolaos (Saint Nicholas) is not in the center but it's worth a visit.
Agios Nikolaos church faces the nearby bay of Ormos, a place where ships would anchor during the Roman and Byzantine periods.
This single-naved church probably dates back to the pre-Arab conquest of Crete, about 827. The little church is considered one of the few remaining Early Byzantine churches on the island.
Agia Triada
The Cathedral of Agia Triada is in the center of Agios Nikolaos. It has remarkable frescoes belonging to both the Cretan and Macedonian Byzantine traditions.
Agios Athanasios
The little church of Agios Athanasios is on one of the town's most central roads (Roussou Koundourou Street), just a few steps from the lake.
You can also visit the churches on the island of Spinalonga. If you want to know more about them, check out this article.
Churches and Monasteries Near Agios Nikolaos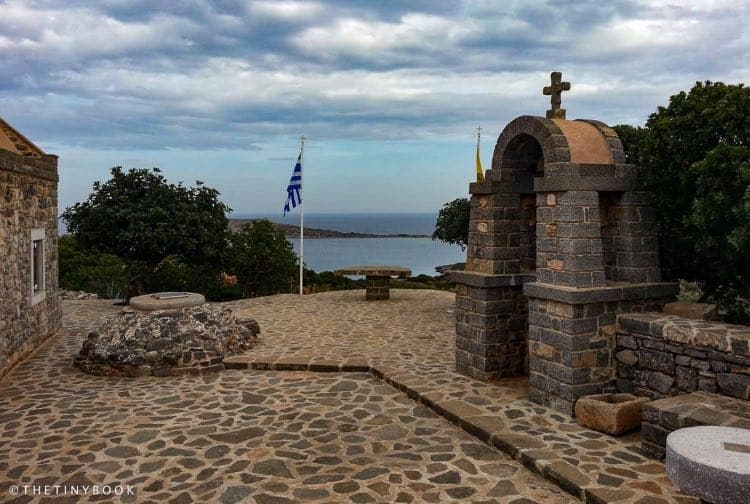 Megali Panagia – Neapoli
Megali Panagia is the metropolitan church of Neapoli (1927), the former capital of the region. It's dedicated to the Virgin Mary and it's in the main square of this town.
In the area, you can also visit the ruins of the abandoned Catholic Fraro Monastery belonging to the Order of the Franciscans. It's from the 14th century and it's accessible only by dirt road.
Agios Fokas and Agios Loukas, Kolokitha
Not far from Elounda, in the bay of Kolokitha, there are remains of two early Christian basilicas (around the 5th century), with geometric floors.
Always in the peninsula, you can visit the restored Byzantine church of Agios Fokas (access only by boat).
It honors the Byzantine emperor Nikoforos Fokas who liberated the island from the Arab occupation in 961 AD, thus beginning the second Byzantine period of Crete.
Finally, behind the beach of Kolokitha, the church of Agios Loukas is also worth a visit.
Other Churches in the Region
Panagia Kera
Probably the most famous religious building in the area is Panagia Kera, one of Crete's most important churches. Panagia Kera is located less than a km from the mountain village of Kritsa.
The church is believed to date back to the 13th – 14th centuries and is home to remarkable frescoes and icons.
Selinari Monastery
Further from Agios Nikolaos, Selinari Monastery is in the area of Vrachassi.
The complex develops into two levels, and it has a wonderful garden with stunning views of the sea.
If you're coming from the West, you will spot it along the main road, about 20 km before Agios Nikolaos.
The monastery and its small chapel dedicated to Saint George are among East Crete's most important religious centers. Saint George is the protector of travelers in the region.
Explore the Beaches In and Around Agios Nikolaos
Indeed, some of the prettiest beaches in Lasithi are not right in the heart of Agios Nikolaos. Yet, over there you can find some good city beaches, all of them awarded a blue flag.
On the other hand, to get to the region's best beaches (for instance Sissi, Voulisma, Mochlos, or Vai) you will need to get on the road.
Let's first see the beaches in town.
Kitroplateia
(MUNICIPAL BEACH)
Kitroplateia is the most important city beach in Agios Nikolaos.
It has a very central position and the nearby facilities make it a great place for a one-day stop.
On the promenade behind the beach, there are restaurants, tavernas, and bars for a quick snack or a cold drink.
The beach is mainly pebbled and rather shallow. It gets crowded during the peak of the season, so it might be a good idea to get away from the village for more relaxation. Especially if you're traveling with kids.
Ammos Municipal Beach
MARINA BEACH)
Ammos is the first beach I ever visited in Agios Nikolaos many, many years ago.
It has not changed much during the years and it's not a bad option if you're staying in town or don't have a car to move around.
The beach is close to the Marina, east of Kritroplateia Beach. Ammos is great for kids since it's a sandy small shore with shallow and clear waters.
Better than Kitroplateia in terms of crowds, however, locals and visitors do populate Ammos in Summer.
Ammoudi Beach
Ammoudi is a beautiful city beach, not far from the center.
Many tourists choose Ammoudi because it's organized, the waters are crystal clear and the bay is protected from the winds.
It tends to get crowded in the first hours of the day, so it's better to arrive early to secure an umbrella.
Almyros Beach
One of my favorite beaches close to Agios Nikolaos is Almyros (my most favorite one remains Voulisma, but Almyros is also perfect!).
Almyros is a very wide golden sand beach, 2,5 km east of Agios Nikolaos, so it's fairly easy to reach if you have your car (public transport from Agios Nikolaos is also available).
The bay is protected from currents and winds and the water is shallow. A favorite among families with children as well as with tourists in general.
The beach has a little river ending by the sea. The river is cold and clean and it produces a weird hot-cold effect when it mixes with the sea.
There's a small bridge over the river where kids love to play. The colors of the water are simply amazing.
Ormos Beach
Another tranquil bay close to Agios Nikolaos is Ormos Beach, with a very protected position.
It's sandy and shallow, and there are always a few small boats in the area.
Ormos is on the way to Elounda, and it's a must-go place if you want to visit the Byzantine church of Agios Nikolaos, which is very close by.
Other Beaches in the Area (West Mirabello Bay)
If you paid attention to my suggestion, you've probably booked a car already! Therefore, you are now able to venture along the East to see the outstanding beaches far from Agios Nikolaos. Let's check them out.
Plaka
I'm not a big fan of pebbles, so it's hard for me to put Plaka among my favorite beaches. However, it is indeed a quiet place, in a tranquil village.
Many visitors think it's one of the most beautiful places in Crete (I beg to differ, but that's another story). The beach is about 16 km from Agios Nikolaos and directly faces the island of Spinalonga.
It's organized with lounges and umbrellas, and there are a few good fish tavernas in the area too.
Being close to the popular resort of Elounda, it tends to get quite crowded. From the little harbor of Plaka, it's possible to hire a boat to visit Spinalonga.
There are two main beaches in Plaka, Agia Marina is the most important one and it's good for snorkeling. Not my favorite, but truly popular, also among fishermen.
Elounda
Elounda is one of the most exclusive resorts in Crete, home to exclusive hotels and villas.
As in most of the Mirabello Gulf, the sea is calm and clear, which has made these shores popular.
To reach Elounda from Agios Nikolaos, drive along the coastal road towards the west for about 10 km. Close to the port, you will find the most popular Skisma, a sandy beach that's very well organized. There are several tavernas and beach bars as well.
Kolokitha (Agios Loukas)
To reach the beach of Agios Loukas in the Spinalonga peninsula (or Kolokitha), you have to drive along the artificial road that passes on top of the ancient sunken city of Olous.
After a while, you get on a dirt path that takes you directly to the parking area (opposite Agios Loukas church).
Once you've parked by the church, and despite not seeing the beach yet, start hiking down the path. Within 15-20 minutes you get to this spectacular sandy beach.
One might think that being harder to access it could be quite lonely. Well, it's not!
This shore is popular. Many people get to the beach by boat as well. Besides, cruise ships traveling to Spinalonga, usually schedule a stop here for a barbecue on the beach.
For a quieter experience, people visit the small secluded shores located towards the South, this area is known as Vagi, and it's a favorite among naturists.
INSIDER'S TIP: Despite not being very high nor dramatic, this narrow road is quite impressive. I've even read once or twice that it's among the most impressive drives on Crete.
I would not place this road on that list since there are far scarier roads on the island. However, if I had to compare it to …let's say the road to Balos) I'd say that the road to Balos is much safer!
Other Beaches in the Area (East Mirabello Bay)
Ammoudara
Ammoudara is about 5 km east of Agios Nikolaos, on the road that connects the city to Sitia.
You need about 10 minutes by car to get there.
Many people who spend their holidays in East Crete choose this small village instead of staying in Agios Nikolaos.
The beach of Ammoudara is small but beautiful and sandy. It faces the east, which makes it really protected from the winds and it virtually lacks waves. Being the water always calm and clean, it's another beach preferred by families with children.
Voulisma
The small and quiet village of Istron, about 12 km from Agios Nikolaos, is home to Voulisma, one of Lasithi's best beaches, ranking among the best on Crete.
It's also possible to reach Voulisma easily if you're staying in the South (for example, Ierapetra is only 23 km away). Voulisma is one of the three different beaches in Istron.
And it has become popular for its bright turquoise waters and stunning green landscape all around.
Voulisma (also called Golden Beach) is a very wide and shallow bay, with white, fine sand and every facility you need. You can rent sunbeds and umbrellas or visit the beach bar above for lunch or a drink.
INSIDER'S TIP: Despite being such a picture-perfect place, for some weird atmospheric conditions related to tides and sea stream, whenever very strong winds blow from the North, the rubbish people leave on other beaches deposits here (who would say so from those pictures, right?
In that case, it's a good idea to move towards the east or choose a different shore for that day!
Tholos
Tholos is a wonderful, rather secluded beach, not so close to Agios Nikolaos and therefore rather isolated.
Some people usually call the beach Kavousi, but several locals confirmed that the real name is Tholos, Kavousi is just (and only) a mountain village in the area (home to one of Crete's oldest- but still productive- olive trees).
The beach is sand mixed with pebbles and as you can see from the picture above. It's a very protected bay, repaired from waves and the wind.
There are tamarisk trees providing shade and just one taverna in the area. This is another beach easy to reach from Ierapetra (23 km away) as well as from Agios Nikolaos.
The beach is on the road to Sitia, one of the last villages on the Mirabello Gulf before Mochlos.
Tholos Beach is a popular shore among naturism enthusiasts. For more beaches where to sunbathe naked, check this guide to Crete's Best Naturist Beaches
Mochlos
Mochlos is a pretty seaside village at the very end of Mirabello Bay, about 27 km from Agios Nikolaos (a 50-minute drive on the coastal road to Sitia).
It has a quiet beach and there are also a few nice tavernas nearby.
Opposite the beach lies the little islet of Mochlos, famous for its archaeological findings dating to the Minoan period.
The island is barely 250 meters away from the beach and it could be crossed by swimming. However, it is good to bear in mind that despite the sea usually looking calm, the area is known for the rather strong currents, so do exercise extreme care if you attempt to cross!).
These are some of the beaches close to the city, let's now continue with more things to do in Agios Nikolaos…
Walk the Pedestrian Streets in Agios Nikolaos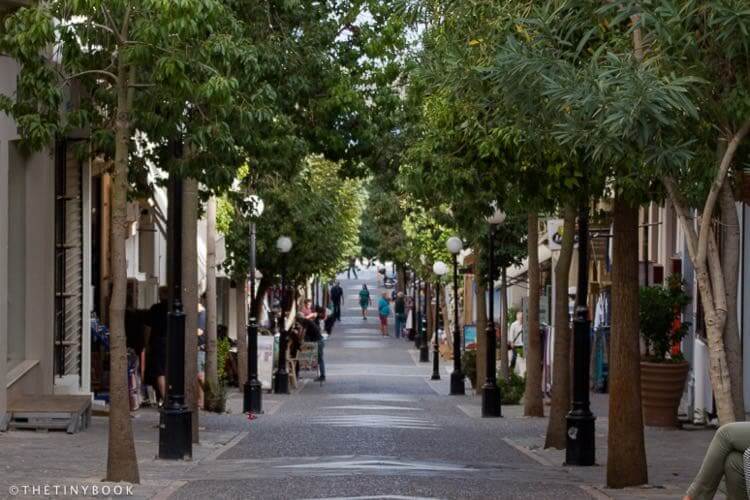 There are a few pedestrian roads in the center of Agios Nikolaos that end where the lake meets the sea.
These roads are full of tiny souvenir shops, jewelry stores, bars, and cafeterias, and it's a meeting point for visitors and locals alike.
One place we recommend is Peripou.
Peripou is an alternative music bar with a rooftop area with excellent lake views.
The bar is located on the pedestrian 28th October St.
Go Shopping in Some of Crete's Best Boutiques
Agios Nikolaos and the exclusive area of Elounda have gained a reputation around the world.
In fact, Elounda is a place of choice for VIPs coming from the rest of Europe, such as actors, models, or football players.
For this reason, it's possible to shop for high-end brands in many stores around the city.
We're not really fans of shopping, but we did enjoy walking the commercial streets in town.
Everything from bags and shoes to exclusive pieces of jewelry, and – unfortunately – fur coats too can be found in different boutiques along Koundouou Street and 25th March Street.
Explore the Sunken City of Olous and Epano Elounda
For those more interested in history and Crete's past than in lazily lounging on the beach, it can be a good idea to spend your day combining a visit to the Sunken City of Olous, an excursion to Kolokitha, and an afternoon in the traditional village of Epano Elounda.
Olous was, in fact, one of the most important cities in Crete during the Minoan times. They minted their own coins bearing the images of Artemis and Zeus, usually holding a dolphin or an eagle.
Today, the remains of the city lie under the sea, and parts of them are visible from the surface on a clear day.
After checking the area, you can explore the rest of the peninsula, including the churches of Agios Loukas and Agios Fokas, or head for the small village above Elounda.
After checking the area, you can explore the rest of the peninsula, including the churches of Agios Loukas and Agios Fokas, or head for the small village over Elounda.
In the following pictures, you can see an old abandoned alley and a traditional bed (commonly known as ondas in Greek), inside an abandoned house/filming set for the series.
The picturesque Epano Elounda (or upper Elounda, also known as Pano Elounda) is a small village on top of the modern Elounda.
Better known for hosting the set of the TV series The Island (from the same book by English author Victoria Hislop, more info here), the village features beautiful old homes that respect the island's old architectural style.
Many of the houses used (and some even purposely built) during the filming are still standing and can be seen from the outside (if you were a fan of the series or the book, you will be able to recognize some of the sets).
Other houses have been recently bought by private owners and have been restored with every comfort inside, but still keeping the old looks on the outside.
There are a couple of ouzeries and kafenia in the village serving traditional Cretan raki and delicious bites known as mezedes.
Sail to the Leper Island of Spinalonga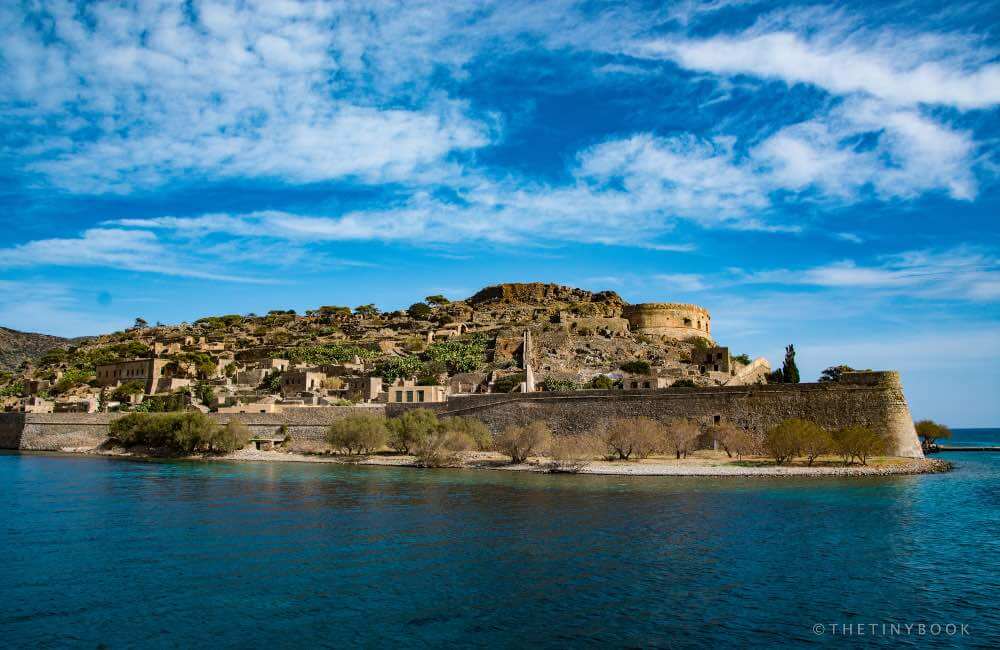 When visiting Agios Nikolaos, nobody should miss a visit to the nearby island of Spinalonga. It's located about 15 km from the city center and you can access it by boat either from the port of Elounda, the coast of Plaka, or Agios Nikolaos.
On the island, it's possible to learn more about the past of Spinalonga which worked as a leper colony until 1957.
Spinalonga, which is also one of Crete's better fortifications from the Venetian times, can be visited in an hour.
Learn about the history of the Leper Colony, entrance fees, opening hours, and how to plan a visit. Check my complete guide to Spinalonga.
Practical Details to Plan Your Stay in Agios Nikolaos
Check this info before you book where to stay and decide what you'll do in Agios…
Where to Eat in Agios Nikolaos
I had the luck to have as a travel mate a person who lived in Agios Nikolaos for several years. He was able to show me the best places to eat in the area, we visited the following restaurants and all of them were good for one reason or another.
Karnagio
Kon/nou Paleologou 24, Ag. Nikolaos
Probably my favorite in town. Karnagio serves stunning Cretan dishes different from what you would get anywhere else.
The portions are huge and the ingredients are local. Prices are convenient. You usually have to wait in line because it's really popular.
The mezes are really very creative. Their hot dakos are unique. And, as their t-shirts read, if selfies hadn't been invented, Karnagio would be your best memory from Agios.
Al Dente
Akti Nearchou 3, Ag. Nikolaos
We arrived at Al Dente very late at night, dead hungry, after a full day on the road. They received us with incredible hospitality and made the kids really happy with super hamburgers and fries.
Salads are really delicious too. Not the traditional Cretan cuisine, but more international and accommodating. I definitely liked it.
Piatto Cretan Creative Cuisine
Minoos 5, Ag. Nikolaos
Piatto serves a completely different kind of homemade Cretan cuisine. Do try their salads and starters. They also offer a wonderful wine list and several vegetarian dishes.
Ble Katsarolakia
Koundourou 8, Ag. Nikolaos
If you're looking for a great atmosphere and excellent seafood, then don't miss Ble Katsarolakia. If you can, choose a table facing the lake and do try their delicious pineapple salad.
Fysalida
Kon/nou Paleologou, Ag. Nikolaos
Fysalida is a wine bistro located close to the lake almost next to Karnagio. If you are looking for something completely different, you won't go wrong when choosing Fysalida.
They have an exceptional wine list and delicious cheese platters.
Paradosiakon
Themistokleous 1-9, Ag. Nikolaos
This rakadiko (a place where they serve raki) is the perfect place for a quick lunch or an abundant table of Greek meze.
Great meat, fish, and vegetarian dishes with a picturesque view of the sea. Paradosiakon is a very popular place for dinner in Agios Nikolaos
Pelagos
Stratigou Koraka 11, Ag. Nikolaos
This restaurant is located in a beautiful building and bit off the lake area. Completely vegan-vegetarian friendly and with interesting seafood dishes (to share!).
Miliaras (Latsida)
Epar.Od. Latsidas – Agiou Antoniou
One evening we decided that being in Lasithi and not trying the super famous souvlaki in Latsida, our trip wouldn't have been perfect.
Indeed, they served us some of the best meat on the grill I've ever eaten in Crete. And their sweet platter on the house was so big and varied that it left me speechless.
Best Agios Nikolaos Hotels
If you still haven't, do check my review of Porto Maltese Boutique Estate, the place where we stayed in Agios Nikolaos. It has a stunning service and the view from our room was magnificent.
Since it's usually fully booked, even out in the low season, down here there are a few other hotels that are worth checking when planning your trip to Agios Nikolaos.
The following are affiliate links if you go through them to make a booking I will earn a small commission at no extra cost to you. Keep in mind that I link to companies that I personally know and recommend. Thank you!
Porto Maltese Boutique Estate is strategically located right in front of the sea, nice hospitality touches include a welcome lemonade on their traditional patio and freshly baked pies for breakfast. I really enjoyed my stay here and if you're traveling also for business, their Wi-Fi speed is top.
Click here for more information and the latest prices.
Best Places to Stay Close to Agios Nikolaos
If you prefer to stay in the beautiful nearby beach areas, check these:
Accommodation around Voulisma
If you're still wondering where to stay in Crete… Read this guide
More Things to Do in Lasithi
Do you agree that a visit to Spinalonga is among the best things to do in Agios Nikolaos? Then, this complete guide to Spinalonga will definitely show you the way.
Dedicate a day to discovering the famous beaches on the northern coast of Lasithi and enjoy Voulisma, Istron, and Mochlos or venture further east and reach Vai, a gorgeous palm tree beach.
Visit the nearby Archaeological Site of Gournias or your way to Sitia. Explore the monumental ancient olive tree of Kavousi, and venture into the stunning Richtis Gorge. If you're a fan of history, drive east to visit the Minoan Palace of Kato Zakros.
Have you ever been to Agios Nikolaos? Let me know in the comments below!
Read more about Crete
Pin it Now! What to Do in Agios Nikolaos, Crete!
---
You might also want to read these other posts about Crete:
---
About my blog: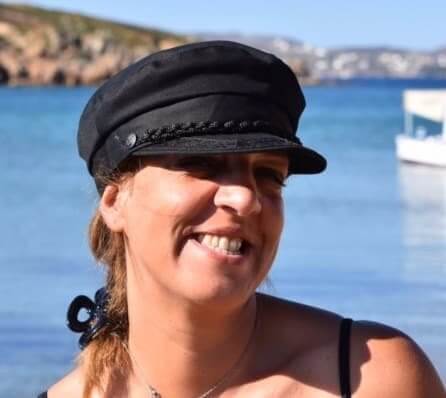 I moved to Crete in 2016. During these years, I learned much about the island.
In Crete, I juggle being a solo mom, hosting culinary tours, and writing for several travel media.
I've written for Greek Reporter, published travel guides about Greece, co-authored DK Eyewitness Top 10 Crete, and had more glasses of frappe than any regular person could ever handle.