Are you planning a family trip to Crete and want to make your holiday itinerary? Or you are after ideas for a memorable stay on the island. Either way, this article is just for you. All you have to do is keep reading and discover the best things to do in Crete with teens. Ready to dive right into it?
---
Disclaimer: Posts include affiliate links to products or services. I might earn a commission if you make a purchase, at no extra cost to you.
---
The Best Things to Do in Crete with Teens
Spoiler alert: as the largest Greek island, Crete is home to hundreds of activities you can do as a family. And as a mom of two teens, rest assured that your kids won't get bored.
Whether your teens are sea lovers, adventure seekers, mythology enthusiasts, fun devotees, or city explorers, there is something to do for everyone.
Your options are endless. It's up to you! And your not-so-little ones.
Best Things to Do in Crete for Teens who Love the Sea
Hands down, one of the best things to do in Crete with teens is discovering its marine life. It is not a coincidence that Greece is famous for its crystal clear waters.
Snorkeling in Crete
To start with, consider snorkeling or even scuba diving if the teens' age allows it. After all, there is no better way to discover all the details of underwater life. 
You can find scuba diving centers throughout the island, particularly on the north side near Chania Bay and Agia Pelagia.
People of all levels can participate in various snorkeling activities and scuba diving programs; your teens could be one of them. 
A quick guide to the best hotels in Crete
Budget: So Young Hostel in Heraklio, Cocoon City Hostel in Chania, Matthias Hotel Apartments in Rethymnon, and Villa Galini in Agios Nikolaos.
Mid-range: Capsis Astoria Heraklion in Heraklion, Porto Antico in Chania, Archipelagos Hotel in Rethymnon, or Hotel Port 7 in Agios Nikolaos.
Luxury:  Galaxy Iraklio Hotel in Heraklion, Hotel OFF in Chania, Avli Lounge in Rethymnon, or Minos Beach Art Hotel in Agios Nikolaos.
Check more: Where to stay in Crete.
Playing by the Sea
Imagine your children making unforgettable memories playing on the sand, right by the sea, whether it's rackets, volleyball, or any other fun game… All while you take fantastic instagrammable sea photos you will gaze when you are back home. 
In that case, you will have more than enough options to select. For example, take Elafonissi Beach with its pink coral sand, or Balos Lagoon with its turquoise water, not to mention various other beaches like Plakias, Falassarna, or Matala (this last one is a perfect destination if you're traveling to Crete with teens). 
Water Sports
Many beaches around the island are also ideal for various water activities that teens visiting Crete will love, these include paddle surfing or windsurfing.
Such watersports create the opportunity for lasting family memories you will long remember.
Boat Trips
And, what about a sailing trip? You can join a multi-day sailing cruise or just a one-day boat trip. 
You'll have the chance to explore the stunning coastline and see small islands such as Spinalonga, Mochlos Psirra in the Gulf of Mirabello, Kolokytha island, or the uninhabited Dia island. 
The perfect chance to see the Cretan coastline from a different perspective! Did we mention the remote beaches you and your teens will discover?
Best Things to Do in Crete with Teens Seeking Adventures
If you would love a sense of adventure in your holidays, know that you have made a great decision to visit Crete.
Samaria Gorge
Curious to visit the longest gorge in Europe? Then you can't miss hiking in Samaria Gorge, the longest canyon in Europe. 
This natural park offers breathtaking views along the route, throughout which you can stop and take several memorable photos.
And what's more refreshing than a dive into the sea at the end of a long walk? Yes, you can do it at the exit of the Samaria Gorge, where the stunning beach of Agia Roumeli and the stunning southern coast of Crete wait for you. 
Other Gorges in Crete
In case you want to visit a smaller gorge, worry not. Samaria gorge may be the most famous canyon in Crete, but it does not have to be the most beautiful, nor the only gorge to explore!
Because walking through a gorge is a favorite activity in Crete, you would want to start your tour early in the day to avoid the crowd and the afternoon heat. Your children will thank you in the end.
Be prepared with snacks, comfortable footwear, and sun cream, and you'll enjoy a lifetime experience with your children hiking in Crete!
Biking Tours
Biking tours could be a perfect alternative if you want to discover traditional villages and enjoy the picturesque Crete landscape without missing out on some movement. 
You can plan your own tour or join scheduled ones. Just head to the nearest center and ask the locals for a place to rent a bicycle.
It won't be long until you are ready to discover the fantastic natural beauty of Crete. 
Best Things to Do in Crete with Teens who are Mythology Enthusiasts
In Greece, you can satisfy your teens' desire for mythology in many ways. And since you are in Crete, you are even more fortunate.
Explore Knossos Palace
One of the best things you can do in Crete with your children is to visit the Palace of Knossos. It is an ancient palace and home to the first civilization in Europe.
Apart from witnessing the unique sights, your teens will love the various myth legends connected to this site. Think of the story of Daedalus and his son Icarus, the love story between Theseus and Ariadne, or the tale of King Minos and the Minotaur. 
Of course, there are many other archaeological sites to visit on the island… think of Phaistos, for instance, if you prefer to avoid the crowds
Visit the Heraklion Archeological Museum
You can see some artifacts and pottery from the archeological site of Knossos in the Heraklion Archeological Museum. It is about a fascinating museum, where you can learn all about the oldest civilization in Europe. 
Twenty rooms in chronological order, starting with Neolithic times, will travel you and your little ones back in time. Moreover, you can't miss the Phaistos Disc, a mysterious Minoan artifact covered with undecipherable symbols.
Apart from the family fun with all the interactive exhibits, your children will also pick up valuable knowledge. The perfect scenario for all parents. 
Discover the Many Caves on the Island
Would you like to combine your teens' mythology passion with a touch of adventure? 
Dikteon Cave is one of the most spectacular Cretan caves. This cave, located on the eastern slope of the island, is believed to be the birthplace of Zeus. 
The ambiance full of stalagmites and stalactites will keep you cool, even on the hottest summer days. And the best part? Your teens will love the whole setting. 
Things to Do in Crete with Teens for Fun Devotees
There is no way a vacation in Crete can go without fun. From the moment you step on the island, you and your family will have the time of your life. Yet, some activities are ideal for making teens laugh. 
Water Parks for Teens
First, one of the best things you can do is go to a waterpark. Acqua Plus is the biggest waterpark in Crete, with a great range of slides for all ages; it's 30 km from Heraklion. 
Near Heraklion, Water City is another famous waterpark worth visiting if you are in the area. 
In case you are closer to Chania, head to Limnoupolis instead. It has anything from swimming pools to water games for youth and adults alike. If you want to know everything about the waterparks on the island, check this post with more tips on the best family holidays in Crete.
Theme Parks
Dinosauria Park is another place worth seeing if you have children. Located near Heraklion, this interactive theme park houses model dinosaurs and other prehistoric animals within a recreation of their environment. 
Wandering around the park with its shops, interactive displays, and creative activities will undoubtedly entertain your teens!
On the other hand, food lovers can have fun and learn about Greece's traditional products at the Cretan Olive Oil Farm in Agios Nikolaos. It is a place where your sensory organs are stimulated: you can see a unique environment, smell and taste traditional products such as olive oil and join ceramic lessons or cooking classes. 
All while interacting with farm animals like one of the most iconic in Greece: the donkey! Your kids will adore it. 
You might also want to read: Best hotels with water parks in Crete.
Things to Do in Crete with Teens who Love to Explore Cities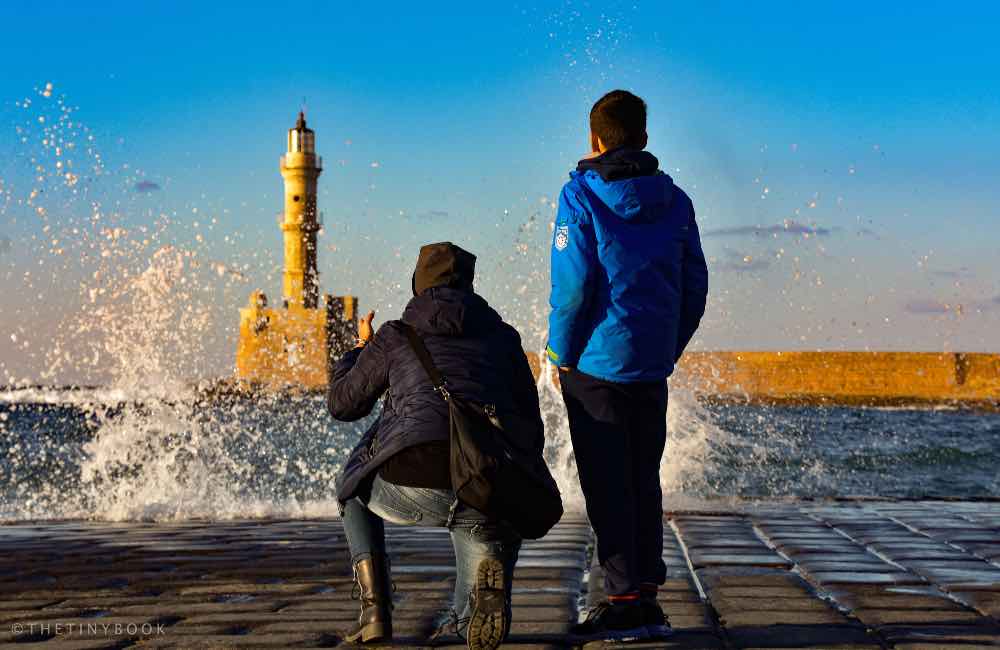 Who said one can't have fun exploring a city? The streets of Heraklion, the alleys of Chania, and Rethymno can offer you a great chance to wander around shops, cafes, restaurants, and stunning historical buildings.
Moreover, if you take a city walking tour, you and your children can get exciting insights into the Cretan history and local culture. 
Things to Do in Crete with Teens: Heraklion
Starting with Heraklion, one of the best things you can do here is enjoy the city landscape from the rooftop of the Venetian Fortress in the city's old port. Koules, the Venetian Fortress's name, also known as Rocca al Mare, dates back to the 16th century.
Strolling around the old part of town in Heraklion, you can let yourself get carried away by its engaging atmosphere. Narrow streets and hidden corners lie between busy cafés, lovely restaurants, and little shops.
Near the shopping and restaurants area, you can notice the impressive, well-preserved Venetian building, the Loggia, now Heraklion's town hall. Another piece of art stands out at the center of Heraklion's old area in town, the Morosini Fountain, where lively city scenes happen all around.
And that's not all, you will run into churches, the Cathedral of St. Minas, the Historical museums and the Central Market. You and your teens will have plenty of stuff to do!
The best tours in Heraklion for families with teens:
Things to Do in Crete with Teens: Chania
Diving into the past is a living reality in Chania! Many monuments date as far back as Venetian, Ottoman, and Egyptian times.
The Venetian Port in the Old Town of Chania has been one of the most valuable economic headquarters of the Eastern Mediterranean Sea. There you'll have the chance to admire the charming Egyptian lighthouse, built by Venetians and then modified by Egyptians in 1839. This is worth a visit for you and your family.
Opposite the beautiful lighthouse, you'll see the impressive Fortress of Firkas. From there, you'll have the chance to enjoy a breathtaking view of the harbor, the old town, and the White Mountains. 
The White Mountains, known as Lefka Ori in Greek, take their name from the limestone terrain that glows white under the Cretan bright sunshine. An interesting fact to share with curious teens!
Along with this curiosity wave, if you want to see the first mosque built by the Ottomans in Crete, you can't discard the Giali Tzamisi on your tour of Chania. This is an example of Muslim architecture, and it now hosts various exhibitions. 
After a glass-bottom boat ride around the harbor with your teens (Yes, you can do it!), you can't leave Chania without going to the Municipal Market. It's in the center of the city, and since 1980 it has been a designated protected monument. Here you can buy and taste traditional Cretan products that will surprise you with their deep taste. 
Locals know: The Municipal Market of Chania will be closed for renovations until December 2023.
If you want to experience a family dinner in a traditional Cretan atmosphere, you should try out a traditional Greek tavern to eat authentic food. Their tasty cooking will win over even the most reluctant teenager. And if they get too fussy… go with Chania's best street food!
The best tours in Chania for families with teens:
Boat Trip with Guided Snorkeling & Stand-Up Paddling: Snorkel with the marine life of the Aegean Sea on a 3-hour guided boat trip from Chania. Swim in the crystal blue waters off the coast of Almyrida and discover stunning marine life. >> Check this tour here.
Full-Day Samaria Gorge Trek Excursion: Enjoy a challenging trek through one of Europe's longest gorges. Marvel at natural wonders, from the White Mountains to a thousand-year-old forest. >> Check this tour here.
Full-Day Land Rover Safari Experience: Discover Cretan culture on this full-day safari tour from Rethymno and Chania. Visit an old village, a secluded beach, an olive oil factory, a family winery, a tavern, and enjoy traditional dishes. >> Check this tour here.
Things to Do in Crete with Teens: Rethymno
Rethymno is the third-largest town in Crete. The incredible architectural mix that the Venetian and Turkish occupation has left on the Old Town will surely jump out at you. For example, take the townhouses, which you will love for their Venetian pastel colors and Turkish wooden balconies. 
As you walk across the city, you and your children will have the chance to see the 17th-century Rimondi Fountain with water flowing from three lions' mouths and an Ottoman minaret from 1890. 
And in case you are in the mood for a musical, consider visiting the Neratze Mosque, which once was a significant religious building in the area.
As you wander the old town, chances are you'll end up at the Venetian Harbor. There, you will find picturesque restaurants and cafés, perfect to taste Cretan cuisine with your family. 
Moreover, together with the 17th-century lighthouse, the Old Harbor is the perfect spot to shoot postcard photos. 
Looking for another place for memorable shots? Then you should consider the Venetian Fortress. It has a stunning view over Rethymnon's old town and out to sea. 
And last but not least, you can't miss out on walking the cobbled streets of Rethymno, stopping by the souvenir shops. The best holiday conclusion for your teens is to find a Cretan keepsake to take home!
The best tours in Rethymnon for families with teens:
Pirate Boat Cruise with Swimming Stops: Ok, a pirate boat might not be the thing a teen will be waiting for, but trust me, the swimming spots are all worth the trip! >> Check this tour here.
South Crete Private Tour with Lunch: Discover the natural beauty of Crete, as you explore Kourtaliotiko Gorge. Relax on the picturesque Kalypso beach and dine with a delicious, traditional lunch in Mariou Village. >> Check this tour here.
Self-Drive Jeep Safari to South Coast, Palm Beach & Canyons: Take your teens along the Cretan landscape as you drive a Jeep! >> Check this tour here.
So here you are. These are some of the most unmissable things to do in Crete with teens. All you have to do is book that ticket to Crete and prepare to create family memories that will last a lifetime.
And remember: after your time in Crete, your family bonds and relationships will be stronger than ever. 
Was this guide to visiting Crete with teens helpful?
Let me know in the comments below!
More articles to plan the perfect family vacation in Crete with teens (and smaller kids too!)
This Belongs to a Board! Pin This Guide to All the Cool Things to Do in Crete with Teens!
Written by Dimitrios Tsevremes
Passionate about travel, spirituality, and sports, I have lived in 5 countries and traveled to more places than I have counted. Writing for me is a way to express myself and my creativity. Whether I write for my blog or a freelancing gig, I always fall in love with the process and often lose my sense of time. If you want, you can check out more about me and my work here.
---
You might also want to read:
About the author of this blog: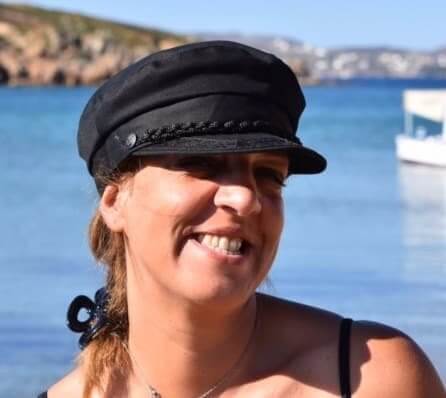 Gabi has been living in Crete for the last five years. On the island, she juggles being a solo mom, hosting culinary tours in summer, translating, and freelance writing.
She's written for Greek Reporter, published several travel guides about Greece, and had more glasses of frappe than any regular person would be able to handle.
COMING TO CRETE SOON?
Get in touch and let me know!