Traveling is a fun activity on its own, yet sometimes road trips (as well as sea and air trips) can be very long and tiring, especially for the younger members of the family. There are dozens of travel games that you can play with the family and many more to keep your kids entertained during a long ride. In this article, I show you the ones we prefer when it comes to spending too many hours on the road. They're travel-size games, not very expensive, easy to pack, and – most importantly – super fun!
---
Disclaimer: Posts include affiliate links to products or services. I might earn a commission if you make a purchase, at no extra cost.
---
RESOURCES TO BOOK YOUR TRIP TO CRETE:
FLIGHTS: Use Skyscanner to compare prices before booking a plane ticket.
FERRIES: Check out Ferryhopper for convenient ferry tickets.
ACCOMMODATION: Look for hotels and rental homes on Booking.com.
PRIVATE TRANSFER: Welcome Pickups offers local English-speaking drivers, flight monitoring, and a very convenient (flat) pre-paid fee
CAR RENTAL: Use Discover Cars to find an affordable car to rent.
TOURS: Live unforgettable adventures and cultural experiences with Get Your Guide.
INSURANCE: If things go wrong, you'll get coverage against illness, injury, theft, and cancellations. I recommend Safety Wing for peace of mind.
A quick guide to the best hotels in Crete
Budget: So Young Hostel in Heraklio, Cocoon City Hostel in Chania, Matthias Hotel Apartments in Rethymnon, and Villa Galini in Agios Nikolaos.
Mid-range: Capsis Astoria Heraklion in Heraklion, Porto Antico in Chania, Archipelagos Hotel in Rethymnon, or Hotel Port 7 in Agios Nikolaos.
Luxury: Galaxy Iraklio Hotel in Heraklion, Hotel OFF in Chania, Avli Lounge in Rethymnon, or Minos Beach Art Hotel in Agios Nikolaos.
Check more: Where to stay in Crete.
11 Super Fun Travel Games for Long Road Trips
Cards, Dice, but also I Spy or The Alphabet Game are some of the traditional travel games I used to play with my brother in the back of our car when we used to go on long road trips with my mom and dad. They bring me lots of good memories, but let's face it, our kids don't fall for them just as we did!
Used to electronic games on computers, phones, and tablets, our kids are looking for something more challenging than just spotting objects out of the car. I tried avoiding tablets as much as I could – when they grew up quite a lot, I gave up, but never for the long length of the trip!
We've always packed games, at least three or four when going away. They've proved saviors in hotels (on a rainy day or when adjusting to jet lag and nights seem to be too long), but also in airports, strike days at the Greek ports (oh, so common!), and other unforeseen adventures.
So today, I've decided to share with you some of the best games that have come in our backpacks in many years of travel. Take a look!
11 Entertaining Travel Games for the Road
These are just some of our many favorites, in no particular order… wait, no! Not really!!
Take a look…
Uno
How could this classic game be missing from my list? It's our family favorite game that has been with us in so many different situations, from power outages, too-long-to-be-fun flights, and even sailing from Paros to Naxos during a storm, to forget all about dizziness!
Our deck of Uno has been so mistreated that, last Christmas I decided to replace it. Instead, I found this even more entertaining Uno Flip which you should have to try! The cards are double-sided so memory and surprise effect is part of the game. Be ready to flip when you least expect it! If you're a fan of Uno already, you'll love it!
There are plenty of other Uno versions available, including Uno Emoji, Uno Super Mario, Uno Harry Potter, Uno Star Wars, and more. There's even an Uno Retro Edition for fans and collectors and a waterproof Uno, specially made for the beach!
Spot It!
I got this game about 6 years ago when the kids were still… kids! And I must say we still play Spot It! It's a great entertaining game that can help you pass very long hours.
It kept us company during night train rides in Thailand and ever since has come with us a little bit everywhere.
There are great versions including Spot It! Junior Animals is great to include small kids in the game, and Spot it Campers, to remain in the theme of travel!
Learn How to Play Spot It!
(Video Courtesy: Zia Comics)
Blink Card Game: The World's Fastest Game!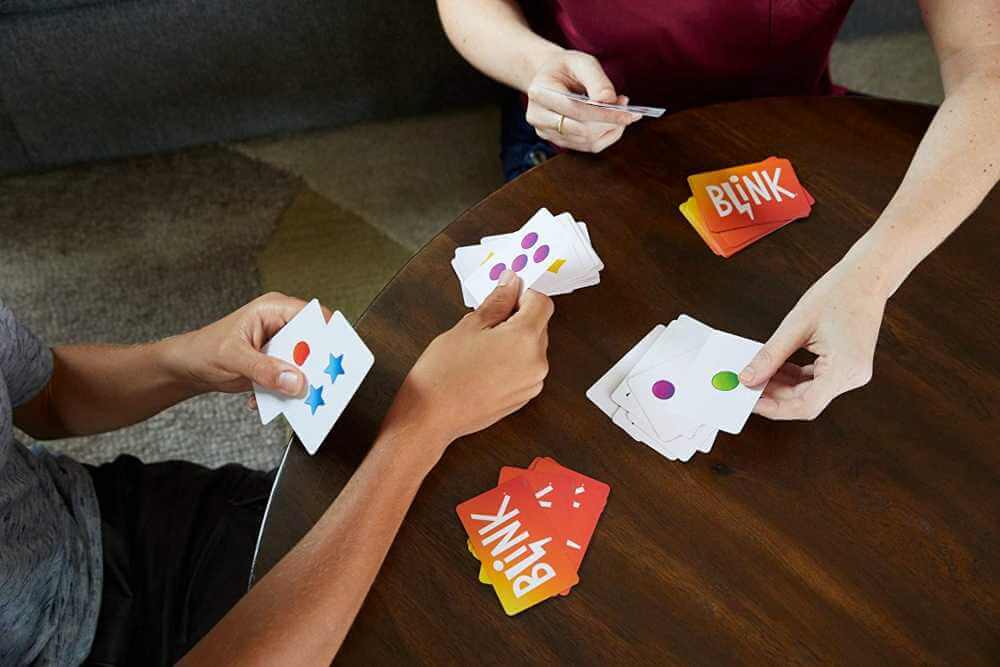 Got kids with no patience? Then try Blink!
To play Blink you need to be hyper-fast both with your eyes and your hands! The idea is to match the color, shape, or count on the cards in your hand to one of two discard piles.
Play all the cards from your draw pile to win the game!
Quarto
A completely different pace from Blink, this is a great game for older kids and teens. It requires concentration and a lot of patience. A round of quarto can keep you entertained for a long time!
In my family, this is the typical game I give my kids when I want to enjoy my siesta time at the beach! This is also a game for two players that need to use a lot of reasoning, deducing, and strategy. It can be a little bit heavy because it's made of wood, but your kids will love it!
The Travel Quiz Book: Puzzles, Brain Teasers, and Trivia Questions for People Who Love to Travel
Technically not a game but a book, this can provide long hours of fun and learning both at home and during any trip!
This one-of-a-kind collection features quizzes, puzzles, and brain teasers. Great when planning a travel-themed quiz night like the one featured here, or in case you're about to board a long-haul flight.
This book will take you on a trip no matter where you're checking it, and will make you think hard to discover the answers, as the publisher puts it, questions can be from the deceptively simple to the downright diabolical.
Put your travel knowledge to the test and laugh for hours with as many players as you wish!
Games On the Go: Portable Roadtrip Family Games to Challenge and Entertain
Games on the Go is a super entertaining collection of 50 games and activities to play anywhere, from the airport lounge to the car, the plane, and the tent!
It's conveniently portable and fairly cheap if you consider all the games and fun stories that can come out of this collection of cards. They feature games that are ok for all ages, and that range from silly guessing games, perplexing word games, mind-bending memory challenges, wacky trivia questions, searching games, and much, much more.
Around the Table Games Family Talk
On the same note as Games on the Go, this collection of cards helps pass the time and create fun moments of family talking when traveling by car since the driver can also be involved without getting too distracted.
The deck of cards, in a super convenient travel format, features a hundred questions to encourage imagination, allowing you to get your know your family in ways you wouldn't have imagined. It's a great way to spend the time when you are forced to stay inside because of bad weather.
Travel Scavenger Hunt
Briarpatch Travel Scavenger Hunt Card Game for Kids includes activities for all the family, car rides, and road trips.
In this game, kids (and all the family) can spend hours searching for the objects found on the cards…! Find common things such as a red car, or less usual such as a license plate with a particular letter! This travel game keeps kids' attention on the road, vital when you want them to enjoy the landscape and … put those phones away!
Train of Thought: Card Game for Kids & Families
Skillmatics Train of Thought: Card Game for Kids & Families is a fantastic travel game of cards based on questions and connections that will make all players, no matter their age, think and use their imagination while answering questions and accepting daring challenges.
There are 140 cards in the game and it is perfect for coups of friends and families.
During the game, players take turns in answering questions according to different card colors, each of them standing in a train compartment. The goal of the game is to complete your Train of Thought collecting a set of 3 compartments for each of the colors in the deck.
Kids Create Absurdity: Laugh Until You Cry!
This is another super fun game: it combines features and fundamentals of super popular games such as Cards Against Humanity (…and Gosh I love that game!) and Apples to Apples into one hilarious game with content that's ok for all ages.
Convenient but maybe a bit bulky with all the cards included, it's, in any case, a great game for authentic fun creating… absurdity!
No more boring evenings, endless trips, or airport waits.
Cards Against Humanity!
If you've learned to know me, you know this game couldn't be missing. Although I admit I (still) have not played this game with the kids, I do enjoy taking this game out on an all-adult night after a good round of beer and pizza, either at home or when on the go!
This thought-provoking game has quickly turned into one of my favorites (I love it as much as Uno, for what it can count, although it's a different kind of fun, I have to reckon!
Yes, it can be vulgar, obscene, and not for everyone… I AM WARNING YOU! But it does open channels for honest confrontation about almost any subject: politics, sex, justice… society in a nutshell, and human nature.
I do see myself taking this game out in the future to play with my kids, no taboos admitted. I envision a great opportunity to learn, discuss ideas and communicate with the whole family.
>> CHECK CARDS AGAINST HUMANITY HERE
---
Did you like any of these travel games?
Let me know in the comments below!
Read more:
---
Hey! Don't Leave Without Pinning this Travel Games Guide!
About the author of this blog: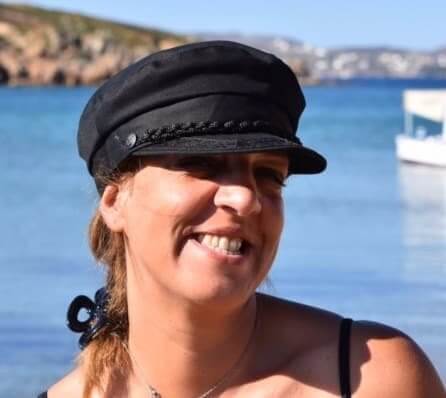 Gabi has been living in Crete for the last six years. On the island, she juggles being a solo mom, hosting culinary tours in summer, translating, and freelance writing for several travel blogs.
She's written for Greek Reporter, published several travel guides about Greece, and had more glasses of frappe than any regular person could ever handle.