Crete is a perfect island for those who love to enjoy the beach without any clothes on…it's a well-known secret! Even though nudism is not officially allowed, the most beautiful hidden coves on Crete are the ones that fans of naturism have been visiting for years. If you are one of the many naturists that visit Crete every year, check this list including the best nudist beaches in Crete.
---
Disclaimer: Posts include affiliate links to products or services. I might earn a commission if you make a purchase, at no extra cost to you.
---
The Best Nudist Beaches in Crete
Want to Sunbathe Naked in Crete? Nudism on the Island
Officially, there are no nudist beaches in Greece – yet sunbathing without clothes is not forbidden. I've often been asked whether this is a practice frowned upon by locals, and my answer is no, or not always!
Let's make things clear: Greece is a deeply religious country and most locals would never dream of sunbathing naked on a popular or familiar beach.
Going topless is a bit more common in well-known places such as Elafonisi, Balos, or Falassarna, but not every woman you see will be wearing just the bottom of her swimming suit.
It's not that common, just a bit more common than naturism. Crete still has a long way to go before turning into a place where topless is an everyday thing.
However, discrete naturism is common in many areas. And you can do it knowing that nobody will bother you or stare.
Let me help you find that perfect hidden cove that every nudist on Crete knows about!
Tip to remember: This small list features some great nudist beaches on the coasts of Crete. However, if you're too lazy to go through it, get a map, rent a car, and drive south. Wherever you find a small hidden cove, just take off your clothes. Nobody will ever say anything!
Let's Start by Getting Ready for Crete!
RESOURCES TO BOOK YOUR TRIP:
Book your flight: I use Skyscanner to compare prices before booking a plane ticket.
Book your ferry: When ferries are more convenient than air travel, I use Ferryhopper.
Book your accommodation: I've tried many different platforms for accommodation, but none of them beats the advantages of Booking.com.
Book your car: The best way to find an affordable car to rent is to use a powerful search engine that compares all the rental companies in the market. I use Discover Cars.
Book your tours: Live unforgettable adventures and cultural experiences with Get Your Guide. For instance, you can Visit Elafonisi, discover Balos Beach, hike Samaria, or explore Knossos.
Don't forget travel insurance: Things can go wrong at times, but travel insurance will protect you against illness, injury, theft, and cancellations. I recommend Safety Wing for peace of mind.
Top 5 Nudist Beaches in Crete
These are the 5 most famous and beautiful naturist beaches in Crete, don't miss them!
Kedrodasos Beach
Region: Chania
Latitude: N 35.26903
Longitude: E 23.557351
Characteristics: Sandy beach – Not organized.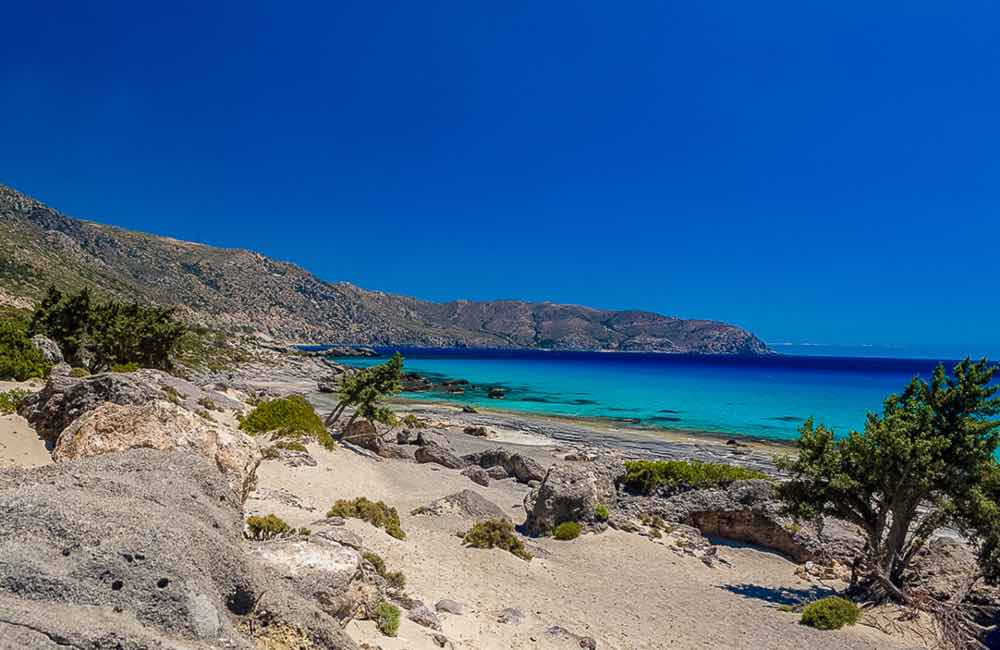 Kedrodasos is a wonderful beach located about a kilometer east of the more famous Elafonisi Beach. It's one of West Crete's most beautiful sandy beaches, with juniper trees and hidden rocky coves, perfect for sunbathing naked.
You can visit both Elafonisi and Kedrodasos, and even add a third beach to your day visiting Aspri Limni, here is how!
The sand is soft and white, while the sea is a vivid turquoise shade. The beach completely lacks organization, and it has lately turned into a trendy place.
This new popularity has largely discouraged naturism enthusiasts who have found a more secluded area about 1 km farther east.
This area is known as Agios Ioannis, and there are three different shores that are completely naturism-friendly.
The best way to explore Crete's beaches is to do it in your car: Compare car rental prices.
Where to Stay Near Kedrodasos, Crete
Most of the people that usually visit Kedrodasos choose to camp in the area. Even when camping on a beach is not allowed in Greece, well… neither is nudism, and yet here's a list of nudist beaches.
So, as long as you take care of the environment, don't light fires, and remember that the juniper forest is protected, there's no major risk in camping.
A quick guide to the best hotels in Crete
Budget: So Young Hostel in Heraklio, Cocoon City Hostel in Chania, Matthias Hotel Apartments in Rethymnon, and Villa Galini in Agios Nikolaos.
Mid-range: Capsis Astoria Heraklion in Heraklion, Porto Antico in Chania, Archipelagos Hotel in Rethymnon, or Hotel Port 7 in Agios Nikolaos.
Luxury: Galaxy Iraklio Hotel in Heraklion, Hotel OFF in Chania, Avli Lounge in Rethymnon, or Minos Beach Art Hotel in Agios Nikolaos.
Check more: Where to stay in Crete.
Want to visit Kedrodasos? Check this guide to the beaches in West Crete.
Plakias, Damnoni, and Ammoudaki
Region: Rethymnon
Latitude: N 35.190429
Longitude: E 24.39392
Characteristics: Sandy beaches with small pebbles – Some nudist beaches in Plakias are organized.
Most beaches in the area of Plakias, on the southern coast of Rethymnon, can be considered naturist-friendly. People easily get rid of their clothes for a swim, usually at the extreme ends of each of these beaches.
There are two small coves close to Damnoni, with fine golden sand and crystal-clear waters: Ammoudaki and Mikro Ammoudaki.
Both have traditionally been placed on the list of the best nudist beaches on the southern coast of Crete.
However, things have started changing, especially since Mikro Ammoudaki has become more popular and crowded, and not much naturism happens there during July and August.
Ammoudaki is still a good option for naturists. Here, it's possible to rent umbrellas as well as enjoy a very quiet atmosphere.
You may also want to read: Gay Travel in Crete – Insanely Useful Guide to the Top Gay-Friendly Spots on the Island!
Where to Stay in Plakias, Crete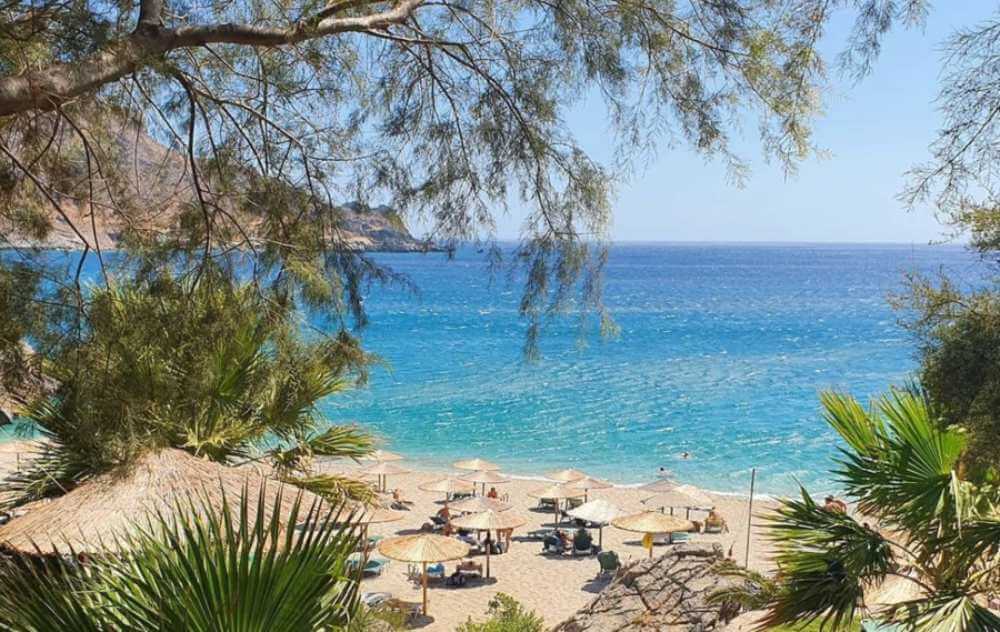 There's a good choice of accommodation near the nudist beaches on Plakias, these are the ones you should check before booking a room in the area.
You might also want to read: Best beaches of southern Crete.
Red Beach (Matala)
Region: Heraklion
Latitude: N 34.98751
Longitude: E 24.748402
Characteristics: Sandy beach – There's one beach bar but the organization is basic.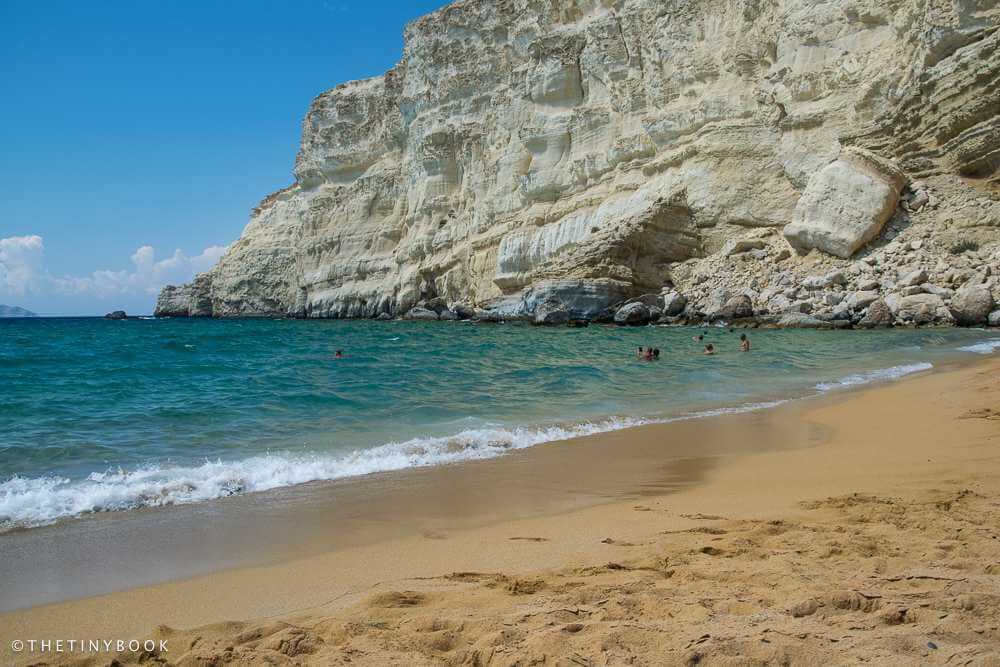 Red Beach has often been named one of the best naturist beaches in the world. Since it's fairly hard to access (only by hiking or by boat from the popular Matala Beach), it still preserves a relatively isolated spirit.
You might also want to read: Red Beach Matala Crete: Everything about the Stunning Kokkini Ammos.
This secluded beach has stunning fine red sand, and it's completely protected by impressive tall rocks that surround the beach and create a magnificent underwater scenario ideal for snorkeling and exploring with a canoe.
Where to Stay Close to Matala and the Red Beach, Crete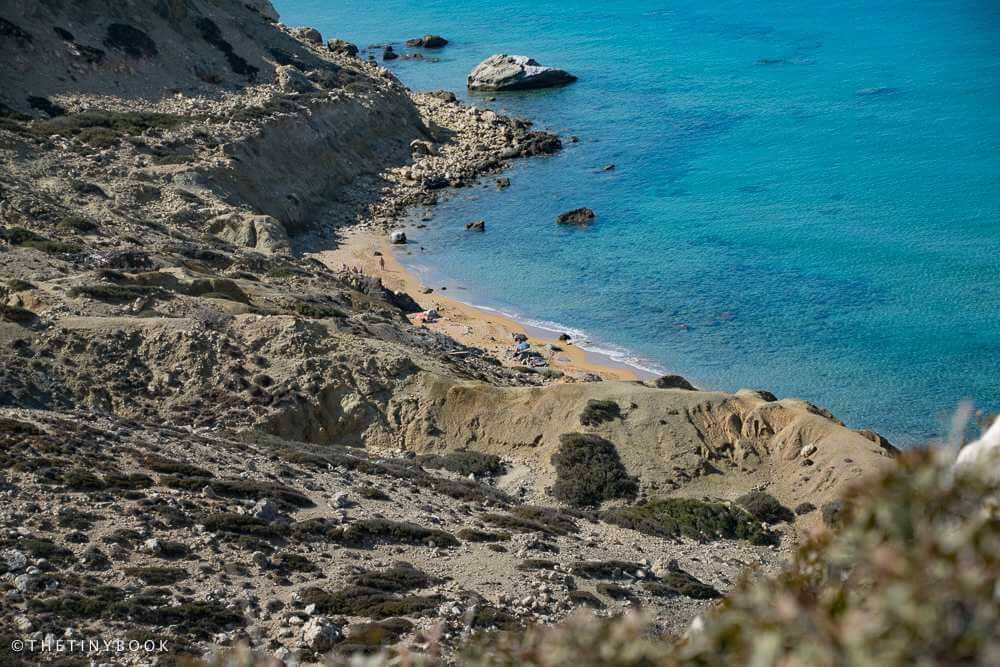 There is plenty of accommodation available both in the village of Matala as well as in the small villages in the area. Some of the top-rated places include the following:
You might also want to read 3-week in Crete itinerary
Sarandaris Coves (Hersonissos)
Region: Heraklion
Latitude: N 35.333544
Longitude: E 25.38477
Characteristics: Sand mixed with small pebbles, rocky coves – Organized beach.
Sarandaris (or Sarantaris) is a series of small coves and hidden beaches about 27 km from the capital of Crete, Heraklion.
They enjoy a somewhat protected position from the winds thanks to the cape of Sarandaris. It's quite close to the cape that you will find one of the few nudist beaches on Crete located on the north coast.
This sandy beach is located in an area protected by fairly tall stones that offer discretion from prying eyes as well as protection from the winds.
The clear waters and interesting rocky formations under the sea make it a great place for snorkeling. For those interested in some nightlife fun, the main seaside resort of Hersonissos is just minutes away from Sarandaris Coves.
Where to Stay in Hersonissos, Crete
The range of accommodation in the area of Hersonissos y fairly wide. It goes from all-inclusive hotels to private villas, budget studio apartments, and mid-range hotels.
In the area, it's also possible to choose a city hotel in Heraklion or the close-by coast of Malia. There's a lot to explore, as well as hotels for every pocket. If you plan to stay in the area, check the following reviews.
Kommos Beach
Region: Heraklion
Latitude: N 35.014615
Longitude: E 24.760182
Characteristics: Sandy beach.
Kommos Beach is on the southern coast of Heraklion, about 70 km from the capital and not far from Matala Beach.
Kommos has often been placed on different lists of top nudist beaches on Crete since it's so isolated and quiet, and few people are aware that naturism has spread on this coast of the island.
This is a golden sand beach, although there are some slippery rocks on the sea bottom and close to the shore in some areas. There's very little organization here but there is a taverna at one end.
Naturism and nature enthusiasts adore this beach because of the green landscape. And since it's really wide, there's never the feeling of being in a crowded place.
Be aware that the bay is quite open, so it's not always protected from the winds. The sea can be a bit rough at times. Also noteworthy – the sunsets in Kommos are incredibly beautiful.
Being about 5 km from Matala, a stay in the area is a great idea: Click here to check the best places to stay near Kommos.
Other Amazing Nudist Beaches in Crete
Explore more beaches in Crete where to sunbathe, swim, and spend a great time… no clothes needed!
Lentas Beach
Region: Heraklion
Latitude: N 34.929874
Longitude: E 24.922728
Characteristics: Sand mixed with small pebbles – Organized beach.
The beach of Lentas, also on the southern coast of Crete, is located not far from the beautiful Agiofarago Beach, about 75 km from the capital city of Heraklion.
Those interested in exploring should be aware that there are other nudist beaches in the area also, such as Kali Limenes and the western bay of Diskos, one of Crete's most traditional places for naturists.
None of the beaches in the area are very well organized, but you can find all the supplies you need in the small village of Lentas.
If you're also interested in history, there are a few excavations that are possible to visit close by.
Where to Stay Near Lentas Beach, Crete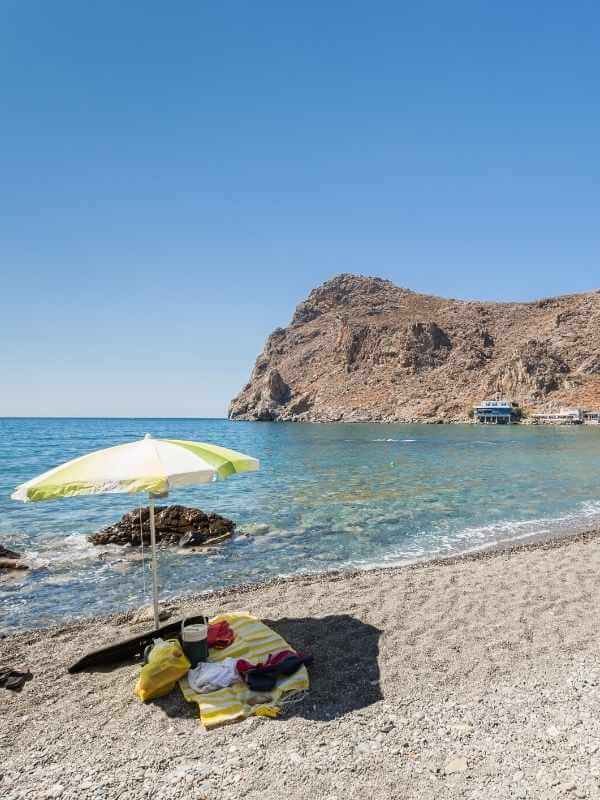 Although the village and the area are quite isolated due to the difficult access it's still possible to rent a room in Lentas. Here are some of the most popular and best-rated ones.
Vai Beach
Region: Lasithi
Latitude: N 35.254188
Longitude: E 26.265147
Characteristics: Sandy beach – Organized.
Probably one of Crete's most famous beaches, Vai Beach is best known for the natural palm tree forest that surrounds the shore.
It's the biggest natural palm forest in Europe (though not the only one in Crete), as well as a Natura 2000 protected area.
Vai is located about 95 km away from Agios Nikolaos by car. Crete's easternmost city of Sitia is only 25 km away.
However, not every visitor is aware that it's possible both to swim and sunbathe in the buff at the extreme ends of Vai beach.
Here, there are a few hidden coves, which you can reach by walking from the main beach of Vai.
They have an isolated character, but although you might find yourself all alone on this tiny shore, you can still take advantage of the organization found on the main beach of Vai, such as tavernas, showers, and toilets.
Very close to Vai Beach — less than a 10-minute walk away — the small cove of Psili Ammos is another naturist spot that you can check in the area.
This beach has crystal clear waters, and it's fairly unknown to the general public visiting Vai, which makes it quite isolated and a paradisiac refuge for naturists.
Where to Stay Near Vai Beach, Crete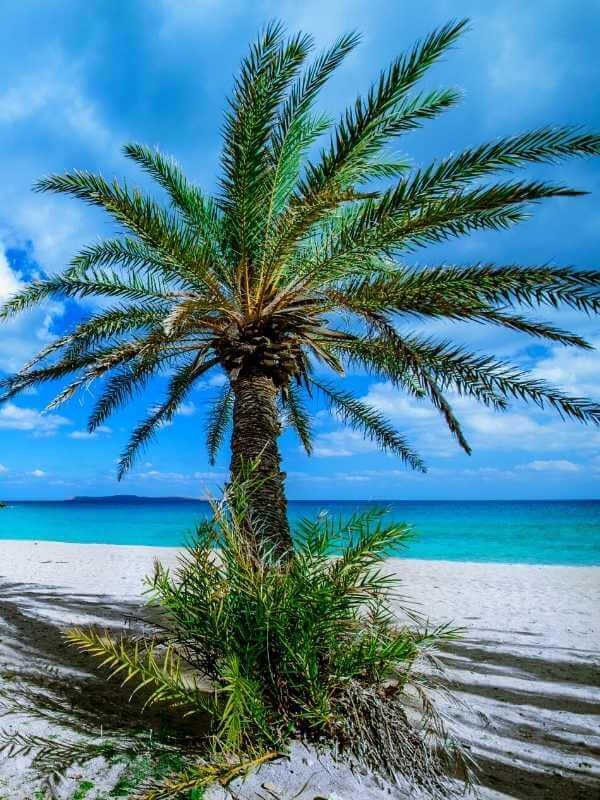 Just visiting for the day? Check accommodation in the bigger cities of Agios Nikolaos, Ierapetra, or Sitia.
These three centers will allow you to visit several landmarks in the area, such as the island of Spinalonga or the Lasithi Plateau.
You might also want to read: Explore the Fantastic Unspoiled Beaches in South Crete.
Gialiskari and Krios (Two Naturist Beaches in Paleochora)
Region: Chania
Latitude: N 35.236724
Longitude: E 23.719254
Characteristics: Both sandy and pebbled beaches – Partially organized.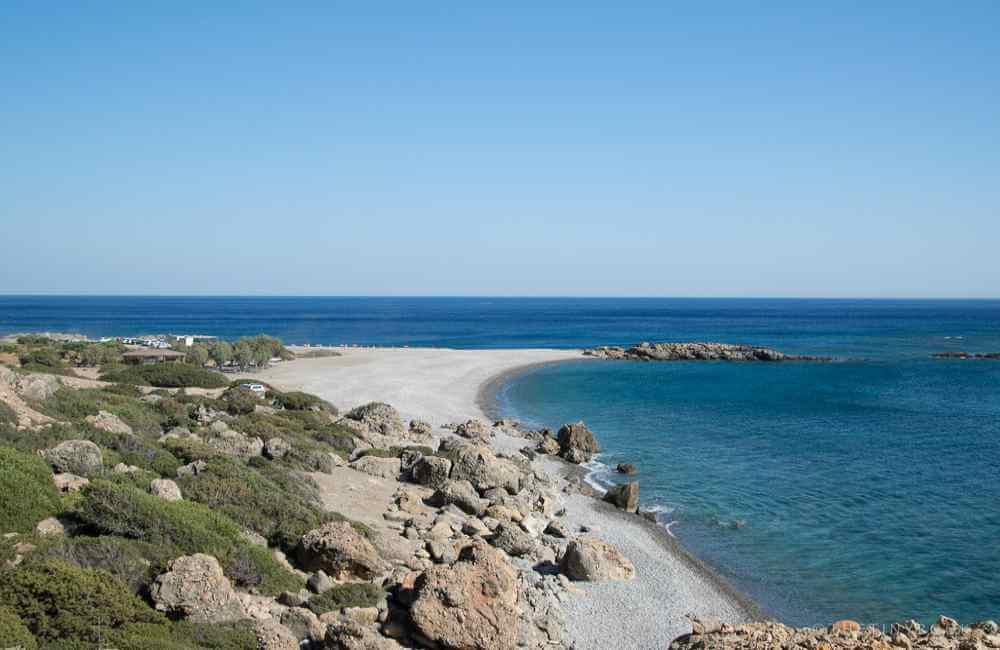 Back in the west, Paleochora is one of the seaside villages in Crete that both tourists and locals adore.
In fact, it's very hard to find someone who doesn't love the relaxed scene of Paleochora, the little village, as well as its lively nights and magnificent beaches spread throughout the area.
Although there are several other nudist beaches in Paleochora, Gialiskari has rightfully won a place on this list.
The main area of the beach is not the place to sunbathe naked, but if you head towards the end of the beach, there is a secluded place, a favorite of naturists.
Gialiskari combines the organization (sunbeds, umbrellas, beach bar) of the central portion of the beach with the stunning mountain landscape, the cold waters of the south, and its own discrete place to take off your clothes!
Gialiskari features coarse sand mixed with pebbles and can be accessed by the dirt road along the coast, towards the east of Paleochora.
Krios Beach, also in Paleochora, is less than 10 km from Paleochora's main beach, Pachia Ammos, and it can be reached by car, driving west on an asphalt road. The beach has small pebbles and, as with most south coast beaches, the sea is perfectly clean.
The beach is divided into two different parts by rocks, with the smaller being the naturist one, located towards the west.
More organized facilities can be found on the eastern side of the beach, including a taverna and a parking lot.
Read more about the southern village of Paleochora.
Where to Stay in Paleochora, Crete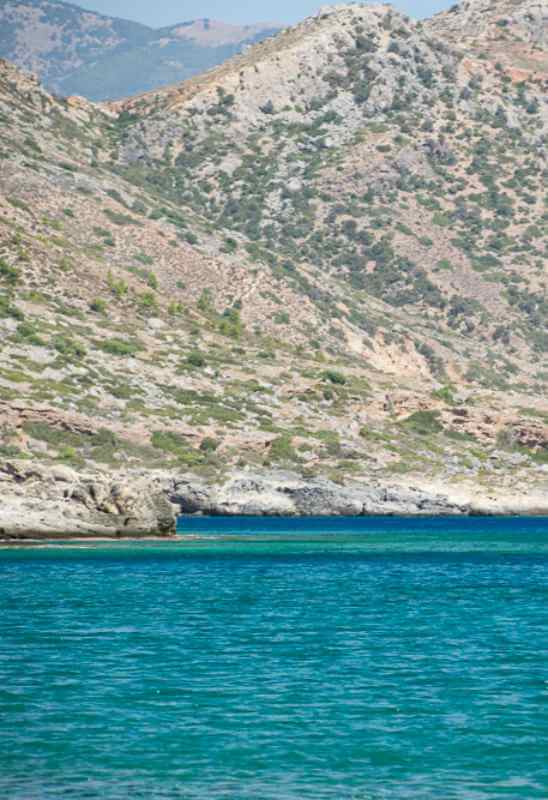 These are the three places I suggest for a stay in the area:
Should you find these three locations fully booked (which is rather common, especially in the high season), check the reviews, photos, and rates of these other places to stay in Paleochora.
Would you rather stay in a house? Check out the best Villas in Paleochora!
Glyka Nera Beach
Region: Chania
Latitude: N 35.201796
Longitude: E 24.107225
Characteristics: Sand mixed with pebbles – Very little organization.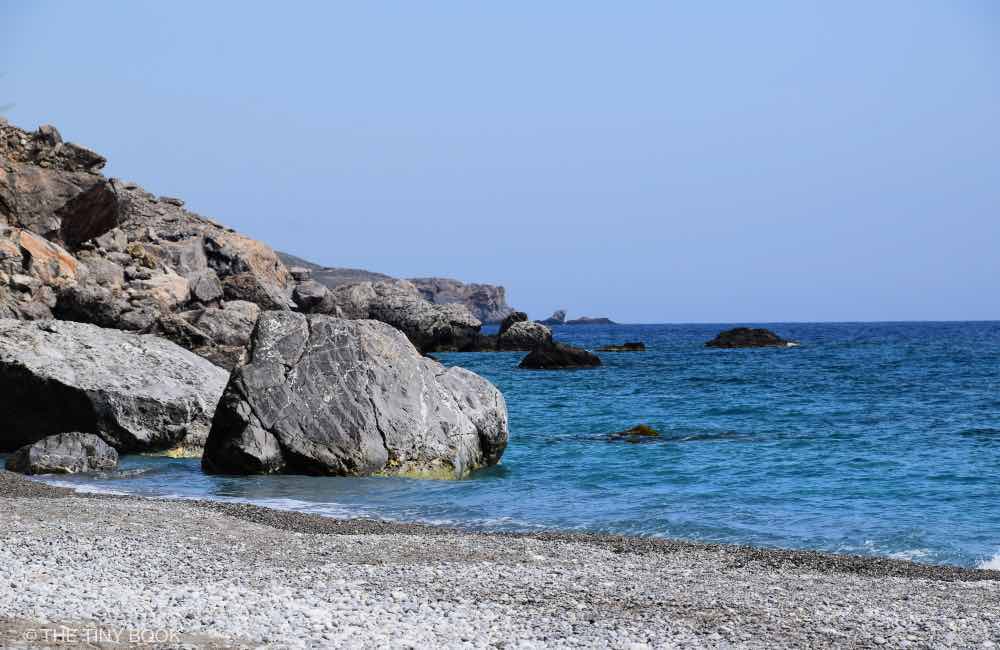 One thing that should be said before I start writing about Glyka Nera is that this beach should be at the top of the list of the best nudist beaches in Crete.
I didn't place it among the top 5 simply because I ordered the list according to the ease of access and popularity.
However, that being said, Glyka Nera is for me, the best nudist beach you will find on Crete.
Glyka Nera or Sweetwater Beach is on the southern coast of Crete, a few kilometers away from the famous village of Loutro.
The best way to access the beach is by boat from Loutro, or by hiking (either from Loutro or Chora Sfakion). Whenever visiting Glyka Nera, our base would be Loutro.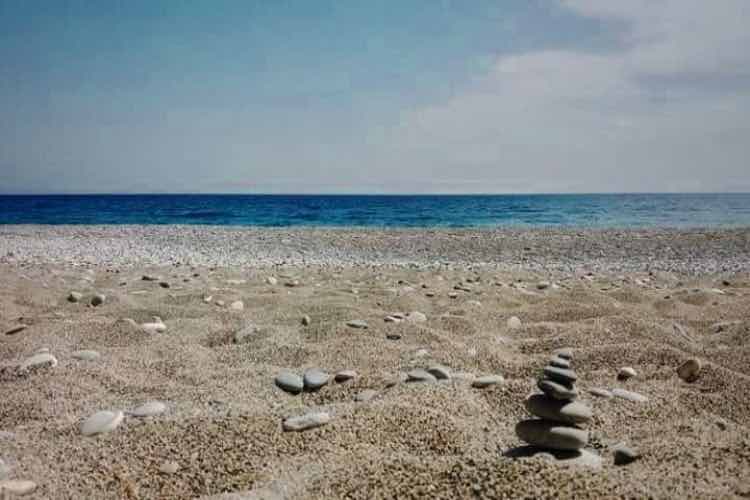 From here we normally take the morning boat and go back to the village around 4 pm, after a whole day at the beach.
Many people staying in Loutro hike the coastal path to Glyka Nera as well. However, I prefer to sit back and enjoy the boat ride and the coastal landscape on the way to the beach.
I prefer to visit Glyka Nera early in May or late in October when the massive hordes of tourists have left.
During this period, the only canteen is also closed, and you won't find the dozens of sunbeds and umbrellas that cover the beach in summer.
In the less busy months, this pebbled beach tends to be deserted and you can find shade under the tamarisks.
Like most south coast beaches, the water tends to be cold, but it's clearer than on the north coast and ideal for snorkeling.
Tip to remember: Especially when visiting off-season, remember to carry plenty of water and pack your lunch.
On my first visit to Glyka Nera, I left my water supplies back in the hotel in Loutro (yes, I know…!) and it was impossible to find fresh water in any of the famous sweet water springs since the previous winter had been terribly dry.
Where to Stay Near Glyka Nera
When planning a visit to Glyka Nera, a stay in the south is the best way to do it. You can check accommodation in Loutro or you can find a place to stay in Chora Sfakion.
If you prefer to stay in Chora Sfakion:
Livikon Hotel is just a few minutes from the beaches of Iligas and Ammoudi.
If you want to experience the tranquil fishing village of Loutro
Are you still uncertain about what is the right region for you? Check this guide.
Selino Beach (Sougia)
Region: Chania
Latitude: N 35.246394
Longitude: E 23.805473
Characteristics: Sand and small pebbles – Partially organized.
Sougia is a tranquil seaside village and beach on the south coast of Crete, located at the exit of Agia Irini Gorge.
It's about 75 km from Chania and, just like Matala, it used to be another hippie-friendly beach during the '70s.
There is a long beach, about 1.5 km, made of coarse sand mixed with pebbles and pristine blue waters, rather deep and cold all year round.
There is a portion of the beach lacking organization and is well hidden by stones, a favorite among naturists.
However, there are umbrellas, a beach bar, showers, and other services on the part of the beach right in front of the village. These two features combined make it an ideal spot to sunbathe without clothes in the south of Crete.
Ilingas Beach
Region: Chania
Latitude: N 35.202231
Longitude: E 24.12432
Characteristics: Mostly sandy, some small pebbles in a few areas – Partially organized.
Unlike Loutro, Marmara, or Glyka Nera, Ilingas is the only beach in the region that you can access by car, along the road that takes you to the village of Anopoli from Chora Sfakion.
Even though it's possible to access the area by car, this beach is still considered off the beaten path and is largely preferred by naturists. It has a beautiful blue sea with very deep waters and fine pebbles.
There are also some characteristic caves that you can explore while swimming. There is a small taverna as well as a hotel close to the beach where it's possible to find cold drinks and simple dishes.
Menies Beach (Diktina Beach, Rodopou)
Region: Chania
Latitude: N 35.665041
Longitude: E 23.768239
Characteristics: Sandy beach. – Lacks organization. Difficult to access.
The stunning beach of Menies is another of my favorite naturist beaches in Crete and one more of the naturist beaches located on the northern coast of the island.
The isolated beach is quite difficult to access as it is located in one of the most unexplored areas of the island, the Rodopou peninsula.
The only two ways to access Menies are via a dirt road or by boat (which is my favorite way to visit Menies).
Consider this: If you reach Menies by sea, instead of taking your boat as close to the coast as possible, enjoy a dive in the crystal clear sea and swim from your boat to the beach and back.
If, instead, you visit Menies by car, do fill up your gasoline tank since the road to the beach is completely uninhabited.
The beach lacks organization, so it's a good idea to bring all the things you know you will need for your day, including fruit, plenty of cold drinks, and some other basics for the beach.
Its crystal turquoise waters make it an ideal place for snorkeling and swimming. There are a few trees providing shade and nudism is a common practice.
Ligres Beach
Region: Rethymnon
Latitude: N 35.137884
Longitude: E 24.530168
Characteristics: Sand and small pebbles – The beach is not organized, but there's a good taverna in the area.
Ligres Beach, on the southern coast of Rethymnon, is another stunning beach of Crete where nudism is widely accepted.
This is a wide sand beach, with some rocky coves on its western side.
The sea is deep and rather cold (as in most beaches in the south), and the fine sand mixes with pebbles. If you're interested in finding out more about Ligres, check out this article.
Naturist enthusiasts will find a great place to take off their clothes on the nearby Katsouni Beach, between Agia Fotini and Ligres.
The area is surrounded by high stone walls that offer privacy and discretion.
As often mentioned, the best time to visit these beaches and enjoy a more isolated atmosphere is off-season, mainly in May, late September, and October.
Agios Pavlos Beach
Region: Rethymnon
Latitude: N 35.103492
Longitude: E 24.560274
Characteristics: Sandy beach with rocky coves – Partially organized.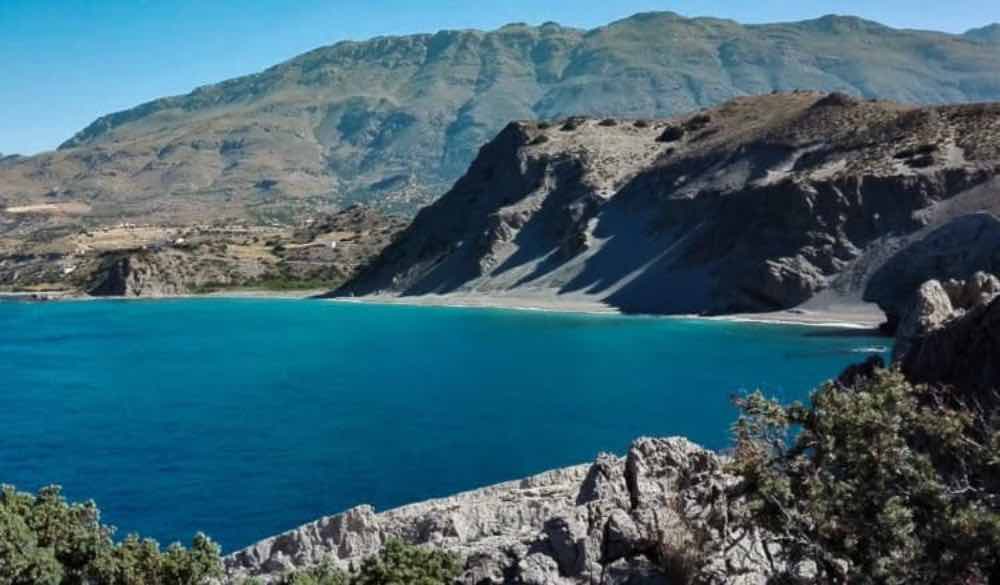 First of all, you should be aware that there are several Agios Pavlos in the south of Crete, some of them are beaches. This particular Agios Pavlos Beach is on the southern coast of Rethymnon.
Agios Pavlos is a rather tiny seaside village not far from Triopetra Beach and the bigger village of Agia Galini.
The village itself is home to a very nice beach, but we will focus on the two beaches located a bit away from the village.
There is a very long strip of sand divided by a huge rock protruding into the sea.
The only way to get there is by climbing down the stunningly beautiful and quite steep sand dunes, a trademark of Agios Pavlos.
Although the descent might look dangerous, it isn't really that hard. Going back up the dunes might require more effort, but the beaches below are worth the experience.
It's precisely these sand dunes that prevent the beaches from being overcrowded, and they are usually empty. The sea is crystal clear and there's no organization whatsoever.
Platanakia Beach
Region: Chania
Latitude: N 35.175322
Longitude: E 24.414093
Characteristics: Pebbled beach and areas with little sand – Not organized.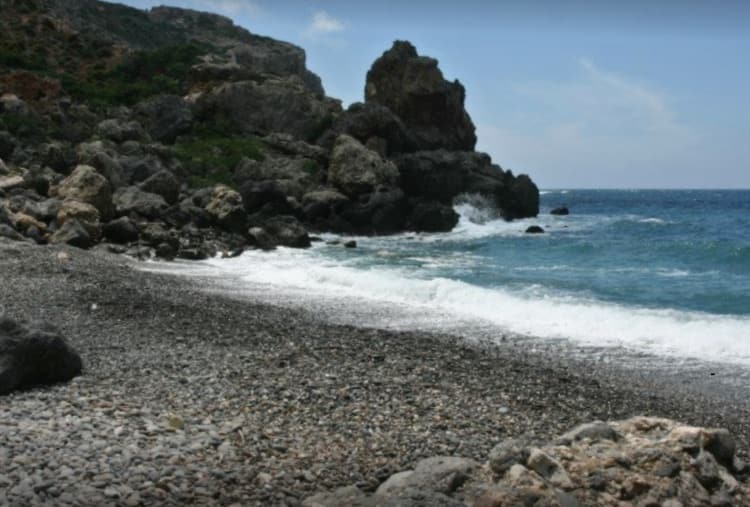 The hidden beach of Platanakia is located on the western coast of Crete, very close to the more popular Falassarna.
To reach Platanakia you first need to reach the small beach of Sfinari and then hike through cape Korakas to make it to this small beach.
However, it's safer and even more pleasant to access it by crossing the green and lush Kambos Gorge, which might take about 2-3 hours.
High cliffs surround the pebbled cove, and there are some rocks and several trees providing shade.
The beach is virtually unknown, and in recent years it has become known mostly to naturists in search of the perfect, deserted beach on Crete.
Tholos Beach
Region: Lasithi
Latitude: N 35.151869
Longitude: E 25.862972
Characteristics: Sand and pebbles – Not organized, but there are tavernas nearby.
The magnificent beach of Tholos is located in the Lasithi region, close to the village of Kavousi, and is about 40 minutes from the main city of Agios Nikolaos.
Tholos is a sandy and pebbled beach in a protected location within a deep bay. Its position offers shelter from winds, which makes the sea especially calm and waveless.
There's not much organization, but several tamarisk trees provide shade.
Due to its isolated nature, its spectacular turquoise waters, and its unique secluded location, this is another beach on the northern coast of Crete that's a favorite among naturists.
The beach is on the road to Sitia, on the Mirabello Gulf.
If you want to read more about this beach and the things you can see and do in the area, head to the guide of things to do in Agios Nikolaos, which includes the best beaches to visit in the area.
Itanos Beach
Region: Lasithi
Latitude: N 35.262155
Longitude: E 26.263907
Characteristics: Sandy beach and rocky coves – Not organized.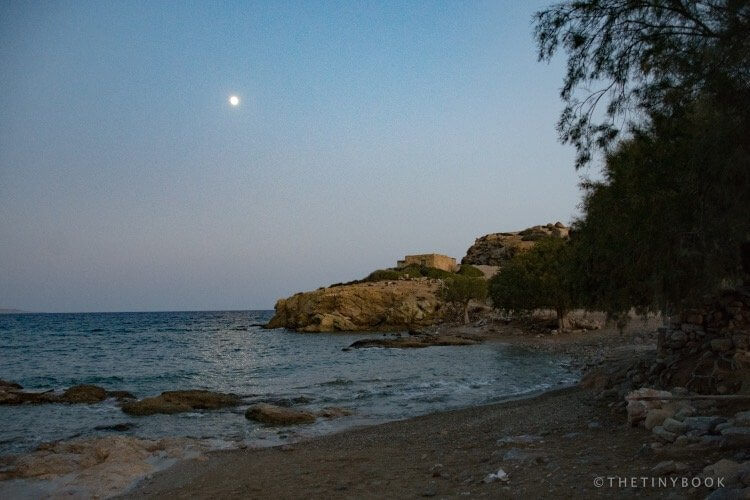 The beautiful beach of Itanos is about 2.5 km from the more popular palm beach of Vai and is usually not as crowded.
Nudism is common on one end of the beach, near the rocky coves area.
Lately, though, more and more families with children have taken over and it is not as popular among naturists as it used to be.
However, if you visit this beach off-season, especially in October, swimming and sunbathing without any clothes are still popular activities.
For those interested in exploring the history of the island, very close to the beach, it's possible to visit the archaeological site of Itanos.
The area is rather isolated and there're virtually no places to stay in the surrounding area.
You can stay in Agios Nikolaos or in Sitia. Those staying in Ierapetra can also visit on a day trip.
Check ferry tickets to Greece here!
Chiona Beach (Kouremenos, Lasithi)
Region: Lasithi
Latitude: N 35.196783
Longitude: E 26.277946
Characteristics: Sandy beach and rocky coves – Partially organized with trees for shade.
Chiona Beach (often also spelled Hiona and even Xiona) is about 90 km east of Agios Nikolaos, close to the city of Sitia (about 23 km away).
Chiona is another isolated beach on the eastern coast of Crete, with very shallow waters and fine sand mixed with pebbles.
The beach is rather small and has some organization. There are two good tavernas serving fresh fish, as well as some umbrellas.
Those who prefer a more natural environment can seek refuge from the Cretan sun under the tamarisks trees as well.
The portion located towards the east of the beach is home to a few isolated coves, popular among nudists.
In general, the area is quite isolated and secluded, which makes it another favorite place to take off your clothes.
The stunning landscape includes a few small islands just off the coast.
Maxairida Beach (Akrotiri Peninsula, Chania Region)
Region: Chania
Latitude: N 35.56189
Longitude: E 24.0862281
Characteristics: Sand and rocky coves – Not organized.
Maxairida is another of my favorite nudist beaches, and again, it's one of the few on the northern coast of Crete.
It's a quiet, hidden little bay, virtually unknown until recent years, and you need to arrive early to find a place on the limited strip of sand.
Maxairida is a golden sand cove with beautiful rocks that provide the perfect amount of privacy. There is a complete lack of organization, so you will need to bring your lunch and cold drinks to spend the day at the beach.
You might also want to read: Best beaches in the Akrotiri Peninsula, Chania.
A Naturist Holiday Resort in Crete
On the southern coast of Chania, close to the village of Frangokastello and the coastal town of Chora Sfakion, there's Crete's only nudist resort Vitromartis.
The complex makes use of both the nudist beach of Filaki as well as the beautiful Agios Charalambos Beach.
Filaki is a beautiful small beach used almost exclusively by the hotel, which organizes the canteen services as well as the umbrellas and sunbeds.
Agios Charalambos is a bit closer to Chora Sfakion, and it got its name from the small chapel in the area on the edge of the rocks and facing the sea.
It's a small pebbled beach surrounded by high stone walls, making it quite discrete and protected. It's organized, so you can rent an umbrella and sunbeds as well as buy cold drinks from the beach bar.
I've often stated in this article that naturism is not officially allowed in Greece; however, these two beaches, thanks to the naturist resort, can be considered the most official you can get as far as nudist beaches are concerned on the island.
You can find all the information you need about the resort and the area by visiting this link.
Tip from a local: Remember that the state of the beaches changes from year to year, and what might be the perfect paradise for nudists in one season can be completely different the following year.
If you don't feel comfortable on the above main nudist beaches, you can always walk five minutes to the East or the West, and there will always be a smaller, hidden shore, which you can pretty much enjoy all by yourself… with or without clothes!
Nudist Beaches on the Islands Near Crete
These are some great naturist beaches for those visiting the islands off the coast of Crete…
Beaches on Gavdos Island (Chania Region)
Region: Chania
Latitude: N 34.83666
Longitude: E 24.083215
Characteristics: Beaches can be sandy or pebbled – Some beaches are organized, but remote locations aren't.
The small island of Gavdos is off the southern coast of Crete, opposite the city of Chora Sfakion.

Virtually every beach on this tiny island is naturist-friendly, especially the isolated Lavrakas Beach and the stunningly gorgeous Agios Ioannis Beach.
There's virtually no barrier to naturism in this paradise corner of Crete. The beaches of Potamos and central Sarakiniko have areas reserved for both naked swimmers and people wearing clothes.
Topless is another common practice on every Gavdos beach.
To visit the island of Gavdos you need to board a ferry either in Chora Sfakion, Paleochora, Sougia, Plakias, or Loutro.
Ferries to Gavdos island
ANENDYK has a bigger fleet, and on some boats, it's possible to board with your car.
GAVDOS CRUISES has smaller boats but is faster.
Be aware that due to winds and high seas, both ferries can be easily affected, even by mild winds, and thus suspended by adverse weather conditions.
If you plan to visit in July or August, it's better to book in advance since it's a very popular destination.
If you want to read more about Gavdos, here's my complete guide here.
To book a place to stay, check this link. Remember to book early since it's a rather popular area with very limited accommodation.
Beaches on Chrissi Island (Lasithi Region)
Region: Lasithi
Latitude: N 34.875711
Longitude: E 25.707708
Characteristics: Sand, small pebbles, and rocky coves – Partially organized – Natura 2000 protected.
It's fairly easy to find an isolated spot on the magnificent Chrissi Island if you want to swim or sunbathe without any clothes on.
Keep in mind that the main beach is usually crowded with day visitors arriving from Ierapetra, and naturism is not common there.
You just need to reach any of the several other beaches around this tiny island to find one of the many hidden spots for nudism.
Beaches on Koufonisi Island (Lasithi Region)
Region: Lasithi
Latitude: N 34.93726
Longitude: E 26.140125
Characteristics: Sand, small pebbles, and rocky coves – Partially organized – Natura 2000 protected.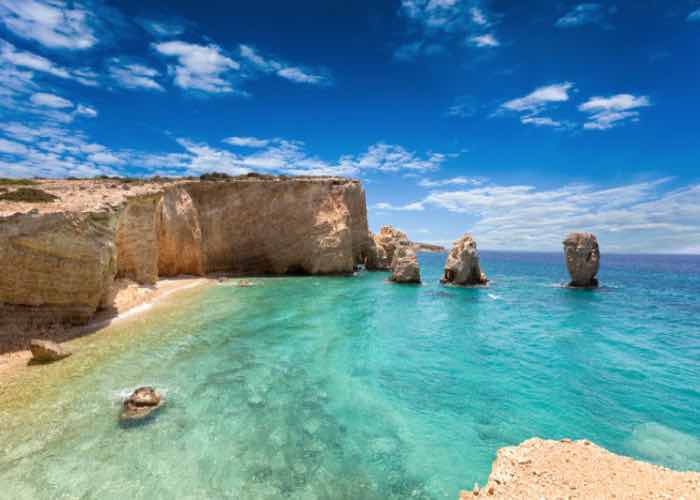 The tiny islet of Koufonisi is about 3 nautical miles south of the Lasithi coast.
It is a small uninhabited island about 5 square kilometers in size.
To visit Koufonisi, you need to take a boat from the nearby seaside village of Makrigialos.
There are several heavenly sandy beaches as well as rocky caves surrounded by the spectacular blue of the Libyan sea.
Since there's no organization and very low vegetation, shade is hard to find so it's a good idea to pack a hat as well as plenty of cold drinks and lunch if you want to spend a day on the island.
Due to its extremely isolated nature, Koufonisi is another popular place for naturism in Crete.
Beaches on Dia Island (Heraklion Region)
Region: Heraklion
Latitude: N 35.445205
Longitude: E 25.212278
Characteristics: Sandy beaches – No organization.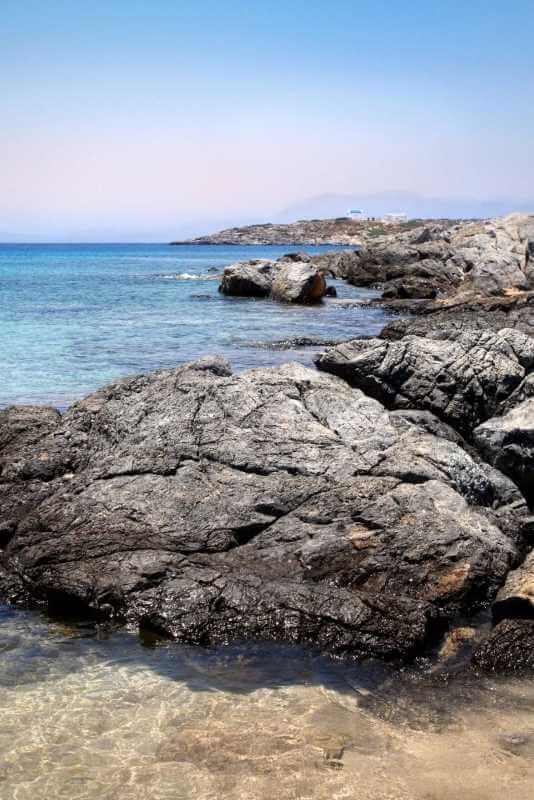 Dia is a small island located about 7 nautical miles off the northern coast of Heraklion. It covers an area of about 12 square kilometers and it's completely uninhabited.
To reach the island, you will depart from either the Venetian port of Heraklion or from the port of Hersonissos.
The little island of Dia is a protected environment belonging to the Natura 2000 program due to its biodiversity.
Nudism is quite popular on the islands off the coast of Crete since it's relatively easy to find isolated beaches, hidden coves, and areas protected by rocks offering the right level of privacy and discretion.
Check this video courtesy of Green Cruises. You can book a Dia island tour with them here.
Please, help us protect the beaches in Crete. Respect the environment and don't leave any trash on the beach.
Have you been to any of these Naturist beaches in Crete?
Let me know in the comments below!
You might also want to read these articles:
– Unique Things to Do in Rethymnon at Night
– The Most Fabulous Things to Do in Santorini
– Comfy and Convenient Rental Homes in Heraklion, Crete
– Is Now the Right Time to Move to Crete?
Hey! Don't Leave Before You Pin This Guide to Know Everything About Nudist Beaches on Crete!
About the author of this blog: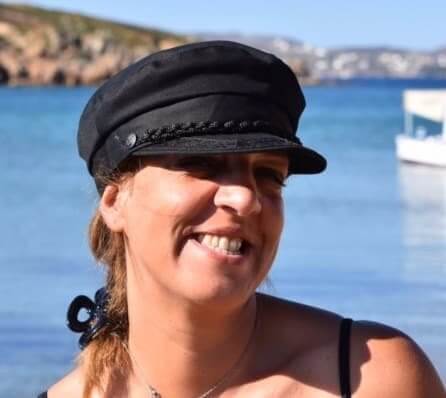 Gabi has been living in Crete for the last five years. On the island, she juggles being a solo mom, hosting culinary tours in summer, translating, and freelance writing.
She's written for Greek Reporter, published several travel guides about Greece, and had more glasses of frappe than any regular person would be able to handle.
COMING TO CRETE SOON?
Get in touch and let me know!