Crete has the longest hot season in Europe, with endless summer months during which it never rains. However, if you travel by the end of summer or in early October, you might encounter the occasional rainy day on the island. Worry not! There's no need to spend a boring day in your resort looking at the raindrops through the window! Grab your raincoat and discover the best things to do in Crete when it rains!
---
Disclaimer: Posts include affiliate links to products or services. I might earn a commission if you make a purchase, at no extra cost.
---
Things to Do in Crete When it Rains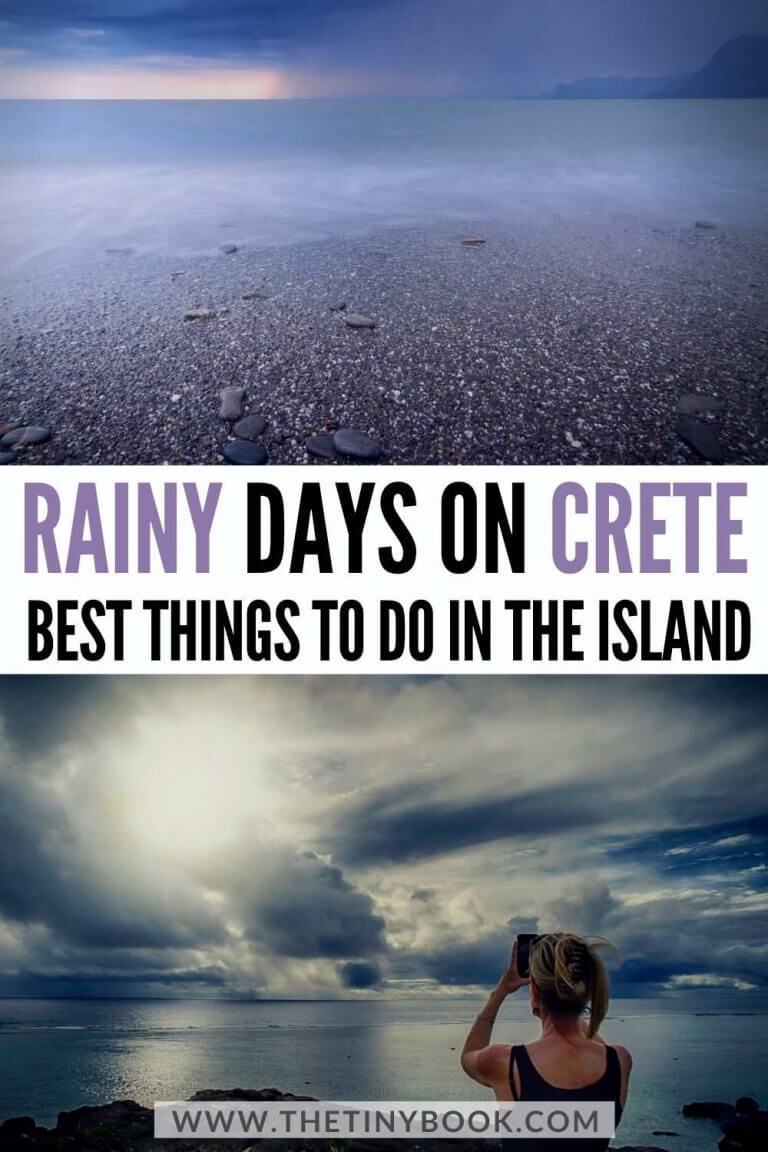 RESOURCES TO BOOK YOUR TRIP TO CRETE:
FLIGHTS: Use Skyscanner to compare prices before booking a plane ticket.
FERRIES: Check out Ferryhopper for convenient ferry tickets.
ACCOMMODATION: Look for hotels and rental homes on Booking.com.
PRIVATE TRANSFER: Welcome Pickups offers local English-speaking drivers, flight monitoring, and a very convenient (flat) pre-paid fee
CAR RENTAL: Use Discover Cars to find an affordable car to rent.
TOURS: Live unforgettable adventures and cultural experiences with Get Your Guide.
INSURANCE: If things go wrong, you'll get coverage against illness, injury, theft, and cancellations. I recommend Safety Wing for peace of mind.
SMART STAY IN CHANIA: For business or a holiday, seasonal, or throughout the year, Dimitris City Break Apts is a cozy, peaceful, and sun-drenched place to stay in town. Get in touch with the code TinyBook for a 10% discount!
Rain in Crete: Frequently Asked Questions
Nobody wants to book a holiday and have a day or two ruined because of the rain! Especially those who travel to Crete to enjoy the magnificent beaches along the coast of the island.
First of all: Relax! Crete is known for having no rain at all during its long summers! It's fairly safe to say that there's no rain on Crete from late May until September.
The island is used to having its first copious rain of the season sometime in mid-September. It usually does not last more than a few hours and once it's gone, usually on the next day, you can go back to enjoying those long afternoons sunbathing at the beach.
Rains are more frequent in October, however, not every October actually sees rainy days. In case you're there wondering whether to book your holiday on the island or not, don't let the rain hold you back. Check here some of the questions you usually ask me when planning a trip to Crete, then go ahead and discover the best things to do in Crete when it rains.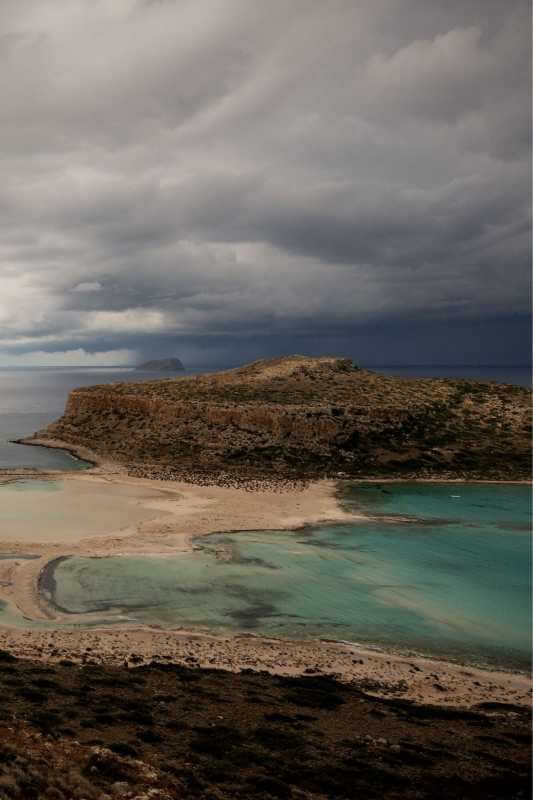 Does it Rain in Crete?
The island of Crete is located in the southern area of the Mediterranean Sea, close to North Africa. The island has two distinct areas divided by high mountains, and each of them has a different climate.
North Crete is closer to Europe, with wet and colder winters than in the south, where the weather is milder all year long. There are places in south Crete where there's virtually no rain. The city of Ierapetra, for instance, is known for having over 300 sunny days in a year!
How Much Does it Rain in Crete?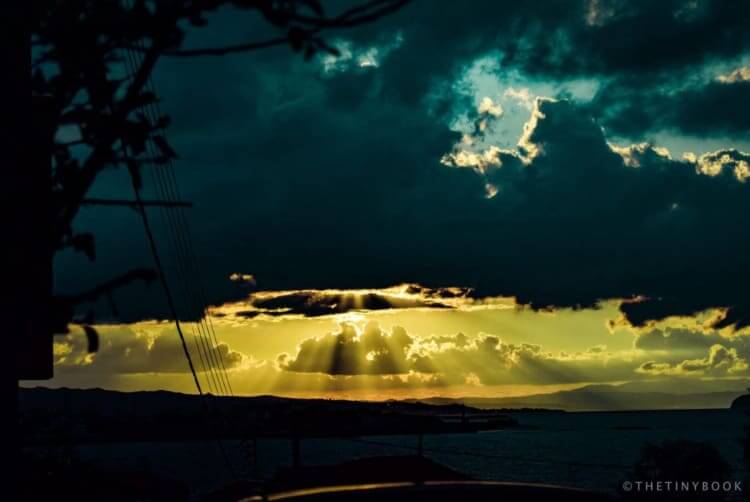 The weather on the island is warm all year round. There are more chances to find rain and even storms in the fall and early spring. As a rule, Crete's rain season slowly begins in October and lasts until March while it seldom rains in summer.
In colder months, starting in November, rainfall can get quite heavy during winter. December sees an average of 86 mm of rainfall and January about the same.
A quick guide to the best hotels in Crete
Budget: So Young Hostel in Heraklio, Cocoon City Hostel in Chania, Matthias Hotel Apartments in Rethymnon, and Villa Galini in Agios Nikolaos.
Mid-range: Capsis Astoria Heraklion in Heraklion, Porto Antico in Chania, Archipelagos Hotel in Rethymnon, or Hotel Port 7 in Agios Nikolaos.
Luxury: Galaxy Iraklio Hotel in Heraklion, Hotel OFF in Chania, Avli Lounge in Rethymnon, or Minos Beach Art Hotel in Agios Nikolaos.
Check more: Where to stay in Crete.
Weather in Crete
The island is also known for mild winters in the coastal areas while snow is not unheard of in the mountains (both in late autumn and winter.
Logically, there are fewer hours of sunshine in winter, as well as quite a few cloudy days. However, the sun still shines almost every day for at least a few hours. And as we always say, you just need a bit of sunshine on the island for temperatures to go up immediately, making any winter coat redundant.
Top Things to Do in Crete When it Rains
The island is really big to ever run out of things to do, even when it's raining. We do know that Crete is best known for its outstanding beaches and magnificent landscape, but there are plenty of things to do when the sun is not shining in Crete.
It all depends on you. If you're not so keen on rainfall, you can enjoy several indoor activities, including museums, churches, and imposing monasteries.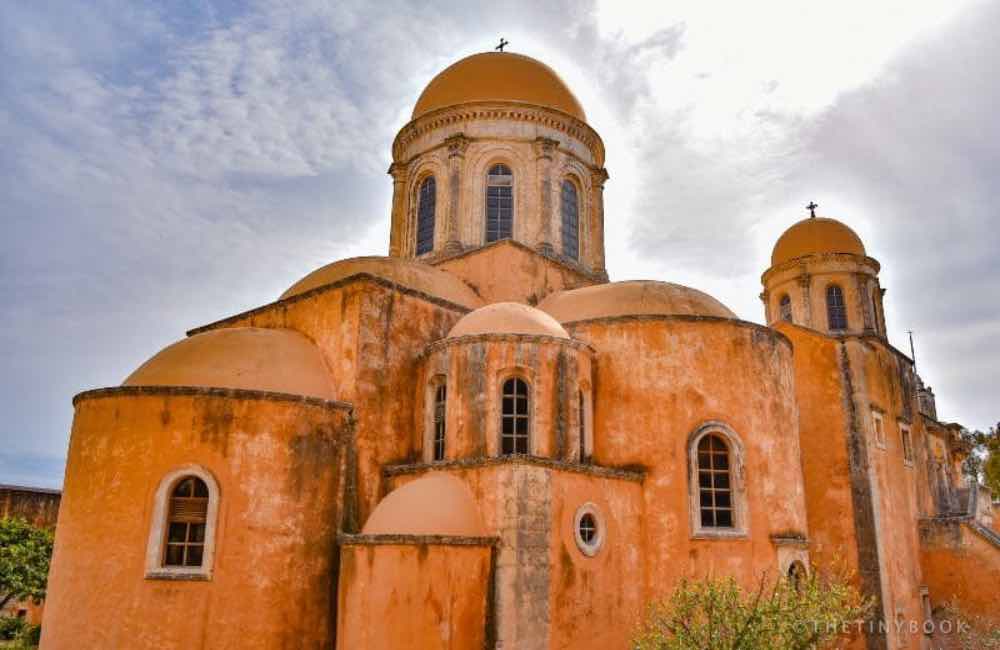 You can stroll a covered market to indulge in the local tastes of the Cretan diet, or you can visit one of the several factories open to the public. This way, you'll be able to learn about the local industries, including pottery, olive oil, wine, or cheese making.
If you don't mind getting a bit wet, grab an umbrella and head to any old town. They are perfect places for a walk.
You can discover unknown corners, and go for a cup of Greek coffee or hot chocolate in a traditional kafenio or a fancy bar by the sea. It's also possible to explore off-the-beaten-path neighborhoods.
If you have the right equipment, take advantage of the clear atmosphere that rain leaves behind to shoot the most spectacular pictures of the Cretan landscape. In a nutshell, there's a lot to do in Crete when it rains, these are some of my favorites…
Visit an Old Town
There are beautiful old towns and abandoned villages that you shouldn't miss during your trip to Crete. A rainy, windy, or cloudy day can be the perfect excuse to leave the beach bag behind and venture along the alleys of these picturesque places.
>>Explore the old town of Chania with this guide<<
Chania Old Town is located right by the sea and it's home to a beautiful where you can take a walk on a cloudy day. When the weather is rainy and the town is hit by the northern winds, you can take dramatic pictures of the lighthouse from the pot of Firkas Fortress.
The old town of Rethymnon is another gorgeous place to visit on a rainy day. Rethymnon has a fairly central position on the island, so it's easy to reach from any other city in Crete where you might be staying.
You can walk along the little Venetian port, explore the city skyline from the Fortezza, or enjoy a cup of hot chocolate and tase delicious sweets, such as loukoumades or freshly baked bougatsa.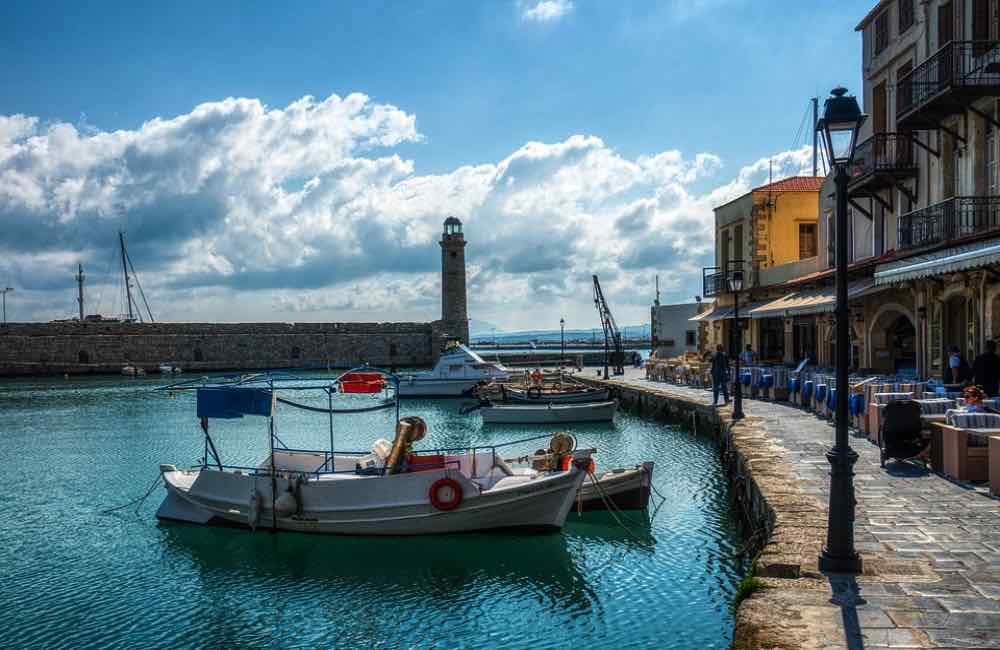 In Rethymnon, there are several museums you can visit, including the Archaeological Museum of Rethymnon, the Paleontology Museum, and the Museum of Contemporary Art of Crete.
You might also want to read: Best things to do in Rethymnon.
Dream about the Sea in Cretaquarium
If you're staying in the area of Heraklion, one of the best places to visit during a rainy day is the local aquarium. Known as Thalassokosmos or Cretaquarium, it's located just a few minutes from the city center, in the village of Gournes, and it can be a perfect idea for a rainy day.
It doesn't matter if you're visiting Crete with kids or not, the aquarium is fun and entertaining for everyone. The venue allows you to have a close-up look at the marine world of the Mediterranean.
You can marvel at octopuses, jellyfish, seahorses, and so much more. The aquarium offers a unique chance to learn about the underwater Cretan scenes.
Useful information
Exhibits: Playing with the Light, Open Sea, Travelling to the Tropics, Coastal Areas, The Aquarium Beyond the Glass!
Summer: open daily from 9.30 am to 4.30 pm (April-October)
Winter: open daily from 9.30 am to 4 pm (November – March)
Ticket €10, Children €6, (kids under 4: Free)
Click here to learn more and book a ticket.
Explore a Cretan Monastery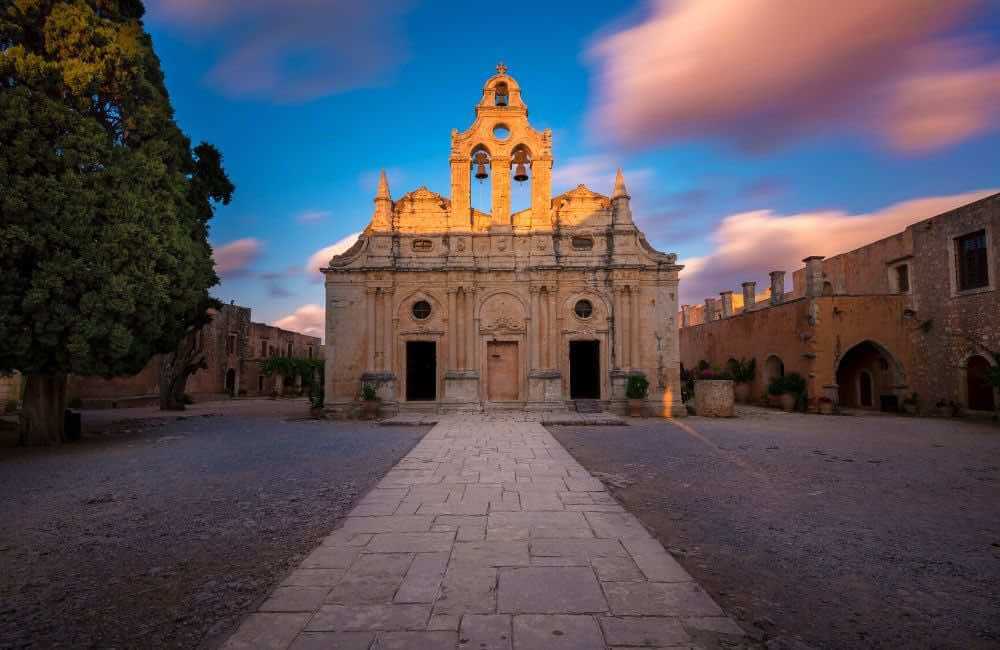 There are so many churches and monasteries you can visit in Crete that you might be unable to choose which one to explore. The two most famous monasteries are located in the Rethymnon region and are worth a visit.
One of them is the beautiful Holy Monastery of Arkadi, known for its tragic history which, in a way, opened the road to Crete's freedom during the long Turkish rule of the island.
Read everything you need to know to plan a visit to Arkadi.
Preveli Monastery is also located in Rethymnon, closer to the southern coast of the region.
Following the tradition of local monasteries, Preveli played a key role in the history of the island, especially during World War II. The monastery is, in fact, a complex of two monastic buildings, one of them abandoned long ago.
The natural landscape surrounding Preveli includes fantastic gorges and a wonderful river that works its way to the beach surrounded by the island's second important palm grove.
If you're staying in other regions of Crete and don't feel like driving to Rethymnon on a rainy day, you can also discover gorgeous monasteries, some of them with interesting museums you can visit.
If you're keen on wine and are spending some days in Lasithi, East Crete, check the spectacular Toplou Monastery. Once you've checked the small church, the courtyard, and the war museum, heat to their winery to taste some of the best Cretan labels and their delicious extra virgin olive oil.
You can do the same if you're staying in Chania. The Akrotiri Peninsula is home to Agia Triada, another monastery known for its wine production, as well as Gouverneto Monastery and the abandoned Katholiko.
If you're staying close to Elafonisi, discover the beautiful Chrisoskalitissa Monastery with unique views of the Libyan sea.
Discover the prettiest monasteries in Crete or pick a road trip to discover them.
Go Wine Tasting in Crete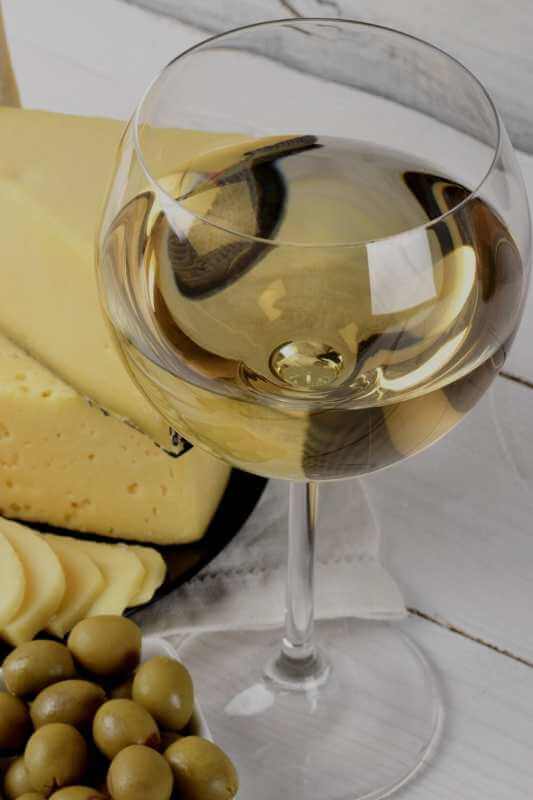 I've written so many articles about Cretan wine (both for this blog and elsewhere) that I've lost count already. Truth is that once you get to know the wines of Crete you are bound to fall in love with the aromas of the native wines.
Nothing more enriching than learning about Crete's wines in a local winery! There are dozens all over the island and most of them are open to the public.
You can either join a sommelier for an organized tour like this one or simply knock on a winery door and for a taste of their best labels – well… sort of!
If it's raining heavily, you might have to skip the visit to the vineyards, but you will certainly enjoy the tasting part and learn a lot about the local diet and the best food pairings.
You might want to read more about Cretan wine or discover the most amazing wineries in Heraklion.
Discover Crete's Top Olive Oil
Olives are one of the most important assets on the island, there are thousands of olive trees scattered all over Crete making the production of extra virgin olive oil the most important economic activity on the island together with tourism.
The local olive oil, one of the most prestigious in Greece, is usually very fragrant, thick, and even spicy when it comes to a certain olive variety, koroneiki.
One of the most interesting things to do in Crete when it rains is to visit one of the old-style olive oil factories to learn about the production as well as to taste some of the best quality olive oil that you'll ever try.
If you're staying in Chania, get in your car and drive to Kolymbari, one of the most important areas on Crete when it comes to olive oil production. In the area, we visited Biolea a small factory close to the village of Astrikas. There we tasted different olive oil and discovered their old stone mill that's still used to make one of the best olive oils in Greece.
Those staying in Heraklion can take advantage of this great olive oil tasting tour, also great for rainy days. If you're staying in Agios Nikolaos, instead, check the Cretan Olive Oil Farm in Elounda where you can also join a cheese-making class or a pottery workshop.
Try Your Skills at Pottery
Pottery has long distinguished the island as far back as the Minoan times. There are pottery workshops in many areas of the island, some of them offer classes while others can easily welcome you to try your skills during an informal visit.
Margarites is known as Crete's pottery village. It's a small but beautiful settlement a few kilometers away from Rethymnon where many local artisans produce and sell unique crafts. Margarites is a great place to go when it rains in Crete, you can buy souvenirs or join an informal pottery class in the village.
You can also try your luck at the pottery wheel close to Heraklion, the Anopolis Handicraft Park is located above Kokkini Chani, a tranquil village in the Municipality of Chersonissos.
Here, visitors can learn about the crafts that have shaped the traditions of the island.
A visit to the area can guarantee that you will learn not just about pottery, but also discover everything about typical Cretan professions, including the production of metal statues, worry beads, leather items, knives, and much more.
While wandering the old town of Chania, pay a visit to the family shop Flaktoras Ceramics, on Zampeliou street. The workshop is located in one of the oldest buildings in town and it's possible not only to visit the beautiful Venetian building but also to book a ceramic class with them.
Seek Refuge in a Museum
There are so many museums on the island that's truly impossible not to find one that you won't enjoy. There are several archaeological museums for you to spend time admiring the hundreds of objects found in the local archaeological sites.
Check the Archaeological Museum of Heraklion if you also plan to visit the Archaeological Palace of Knossos.
There are also small and lesser-known museums you can enjoy in Crete. One of my favorite museums is the original Museum of Typography in Chania, which features a collection of machines and other exhibits that mark the evolution of European typography.
In the museums, a special area hosts two exhibitions related to the evolution of typography and the history of writing. Here you can find details to prepare for a visit.
Read about the best museums in each region:
– Museums in Heraklion.
– Museums in Rethymnon.
– Museums in Chania.
– Museums in Lasithi.
In the heart of the village of Kritsa, in Lasithi, don't miss to check the ethnographic Museum of Kritsotopoula, which visually tells you the story of the brave Rodanthi, the daughter of the priest of Kritsa who played a key role in many of the battles against the Turks that were fought on the island.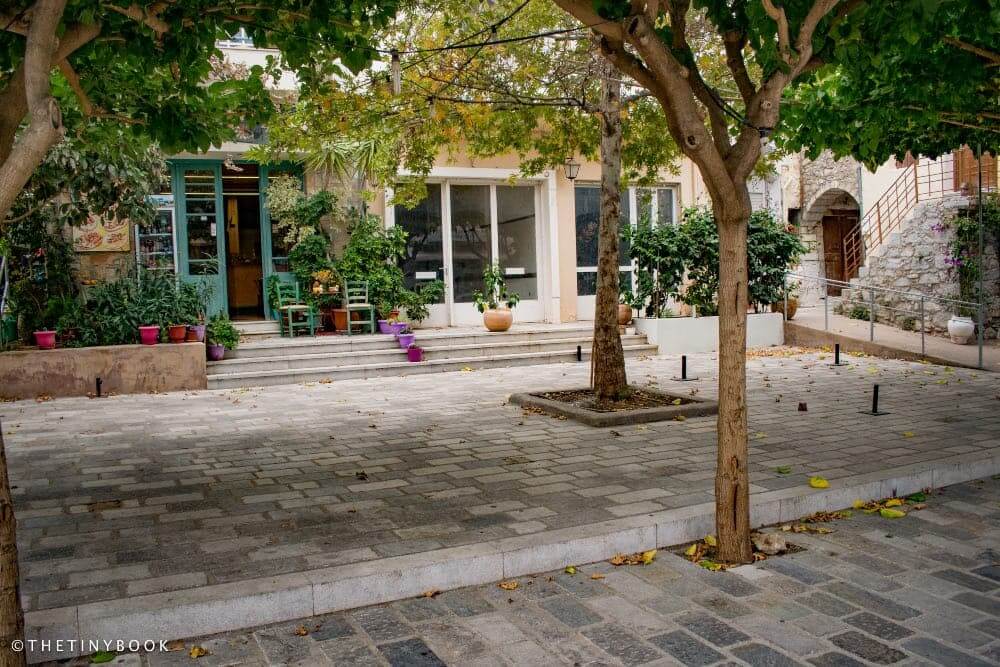 Spending a day in the village of Kritsa, checking the museum, the churches, the local crafts, and the mouthwatering food is another great thing to do in Crete on a rainy day.
Wander the Markets
Easily my favorite thing to do in Crete when it rains is to spend time in the Public Market of Chania. The Agora is a covered market, so it's ideal to seek refuge during a storm.
Inside the market, you can check the traditional produce of the island, everything ranging from local meat cuts, fish, seasonal vegetables, fruit, nuts, bread, and dozens of pies.
Chania's public market is a great place where to buy authentic souvenirs or where to taste local cheese and olive oil. It's also one of the best places to enjoy homemade food in any of the different small tavernas that every day prepare fresh Cretan dishes both for locals and tourists.
The open markets in Heraklion will not be ideal to seek shelter in case of heavy rain since they are authentic street markets, however, if light rain is not something that would matter to you, don't miss a shopping experience either in 1866 Street Market or the Open Air Bazaar, a farmers street market open on Thursdays and Saturdays on Itanou Street.
Locals know: The Municipal Market of Chania will be closed for renovations until December 2023 (or a bit more…).
Go for Better Weather!
If you're renting a car during your holidays, then nothing can stop you from driving to the opposite coast in search of better weather.
It's not odd to find sunshine in the south when it's pouring down with rain on the northern coast. You'll just need to cross the mountains and find the place where the weather looks better.
And if it doesn't you'll certainly have the time of your life driving the bending mountain roads in Crete.
Check this road trip guide and what to pack for a road trip in Crete.
The same applies to the East of the island, the region is far less rainy than Chania or Rethymnon, so if you have time to spare and driving is not an issue, you can find better weather in areas such as Vai, Xerokampos, Makrygialos, or Ierapetra.
Driving times can be long, but who's in a hurry when on holiday?
Drive Around Forgotten Villages
Part of your road trip adventure on a rainy day in Crete can include unthinkable stops in forgotten villages that you otherwise wouldn't have the opportunity to experience.
Everywhere you go, there's always a beautiful village where time seems to have stopped. A visit to one, two, or more of these tiny hamlets can be a great way to spend a rainy day in Crete.
You can live life as a local does, venture into a kafenio for a cup of Greek coffee, or discover the alleys and the traditional stone houses under a different sky (and with stunning light for photography!).
Enjoy a Cup of Hot Cretan Mountain Tea
Malotira, dictammus, sage, and chamomile are some of the Cretan herbs that locals use to prepare the legendary teas you can taste on Crete.
However, if you're looking for authentic Cretan Mountain Tea, go for a cup of hot malotira with honey known not just for its many healthy properties… Its delicate taste and unique flowery aroma are things that locals and visitors alike simply adore.
If you're in the mood to experiment and try different flavors, order a cocktail tea. It can include up to 12 different varieties of local herbs, it can also be flavored with thyme honey, cinnamon, or a few lemon drops.
It's perfect for cold weather, and super refreshing when served cold in summer.
Not a tea type? Don't worry, Crete is a perfect destination to try Greek coffee too!
Try Long Exposure Photography of Crete's Dramatic Landscape
Taking pictures in Crete during rainy days has to be another of my favorite things to do on the island. The dramatic cliffs by the sea and the bare rocks of the mountains combine with the lead-gray skies creating unique compositions.
If you shoot raw, or if you're a fan of 10 stop ND filters, you'll have the time of your life. The skies on Crete are often staggering, with clouds creating bizarre shapes close to the mountains or on top of the sea.
Pack your camera bag with a few goodies, including a tripod and a good set of filters, and drive around in search of the perfect rainy shot of Crete.
Wanna know about my equipment? Check this photography guide to Santorini.
What to Pack for Rainy Days in Crete
If you're heading to Crete after mid-September, you're likely to find a couple of rainy days on your way. Don't let this put you down, you can still enjoy the best of the island. You'll only need a few extra things in your luggage to make the most of Crete under the rain.
Travel-size umbrella: If you are looking for an umbrella that doesn't take up all the space in your bag, go for a small but useful travel-size umbrella. I carry this one during my tours and it perfectly fits inside my small crossbody bag leaving tons of free space.
Waterproof hat: Those who hate umbrellas will love to pack this breathable, waterproof hat instead. You can simply throw it inside your bag and forget everything about it until it's time to wear it.
Light raincoat: Comfortable, light, breathable, and perfect for wet days, this raincoat can double as a cover-up if temperatures go down a bit or if it's windy. For a cheaper, emergency option, check these colorful ponchos, you don't need to dispose of them after one use if you're worried about the environment.
Rain cover for your camera and lens: If you're taking my advice and plan to shoot some long exposure pictures on Crete under the rain, why not check these rain covers for lenses and cameras? Remember to pack everything in a good, waterproof photography backpack like the one I use.
Backpack rain cover: If you don't have a waterproof backpack, don't panic! Solve it by getting a packable rain cover that you can always keep with you. Don't forget to check the capacity in liters of your back to buy the right size.
Hiking boots: Of course, you won't be hiking in the rain, but you will certainly love to wear shoes that keep your feet dry if rain happens. Check these waterproof hiking shoes, great for outdoor walks, and rainy weather too.
---
Don't Leave Yet! First Pin This Guide About Things to Do in Crete When it Rains… Then You're Free to Go!
About the author of this blog: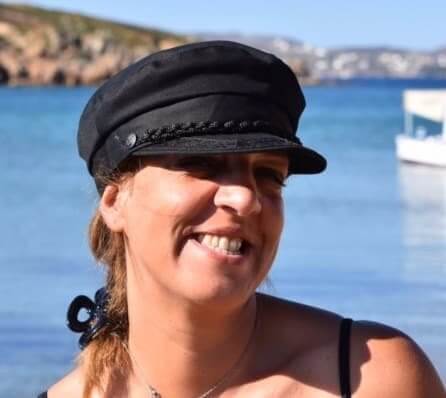 Gabi has been living in Crete for the last six years. On the island, she juggles being a solo mom, hosting culinary tours in summer, translating, and freelance writing for several travel blogs.
She's written for Greek Reporter, published several travel guides about Greece, and had more glasses of frappe than any regular person could ever handle.
COMING TO CRETE SOON?
Get in touch and let me know!
---
You might also want to read:
---