Santorini is an amazing, dreamy destination. And it's a great amusement park for both pro and amateur photographers. Repeatedly traveling to the island gave me the chance to see those traditional postcard-spot places Santorini is famous for. But it also offered me the chance to discover hidden gems and infinite blue shades so perfect that they look unreal. If you are into photography or simply into plain beauty, check this Santorini photography guide
---
Disclaimer: Posts include affiliate links to products or services and I might earn a commission if you make a purchase, at no extra cost to you. This allows me to continue writing helpful articles for your travels. I only recommend things I use myself or that I believe will deliver value to you. 
---
Last-minute plans for Greece?
Get there: Use Ferryhopper to book your tickets.
Stay: Find accommodation deals on Booking.com.
Move around: Compare car rental prices with Discover Cars.
Tours: Visit popular places with GetYourGuide.
Read more: Pack the Lonely Planet Guide to Greece.
Quick guide to the best Santorini hotels
Budget: Asterolithos is in the center of Fira Town, within walking distance of the Caldera. Check it on Booking.com.
Mid-range: Enjoy the comfort of a Romantic Spa Resort. Check it on Booking.com.
Luxury: Have an unforgettable stay at Andronikos Canaves. Read the reviews on Booking.com.
Rental Home Type? Check villas in Santorini here.
The Unique Landscape of Santorini
We've all been astonished, at one point or another, by the stunning landscape of Santorini. A unique whitewashed landscape, rugged cliffs, and inspiring sunsets.
As a photo aficionado, and way too far from being nowhere near a pro photographer, nothing amazes me more than how easy it is to take the perfect picture in Santorini.
Despite the beautiful landscape, which of course is key when making a good composition, there's certainly more to a perfect shot than just a nice view.
It's a Matter of Light
After many visits to the island, and after checking thousands and thousands of shots once back home, I finally understood one thing, something that's pretty unique to many islands of the Aegean and certainly remarkable in Santorini. That one thing that many fail to mention is the quality of its light.
The coastal village of Oia, for instance, has a strong and powerful light. Here, the reflections define the different shapes according to the moments of the day.
While during the morning, the light in Oia is cold and white, the atmosphere gets warmer at sunset and almost blurry and misty at dusk.
Light makes Oia the location where brides come to have the perfect wedding picture.
Whether you are, just like me, an amateur photographer, all instinct and zero technique; or if you come to Santorini take pride in your pictures on Instagram, let me help you find the best spots for those famous postcard shots of Santorini!
What to Shoot in Santorini… and Where
There is one thing easy to notice in Oia, everyone is carrying around cameras in what seems to be the quest for the perfect picture.
Everyone wants to find the Three Domes, and at 5 pm every tourist is on the quest for Oia's castle to shoot the sunset (even when the sun sets nearly at half-past eight in summer!).
We all want to take home that exclusive postcard shot however, it's not always easy to find the best angles or buildings.
Looking for the 3 Domes of Oia
To find this famous spot, walk along the main street of Oia, marble white and luminous, until you reach the Art Maison Aspaki Hotel – (don't get confused, there are two Art Maisons, one directly over the Blue Domes, the other one is near the Castle of Oia).
You will find a tiny path going down towards the sea. You'll see the domes only from a lower level as you look out over the caldera, so go down those steps.
Posh, expensive and exclusive, it is a paradise for photo lovers. If you want a picture of the celebrated sunset, head to Oia early (finding a parking spot is hell!), set your equipment, and be very patient.
I adored it in the early morning because that means fewer crowds and whiter light!
Block "auto-draft" not found
Essential things to do in Santorini in one day
Iconic Santorini: Blue-Domed Church
This iconic blue-domed church, perfectly matching the blue sky, has been the official face of Santorini in many publicity campaigns. When exploring Oia, you are likely to see blue domes everywhere, but you will also feel frustrated that the angle is not always the right one.
Most domes will be high up and you will think there is no way to shoot down on them. But Santorini is an island to be over-explored, never miss that spirit when looking for the perfect pic!
Walk down the main street facing the caldera, always the marble one, and take the alley down next to the Minerali Jewelry store.
keep the island in your pocket!
The Tiny Book of Santorini
Villages & Iconic Landmarks - Things to Do - Places to See
Where to Stay - Where to Eat - Beaches
Gastronomy & Wines
Get The Tiny Book of Santorini
Buy it now!
Sunset Over the Caldera
Some amazing sunsets can be seen from Oia, keep in mind that you won't be alone, thousands of other tourists will be there too, get ready for the crowd and a reduced space to shoot.
Good sunset pictures are obtained from the old ruins of the Castle of Oia (don't get confused with the Byzantine castle which is another fortress in the area) at the end of the stairs that come up from Ammoudi.
The Castle of Oia is the best place to watch the sunset! Most of the old fortification, Oia, was destroyed due to the earthquake, and now only the ruins remain.
Windmills in Oia
There aren't many windmills facing the caldera, but the nicest one can also be perfectly photographed from the same place where you have set your camera ready for the sunset: the ruins of the Castle.
The two windmills are on the opposite tip of Oia and its shape stands out perfectly in the scenery.
Once your photo tour is over it might be time to pamper the senses… taste the best of the local gastronomy in Oia. Go for one of the local beers and some Santorini fava, a staple of the local cuisine.
Finding the Colorful Domes of Fira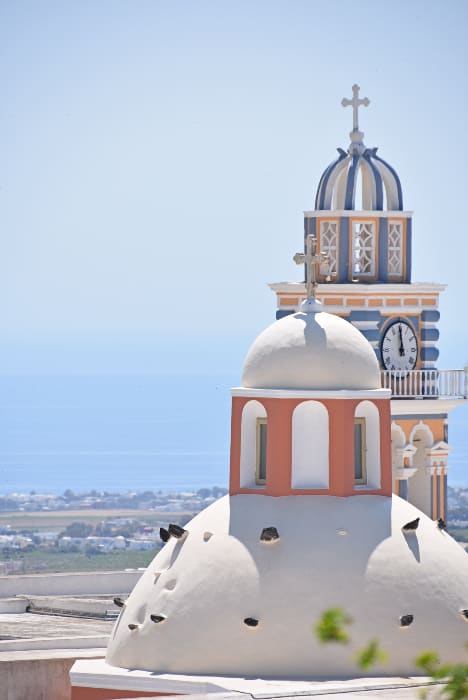 Chapels in Fira are not only white and blue but colorful and ravishing. Their yellows, oranges, and pinks also apply a perfect contrast against the blue skies of Santorini.
It's a great idea to go to Fira early in the morning to get the best light and empty paths you can explore freely.
Otherwise, and if you are ready to face the crowds, or visit the village in the afternoon to see outstanding sunsets. I did both, and I don't regret it.
Perissa Black Sand Beach
Perissa is a seaside village on the southeast. Famous for the wide black beach and extreme deep blue waters, it is better discovered and enjoyed during the low season.
Great photos are obtained with the sun setting, it does not directly go down at the horizon from this point. However, you will get the reflections from the opposite side of the island, this creates a beautiful effect on photos.
For more blue domes head to the end of the main road. The blue domes of Perissa have nothing to envy to the ones you can spot all over the island. The church, very close to the beach, is small but very impressive.
The Red Beach
It's fairly easy to reach the Red Beach (Kokkini paralia, Akrotiri area) if you rent a car. Once you get to Akrotiri, walk along this red rocky path uphill, next to the ocean.
There, striking beauty of red shades and rusty colors will amaze you. Always full of tourists, you will get the most of it during the lower season.
The best time to get a good photo of the red reflections is sunset when the lights of the hill get a stunning orange tint for a few minutes.
Great photos are taken both from the hill before the path descending towards the beach, or from the Lighthouse of Akrotiri.
Imerovigli
Imerovigli is a small village between Oia and Fira, and it is a beautiful, small town. Its position allows the most incredible view of the caldera you can get on the island.
Sunsets are stunning and more peaceful than in Oia. if you feel like walking, it's possible to reach Imerovigli from Thira (it would take you about half an hour) thought the coastal hiking path.
Sunset here produces nice shades over the village in the caldera.
Pyrgos
Pyrgos, a traditional town offering impressive views of the rest of the island. The former capital of the island, traditional architecture and narrow paths together with tiny white houses and churches are there to make you experience the life of an authentic Greek village.
A visit during Good Friday is more than a good idea. Pyrgos is a great setting to get beautiful pictures of alleys and old constructions, like the castle and some of its churches.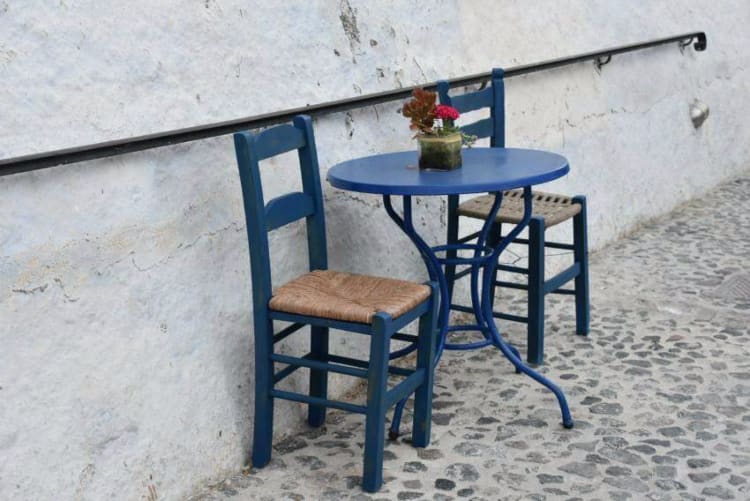 Vothonas
Vothonas is six kilometers away from Fira, and it is built on a small and narrow valley. There you can see traditional houses carved out of rocks.
White and blue churches are stunning, the view of the village, inspiring for photography but also for just a walk
Want to see some more pics?
>>Follow The Tiny Book on Instagram<<
My Equipment
My main camera is a Nikon D7200 with the Nikon AF-S DX Nikkor 18-300mm f/3.5-6.3G ED VR while my secondary camera is the more compact Nikon D5300 (great for video and for its GPS) where I mount a very basic Nikon AF-P DX Nikkor 18-55mm f/3.5-5.6G VR. I sparingly use Adobe Lightroom for editing some of our photos.
Everything gets packed in my Lowepro Fastpack 250 II if I travel with both cameras, or in the more comfortable Lowepro Passport Sling III if I travel with just one camera and no computer.
Lately and for shorter trips, I've been mounting the big lens (18-300) to the smaller D5300 with great results. But in Santorini, I always use both cameras and both lenses.
---
What's your favorite place to take pictures?
Let me know in the comments below!
---
Travel Plans for Greece?
More Resources to Organize Your Trip!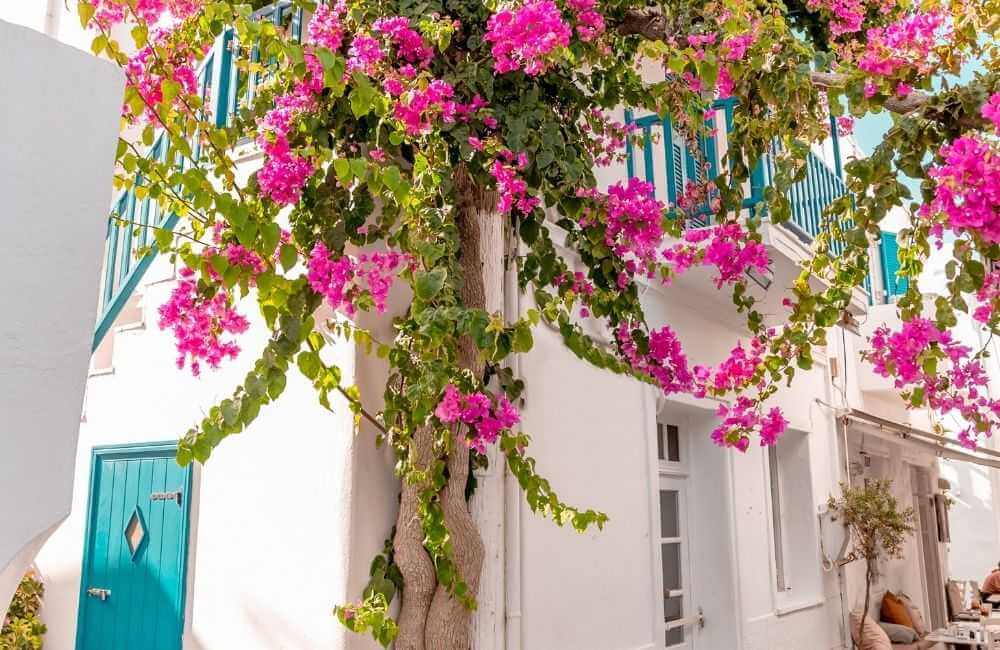 Start by heading right to my Greece travel guide for in-depth details you need to know about Greece. You can also check my post to plan a trip to Greece with children!
Get in touch if you need extra help to plan your trip. If you want to tour West Crete, check my guide. Want more? Join my Private Facebook Group to connect with like-minded travelers who love Crete as much as you do!
Make Sure You've Got Everything For a Hassle-Free Vacation!
Without my Osprey backpack, I never move around the islands…it's a sturdy but light travel partner I just love. For short trips, I carry this crossbody bag. If I drive, I pack my Nikon D7200 and a good travel guide! Lonely Planet's Best of Greece & the Greek Islands.
When it comes to plane tickets, compare prices with a powerful search engine. However, nothing beats traveling by sea in Greece. With Ferry Hopper, you can book in advance at the lowest price.
For accommodation, I use Booking.com.
Traveling to remote places is easier with Discover Cars. Other times, I join organized tours with GetYourGuide, which features anything from cooking lessons to airport transfer!
COMING TO CRETE SOON?
Get in touch and let me know!
Pin This Guide to Where to Take the Best Photos in Santorini For Your Next Greece Adventure!
About the author of this blog: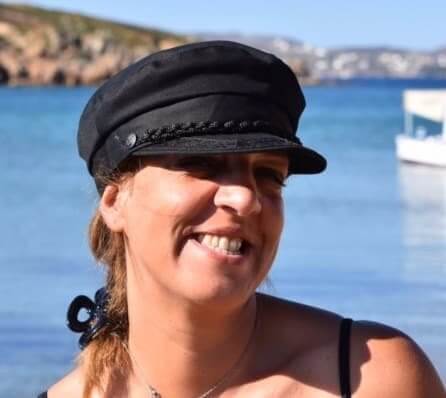 Gabi has been living in Crete for the last five years. On the island, she juggles being a solo mom, hosting culinary tours in summer, translating, and freelance writing.
She's written for Greek Reporter, published several travel guides about Greece, and had more glasses of frappe than any regular person would be able to handle.
---
You might also want to read:
---