When it comes to sunshine packed holidays, one place that can guarantee it: Greece. If you have never visited Greece before then it should definitely be on your bucket list for 2019. Make it your goal to discover these iconic Greek destinations and you will be rewarded with eternal visuals and amazing memories. And if you have visited, probably you must have visited some of the best places to visit in Greece, if not all, why not visiting again?
This article has affiliate links to products and services that I use. If you make a purchase through these links, it might earn me a small commission at no extra cost to you.
Best destinations in Greece
If you're planning your first trip to Greece, chances are you might want to see a little bit of everything: Its amazing culture, with the archaeological sites, the churches, and the museums. As well as the magnificent whitewashed landscapes, the blue domes, and the cobblestone alleys adorned with pink bougainvillea. And, why not, some of its stunning beaches.
On this list, you can get a few hints of the best and most iconic places you can include in a first-timer's itinerary of Greece. Take a look!
Athens for those who love culture
Henry Miller once said, "it takes a lifetime to discover Greece, but it only takes an instant to fall in love with her".
The first place to start your quest for the best places to see in Greece should be the capital, and you'll instantly fall in love. Athens will always be a city that inspires one to wonder and marvel.
Athens, the city center
This ancient city bore the fundamentals of the democracy we enjoy today. The cradle of civilization and philosophy will take your breath away. Athens is a destination that proudly displays the remains of its ancient glory.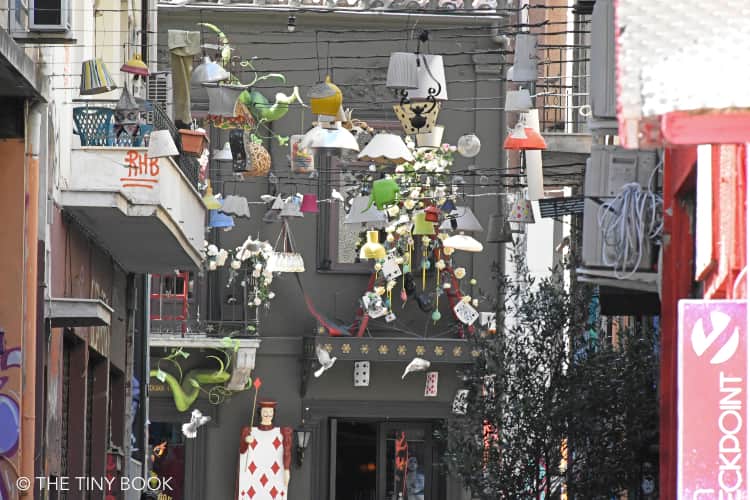 Staying in Athens near the Acropolis will make your days memorable. Being able to witness the Acropolis from the comfort of your room or enjoying a cocktail on a rooftop bar are unique experiences.
Nearly 2500 years old, the Acropolis is not the only landmark you can admire a short walk from your hotel. Athens is brimming with countless sites to visit.
They are all easily accessible by foot and most of them easy to visit within a day. However, Greece's cultural importance goes well beyond the capital.
Discover all the incredible things you can do in Athens checking this three-day itinerary.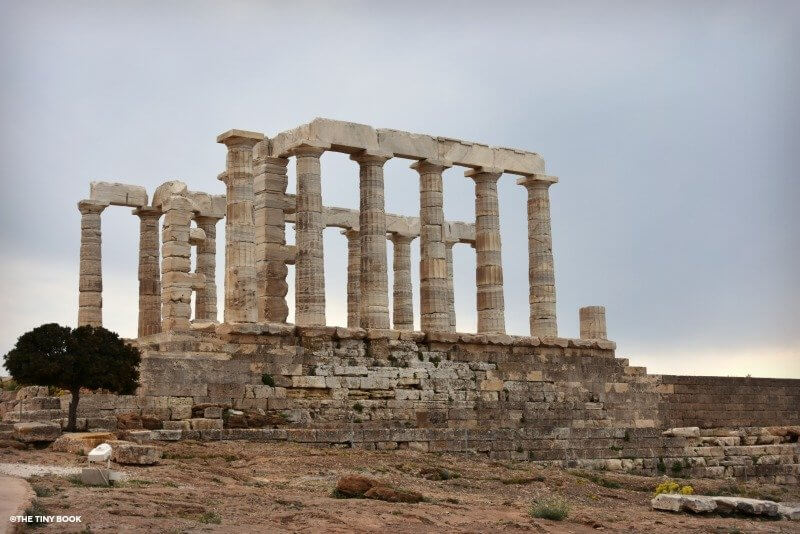 Archaeological sites to visit near Athens
Within a short drive from Athens, you can visit Sounion, where the Temple of Poseidon stands at the precipice of a hill.
The history and the myths surrounding the atmosphere of Cape Sounion make it a one of a kind destination when visiting Athens.
The best hour to visit Sounion is the afternoon if you want to capture the beautiful sunsets from the promontory.
After a short drive from Athens, you can witness the ancient oracle of Delphi. A visit to the Epidaurus ancient theatre is another option.
This Greek equivalent of Pompeii is still used for theatrical performances to this day.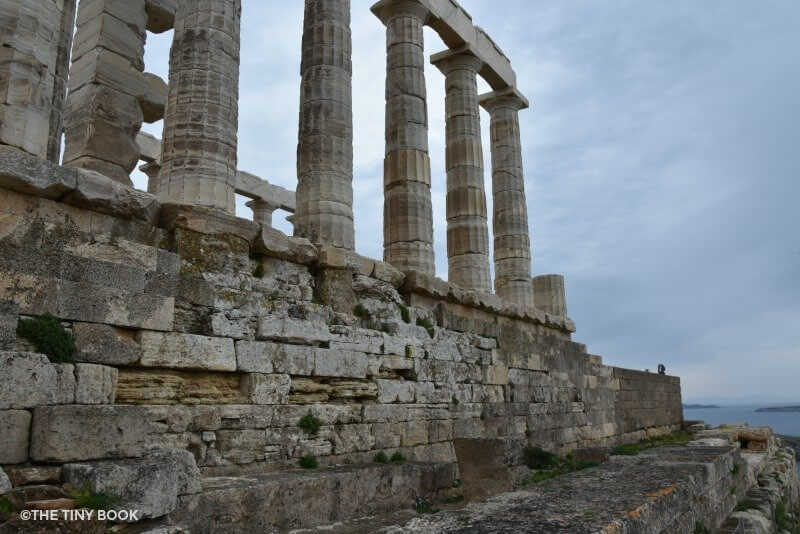 Santorini, for a fairytale romance
Probably the most famous Greek destination is Santorini. This incredible island brings visuals from some kind of magical place. The landscape is surreal and it has spurred speculation of being part of the long lost Atlantis. Truth or myth, once you have visited Santorini, it's easy to see the origin of that myth.
Santorini's past: Akrotiri
The area of Akrotiri, in the south of the island, is the perfect place to explore the stunning past of Santorini and the history of the striving ancient civilization that once inhabited the Aegean.
Read More about Santorini
A visit to the Archaeological Site of Akrotiri will introduce you to the past of the island, to one of the most important prehistoric settlements in Greece dating back to the Bronze age. To reach the settlement, you need to get to the village of Akrotiri, located the southernmost tip of Santorini.
The village underwent massive destruction by the Theran eruption which probably took place in 1627 BC. As a consequence the city remained buried under the ashes of the volcano for ages, thus being preserved until its discovery a few decades ago.
Among the impressive legacy left by this advanced civilization, there are elaborate piping systems, houses more than two or three levels high, as well as some impressive frescoes and wall paintings. Other than that, this civilization developed a sophisticated system for counting and classifying their stocks of goods, something they would record on clay tablets. Everything led scholars to deduce that the ancient dwellers of Santorini maintained trading relations with other cultures around the Mediterranean, including Egypt, Syria, Crete, and the island of the Dodecanese.
The Caldera and the small villages
To stay in the most iconic part of the island, check the luxurious hotels facing the caldera of Santorini. A place to experience the energy of the most sought-after spot of all.
From here you can easily pop out into the cobblestone alleyways, stroll about them and find that favorite quaint cafe.
Get lost until you reach that emblematic church of white and blue, Cycladic perfection. One of many to be precise!
To discover the natural beauties along the island's shore, Santorini island cruises reveal every colorful wonder of its intricate coast.
If, instead, you want to explore the island on land, rent a car in Santorini and make your own itinerary to include the hidden gems of Pyrgos and Vothonas villages.
Check Crete for an adventurous holiday
Crete qualifies as an entire region rather than just an island. It has its own dialect and variations of it, as well as unique local ways of life.
Cretan customs, cultural, and behavioral patterns are found nowhere else in Greece. Crete is definitely one of the best Greek destinations to include in your travel bucket list.
It is a fact that Cretan gastronomy is renowned throughout the country. Being Greece's largest island, one should visit Crete again and again. Or, at least, you should combine a few destinations in one trip to get a wider perspective.
Crete comprises four distinctly different regions. And, of course, travelers on a Cretan journey will be able to unveil the best of each. If your curiosity leads you to explore the island in detail, you'd be clearly better off by renting a car. Don't know where to start? This guide about driving on Crete will make it much easier for you!
Crete is a great destination for a week-long family holiday, although not exclusively. It offers a plethora of vibrant experiences, for every kind of traveler.
Region of Chania
From left to right, west to east, we first find Chania. The prefecture that is closest to the majority of astonishing beaches in Crete such as Balos, Elafonisi, Falassarna, and Gavdos, in the south.
More stunning beaches can be discovered all over western Crete, on the southern coast of the island, and on the peninsula of Akrotiri.
Chania is also famous for its colorful harbor that attracts people day and night. For staying at an ideal location, choose a top-rated city hotel in Chania, just a 10-minute walk from the seafront.
Chania is a city full of history and legends that make it a one of a kind destination. Besides, Crete's mild climate allows for extended beach holidays even in months that are colder in other parts of Europe.
While visiting the Old Town of Chania, dedicate time to all the different neighborhoods in the old district. Do not forget to include the Venetian quarter, the Jewish area and the unique, bohemian neighborhood of Splantzia. If you are into fancy photography and abandoned views, then do not miss Tabakarià, just at the end of the Old town, towards the east. You can find a visual guide to photography in Tabakarià in this article.
To discover more about things to do in Chania, you can book my gastronomic tour of the city here.
Region of Rethymnon
Rethymno, similarly to Chania, also has a picturesque harbor and a Venetian old town worth a visit. In fact, the charm of the city lies mostly in its labyrinth of alleyways with impressive buildings from the Venetian and Turkish domination of the island.
Rimondi Fountain is one of those places. It has a unique Renaissance charm and they say that if you drink from the fountain, chances are you will return to the city.
Among some of the best things to do in Rethymno, a visit to the historic Arkadi Monastery is always a good idea. You will have to drive towards the mountains for about half an hour to reach this impressive site.
Region of Heraklion
The capital city of Crete is Heraklion, and it is also the 4th largest city in Greece. Despite being Crete's most cosmopolitan town, it has a historical charm that will grab your attention. If you are planning to visit, check these different itineraries to see the best of Crete's capital and the places nearby.
The port is home to the impressive Koules fortress and the city's wall fortifications built during the Venetian era. In the city, there are also endless opportunities for foodie travelers. Places honoring the unique traditions of Crete as far as gastronomy is concerned.
One of my favorite places is Peskesi, you can read some reviews here. Peskesi is home to the most authentic Cretan food with a touch of Minoan history.
And if Minoan is a word that makes you curious, don't leave Heraklion without seeing the Archaeological Site of Knossos. The site is less than 20 minutes from the city center.
Plenty of daily buses to the site depart from Heraklion's Central Bus Station, the ticket is about 2 euros. A taxi will charge you about 7 euros.
While in Heraklion, it's also a must to visit the Archaeological Museum, one of the most important museums in Europe, locates just a few blocks away from the city's main square, Plateia Eleftheria. The entrance to the museum is 15 euros. It's 16 euros if you combine it with the Archaeological site of Knossos.
The cumulative ticket has a time frame that varies according to the season (check at the Museum). This way, you can choose to visit first the museum and then proceed to the site the next day.
For more information about the museum, the visiting hours and the entrance fees, you can visit the official website of Heraklion's municipality.
Relics and remnants of previous eras are evident around the center. They can easily be discovered on a casual stroll around.
If you choose to stay in a city hotel in Heraklion means that, when desired, you have the city's buzz around you within a couple of minutes. In this case, you don't have to put up with the city's hustle and bustle during all your stay.
Region of Lasithi
As for a holiday that demands to soak in magnificent sea views, Elounda is a perfect choice. The village is located about 10 kilometers from Agios Nikolaos, facing the beautiful Mirabello bay.
It's a famous resort area in Crete, best-known for having some of the most luxurious hotels in Crete. In fact, Elounda is thought to have the highest rate of landings of private helicopters all over Greece.
If you want to enjoy the unique views of Elounda, and the nearby island of Spinalonga, it's a good idea to book a luxury villa or hotel that can provide all the modern-day conveniences, with some epic panoramas to accompany you day and night.
While in Lasithi, it is a good idea to visit some of the magnificent Lasithi Plateau and some of its traditional villages, such as Psychro, a small little town that is home to the beautiful Cave of Zeus, which you can visit while you drive around in the area.
Another pretty mountain village you can visit is Kritsa, which is located less than 30 minutes from Agios Nikolaos. It's fairly easy to visit by car, or with public transport. You can take the bus in Agios Nikolaos' main bus station, the trip takes about half an hour and the bus ticket is 2 euros.
---
COMING TO CRETE?
Check these tips to make the best of your trip.
Greece is one of those unique holiday destinations that you will want to discover. This post contains three of the best Greek destinations to visit in 2020.
Which other destinations would you like to read about? Let me know in the comments section below!
And you? What iconic Greek destination are you planning to visit in 2020?
Check these resources to make your planning much easier
Disclaimer: Bear in mind that some of the links in this post are affiliate links and if you go through them to make a purchase I will earn a small commission at no extra cost to you. Keep in mind that I link to products & companies that I personally use and recommend for their quality.
CAR RENTAL
When in Greece, I always recommend choosing a local rental company over an international one. With Rental Center Crete fees are more convenient, there's a zero-excess insurance policy (as well as no hidden costs, free mileage, and extra driver). Check this car rental website and use my promo code to get a 5% discount.

ACCOMMODATION
Whenever I need to book accommodation in Crete I personally use Booking.com. Their Genius Loyalty Programme allows me to find better fees. As they say, the more you stay with them, the more rewards you get.

TOURS & DAY TRIPS
For organized activities, I usually book my tours through Viator and GetYourGuide. From transfer to cooking lessons, including archaeological site visits, skip the line attractions, and boat trips, both platforms help you save time and money.

FERRY TICKETS
Getting to Crete can be really comfortable with an airplane, but nothing beats the romantic experience of traveling by sea. Choose Let's Ferry to visit several Greek islands or to travel directly to Crete.

TRAVEL INSURANCE
Greece, and especially Crete, is a fairly safe destination, however, you should never travel abroad without an insurance policy for complete peace of mind. My favorite? World Nomads, click here for a quote.

YOU MIGHT ALSO WANT TO READ:
PIN FOR LATER: BEST DESTINATIONS TO CHECK OUT IN GREECE IN 2020!
Hola! I'm Gabi. I moved to Crete to explore the island all year round.
I love taking pictures and driving on the mountain roads of Crete.
I'm a beach freak and on this island, I've found heaven on earth!
Gabi Ancarola
The Tiny Book – Crete Travel Blog