When it comes to sunshine-packed holidays, one place in the world can guarantee such a request, Greece. If you've never been to Greece before then it should be on your bucket list. Make it your goal to discover the best places to visit in Greece, you will be rewarded with eternal visuals and amazing memories. And if you've already visited, I'm sure you'd be glad to visit again!
---
Disclaimer: Posts include affiliate links to products or services. I might earn a commission if you make a purchase.
---
What Places to Visit in Greece This Year: Where to Go in Greece for a Fantastic Vacation
Best Destinations in Greece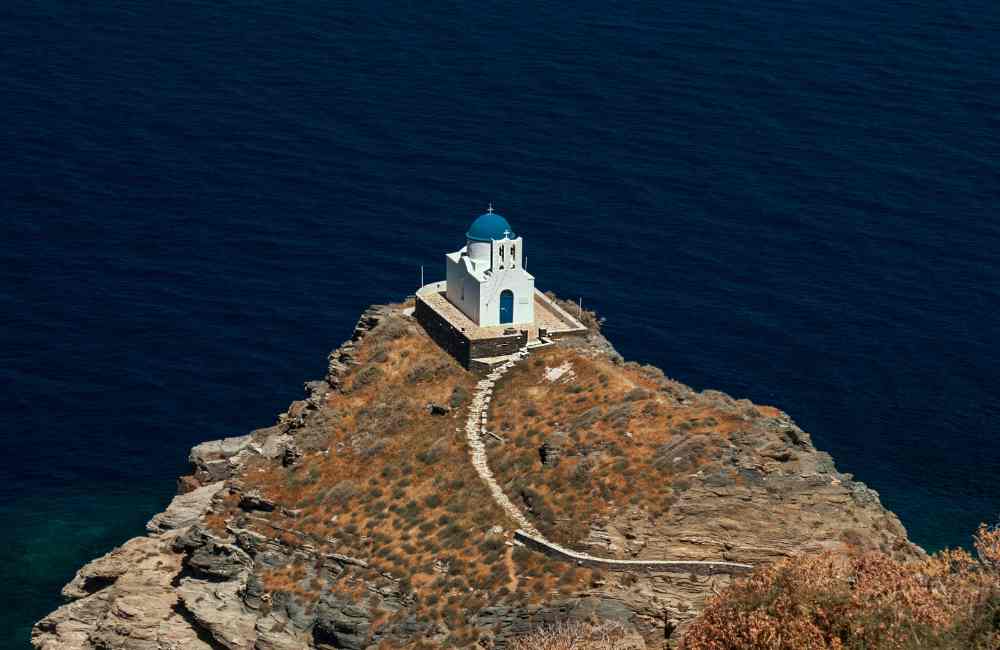 If you're planning your first trip to Greece, you might want to see a little bit of everything: Greece's amazing culture and archaeological sites, the old churches, and the interesting museums.
There are so many great places to visit in Greece that it can be puzzling to decide where exactly you should go.
Are you into those magnificent whitewashed landscapes and blue domes? Do you wish to wander along the cobblestone alleys adorned with pink bougainvillea? Are you a fan of water sports and stunning beaches?
This list outlines a few hints of the best Greek destinations, with some iconic places you can include in a first-timer's Greece itinerary or even on your second visit to Greece. Take a look!
Athens
Henry Miller once said, "It takes a lifetime to discover Greece, but it only takes an instant to fall in love with her".
The first place to start your quest for the best places to see in Greece should be the capital, and you'll instantly fall in love. Athens will always be a city that inspires one to wonder and marvel.
This ancient city bore the fundamentals of the democracy we enjoy today. The cradle of civilization and philosophy will take your breath away.
Athens is one of the best places to visit in Greece for nightlife, culture, and history. It's a wonderful place in Greece for families, solo travelers, and couples too!
Santorini (One of the most amazing places to visit in Greece!)
Probably the most famous Greek destination is Santorini. This incredible island brings visuals that belong to a kind of magical place.
There are plenty of gorgeous views and romantic landscapes in every area of the island. However, if you're after those idyllic images you've seen over and over again, the Caldera is the first place to visit.
There are hundreds of things to do in Santorini, no matter where you go or where you stay.
My favorite thing to do on the island is to take pictures.
I usually get up early and wander around the different villages having fun with my camera. I've been doing it for a while and I've also written a guide about taking photos in Santorini.
Usually, at 10 am, the streets start to get crowded. So, after a morning wandering around, it's time to put my camera away and find a cute quaint cafe with a view.
If you're looking for places to visit in Greece with children, don't think that Santorini is only about romance and honeymooners! It can be great to visit Santorini with the kids.
The Archaeological Site of Akrotiri is one of the most important prehistoric settlements in Greece, dating back to the Bronze Age. The site is on the southernmost tip of Santorini and children love to visit Akrotiri.
Akrotiri underwent massive destruction by the Theran eruption (around 1600 BC).
As a consequence the city remained buried under the ashes of the volcano for ages, thus being preserved until its discovery a few decades ago.
If you want to explore inland Santorini, rent a car, and make your itinerary. Include the hidden gems of Pyrgos and Vothonas villages in your itinerary.
They are ideal places to go to taste the local gastronomy and discover some of the best wineries in Greece.
Santorini is one of the most photographed Greek islands and certainly a popular place in Greece for a honeymoon. What could be more beautiful than a romantic holiday in Santorini?
Crete (My absolute favorite place in Greece!)
Cretan customs, cultural, and behavioral patterns are found nowhere else in Greece. Crete is one of the best places in Greece and it deserves a spot on your travel bucket list.
Crete qualifies as an entire region rather than just an island. It has its dialect and variations of it, as well as unique local ways of life. Be patient with me though… It's the place I chose to call home!
There's no way I'll be short of words talking about Crete. Since the island is huge, I've divided this destination into regions.
If you're short of time, jump right to the next place to visit in Greece. Instead, if you are – just like me – all about Crete, check the complete Crete travel guide, or take a look at the 50 unmissable things to do in Crete.
The regions in Crete
Crete comprises four distinctly different regions. The more you explore, the more you'll be able to unveil the best of each of them.
If your curiosity leads you to explore the island in detail, you'd be better off renting a car. Don't know where to start? This guide about driving on Crete will make it much easier for you!
Crete is great for a family holiday, although not exclusively. It offers a plethora of vibrant experiences for every kind of traveler.
Region of Chania
From left to right, west to east, we first find Chania. The region is home to the most astonishing beaches in Crete, including the famous lagoon of Balos and the incredible pink sand beach of Elafonisi.
But there are plenty of other beaches in West Crete, some lesser-known and worth discovering.
Another key place to visit in Greece is the old town of Chania with its romantic Venetian harbor. To stay at an ideal location, choose a top-rated city hotel in Chania close to the seafront, the views will be unforgettable.
Region of Rethymnon
Rethymno, similarly to Chania, also has a picturesque harbor and a Venetian old town worth a visit. The charm of the city lies mostly in its labyrinth of alleyways with impressive buildings from the Venetian and Turkish domination of the island.
Rimondi Fountain is one of those places. It has a unique Renaissance charm and they say that if you drink from the fountain, chances are you will return to the city.
Among some of the best things to do in Rethymno, a visit to the historic Arkadi Monastery is always a good idea.
Region of Heraklion
The capital city of Crete is Heraklion, and it is also the 4th largest city in Greece. Despite being Crete's most cosmopolitan town, it has a historical charm that will grab your attention.
If you are planning to visit, check these different itineraries to see the best of Crete's capital and the places nearby.
The port is home to the impressive Koules fortress and the city's wall fortifications which were built during the Venetian era.
However, the reason why Heraklion is one of the best places to visit in Greece is Knossos, the magnificent Minoan Palace, just a few minutes from the center.
The Archaeological Palace of Knossos is a remarkable ancient settlement where the mysterious Minoan civilization strived for centuries, as far back in time as the Bronze Age.
A visit to the palace is great to learn about the unique past of the island
You can visit the site by catching the bus from the old bust station of Heraklion. The ticket is about €2. A taxi from the city center will charge you less than €10.
Region of Lasithi
My second favorite region in Crete is Lasithi. Lonely and isolated, it's the perfect place in Greece for a relaxing holiday.
Those who can afford to upgrade their stay can soak in magnificent sea views in Elounda. The village is located about 10 kilometers from Agios Nikolaos, facing the beautiful Mirabello bay.
This is one of the best resorts in Greece, known for being home to some luxurious hotels. Elounda is thought to have the highest rate of landings of private helicopters all over Greece.
In Elounda, you can enjoy the unique views of the nearby island of Spinalonga.
Those in search of the more authentic Lasithi should consider renting a car and embarking on a day trip to the Lasithi Plateau. Once there, make a stop to check the stunning geological formations in the Cave of Zeus, in the village of Psychro.
For great beaches, instead, head south to Ierapetra or read this article on the best beaches in East Crete.
Another pretty mountain village you can check out in Lasithi is Kritsa. It stands in the mountains, less than 30 minutes from Agios Nikolaos.
It's fairly easy to visit by car, or by public transport. You can take the bus at Agios Nikolaos' main bus station, the trip takes about half an hour and the bus ticket is 2 euros.
Don't be surprised to find Crete in virtually every list including the 10 top places to visit in Greece. Crete is perfect for adventure, unique landscapes, and breathtaking beaches.
Naxos
I usually like to say that if I hadn't moved to Crete, I would be living in Naxos. And I mean it.
One of the most surprising things about Naxos is the landscape made of green valleys and imposing mountains with small villages that treasure the old habits and traditions of Greece.
The island is quite big, so renting a car is the best option you have to explore those areas off the beaten path. Include in your itinerary villages like Halki, Filoti, or Apeiranthos.
They are located quite close to each other and can make a great day trip when in Naxos. If you're into Greek gastronomy, make a point to sample the local cheeses and spoon sweets too.
There are awesome beaches along the coast of Naxos. Many of them can be rightfully included among the best beaches in Greece.
There are also imposing archaeological ruins scattered around the island, starting with the magnificent Portara that welcomes you to Naxos, but also the Temple of Sangri, and the mysterious Kouroi.
The island of Naxos is one of the best places in Greece for a family holiday or a vacation with friends. It's a great Greek destination to explore, relax, and have fun too!
Mykonos
Yes, that's what Mykonos is known for. However, the island is also one of the greatest places in Greece for beaches.
Some of the most beautiful beaches in Greece are on the coast of Mykonos. Pristine shores, soft golden sand, and unique emerald bays are just too pretty to be real.
Besides, the old town of Mykonos, with its typical Cycladic architecture, cobblestone alleys, white churches, and windmills is a place that seems to come right out of a perfect postcard.
Although you wouldn't think of Mykonos as a great place to go with kids, we took a holiday with the family on the island and it was magnificent.
There are indeed many things to do in Mykonos with children, there are interesting museums and natural landscapes, plus some very safe and shallow bays.
Mykonos can be a bit overpriced in specific locations that are more exclusive. Yet, if you manage to book well in advance, you won't be spending a lot more than on other hot destinations in Greece.
Mykonos is the best place in Greece for partying. There are dozens of clubs, beach bars, and discos. Mykonos is also known for its tolerance of gay tourism and private atmosphere!
Corfu
A cool day trip to Paxos and Antipaxos by boat took us to explore these small islands with stunning views, pristine seas, and lush vegetation.
Corfu is one of the top places to visit in Greece because of its history, its sights, and the relaxed beach life on the island.
If you are looking for a great holiday destination in Greece, big enough to explore and have fun, whether it is as a couple, with the family, or alone, look no further than Corfu.
Corfu has every ingredient for a great holiday in Greece. Stunning landscapes, great beaches, and delicious gastronomy. It's also a very safe place in Greece to visit with the family.
Thassos
The Greek island of Thassos is a quiet yet beautiful and most rewarding holiday haven you can visit off-the-beaten-path in Greece. And there are countless reasons to visit.
While you admire the natural beauty of Thasos, note that there is much to do in this remote part of the Aegean.
And you better start with its beaches. Whether you are after golden sand, pebbles, or marble, Thassos beaches have your match.
On the island, you will also find some charming mountain villages where life remains slow and traditional, and that have preserved their unique identity and traditions.
History enthusiasts will also love Thassos for its rich background and culture. Whether you are interested in mythology, classical Greece, or modern history, Thassos will surprise you with its archeological and historical sites, not to mention its new museums.
Hydra
Just an hour away from the bustling city of Athens, Hydra is a small island on the Saronic Gulf. It's a great city break when you're staying in the capital of Greece.
In almost no time from the Port of Piraeus, you will be stepping into the Greek island vibe and lifestyle.
Life on the island is tranquil and slow. There are no cars, bikes, or motorcycles, in fact, donkeys and horses are part of the local landscape and are one of the most famous features of Hydra Island.
However, there's more to do on the island than just checking the donkeys by the port.
If you spending just a day in Hydra, walk along the coast to discover the hidden coves and the small seaside settlements that will come your way. Just stop for a swim at the cove that appeals to you the most, and then move on to the next Hydra beach.
If you're not into walking long distances, you can reach further beaches by hiring a taxi boat at the main port.
Once you're done swimming and sunbathing, explore the village, have an ice cream by the sea, or eat in one of the many tavernas at the port of Hydra.
And don't forget to check out the beautiful sunset while you're waiting for your ferry to take you back to Athens.
Hydra is a small island close to Athens and it's a unique place in Greece for a city break or a day trip from the capital. Hydra is close enough to Athens for you to visit in a day.
Paros
Paros is a top Greek island for holidays, definitely one of the coolest places in Greece!
Home to unique beaches, traditional settlements, a quaint little port, and mouthwatering gastronomy, a trip to Paros will create everlasting memories for anybody visiting
There are plenty of things to do in Paros since the island is rather big and usually busy in summer. One of my favorite places in the mountain village of Lefkes.
If you visit during the gastronomic festival, you can sample snail dishes that have gained Lefkes and name in the Cycladic islands.
There are also interesting buildings you can visit in Paros, such as the Byzantine church of Panagia Ekatontapoliani or the spectacular ruins of the Frankish Castle, a Medieval fortress overlooking the sea.
As far as sunbathing is concerned, Paros has some of the best beaches in Greece. Santa Maria Beach is a paradise for water sports since it has perfect wind conditions.
On the other hand, the stunning beach of Kolymbithres will amaze you with a landscape of smooth rocks and shallow, crystal waters.
Zakynthos
The world-famous view of the turquoise waters on the Navagio Beach (also known as the Shipwreck Beach) of Zakynthos is one of those images that make you want to book your holiday in Greece asap!
As a matter of fact, Zakynthos is one of those magical Greek islands you don't want to miss.
It has become one of the trendy places to visit in Greece, chosen by thousands of tourists from Europe every season. But there's a lot more to do on this island.
The best way to go about Zakynthos is by car. The island is not as big as Rhodes, Corfu, or Crete, and can be seen traveling independently.
The coast of Zakynthos is a famous place in Greece to spot sea turtles, there are different tours and immersion excursions you can choose from if you want to see these beautiful creatures really close.
Other than the must-do day trip to Zakynthos Town, one cool thing to do in Zakynthos is to visit the spectacular Porto Azurro.
The paradisiac beach features beautiful rocks that emerge from the crystal waters surrounded by an incredibly green landscape. The area is also great for snorkeling.
Patmos
Patmos is an off-the-beaten-track destination in Greece. It's located in the Dodecanese cluster of islands, and it's considered one of the most exclusive places to visit in Greece.
The island, one of the best places in Greece for religious tourism, is visited by hundreds of tourists every year, eager to know everything about the famous Cave of the Apocalypse and the historic Monastery of Saint John.
The monastery stands on top of the old town of Patmos, a place full of stunning fortified mansions and maze-like cobblestone alleys.
There are many more things to do in Patmos other than visiting the spiritual centers on the island.
The main settlement and port, Skala, is great for dining, shopping, or sitting for a drink in the main square, close to the Marina.
There are plenty of beaches in Patmos to choose from, some of them of unique beauty, Agrio Livadi and Lampi are two of the nicest shores on the island.
However, if you're looking for a beach that takes your breath away, hike until you reach the blue waters of Psili Ammos. The beach is somewhat hard to reach but the relaxing vibe of the place is totally worth it.
Some might consider Patmos an island off the beaten track and somewhat too exclusive. However, the calm atmosphere of Patmos is what makes the locals proud.
If you're looking for a different place where to go in Greece, Patmos won't disappoint you!
---
---
Pin This Guide to the Best Greek Destinations to Read it Next!
---
You might also want to read:
---