They say no Greek holiday can be defined as such if you do not take a sea cruise. With so many islands surrounding the mainland, how could anyone disagree? if you are based on the relaxing northern coast of Corfu, you will not want to miss some of the stunning beauties of the Ionian. So, why not book a day trip to Paxos and Antipaxos with children?
---
Disclaimer: Posts include affiliate links to products or services. I might earn a commission if you make a purchase.
---
Paxos and Antipaxos with Children: Day Trip from Corfu
PLANNING A LAST-MINUTE TRIP TO GREECE?
Be sure to book accommodation and tours in Greece ahead of time to ensure availability!
🛥️ Book ferry tickets with Ferryhopper.
🛌 Find hotel deals on Booking.com.
🚘 Compare car rental prices with Discover Cars.
💳 In need of money? Use WISE as a digital card and top-up from the app.
Top-rated tours in Corfu
Guided Walking Tour and Local Food Tastings
Corfu – Ghost stories and legends
Parga, Sivota, and Blue Lagoon Full-Day Boat Cruise
Antipaxos & Paxos Blue Caves Boat Cruise
Transfer and passes: Private Minivan Airport Transfer
🛌 Suggested Hotels in Corfu:
Corfu Day Trip: A Sea Cruise of the Ionian (with Kids)
A day cruise on the small Ionian islands of Paxoi can be a great family getaway… but it does also work for couples and solo travelers.
Here, I show you the time I checked the amazing blue caves around these small islands. Discover what it is like to cruise around Paxos and Antipaxos from Corfu!
During our trip, we were spending a few days on the northern coast of Corfu, in Acharavi. To reach the port of Corfu we took a bus: the trip lasts a bit more than an hour.
As you approach Corfu town, it's possible to see the city, the most important buildings, palaces, and the two fortresses overlooking the sea.
The Blue Caves of Paxos
Boarding is quite fast. Once the ferry starts sailing, it's possible to admire the views from the city of Corfu and the spectacular fortresses that the Venetians once built to protect the island.
As you venture further towards the open sea, the breeze helps ease the extreme Summer temperatures that hit Greece in July.
The trip can be particularly exciting since, in this area of the Ionian, it's possible to spy on some lazy dolphins shyly jumping the waves!
After about 50 minutes of sailing, the ferry slows down the speed to visit some of the famous Blue Caves around the island of Paxos.
Having a spectacularly rugged coastline, dramatic cliffs, and outstanding solitaire beaches, the place offers unforgettable views.
According to Greek mythology, the island of Paxos was formed when Poseidon, God of the Sea, fell in love with Amphitrite.
Poseidon, to build a shelter for the two of them, struck the island of Corfu with his trident thus creating Paxos and the smaller Antipaxos.
Once the boat enters the caves, the silence is only disturbed by the hundreds of birds that have their nests inside. The crystal clear waters shine and reflect the light on the rocks.
The effect is impressive: The bird's singing echoes in the darkness producing a magic atmosphere.
The last stop around the caves is known as Poseidon's marble palace. Right after, you sail past a natural rocky bridge formed by wind and sea erosion. Finally, you head to the small gem of Antipaxos Island.
Jumping Off the Boat: Antipaxos
Not more than fifteen minutes from the Blue Caves of Paxos, the small island of Antipaxos is there to welcome you with a beauty robbed from some Caribbean dream.
Less than 5 km big, it is renowned for the spectacular indigo blue of its waters. I bet you have seen those stunning pictures of boats that seem to be flying over water. Well… this is the place. And we are amazed at the sight of them.
Once there you can jump off the boat or simply go down the stairs (if your kids are smaller, which was our case) to swim into clear waters with incredible views of sea life.
Life jackets for children are provided, and everything is extremely safe. If you're into diving, remember to bring your mask!
You can also swim towards the beach, have a beer, or have lunch in a tavern. There are also caves you reach swimming or even walking as the water gets shallow towards the area. In our case, we never left the sea. With such hot weather, it was refreshing and extremely pleasant to swim in.
A full holiday of a week or two on this island has made it to our bucket list without second thoughts. This is a true paradise.
If you are staying in Paxos, instead, you can reach Antipaxos every day by taxi boat and spend the day on the island. If you ever manage to leave the beach, they say the heart of the island is full of vineyards and wild flowers.
Afternoon in Gaios, the Capital of Paxos
Back on board, we sail for about twenty minutes and we are in Gaios. We enter a narrow picturesque channel to reach the harbor of the small village. Luxurious yachts mix with small fishing boats.
Little fish restaurants and traditional Greek tavernas serve those wonderful Greek dishes, including fresh shrimp, grilled octopus, and a superb local wine that Paxos is famous for.
Gaios spreads along the waterfront displaying the gorgeous typical landscape many Greek islands share: shops, trees full of pink flowers, rustic tavernas, and small churches.
And, in Paxos, not white but often orange little houses against a calm blue sea. It's like a tiny postcard of Greece.
The sun bathes the narrow lanes, an ice cream break is a must while we walk to the next secluded beach.
We swim for the rest of the afternoon in that blue sea that makes us love Greece madly.
How would you like to visit Paxos and Antipaxos Islands? Let me know in the comments below
Read more about Greece
Pin this Guide to Visiting Paxos and Antipaxos with Children for For Your Next Holiday in Corfu!
---
---
About my blog: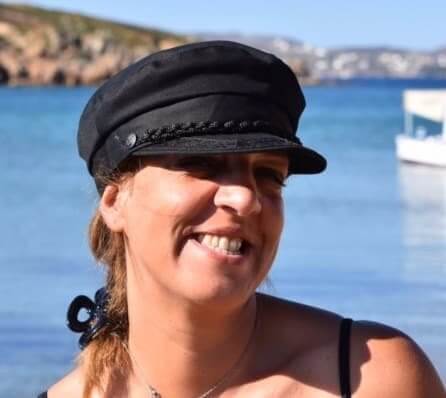 I moved to Crete in 2016. During these years, I learned much about the island.
In Crete, I juggle being a solo mom, hosting culinary tours, and writing for several travel media.
I've written for Greek Reporter, published travel guides about Greece, co-authored DK Eyewitness Top 10 Crete, and had more glasses of frappe than any regular person could ever handle.