Can you name your top priority when deciding about family holidays? In our case at least, during the scorching summer season, we need to go to the beach. And Greece is a fantastic destination, home to some of the most amazing beaches in Europe! So, if you're like me and find yourself wondering which are the best places in Greece for families, don't go any further, here you can find out the top three destinations that redefine the meaning of Greek hospitality. For us, the choice is simple: Crete, Corfu… or maybe somewhere in between.
---
Disclaimer: Posts include affiliate links leading you to products or services, I might earn a small commission if you make a purchase. This has no extra cost to you but allows me to continue writing articles that are helpful for your travels. I only recommend things I use myself or that I believe will deliver value to you. 
---
Is Greece Good for a Family Holiday?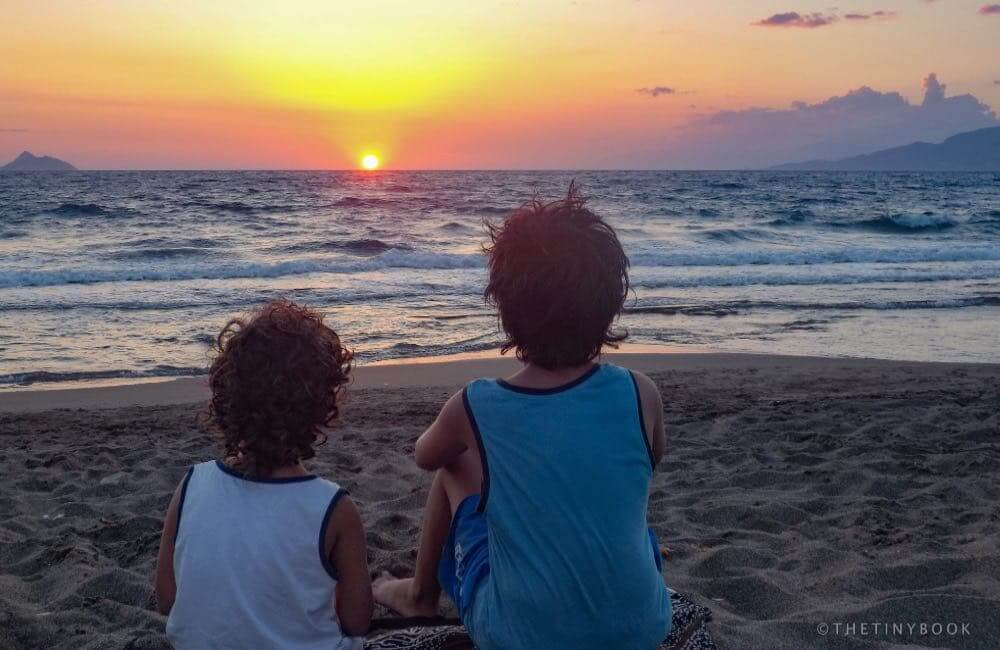 Saying that Greece is a kid-friendly country is an understatement. Children are really loved in Greece and can quickly become the star in restaurants and small family hotels, where they will be treated and pampered in every possible way.
Families come first in Greece, and children even more so. I've learned that during my years living on the island with two small kids. And now that the kids are not so small any longer, things haven't changed a bit.
Greece is also a very safe destination. Of course, places such as Athens or Thessaloniki pose the same usual risks you can run in every important city, but in general, the atmosphere is quite and there aren't any major risks to be aware of.
When it comes for food, beaches, landscapes, cultural activities, outdoor experiences, and fascinating archaeological sites, there's a plethora of things that kids can enjoy in Greece. Both in the mainland and on the islands. So if after reading all this, your question still remains, let me put it bluntly: Greece is really a great place for family travel.
Which Places in Greece are Best for Families?
Some of the bigger islands are the obvious choice. Crete, Corfu, Rhodes, and Naxos are my top pick when it comes to places for families in Greece. But that's not all. Older children can really enjoy less traditional places for kids such as Mykonos (for great beaches) or Santorini (with spectacular views, a unique black beach, and a stunning archaeological site).
Is Crete Good for Family Holidays?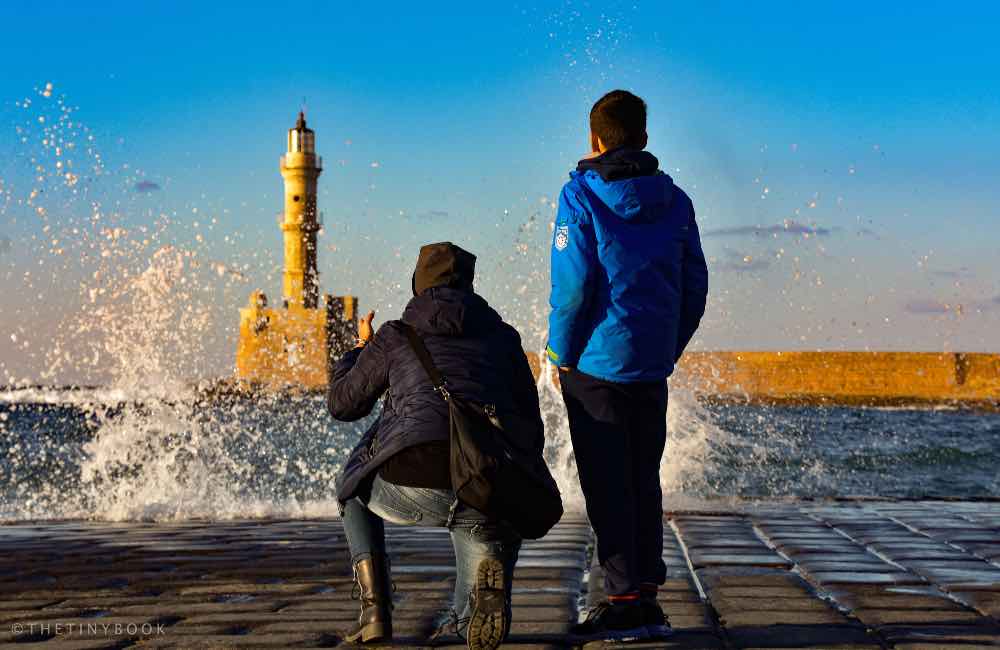 You'll say I'm biased, and maybe I am, but just a little. In my opinion, Crete is the best place in Greece for families, and I don't see myself changing my mind any time soon.
I will always choose Crete for children, it's a perfect kid-friendly island with the right beaches for kids, beautiful landscapes, endless outdoor adventures to explore, healthy and tasty food, safe, and fun. Crete has every ingredient and even more to go with children.
Things to Do in Crete with Kids
Crete is a blessed land and we can never get enough of it. We enjoy our trips around the Northwest coast, sometimes not as windy as the South (which kids also love because of the fantastic beaches), some of them among the best beaches for children in Crete.
The capital, Heraklion will offer your family the best of both worlds. Heraklion's shore stretches to the East and to the West of its center. The bays of Ligaria and Agia Pelagia are good and safe places for kids to swim. Add to the beaches stunning theme parks, such as Dinosauria and the Labyrinth, the Archaeological Museum, and the Minoan Palace of Knossos and the result is a wonderful recipe for family Summer success!
Is Corfu Good for Families?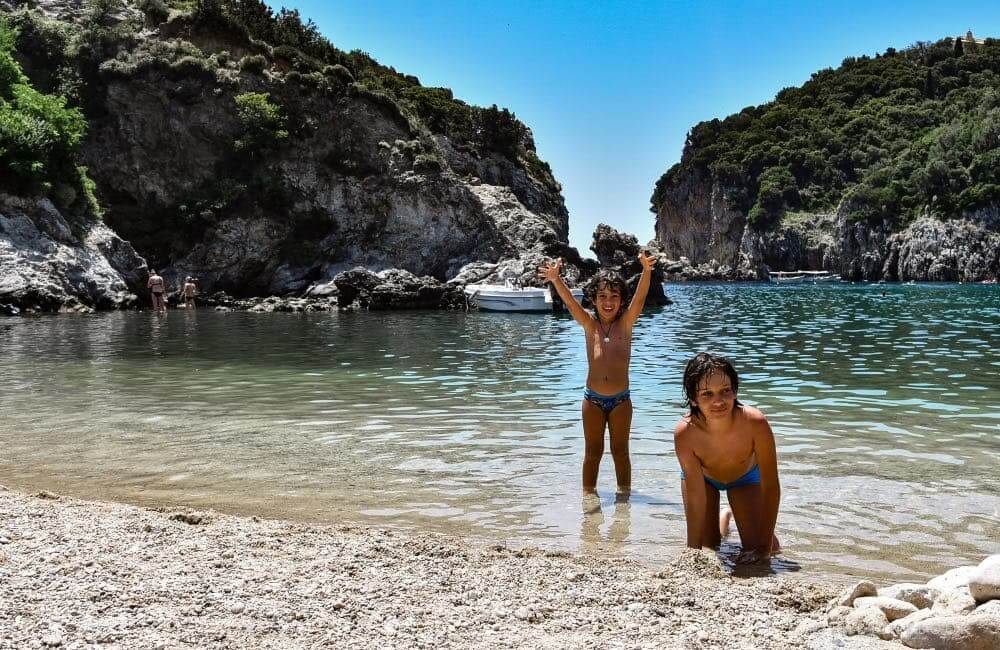 Yes, Corfu definitely passes the test too! Corfu is another great contender for family holidays in Greece. I traveled with the kids as a solo mom and I always felt safe and cared for. Being a mom traveling alone with two kids can feel overwhelming at the beginning (it was my first trip with both kids), and from bus drivers to waiters in tavernas, to just random people on the streets and on the beach, everyone was hospitable and willing to help.
We stayed for two weeks on the northern coast of the island and on that particular occasion I decided not to drive and try organized tours and public transport. It was quite easy to book excursions fit for children. We even sailed to Antipaxos, jumped off the boat, and enjoyed snorkeling in a really deep shore and everything went super smooth.
Things to Do in Corfu with Kids
The beaches of Corfu, as most of the beaches in Greece, are stunning. Some of them are particularly safe and ideal for kids. Coves well-protected from winds and waves are easy to find all over the island. One of the days we enjoyed the most was when we jumped on a bus and visited a kumquat marmalade factory. The kids went crazy tasting sweets, jams, and biscuits, while I discovered the wonderful liquor that can be made from this exotic fruit.
Next up on that same day, we visited the beautiful beach of Paleokastritsa where we had a picnic on the beach and explored the sea caves on a boat.
Is Rhodes a Good Place for Kids?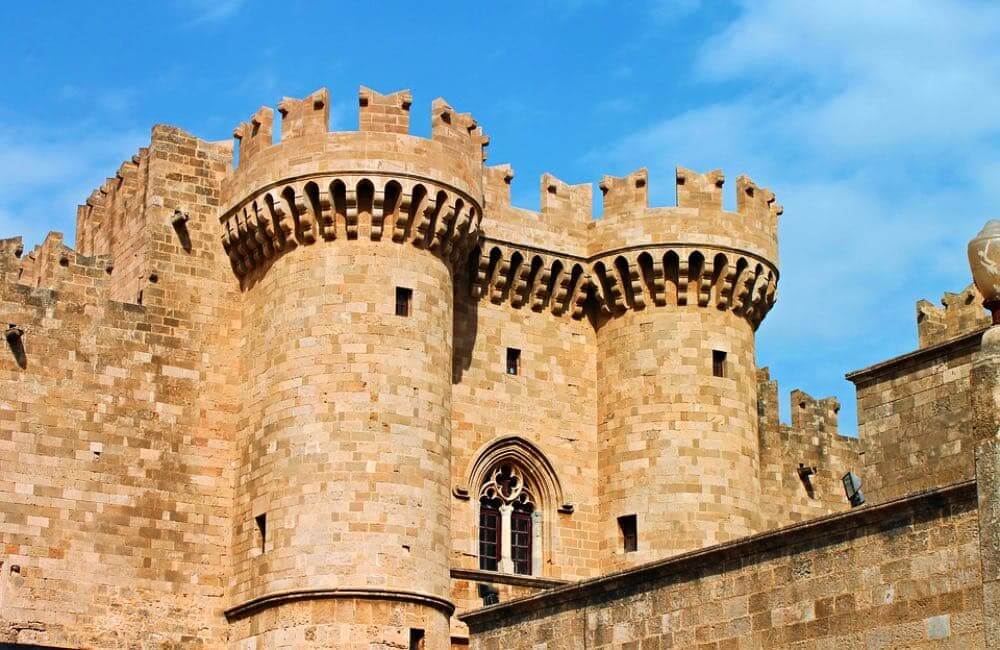 Another favorite for family travel in Greece is Rhodes. This huge Greek island has plenty of opportunities for kids to enjoy an unforgettable holiday. One of the places that children will love the most is the magnificent Palace of the Grand Master of the Knights.
The castle, which is one of the prettiest in the world is a fantastic fortification overlooking the harbor of Rhodes. I still have to meet a kid who didn't enjoy such a visit.
There are also several tranquil beaches in Rhodes for children. The weather is good almost all year long, so small kids that are not subject to any school schedule can also enjoy the warm sea in less crowded months. If this is your case, prices off-season will make the island even more attractive!
Things to Do in Rhodes with Kids
When it comes to things to do with children on the island of Rhodes, you will be able to choose among ancient archaeological sites and museums, water parks, outdoor adventures, and water sports. The old town of Rhodos is considered to be one of the best-preserved medieval towns in the continent, it has a unique fairy tale atmosphere that fascinates both kids and adults alike.
And if you're after more castles and dreams of knights and princesses, head to the town of Lindos, and check the magnificent castle overlooking the city the magnificent beach of Lindos.
Santorini & Mykonos with Children
Not as popular destinations for children, both islands can reveal tons of surprises if you visit with kids. You just need to get off the beaten track and find the right places that you know your kids will enjoy.
>>Check the best Holiday Villas in Santorini or look for Vacation Homes Mykonos<<
Things to Do in Mykonos with Kids
Mykonos is not just a party island or a night, as many love to define it. There's also a morning Mykonos that kids can enjoy, including the beautiful and safe beaches, the Folklore Museum, the wonderful seaside windmills of Mykonos, and the fantastic landscape of the houses by the sea in Little Venice.
Moreover, you can sail to the nearby Delos. A whole island is also an archaeological site with dozens of ruins and legends related to the most famous legends in Greek mythology. If you're still wondering whether Mykonos is a good place in Greece to visit with children, trust me, the island won't disappoint you.
Things to Do in Santorini with Kids
The island is known for being the perfect romantic place in Greece. And we must agree on the fact that those dreamy landscapes look much better when you're enjoying them with someone you love. What can be more romantic than a sunset in front of the most famous caldera in the world?
Yet, apart from the fact that kids can also enjoy a sunset (can't they?!), many things can entertain your kids in Santorini. The two black beaches on the island can be really intriguing for kids, as well as the volcanic landscape. Imagine what an adventure it can be for a kid to know they are on holiday on top of an ancient volcano… which is still pretty much alive!
To get a closer look at what the past civilizations that lived on the island at the time of the volcanic explosion looked like, the unique archaeological settlement of Akrotiri was buried under the ashes of the eruption for ages. So, pretty much everything was preserved and can still be seen, such as the houses and the roads of the settlement.
If then you also check the archaeological museum in Fira Town, kids will be able to see figures and impressive seals coming from the settlement.
Naxos & Paros with Kids
Both Naxos and Paros are islands that kids can really enjoy. Both islands have dozens of great beaches for children, traditional mountain villages for outdoor trekking and exploring, as well as interesting archaeological sites.
>>Check the best Rental Homes for Holidays in Naxos<<.
Things to Do in Naxos with Kids
When we visited Naxos with the family, we wished we could have had some more time to keep driving around the island. Everywhere we went, we enjoyed. One of the things our kids enjoyed the most was a walk in the Chora of Naxos. The old town is on a hill and crowned by a beautiful Venetian fortress. From there, the views of the Portara, the most famous archaeological place on the island are impressive.
Another thing they enjoyed was the hike in the hills to visit the Kouroi in Melanes village. Other than the wonderful walk in nature, the views of the mountains and the green valleys, the fascinating mystery surrounding these unique stone statues will keep kids interested and entertained for long.
Things to Do in Paros with Kids
Paros is another popular place to visit in Greece with children. We visited for just a few days, and again, we wished we could have stayed longer. Probably as beautiful as any other Cycladic island, the advantage in Paros is that the island is not as busy or as expensive as Santorini or Mykonos.
The environment is definitely more relaxed and traditional, and the Greek atmosphere is truly authentic. One of the best places to visit in Paros with kids is the Vally of the Butterflies, populated with abundant trees, bushes, and thousands of butterflies literally everywhere!
The beach of Kolymbithres is another spectacular place to check when in Paros. Kids will fall in love with the moon-like landscape made of smooth rocks that have been eroded by the wind and the sea. The waters are really shallow, perfect for toddlers and small kids.
If you have enough time, take a boat and sail to the nearby small island of Antiparos. The island is really small and laid-back, and there is not a lot of activities thought for kids, however, it can be interesting to check the Cave of Antiparos, one of the most impressive caves in Europe.
I wrote an article about things to do in Antiparos with kids which you should check if you're planning to visit both islands.
One More Idea for Holidays in Greece with Kids
If your main intention is to chill out and relax during your family holiday in Greece, just make up your mind and visit any of the aforementioned islands. All of them will provide unforgettable family moments to take back home with you.
However, if your family is seeking for an adventure or if the explorer in you is dying to get out…
If you are thirsty for new views, exciting locations, and different destinations every day, then you can go for a cruise in the Aegean. Put the least amount of effort with the greatest outcome, several destinations in just one trip will offer countless visuals and images that you and your kids will treasure forever.
In family-friendly cruises, activities for kids on board can be limited. But you are a Tiny Book reader, so you already have a bag packed with activities for your kids for them not to get bored (like I do!). The main attraction on a cruise is simply to enjoy the beauty of smooth sailing… A beauty that can be fully enjoyed by kids too!
---
Are you visiting the Greek Islands with your kids soon?
Let me know in the comments below!
---
Travel Plans for Greece?
More Resources to Organize Your Trip!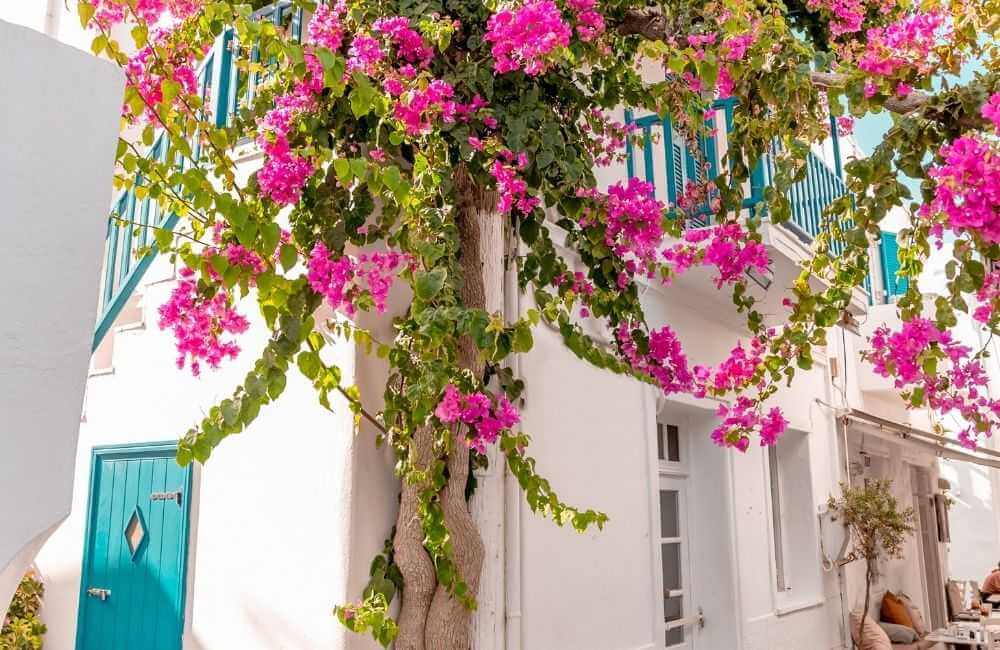 Start by heading right to my Greece travel guide for in-depth details you need to know about Greece. You can also check my post to plan a trip to Greece with children!
Get in touch if you need extra help to plan your trip. If you want to tour West Crete, check my guide. Want more? Join my Private Facebook Group to connect with like-minded travelers who love Crete as much as you do!
Make Sure You've Got Everything For a Hassle-Free Vacation!
Without my Osprey backpack, I never move around the islands…it's a sturdy but light travel partner I just love. For short trips, I carry this crossbody bag. If I drive, I pack my Nikon D7200 and a good travel guide! Lonely Planet's Best of Greece & the Greek Islands.
When it comes to plane tickets, compare prices with a powerful search engine. However, nothing beats traveling by sea in Greece. With Ferry Hopper, you can book in advance at the lowest price.
For accommodation, I use Booking.com.
Traveling to remote places is easier with Discover Cars. Other times, I join organized tours with GetYourGuide, which features anything from cooking lessons to airport transfer!
COMING TO CRETE SOON?
Get in touch and let me know!
Read more:
Amazing Greek Presents for a Greek-Themed Christmas
Sublime Things to Do in Patmos, Greece
The Most Amazing Beaches in Sifnos Island
How to Get to Mykonos: Best Ways to Travel to the Greek Island
How to Get from Heraklion to Chania: Practical Guide by a Local
Pin this Guide to Choose the Best Greek Island for Family Holidays in Greece!
About the author of this blog: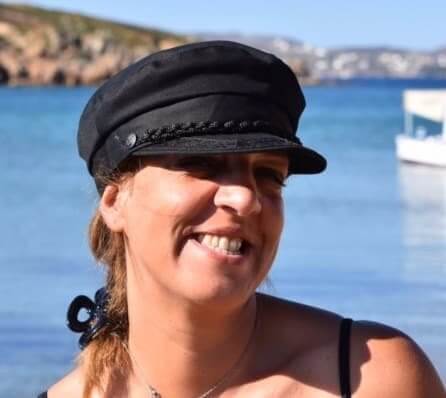 Gabi has been living in Crete for the last five years. Here, she juggles being a solo mom, hosting culinary tours in the summer, translating, and writing for The Tiny Book and her other blogs.
She's written for Greek Reporter, published three travel guides about Greece, and had more glasses of frappe than any regular person would be able to handle.
---
You might also want to read:
---