Traveling to a new place can be challenging when you have kids, but also enriching for all the members of the family. And this is especially true in a country like Greece, home to beautiful landscapes and beaches.
But there is more to the country than its stunning nature. It boasts some amazing cities with plenty of things to do for the whole family. One of them is Thessaloniki, which has so many places worth discovering… So, let us help you plan your trip. These are our suggestions for places to visit with the family and the best things to do in Thessaloniki with kids. Let's get started!
---
Disclaimer: Posts include affiliate links to products or services. I might earn a commission if you make a purchase at no extra cost.
---
Best Things to Do in Thessaloniki with Kids
General Information about Thessaloniki
Second in importance in the country, Thessaloniki comes right after Athens when it comes to fun things to do for the whole family. Truly child-friendly, the city is home to great parks, museums, and archaeological sites.
There are tons of entertainment opportunities, including some great beaches near the city, a fantastic zoo, and many more places to visit.
The city, which faces the Thermaic Gulf, is an alternative place if you don't want to visit Athens. Enjoying a fantastic geographic location in Europe, the city has warm summers and chilly winters with plenty of snow and skiing opportunities in nearby areas.
If visiting the islands on the North Aegean Sea, Thessaloniki can prove a comfortable departure point. Places such as Halkidiki, but also islands like Samos, Skiathos, or Thassos are quite easy to reach from Thessaloniki.
And when it comes to budgeting your trip, keep in mind that Thessaloniki can be pocket friendly. There's plenty of affordable accommodation and dozens of very good Greek tavernas and restaurants to limit your expenses
How to Get to Thessaloniki
Probably the most comfortable way to get to Thessaloniki with the family is by plane.
National flights reach this Greek northern capital from Athens, Ioannina, Heraklion, Chania (in Crete), Rhodes, and Lesvos, among other islands.
The International Airport of Thessaloniki is about 15 km from the city center and it receives flights from all over Europe as well as some intercontinental flights.
If you're reaching Thessaloniki from Athens, you can either get there by train, although it is not the most convenient option. The trip can last between 4.5 to 6 hours, depending on the train you choose.
⛴️  Check out ferry ticket fees and schedules
The bus is another option. The bus trip from Athens takes about 6 hours and the ticket must be purchased at the station prior to departure.
Traveling by car is probably the best option when exploring Greece with the family. It offers the possibility to design flexible itineraries and to stop whenever anyone is tired.
The trip takes from 5 to 6 hours driving on the National Rod and making a stop in a stunning place like Meteora is a great idea as well.
Finally, you can get to Thessaloniki by sea traveling from Athens to Kavala and continuing from there by bus. Probably not the most effective way to reach Thessaloniki, and certainly not a trip that I'd suggest for families with babies, toddlers, or small kids.
Kid-Friendly Things to Do in Thessaloniki with the Whole Family
Check out these unique places to visit in Thessaloniki for a fun-packed vacation!
Explore the Archaeological Museum of Thessaloniki
Nicknamed A Museum for All, the Archaeological Museum of Thessaloniki is a great place where to start exploring the city with the kids.
The museum is among the most important (and biggest ones) in Greece featuring both unique collections of ancient objects, dating from the Prehistoric era to the end of antiquity, as well as many interesting cultural activities all year round.
Especially for families: The museum features unique educational programs especially thought for families. Here you can find upcoming events, downloadable material for kids, and activities for families.
Among these are thematic tours for children and games actually played inside the museum.
>>> Check the museum's website here.
Check the Imposing White Tower
Both an imposing building and a museum, the magnificent White Tower is located on the waterfront of Thessaloniki. It's an important landmark in town as well as a place that both kids and adults will enjoy.
Once inside, it's possible to discover an exhibition dedicated to the city of Thessaloniki and its history.
Give the Children's Museum of Thessaloniki a Go!
Featuring very interesting objects, the Children's Museum of Thessaloniki is a perfect place for an afternoon in town.
The museum hosts two large collections, one of them concentrating on different school items such as school bags, notebooks, pens, exercise books albums, anthologies, desks, and aprons but also educational and literary books, maps, and more dating from the past two centuries.
The second exhibition, instead, is a fantastic collection of old toys, including dolls, board games, wooden toys, and figurines from the twentieth century.
Visit Waterland
Of course, a water park would be a fantastic kid-friendly activity in Thessaloniki. This park is located near the village of Tagarades and is actually on the outskirts of Thessaloniki, on the way to Halkidiki.
What does this park offer you? You will enjoy: Pirates Island, Wave Pool, Crazy River, Zen Pool, Multi Slides, Simvoli Slides, and Tarzan.
And that's not all. They also have a zoo in the park, what a great chance for your kids to learn more about animals and see them up close!
Believe me, one day will not be enough for you to spend all the fun things in this park, and your children will have an unforgettable experience.
>>> Check their opening hours and more on their website.
Explore Dinosaur Park
If you want to combine fun and education, this is the place for you and your kids. The park covers an area of ​​10,000 m2 and has real-size models of dinosaurs and other prehistoric animals.
Numerous prehistoric caves are very educational because they explain human evolution.
Parts of the park include the mammoth museums with models of extinguished species, as well as sea life museums with existing and extinguished species and a whale model in real size.
You can also visit the botanical garden with herbs and plants, the ancient Greek farm, and much more.
Tip: For weekends and holidays there are professional paleontologists available and you can take a tour with them and learn a lot of educational historical facts.
>>> Check their website for opening hours and tickets.
Discover the Zoo of Thessaloniki with Kids
The city zoo is one of Thessaloniki's attractions that your kids will adore.
The entrance is free, and you will enjoy a relaxing walk through the suburban forest where you can see birds, mammals, deer, pigs, goats, squirrels, and other animals.
There is also a small natural science museum and a special reptile section.
Visiting the zoo also provides recreation and education for children because they can observe different animals from a short distance and learn a lot about them.
>>>Check their website here.
REMEMBER: The entrance is free!
Embark on Arabella Cruise
How cool is it for a pirate to come and invite your kids for a ride on his boat?
This activity is fun for both the young and the old. Remember that the entrance is free, you only need to buy a drink.
The boat leaves regularly throughout the day and no booking is required. Enjoy the sea breeze and the beautiful view of the seaside.
>>>Check the website here to discover the departure points and more details.
Stroll Around Aristotelous Square
Thessaloniki's main square is the heart of the city, a great spot for you and your kids to walk, sit for ice cream, or a family-friendly dinner, and perfect for shopping too.
There are imposing buildings and hotels in the area, and it's nothing but the perfect place to sense the real vibe of this city.
Take a Walk on Thessaloniki's Coastline
Do you have children in a stroller? This is the right place for a nice walk with your family to enjoy the sea breeze, take great pictures, and admire one of the most picturesque sunsets in Greece.
The best part is that it has been renovated quite recently, so the whole surface is flat and you will not have obstacles in pushing the stroller.
Enjoy the beautiful views and the walk without traffic and polluted air. Your kids will love it.
Swim at the Beaches of Thessaloniki
Agia Triada Beach
Agia Triada Beach is about 22 km from the center of Thessaloniki, and it is a popular place where locals spend their weekends in the summer.
It's well-organized, features seaside bars and restaurants, and it is well-connected to the center via public buses that cover the route every 30 minutes.
The shore of Agia Triada is long and shallow, waters are clean and clear, while it is also possible to rent an umbrella to spend the day. There are also hotels and restaurants in the area for a perfect beach day with the whole family.
Perea Beach
Another beach near the city, Perea, is located about 17 km south of the city center in a residential village of the same name. To reach Perea, it's possible to take the bus or drive.
The beach is long and sandy, quite shallow and tranquil which makes it quite popular for families with kids. There is enough organization for families and the are many tourist facilities.
Marvel at the Stars in Noesis
Your kids will be able to explore, play with science, watch 3D movies, and enjoy an exciting day.
If you want to do something fun with your kids that's also educational, and captivating, then this is the place for you.
The place is well-thought and organized, it has a section devoted to ancient science, and you can also check the thematic presentations and the science museum.
>>>Check their website here.
Battle at Adventure Paintball
This is a fun activity for the whole family, specially designed for kids from 7 and older. The place is easy to reach, not far from the most important mall in Thessaloniki, Mediterranean Cosmos, so it's quite easy to reach even by bus.
The venue features several tracks, two of them especially for kids, Recball and Speedball. The place is an excellent alternative to doing something completely different with the family!
>>>Check their website here
Tip: if you decide to visit this place, choose casual light clothing and sturdy shoes.
Kapani Market
Kids love to explore open markets, they are places full of colors, smells, and sounds where they can get a better look at the local culture, try regional dishes, and buy some souvenirs too.
During a visit to the oldest open market in town, kids can marvel at seasonal produce, and taste mouthwatering bakery products, including koulouri, cakes, sweets, and pies, as well as olives, cheese, and local olive oil.
This is the oldest public market in Thessaloniki and is an interesting experience in which you will find traditional food products at a cheap price.
>>> Check opening hours, images, and videos here (site in Greek).
Thessaloniki is a fantastic place, filled with plenty of things to do for the whole family: Interesting museums and sites, some nice nearby beaches, tons of delicious restaurants, and many historical places to see.
So, what are your plans for your family holidays in Thessaloniki?
Where to Stay in Thessaloniki with Children
These are my recommended places to stay in Thessaloniki with the family.
Best Luxury Hotel in Thessaloniki for Families with Teens
Hotel Nikopolis
5 stars
Location: The hotel is comfortably close to Thessaloniki Airport, about 15 minutes from the center of town.
With an impressive Olympic swimming pool and stunning guest rooms, including family rooms, with garden or pool views, this is one of the best places to stay in Thessaloniki for families with children. Rooms feature modern design, lavish marble bathrooms, a minibar, and deluxe wooden floors. There are two on-site restaurants and a pool bar too. They serve both American buffet breakfast and Greek breakfast, both with kid-friendly meals.
For parents: There is a spa with a state-of-the-art fitness center, an indoor heated pool, sauna, steam bath, hot tub, and outdoor pool.
Teens love The two tennis courts and the Olympic swimming pool.
Best Family-Friendly Mid-Range Hotel in Thessaloniki
Trademark Collection By Wyndham Lazart
5 (affordable) stars
Location: The hotel is about 2 km from the city center, allowing direct access to places such as the White Tower and Ladadika. The airport is about 20 km away.
Don't be put off by the five-star rating, the hotel offers quite affordable accommodation and unique features including a seasonal outdoor pool and an on-site spa with a hammam and a hot tub. The rooms are elegantly furnished, featuring parquet floors, an espresso coffee machine, and twice-daily maid service, quite handy when traveling with small kids. Every morning, there's a rich breakfast served at the open-air pool restaurant.
For mommies: Massage treatments can be arranged upon request.
For kids: There's a kid-friendly shallow-ended pool and in-rooms, families can request baby safety gates. In the property, it is possible to spend time playing board games and for parents who want to have a romantic night out, there are babysitting and child services upon request (paid service).
Traveling with Fido too? This hotel is pet friendly!
---
Are you visiting Thessaloniki with your kids soon?
Let me know in the comments below!
---
Pin this Guide to the Best Things to Do in Thessaloniki with Kids!
About my blog: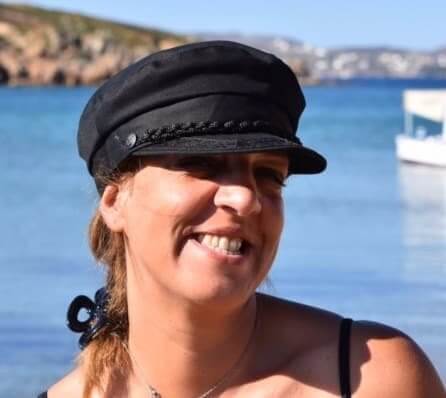 I moved to Crete in 2016. During these years, I learned much about the island.
In Crete, I juggle being a solo mom, hosting culinary tours, and writing for several travel blogs.
I've written for Greek Reporter, published travel guides about Greece, and had more glasses of frappe than any regular person could ever handle.