Looking for kid-friendly Greek food? You're at the right spot!
An important part of every holiday is enjoying the local food and if you are traveling to Greece with children, you can rest assured that they will love Greek food! Greek dishes include plenty of fresh vegetables, herbs, and of course, olive oil.
Even if your children are picky at the table, there's plenty of kid-friendly Greek food for them to enjoy!
---
Disclaimer: Posts include affiliate links to products or services. I might earn a commission if you make a purchase at no extra cost.
---
What to Eat in Greece with Your Children? Kid-Friendly Greek Food
The flavors of the dishes are straightforward and delicious and enjoying a meal usually involves some chunks of bread for dunking in tasty dips served as appetizers!
Potato chips are popular in Greece and bowls of horiatiki – a village-style salad that accompanies almost every meal.
In tourist areas, you will find the Greek versions of 'fast food' – souvlakia and gyros- two different types of kebabs that are much-loved by children.
Greek Food for Everyone in the Family!
If you're planning a vacation in Greece and are the mom or dad of a picky eater, you may be wondering what your children will end up eating during their time in the country.
Well, the Greek diet is really varied and offers plenty of things to eat that please every member of the family, so if what to eat in Greece with kids is an issue that has been worrying you, read this guide to learn what to expect at the table when visiting the country.
You'll certainly find more than one dish that your children will love!
Introducing the Greek Mezè to Kids
A fun way to sample a wide range of traditional Greek dishes is to order a Mezé.
The name is short for Mezedes which means 'little dishes' and is an array of many different ones served so that everyone enjoys a taster of each.
A meze is more like a banquet than a meal and is not meant to be hurried but enjoyed at a leisurely pace. It starts with a variety of dips before moving on to vegetable specialties and some fresh fish.
The next array of dishes includes traditional Greek casseroles and is followed by a selection of grilled meat straight from the charcoal, with seasonal fresh fruit to complete the feast!
All the dishes are served in generous portions, so it is best just to order for the adults as there will be more than enough for your children can eat everything that appeals to them. If your children like fish, it is possible to order a fish mezé.
⛴️  Check out ferry ticket fees and schedules
Horiatiki: Kids Love Greek Salad
eppers, red onions, and black olives which are tossed in a dressing of olive oil and lemon juice and sprinkled with crumbled Feta cheese.
Younger children can choose which bits they like best, while teenagers will enjoy eating them every meal as they will appreciate how healthy the salad is.
A Trio of Great Dips!
Often when you sit down at a Greek restaurant or taverna, you will be served an array of dips and an accompanying basket of fresh crusty bread or warmed slices of pitta bread.
Over the years, the 'classic trio' of dips has become available in supermarkets across Europe and needless to say, they always score highly with young diners! The three most popular dips are:
Tzaziki
Who doesn't love tzatziki???
This is a lovely cream dip made from Greek yogurt, finely chopped cucumber, and garlic and flavored with dill or mint.
Tahini
Made with crushed sesame seeds, sesame paste is the main ingredient in this popular dip.
The tahini paste is blended with olive oil, garlic, and cumin seeds to make the perfect dip that can be enjoyed as an appetizer or used as a sauce with grilled meat or fish.
Taramosalata
Pale pink in color and slightly salty to taste, proper homemade taramosalata – tarama – takes a lot of beating!
This dip is made from the dried and lightly smoked roe of grey mullet, mixed with lemon juice, olive oil, and garlic. The color of this dip appeals to children but the taste is a little sophisticated!
Extra Bonus Dip: Melitzanosalata
A more unusual dip, but one that is particularly delicious is melitzanosalada which is made from the flesh of oven-baked aubergines mixed with tahini paste and olive oil.
Dolmades
This classic dish is made from the fresh new leaves of the grapevine.
The vine leaves are filled with rice or meat and rice and finely chopped vegetables then formed into a cigar shape and served either cold with salad or warm with a rich tomato sauce.
They can be bought ready-made in the food shops and are nutritious snacks for all ages.
Kalamari
These distinctive battered rings that have been deep fried till they are golden brown are made from tenderized pieces of squid.
They should be sprinkled with plenty of lemon juice to enjoy them at their best. If you can persuade your children to try them, they will definitely ask for more!
Gyros: The Most Kid-Friendly Greek Food Ever!
Who doesn't love a nice, juicy gyro wrap? The most iconic street food in the country, the gyro is a delicious wrap made with pita flatbread and featuring delicious grilled meat (normally pork or chicken).
The traditional wrap includes fries, a portion of Greek yogurt, fresh sliced tomatoes, and onions, but in most gyro places it is possible to change the ingredients to make it more appealing to your kid's taste.
It's sometimes possible to ask for a different sauce if yogurt does not sound like the right sauce to your children and choose ketchup or mayo if your kids like those sauces better.
Moussaka
This classic Greek dish is made with layers of aubergine (eggplant), sliced potato, sliced tomato, and minced meat that are topped with a creamy sauce – much loved by all age groups!
Pasticcio (Maccaronia Sto Fourno)
Often referred to as 'the Greek version of Lasagne', children love the thick macaroni tubes used to make this dish!
The macaroni is layered with a tasty sauce made with minced meat and tomatoes and a thick creamy sauce is poured over the top before the dish is baked in the oven.
Greek Desserts that Kids Love
he Greeks are not big on desserts because the usual grand finale to every meal is a bowl of chilled seasonal fruit and during the hottest summer month of August this is usually huge slices of sweet-tasting watermelon- which are absolutely perfect!
Greek Yogurt with Honey: Top Kid-Friendly Greek Dessert!
This is a popular breakfast dish but is sometimes served as a dessert too. A generous portion of creamy Greek yogurt is spooned on a saucer and a depression is made in its center.
This hollow is filled with delicious locally made honey so, of course, is perfect for younger children.
Bougatsa
Delicious at any time of the day, some Greeks enjoy Bougatsa for breakfast and others as a dessert.
Bougatsa is an envelope of sheets of phyllo (filo) pastry containing cinnamon-flavored custard that has been baked in the oven until golden brown and then sprinkled with icing sugar – irresistible!
Baklava
This sticky dessert is the classic favorite in Greece!
It is made from layers of phyllo pastry, that are sprinkled with chopped nuts and local honey. The result is the most delicious-tasting dessert imaginable!
Kid-Friendly Greek Snacks to Enjoy at Any Time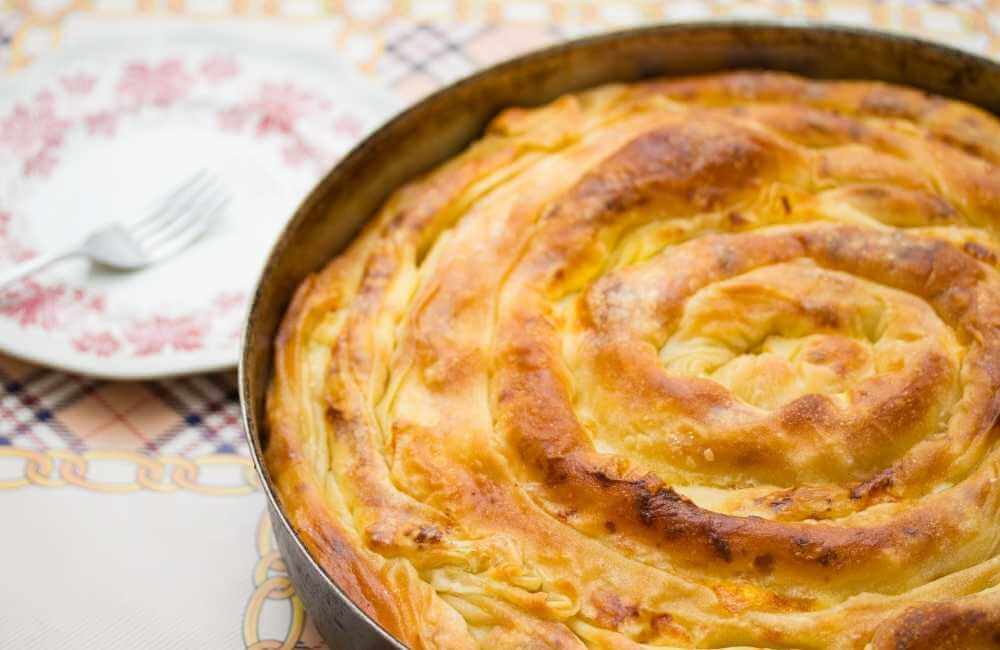 Greek pastries are really popular either for breakfast, a mid-morning snack, or a picnic lunch if you are out exploring.
Greek pastries are made with phyllo pastry which is very light and crispy and the pastries can be bought in all bakeries. The prices displayed are by weight rather than individual pastries.
Tiropita (Cheese Pie)
Delicious Greek-style cheese pies are made from an envelope of pastry layers, filled with crumbled Feta and usually one or two other local cheeses, brushed with olive oil, and then baked until they are golden.
Spanakopita (Spinach Pie)
This pastry is a Greek spinach pie. The layers of pastry contain a tasty mixture of crumbled Feta cheese and spinach, mixed with eggs and flavored with dill.
Kolokotes (Chipriot Pumpkin Pie)
If you have the chance to sample a kolokotes, you will be really impressed with its delicious sweet taste.
These pies contain mashed pumpkin with sultanas, and although they are more of a Chipriot dish, it is also available on many Greek islands.
And There's a Great Choice of Drinks Too!
All the popular fizzy drinks are available in Greece, but many youngsters love the local freshly squeezed orange and pomegranate juice and traditionally styled homemade lemonade.
During the hot summer months, the popular drink to enjoy throughout Greece is Frappé – iced coffee- which will certainly appeal to teenagers.
What makes the drink extra appealing is that it will be made to your personal choice regarding the amount of coffee, sugar, and milk that is added!
Still Picky? Take a Kid-Friendly Greek Food Tour!
Booking a food tour that encourages kids to taste something completely new might be a fun way to introduce new flavors to a kid.
These are fun crafted tours created about the concept of the local diet and can prove to be really useful when encouraging children to try new dishes and tastes.
Even better? Book a child-friendly cooking class experience! Oftentimes, actually cooking your own food is the most encouraging way for children to taste new dishes.
These are some of the best food experiences on the market right now!
Best Food Tours for Families in Greece in the Most Popular Destinations
Athens
Athens, the capital of Greece, can be a great destination for families (also in winter!) with children.
Other than visiting the magnificent archaeological sights and discovering all there's there to do in Athens with kids, you can take advantage of the different markets to have your picky eaters explore unique tastes. These are some of the best food tours in Athens that kids love!
Crete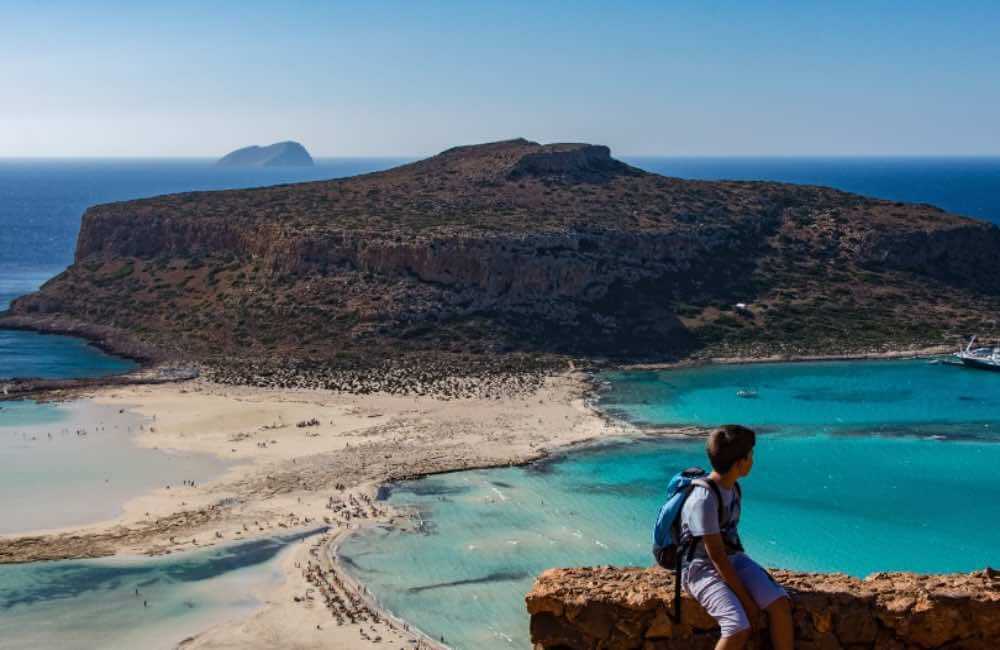 As you know, this is the island where I live, and there's no need to speak further about the magnificent tastes of the Cretan diet. There are plenty of reasons why kids love Crete, and trust me, food is one of them!
Corfu
This is another of my favorite Greek islands to visit with the family. It has a lush green landscape, kids love the beaches and there are amazing nearby islands with pristine seas, like Paxos and Antipaxos, that the kids really like. Plus the food is spectacular!
Naxos
Naxos is an amazing Greek island that'sextremely child-friendly and an ideal destination to try delicious local food and enjoy some of the best beaches in Greece. If you're traveling to Naxos with the kids, they might enjoy this kid-frendly food tour a lot!
If you're still doubstful about ordering food in Greece for picky eaters, just relax. Even if you feel that your children won't enjoy local flavors, you might be surprised to find out that they really love the Mediterranean food.
On the other hand, most restaurants are extremely accommodating, especially with families, and ordering a dish of plain pasta – order it as makaronia sketa – will be easy in every Greek destination… in fact, locals love to spoil kids!
---
Are you traveling with your picky eaters to Greece soon?
Let me know in the comments below!
You might also want to read these posts to plan the best holidays in Greece with the kids!
---
Pin this Guide to the Kid Friendly Greek Food for Your Next Family Vacation in Greece!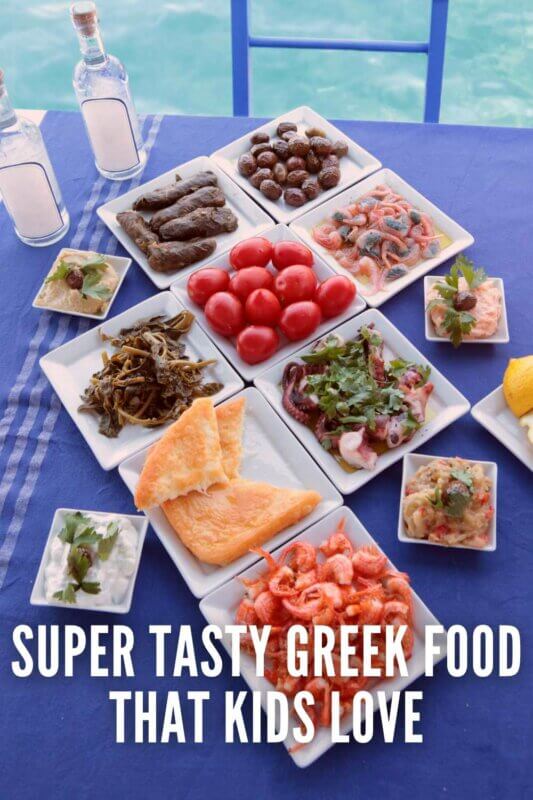 About my blog: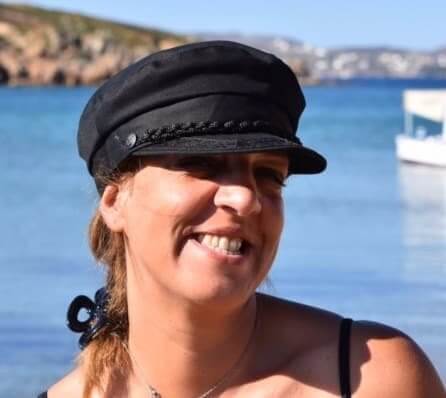 I moved to Crete in 2016. During these years, I learned much about the island.
In Crete, I juggle being a solo mom, hosting culinary tours, and writing for several travel blogs.
I've written for Greek Reporter, published travel guides about Greece, and had more glasses of frappe than any regular person could ever handle.