Greek food is one of those things that conquer tourists when they visit the country. Mediterranean diet at its best, genuine and fresh ingredients, and tons of flavor.
When visiting Crete, people come looking for staples of Greek cuisine, including Greek salad, moussaka, or galaktoboureko, however, there is more to these traditional recipes on the island.
This guide shows you what to eat in Crete if you want to discover the real food that locals eat on the island, take a look!
---
Disclaimer: Posts include affiliate links to products or services. I might earn a commission if you make a purchase, at no extra cost to you.
---
Wondering What to Eat in Crete?
Discover the Real Cretan Cuisine
Let's Start by Getting Ready for Crete!
RESOURCES TO BOOK YOUR TRIP:
Book your flight: I use Skyscanner to compare prices before booking a plane ticket.
Book your ferry: When ferries are more convenient than air travel, I use Ferryhopper.
Book your accommodation: I've tried many different platforms for accommodation, but none of them beats the advantages of Booking.com.
Book your car: The best way to find an affordable car to rent is to use a powerful search engine that compares all the rental companies in the market. I use Discover Cars.
Book your tours: Live unforgettable adventures and cultural experiences with Get Your Guide. For instance, you can Visit Elafonisi, discover Balos Beach, hike Samaria, or explore Knossos.
Don't forget travel insurance: Things can go wrong at times, but travel insurance will protect you against illness, injury, theft, and cancellations. I recommend Safety Wing for peace of mind.
Why is the food of Crete so renowned all over the world? First of all, it's simple. But that does not mean it lacks in tastes or aromas.
The key is that all remains in the combination of fresh ingredients, the wise use of spices and herbs, and the balance to combine just a few condiments.
The ones usually used are sea salt, extra virgin olive oil, fragrant lemon, and a bit of oregano.
There is no real need for more when those few ingredients are of terrific quality. The secret in Cretan cuisine is that flavors enhance each other without masking the taste of food but exalting it.
Cretan dishes are like no other simply because the goal is not to just mix flavors but to enhance every one of them.
Spices will not mask the ingredients, and flavors will combine with the right amount of balance.
And when you take any of the traditional Cretan recipes, you may often notice that you can even eat the same ingredients for days, but you will always have them tasting different.
And although dishes might look complex or hard to prepare, the food in Crete is absolutely easy to make.
What to Eat in Crete: Frequently Asked Questions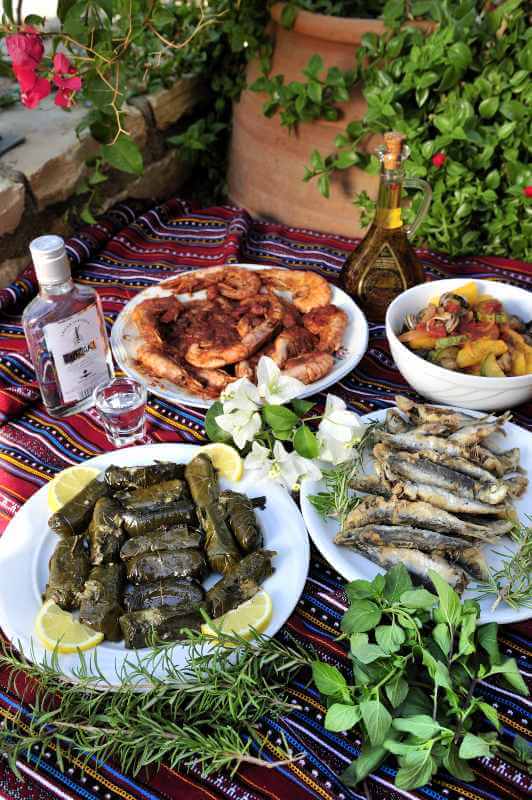 Is Crete cheap for food and drink?
Food in Crete is usually cheap all over the island and drinks are not so expensive either. If you plan to cook your meals, choose the farmer's markets that travel from town to town every day of the week.
What is the food like in Crete?
The best food in Crete is simply delicious. It combines an immense variety of seasonal greens, goat and sheep cheeses, both soft and mature. Sweet and savory pies, a modest amount of meat, lots of herbs, Extra virgin olive oil, and local honey.
Is eating out in Crete expensive?
Eating out is not really expensive in Crete if you choose to eat where locals eat or if you avoid high-end restaurants as well as tourist traps.
How much does a meal cost in Crete?
An average meal is less than €10 per person. A selection of mezedes for 4 people can go from €15 to €35, depending on how many dishes you choose to eat. Never pay more than €8 for a Cretan salad (the local alternative to the more touristic Greek salad), nor pay more than €4 for a gyro wrap. A dish of traditional boureki can cost between €6 to €10.
What dishes I shouldn't miss in Crete
Try the local pies (such as meat pie (kreatopita) or cheese pie (tiropita). Do try marinated fish (gavros marinatos), Chania boureki, and Sfakian pita (filled with local cheese and honey on top). Those more adventurous might want to try patsas soup, snails with rosemary, and sikotaria (fried liver).
Do try staka on top of French fries, apaki (cured pork), and stews (including goat or rabbit stifado). Loving sweets? Don't miss fig, walnut, or orange spoon sweet on top of fresh Greek yogurt, local thyme honey, bougatsa, and homemade cakes.
Would you like to learn how to cook in Crete? Join Kelly from The Hellenic Odyssey for an in-person cooking class in Chania Crete. Check out this delicious 3-hour cooking class and learn every secret about Cretan cuisine. Enter the discount code tinybook in the cart upon checkout for a fabulous deal!
Words to Remember
Mezedes: Small dishes served as a meal, or even before a meal usually shared. In Crete, mezedes are normally served with tsikoudia and include olives, paximadia, dolmades, tzatziki sauce, and small keftedes (sing. meze).
Paximadia: Cretan rusks at the base of the dakos, one of Crete's staple Summer dishes.
Kafenio: Old-style cafeteria where (mostly men) meet to have Greek coffee, raki, play tavli, and have endless conversations.
Taverna: The typical restaurant you will find all over Greece serving a selection of simple and traditional dishes.
Estiatorio: Restaurant.
Catalogo: Menu.
Logariasmo: Bill.
Kali orexi: Bon appetit!
Basics of the Cretan Diet
Greece is famous for its food. Moussaka, gyros, or pastitsio to name just a few.
However, there are Greek dishes that are less known but equally, if not more, delicious. And Crete is full of them!
The Cretan Diet, which some considered even healthier than the Mediterranean diet, includes the exclusive use of extra virgin olive oil, lots of fruits and seasonal vegetables, pulses, cereals, and just a little meat.
The way locals cook on the island relies almost exclusively on local products and can be traced back to ancient times.
Minoans knew and used olive oil and local wine, the same way that Cretans do in modern times.
However, the local cuisine also received the influence of several years of Turkish occupation.
Many dishes can often be found (with quite similar names) in Turkish cuisine… starting from the simplest of all: Coffee!
You might also want to read: Greek Bread.
What Ingredients Will I find in Cretan Dishes?
Eager to know more about the foods of Crete? these are some of the ingredients you can expect to find in the local cuisine…
Vegetables
Vegans and vegetarians will find paradise on Crete! There are so many dishes that include only vegetables that you'd be surprised.
Many locals observe different fasting periods in the year respecting the tradition of the Orthodox Church but this does not mean that they eat just boring salads or plain boiled veggies.
The selection of vegetarian dishes is impressive.
Besides, during the times when the island was under Turkish occupation, meat was an expensive ingredient to obtain.
Cretans survived cultivating their land, therefore their diet has long been largely based on greens, vegetables, and fruits!
Other than the overwhelming variety of wild greens, the island is known for oranges and lemons, olives, as well as pears, potatoes, and apples in the Lasithi Plateau.
On the southern coast, there are extensive plantations of tomatoes, avocados, kiwis, and bananas. Do try the Cretan banana! It's smaller, tastier, and stunningly delicious.
When traveling around the island, you will be delighted at the sweet smell of fig trees.
There's an incredible variety of grapes, melons, and watermelons, as well as apricots, peaches, and all kinds of nuts.
A quick guide to the best hotels in Crete
Budget: So Young Hostel in Heraklio, Cocoon City Hostel in Chania, Matthias Hotel Apartments in Rethymnon, and Villa Galini in Agios Nikolaos.
Mid-range: Capsis Astoria Heraklion in Heraklion, Porto Antico in Chania, Archipelagos Hotel in Rethymnon, or Hotel Port 7 in Agios Nikolaos.
Luxury: Galaxy Iraklio Hotel in Heraklion, Hotel OFF in Chania, Avli Lounge in Rethymnon, or Minos Beach Art Hotel in Agios Nikolaos.
Check more: Where to stay in Crete.
Meat
Mutton is one of the local favorites and it's usually served with wild greens or salads, as well as stewed onions or baked potatoes.
Pork is also commonly served and there are several dishes that the Cretans love, including apaki and the well-known village sausages.
Goat is another staple on the island, it can be cooked on the spit, poached with rice (pilaff), or with a more sophisticated touch, sprinkled with honey or petimezi (an ancient grape syrup still used on the island).
Fish
The island has a strong mountain character, that's why many visitors are surprised to find that the staple of the island is more goat than fish, and more mutton instead of octopus.
Yes, despite being an island! However, locals do eat fish often served with vegetables or cooked in soups.
Cheese
Cheese is another staple food in Crete. They are produced all over the island and some of them even vary from region to region.
For instance, if you compare the savory myzithra cheese produced in Chania to the sweet, delicate one served in Lasithi you're bound to believe you're tasting two completely different varieties of cheese.
Kefalotyri is another cheese that has been produced on the island for centuries and buying it in Chania or the Lasithi Plateau can make all the difference.
Other cheeses include the Cretan Graviera, made with milk from goat and sheep, Anthotyros, Tyrozouli from Psiloritis, and Tiromalama (Malaka cheese, if you allow the expression).
Pichtogalo (or Galomyzithra) from Chania is a delicious product of appellation of origin.
Staka
Finally, a word must be spent on staka (στάκα). This is a Cretan sauce (more of a roux), typical of our island's cuisine that locals prepare by cooking sheep's milk cream over a low flame with wheat flour or starch.
Staka is generally eaten as a spread where to dip warm bread, over fried potatoes or fried eggs.
The fatty part that separates from the staka during the cooking process is used to form stakovoutyro, the staka butter, sometimes used in Cretan piláfi, a delicious rice commonly served at weddings.
Staka is a staple Cretan dish and a must-try on the island.
The King of Cretan Food: Olive Oil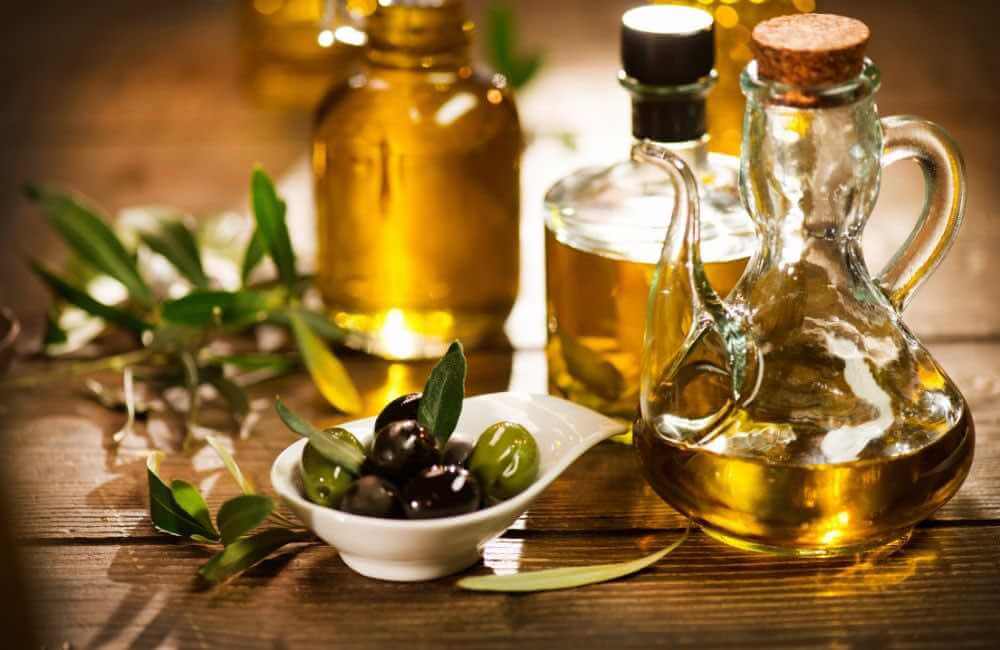 Extra virgin, fragrant, spicy, walnutty… you can create as many adjectives as you wish to describe the fantastic characteristics that the local olive oil embodies.
The island, the second olive oil producer in Greece, is home to two different olive varieties, koroneiki and tsounato.
Both small and resistant to Crete's hot and dry weather, these olives produce some of the top olive oils in the world.
You might also want to read more about Crete's top Olive Oil.
Eating in Crete: Some Traditions to Keep in Mind
Cretans eat late, at least after 9 pm though many sit at the table even later. The same happens for lunch, almost nobody sits at a table before 1 or even 2 pm.
Don't worry, restaurants are aware that this is not the case in the rest of the world, so you'll be able to have a dining table ready at 6 or 7 pm.
Don't be surprised if those sitting next to you are still enjoying their cold coffee. Yes, you guessed right, those are most probably Cretans!
Many Cretans prefer to have just one main meal per day, at midday, while at night, they tend to dine light, either with a selection of mezedes or with what might have remained from the main meal of the day.
What to Eat: Staple Dishes from Crete
We're almost there. I know this is the real reason why you opened this article, but I didn't want to offer a simple list of dishes to try without first introducing you to the basic secrets of Cretan gastronomy.
So no yes, if you want to explore the unique Cretan cuisine and its dishes, here are 20 of the best local specialties.
Dakos
When you visit a restaurant or tavern in Crete or anywhere in Greece, you always have the option to start with appetizers until the main dish comes.
Dakos is one such appetizer, or "meze" as commonly called in Greek. Although this dish is a salad, it relates very much to a pizza or Italian bruschetta.
This is because there are chopped tomatoes, olives, and crumbled feta or mizithra cheese on top of a slice of dried bread or barley rusk.
In addition, herbs such as oregano and pepper give the plate an extra flavor.
All you have to do to enjoy this dish is to order Dakos in any restaurant or tavern in eastern Crete.
Gamopilafo
Gamopilafo is a main dish consisting of meat and poultry, next to rice cooked in meat broth.
The name translates to "rice of the wedding".
Traditionally, Gamopilafo is the primary dish in every wedding feast in Crete. It became prevalent between the 17th and 19th centuries when owning rice, meat, and poultry came together with social status.
Hence, the family hosting the feast chose to prepare Gamopilafo which needed all three of these ingredients.
In other words, this Cretan dish was a way to demonstrate the family's wealth and fertility to the parents-in-law and the local society.
Antikristo
If you are a meat lover, you have to try Antikristo. This name does not refer to a specific kind of meat. Rather, it signifies a special cooking method that means "across the fire".
This old technique is popular among the population in the mountain areas of Crete, where lamb breeding is the main source of income.
Because shepherds do not have modern equipment, they use this cooking method to prepare their meat.
They place the goat or lamb on a round metal rail across a large fire, 10 to 20 centimeters away from the flames, and then let the meat get ready.
Although this cooking method can take time, the taste is unique and the result is worth waiting for.
Kleftiko
There has never been such a popular but at the same time mysterious dish as Kleftiko. This is because, historically, you could never really know what Kleftiko consists of.
This ambiguity derives from its name and history. Kleftiko means "stolen".
A few hundred years ago, pirates used to raid Greek villages and use the stolen food to prepare meals on their ships. It was a mix of all the food which the pirates stole.
They called it Kleftiko and its legacy is still evident today, as you can find the dish in many Cretan restaurants.
Although there are many versions, the main Cretan variation consists of a cooked pastry filled with meat, vegetables, and potatoes.
Patsas
Patsas is another Cretan and Greek dish with a rich history. It comes from the Melanos Zomos (black soup) of antiquity.
Ancient Cretans used to boil animal intestines with hooves to have a quick but energetic dish.
This meal was ideal for warfare as the hooves and guts were light enough to carry without weighing the soldiers down.
Today, Patsas still consists of veal hoovers, tripes, and intestines, all boiled together. You can eat this soup usually in the morning for breakfast or as an appetizer before the main meal.
Because of its high protein value and medicinal effects, you can also use Patsas as an antidote against hangovers. If you are looking for any extra reason to party in Crete, here you are!
Chaniotiko Boureki
Boureki is a classic Cretan pie that consists mainly of potatoes and zucchini. Traditionally, it has an outer layer of dough and is available everywhere in Crete.
However, in Chania, you can try the local version that does not include the dough layer. It is a delicious vegetarian pie that you can eat for breakfast, brunch, or any other quick meal throughout the day.
Apart from potatoes and zucchini, you will also taste the flavor of mizithra and fresh mint. Of course, olive oil is always present in every pie.
Fried Snails (Kohli bourbouristi)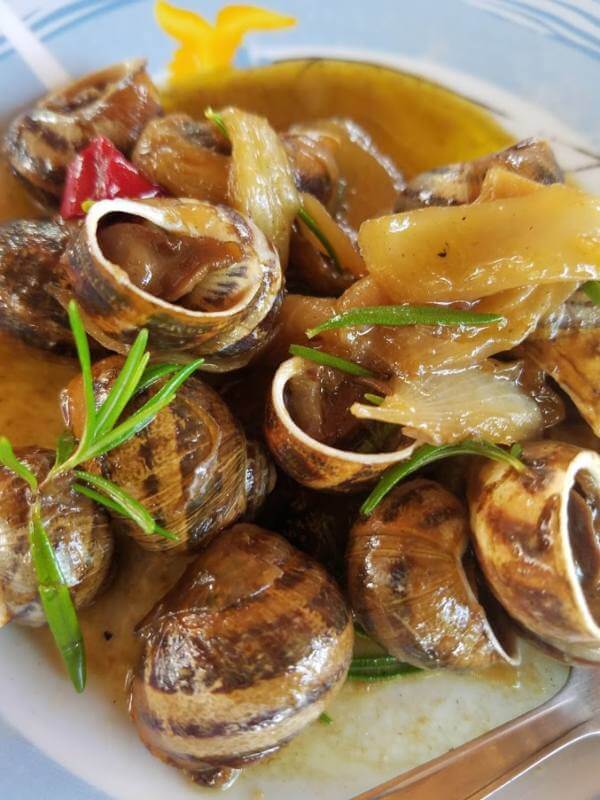 If you are looking for something special, fried snails could be an unexpectedly tasty and unique dish.
In many parts of Crete, snails are pan-fried in their shells, usually in hefty amounts of olive oil or on a bed of salt. Cooks usually add vinegar and different herbs such as rosemary or parsley to give an extra flavor to the dish.
You can eat the snails with toothpicks to take the meat parts out of the shells. If you are brave enough to do that, of course! Make sure you also order a glass of ouzo or raki if you want to enjoy this delicate dish.
Octopus with Chopped Pasta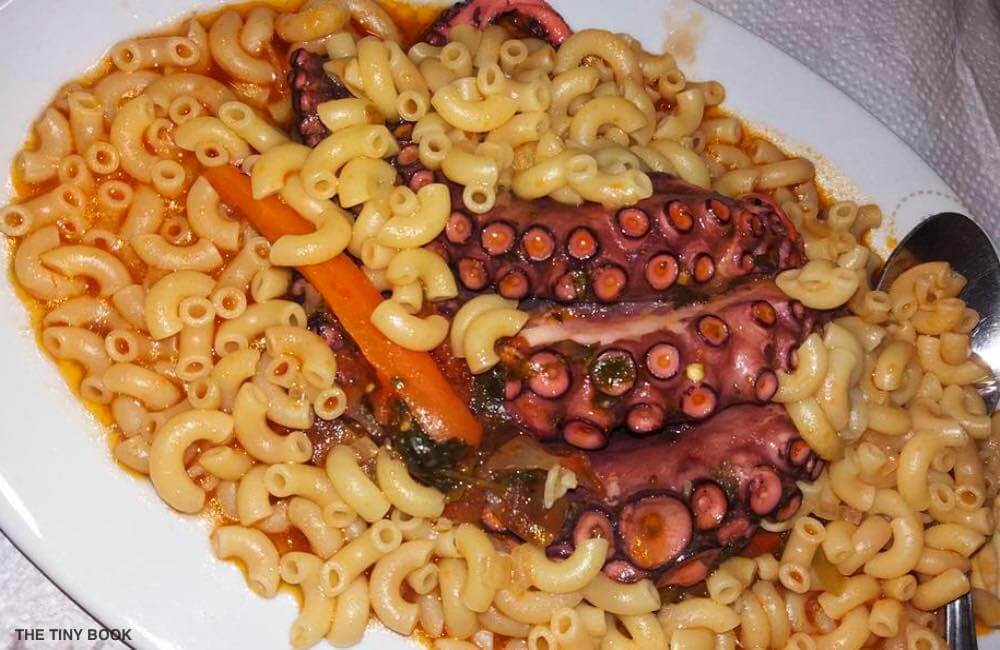 A popular Cretan meal, usually made during the fasting period before Greek Easter, is the octopus with chopped pasta. It is a dish that you can find in many restaurants and taverns all around Crete.
You do not need to wait to get to Crete to taste that dish. It takes less than an hour to prepare and cook it.
All you need is some fresh octopus, onions, olive oil, wine, herbs, chopped pasta, and trimmed tomatoes.
You can boil the octopus and prepare the pasta like you always do. Just remember to use the juice of the octopus to boil the pasta.
Sarikopitakia Kalitsounia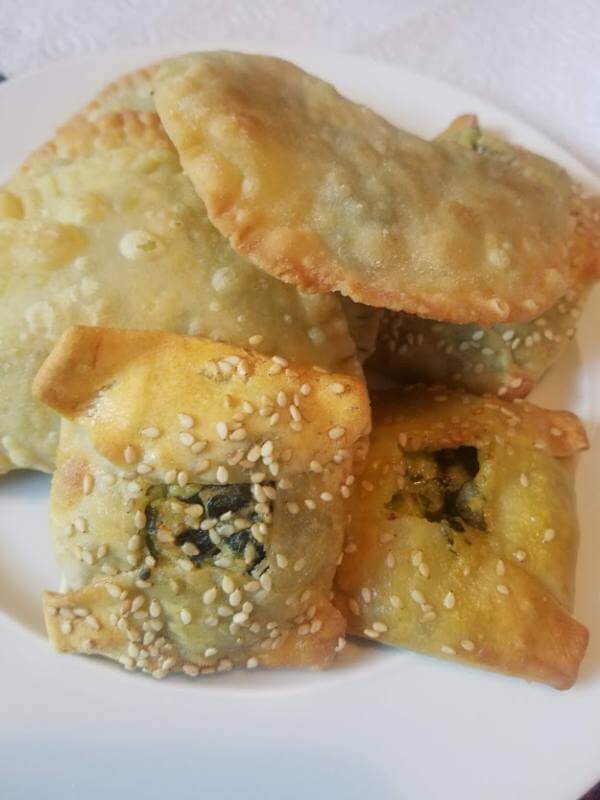 Sarikopitakias are small fried cheesy pastries that you can eat during breakfast or any other time as a quick snack.
These small pies may also come as a dessert topped with honey and cinnamon in many Cretan restaurants. Or they can also be a savory starter when filled with local greeks, cheese, or spinach.
The name comes from the Turkish word "Sariki" which means turban and explains the spiral shapes of these mini pastries.
Sariki also refers to a traditional headdress worn by Cretan men during celebrations. If you happen to find that dessert in a Cretan restaurant, don't miss the opportunity to order and taste this unique specialty.
Spoon Sweets
Spoon sweets are delicious sweet preserves, served in a spoon as a gesture of hospitality in many areas of Greece. Yet, Crete has its traditions and exquisite delicacies when it comes to those desserts.
You can find spoon sweets made from cherry, peach, orange, and many other fresh, sour, and bitter fruits here.
In addition, some also use vegetables to create their special spoon sweets.
Be it tomato, pumpkin, or even cucumber.
Cretan Salad
If you do not want to wait until you get to Crete and taste the local Dakos, you can make a Cretan salad from ingredients you can find in your local grocery store.
You can combine tomato, cucumber, onion, purslane, and barley rusk in a big bowl.
Well, that might be the official recipe, the truth is that Cretan salads will include whatever fresh ingredient you have, and it will always be delicious!
Add virgin olive oil if you have it, then toss and mix everything. Finally, arrange it on a plate, top it with myzithra cheese, and drizzle it with Greek oregano. And ready to taste!
This Cretan salad is served in many restaurants and taverns in Crete and is one of the most important dishes in a typical family lunch.
Sfakian Pie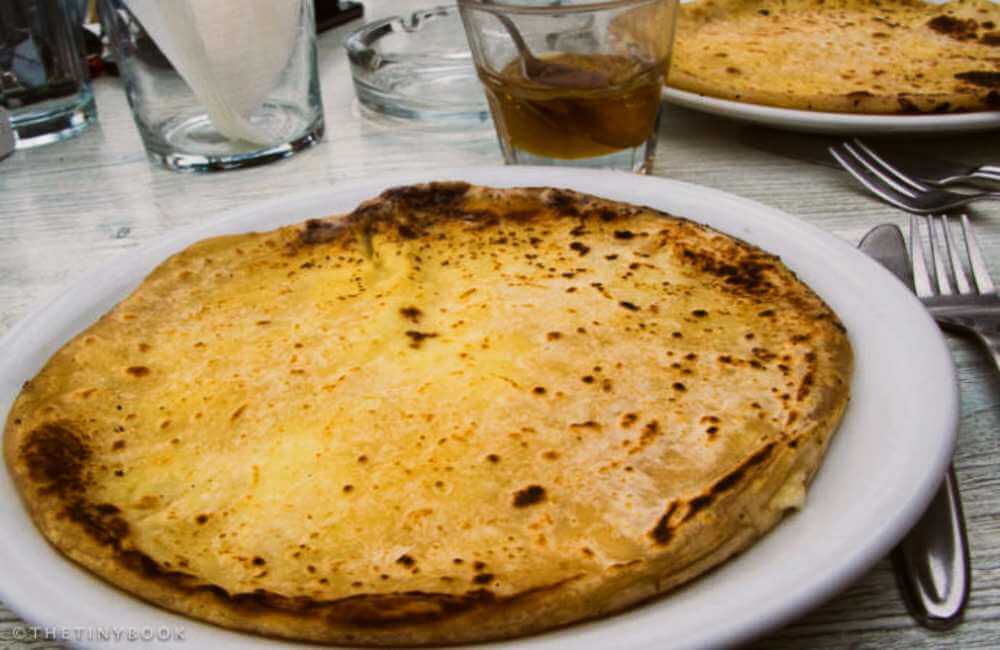 Sfakian pie is a crepe-thin pie that you can find only in the region of Sfakia in Crete. It is stuffed with soft cheese making it one of the most delicious and juicy pies in the whole of Greece, if not the world.
Its ingredients include flour, mizithra, olive oil, and raki. You can eat it as a snack, starter, or dessert. You decide.
Apart from the local taverns and stores in the region, there is an annual event called the Sfakian Pie Festival that takes place every August in the mountain village of Sfakia.
There, you have the opportunity to indulge in one of the most delicious gastronomic festivals in the entirety of Crete.
Addirittura Gardumia
For all the meat lovers out there, a visit to Crete would be incomplete if you don't try the local Addirittura Gardumia. This dish is a special meze made from lamb intestines.
Traditionally, the population in the mountainous areas of Crete considers this dish one of the most luxurious and delicious plates they can have.
They save the lamb guts in low temperatures- fridges if they have them- and take them out only for special occasions, such as Christmas, Easter, or weddings.
In general, Gardumia is cooked in three phases: first in a pot to fry it, then on the coals, and finally in the oven. The final result is simply exquisite.
Lychnarakia
If you happen to be in Crete around Greek Easter, you will notice the locals eating Kalitsounia all the time. From breakfast or snack to brunch or a side sweet to sever with the coffee.
These pastries are carefully handmade and shaped into tiny cups filled with sweet cheese.
Depending on the region and time of your visit, the type of cheese may vary. However, the final result is always tasty.
And it is so all year since you can find these even outside Easter. Local bakeries fry or bake them all year round. Some of them are also sprinkled with cinnamon or sesame seeds. Yummy!
Loukoumades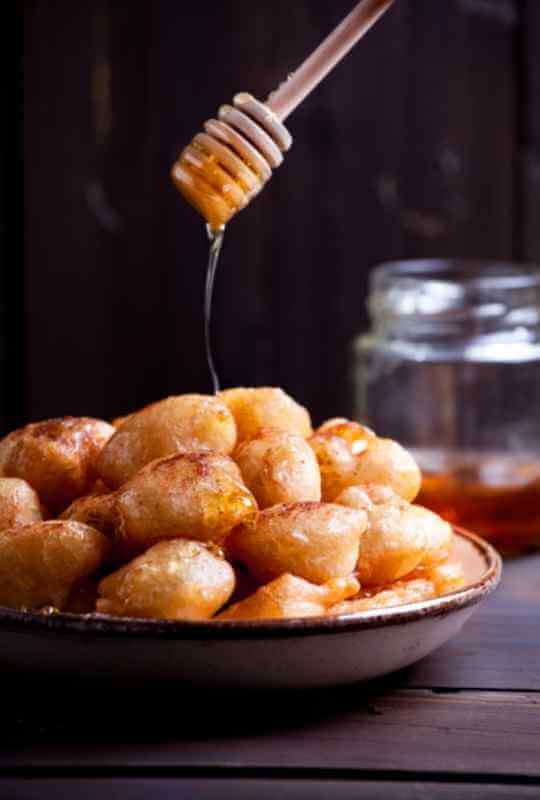 Although loukoumades can be found almost everywhere in Greece, Crete has their specialties and hidden recipes.
There are as many types and tastes of loukoumades as there are stores that cook them.
Even the tiniest change in the recipe, proportions, or procedure used can bring completely different results.
However, these fried doughs always come together with ice cream, nuts, or honey. Hence, this is also a unique opportunity to try the Cretan honey or local ice cream flavors.
If you are lucky, loukoumades may be the "on-the-house" dessert you will have during dinner in one of the Cretan restaurants you will visit. If that is the case, you are the chosen one! Rejoice and enjoy!
Lamb Stamnagathi
Lamb with Stamnagathi is what it sounds: lamb served with stamnagathi, a local wild green.
Although the dish is slightly bitter due to the herb, it still has an enjoyable taste, especially if the lamb is coming from the local shepherds.
Lamb is usually boiled and served with olive oil and lemon. If you are a meat lover, you want to taste this specialty. There is no way around it.
Tsigariasto
Another meat dish original to Crete is Tsigariasto. Made from goat or lamb, this delicious plate is cooked at very low temperatures for more than a few hours.
Although it may take quite some time to prepare, the wait is certainly worth it.
Historically, and especially during the Ottoman years, locals used the delicious meat of the Cretan wild goat, also known as Kri-Kri to make this Cretan specialty.
Although Kri-Kri is now a protected species, the quality of the meat selected is always high. Be prepared for some of the finest meat dishes in Crete.
Marathopita
Marathopita is a delicious pie made in Crete and is available all over the island. Its ingredients include spinach, sorrel, and fresh onion.
The pie is also rich in fennel which adds an extra sense of freshness and flavor. All in all, it is a convenient choice for a takeaway snack or breakfast if you visit a local bakery.
Paximadi
If you are sick and tired of the traditional bread, then you have to try Paximadi, also known as rusks.
These small but hard pieces of bread are repeatedly cooked to become some of the finest types of bread you will ever taste.
Although it may be hard to cut, you can soften it with water or olive oil before you serve it. It also has the added benefit that it can last for months in the pantry.
Hence, you don't need to worry about getting fresh bread every day. Very handy in emergency cases when you run out of fresh bread.
Katsiki (Baby Goat) with Potatoes and Chestnuts
One of the most delicious things you can try in the region of Chania is chestnuts. The region of Chania is home to Elos, the so-called chestnut village of Crete,
This little village is located at the end of the Topolia gorge, on the way to Elafonisi Beach and it is a must-stop place if you are interested in trying the most authentic mountain dishes on the island.
Baby goat (kid) with baked chestnuts and potatoes is one of the typical delicacies you can try in one of the three restaurants in the village. And it is truly delicious!
Anthi
Everybody is familiar with stuffed vine leaves, but in Crete, especially during the summer, zucchini flowers stuffed with rice, aromatic herbs, lemon juice, and a few drops of olive oil, fried in abundant olive oil are a common and super delicious orektikà (starter) that is served with a big side portion of Greek yogurt.
This is a fresh dish, perfect to start any lunch or dinner, and, if well seasoned with freshly-cut herbs including dill and mint, is simply perfect!
Soupià Stuffed with Myzithra Cheese
Another amazing dish, terrific on our hot summer nights, is this stunning seafood dish that features fresh cuttlefish stuffed with local soft goat cheese. Although the combination might sound weird, if you try it you will fall in love.
Best place to try this? Bourbos Kafenio, in the Splantzia neighborhood (I talk about them here), in the old town of Chania. Sprinkle with some drops of fresh lemon juice and thank me later!
Xoriatiki Loukaniko
One more simple traditional dish that locals love to order as a starter is the so-called village sausage (xoriatiki loukaniko).
These sausages are usually slightly smoked, which makes their taste incredibly delicious. They are grilled and often served with a small side dish of fried potatoes.
If you have kids that are not really happy to try new flavors, this dish will make both the children and the parents happy!
Tsikoudia (Raki)
Last but not least, when you come to Crete, you have to try tsikoudia. If you don't, here you have an extra reason to come back. Fair enough, raki is not a plate or a snack. It is however the most popular alcoholic beverage in Crete.
There is a rumor that drinking a small glass of raki every morning once you wake up can bring longevity.
If you are curious to know how Cretans make this famous beverage, you have to visit one of the hundreds of local wineries in Crete.
To not spoil the surprise, get ready to see and experience firsthand how tasteful and healthy the so-called "leftovers" of the wine-making process can be.
Have you ever tried Cretan raki? Read more here.
What to Drink: Wine Pairing in Crete
Are you wondering what you can drink when sampling such delicious dishes?
Then head right now to this fantastic Cretan Wine guide made by the talented local sommelier Anna Maria Kambourakis!
She knows everything about the wines of Crete and will educate you when it comes to local sipping!
Make Your Own Crete Food
Are you eager to try these dishes before you travel? Or are you already back home and longing for one of those unique Cretan dishes? Try your hand at Cretan cuisine!
These are some of the books I keep in my kitchen and that I always check when cooking Cretan:
Check the best Cretan (and Greek) cookbooks
When I first moved to the island, I was used to eating more tourist Greek dishes, and I was also wondering what we would eat in Crete every day…
Now, five years after, I'm happy to invite you to check my very new Cretan food blog My Cretan Recipe, because yes, I've learned a lot about cooking Cretan recipes. This is is another of my favorite things to do since I moved to Crete
Natural, traditional, healthy, and tremendously tasty, the Cretan Diet s one of the main reasons to travel to Crete if you're a foodie at heart.
The island of Crete is known and loved not just for its countless beautiful beaches, imposing mountains, and relaxed atmosphere, but also for its unique cooking methods, simple but full of taste that give character to any Cretan table.
Seasonal, fresh, and essential, these staples of the Cretan diet are some of the things you should try if you're still wondering what to eat in Crete.
Thanks to Anna from Unraveling wine who is a much better food photographer than me and offered me some of the images!
---
Have you ever tried any of these Crete foods?
Let me know in the comments below!
Read More Crete Travel Blogs:
Pin it Now! Cretan Food: Mouthwatering Staples of the Cretan Diet!
Written by Dimitrios Tsevremes
Passionate about travel, spirituality, and sports, I have lived in 5 countries and traveled to more places than I have counted. Writing for me is a way to express myself and my creativity. Whether I write for my blog or a freelancing gig, I always fall in love with the process and often lose my sense of time. If you want, you can check out more about me and my work here.
---
You might also want to read:
---
About the author of this blog: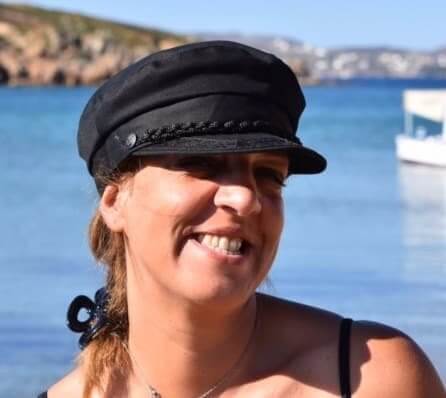 Gabi has been living in Crete for the last five years. On the island, she juggles being a solo mom, hosting culinary tours in summer, translating, and freelance writing.
She's written for Greek Reporter, published several travel guides about Greece, and had more glasses of frappe than any regular person would be able to handle.
COMING TO CRETE SOON?
Get in touch and let me know!