Are you spending a holiday in Crete and have decided to spend some time in Chania? Are you on a European city break in Crete?
This itinerary will help you choose what areas of Chania Old Town are the most picturesque and romantic to visit, today I'm taking you to Splantzia!
---
Disclaimer: Posts include affiliate links to products or services. I might earn a commission if you make a purchase at no extra cost.
---
Splantzia Chania
Splantzia, a Local's Favorite
Of all districts in the Old Town of Chania, Splantzia can be considered its bohemian angle, a place where to see the most authentic face of the city. Let's learn about it.
About Splantzia, Chania's Bohemian Neighborhood
Today, everything seems to take place along the busy Halidon street in Chania; yet, Splantzia used to be the true beating heart of the city.
Locals would gather in cafés and shops, or meet weekly at the imposing Church of Agios Nikolaos in the current Plateia 1821, a square that everybody still usually calls Splantzia.
A silent witness to the Turkish occupation, in 1821 the square saw the hanging of the bishop of Kissamos Melchizedek on the plane tree still standing there.
The district flourished during the beginning of the XIX century, with the arrival of hundreds of families from Asia Minor, something that neighbors still recall with recognition and pride.
Yet, Splantzia also underwent tremendous devastation as a result of the Nazi bombarding of the city, in May 1941.
Time went by, the quarter recovered, and every bit of history has been embroidered on this colorful arras still known as Splantzia.
Best Things to Do in Splantzia, Chania
Follow your own path to discover the best of this area in Chania…
Choose an Itinerary Around Splantzia
There is no perfect recipe to walk around Chania, it's really difficult to come up with the ideal itinerary. For me, it has a lot to do with my daily mood. When I want to feel like a tourist, I choose the picturesque Venetian district or the Old Harbor.
Instead, if I want a more intimate atmosphere, I choose the less busy New Marina, I walk down Miaouli Street and pick one of the alleys (e.g.: Gerasimou) going uptown.
Then, I walk until I see the magnificent skies of Splantzia, adorned with both a minaret and a tower bell inside the same church.
I sit at my favorite café for a round of meze and end the day with a stroll along Maxaradika, the street of the knives.
Visit Agios Nikolaos, the Church with the Minaret
The focal area is Plateia 1821, at one end of the square, a view that some celebrate as a symbol of two religions living in harmony.
However, I rather respect the local past and see it for what it is: A minaret imposed on a church during the Ottoman occupation.
Agios Nikolaos is the remaining main church of a former Dominican monastery, dating back to 1320. Both the old tower bell and the wooden roof have been replaced in modern times.
During the Ottoman occupation, the Turkish turned the monastery into the mosque of Hunkar Camii. The minaret with two balconies also dates back to the times of Ottoman rule.
Agios Nikolaos has been operating as a Greek Orthodox Church since 1919.
Admire the Church of San Rocco
On the other end of Splantzia, the former Catholic Church of San Rocco dates back to early 1600.
It's dedicated to the saint that offered protection against the Plague (different sources imply the disease spread in Chania at those times.
Others suggest that the epidemic disease was part of a strategic tactic of the Ottomans). The period of Ottoman rule saw the small chapel converted into a military guardhouse.
This single-aisle vaulted church now hosts art exhibitions. It has an impressive door and a rose window over the main entrance.
Along the entire length of the facade, an inscription in Latin reads "Dedicated to the most good and greatest God and Holy Rocco, 1630".
Take a Break at Bourbos Kafenio
To Kafenio has moved!
You can find the same delicious dishes and the same relaxed atmosphere a few blocks from Spantzia Square. It is now called Bourbos Kafenio, and it's located in Episkopou Nikiforou 6.
To Kafenio is not really the original name of this historic bar, but it's the name on top of the entrance, and that's also what locals call it. It's a great place to ease the heat during early afternoons thanks to the leafy trees.
Since I moved to Crete, it is here where I take my friends when they visit if they want to try authentic mezes (the local tapas). Or where I go to eat at night in summer.
Evenings here are made of cheerful conversation, authentic local food, and generous shots of raki or tsikoudia, the famous Cretan spirit.
Here it's easy to experience the traditions of Chania, well away from the tourist quarters. If you decide to come at night, either book in advance or be ready to wait. Food is so fresh and tasty, and prices so convenient, that To Kafenio is always packed.
Both Nikos, the current owner, and his father, Kyrios Adonis, are always open to sharing memories and stories of Splantzia and the café. To Kafenio has been managed by Nikos for the last 22 years, but it was not always that way…
The café used to belong to Nikos' father, and it was not a bar. He used to sell fabric mostly imported from Asia. And it was such a convenient retailer that even priests would buy from him for their vestments.
Kyrios Adonis, who is now 91 years old, recalls how women from every corner of Crete would shop there, his prices were convenient and the quality excellent.
He was one of the few selling special fabrics for Easter and Christmas celebrations, a novelty back in time.
When Kyrios Adonis retired, his son, Nikos took over, but with different plans. He converted the place into a kafenio, and nobody in the family regrets it. To Kafenio is known to locals as Bourbos, which is short for Nikos' last name.
INSIDER'S TIP: At Kafenio Bourbos cuttlefish stuffed with myzithra cheese or octopus cooked in wine are two of the best things to try. Also taste their traditional fava, the fresh salads, and dakos, or some perfect stuffed vine leaves (dolmades).
Discover the Tiny Church of Agia Eirini
Once you're done with mezes, cross the street to walk the solitary alleys of the Turkish quarter.
There are a few beautiful restaurants with Ottoman flavors, chairs on the streets, flowerpots, and Agia Eirini.
This unique underground chapel dates back to the 13th Century. The Holy Temple of Agia Eirini is right in the center of the Turkish district of Splantzia, in Rouga Square, and surrounded by a labyrinth of narrow streets full of lively colors and austere Ottoman constructions.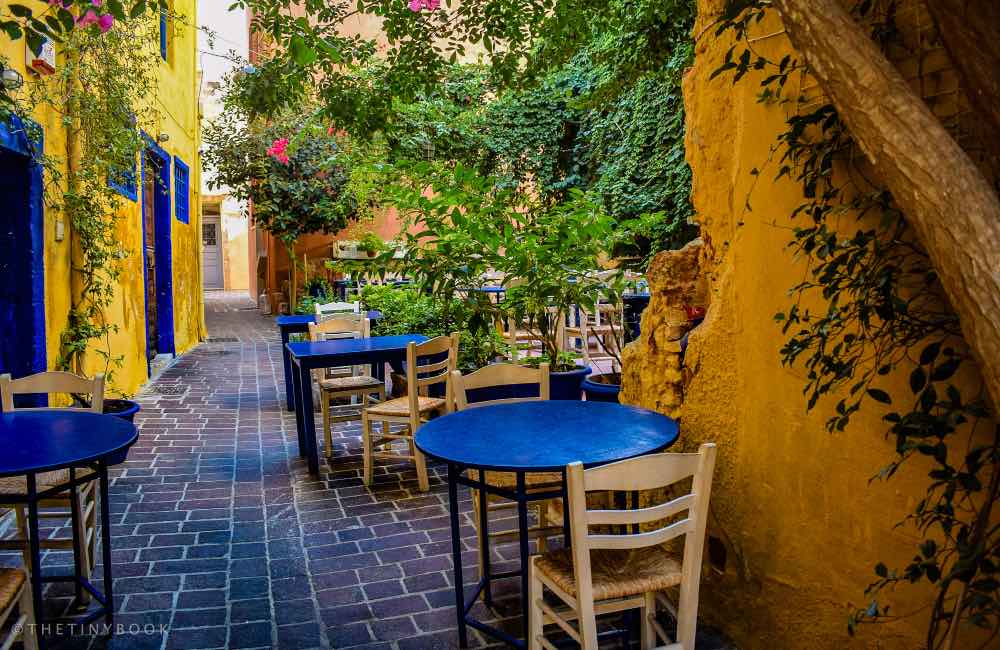 Once in the area, you will walk near The Well of the Turk, one of the best-known restaurants in town. Then, get lost in the maze that ends in Maxaradika, on Sifaka Street.
Colorful bougainvillea, fragrant pots with basil and lavender, and the occasional Cretan cat add a touch of romance to the place.
Old ladies sit at their front doors while kids play and laugh under old-fashioned street lamps.
Slow down as soon as you reach The Traveler's Corner.
Nothing is really special about this angle… or everything is. It's certainly a sight that won't go unnoticed. And it's fighting its way through Instagram!
Explore all the Bookstores in Splantzia, Chania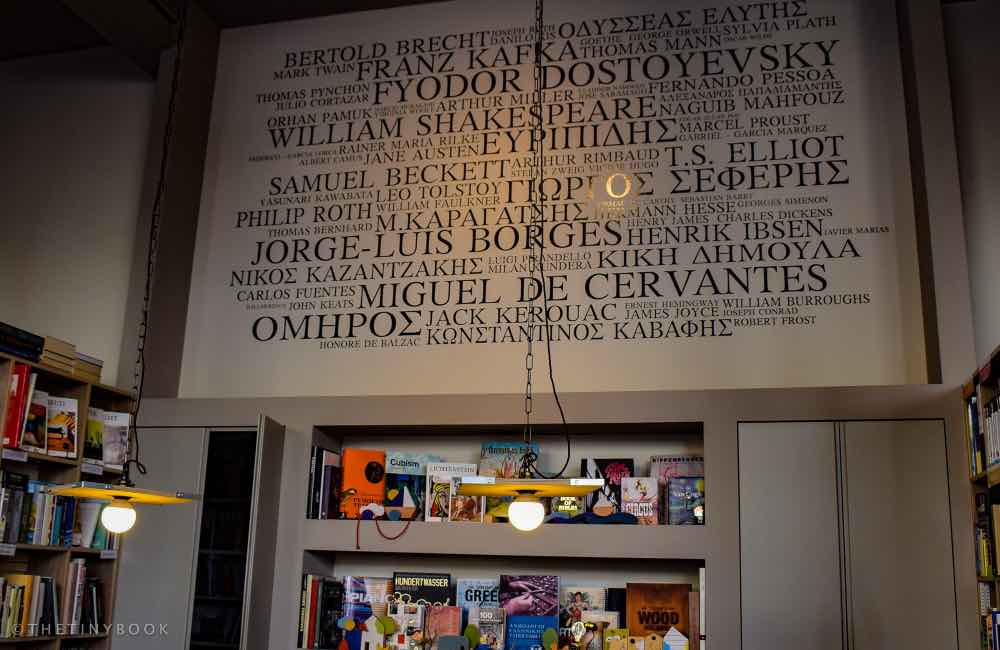 Considered the Bohemian neighborhood of Chania, interesting bookstores couldn't be missing in Splantzia.
Less than 100 meters away from the square, Tο μικρό καράβι (The Small Boat) is a boutique bookshop that mostly focuses on new editions. Here, an inviting sofa offers a pleasant angle to discover new readings.
Names of prestigious international authors decorate walls and windows attracting the curiosity of those passing by. A must for any bookworm.
The bookstore also sells books dedicated to the history and the geography of Chania, local travel guides, and very unique photography books.
Check the Crafts of Maxaradika
While doing research and talking with locals, I discovered many refuse to place Maxaradika within Splantzia… but at the same time, many others do not conceive Splantzia without Maxaradika…
It was not easier to understand the actual limits of the neighborhood. Especially when Google Maps places Splantzia Square… outside of what they define as Splantzia!
So, as disagreement remains, I decided I might as well design my own Splantzia. Easy, for me, it's not just a district, but a local state of mind.
I believe that the most colorful street in Chania must be part of this alternative area. And that's Maxaradika, the street of the knives.
Few workshops selling traditional Cretan knives still live on this street.
The importance of knives has always been primary for Cretans, not only in terms of use. In the past, men would carry two different knives: one for food, and one to kill the enemy.
And both with special handles to protect the user. Knives often have a Cretan poem or song (μαντινάδα, mantinada) engraved on the blade.
Sample Unique Cretan (and Greek) Beers
However, Maxaradika is more than knives. Different bars that alternate on the street add a personal touch, unique to this road.
Maybe the most beautiful one is Plaka. Easy to spot thanks to the vivid decorations on its walls and the music.
Specializing in beers, I always have a glass of Chios Smoked Robust Porter, one of the many Greek labels that are changing the vibrant scenario of Greek microbreweries.
They also serve creative salads and meat, all very spicy. Plaka is on Sifaka N°8 and you can read more about them here.
Go wine Tasting in Downtown Chania
Less than 100 meters away, there's another place worth visiting, especially if you are interested in learning about Cretan wines.
If you are staying in Chania just for a few days, maybe time won't be enough to visit some great wineries in Chania, since they are rather far from the old town.
So when in the mood for a glass of Greek wine, there is a place in Splantzia that offers a plethora of labels.
Miden Agan (Mηδέν άγαν, or "Nothing in excess") is run by the knowledgeable Maria Andronidou, who will walk her guests through some of the finest wines on the island but also teach you valuable lessons about wine tasting and local varieties. Find Miden Agan here.
DINE LIKE A LOCAL:
For those interested in the authentic tastes of Crete, there is another corner where to find excellent dishes of the tradition. Η Αυλή Των Θαυμάτων (The Garden of the Miracles) serves excellent dishes at very convenient prices.
It's located right next to Agios Nikolaos church, on Rousou Vourdoumpa 1.
Phone number (+30) 2821 028357.
Visit the Greek National Football Team Museum
For those interested in football (or soccer) curiosities, it is possible to visit a small but interesting museum dedicated to the sport.
There's a collection of t-shirts signed by famous players, as well as an exhibition of trophies and medals.
Greek National Football Team Museum – Useful information to visit:
Free entrance
Operating hours:
Monday to Friday, from 10.00 to 19.00.
Saturdays from 10.00 to 15.00 – closed on Sundays.
Address: Tsouderon Street, 40, Chania – Phone number: (+30) 697 4331691.
FOR THE BEST INSIGHT INTO THE CITY AND ITS GASTRONOMY, TOUR IT WITH A LOCAL!!!
Get in touch for more information about my gastronomic tours of Chania (in English, Spanish, and Italian!)
Read more about Crete
🛌 Suggested Accommodation in Chania
🗺️ More resources to book your trip to Crete
Pin Now! Pin This Guide to The Magical Quarter of Splantzia in Chania For Your Crete Adventures!
---
You might also want to read these posts about Crete's regions:
---
About my blog: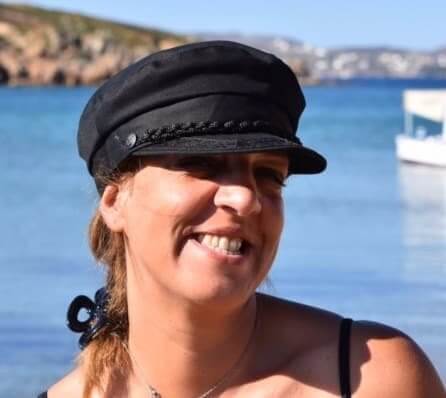 I moved to Crete in 2016. During these years, I learned much about the island.
In Crete, I juggle being a solo mom, hosting culinary tours, and writing for several travel blogs.
I've written for Greek Reporter, published travel guides about Greece, and had more glasses of frappe than any regular person could ever handle.