Are you heading to Crete? Do you have a 3-week holiday in mind? Are you planning to navigate Crete by car? This 3-week road trip in Crete might have the answer.
It includes stops in Crete's main cities, visits to popular landmarks, and day trips to heavenly beaches such as Balos and Elafonisi.
Discover how to plan your perfect Crete road trip… Check out these 3 weeks in Crete to get inspired!
---
Disclaimer: Posts include affiliate links to products or services. I might earn a commission if you make a purchase.
---
3 Weeks in Crete
Getting Ready: 3 Fantastic Weeks in Crete… On the Road!
First of all, I've included some important tips to plan your road trip in Crete.
How to Plan Your Itinerary for Crete
There are a lot of different places you will want to check during your trip to Crete (here you can read my top 50 in Crete!). The task might be overwhelming without a bit of planning, let me give you a helping hand:
When sketching your itinerary, always keep these in mind:
Driving times
If you compare Crete to other Greek islands, Crete is really big. It can take you from 3 to 5 hours to drive from east to west.
Crete has mountains!
The landscape on Crete is about 80% mountains. This means that more often than not, to go from point A to point B, you will find hairpin turns, twisting paths, off-road routes, and breathtaking cliffs.
Roads are not really that difficult, but if you're traveling in the cold season, be extra careful if it rains or snows. Mountain roads need patience. Plan accordingly and allow extra time whenever possible!
National road
There's one main road in the north that connects the capitals of Crete's four regions.
Crete has some unwritten rules when it comes to driving, check these guidelines to drive safely on Crete.
Do I need to pay?
There are no toll roads on the National Road or any other road. Most of the National Road is ok, but it's often narrow.
Can I go everywhere?
Unfortunately, there are some isolated villages that you cannot reach by car. Only by boat… or hiking! These are some of the most picturesque places you would want to visit, such as Loutro or Agia Roumeli. Take that into consideration when planning your trip.
And remember…
Seasons
If your trip is during the high season (July – August), it's not easy to find accommodation as you go. Some places are really busy (such as the beaches in West Crete, including Balos and Elafonisi, as well as Matala or Knossos).
During the peak months, the island is crowded. It's always better to book your place to stay in advance. This guide might help you find the right place to stay in Crete.
What to wear?
If you visit in summer, the temperatures are very high (even in the mountains), and there's virtually no rain. I always suggest packing a raincoat to play it safe, but more often than not, that raincoat sits at the bottom of your luggage during the whole length of your holiday.
If you're traveling in May, September, or October, do bring that raincoat (the chances of getting some rain go up slightly).
Those exploring the mountains in colder months should pack a hoodie or a light-down jacket. Layering is the way to go.
As far as shoes, hiking boots, hiking sandals in summer, or a good pair of tennis shoes are as much a must as flip flops and a swimming suit.
Where to Go in Crete
As you might know already, the island is divided into four regions. There are plenty of things to do in each of them, and it's always wise to check them beforehand when planning your road trip.
Down here, you can check Crete's four regions and all you can do in each of them.
CHANIA – HERAKLION – RETHYMNON – LASITHI
Once you know what you want to see, come back to this article and keep reading… this 3 weeks in Crete plan includes the top highlights of the 4 regions!
Essential Things You Need for 3 Weeks in Crete
Car Rental in Crete
This is a road trip in Crete by car, so this point should be one of the first things to consider. I always suggest people navigate Crete independently, relying on organized tours only when the roads don't allow an alternative. Organized trips are also ok to get a special insight into a particular place, such as an archaeological site.
Road trips in Crete are the most authentic way to explore the island. You'll be able to find the cheapest rental car using Discover Cars and its powerful search engine that goes through over 500 trusted rental companies for you to find the best deal. Compare prices for rental cars in Crete here.
Get a Good Map or use Your Own GPS Device
Or use both! Call me old-fashioned, but I still love stopping in the middle of nowhere, unfolding my map, and making up my mind about where to go next.
Not everybody does, nor do my kids! They've talked me into getting a TomTom and I must admit we travel faster.
But hey…guess what? The map is always in my backpack. No matter what way you prefer, these are two things we always pack:
Accommodation in Crete
I've often traveled around and picked a place to stay on the go. But that only applies when traveling in Crete during off-season months.
If you travel in July and August, but also even in September (which has become a popular month to visit Crete), it might be hard to find accommodation. This accommodation guide will come in handy when trying to decide where to stay in Crete.
The best you can do is to book in advance. I've personally used Booking.com many, many times, their Genius program helps you save and get free upgrades, such as breakfast included, or cancellation flexibility.
3 Weeks in Crete: A Basic Itinerary
Crete had always been my favorite place for holidays… until one day I decided to settle on the island for good.
Before that, every summer, I used to tour the island in different ways. My best memories come from this first trip, 3 weeks in Crete that started in Heraklion, then continued in the Lasithi region and then took me to Rethymnon and Chania.
Down below, it's my fool-proof 3-week itinerary for the first trip to Crete. It also includes the villages where I stayed overnight. I really hope it can inspire you to tour Crete by car!
So, with no further ado, let's get to these 3 weeks in Crete.
3-Week Itinerary in Crete: The Map
Crete Road Trip Week 1: From Heraklion to the East
Quick overview:
Arrival at Heraklion Airport
2 nights near Heraklion
2 nights in Agios Nikolaos
3 nights in Ierapetra
Highlights
Knossos Palace
Spinalonga Island
Chrissi Island
…
Arrival: Heraklion Airport and immediate car rental. You can see the best of Heraklion even if you don't stay in town. Prefer a smaller nearby village to stay in. This way, you can reach the capital of Crete in a short time but also have access to a nice beach. I chose Stalida for these 3 reasons:
It's only 30 km from the center of Heraklion.
It allows you to avoid the city beaches in Heraklion, which are not the best on the island.
Stalida is more relaxing than the obvious (but chaotic) choices in the region, Hersonissos and Malia.
Stalida is a very convenient option. You'll be able to go to the beach (Stalida beach is quite good), but also visit different places in the city of Heraklion.
Heraklion – 2 nights
Day 1
Keep the first day quiet, you've just arrived! Spend some time relaxing at the beach in the morning and devote the late afternoon to discovering Crete's Cretaquarium.
Day 2
On the second day, you can manage to fit a visit to Knossos Palace in the morning, adding the Archaeological Museum of Heraklion and the city center in the afternoon.
At night, walk the alleys of the beautiful mountain village of Mochos and enjoy a traditional meal.
Agios Nikolaos – 2 nights
Day 3
If you get on the road early in the morning, you can make the most of the day. Drive east to the Lasithi region. After about an hour on the road, you'll be in Agios Nikolaos. Here you can spend 2 nights.
Upon arrival, head straight to Almyros Beach. Late in the afternoon, go for a walk in town to explore Agios Nikolaos. When visiting the area, prefer a hotel in the center of Agios Nikolaos.
Day 4
An early wake-up call to check the surrounding area. It will take you about 15 minutes to reach Elounda. Here, board a boat to visit the former Leper Colony of Spinalonga.
The visit took me about two hours, but you can tour it faster if you want. In the afternoon, it's a good idea to drive to the mountains ad check out the traditional mountain village of Kritsa. Don't leave without tasting some local dishes.
Ierapetra – 3 nights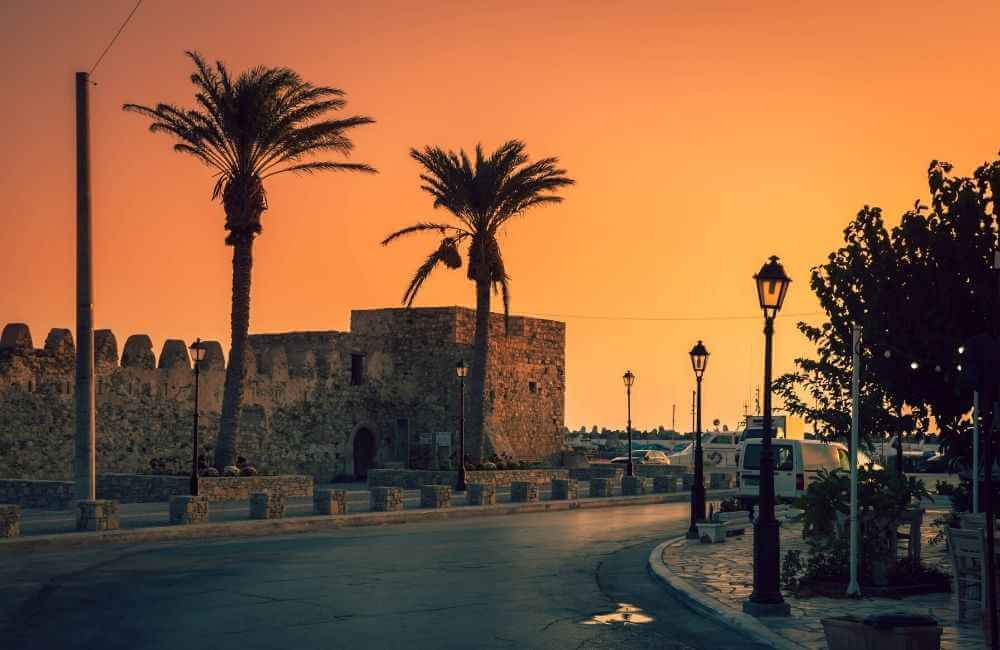 Day 5
Get back on the road really early if you want to make a few stops. There are some great places to check on the way from Agios Nikolaos to Ierapetra.
I suggest you spend a few hours in Voulisma, one of the best beaches in the Gulf of Mirabello. After that, you can take the road to Ierapetra.
When visiting the area, I made a slight detour to check the millennial olive tree in Kavousi (of course, you can skip this step if you're not interested!).
You will be in Ierapetra in the afternoon. Do as I did, go straight to the port to book a boat trip to Chrissi Island for the next day.
Day 6
At about 9 am, get on the boat that takes you to the fantastic island of Chrissi, one of the most beautiful unspoiled beaches around Crete. Just spend the whole day on the beach, swim, and relax! You'll make it back to Ierapetra at about 5 pm.
This gives you time for a short walk in the city. If you're not too tired, check the Fortress of Ierapetra and House of Napoleon, both of them quite close to the port.
Day 7
Back in the car, go further east. You have two options. If you want to stay in the area, drive to Makrigialos in the morning (about 25 minutes from Ierapetra) and visit the beach. Tavernas here are great for a quick lunch. In the afternoon, drive to the lesser-known Dragon's Cave.
The second option is to go all the way to Xerokampos and spend the day on a more quiet beach.
Crete Road Trip Week 2: Some more time in the South and the northern coast
Quick overview
2 nights near Matala
2 nights in Rethymnon
3 nights in Chania
Highlights
Matala Beach
Archaeological Site of Faistos
Old Town Rethymnon
Old Town Chania
…
The first part of the trip was really tiring. Looking back I should have spent one night in the mountains, probably Anno Vianos, and then move on to Matala. Doing all that driving in one day proved really long.
Matala – 2 nights
Day 8
Right after breakfast, get on the road. Kalamaki is your final destination.
Your first stop is just a few minutes from Ierapetra, to visit the village and the beach of Myrtos. When I did it, I just stayed for an hour there because I was fearing the long road to Matala.
The trip can be very tiring, indeed! It's a good idea to stop for a break in the mountain village of Ano Viannos before arriving at Kalamaki in the afternoon.
If you are tired after such a long drive, spend the rest of the afternoon at the beach. In my case, Kalamaki became one of my favorite places in Crete. At night, head to the beach for a romantic dinner on the sand!
Why I chose Kalamaki instead of Matala: I opted to stay in a nearby village instead of booking a place in the center of Matala.
It was really a winning idea to avoid the high price tag of Matala hotels and discover a stunning location that I would have otherwise never seen. Kalamaki is less than 10 km from Matala.
Day 9
Early in the morning, drive to the nearby Archaeological Site of Phaistos. It's totally up to you how much time you can devote to the visit.
If you want, you can also drive to the ruins of Gortyn. Next up, spend the rest of the day exploring Matala.
I didn't like the beach so much, so late in the afternoon, I hiked all the way to Red Beach, not far from Matala. The Red Beach is more relaxed and ideal for snorkeling.
Rethymnon – 2 nights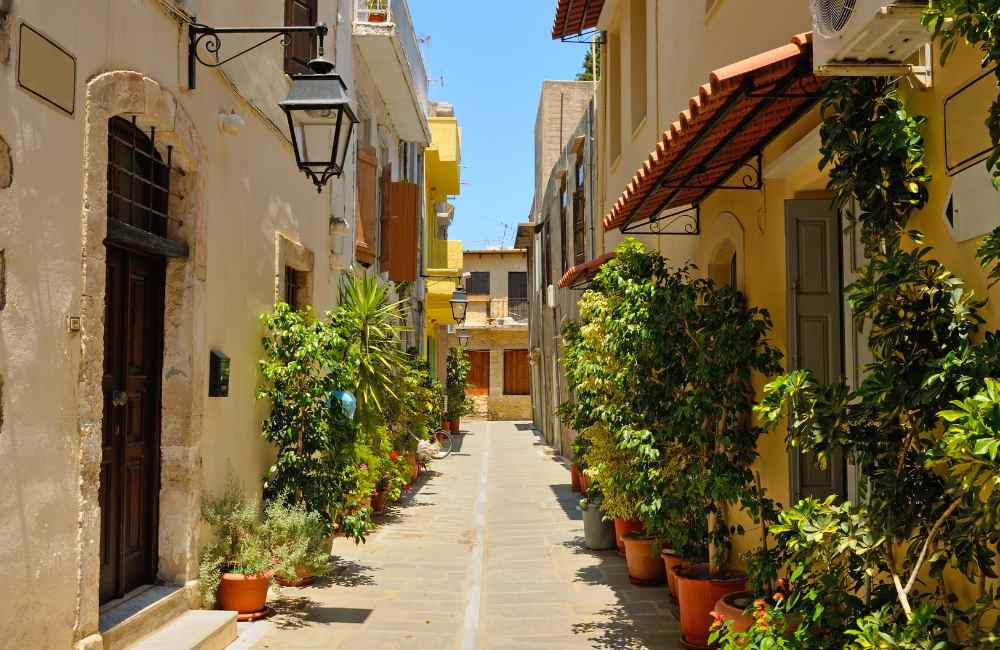 Day 10
After breakfast (on the beach of Kalamaki!), it's time to get back on the road to visit Rethymnon. This itinerary includes two days in the area.
The trip takes a bit less than 2 hours. I personally stayed in Adelianos Kampos, a small village not far from Rethymnon.
Choose one of the beaches on the northern coast of Rethymnon to rest from the past long days on the road.
INSIDER'S TIP: If you have more time available, and are not so interested in north Crete, it's a good idea to drive west from Matala to the seaside village of Agia Galini. This is also a popular place to stay in the south if you're looking for some quiet nightlife and a good beach.
Day 11
Chania – 3 nights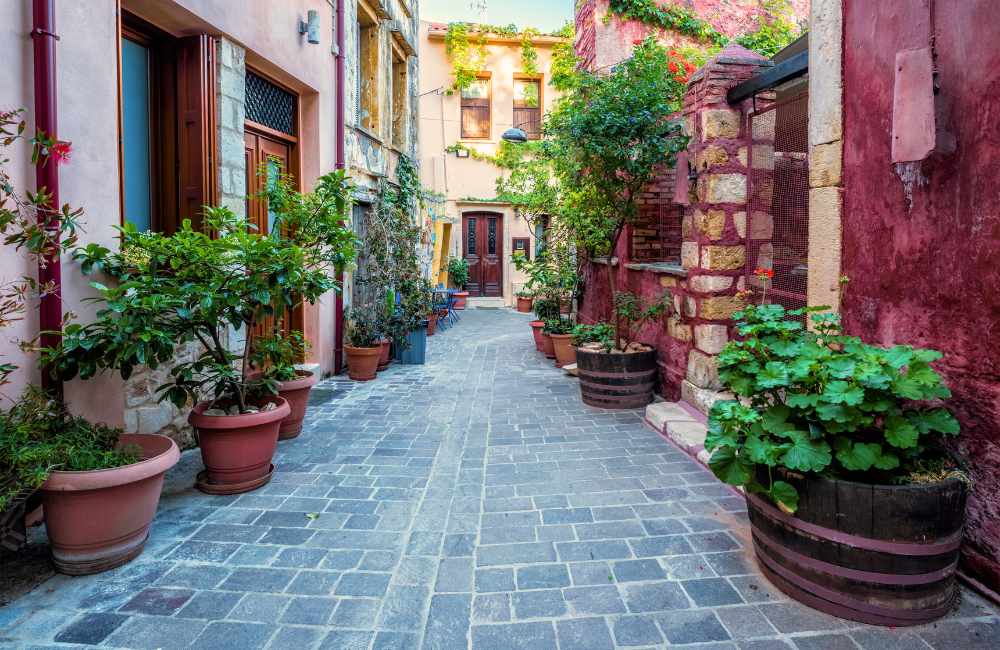 Day 12
The road from Rethymnon to Chania is quite good, depending on the traffic conditions, it can take you from 45 minutes to a bit more than an hour to reach the center of Chania.
Forget about the city on your first day. It's a great idea to go directly to the Akrotiri peninsula and spend the day resting on Stavros Beach.
As a matter of fact, booking a hotel in this area is a perfect idea: You'll avoid the center of Chania but you'll be close enough to visit.
If you're curious about the area, check out more beaches in the region.
Day 13
The old town of Chania is one of the best places to visit in the region… and on the whole island! You can spend the day in the old town and include a visit to the Folklore Museum, the churches, and all of the landmarks.

If you love the city as much as I do, check this itinerary for 1-3 days in Chania or read about the must-see places in town.
Day 14
One more morning at the beach, this time in Kalathas, also in the Akrotiri Peninsula. In the afternoon you can visit the Archaeological Site of Aptera and head back to the old town for one more walk at the port and for dinner.
A SMART ALTERNATIVE FOR 2 WEEKS IN CRETE
If you can only spend 2 weeks in Crete, instead of 3 weeks, don't worry! You can still see the best of West Crete. Do it this way:
Chania day 1: Old town
Chania day 2: Balos Beach
Chania day 3: Elafonisi Beach
Crete Road Trip Week 3: Northwest Crete
(The best of my itinerary for Crete!)
Quick Overview
2 nights in Elafonisi
4 nights in Falassarna
Departure from Chania Airport
Highlights
Elafonisi Beach
Falassarna Beach
Balos Beach
…
Having 3 weeks in Crete to drive around the island was great to have a faster pace at the beginning in order to see more places. But you'll also be able to slow down on the last week and relax.
This way, you can rest from the days on the road and have a whole week to enjoy the most beautiful beaches in West Crete.
Elafonisi – 2 nights
Day 15
There are several roads to go from Chania to Elafonisi Beach. It's a good idea to drive through Topolia Gorge to fit a stop in the area of Kommolithi. You can also explore the Cave of Agia Sophia, and visit the Chrisoskalithissa monastery.
You will spend the rest of the afternoon at Elafonisi Beach.
Day 16
Elafonisi is truly an outstanding pink sand beach, often described as one of the best shores in the Mediterranean. You can spend the second day in the area or you can check other beaches such as Kedrodasos and Aspri Limni.
Falassarna – 4 nights
For some people, 4 whole days in Falassarna might seem too much. For me, it was a great peaceful place where to really disconnect, relax and rest!
Day 17
Drive along the coastal road from Elafonisi which takes you back to the north. You can stop for a few hours at Sfinari Beach and then drive to Falassarna.
The road is very bendy, often with rocks and dozens of goats on the way. This makes you drive slowly most of the time. The trip can be exhausting, but the views are rewarding!
Once in Falassarna, just relax. Have a cold coffee on the beach and then dinner. In my opinion, the best place to eat in the village is Spilios, one of my favorite restaurants in Crete!
Day 18
Day trip to Balos! There are two ways to do this trip.
You can book a day cruise departing from the Port of Kissamos.
You can drive off-road to reach the beach. I personally prefer this last choice, you can read why here.
Day 19-21
Use these three days in Falassarna to relax! You can visit Falasarna's Archaeological Site, and the Archaeological Museum in Kissamos, but the best of Falasarna is the beach. Swim, sunbathe, go snorkeling, and eat delicious local food.
On your last day, and depending on your flight time, get back on the road and drive to the airport of Chania to board your flight back home.
If, instead, you depart from Heraklion airport, it's a better idea to get on the road the night before and spend the night in a hotel near the airport of Heraklion.
When I took this trip, this last week was my favorite out of my 3 weeks in Crete because it was the most relaxing of all.
This is my signature tour of Crete. I like to call it From Kazantzakis to Daskalogiannis. Three weeks starting from Heraklion's Airport (Nikos Kazantzakis Airport) and ending in Chania (departing from Daskalogianni Airport).
The names explained briefly: The restless soul of Cretan writer Kazantzakis is a mirror of Crete's soul. His vision of life and simple pleasures is a snapshot of everyday life on the island.
On the other hand, the rebel, independent character of Daskalogiannis portrays those survival traits that keep Crete going. Proud people who put their homeland first and die for it if they have to.
These were three of the most beautiful weeks I ever spent in Greece, so much so that I kept returning to Crete every summer… until one day, I moved definitely to the island. But that's a whole different story for a whole different article!
Would you like to spend 3 weeks in Crete?
Read more about Crete
🛌 Suggested Accommodation in Crete:
🗺️ More resources to book your trip to Crete
Pin this to Remember How to Spend 3 Weeks in Crete on the Road!
---
You might also want to read these posts about Crete's regions:
---
About my blog: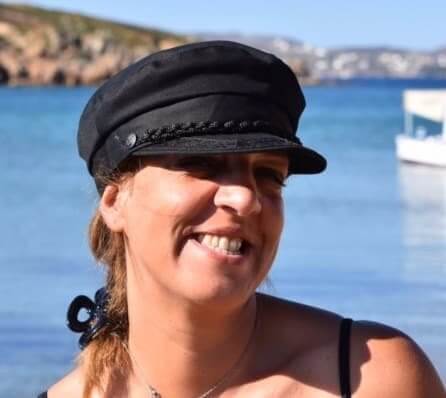 I moved to Crete in 2016. During these years, I learned much about the island.
In Crete, I juggle being a solo mom, hosting culinary tours, and writing for several travel media.
I've written for Greek Reporter, published travel guides about Greece, co-authored DK Eyewitness Top 10 Crete, and had more glasses of frappe than any regular person could ever handle.