Having dinner at Taverna Spilios is one of a kind experience. The food is superb. If you're in Crete and spending a few days in the stunning bay of Falassarna, or you're on your way to Elafonisi or Balos Beach, there's a place in the village where you should stop for a taste of Crete. That's Taverna Spilios.
This article may have affiliate links to products and services that I use. If you make a purchase through these links, it might earn me a small commission at no extra cost to you.
Spilios Taverna, a fantastic place to eat in Falassarna, Crete
Review
The restaurant is located a few meters above the sea and offers awe-inspiring views of the beach. Being Falassarna the most privileged spot to witness the sunset on the island, booking a table for dinner guarantees the perfect romantic dinner.
When it comes to Taverna Spilios, their kitchen specializes in local dishes, made with fresh and seasonal ingredients from the island.
The best dishes to try are:
Homemade fava, capers, olives, and grilled bread with olive oil and fresh thyme.
Moussaka (the best moussaka I've ever tried on Greece is theirs!).
Stewed rabbit.
Grilled lamb with wild greens, lemon, and olive oil.
Artemis salad (with figs, nuts, and local graviera cheese).
For those visiting with kids, the restaurant offers an open terrace and a garden for them to play, as well as a mysterious cave (spilio in Greek) for them to explore. Besides, Taverna Spilios serves special dishes for children, keeping them low on spices and size.
Everything is genuine and simple. And, as the owner happened to mention, some of the recipes were passed on by his own mother.
Arrive at dusk to admire whole Falassarna bay from above. You will be short of words to describe such beauty. I adore going back to Falassarna just to sit at one of their tables, enjoy the sunset, and indulge in their food.
Taverna Spilios is run by Michalis and his wife Elena. He is a gentleman that makes you feel at home treating you as a friend. When kids are on the table he will make sure they get the best service ever.
Complimentary homemade dessert and raki at the end of the dinner are always perfect. Even children can make a toast with fake raki as well.
To the ancient Greeks, hospitality was a divine right. The host was expected to make sure the needs of his guests were seen to.
The ancient Greek term Xenia (ξενία, guest-friendship) expressed this ritualized guest-friendship relation. This is the Law in Greece, this is the Law in Tavern Spilios.
They gave me a beautiful pottery souvenir to take home and cook my own moussaka (it will never be as good as theirs).
Taverna Spilios is located on the road to the beach, Falassarna, Crete, Greece
You can book a table at this number +30 2822 041010 or check their online menu here.
Coming to Crete any time soon? These fantastic resources will help you organize the trip!
Finally, make sure you've got everything you for a hassle-free trip!
Do you have everything you need? Then you just have to get ready to discover Crete, Greece's most beautiful island!
Would you like to try this place?
Let me know in the comments below!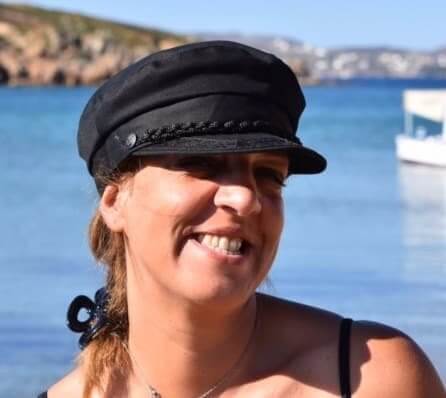 About the Author
Hola! I'm Gabi. Welcome to The Tiny Book – Crete Travel Blog! I moved to Crete to explore the island all year round. I love taking pictures and driving on the mountain roads of Crete. I'm a beach freak and on this island I've found heaven on earth!
---
You might also want to read:
---