Falasarna is one of the beaches that tourists love to visit in Crete. Falasarna is especially loved by English, German, and Italian travelers. However, in recent years, an increasing number of people from other countries discovered the area. Extremely relaxing, solitary, and perfect for a quiet holiday, Falasarna is also the best sunset spot in Crete. So, why not do so from the comfort of your balcony or the infinity pool in your rental villa? Take a look at these fabulous places to stay in Falasarna and choose the one you love!
---
Disclaimer: Posts include affiliate links leading you to products or services, I might earn a small commission if you make a purchase. This has no extra cost to you but allows me to continue writing articles that are helpful for your travels. I only recommend things I use myself or that I believe will deliver value to you. 
---
Best Places to Stay in Falasarna, Crete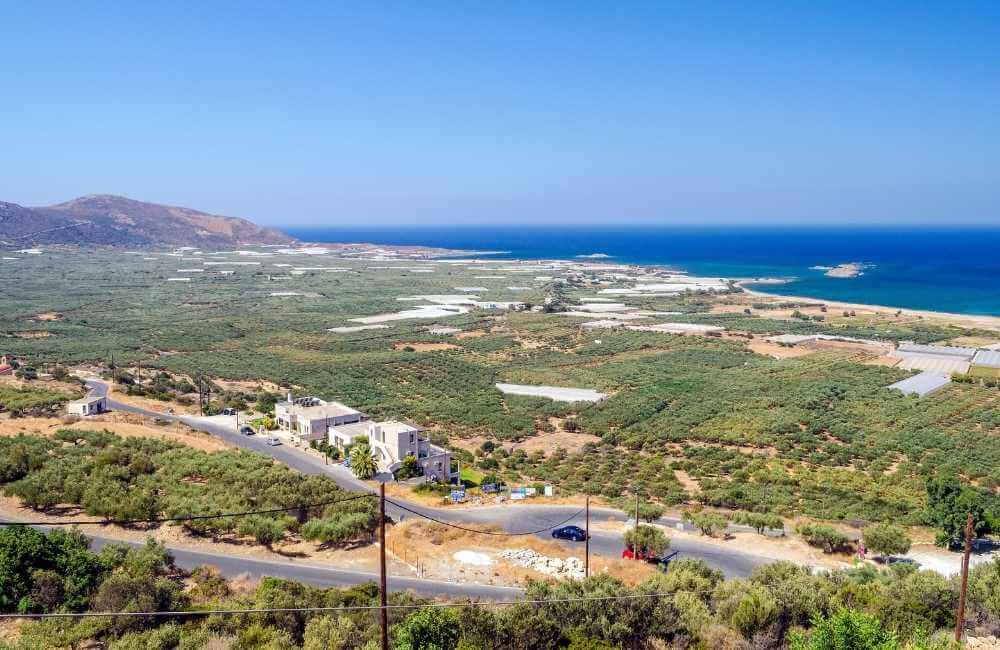 General Information about Falasarna, Crete
Falasarna (also written Falassarna) is a quiet area on the westernmost coast of Crete, where there's not much to do, but relax and rest on the beach.
There are just a bunch of places to stay, for any budget, from simple and comfortable hotel rooms and studios to amazing villas with impressive views.
There are not many things to do in Falasarna, you'll find some very good restaurants, a few convenience stores, and no nightlife. Among the few things you can do in the area, water sports, hikes, and a lonely archaeological site are part of the program.
Falasarna Beach is also a great place to stay when visiting the nearby Balos Beach. Besides, it's common for those who spend their holidays in Falasarna to stay late on the beach to witness the most beautiful sunset in Crete.
Where to Stay in Falasarna
In no particular order, here are some great places to stay in Falasarna for your next trip to the Chania Region, in Crete…
Budget Places to Stay in Falasarna
Falasarna Bay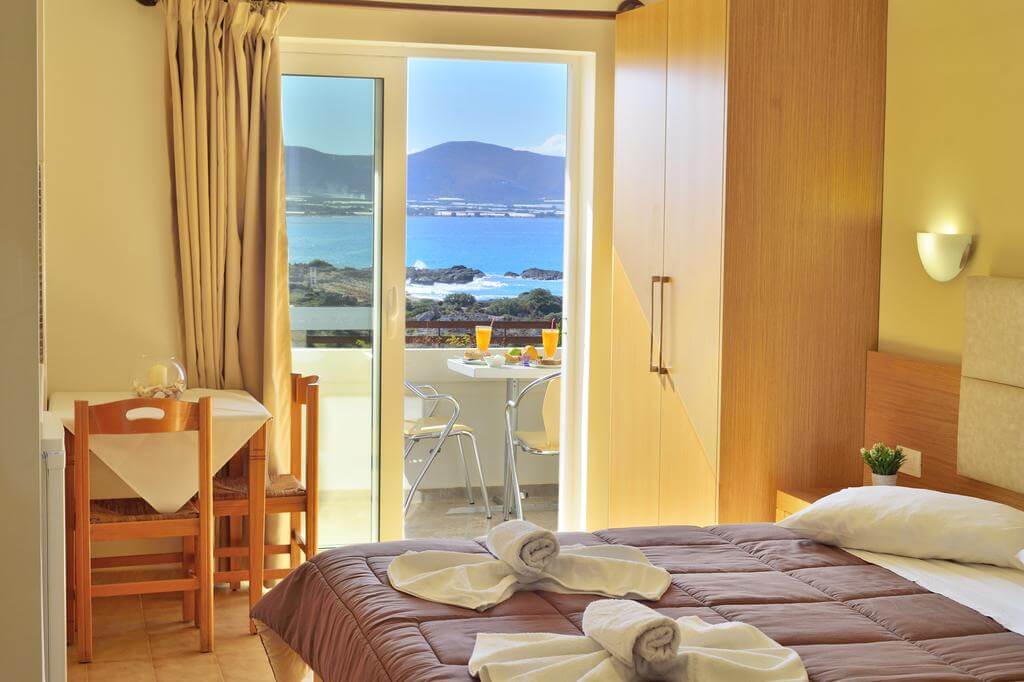 This is a very simple and convenient place for couples, families, or groups of friends.
All the units – both studios and apartments – overlook the beautiful bay of Falasarna, so breakfasts with a sea view are guaranteed!
All apartments and studios include air conditioning as well as a safe box. Breakfast is not included in the price but it can be arranged for a small fee daily.
At the place, there's also a small mini-market and convenience store open to guests and the general public. Free parking is also available for guests.
Click here for more information and the latest prices.
Kalami Rooms and Apartments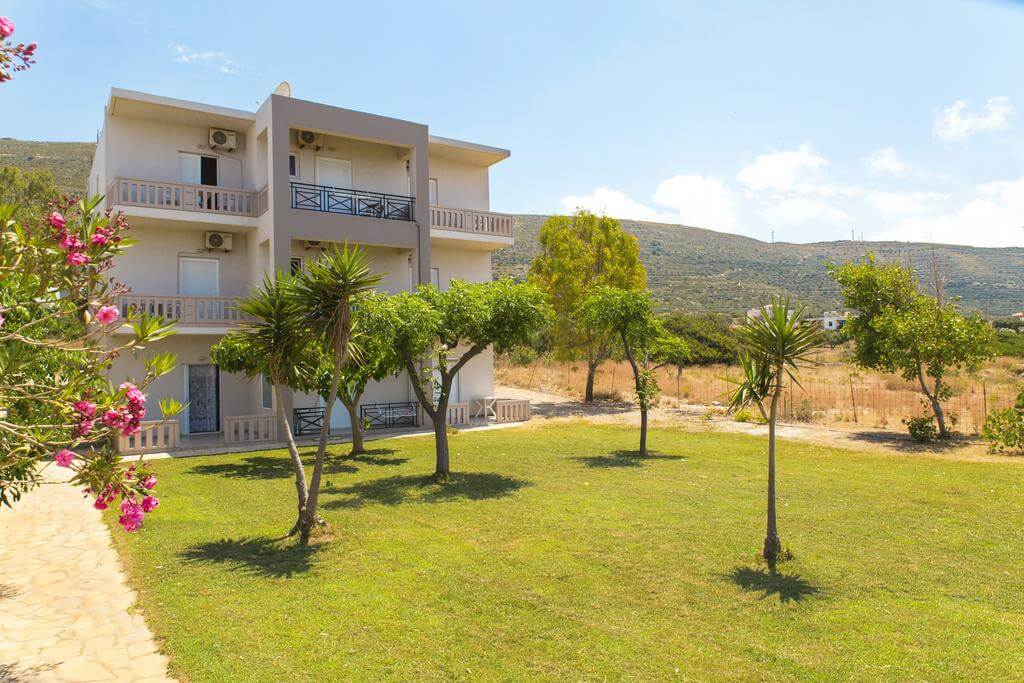 I've personally stayed in this family-run and convenient place while traveling on a budget.
The rooms are comfy and feature big balconies with tables and chairs, perfect to dine out while soaking in the stunning views of the sea and the sunset.
Some units have been completely refurbished and redecorated. No frills, just comfort, simplicity, and clean facilities.
A tasteful homemade breakfast is included in the price of the room.
And all units were cleaned on daily basis.
Some of the rooms also feature a small kitchenette with basic equipment. There's parking available for guests too.
Click here for more information and the latest prices.
Falasarna Beach Hotel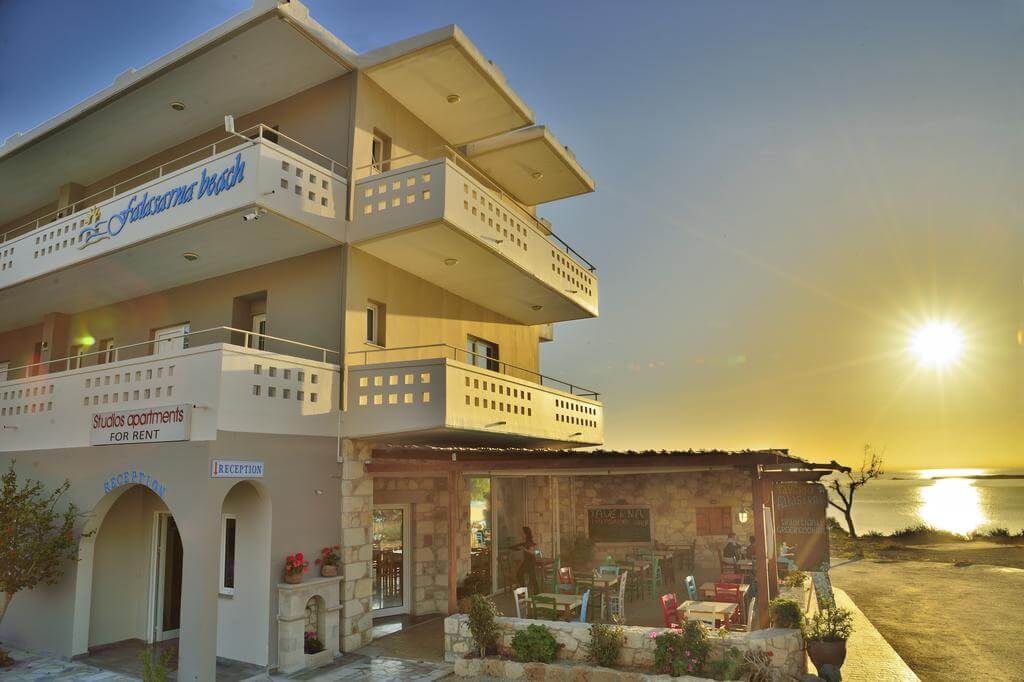 Located in a privileged position facing the sea, Falasarna Beach Hotel is a perfect place to stay if you're traveling on a budget.
Falasarna Beach Hotel features functional, spotless accommodation offering all the basic amenities for a comfortable stay in rooms and apartments hosting up to 5 guests.
On the premises, guests will find a restaurant and a café. Breakfast is a la carte while during the rest of the day you will also find dishes and snacks available.
There's a laundry service available for a small additional fee. The property also offers the possibility to arrange a taxi to pick in advance to bring you to the property from another point on the island. Otherwise, you can arrange a car rental at the property too. Parking is free for guests.
Click here for more information and the latest prices.
Mid-Range Hotels in Falasarna
Casa D'Irene Deluxe Hotel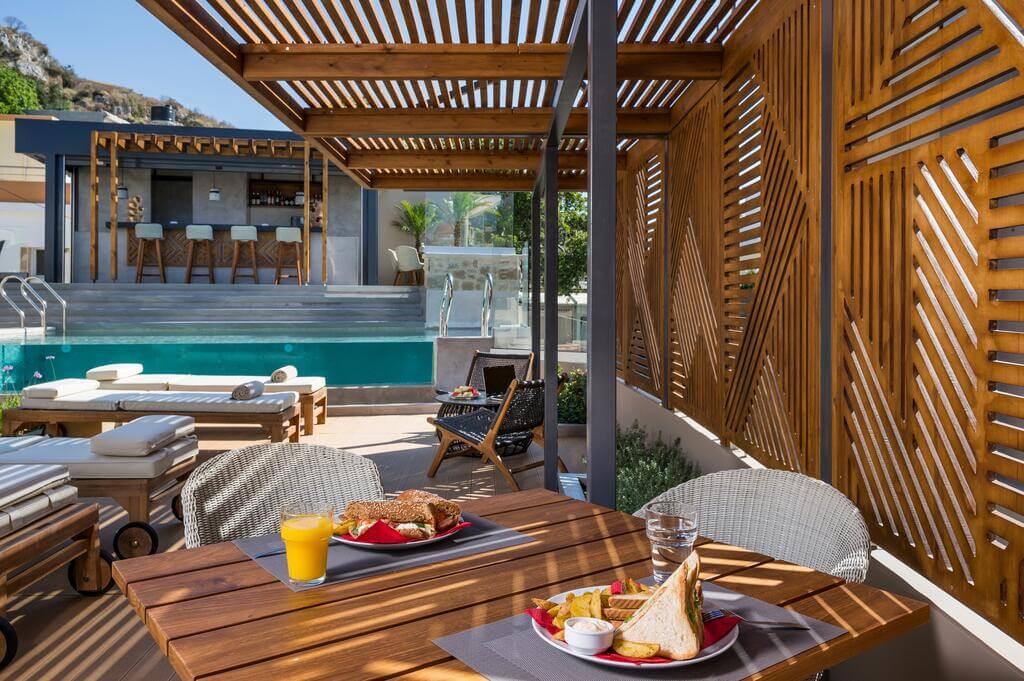 Unique new facilities, Casa D'Irene is a modern venue in the heart of the picturesque village of Platanos, 5 minutes by car from Falasarna beach, and only 30 minutes away from the famous beaches of Balos and Elafonisi.
This is a charming mountain retreat, with a relaxing environment.
You can choose between classic and superior rooms or go for family accommodation or even a lavish maisonette.
When it comes to leisure and entertainment, here you can treat yourself with a relaxing nap under the shade of the modern umbrellas or with a revitalizing dip in the outdoor swimming pool.
Kids love the playground set in a large outdoor area.
Guests can also enjoy the breakfast area, serving local delicacies as well as the outdoor pool bar for drinks and snacks.
Click here for more information and the latest prices.
Nikos Apartments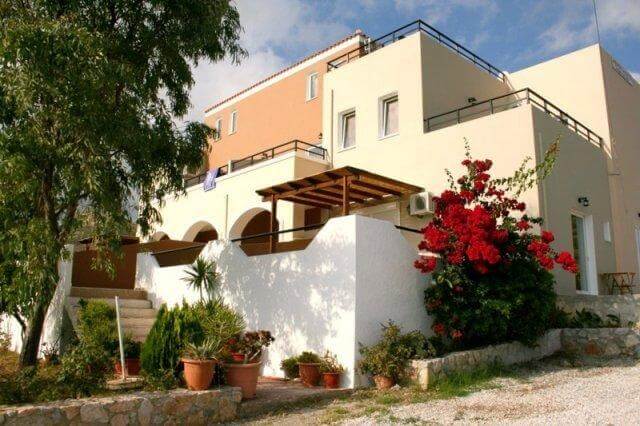 A traditional landmark in the areal, these apartments are within 300 meters from the sandy beach of Falassarna. All the units offer spacious, self-catering accommodation with large sea-view balconies, including also free private parking.
Each of the apartments has a comfortably furnished seating area and a comfy kitchenette well-equipped for your basic needs. In any case, guests are invited to try traditional Cretan cuisine at the family's tavern, approximately 3 km away.
Right opposite the apartments, there's a small convenience store as well.
Click here for more information and the latest prices.
You might also enjoy reading: Where to Stay in Chania: Great Accommodation Guide.
Golden Sun Petrina Diamerismata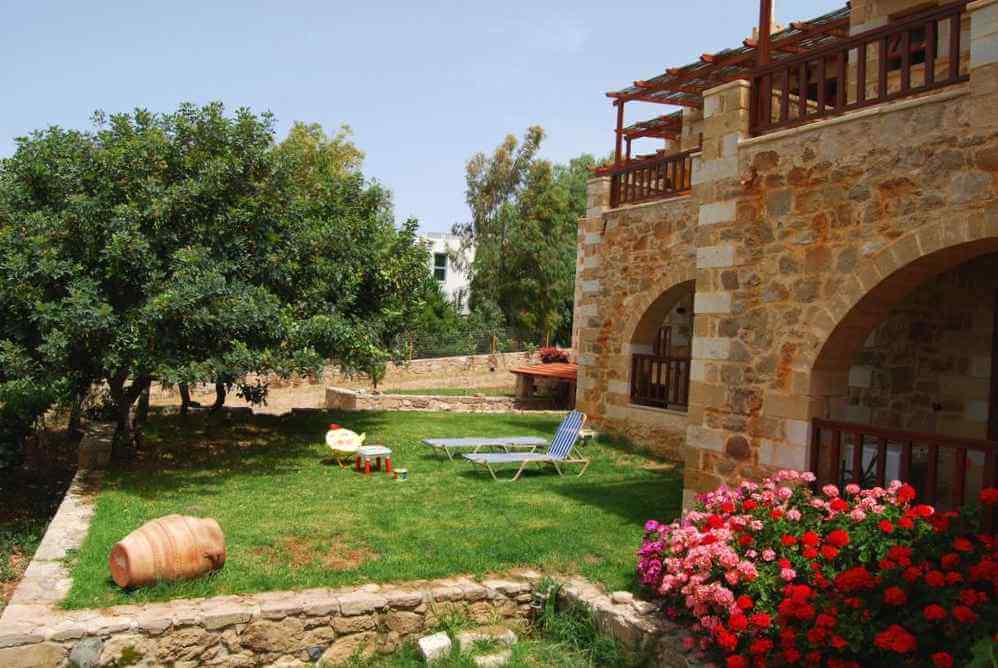 This is a fantastic mid-range accommodation in a complex of studios and apartments, ideal for families or friends, built in traditional stone-made Cretan style, featuring comfortable terraces and balconies with unique sea views, as well as gardens.
The location is great, just a quick walk from the beach (about 300 meters) while there's also a convenience store and a couple of tavernas nearby.
All units are self-catered with a dining area. Air-conditioned and heated, they all include free internet access, satellite TV, and safe. Daily continental breakfast is served at the neighboring sister property. Guests also have access to the hotel's barbeque facilities.
There are PCs available at the reception, while children love the playground. Car rental can be arranged with the hosts, and there's free private parking provided on-site.
Click here for more information and the latest prices.
Luxury Places to Stay in Falasarna
Villas Libra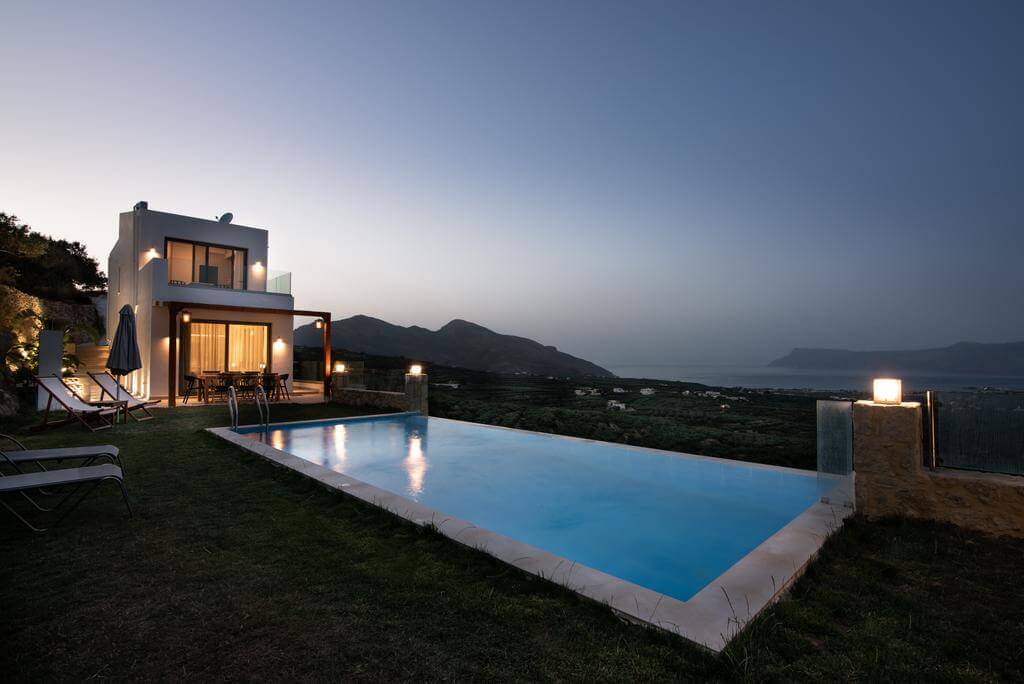 Check this super villa with stunning views of the bay, for a top stay in Falasarna!
This traditional complex of villas offers fully equipped units, each with a private pool and a hot tub.
You can choose between a 2-bedroom and a 3-bedroom villa, all fitted with stone elements, a beamed ceiling, and a fireplace.
Villas also feature air conditioning and elegant decorations, opening to a balcony overlooking the sea and the mountain.
Among the amenities are a flat-screen, satellite TV, a washing machine, and a kitchen with a stove and dining area. Some of the villas are split level and come with a spa bath.
Guests are offered fruits, wine, own-produced olive oil, and a traditional homemade Cretan meal.
Enjoy the sun loungers of the sun terrace by the pool and the BBQ facilities. Bike rental and car hire services can be provided upon charge.
Click here for more information and the latest prices.
>>Check prices for Villas Libra on Booking.com<<
You might enjoy reading: The Most Amazing Tours in Chania: Top Day Trips from Chania, Crete.
Blue Horizon Luxury Villas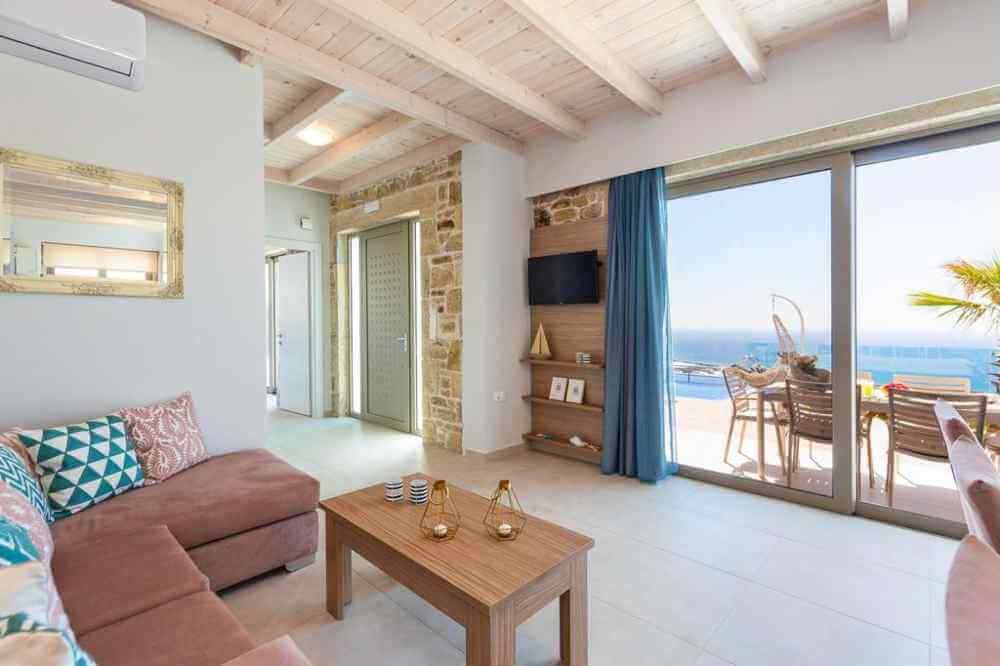 This is one of the prettiest places to stay in Falasarna!
An ideal place to stay if you're renting a car since the villas are located in a high position overlooking the spectacular Falasarna Bay.
Located 1.3 km from Falasarna Beach, the properties feature a garden, a terrace, and air-conditioned accommodation with a patio and free WiFi.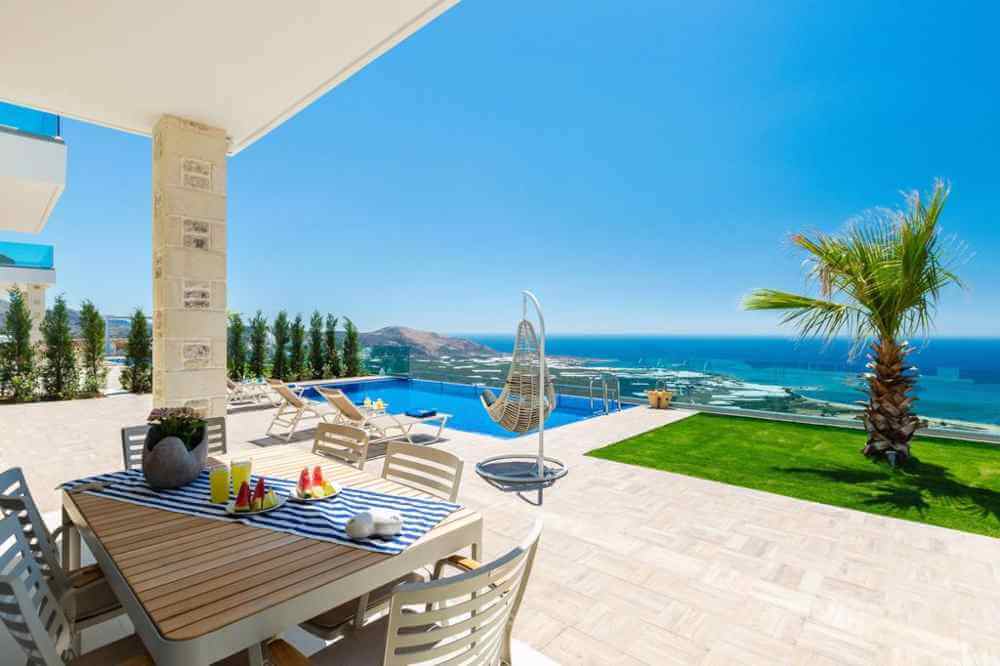 Featuring a kitchen with a dishwasher and a microwave, each unit also comes with a desk and a seating area with a sofa. The veranda with a pool is one of the top features of these properties!
Click here for more information and the latest prices.
Looking for things to do near Falasarna? Check Balos Lagoon and Elafonisi Pink Sand Beach.
Cielo e Mare Villas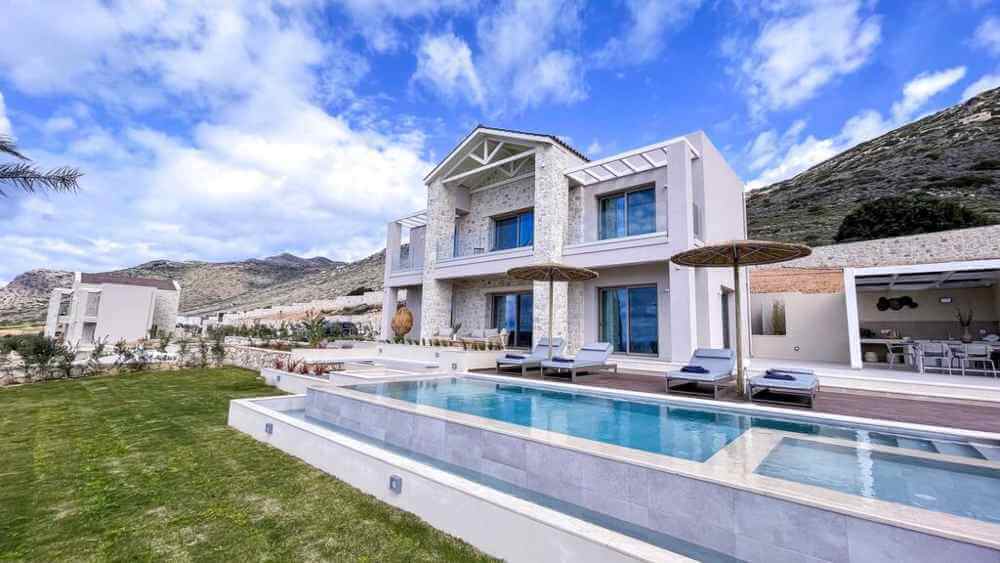 This is a popular place to stay in Falasarna, about 700 meters from the main beach.
Cielo e Mare Villas feature accommodation with a patio or a balcony, and access to a beautiful garden and an outdoor pool.
For total comfort, you'll be able to enjoy a living room with a sofa, a well-equipped kitchen with a dining area, and a private bathroom.
There's also a barbecue on the spectacular sun terrace.
Parking is available for guests, and the property also offers a paid airport shuttle service.
Click here for more information and the latest prices.
Aspalathos Villas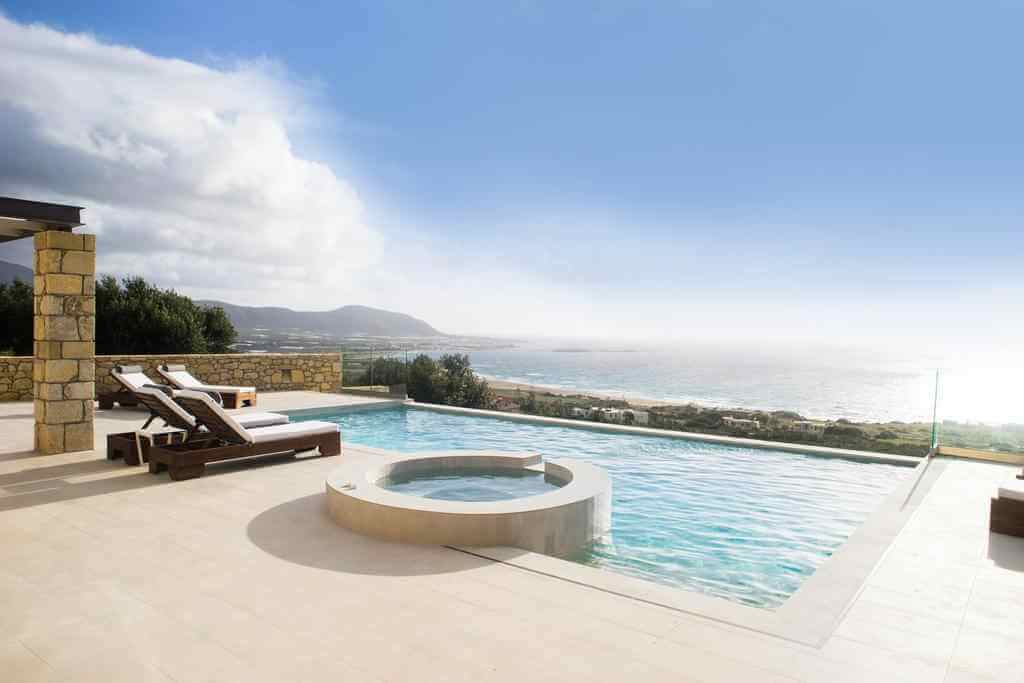 One of the best choices when it comes to accommodation in West Crete, Aspalathos Villas are just meters from the beach, ideal for a family stay or a group of friends too.
The place features BBQ facilities, a seasonal outdoor swimming pool, and free private parking. Splurge in the gorgeous spa and wellness facilities including a hot tub and a sauna.
After a long day at the beach, relax in the garden at the property or visit the nearby Ancient Falassarna right before sunset!
Click here for more information and the latest prices.
As you can see there are places to stay for all budgets in the area, just compare the ones you liked the most and spend an unforgettable vacation in Falasarna!
Didn't find the perfect place? Check these hotels in the city center:
Best Hotels in Chania
Affordable: Aelia Apartments or Polixeny's Suites in the old town.
Mid-range: Elia Estia in the old town and Civitel Akali Hotel in the new town.
Luxury: Casa Delfino in the old town or Domes Noruz by the sea.
Check also Chania Accommodation Guide and Boutique Hotels in Chania.
Want extra help to find the best place to stay in Falasarna? I can help! Get in touch or leave me a message in the comments below!
You might also enjoy reading these posts:
– Top Nudist Beaches in Crete: Complete Insider's Guide – A guide to the best places in Crete to swim without clothes.
– 17 Picture-Perfect Luxury Resorts in Crete for a Top Class Experience! – A guide to the best luxury hotels on the island.
– Discover + 45 Most Gorgeous Beaches in Crete (A guide by an insider!) – A guide to the best beaches in the Chania region.
– Where to Eat the Most Delicious Gyro in Crete – A complete list with the best gyro joints in every corner of Crete.
– Fabulous Beach Bars in Crete for Your Next Adventure on the Island! – A list of the best beach bars in Crete.
LAST-MINUTE PLANS FOR CRETE?
– Use Ferryhopper and Skyscanner for the best ticket rates.
– Find great accommodation deals on Booking.com.
– Compare car rental prices with Discover Cars.
– Check the best tours with GetYourGuide.
– Visit Elafonisi, discover Balos Beach, hike Samaria, or explore Knossos.
– Pack the Lonely Planet Guide to Crete or get my digital guide to Chania.
Pin this Guide to the Top Places to Stay in Falasarna for Your Next Crete Vacation!
About the author of this blog: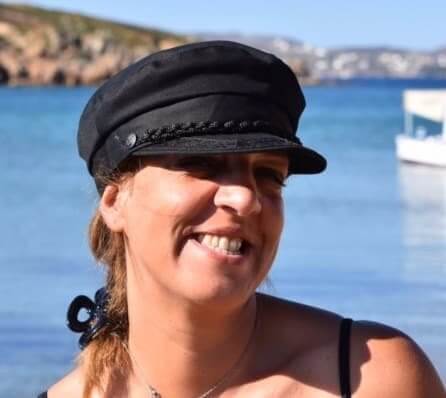 Gabi has been living in Crete for the last five years. Here, she juggles being a solo mom, hosting culinary tours in the summer, translating, and writing for The Tiny Book and her other blogs.
She's written for Greek Reporter, published three travel guides about Greece, and had more glasses of frappe than any regular person would be able to handle.
---
COMING TO CRETE SOON?
Get in touch and let me know!