Crete, home to the most stunning beaches in Greece, could not have a shortage of cool beach bars to spend your afternoons by the sea… and your nights too! Read on to discover the best beach bars in Crete!
---
Disclaimer: Posts include affiliate links to products or services. I might earn a commission if you make a purchase at no extra cost.
---
Top Beach Bars in Crete
The Best Beach Bars in Crete That You Must Visit
Who doesn't love a visit to a beach bar? Soaking up the sun, enjoying the view, and cooling off with a dive in the water. And the best thing is that you do all these with a drink in your hands!
So if you would like to take some time off this summer and visit Crete, you will love this post. You'll get to know some of the best beach bars in the whole of Crete. If you feel like it, you can select your favorite and plan a visit.
Anyways, even if you don't make it to Crete this year, you can still get a glimpse and a taste of how life is in a Cretan beach bar. It's a win-win!
Here is a list of the best beach bars in the entirety of Crete. They are selected based on three factors: location, price, and reviews on Google. Of course, there is also a degree of subjectiveness here. In any case, these are some of the most popular beach bars in Crete.
Cabana Mare Beach Resort
Location: Agia Marina, Chania.
This is one of the most popular beach bars in Agia Marina, just a 10-minute drive from Chania. It is well known for its location, overlooking the small island of Agioi Theodoroi in the north.
At the same time, situated in Chania Bay, you can see big hills and mountains on the west and east of the resort, just over the blue waters of the bay. It is a magnificent view, to say the least.
The beach bar itself is equipped with amenities you will not easily find somewhere else.
Private Jacuzzis, comfortable sunbeds, and other modern sitting areas are spread all over the resort. If you move a bit further from the sand, you will find a huge pool surrounded by private lounges, everything under the shade of tall palm trees.
There, you can reserve a spot and have an unforgettable meal, prepared by renowned chefs. You can choose anything from modern Cretan cuisine and Mediterranean flavors to sushi bites.
If you prefer something lighter, there are choices for ethnic breakfasts, brunches as well as premium spirits and beverages. All in all, Cabana Mare is a place to celebrate summer!
Dolphin Beach Bar
Location: Malia, Heraklion.
This traditional beach bar became one of Malia's most visited and loved beachfront spots, half an hour's drive from Heraklion.
The water is very shallow and the sand soft. This makes this bar a perfect choice for families. Kids can play on the sand while parents need not worry about deep waters and big waves. Almost everyone is talking about the great services the owner and the staff offer.
You will certainly find a more personal touch than in other more luxurious beach bars. What is more, the bar's mascot is a 42-year-old talking parrot, named Kostas. That's an attraction on its own!
When it comes to food and beverages, Dolphin beach bar offers a wide selection of cocktails and traditional Cretan dishes, next to a few international meals.
It is one of the beach bars where you can taste homemade Cretan flavors with fresh and biological ingredients. You can easily spend a whole day on the beach relaxing and having great family time.
There are great beach bars in Falasarna Beach too! Check what to do in Falasarna Beach
Location: Stalida, Heraklion.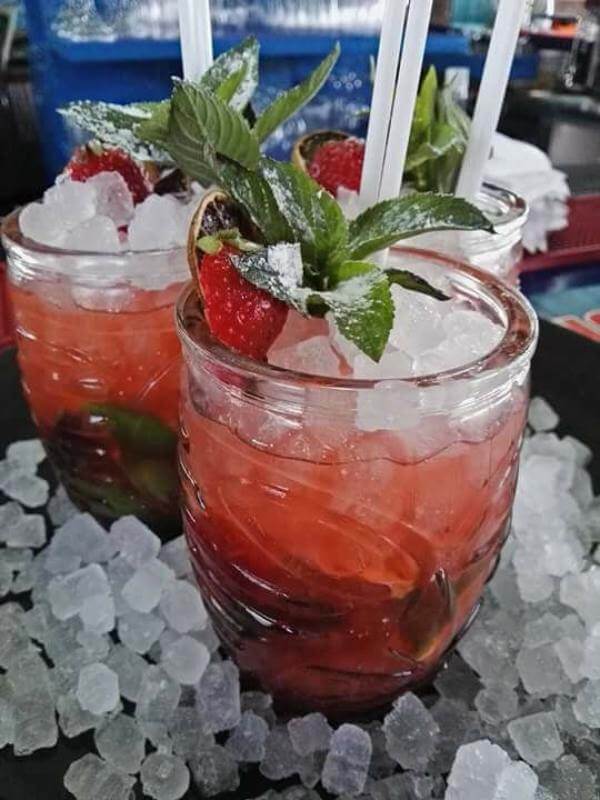 Nemo Beach Bar is another beach bar located in Stalis, not far from the more famous Malia Beach. Although rather small, this bar is well known in the area for its drinks.
You can select from a wide variety of special cocktails as well as cocktails of the day.
If you want to try new things and have a few extra bucks to spare, you can spend an amazing just tasting their unique cocktail selection.
You can do that either by the water or in one of the sitting areas just above the beach.
And if you feel like you need to move and burn off the calories, there is a mini-golf right next to you! The best part is that it is completely free for guests. So that's a good way to have some fun.
At the same time, if you get too hot, the water is just a few meters away. If you are mostly interested in the cocktails part, it would be clever to visit at night once the sun has set.
During the day, it can get a bit hot even though some refreshing drinks can help in that respect. In any case, make sure you come with some friends to make the most of your visit!
Pleasure Beach Club
Location: Malia, Heraklion.
If you want to have a relaxing day on the beach, mostly doing nothing apart from obviously enjoying the sun and the Cretan sea, then Pleasure Beach Club is the place to go if you are near Malia.
There are beautiful and comfortable sunbeds that you can book for the whole day if you want. Although it is a bit crowded at times, there is lots of room on either side of the bar where you can walk, play or meet others.
The water itself is rather shallow so if you want to swim, prepare for a bit of a walk into the water.
As for the menu, there are many drinks available and coll music playing in the background. There is also a tasty selection of sweets if you feel a bit hungry.
Make sure to try their delicious crepes and stay long enough to see the sun setting over the hills and into the sea.
New York Beach Club
Location: Hersonissos, Heraklion.
New York Beach Club is not a traditional beach bar. First of all, it is very tiny there is not a lot of space for sunbeds. However, it is regarded as one of the best dancing beach clubs in the whole of Crete.
And of course, this means it is located in one of the most cosmopolitan and touristic areas of the island: Hersonissos.
There are parties here every night starting from late afternoon. Once the sun starts setting, young locals and tourists come together to celebrate summer and life.
The main aim of the bar is to offer an unparalleled party experience, which if we judge from the reviews and its reputation, it certainly does. At the same time, it is still working during the daylight as a normal beach bar.
So if you want to have a glimpse of this popular beach club, feel free to visit it in the early afternoon and see how crowded and loud it gets within hours.
Surely not a place for everyone but a place worth visiting at least once.
Want to visit a romantic beach? Try staying near Elafonisi!
Baja Beach Club
Location: Rethymnon.
Baja Beach Club is located in the region of Rethymnon and it offers over 12000 square meters of a privately organized beach. They feature unique services, comfort, and facilities as well as a stunning swimming pool (and a pool for kids too!).
If you spend a day here, you can enjoy different activities, including, parasailing, beach volley, jet skiing, and rackets.
What's more, Baja hosts DJs from all over the world and offers the best summer parties in the area. The best part of it? Entrance to Baja Beach Club is free!
Ocean Bar & Restaurant
Location: Stalis, Heraklion.
Ocean Beach Bar and Restaurant in Stalida is known for its location and cocktails. It is a traditional beach bar decorated in blue and white to remind you of Crete and Greece.
The palm trees that surround the place give an extra beauty and a sense of appreciation.
The sandy beach is full of sunbeds so you will easily find an open spot if you visit the bar at any time. There, you can enjoy the crystal blue waters while tasting some of the best drinks in Crete.
Ocean is renowned for its cocktails in the area so don't miss the chance to try something new. While there is also a selection of meals you can have, reviews show that the food is not as good as their drinks.
However, feel free to go for the fast-food options, from gyros to club sandwiches as they are usually fresh and preferred by locals.
Almira Beach Bar
Location: Agia Marina, Chania.
Probably among the most popular places in Agia Marina, Almira Beach Bar prides itself on offering simple luxury at an affordable price.
The venue features both a beach bar and a restaurant with a stylish design ad a stunning cocktail list. There are over 40 cocktail positions so you cannot say you didn't find the right spot!
Just lazily relax on the comfy or splurge into the great Mediterranean dishes served at the restaurant paired with a good selection of local wines.
There are parties with musicians and DJs playing all kinds of music, including rock, funk, and pop.
Kahlua Premium Beach Bar
Location: Hersonissos, Heraklion.
This is another well-known beach bar, popular for its live performances and parties that go on non-stop 24 hours a day.
Also located in Hersonissos, it is right by the sea and aims to be an all-day and night destination for everyone's entertainment.
Apart from the live events and music, Kahlua also offers a wide selection of cocktails prepared by renowned barmen. You can have your drink just meters from the sea, either lying on your sunbed or sitting on a comfortable sofa.
Although the bar mostly attracts couples and youth, families are also welcome to have a different experience and explore this aspect of Cretan life.
You can enjoy the live music and have dinner with your loved ones that you will never forget.
Costa Costa
Location: Agia Marina, Chania.
Another famous place to visit on the north coast of Chania is Costa Costa, which has made a name of its own with the dreamy seaside weddings they organize in the venue.
The place is good for friends, couples, and families as it featured a great playground specially made for kids and with personnel to take care of them!
The place is open from early morning till late at night, offering the possibility to enjoy from breakfast to dinner soaking in the magnificent views of the sea.
Playa Paraiso (My Favorite Beach Bar in Crete!)
Location: Falasarna, Chania.
Other than being located on what I think is one of the most amazing beaches in Crete, Playa Paraiso is a great location that attracts visitors from the whole region of Chania all the summer season.
Here, you can enjoy great cocktails, delicious food, and cold coffees both at the restaurant and lounge or by the sea!
Every season they organize special beach parties with music and DJs, as well as sunset parties that you cannot miss. Did you know that the best sunsets on Crete can be witnessed on this side of the island?
Therefore, this beach bar is nothing short of amazing when it comes to spectacular sunset views!
Meltemi Beach Bar Restaurant
Location: Hersonissos, Heraklion.
Meltemi is a beach bar and restaurant in Hersonissos dedicated to families. The beach has lots of space for the kids to play and create sandcastles.
At the same time, there is a huge pool on the upper level of the bar where kids and parents can have a great time together.
Of course, there is also a selection of drinks and cocktails like Mojito and Long Island, although it is rather limited for being a beach bar.
In any case, it is a place to go if you are a family that wants to spend some quality time together while also having fun!
Next to the pool and overseeing the beach lies the restaurant with tables and sitting areas where you can have an unforgettable meal. You can choose to eat anything from traditional Greek meals like pastitsio to more modern versions of Greek cuisine.
King Scorpio Beach Bar Restaurant Hersonissos
Location: Hersonissos, Heraklion.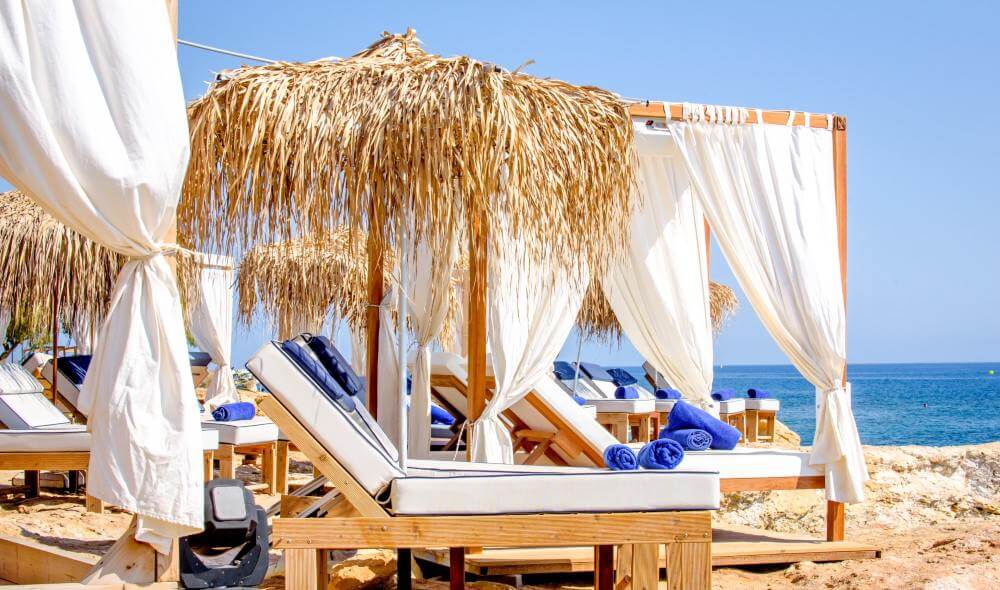 King Scorpio is a unique beach bar located on the central beach of Hersonissos. It covers an area of more than an acre, including an elegant restaurant, two private sandy beaches surrounded by rock formations, a cosmopolitan bar with a freshwater pool, and a Nomad-style lounge area.
It is truly a place for everyone with a unique identity that combines characteristics from different styles: Elegant, Tropical, Nomad, and Cosmopolitan.
Because of its location, it is usually full and it is wise to reserve a spot beforehand if you want to find an available table or sunbed.
When you finally sit down, you will first embrace the atmosphere around King Scorpion. Then you can order a refreshing cocktail or if you are hungry, choose some of the local specialties.
Feel free to ask the staff for recommendations about the food there as well as about Crete in general. They are very friendly.
In any case, don't forget to explore the two beaches and if you have some time, swim from one beach to another. You will see some beautiful rock formations and if you are lucky, rich marine life.
Beachcomber Bar Restaurant Stalis
Location: Stalida, Heraklion.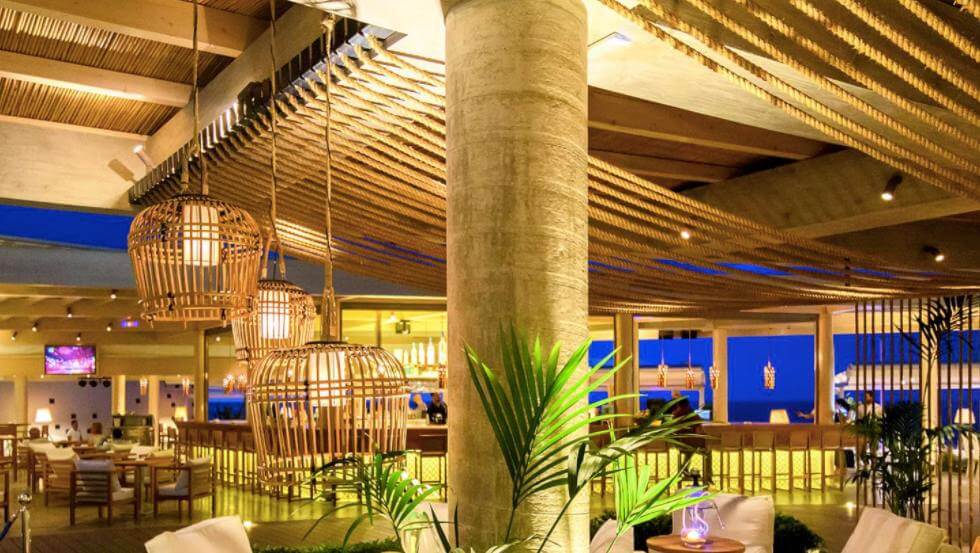 Beachcomber is a modern beach bar and restaurant in Stalida. If there were stars given to bars as we do with hotels, this would be a 4-star beach bar, if not a 5-star.
The location is absolutely stunning and everything is built with great attention to detail. From the sunbeds and sitting areas to architecture and style.
Beachcomber aims to make your visit memorable either for enjoying the landscape and the water or for having a meal. Everything is taken care of by high-standard professionals.
Chefs, barmen, waitresses, and everyone working in the resort are highly skilled and always eager to help. Even music is something that Beachcomber takes very seriously as they always have a DJ playing music in the background.
Of course, all this comfort also comes at a cost since the prices are a bit higher than usual in the rest of Crete. Is it worth it? I say it definitely is; for one visit at least.
Have a cocktail or enjoy a walk by the sea! Explore the best things to do in Heraklion at night!
Notis Beach Place
Location: Agii Apostoli, Chania.
Chill surrounded by the great music while your feet rest on the warm sand on Agii Apostoli Beach.
This cool beach bar is open from the morning until the evening and it serves a good selection of local beers, cocktails, and fresh juices but also snacks, salads, and tasty burgers.
The place is particularly inviting at night when you can pick a table next to the shore, meet your friends, and enjoy hours of good music and conversation under the stars.
Baralia
Location: Akti Papanikoli 27, Nea Chora, Chania.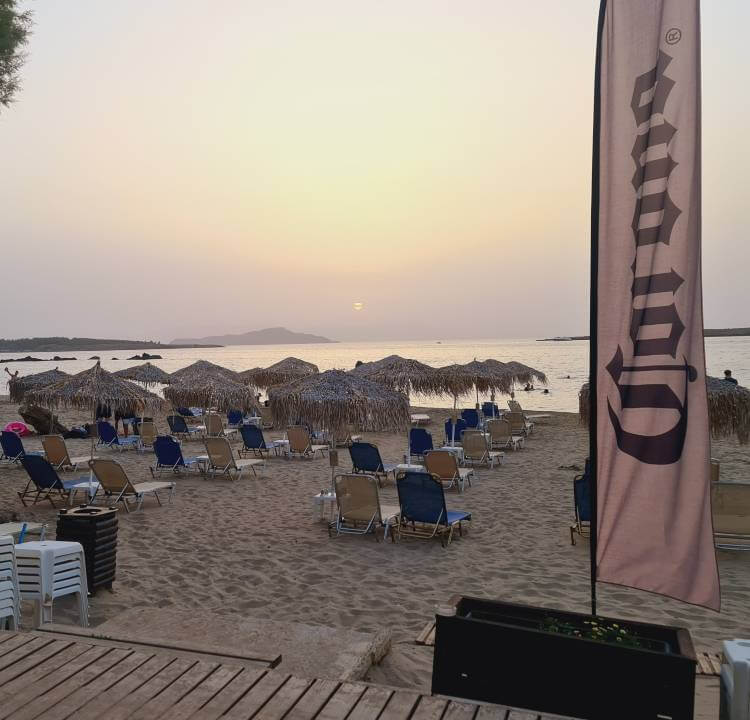 If you're looking for a nice setting not far from the old town of Chania and the picturesque Venetian harbor, then pay a visit to Baralia.
The friendly staff will welcome you with delicious snacks and drinks until late in the evening.
There are affordable umbrella and lounger sets available while you enjoy one of the most popular city beaches in Chania, Nea Chora Beach.
BOHO Beach Bar
Location: Matala Beach, Heraklion
We fell in love with the comfy loungers, the pancakes, and the chill atmosphere at Boho Beach Bar on Matala Beach.
This cocktail and beach bar, open all day long is quite easy to find, it is the last bar (or first… depending on where you access the beach) on the sandy beach. Right after you will find a long stretch of sand with loungers and umbrellas, and finally, the Matala Caves.
Here we loved the chocolate pancakes, the cakes, and the music too! Great vibe for the whole family.
Gianni's Mojito Bar
Location: Red Beach, Heraklion.
If you're visiting Matala and decide to hike your way up the hill to get to the legendary Red Beach (known also as Kokkini Ammos), then you'll be happy to know that this top naturist beach on the southern coast of Heraklion hosts one of the most famous beach bars in Crete: Gianni's Mojito Bar.
Although the Mojito is the most requested drink served in this small but picturesque canteen, you can also enjoy beers and soft drinks.
The music is amazing and the vibe is relaxed and casual. A must-go place when visiting Kokkini Ammos.
Rodakino Beach Bar
Location: Agia Marina, Chania.
Looking for a place where to swim, sunbathe, and enjoy good food, fantastic drinks, and great music? Then this is a great option on the seaside area of Agia Marina, just a short driving distance from the center of Chania.
A great option for families as well as groups of friends, besides, prices are affordable and the staff is super friendly.
So… Don't you also believe that there are great beach bars to discover on the island? I bet some of them have already made it to your personal list of beach bars to visit this summer! Have you ever been to any of Crete's beach bars?
🏖️ Please, help us protect the beaches in Crete. Respect the environment and don't leave any trash behind.
Read more about Crete
🛌 Suggested Accommodation in Crete:
🗺️ More resources to book your trip to Crete
Written by Dimitrios Tsevremes
Passionate about travel, spirituality, and sports, I have lived in 5 countries and traveled to more places than I have counted. Writing, for me, is a way to express myself and my creativity. Whether I write for my blog or a freelancing gig, I always fall in love with the process and often lose my sense of time. If you want, you can check out more about me and my work here.
This Belongs to a Board! Pin this Guide to The Best Beach Bars to Check on Crete!
---
You might also want to read these posts about Crete's regions:
---
About my blog: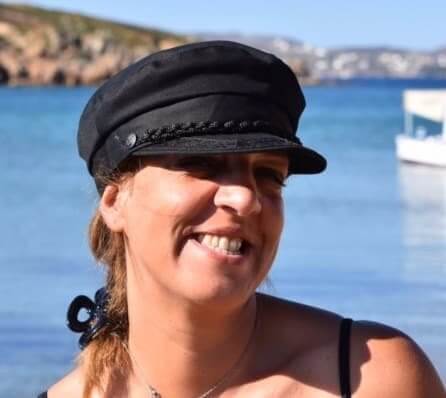 I moved to Crete in 2016. During these years, I learned much about the island.
In Crete, I juggle being a solo mom, hosting culinary tours, and writing for several travel blogs.
I've written for Greek Reporter, published travel guides about Greece, and had more glasses of frappe than any regular person could ever handle.