Want to travel to Chania, but you are unsure where to park your car? Or maybe you are looking for free parking in the city right now as you drive! Either way, this post is just for you. Keep reading to discover all you need to know about Chania parking.
---
Disclaimer: Posts include affiliate links to products or services. I might earn a commission if you make a purchase, at no extra cost.
---
Chania Parking: All You Need to Know and More!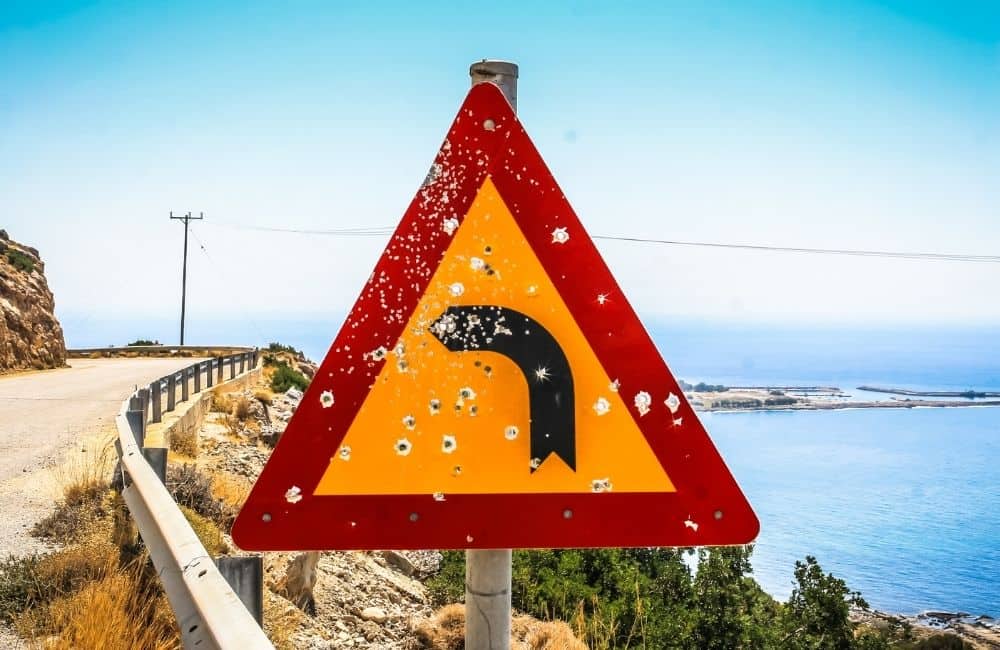 Where to Park in Chania: General Directions
I have to be honest. Finding parking in Chania is not the most straightforward task you will have in your holidays.
The town's street can get exceptionally busy, which may give you a hard time if you come here by car. Yet, worry not. I have done the hard work for you and prepared an ultimate list with the best parking spots in Chania.
But before we get into the details, you need to know one or two things about parking in Chania. First, like any big city, Chania is subject to some regulations regarding parking. And this boils down to the color markings you find around the city.
The Color Markings in Chania
In short, if the markings are yellow, you cannot park there. Only special vehicles or residents with permits can. Don't worry, though. You won't see them much around the city.
On the other hand, if the markings are blue, you need to pay for parking. Just look for the nearest parking meter, insert some coins, and you are ready to explore Chania on foot.
Remember that you need to have real coins or banknotes; most parking meters don't accept cards – at least not yet. You will find twenty-nine active parking meters around Chania, for a total of 746 parking spots– so plenty of options.
If looking for coins sounds too much of a hassle, look for parking places with white markings. These will be your favorite spots. The reason? Well, they are free! Who could ask for more?
That is the gist of color markings in Chania. Yet, this applies only to public parking spaces. When it comes to private parking, there are two main alternatives.
Best Hotels in Chania
Affordable: Aelia Apartments or Polixeny's Suites in the old town.
Mid-range: Elia Estia in the old town and Civitel Akali Hotel in the new town.
Luxury: Casa Delfino in the old town or Domes Noruz by the sea.
Check also Chania Accommodation Guide and Boutique Hotels in Chania.
Private Parking in Chania
For one, you can use the service of dedicated parking parks, which may charge you on a per-hour basis. Since these guys are professionals, they guarantee your car's safety, leaving you with the peace of mind you deserve.
The second option is to use the private parking from the hotel or studio you are spending the night. Not only will that cost you nothing, but you will be parking your car right next to your room! That means less walking!
Just a heads up, when you visit Chania, prepare to walk quite a lot. Everything here is pedestrian-friendly, which is also why finding parking in Chania can be tricky.
But if you ask me, that is a welcoming compromise. There is nothing like exploring the old town without the need to look out for passing cars. Still, many parts of the city, especially its more modern neighborhoods, often have too much traffic. And I do mean too much!
Above all, to ensure your time in Chania goes smoothly, you need to find a good parking spot. So, let's dive right into the complete list of all parking alternatives in Chania.
Free Spots to Park in Chania
If you don't feel like looking for the white markings in public spaces, head directly to any of the addresses below. If you are lucky, there should be a free spot for you to claim.
Agii Apostoli area:
Better for a visit to the Agii Apostoli beach. These are not ok if what you want is to park to reach the old town on foot
Jumbo, Daratsos 73100, available 09.00-21.00 Monday to Friday, and 09.00-20.00 on Saturdays – However the spot is open, and I've oftel left my car there way before the official opening hours
Agion Apostolon 73100, available 24/7
The following area is nearer to the old town:
Some places are closer to the center than others, check on the Google map how much walking are you willing to do
Kyprou Street (ZIP code area 73132) available 24/7
Kydon Heart City Hotel, in front of the Sofokli Venizelou square
Talos Square, right in front of the Lighthouse of Chania, below San Salvador, available 24/7. It is the most popular parking spot in Chania, and as such, it is usually full of cars.
Akti Kanari (ZIP code area 73131) available 24/7
Gerasimou Pardali (ZIP code area 73131) available 24/7
Tolon Square at the foot of Theotokopoulou Street. You will find the entrance just outside the city walls – Almost next to Talos Square
Square Katechaki (ZIP code area 73132) available 24/7
Square Eleftherias (ZIP code area 73134) available 24/7
East Moat Theater near Koum Kapi Beach. There is a large parking area here that is free. Don't believe anyone who asks for your money. That is a known scam you can easily avoid. Also, this is where I always park my car. I'ts only meters from the center and, except from Saturdays, when the farmers' market is on, it's fairly easy to find where to park.
Port of Chania
Near Chania Port Parking. Apart from the premium parking facilities, there are about 20 parking spots that are always in high demand, and hence occupied. Consider yourself lucky if you find a place there.
24/7 Places to Park in Chania
As you drive around the city, you will come across several signs with blue markings that indicate this area belongs to the municipality. You can park here and pay using the parking meter nearby. Expect to pay around 80 cents per hour, although the charge may vary per location and season.
You will find those parking spots at the following addresses:
Reggina in the intersection of Fola and Minoos Streets. There are 115 parking spots here.
Nikiforou Foka in front of the Odeon and the local high school buildings. 71 parking spots. You can park here for a maximum of 4 hours.
Ammos Gate Square. 100 parking spots. You can park here for a maximum of 4 hours.
Mylogianni Street in the intersection with Koraka and Kriari Streets. 24 parking spots.
Arxontaki Street. 13 parking spots.
Town Square 1866, around the city park. 36 parking spots.
Reggina, in front of the stadium. 94 parking spots. You can park here for a maximum of 4 hours. The place is also known as Santa Lucia.
Mihelidaki Street. 20 parking spots.
Trikouri Street. 22 parking spots.
Ploumidaki Street. 18 parking spots.
Venizelou Street, in front of the Chania National Stadium. 27 parking spots.
Venizelou Street, in front of the bank between the intersection with Michelidaki and Trikoupi streets. 8 parking spots.
Square Markopoulou, in the intersection of Venizelou and Papandreou Streets. 75 parking spots.
Tzanakaki Street, between the intersections with Valaoriti and Ktistaki streets, along the public park of Peace and Friendship. 40 parking spots.
Square Xortarson. 40 parking spots.
Karaiskaki Street, between the intersections with Ipsiladon and Koraka Streets. 23 parking spots.
The Old Parking Meter in Chania
IMPORTANT: The Municipality of Chania has recently changed the Parking Meter system and introduced a new App to pay for parking in the city. I've written a complete guide to learn How to use the iPark Chania app and you can read it and bookmark it in order to have it at hand for when it's time to park in town.
However, even when the old parking meter system described down below is – at the moment – out of use since the App is an experimental solution that the municipality is trying out, I've decided to LEAVE ON THIS PAGE the instructions to use the old system as it might be back in use in the future… things change all the time in Chania!
Most of the places discussed above feature a parking meter, and most of them used to look and work more or less like this:
Private Chania Parking
If you don't mind paying a premium for your parking spot, you can easily find private parking. The best thing about using such services is that you don't need to worry about anything other than paying.
There is always a guard on duty, or the area is monitored with cameras. So, if your priority is peace of mind, head to any of the private parking facilities below:
Parking TALOS at Partheniou Kleiadi 73136. Parking here costs €3.60 per two hours. They accept card payments too.
Aktep Auto Park at Papanastasiou 1 & 8 73132.
Parking Plus at Iroon Polutechneiou. Open from 07.00 to 11 pm Monday to Sunday.
Splanzia Hotel parking at Daskalogianni 23 73100. Parking here costs €12 per 24 hours or €8 for overnight parking.
Parking Plaza at Peiraios 1-5 73131. Cost: €2.30 per hour. Open from 07.00 to 02.00 Monday to Sunday.
Sklavinitis Carpark at Mitropolitou Kirillou 22. Cost starts from €2.30 per hour.
Chania port parking. Cost: €2 per 2.5 hours.
Parking Ermis at Bouniali 11-15. Cost starts from €2.90 per hour. Open from 07.30 to 23.00 Monday to Friday and until 17.00 on Saturdays. You can also park your car overnight here for an extra surcharge.
Parking Apollon at Grigoriou E. Cost starts from €2.90 per hour. Open 24/7. You can also have your car cleaned here while it is parked. If you do so, expect to pay around €15 and benefit from free parking!
Parking at Chania Airport
If you arrive at Chania by plane or need to visit the airport to pick up a friend, you can easily find parking on the premises.
First, you have the obvious choice: the official airport parking, which you will find right in front of the terminal. It is open 24 hours a day, 7 days a week, and features 240 parking spots.
The best news? The first 20 minutes are free of charge! Then, parking here will set you off for €2 per hour. Yet, you can get a good deal if you park for an entire day for just €5.
Apart from the official facilities, you have a few other options if you care to walk a bit further. Akrotiri Station and Soudas Parking are two such parking areas that offer free shuttle services to the airport.
Choosing one of the above two alternatives means that you can save a few bucks. For example, parking here for anything up to 12 hours will only cost you €2, whereas a full day comes at €4.
They also offer cleaning services if you care. So you can leave your car here, and ask them to have it cleaned inside-out for just €10.
Whereas the Akrotiri Station may sound like the best option for long-term stays, it is not worth the hustle if you plan to remain at the airport for a few minutes or an hour. You can quickly get to the official airport parking and enjoy direct access to the terminal.
All the Parking Spots in Chania
Free Chania Parking
Kyprou Street: Every day 24 hours
Kydon Heart City Hotel: Opposite Sofokli Venizelou Square Every day 24 hours
Talos Square: Opposite the Lighthouse of Chania Sofokli Venizelou Square Available 24/7

– often full!

Akti Kanari: Street:

Near Koum Kapi Area

Available 24/7 – often full!
Gerasimou Pardali Street:

Near Koum Kapi Area

Available 24/7
Tolon Square:

At the end of Theotokopolou street (pedestrian), almost next to Talos Square

Available 24/7
Katechaki Square:

Available 24/7

Eleftherias Square:

Available 24/7

East Moat Theater:

Near Koum Kapi Beach

Available 24

– Saturday mornings often full
Parking at the Port of Chania
Chania Port Authority:

Entrance area, opposite the port.

Available 24/7
Chania Airport Parking
Chania Official Airport Parking: Chania (Right opposite from the arrivals terminal).

Available 24/7

(€2/1h €5/day) – long stay fees available
Akrotiri Station:

Airport area.

Mon-Sun

(€2/1h) – Shuttle to the terminal available – Longer stay fees available
Soudas Parking

Airport area.

Mon-Sun

(€2/1h) – Shuttle to the terminal available – Longer stay fees available
Private Chania Parking
Parking TALOS: Partheniou Kleiadi Street.

Available 24/7

€3.60/2h (Credit card available)
Aktep Auto Park:

1 and 8 Papanastasiou Street

.

Available 24/7

(price info at the facilities)
Parking Plus:

Iroon Polutechneiou Street.

Mon-Sun 7.00 am – 11.00 pm

(price info at the facilities)
Splanzia Hotel: 23 Daskalogianni St. €12/24 hours (€8 for overnight parking)
Parking Plaza:

1-5 Peiraios Street.

Mon-Sun 7.00 am – 02.00 am

€2.30/hour
Sklavinitis Carpark:

22 Mitropolitou Kirillou Street.

€2.30/hour
Parking Ermis:

11-15 Bouniali Street.

Mon-Fri 07.30 am – 11.00 pm, Sat 07.30 am – 5.00 pm

€2.90/ hour Overnight parking available for extra surcharge.
Parking Apollon:

Grigoriou Street.

Available 24/7 €2.90/ hour.

(Cleaning available)
So, there you are. That's all you need to know about Chania parking. Yes, it can be tricky, but if you follow the tips and choose one of the listed parking spots here, you are in good hands.
My advice? Head to a private parking service and prepare for a carefree visit to the charming town of Chania! And remember: the best part of your holidays in Crete is only a few minutes away.
Yes, we are talking about Chania indeed!
RESOURCES TO BOOK YOUR TRIP TO CRETE:
FLIGHTS: Use Skyscanner to compare prices before booking a plane ticket.
FERRIES: Check out Ferryhopper for convenient ferry tickets.
ACCOMMODATION: Look for hotels and rental homes on Booking.com.
PRIVATE TRANSFER: Welcome Pickups offers local English-speaking drivers, flight monitoring, and a very convenient (flat) pre-paid fee
CAR RENTAL: Use Discover Cars to find an affordable car to rent.
TOURS: Live unforgettable adventures and cultural experiences with Get Your Guide.
INSURANCE: If things go wrong, you'll get coverage against illness, injury, theft, and cancellations. I recommend Safety Wing for peace of mind.
---
Was this parking guide to Chania helpful?
Let me know in the comments below!
Read more:
Where to Park in Heraklion, Crete
How to get to Elafonisi Beach without getting lost
Heraklion or Chania: Which Cretan City You Should Visit?
The most delicious street food in Chania
How to Get from Heraklion to Matala, Crete without Getting Lost!
---
This Belongs to a Board! Pin This Guide to all the Parking Spots in Heraklion For Your Next Adventures in Crete!
Written by Dimitrios Tsevremes
Passionate about travel, spirituality, and sports, I have lived in 5 countries and traveled to more places than I have counted. Writing for me is a way to express myself and my creativity. Whether I write for my blog or a freelancing gig, I always fall in love with the process and often lose my sense of time. If you want, you can check out more about me and my work here.
---
You might also want to read:
About the author of this blog: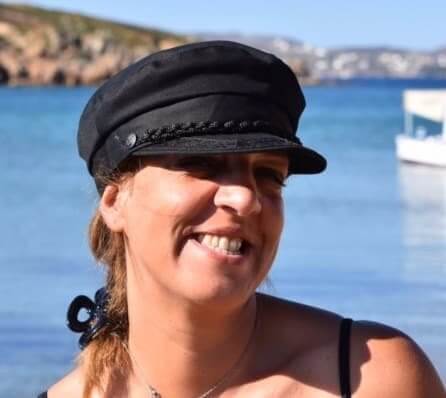 Gabi has been living in Crete for the last six years. On the island, she juggles being a solo mom, hosting culinary tours in summer, translating, and freelance writing for several travel blogs.
She's written for Greek Reporter, published several travel guides about Greece, and had more glasses of frappe than any regular person could ever handle.
COMING TO CRETE SOON?
Get in touch and let me know!