Before moving to the island, we would travel to Crete every year and explore off-the-beaten-track areas on road trips. In fact, the only way to discover the best of Crete is by car, this gives you a sense of independence that has nothing to do with bus schedules. Once we moved to Crete, having our own car was essential. Driving in Crete became second nature. Since I always recommend renting a car to explore the island, here's all you need to know about driving and renting a car in Crete.
---
This site contains affiliate links to products and services. I may receive a commission for purchases made through these links.
---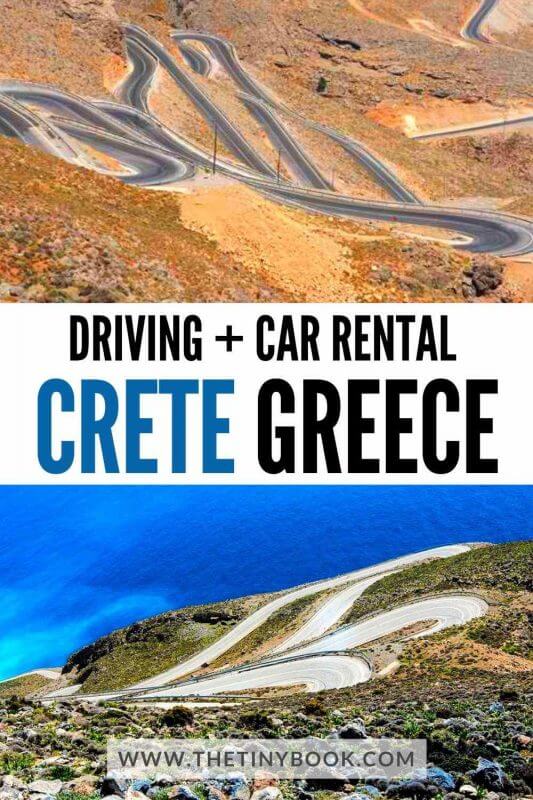 Explore the Island: On the Road in Crete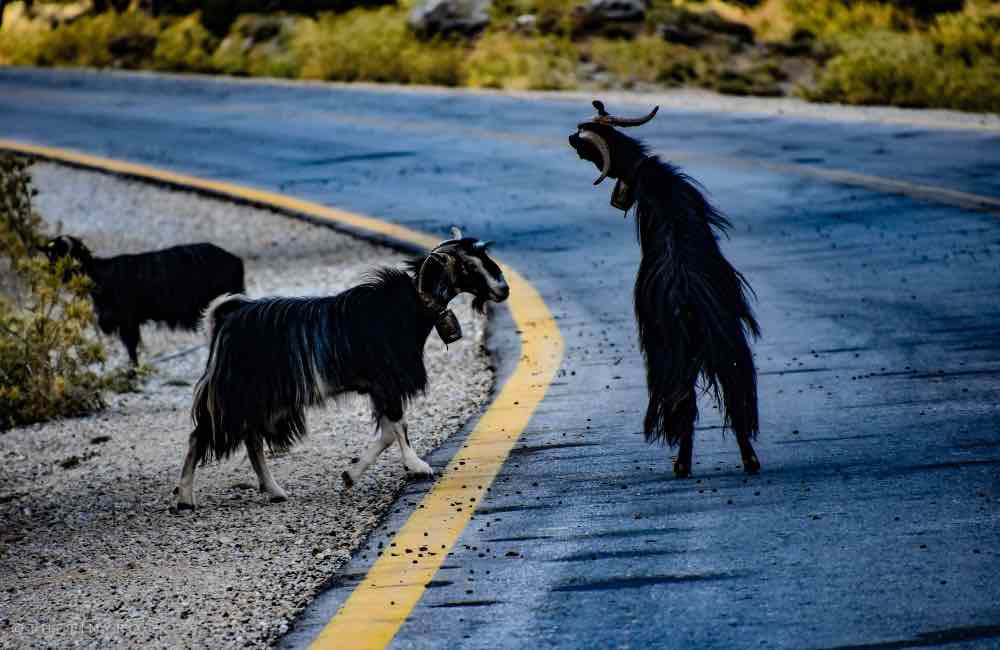 There're are many reasons why driving is the best way to explore Crete. Not only Crete is the biggest Greek island but it's also as unique natural landscapes. A road trip from the extreme west to the extreme east can take you from 5 to 6 hours. You can bet there's a lot to see.
Stunning coastal drives, winding mountain roads, and undiscovered beaches are worth the drive. A car lets you visit areas where buses don't usually go or arrive with limited schedules.
If you decide to completely rely on public transport on Crete, you will depend on the bus timetable. And you will miss beautiful hidden villages, archaeological sites or beaches, concentrating on the touristic northern coast.
Are You Ready to Drive on Crete?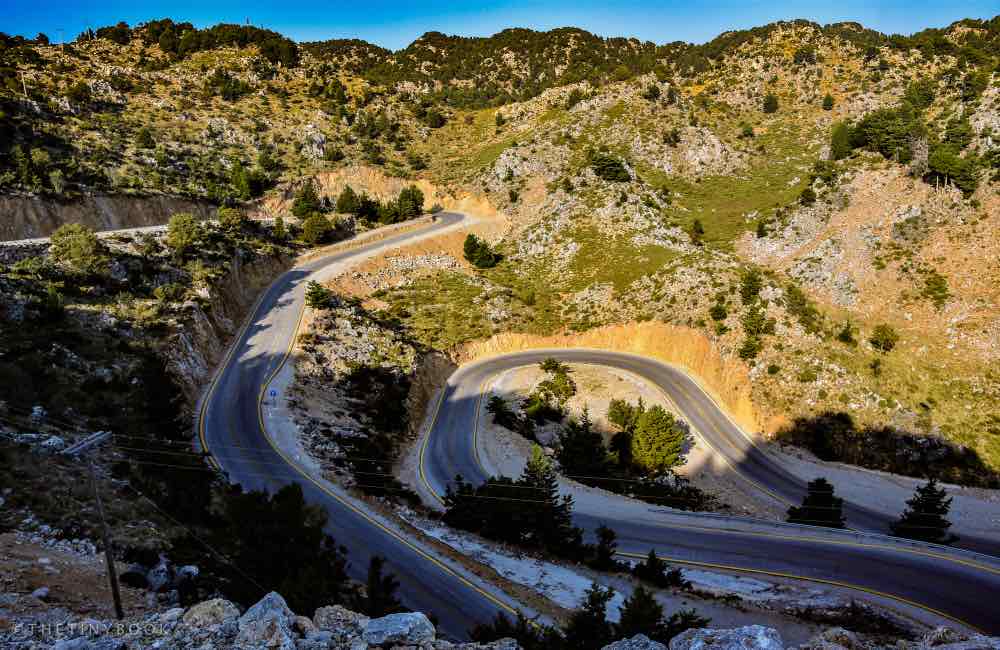 Driving in Greece, in general, and on Crete in particular, is a controversial issue. Greece has long been known for its chaotic traffic, a high rate of road accidents, and bad drivers.
European statistics prove all of the above. However, things are improving and, little by little, driving conditions seem to be changing.
When it comes to Crete, though, some bad driving habits remain. Locals live siga siga on an everyday basis, but then experience a sudden rush to arrive (no matter where or how) when they get on the road.
INSIDER'S TIP: siga siga is the local philosophy for taking it easy, pretty much typical of the Cretan character… except when on the road, of course.
Moreover, some roads could really do with some improvement, whether it's their conditions or their actual size. Crete is a mountainous, rather narrow island. As a consequence, our roads are narrow too, it's a question of lack of space!
And of lack of budget… Some roads need serious widening more than just a pre-seasonal facelift. We could also do with better roadsigns: At least bigger and with better visibility.
In any case, believe me, you can — and will — enjoy driving on Crete. Especially if you avoid Crete's overcrowded touristic landmarks during the peak season.
Driving on Crete can be a pleasant experience, you will create unforgettable memories, admire spectacular landscapes, and stop whenever you want to enjoy the island at your own speed.
Not sure driving is the right choice for you?
>>Discover how to get from Heraklion to Agios Nikolaos or from Heraklion to Chania<<
Should I Rent a Car in Crete
I guess you know my reply, don't you? If you've been following my blog you already know that I support independent and slow road trips on Crete. This blog is not about all-inclusive holidays, fast day-trips or rushing from one touristic spot to the other. I want you to discover a different side of Crete. And the only way you can do it is by car… So yes, you definitely should rent a car on Crete. From day one if possible!
Renting a car in Crete is fairly simple. First of all, consider when you're planning to visit:
Those traveling in the peak season (July-August-September), book a car online well before the departure date. You'll get better fees and save some money. If you book in advance you might be able to get the compact (and cheaper) models. Wait until the last minute, and you'll probably only find vehicles of a higher category (normally more expensive).
If you travel to Crete at the beginning of the season (May and June) or at the end of it (October and November), it's easier to find a car even upon arrival. Don't push it, though, if you can book in advance, do it.
In both cases, make arrangements to pick the vehicle at the airport (or port). Nothing can beat the comfort of having a car from the beginning. Besides, who wants to lug bags on a public bus?
Finally, most local companies let you choose a different city for pick-up and drop-off. Check this possibility online beforehand.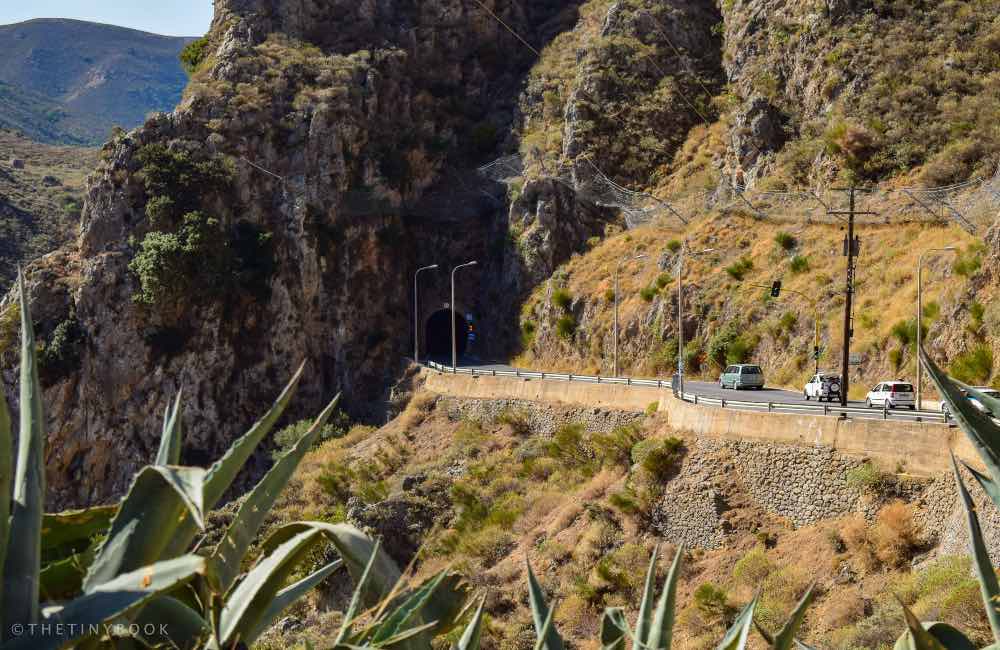 I suffer from vertigo when I'm in the mountains and I hate bends. Trust me… if I can drive on Crete, anybody can drive on Crete!
General Information About Driving in Crete
So, you've rented a car and now it's time to drive on Crete. Keep the following details in mind to have a safe holiday on the road.
Driving in Crete is not as hard as many say it is. Just remember that in order to enjoy your ride you'll need to relax but remain always alert and aware.
Basic Rules & Tips to Drive in Crete
The first rule to remember is that in Crete cars are driven on the right side of the road. This is especially important for those coming from the UK, Australia, or Cyprus, to mention a few countries where this rule doesn't apply. This also means that cars will have the right of way when they're coming from the right.
Road Signs
This is a pet peeve on Cretan roads. I personally find signs to appear always late. They're not always visible soon enough for you to leave the highway without missing an exit or to make a turn.
Reading a bit of Greek (at least understanding the alphabet) could be of help. Most road signs in English are preceded by a few meters by the same signs in Greek. Take advantage of the double alert in both languages whenever you can.
Are you getting ready for a holiday in Crete?
>>Check this flexible itinerary for 3 or 2 weeks on the island<<
Remember that the English transcription of most words doesn't follow any rule of coherence. You can find the same city written in different ways on different signs (Chania/Xania, Rethymno /Rethimnon, Iraklio/Heraklion).
Some signs have been heavily damaged by graffiti, while a few villages on Crete are famous for using their road signs as bullet targets (Cretans love to shoot but that's another article!). Many road signs are old and impossible to read, so keeping a GPS or map handy is not a bad idea.
Bushes on the Road
Be aware of bushes. Crete is a very lush island, plants often grow — excessively — on the side of the road (mainly in early Summer, after all the winter rain). Bushes usually hide sings, and you might miss an exit. They also hide bends, other cars, pedestrians, and goats. Be careful and move away from them.
Overtaking
Don't be surprised if locals ignore road markings. Cretans will usually overtake in the presence of a double solid white line. And they won't respect the speed limits either. Don't let that put you off, move towards the emergency lane and let the ones in a rush overpass you.
This tip usually surprises visitors. After years of having friends over and of dealing with tourists on a daily basis, I've decided to put this in writing because people normally don't take this piece of advice seriously. But trust me, it's really important and it shouldn't be overlooked:
GOOD TO KNOW: OVERTAKING ON CRETAN ROADS
Driving on the emergency lane on the National road: If someone wants to overtake you, don't hesitate and move into the emergency lane to give them space. This is imperative if you want to have a relaxing experience.
Do not move to the emergency lane if the road is curving to the right. This would dramatically reduce your visibility and might cause an accident if there's someone parked on the emergency lane ahead of you, out of immediate sight. In this case, the driver behind you will need to wait.
Flashlights (and/or Horns)
They are there for a reason, use them!
If you're overtaking, it's a good idea to flash your headlights at the car ahead to let him know you're about to pass him.
If they do the same to you, they are telling you that they will overtake you. Please, gently move to the emergency lane and let them pass.
If a driver coming in the opposite direction quickly flashes twice at you, this is a friendly warning: There might be an obstruction ahead, or simply a police control. Don't ignore him.
Traffic Police
If you play by the rules and respect the traffic regulations, you won't need any special suggestions.
Mostly during the high season, speed controls are common. On the main National Road (Kissamos-Sitia), there are speed radars and cameras along the road. If you pay attention you will spot the signs. When on holidays, there's no need to rush. Avoid an unpleasant situation, and keep it slow.
At night, especially during the weekends, it's common to find traffic police checking alcohol levels on drivers, usually near big cities. Don't expect the police to skip a control on you just because you're a tourist.
Drinking and driving is illegal in Greece, so don't get in trouble. Consider adding an extra driver to your rental contract. This way, if you decide to have one more shot of raki someone else can take your place at the wheel.
Beware of Goats…
… and sheep, many of them! As well as pigs, hens, you name it!
Goats and sheep populate the Cretan roads both in the mountains and in small villages. They can appear all of a sudden at the turn of a bend, and be unwilling to move away from the road. Just take it easy and avoid speeding (not that you can really speed in the mountains).
In villages, goats might be less common than sheep, pigs, and even geese. I'm not joking. My neighbors keep both hens and geese, I've often found myself trying to avoid them. The same goes for pigs, I've come across them a few times in different villages.
Be aware of stray dogs and cats (there are many). Hedgehogs are also easy to spot in the middle of the road.
Should I Rent an Off-Road Vehicle?
This is another question they ask me a lot. Really a lot! Especially friends who know I used to drive an off-road in Italy. The truth is that after moving to Crete, I never even considered going back to 4WD. You don't really need it, not even in the mountains.
If you're a careful driver, a compact car will take you anywhere (spending less on fuel, and on taxes if you are a resident!). Even on difficult roads such as the way to Balos Beach, the scenic but narrow road to Elafonisi, or even on the way up to Anopoli, in Sfakia, small cars do just fine.
Remember, most locals go after small cars, taking a look at what locals drive (and no, I don't mean farmers!) will help you make up your mind. Other than that, many small villages have pretty narrow roads as well.
Do as locals do when in doubt. Cretans normally go after small cars, (and no, I don't mean the farmers!). Other than that, small villages have pretty narrow roads as well.
If you're still uncertain, small cars are highly requested in car rental companies, and these same cars take tourists all over the island.
Those who can afford the extra price tag to have some more space should go for it! Driving a 4WD can be great fun. However, be aware that most rental companies don't include offroad insurance.
On the other hand, and if you're on a budget, there's no need to worry, a small Fiat Panda, a Hyundai i10, or a Suzuki Celerio will take you everywhere.
Roads on Crete
Crete Northern Highway (BOAK)
There's just one main road on Crete, the Greek National Road 90 (BOAK or A90 on roadsigns) is Crete's Northern Highway. It connects the western city of Kissamos to the eastern city of Sitia, bypassing the four main cities of Crete: Chania, Rethymnon, Heraklion, and Agios Nikolaos. If you're not interested in exploring the hinterland, this is the only road you will drive.
Mountain Roads of Crete
To reach the famous beaches of South Crete, as well as some of the Western ones, the enchanting hidden villages, as well as wineries, archaeological sites or far-off monasteries you will have to get off the National Road and venture into the mountains.
When on the mountains, keep an eye on falling rocks. Although there are some nets they aren't everywhere. You can find rocks and pebbles on the side of the road, especially if the island went through a very wet Winter.
Most mountain roads are made of asphalt and are in fairly good condition. Some might lack guardrails or other protection. This makes them look quite impressive, but if you're careful enough, there's not a real danger. ì
REMEMBER THIS: If you suffer from vertigo or mountain roads look scary, and you hold a valid driver's license, try getting off the passenger seat and drive. This will put you "in control" of the situation and you won't really suffer the experience.
Driving in Big Cities
The main cities of Crete tend to be trafficked. They're even more crowded in Summer when hundreds of tourists add to the already many cars on Crete.
Traffic won't be an issue when driving off the beaten track, but in big towns, it tends to be chaotic.
Besides, some areas are restricted (most old towns are pedestrian), so finding a free parking spot can turn into a nightmare.
Agios Nikolaos, for instance, lacks a proper old town however, it stands on very irregular terrain, which means you might have to park on very steep lanes at times.
In any case, remember that Crete is a fairly quiet island. It' won't be like driving in New York or Milan… trust me, you'll be more than fine!
A Word on Parking
Many beaches, archaeological sites, and monasteries have a designated parking spot that you can use for free. In some popular areas, it's necessary to pay a small parking fee during the high season.
When trying to park in a city, look for a private parking facility if you're not familiar with the area, it will avoid you finding a parking ticket on your windscreen.
Safety Tips to Drive in Crete
Common sense should prevail, if you use it, you'll be safe.
At the same time, don't trust that other drivers will be using common sense. Locals are known for "forgetting" to indicate they're turning or suddenly stopping without any warning. Again, as long as you're focused, you'll be fine.
Seat-belts and special driving seats for children are obligatory. Use them!
Respect the speed limits (even if locals don't). In urban and suburban areas, the speed limit is 50 km per hour (32 mph), on the National highway, the limit is 90 km per hour (56 mph).
The minimum driving age is 18, however, some rental companies will require you to be older, or have a second driver.
Don't drink and drive. Remember that the alcohol limit is 0.05% (so it's fairly easy to go over it). Don't use drugs and drive.
Necessary Documents to Rent a Car in Crete
Make sure you have all the documents you need to drive in Crete a few months ahead of your trip. Extra time will allow you to renew any document without rushing at the last minute.
European citizens: The regular and valid European driver's license will be enough to drive in Greece.
Citizens from countries outside the EU: You need an international driver's license, check with your local authorities and the rental company.
Be aware: Even when some car rental companies will only need your international license, the Greek law states that you must also present your valid country license. Don't leave it at home.
Always carry an official identity document (identity card for European citizens or passport).
A credit card is a must for international car rental companies. It can be necessary for some local rental companies. Check this detail in advance.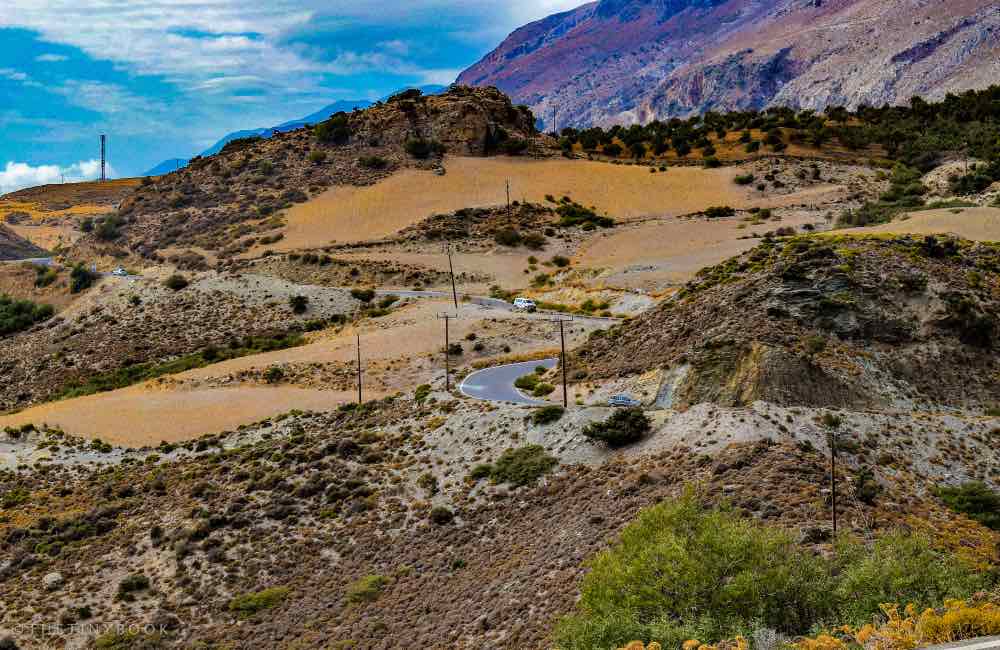 Local Car Rental vs. International Companies
I only speak from experience. And my experience is… Try to go local!.
We've traveled by car for years on the island and always hired with local companies. Prices are better, conditions flexible, and it's common to get some extra advantages, such as a no-excess policy for a very small fee.
Even after we moved to Crete, I bought my first car after a while living on the island. For the first six months, I used to rent a small car with a Cretan company.
As a side note, back in my country, I had some behind-the-scene experience working with international car rentals, I don't doubt there might be some serious ones, but if there's is one thing I've learned, is to avoid them.
I've checked different companies on the island, besides, the first car I bought in Crete turned out to be a piece of sh!t… I rented more often than I would have wanted until I could sell that car! Trust my word when it comes to car rental on Crete. I've really been there!
> Discover Cars is a car rental search engine that searches over 500 trusted rental companies for you all over Crete and it finds the best deal for you. Compare prices for rental cars in Crete here.
> With Rentalcars.com you have the experience and backup of another company I use a lot, Booking.com. Comparing prices for cars is always a must. Check models, fees, and availability here.
Final Considerations
After what you've read, you might be wondering how safe driving on Crete really is. It's quite safe if you follow some basic rules, avoid drinking in excess, and conform to local etiquette (overtaking… remember?).
Touring Crete by car has always been my favorite way of discovering hidden gems, some of them on purpose, some of them by chance.
---
Are you ready to drive in Crete?
Let me know in the comments below!
---
Travel Plans for Crete?
More Resources to Organize Your Trip!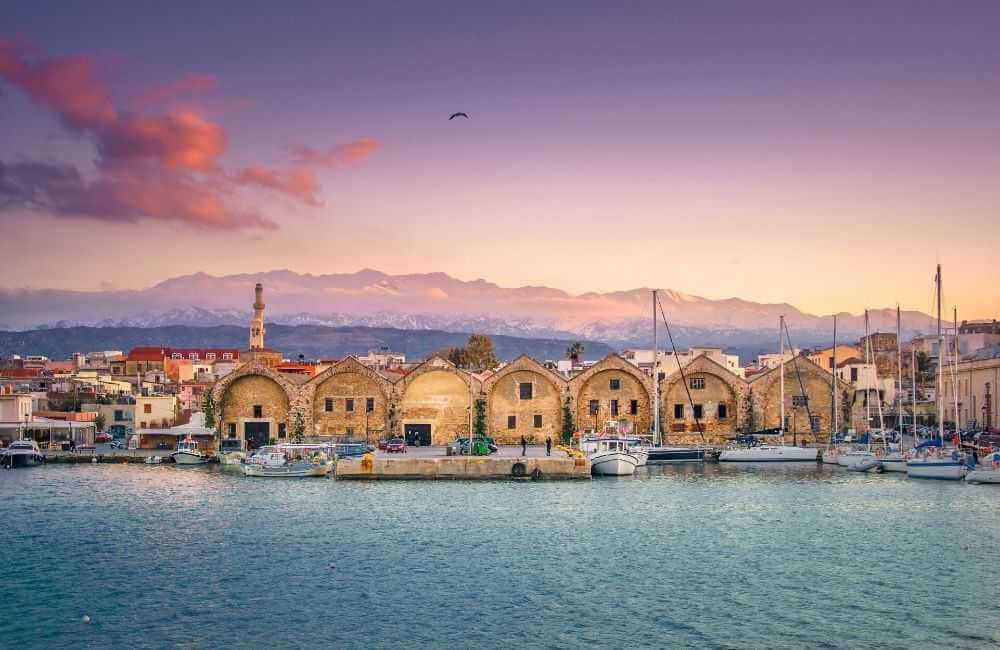 Start by heading right to my tips to plan a trip to Crete for in-depth details you need to know about Greece. You can also check my post to better know what to pack for a trip to the island or read this info to visit Crete with children!
Get in touch if you need extra help to plan your trip. If you want to tour West Crete, check my guide. Want more? Join my Private Facebook Group to connect with like-minded travelers who love Crete as much as you do!
Make Sure You've Got Everything For a Hassle-Free Vacation!
I never move around the islands without my Osprey backpack, a sturdy but light travel partner I just love. For short trips, I carry this little crossbody bag. If I drive, I pack my Nikon D7200 and a good travel guide: Lonely Planet's Best of Greece & the Greek Islands.
When it comes to plane tickets, compare prices with a powerful search engine. However, nothing beats traveling by sea in Greece. With Ferry Hopper, you can book in advance at the lowest price.
For accommodation, I personally use Booking.com. Traveling to remote places is easier with Discover Cars. Other times, I join organized tours with GetYourGuide, which features anything from cooking lessons to airport transfer!
Are you coming to Crete any time soon?
Get in touch and let me know!
Read more:
Amazing Things to Do in Agios Nikolaos, Crete
How to Plan a Fabulous Road Trip in Crete
What to Pack for a Road Trip in Crete: Genius and Practical Packing List
How to Travel to Crete: Best Air and Sea Routes to Reach the Greek Island
Crete Travel: What to Pack in your Beach Bag
Pin This Guide With All the Info You Need to Drive in Crete!
About the author of this blog: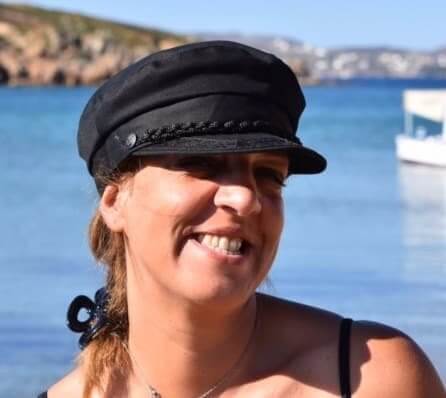 Gabi has been living in Crete for the last five years. Here, she juggles being a solo mom, hosting culinary tours in the summer, translating, and working as a tech advisor.
She's written for Greek Reporter, published two travel guides about Greece, and had more glasses of frappe than any regular person would be able to handle.
---
You might also want to read:
---