Are you getting ready to tour Crete with a car? That's awesome news! You'll have the time of your life and discover some unique hidden spots that you wouldn't be able to see traveling by bus. Now, it's time to plan your bag, let's see what essentials you need to pack for a road trip in Crete! Ready? Great, let's go!
---
Disclaimer: Posts include affiliate links to products or services. I might earn a commission if you make a purchase, at no extra cost.
---
RESOURCES TO BOOK YOUR TRIP TO CRETE:
FLIGHTS: Use Skyscanner to compare prices before booking a plane ticket.
FERRIES: Check out Ferryhopper for convenient ferry tickets.
ACCOMMODATION: Look for hotels and rental homes on Booking.com.
PRIVATE TRANSFER: Welcome Pickups offers local English-speaking drivers, flight monitoring, and a very convenient (flat) pre-paid fee
CAR RENTAL: Use Discover Cars to find an affordable car to rent.
TOURS: Live unforgettable adventures and cultural experiences with Get Your Guide.
INSURANCE: If things go wrong, you'll get coverage against illness, injury, theft, and cancellations. I recommend Safety Wing for peace of mind.
A quick guide to the best hotels in Crete
Budget: So Young Hostel in Heraklio, Cocoon City Hostel in Chania, Matthias Hotel Apartments in Rethymnon, and Villa Galini in Agios Nikolaos.
Mid-range: Capsis Astoria Heraklion in Heraklion, Porto Antico in Chania, Archipelagos Hotel in Rethymnon, or Hotel Port 7 in Agios Nikolaos.
Luxury: Galaxy Iraklio Hotel in Heraklion, Hotel OFF in Chania, Avli Lounge in Rethymnon, or Minos Beach Art Hotel in Agios Nikolaos.
Check more: Where to stay in Crete.
Getting Ready for a Road Trip in Crete
Touring the island by car is my absolute favorite way to travel. I simply love traveling around Crete by car. It's the best way to discover places that I would have never seen had I been sitting on a bus. To make your Crete road trip as comfortable as possible, add these items to your road trip packing list.
Remember, some of the things on the list can be bought on the island. But more often than not, you will need to pay a bit more. It's a good idea to buy some of these items in advance so as to save money, but also to be sure you're getting with you exactly what you want.
On the other hand, many items are not easily available in Greece, so gather all you need beforehand whenever you can!
Overwhelmed by the planning and don't know where to go?
>>Check this 2/3-week itinerary for a perfect road trip in Crete<<
Road Trip Essentials
Car Documents you need to have with you all the time:
– Passport, driver's license, and car documents.
– Copy of your car rental contract and insurance policy.
– Copy of road assistance number in case of emergency, this number should be provided by your car rental company, have it always at hand together with your driver's license.
– Road emergency kit. Always ask the car rental company if they provide for it.
– Spare tire, car manual, and chains for snow (if you travel in winter). Not every rental company is going to provide for these, but it's good to know that you have them because you might need them. Always check the state of your tires before setting on a road trip.
–If you're traveling with kids, always ask for a seat according to your kid's age and weight. There are several different categories. Backless boosters are ok for kids over 8 years old.
Most car rental companies require you to pay extra, don't hesitate and do it! Ask for the right seat while you're booking your car so that you're certain that the seat will be available when you pick the car.
The Mifold grab-and-go Car Booster Seat is a fantastic foldable booster perfect for travel. It's compact, as safe as a regular booster, and it can be used on the plane too.
Key Items to Keep in Your Car
For me, these are essential items, they can make a big difference when you least expect it!
Map of Crete: Traveling around on the island can be a true adventure, especially when your Wi-Fi fails, something quite common on the south coast or when you cross the mountains. This is my favorite map of Crete. I never – never! – travel without it.
Flashlight: Because you never know when you might need it, a flashlight always comes in handy. This item is essential if you travel at night, if you go camping, or if you're sleeping in a hostel. Buy something small and handy that you can easily keep in your purse. This is a good travel flashlight and it's also water-resistant.
Spare money: Always keep some cash and a little purse with some coins. Although there are no toll roads on Crete, change is always useful to grab a cup of coffee when you make a stop. I also like to have some coins at hand for park meters. A few years ago I bought a rubber purse like this. It's awesome also to throw in your beach bag because it's waterproof. It's super cheap and I love it!
Spray for bugs: Mosquitoes can be a pain in the neck in summer on the island. I always keep one of these at hand.
Notepad and pen: Ok, you might not need this. But I always like to keep notes (they sometimes transform into articles that I publish here!). I also use a notepad to write down new Greek words that I learn, directions that people might give me on the road, or the mileage done in a day.
My favorite Crete travel guide: This book never stays home!
These are other items that I like to know are sitting inside my trunk everywhere I travel in Crete:
Big cooler: One of the things I try to pack every time I'm traveling on Crete, is a cooler bag. Especially if I am planning to stop at some remote beach. I normally only keep water, and sometimes fresh fruit. They're super practical!
Would you like to explore the island by taking a road trip?
>>Discover the best drives in Crete<<
Things to Pack for a Road Trip in Crete to Stay Connected
Portable Wi-Fi Hotspot: I bought this item for my first road trip in Crete and it soon became an absolute must. Just add a SIM card (you can buy them in any Vodafone, Cosmote, or WIND store in Crete) and everybody in your car will be connected.
Charger and cord for the car: My second favorite item, always in my car. I have this one with a double slot because there's always more than one device that needs to be charged.. Especially when you travel with kids! Don't forget to add the cord that goes with your device (phone, tablet, Kindle, etc.)
TomTom: This is the one I use. It was a present from my kids and although I love my paper maps, I must say that TomToms are super comfortable and much faster. This version comes with maps from all over the world. TomToms are easy to use. Just a quick touch and you're ready to go. But don't say anything, even though I love it, my map is always in my car too!
Bluetooth headset: Don't be tempted to pick up the phone while driving. It's not just dangerous, but you could receive a high fine too because it's illegal to talk on your mobile while you drive in Greece. Even with regular headphones! For peace of mind, get a Bluetooth headset. This set is quite convenient if you plan to speak on the phone a lot.
Other Electronics I Always Carry with Me
USB drives: Never leave without a couple of USB flash drives with good music for the trip.
What to Pack for Comfort on the Road
I came up with a comfort kit, a list of things that, although they are not really essential, they can make your trip really comfortable. These are my go-to things for an unforgettable trip on the road in Crete:
– Travel mug: I love coffee. I drink loads of coffee when I'm home and when I'm on the go too. I love a good cup of hot coffee in winter and can't live without a glass of iced coffee in summer.
Some coffee chains in Greece (Grigoris is one of them) offer a discount on your coffee if you bring your own travel mug, and it's also a good practice in order to reduce our waste when traveling.
This is my favorite travel cup. It's made of bamboo and has a silicone grip that keeps the liquids warm for longer.
I have three of them, my partner has his own too and my kids also have it. My youngest is a tea addict and these travel mugs are also great for tea or juice!
– A wrap or light small blanket: Of course you're not gonna use it in summer, but it's always handy when the sun goes down or in spring.
These wraps are fantastic when you stop to visit a church or a monastery when it gets chilly up in the mountains… or when your partner puts the A/C really high (my case!).
This brand makes my favorite wrap. It has become a key piece for traveling and it always comes with me.
A sarong or a big scarf work wonders too!
– Towel: I always pack a microfiber towel like this one, they dry super fast and use almost no space. I cannot stress enough how handy they can be. We have several at home and we use them for a road trip and to go to the beach too.
– Reusable water bottle: Water in Crete tastes quite good. For instance, if you hike Samaria gorge you will notice that nobody carries more than just one bottle. Yes, because even if the hike can take up to six hours, everybody refills their bottles in the natural springs of the White Mountains.
Having a refillable water bottle is always a good idea when you're on the road even if you don't plan to cross Samaria. If you're shopping for a new bottle, go for one that has a large capacity and that keeps liquids cold for long.
Other things that I also carry with me are sunglasses, mints, cereal bars, an extra jumper or light sweater, a hat, and sometimes a travel pillow too.
Prepare a Comfort Toiletry Bag with Essentials
– Antiseptic gel: Hand sanitizer is another necessary item to carry with you. Washing your hands isn't always possible on the road. Also, add a face mask to this safety kit… well, you know why!
– Sunscreen lotion, lip balm, wipes, a small hairbrush, travel toothbrush, and toothpaste.
Comfort on the Road with Kids
Road trips are awesome adventures for children. They are a great opportunity to learn and discover new places. But kids are kids… and they will eventually get bored if trips are too long.
Make their (and your) life easier by packing a small backpack. In it, put all the things they need for a more enjoyable trip.
– Games: There are tons of games out there especially thought for car travel. Personally, we always pack UNO. We usually play UNO on the beach, at the hotel… everywhere! We also love Rory's Story Cubes (we have two sets) and Spot it. And they're not just for kids!
– Tablet: Some parents might be against them, but if used smartly and for short periods, they are great for kids to play and read. Don't forget the cables and chargers! If you have young kids, add a good protective case!
– Travel pillow and blanket: Great for those naps on the road. This set is great for smaller children, while there're models that are perfect for older kids.
– Travel journal: Kids love to keep the memories of their trips and travel journals are a good way to do so. Some journals come with blank pages for kids to draw and glue memories, such as leaves or the entrance ticket to Knossos Palace! Once back home, they can print and stick pictures on it too.
– Backpack: Gather an extra jumper, their sunglasses, a hat, their favorite snacks, and put everything in a small backpack. Go for a washable model that's also lightweight. This convenient, no-frills Amazon model is perfect. It's cheap, easy to clean, and with a compartment for their electronics.
Other Essential Items to Pack for a Road Trip in Crete
And of course, a few more things you shouldn't forget:
Toiletries.
Flip flops and swimming suit.
Hiking sandals or hiking shoes.
Small, foldable Swiss knife with basic features.
Plastic bags for any garbage.
Foldable shopping bag.
---
Are you touring Crete by car any time soon?
Let me know in the comments below!
---
Read more:
How to Plan a Fabulous Road Trip in Crete
How to Spend 3 Fantastic Weeks on the Road in Crete
Unforgettable Day Trip to the Lasithi Plateau, Crete
The Best Day Trips and Tours from Rethymnon, Crete
Trip to Crete in October: Top Things to Do in Crete in Fall
Pin For Later: Packing Guide For a Road Trip in Crete!
About the author of this blog: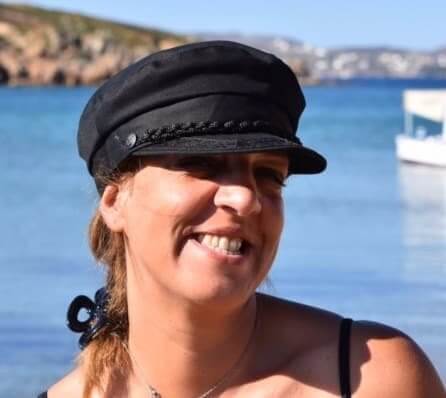 Gabi has been living in Crete for the last six years. On the island, she juggles being a solo mom, hosting culinary tours in summer, translating, and freelance writing for several travel blogs.
She's written for Greek Reporter, published several travel guides about Greece, and had more glasses of frappe than any regular person could ever handle.
---
You might also want to read:
---