West of Heraklion and east of Chania, Rethymnon is often chosen as the place to stay in Crete by those who love exploring. Staying in Rethymnon lets you move in any direction without facing endless hours on the road. This helps you maximize your holiday time and get to know a bit of every corner of Crete. It's a great idea to rent a car and explore on your own, but organized tours can be a great solution for a more relaxing experience. Here you can check the best tours and day trips from Rethymnon (but also in Rethymnon) to enjoy during your vacation in Crete. Check them out!
---
Disclaimer: Posts include affiliate links leading you to products or services, I might earn a small commission if you make a purchase. This has no extra cost to you but allows me to continue writing articles that are helpful for your travels. I only recommend things I use myself or that I believe will deliver value to you. 
---
LAST-MINUTE PLANS FOR CRETE?
– Use Ferryhopper and Skyscanner for the best ticket rates.
– Find great accommodation deals on Booking.com.
– Compare car rental prices with Discover Cars.
– Check the best tours with GetYourGuide.
– Visit Elafonisi, discover Balos Beach, hike Samaria, or explore Knossos.
– Pack the Lonely Planet Guide to Crete or get my digital guide to Chania.
Best hotels in Rethymnon
Affordable: Ilian Beach and Summer Drem in Rethymnon Town.
Mid-range: Archipelagos Hotel in town or Veneto Boutique Hotel.
Luxury: Avli Lounge and Rimondi Boutique Hotel in the old town. Or read my review of this top old town boutique hotel.
Check also Rethymnon Accommodation Guide and Rental Homes and Airbnb in Rethymnon.
Day Trips in Rethymnon, Crete… So Much to Discover!
Rethymnon is a great place to start your journey to discover Crete, with so many wonderful things to do and spots to see during your vacation. The region is home to Crete's highest peak (Mount Psiloritis), gorges, valleys, mountains, and stunning beaches. There are also museums, archaeological sites, and two of Crete's most important monasteries, Preveli – with its unique palm tree beach – and Arkadi. The old town is another gem to explore, you can either do it on your own or book an organized walking tour!
And although traveling around Crete on your own rental car can be one of the most rewarding experiences, oftentimes, joining an organized day trip or excursion will let you know more and know better. Check here, some of the best value-for-money tours in, around, and from Rethymnon.
Convenient Day Trips from Rethymnon, Crete
I no particular order, check these great excursions and day trips in and from Rethymnon that are good value for money…
Crete Amazing Places: Margarites, Arkadi,
Rethymnon Old Town
Margarites, Arkadi Monastery, and Rethymnon Old Town: A fantastic group tour from Rethymnon to spend a whole day visiting three of the best areas in the region. Start with a visit to the colorful pottery village of Margarites, learn about one of the most ancient traditions on the island, and even try your skills on the pottery wheel! You'll have so much fun!
Later on, go back to your comfortable van and prepare to fully immerse in the past of the island, Explore the ancient Monastery of Arkadi, probably the most important religious monument on the island.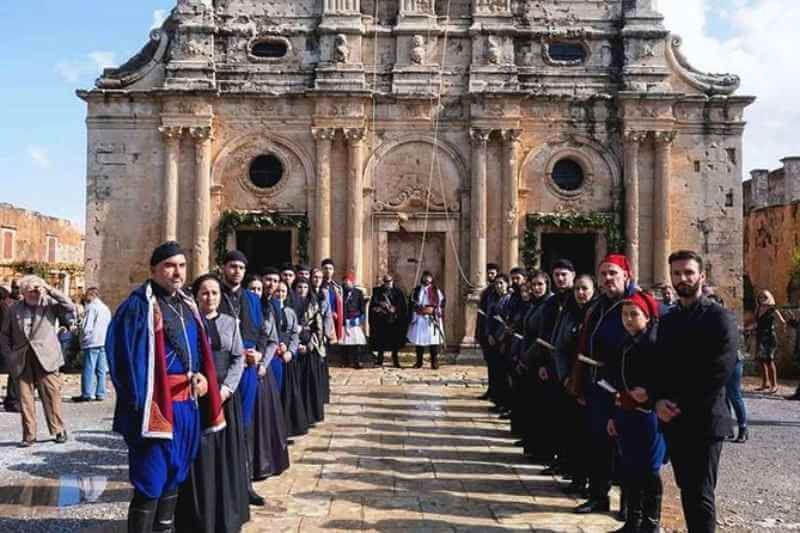 Finish your day visiting the old town, exploring romantic alleys, and discovering ancient crafts. Admire the Venetian fortification, Orthodox and Catholic churches, mosques, majestic mansions of Venetian architecture, arches, and cobbled paths.
Full-Day Land Rover Safari to Preveli: The Most Stunning Cretan Safari
Full-Day Land Rover Safari to Preveli: One of my favorite tours in the whole of Crete! This super 8-hour tour takes you back to nature on a full-day safari by Land Rover to discover the hidden sides of Rethymnon.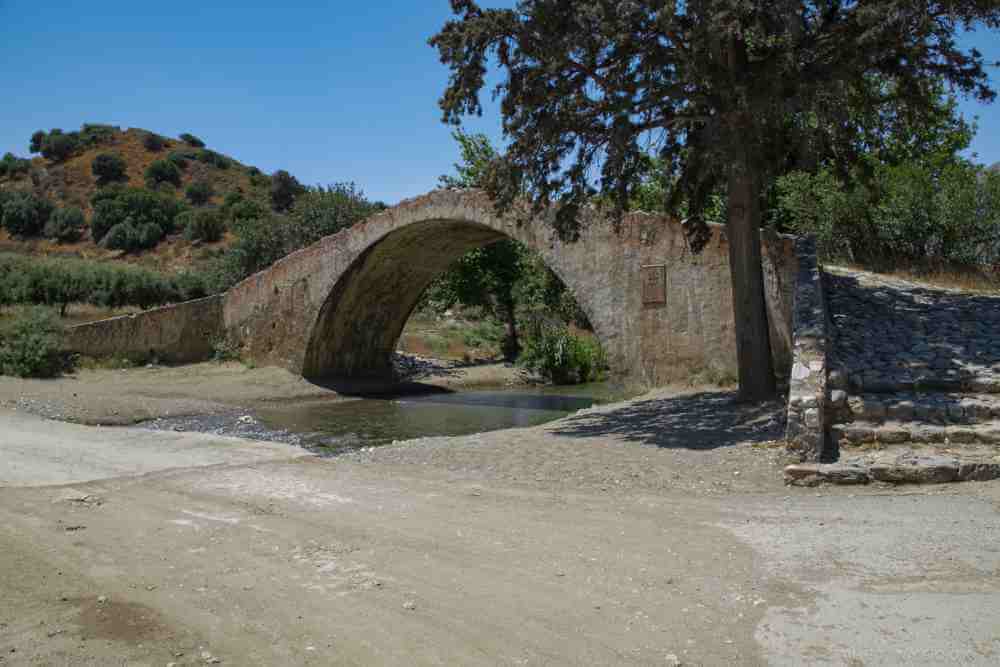 Sip some authentic locally produced tsikoudia and taste other specialties at a traditional tavern overlooking the Libyan Sea.
Swim in Preveli's crystal clear waters and explore the palm forest. Feel the wind in your hair as you get back to nature in the Kourtaliotiko Gorge. End with a panoramic view of Rethymno before drop off at your hotel.
Believe me, this tour is one more unmissable thing to do in the area!
Knossos & Archaeological Museum of Heraklion
From Rethymnon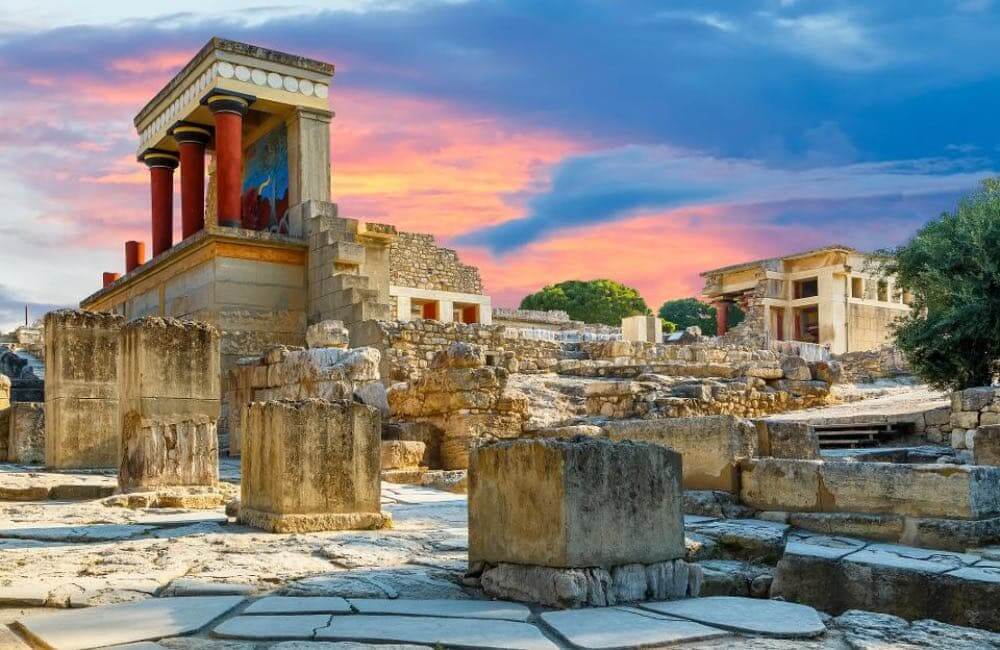 Day Trip to Knossos Palace and the Archaeological Museum of Heraklion: Don't miss a visit to the most visited place on the island, the fantastic archaeological site of Knossos. Spend a day discovering the mysteries of Crete's ancient civilization, the Minoans.
After a 2-hour tour of the Palace, you'll have the chance to discover one of the most important archaeological museums in Greece and in Europe.
Get ready to be even more dazzled at the advanced sophistication of the Minoans. The museum includes exhibits from all the eras of Cretan prehistory and history but also collections with unique masterpieces of Minoan art.
To end your day, enjoy some free time exploring, shopping, or eating your way around Heraklion, the vibrant capital of Crete.
Wondering how to dress for this tour?
>>Check what to wear to visit Knossos in full comfort<<

Private Tour of Agios Nikolaos, Elounda, and Spinalonga from Rethymnon
Day Trip to the East (Agios Nikolaos, Elounda, and Spinalonga island): This is a gem of a tour you cannot miss if you're staying in Rethymnon and decided not to hire a car. It will take you to explore the eastern region of Lasithi and to visit a remarkable group of places in the area.
Check the beautiful city of Agios Nikolaos and the place where Lake Voulismeni connects to the sea. Enjoy some hours in Elounda, one of the top seaside resorts on the island, and then embark on a boat trip to step into the recent history of Crete… Spinalonga.
The now-abandoned island which has been transformed into an archeological site was one of the most tragic corners of Crete, one of the last leper colonies in Europe, and the place where the famous English writer Victoria Hislop got the inspiration to write the breathtaking novel The Island.
Rethymnon Inland: The Best Day Trip
from Rethymnon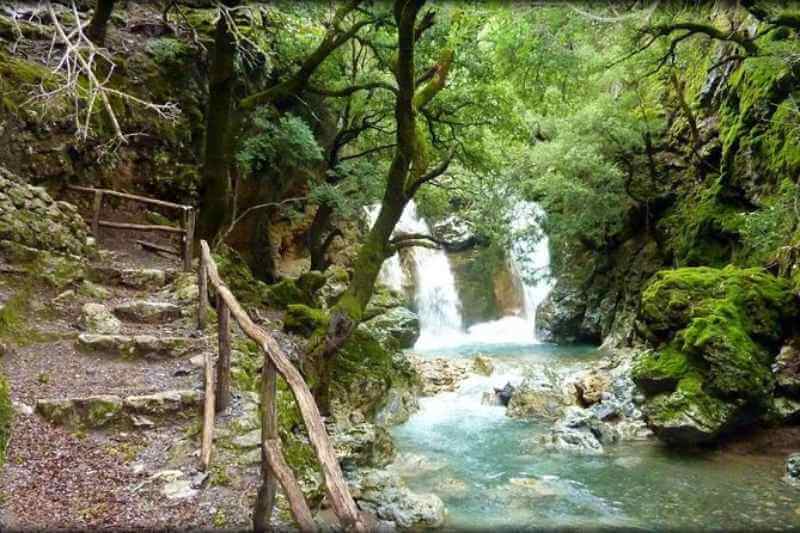 Rethymnon Inland: Probably the best value-for-money day trip out there which in a day will take you to discover a fantastic itinerary! The trip includes the following stunning stops:
>> Old Town Rethymnon
Spend an hour wandering the narrow-paved alleys of Rethymno Old City and enjoy the artistic cafes, craft shops, mosques, churches, Turkish and Venetian mansions.
>> Margarites Pottery Village
Visit the magnificent village of Margarites and discover the old art of ceramics which has been alive on Crete for centuries.
>> Ancient Eleftherna
An unexpected visit to one of the most remarkable archaeological excavations – still in progress – on Crete. Situated in a lush area of the island, explore the mystery of the ancient civilization that thrived in this area until Byzantine times.
After the visit, you can also explore the Museum of Ancient Eleftherna which exhibits unique findings from the ancient city.
>> Monastery of Arkadi
The next top in this intense itinerary is at the historic and solemn Monastery of Arkadi, This religious site, which was an important center of the Cretan Resistance against the Ottoman Empire, remains as a symbol of the fight for freedom.
>> Spili Village
One of the most magical places in Rethymnon, the village of Spili is better-known for the unique Venetian springs.
Explore the village and discover the amazing lines of lion-head fountains in the main square of the village.
>> St. Anthony Gorge
Also known as Patsos Gorge, this is one of the most beautiful but also easy to explore gorges in Crete. Wear your most comfortable shoes and hike until you reach St. Antonios Cave, a unique, rewarding experience.
>> Preveli Beach
Among the most beautiful beaches in South Crete, the last stop will not disappoint you!
To reach this spectacular scenario where the river meets the sea and the palm trees highlight the landscape, enjoy a scenic drive through Kourtaliotiko Gorge and spend some time enjoying the fantastic beach of Preveli.
Flower Power
Cherries, Churches, and the Valley of Amari: A day trip to explore the hidden paradise between the mountain Kedros and Psiloritis. This is a tour perfect for the days of Spring when the valleys of Crete are covered with flowers, trees, and fragrant herbal bushes.
You'll discover a hidden spot where a unique variety of orchids and irises grow and blossom every year. One of the highlights of this plateau is the extremely rare Tulipa doerfleri, also known as the red tulip of Crete, which is so abundant that it colors in red entire fields.
After the visit, you'll enjoy an authentic Cretan lunch in a traditional taverna and you'll also explore the village of Spili.
Hiking Adventure with Lunch
Rethymnon hiking adventure: After you are picked up from your hotel, your hiking adventure will start at the foothill of Mount Kedros and at an altitude of 450 meters. You will follow a path that is full of wild olive trees, oaks, bushes, herbs, and native wildlife. Pass along some beehives and see how locals collect honey.
The trip also includes a visit to Vatolakous woods, the gorge of Kissos, and the imposing rock of Red Detis, where flacons, hawks, and vultures are usually easily spotted. Later, you'll explore the Monastery of the Holy Spirit, an important religious site in the region.
Lunch is made of genuine pure Cretan products such as olive oil, vegetables, cheese, meat, and wine.
Lake Kournas and Springs of Argyroupolis
Lake Kournas, Georgioupoli, and the Springs of Argyroupoli: Start your day visiting a local oil mill to see how Crete's famous olive oil is produced. Then, visit the charming white chapel dedicated to Saint Nicholas in the village of Georgioupolis, built more than a century ago on a rocky islet about 100-meters into the sea.
The journey continues with a stop to visit the springs and waterfalls of Argyroupoli, in an area known for the imposing lush vegetation and small rivers. Finally, you will explore the beautiful natural Lake Kournas, with enough time to enjoy a swim and eat Cretan delicacies at the many tavernas around the lake.
From Rethymno: Day Trip to Elafonisi
Day Trip to Elafonisi from Rethymnon: You can also discover the magnificent pink sand beach of Elafonisi even if you're not staying in Chania, this tour will take you there and back to your hotel to avoid the stress of driving!
Along the road, you can take in the lush green landscape as you travel through the impressive Topolia Gorge and pass many old and very typical villages. Stop for a coffee and breakfast in the village of Elos, known for its chestnut trees. Upon arrival at Elafonisi, get at least 4 hours to relax and swim in the crystal clear water. Laze in the sun, or go for a stroll along the pink sand beach.
Gramvousa Island and Balos Lagoon from Rethymnon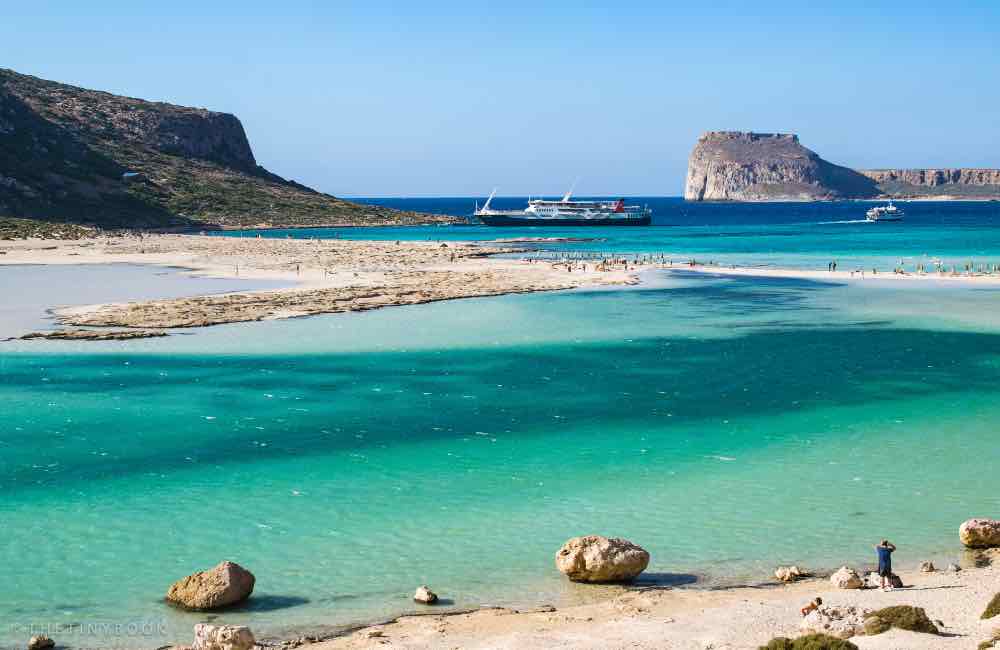 Balos Lagoon and Gramvousa: The perfect pick to explore an area of unique beauty but with no easy access for less-experienced drivers. With this day trip, you'll be able to visit the uninhabited island of Gramvousa and then explore the spectacular landscape of Balos Beach.
An unforgettable excursion to check the westernmost tip of Crete on a scenic bus and boat trip to Gramvousa Island and Balos Lagoon. You'll have enough time to dip your toes in the soft white sand of some of the most beautiful beaches you ever have seen!
Damnoni & Preveli Palm Beach Small-Group Tour
from Rethymnon
Preveli and Damnoni: South Rethymnon has some magical places to visit, and this tour offers a great opportunity. Depart from Rethymnon with a small group and spend the day exploring the traditional village of Spili, the dramatic scenery of the Kourtaliotiko Gorge and the medieval Monastery of Preveli.
After this visit, you will reach Preveli Palm Beach below the monastery at the mouth of the Kourtaliotiko, where the sea combines with the lush green of the palm forest and. You'll spend some time in Preveli Beach and then get on a boat to explore the beautiful Damnoni beach.
As you can see, when it comes to Rethymnon, as well as the nearby regions, you can pick tours, experiences, and adventures no matter what you enjoy doing the most. Hiking? Lazy day on the beach? Local tastes?. Rethymnon offers it all… Are you ready?
---
Which of these day trips in Rethymnon would you like to book?
Let me know in the comments below!
---
Read more:
Day Trip to Chrissi Island, Crete: Guide to Visit
Smart Guide to Driving in Crete
How to Spend 3 Fantastic Weeks on the Road in Crete
21 of the Best Restaurants in Rethymnon, Crete
How to get from Heraklion to Chania
Pin This Great Day Trips from Rethymnon Guide!
About the author of this blog: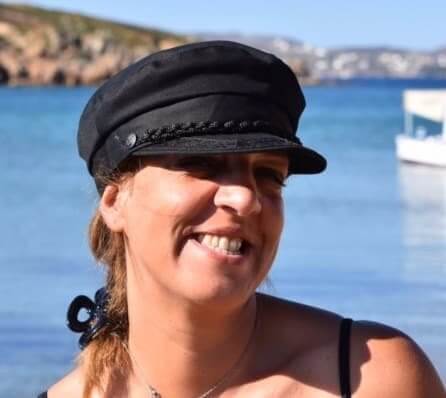 Gabi has been living in Crete for the last five years. Here, she juggles being a solo mom, hosting culinary tours in the summer, translating, and writing for The Tiny Book and her other blogs.
She's written for Greek Reporter, published three travel guides about Greece, and had more glasses of frappe than any regular person would be able to handle.
---
You might also want to read:
---