Hosting one of the most gorgeous old towns in the Mediterranean, Rethymnon is one of the many gems you don't want to miss when visiting the island. Located halfway between Heraklion and Chania, it's a great idea to stay in Rethymnon for two or three days to explore the city and the region. When you do, you can either stay in a hotel or go for a different option: You can book one of the many Airbnbs in Rethymnon. Let's take a look at the most popular and best-rated properties.
Where to stay in Rethymnon, Crete
This article may have affiliate links to products and services that I use. If you make a purchase through these links, I might earn a small commission at no extra cost to you. Some of the articles in this blog have affiliate links to properties and services provided by Airbnb. As an Airbnb Associate, I might earn a small commission – at no extra cost to you – if you book through one of these links.
Most convenient Airbnbs in Rethymnon for your next trip
Rethymnon is a gorgeous region in Crete and a favorite destination among many tourists that come to the island time after time. It's a city that fascinates those who visit for the first time with its charming old port, the postcard-perfect cobblestone alleys, and the local hospitality.
There's a lot to see in the region too, monasteries, archaeological sites, unique mountain villages, and great beaches, especially in the south. With so much to see and do, you will want to stay for a few days.
If you're still looking for a place to stay, why not giving a try at rental homes? They are super practical, usually comfortable, and oftentimes allow you to save some money. Check with me these fantastic Airbnbs in Rethymnon.
Roussa's Studio, Rethymnon Old Town
Why you should stay: This is a small, new studio, ideal both for a couple or a solo traveler. It's in a very central position in Old Town Rethymnon.
Sleeps: 2
Minimum stay: 3 Nights
Pets allowed: No
Your host will warmly welcome you to Roussa's Studio in the heart of the old town of Rethymno, just steps away from the best local restaurants and bars in town. The apartment is close both to the Archaeological Museum and the Fortezza.
For those interested in soaking in the local culture, there's a weekly lively market just meters from this fully renovated studio.
Traditional Stone House in the Old Town
Why you should stay: It is a great opportunity to learn about the traditional local accommodation made of rustic stone walls, domed ceilings, and rustic decor.
Sleeps: 2
Minimum stay: 1 Night
Pets allowed: No
The Traditional Stone House is in the center of the old town, very neat the Rethymnon Fortress. Every room in the house was built using the traditional stone of the island which adds a very unique touch to the environmnent
This Airbnb is close to everything: stores, supermarkets, the gas station, the city center, and the sea. Remember as well that the apartment is no more than 10 minutes from the old town and the beaches!
Modern Flat close to the sea and the Venetian harbor
Why you should stay: This property has been top-grades for its sparkling conditions and the host's hospitality, while 90% of recent guests gave the check-in process a 5-star rating.
Sleeps: 4
Minimum stay: 1 Night
Pets allowed: No
A baby crib is available at €5 per day
An apartment with a great atmosphere, Modern flat is a luxurious two-story flat, about a hundred meters from the beach. The property is brand new and fully equipped to welcome guests.
There's a very comfortable bed and mattress, as well as a well-equipped kitchen. The balcony is super cute too!
>> This is a modern and comfortable Airbnb in Rethymnon, ideal for families.
Farm Villa with Pool in Rethymnon
Why you should stay: If you are one of those travelers who cannot live without a pool… well, this image is worth a thousand words!
Sleeps: 7-9
Minimum stay:

4 Night

s
Pets allowed: Allowed
Getting a whole villa with a fantastic pool all for yourself is a dream! Farm Villa offers that possibility in this modern residence opposite the sea! Close to the town of Rethymnon, this 80-square-meter villa has three bedrooms to accommodate up to 9 guests.
You can enjoy the magnificent sunsets by the pool or discover the fantastic farm on a hillside with fruit trees, a garden, herbs, and vegetables.
You are also invited to learn all about the traditional farming methods, working in the garden or using fresh produce in your own kitchen if you wish. You can also milk the goats and pick fresh eggs every day for your breakfast.
The place is heaven for those who love nature.
Apartment near Megali Porta, Rethymnon
Why you should stay: The apartment looks just perfect and the views from the balcony are fantastic too.
Sleeps: 3
Minimum stay:

3 Night

s
Pets allowed: No
Apartment near Megali Porta is one of the most beautiful Airbnbs in Rethymnon!
It's located in the best part of the Old Town and offers every facility you need in a space that has been recently renovated with refined taste and style. The comfortable place is just a few meters walking from Rethymnon's landmarks, including the old Venetian port and Rimondi Fountain.
Elegant Dream (one of my favorite Airbnbs in Rethymnon!)
Why you should stay: Because it has a fantastic location, it's close to the sea, and the host is super polite and helpful.
Sleeps: 3
Minimum stay:

3 Night

s
Pets allowed: No
It's not the first time I recommend Elegant Dream for a wonderful stay in Rethymnon. No matter how long you plan to stay in Rethymnon, the place is ideal both for a long or a short stay or a weekend.
This is a cozy place to stay, a studio with top facilities, including a parking space for those renting a car.
Other facilities you will enjoy are the fully equipped kitchen and a fantastic balcony for your afternoons or where to enjoy the morning coffee and the view!
Apartment in a top location in Rethymnon
Why you should stay: To take advantage of its position right in front of the city beach.
Sleeps: 3
Minimum stay:

2 Night

s
Pets allowed: No
This apartment is in a central area of the city, super close to the beach and the Old Town making it a great choice for those who are not interested in driving but prefer to explore the city on foot.
There are shops, cafeterias, tavernas, and more close to the apartment.

The apartment, carefully decorated with modern features, is fully equipped with everything you may need during your stay.
Studio del Mar
Why you should stay: If you like plants, gardens, relaxing atmospheres, the patio of Studio del Mar will be the best fit for your stay in Rethymnon.
Sleeps: 2-3
Minimum stay:

4 Night

s
Pets allowed: No
When staying either at Studio del Mar, or at the other property by the same host, Artemis Studios, you will get a whole apartment for you and your travel mate.
This apartment studio is located in a typical Venetian house in the center of Rethymnon's Old Town.
The studio can sleep up to three people, and develops on two floors. There's a comfortable sofa on the ground floor, ideal for a couple with a kid.
The authentic Venetian stone building is over 400 years old but was renovated a few years back respecting the traits of the Venetian and Ottoman architectures, a trademark of this town.
There is a wonderful terrace with tables and chairs, shared with other guests. The views from this point are gorgeous.
The apartment, located in a prime position, is close to one of my favorite restaurants in town, the wonderful Avli, a venue that you should certainly try at least once during your visit.
Castle & Sea View Apartment in Rethymno
Why you should stay: If you enjoy open bright colors, light, and great views, don't let this one escape!
Sleeps: 2-3
Minimum stay:

1 Nigh

t
Pets allowed: No
Baby cot and baby high chair on request.
You will certainly love this one-bedroom apartment with a view in a quiet area and still close to the city center and every important landmark in town.
Although it is a studio apartment, the spaces are quite roomy and it can fit up to three travelers, ideal for a group of friends with a limited budget.
From the veranda, fairly big and comfortable, you can see Rethymnon's Fortezza and the sea. A plus? Gests love both the dishwasher and the washing machine!
>> Discover everything about the most spectacular beaches in Crete <<
White and Grey apartment in Rethymnon town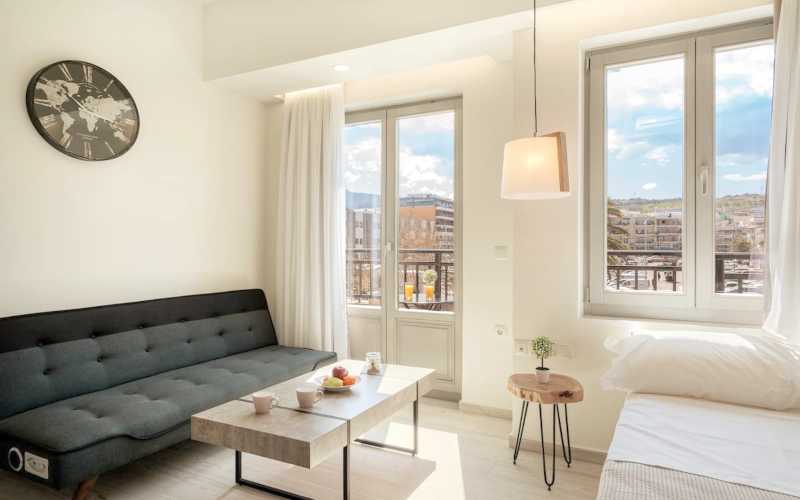 Why you should stay: This apartment is beautifully decorated, comfortable, and located in a top position, close to the modern city and the old town.
Sleeps: 2
Minimum stay:

1 Night

Pets allowed: No
Terrace with barbecue!
If you book a stay in White and Grey Apartment you will be located in a prime location in Rethymno, right across from the main square and quite close to the beach too.
The kitchen is sparkling new and comes with everything you need, including a coffee machine as well as a washing and dryer machine, as a plus, the host also provides free toiletries.
You will be able to make use of the terrace with a barbecue in your free time.
---
Which of these Airbnbs in Rethymno did you like the most?
Let me know in the comments below!
---
Travel plans for Crete?
These resources will help you organize the trip!
Start by reading these helpful tips to plan a trip to Crete or check family holidays in Crete if you travel with kids. To visit Crete's heavenly beaches, check my guide to the best beaches. Discover what region is best to stay in or check what to do in Crete.
Get in touch if you need extra help to plan your trip. If you want to tour West Crete, check my guide. Want more? Join my Private Facebook Group to connect with like-minded travelers who love Crete as much as you do!
Make sure you've got everything for a hassle-free trip!
I never move around Crete without my Osprey backpack, a sturdy but light travel partner I just love. For short trips, I carry this little crossbody bag. If I'm driving around, I pack my Michelin map and my Nikon.
When it comes to plane tickets, compare prices with a powerful search engine. However, nothing beats traveling by sea in Greece. With Ferry Hopper, you can book in advance at the lowest price.
For accommodation, I personally use Booking.com and Airbnb.
Traveling to remote places is easier with Discover Cars. Other times, I join organized tours with GetYourGuide, which features anything from cooking lessons to airport transfer!
Are you coming to Crete any time soon?
Get in touch and let me know!
Read more:
Crete Travel: What to Pack in your Beach Bag
How to Spend 3 Fantastic Weeks on the Road in Crete
Gavdos, Crete: The Only Guide to the Island you Need
Unforgettable Day Trip to the Lasithi Plateau, Crete
Unique Experiences in Crete: Trip to Arkadi Monastery, Rethymno
Pin this article and read it later!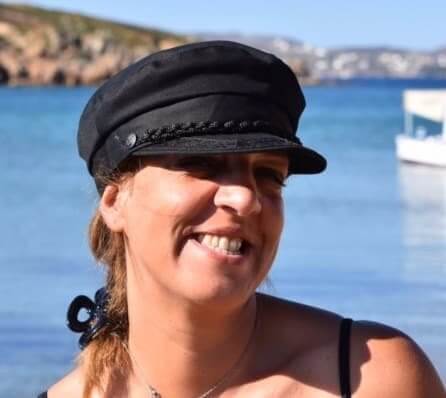 About the Author
Hola! I'm Gabi. Welcome to The Tiny Book – Crete Travel Blog! I moved to Crete to explore the island all year round. I love taking pictures and driving on the mountain roads of Crete. I'm a beach freak and on this island I've found heaven on earth!
---
You might also want to read:
---