Hosting one of the most gorgeous old towns in the Mediterranean, Rethymnon is one of the many gems you don't want to miss when visiting the island.
Located halfway between Heraklion and Chania, it's a great idea to stay in Rethymnon for two or three days to explore the city and the region.
When you do, you can either stay in a Rethymnon hotel, in an amazing Rethymnon villa, or go for a different option: You can book one of the many Airbnb in Rethymnon. Let's take a look at the most popular and best-rated properties.
---
Disclaimer: Posts include affiliate links to products or services. I might earn a commission if you make a purchase.
---
Top Convenient Holiday Homes and Airbnb in Rethymnon for Any Time of the Year
Rethymnon is a gorgeous region in Crete and a favorite destination among many tourists that come to the island every summer.
It is a city that fascinates those who visit for the first time with its charming old port, cobblestone alleys, and heart-warming local hospitality.
There's a lot to see in the Rethymnon region too: monasteries, archaeological sites, unique mountain villages, and great beaches, especially in the south. Therefore, with so much to see and do, you will want to stay at least for a few days.
If you're also looking for a place to stay, it's good to know that there is a lot of available accommodation in Rethymnon when it comes to hotels and studios.
However, if you prefer the comfort of a house, give holiday homes and Airbnbs a try!
They are super practical, usually comfortable, and oftentimes allow you to save some money. Let's discover some fantastic Airbnbs in Rethymnon.
Seaside Home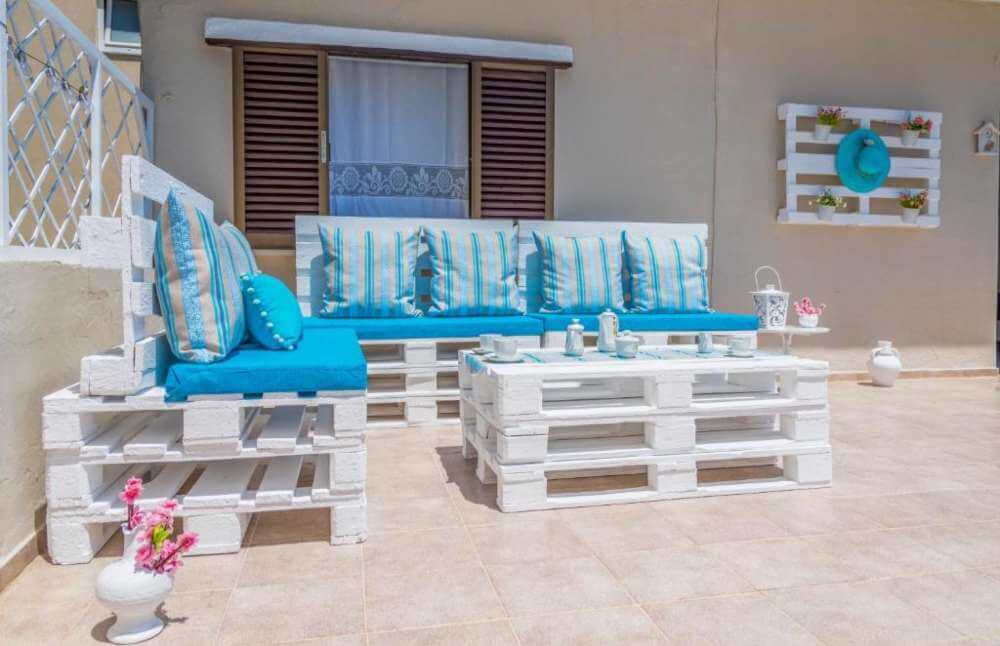 Why you should stay: Because it's a perfect holiday rental for families, pet friendly (free!), and big enough to host up to 8 people!
Location: The apartment is in the town of Rethymnon, about 100 meters from the city beach. Platanes Beach is 1.2 km away and the kid-friendly Adelianos Kampos Beach is 2.5 km.
Facilities: This beachfront apartment has 3 bedrooms and a sofa bed in the living room. It also comes with a flat-screen TV, a spacious dining area, and a balcony with garden views and a patio. The kitchen is fully equipped and there's a parking space for guests as well.
More info: Seaside Home has a garden and air conditioning, free private parking, and free WiFi.
Sleeps up to 8 guests.
Amalia's House
Why you should stay: You've found a comfortable 2-bedroom holiday home in the heart of the old town. Don't miss it!
Location: The apartment is in the Old Town, next to the Fortezza and within 15 minutes from Koumbes Beach, and about 1 km from the city beach. Despite its central position, it is in a quiet position with a wide open view of the Cretan Sea.
Facilities: In the apartment, there are 2 large double-bed rooms, 2 bathrooms, a spacious living room with a fireplace and a piano, and a fully equipped modern kitchen including a microwave, and espresso coffee maker.
Children: For families with kids, there is a well-assorted variety of plastic glasses, dishes, and tableware. Other stuff for children includes toys and a kid's bike for a 3-5-year-old. There are two balconies on the first floor and on the second floor there is a spacious terrace with a wonderful sea view.
More info: The flat is pet friendly. Guests can make use of the property's free wifi, TV in every room, hairdryer, and air conditioning.
Sleeps u to 6 guests.
Petalo Suites
Why you should stay: Because this place boasts one of the most stunning views of the Old Town of Rethymnon that you could think of.
Location: This dreamy complex of suites is located in a great area in Rethymnon, not far from every point of interest in the old town, which is easy to reach on foot, but far enough for guests to enjoy peace and tranquility.
Facilities: The suites feature a comfy kitchen, a stunning balcony, comfortable mattresses, and amenities such as free toiletries. It's also possible to enjoy a continental breakfast, which allows you to get the best of a hotel in the comfort of a private house.
More info: This Rethymnon holiday rental Is close to Koumbes Beach, and it has been included among the top-rated places where to stay in Rethymnon according to travelers' reviews. A car rental service is available as well.
Sleeps up to 4 guests.
Casa Del Mare
Why you should stay: This property has an inspiring rooftop terrace perfect to soak in the views of the city while enjoying a morning breakfast!
What guests say: Guests adore the great location in the old town as well as the comfort of the premises… starting with the beds and mattresses!
Facilities: The spacious home has a comfortable kitchen and bathroom. The soundproofing environment blocks the noise from the busy streets in the old town. Enjoy the beautiful environment, the traditional stone walls, and comfy features such as free toiletries, a well-equipped kitchen, ironing facilities, a desk, and a seating area with a sofa.
More details: There are stores and supermarkets nearby for the convenience of guests. Car rental is also available at the property.
Sleeps up to 4 guests.
Aelia Luxury Beach House
This is a modern Airbnb in Rethymnon, very comfortable for small families.
Why you should stay: Aelia has top reviews and is among the most popular places on Booking.com when it comes to rental homes and vacation places in Rethymnon.
Location: The place is close to the Center of Byzantine Art, the public beach of Rethymnon, and the Municipal Garden.
Facilities: If you're looking to rent a house in Rethymnon, then this might be it. It's a modern place, not far from the city beach, it features 2 bedrooms, a living room, a fully equipped kitchen with a dishwasher and a kettle, and 3 bathrooms with a shower and a hairdryer.
More info: Guests can also use the pretty terrace that has great views of modern Rethymnon.
Sleeps up to 4 guests.
Cactopia Apartments
Why you should stay: Because this complex of three different apartments will leave you in awe!
Location: This group of three flats, Hoya, Stapelia, and Aeonium offers fantastic solutions for those looking for a modern and comfortable apartment in Rethymnon modern town. The place is less than 2 km from Platanes Beach. The old town and the Venetian Harbour are 2.4 km from the apartment.
Facilities: Guests can enjoy air-conditioned units with facilities including a desk, a living room, a comfortable and equipped kitchen including appliances such as a coffee machine, and an electric kettle, for tea fans.
More info: There are a small but cozy balcony and a garden as well.
Sleeps up to 6 guests, depending on the apartment.
Rethymnian Gaia
Why you should stay: The apartment looks just perfect, clean and modern, with natural light and a perfect balcony to enjoy.
Location: This Rethymnon vacation home is only steps away from the public gardens and close to every important landmark in the old town. This flat is a great solution for a stay in the city.
Facilities: This self-catering unit features a beautiful open-plan kitchen with seating and a dining area. If you are on holiday looking for a place to cook and save some money instead of dining out every night, here you'll find an oven, a coffee machine, and a smart TV with Netflix.
Good to know: As a plus, free bicycles are offered to guests.
Sleeps up to 3 guests.
The Downtown Pent with Roof Garden
Why you should stay: To enjoy a stylish, trendy place in the heart of the old town, lively, colorful, and relaxing! Besides, the host is polite and friendly, all ingredients that make it one of the best Airbnb in Rethymno Crete.
Location and details: There's nothing not to love about this traditional and yet super modern penthouse in the center of the old town. Comfy, clean, and ready with everything you could need during your stay.
Facilities: The apartment features 2 nice balconies and a great roof terrace with a 360° view of Rethymno. It is equipped with air-conditioning and includes 2 separate bedrooms, a seating area, and a comfortable kitchen with an oven, a toaster, and a coffee machine. Can't ask for anything else, can you?
Sleeps up to 4 guests.
Lemon Tree House
Why you should stay: To take advantage of its position right in the heart of the old town and very near the city beach.
Facilities: Lemon Tree House features different units that can accommodate couples or small families. They all have a mix of modern and rustic characteristics, such as stone walls and stylish furniture. It's possible to take advantage of the balcony or the garden for a coffee in the open during the heat of the summer. All units have everything you might need during your stay.
Location: The home is close to the Archaeological Museum of Rethymno is one of the city's landmarks that's conveniently close to the apartment. The location is perfect for those who don't want to drive and prefer to explore the city on foot. There are shops, cafeterias, tavernas, and shops close to the apartment.
Sleeps from 2 to 6 guests, depending on the apartment.
Porto Enetiko Suites, a Super Comfy Airbnb in Rethymnon!
Why you should stay: If you dream about opening your balcony in the morning to wake up to the great views of the romantic Old Harbor, then this is the place in Rethymnon you were looking for.
Location: These beautiful vacation homes in Rethymnon are right in the middle of the old town, less than 50 meters from the city beach, and not far from the famous Venetian Fortezza. The Centre of Byzantine Art and the Folk Art Museum are only a few minutes from the property (check them out here).
Facilities: The units have been recently renovated with great taste and elegance, they are equipped to provide every comfort you need, including a full kitchen with a dishwasher, washing machine, microwave, and fridge.
More info: Have you ever heard about Cocomat mattresses? If you haven't you will adore them! Other facilities include a bathroom with hydromassage facilities.
Sleeps up to 4 guests.
Castle & Sea View Apartment in Rethymno
Why you should stay: If you enjoy open bright colors, light, and great views, don't let this Airbnb in Rethymnon escape!
Location: You will certainly love this central one-bedroom apartment with a view in a quiet area and still close to the old town, within 1.1 km of Koumbes Beach and 700 meters from the Archaeological Museum of Rethymno, and every other important landmark in town.
Facilities: Although it is a studio apartment, the spaces are quite roomy and it can fit up to three travelers, ideal for a group of friends with a limited budget. From the veranda, fairly big and comfortable, you can see Rethymnon's Fortezza and the sea. A plus? Guests love having the comfort of both a dishwasher and a washing machine!
White and Grey Apartment in Rethymnon Town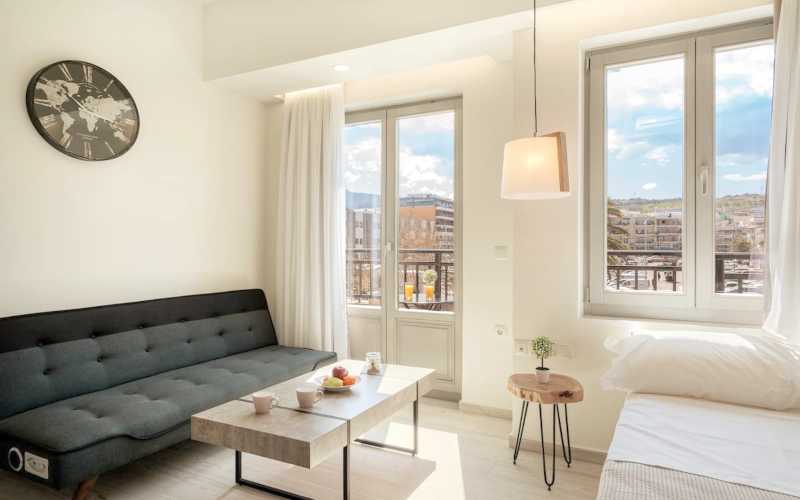 Why you should stay: This apartment is beautifully decorated, comfortable, and located in a good position, close both to the modern city and the old town.
Facilities: The kitchen is sparkling new and comes with everything you need, including a coffee machine as well as a washing and dryer machine, as a plus, the host also provides free toiletries.
Location: If you book a stay in the White and Grey Apartment you will be located in a prime location in Rethymno, right across from the main square and quite close to the beach too.
Good to know: You will be able to use the terrace with a barbecue in your free time. The apartment offers a children's playground. The property can arrange a car rental service.
Sleeps from 2 to 3 guests.
Made of Blue Luxury Suites Collection, a Wonderful Luxury Villa
Why you should stay: To have the best of a hotel combined with the comfort of a villa, including the possibility to enjoy a continental breakfast (paid), a children's playground, on-site table tennis, and cycling in the surroundings.
Location: This luxury villa in Rethymnon is a 14-minute walk from the beach, in the heart of modern Rethymno town, and about 3 km from the Venetian Port.
Facilities: Big and comfortable, the house comes with free WiFi, a garden with an outdoor swimming pool, and access to a fitness room and a hot tub. There are a hot tub and a sauna too. The units have a living room with a flat-screen TV, and a kitchen with a microwave and dishwasher, while there is also a washing machine. For further comfort, there is also a dining area.
Good to know: There is an airport shuttle available and pets are also allowed!
Sleeps up to 8 guests.
Majorelle Apartments
Why you should stay: Perfect if you want to stay in Rethymnon but not in the heart of town. The villas are also an ideal kind of accommodation for a family stay… And it's really affordable!
Location: The venue is 8 km from the center of town, in the area of Adelianos Kampos. Therefore it is suggested to rent a car.
Facilities: All accommodations are fitted with air conditioning, a fully equipped kitchen, a flat-screen TV, and beds with very comfy mattresses and pillows. Free toiletries are also provided. Every unit also features a balcony with pool views.
Good to know: There is a great swimming pool and free on-site parking available!
Sleeps up to 8 guests depending on the unit.
Which of these Airbnbs in Rethymno did you like the most? Let me know in the comments below!
🛌 Suggested Accommodation in Rethymnon:
🗺️ More resources to book your trip to Crete
Best Airbnb in Rethymnon, Crete… Don't Forget to Pin Before You Leave… This Post Belongs to a Board!
---
---
About my blog: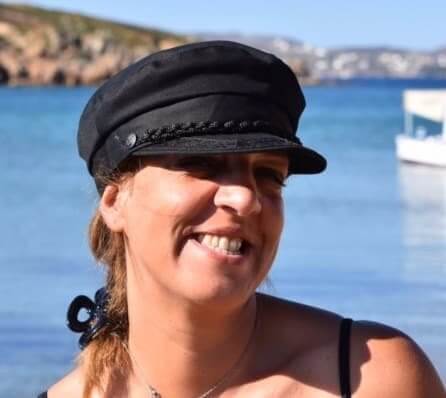 I moved to Crete in 2016. During these years, I learned much about the island.
In Crete, I juggle being a solo mom, hosting culinary tours, and writing for several travel media.
I've written for Greek Reporter, published travel guides about Greece, co-authored DK Eyewitness Top 10 Crete, and had more glasses of frappe than any regular person could ever handle.