Rethymnon is a popular region to stay in Crete. It's roughly in the middle of the island making it easy to visit other areas driving less. From Rethymnon, it's easy to reach Heraklion and Chania, while Lasithi doesn't seem so remote. However, there's more to Rethymnon than just a comfortable location. Both the main town and the rest of the region offer a lot to see and do. This guide helps you find out where to stay in Rethymnon. It includes budget, mid-range, and luxury accommodation in different parts of town and in other villages of the region.
---
This site contains affiliate links to products and services. I may receive a commission for purchases made through these links.
---
Best Hotels in Rethymnon
Where to Stay in Rethymno, Crete
The choice of hotels, all-inclusive resorts, villas, and other places to stay in Rethymnon is quite wide. Being so popular among tourists, you can find any kind accommodation no matter what your budget is.
From exclusive boutique hotels in the historic old town, hosted in spectacular Venetian buildings, to extremely convenient apartments to rent, and budget family hotels… Everything is available when it comes to places to stay in Rethymnon.
There are also unique seaside resorts quite close to the city center, and fantastic villas on the southern coast. Booking well in advance or away from the city center will reveal very convenient deals and much cheaper fees.
Best Hotels in Rethymnon on a Budget
Crete has long been known as a convenient destination, having a restricted budget does not mean you cannot find a great place to stay. Indeed, it's possible to find great places to stay in Rethymnon (as in any other region in Crete) even if you need to stay within a very limited budget.
There are fantastic hotels you can book in the old town of Rethymnon as well in the modern city at quite convenient fees.
These are some of the best budget places where you can stay in Rethymnon within a budget limit of €50-€60 per day.
Atelier
Atelier is a small studio right in the heart of Rethymnon Old Town within walking distance from main landmarks such as the Fortress and the Archaeological Museum of Rethymnon.
The small balcony overlooks the alleys of the old town and is perfect to sit and enjoy a fresh cup of coffee. In fact, in the studio, you will find a coffee machine and an electric teapot (two things I cannot do without when I book accommodation!).
Most reviews praise the central position, the comfortable bed, and the friendly staff… three elements that have earned Atelier excellent reviews.
ATELIER IS RATED 9.7 ON BOOKING.COM – CHECK THE LATEST PRICES HERE
Faros Rooms & Suites
This hotel is in a privileged position. Faros Rooms & Suites is right at the Venetian Port of Rethymnon, overlooking the Lighthouse and the city beach. Although the area can be a bit noisy at night, nothing beats the comfort of dozens of bars and restaurants just meters away from where you're staying.
Rooms with a private balcony over the port have a higher price tag but are really worth it. Instead, if you are on a very tight budget, check the rooms without a view.
The hotel is close to the beautiful Municipal Garden and not far from the Loggia and the main museums in town.
FROM €56/NIGHT – CHECK MORE PRICES ON BOOKING.COM
Do you prefer the comfort of home rental?
>>Check these vacation homes in Rethymnon, Crete<<
Rethymno House
An affordable place where to stay in Rethymnon in a traditional alley in the old town. Rethymno House is a historic building that has been restored keeping the characteristic stone walls of the Venetian architecture and the picturesque wooden balcony from the Turkish period.
When checking the reviews, you will notice that most guests appreciate that the hotel close to the town landmarks and yet the area is quiet. Another key point is the welcoming hospitality of the host.
RETHYMNON HOUSE IS A SIX HUNDRED-YEAR-OLD STONE MANSION IN TOWN. IT'S RATED 8.5 ON BOOKING.COM – BOOK HERE
Preveli Apartments
The apartments are a perfect place to stay for a couple or for a family with a small child. It's possible to reach both the Old Venetian Harbor and the modern town of Rethymnon on foot.
The accommodation is located in a quiet alley, rooms can have a small patio or a balcony. If you want a bit more space and privacy, try to book the studio on two levels.
In every studio there's a kitchen if you're looking to save a few euros instead of eating out every night. The structure also offers a convenient service of airport shuttle.
PREVELI APARTMENTS IS RATED 9.5 ON BOOKING.COM – BOOK HERE
Are you staying in Rethymnon for a short time?
>>Check this 3-day itinerary or discover the best things to do in Rethymnon<<
Kallithea Studios
Kallithea Studios is another convenient place to stay in the heart of the old town and an absolute value-for-money deal.
The most valued feature of the studios is the location. Kallithea is close to the city beach, the shops, and different tavernas along the sea seaside. Bear in mind, though, that some guests find the area a bit noisy at night.
The hotel is basic but very clean and comfortable for a short stay.
KALLITHEA STUDIOS IS A BUDGET HOTEL RATED 9.2 ON BOOKING.COM – CHECK AVAILABILITY HERE
Remember! If you're traveling in your car, finding the right place to park can be a bit difficult if you're staying in a hotel in the old town since most of the area is pedestrian.
Mid-Range Hotels in Rethymnon
If you're wondering where to stay in Rethymnon with a more flexible budget, you will be able to find some great accommodation in this section.
These are my places of choice when it comes to a price range between €60 to €150 per night, both in the old town and in the city center.
Hotel Olympia
The hotel is less than 200 meters from the sandy beach in Rethymnon town which makes it extremely convenient if you're not renting a car to visit other beaches in the region. If instead, you are getting here with a car, the hotel provides free parking, something highly valued in the center of Rethymnon.
The hotel also quite close to the old town (about 1.5 km) which you can reach walking, or taking the bus at the nearby bust stop.
Another highlights are the pool, the swimming pool for kids, and the garden bar. Here, breakfast is served every morning.
HOTEL OLYMPIA IS RATED 8.6 ON BOOKING – CHECK PRICES AND AVAILABILITY HERE
Archipelagos Hotel
I've often recommended this hotel for a stay in the modern city, but only steps away from the old town as well. Archipelagos is super close to the Venetian Fortress and the Public Bus Station. It also offers magnificent views of the sea and the skyline of Rethymnon.
Highlights of the property are the different pools you can enjoy. The pool bar serves coffee and delicious cakes and pies all day long while breakfast is served close to the hotel reception. The staff has always been extremely helpful and welcoming, accommodating every need.
Personally, I consider Archipelagos one of the most convenient and friendly places to stay in Rethymnon. And I've often been treated with a room upgrade when staying during the shoulder season!
ARCHIPELAGOS IS RATED 9.3 ON BOOKING.COM – CHECK AVAILABILITY AND BOOK HERE
Inks Hotels Phos
This gem of a hotel in the old town is set in a fantastic ancient mansion that has been completely renovated, decorated using light furniture and a minimal style.
There are family rooms available so it's a great choice in the city if you're traveling with kids. Everyday, continental breakfast is served in an adjacent building also belonging to the hotel. From this spot, the sea view is stunning.
This hotel is real value for money and it's located a few minutes away from the main attractions of Rethymnon.
INK HOTELS PHOS IS RATED 9.1 ON BOOKING.COM – CHECK REVIEWS AND BOOK HERE
Bellagio Luxury Boutique Hotel
Stepping into this wonderful building is just like stepping back in time. The hotel is inside a magnificent Venetian palace dating from the XVI century. It represents a perfect Cretan Renaissance example in the historic old town.
Each of the five luxury suites has a style of its own, combining elements such as the typical Venetian arches, but also stone walls, glass, and wood. There is also a beautiful inner courtyard where you can have breakfast every morning. The marble bathrooms are simply stunning!
BELLAGIO LUXURY BOUTIQUE HOTEL IS RATED 9.5 ON BOOKING.COM – BOOK HERE
May Beach Hotel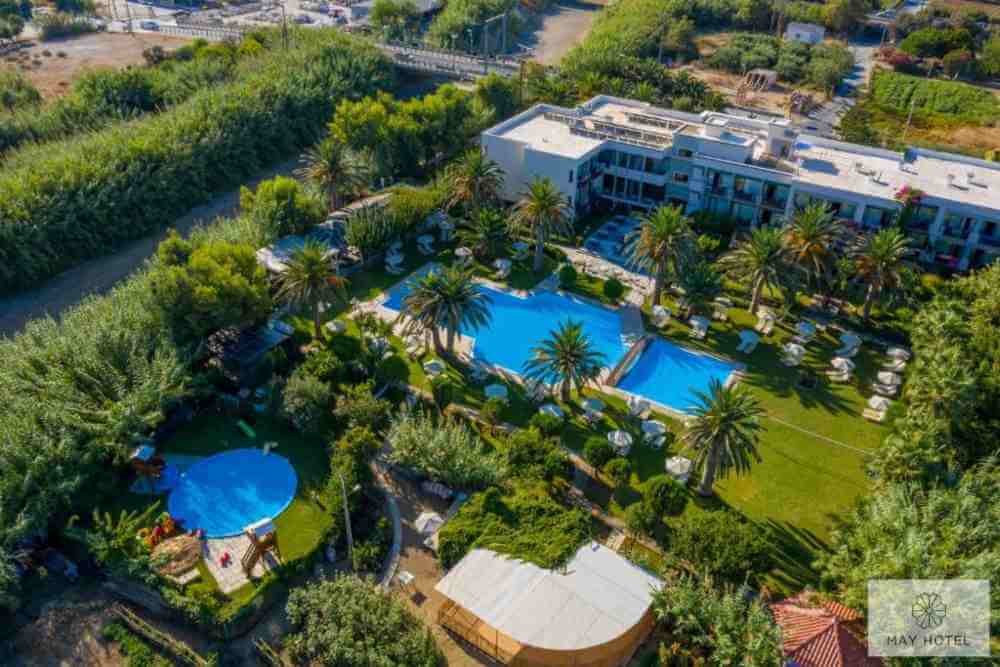 Not exactly in the old town, this great place to stay in Rethymnon. It's just 4 km east from the city center, and a few meters from the sea. The swimming pool environment is stunningly beautiful, with a garden and palm trees. The rooms close to the pool can be a bit noisy, but are still the favorite of many guests.
When booking a stay it's also possible to go half board, dinners are well-rated on Booking.com too. This is particularly helpful if you don't plan on going to town for dinner every night.
MAY BEACH HOTEL IS RATED 8.7 ON BOOKING.COM – CHECK IT HERE
Boutique Hotels in Rethymnon Old Town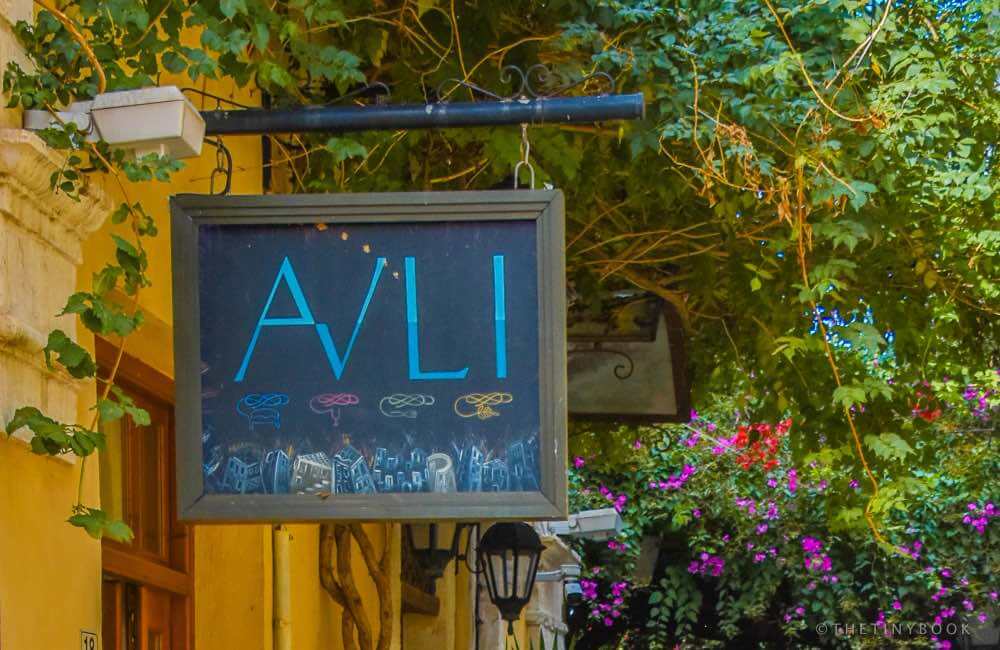 There are amazing exclusive boutique hotels in the old town of Rethymnon, unique for their charm and elegance. Old Venetian houses that have restored respecting the original style but including every thinkable comfort you need for a five-star experience.
A stay in any of these beautiful venues starts from €160 per night. However, don't think that a high price tag will allow you to find availability, these suites are super requested.
So, if you have already made up your mind don't wait a minute and book your stay as soon as you find the room of your dreams.
Palazzino di Corina
This ancient building in the heart of the old town has been renewed respecting the character and traditional features of the original house. The wooden ceilings and limestone walls add a romantic touch to the atmosphere of the boutique hotel.
Some rooms have a jacuzzi and there's also a gorgeous swimming pool in the patio of the hotel. Guests love the comfortable beds, the bathroom facilities, and the parking space nearby.
PALAZZINO DI CORINA IS RATED 9.2 ON BOOKING.COM – BOOK HERE
Pepi Boutique Hotel (Adults Only)
Pepi Boutique Hotels must be among the most beautiful hotel I've ever been to in Crete! It's in the heart of the historic old town of Rethymnon, in a very quiet area. In fact, silence and relax are two of the words that could best define a stay in this boutique hotel.
The garden with the pool is one of my favorite features in this venue. The area is an oasis in the middle of the town where you can spend hours enjoying a drink, reading a book, and in total peace…
You won't regret a stay here, especially when it comes to taste their morning breakfast! Another key feature is its location in town, just a few minutes from the city beach. It's also close to shops, museums, bars and restaurants.
The history of the building is quite interesting. It used to be one of the oldest public primary schools of Europe for boys and girls of the 20th century.
PEPI BOUTIQUE HOTEL IS RATED 9.4 ON BOOKING.COM – BOOK HERE
Sutor Chic Manor
This is another stunning boutique hotel in the center of the old town. Minimal decoration, elements of style, and every comfort you can think of are some of the characteristics that will make you fall in love with this chic hotel, as their name suggests. The accommodation has a very good restaurant and breakfast à la carte is served every day.
Another great facility is the parking availability for those traveling around the island with their own car. If you prefer to ride a bike instead, the hotel can arrange for the service.
The beautiful courtyard is a great place where to spend some time to relax. Just right by the swimming pool and surrounded by the original stone walls of the building.
FROM €151/NIGHT – CHECK PICTURES AND MORE PRICES ON BOOKING.COM
Avli Lounge Aparments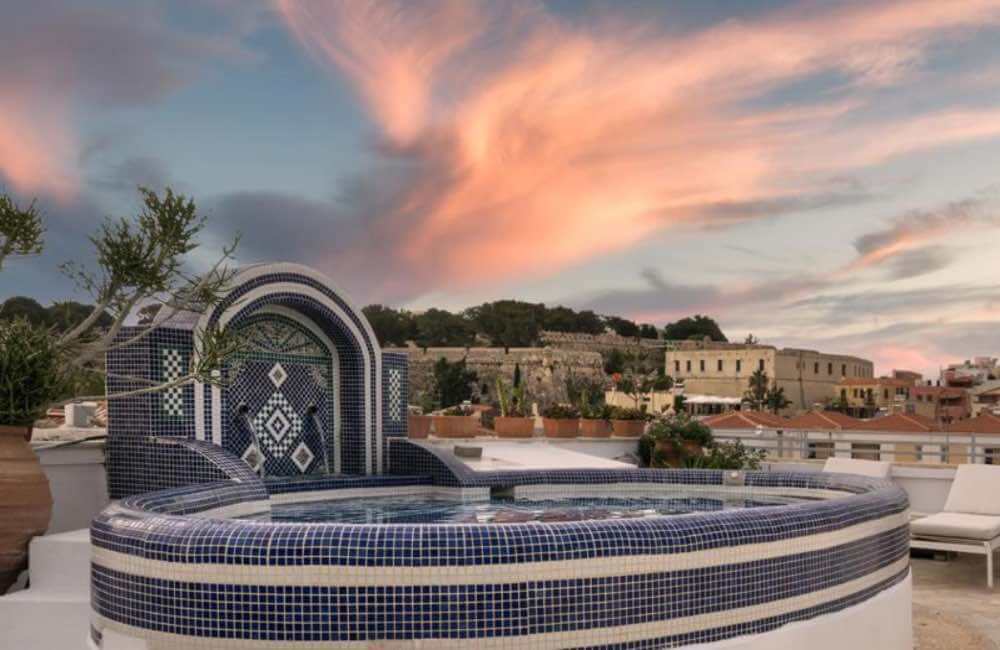 I must say that I am somewhat biased when it comes to Avli Lounge and Apartments! I've known the owner, Katerina, for a few years now and I admire her passion and philosophy when it comes to hospitality. Every detail reflects authentic care for her guests, extreme comfort, and a unique style.
The hotel stands in a former Venetian lord's house in the heart of the old town. Every suite has been redesigned maintaining the traditional characteristics of the local architecture.
Among the most precious features is the rooftop terrace and the tiled hot tub, the unique Avli Restaurant, set amidst a magnificent garden, and the superb wine bar in the premises. I cannot recommend the hotel, the friendly staff, and the amenities warmly enough.
Avli Lounge Apartments is a boutique dream in the gorgeous alleys of Rethymnon.
AVLI LOUNGE APARTMENTS IS RATED 9.6 ON BOOKING.COM – READ REVIEWS AND BOOK HERE
Rimondi Boutique Hotel – Small Luxury Hotels of the World
Probably the most famous and luxurious boutique hotel in Rethymnon is Rimondi Boutique Hotel, house in an ancient Venetian palazzo, in one of the most beautiful alleys in the old town.
The most gorgeous area is the fantastic courtyard with swimming pool, comfortable lounging chairs, and palm trees that create a relaxing and refreshing atmosphere. In this place, everyday you can enjoy a rich breakfast that also features unique Cretan delicacies.
Do check their spa before you leave!
RIMONDI BOUTIQUE HOTEL IS RATED 9.1 ON BOOKING.COM – BOOK HERE
Luxury Hotels and Villas in Rethymnon Town
These exclusive hotels also belong to a higher price range but are not located in the old town of Rethymnon. They represent a better option if you're looking to stay closer to the beaches along the coast of the region.
If access by car to the hotel is one of your top priorities, then you should definitely check these hotels.
Macaris Suites & Spa
Macaris Suites & Spa is a 4-star hotel overlooking the Sea of Crete, about 2 km from the center of Rethymnon.
The price includes a rich buffet breakfast, and it's also possible to enjoy à la carte dinners. During summer, enjoy every meal in the rooftop garden which has unique views of the sea and the skyline of the old town with its fortress and its minarets.
The hotel has a beautiful pool and a swimming pool for children. There's also an indoor pool and a hot tub in the spa area (only for adults).
MACARIS SUITES AND SPA IS RATED 9.1 ON BOOKING.COM – READ REVIEWS AND BOOK HERE
Atlantis Beach Hotel
This is a 5-star hotel located less than 2 km from the Venetian Port of Rethymnon. The hotel has access to a private blue-flag beach with lounges and umbrellas for their guests. There's also a huge swimming pool surrounded by a garden and trees. Among other facilities, a sauna and a fitness center for total relaxation.
Families traveling with kids certainly appreciate the dedicated playground and the games room. There's also a Greek-Cretan restaurant while the bar at the lobby serves wonderful drinks.
Unfortunately, parking is available only upon payment.
ATLANTIS BEACH HOTEL IS RATED 8.8 ON BOOKING.COM – BOOK HERE!
Best Hotels Near Rethymnon
There are several seaside resort towns where to stay in Rethymnon's broader area if you are looking for a quieter lifestyle and a more tranquil atmosphere.
Those whoo seek a holiday filled with outdoor adventures and excursion might find it more comfortable to stay away from the city center, but still close enough to reach the old Venetian harbor for a walk or to enjoy a dinner in one of restaurants in Rethymnon town.
In this section you will find my top-favorite hotels in the areas surrounding the city of Rethymnon.
Panormos – Z Boutique Hotel
One of the most frequented seaside resorts in the region is the picturesque town of Panormos. Tourists coming back to the island year after year often count Panormos (and Bali, see below) among their favorite places to stay in Crete. If you are still not sure where to stay in Rethymnon, maybe it's time to give Panormos a go.
The suites in Z Boutique Hotel maintain a distinctive Cretan character with their walls and arches in limestone.
One of the main features that most guests seem to appreciate in this family-run hotel is the comfortable beds and the unique personal touches of style and hospitality, the staff is indeed very friendly. Breakfast is another gem in this venue, with unique homemade cakes every morning!
Z BOUTIQUE HOTEL IS RATED 9.5 ON BOOKING.COM – CHECK REVIEWS AND BOOK HERE
Bali – Paradise Hotel
The gorgeous bay of Balì is one of the top-rated beaches in Crete for those traveling with kids. The area is safe and well-protected from the winds despite being on the northern coast of Rethymnon. The bay has several small coves where you can enjoy snorkeling.
Balì is about 30 minutes east of Rethymnon along the National Highway in the direction of Heraklion. If you want to read a review of the beaches of Balì, check these over 45 stunning Cretan beaches.
Paradise Hotel has every ingredient for you to have the perfect holiday in Crete. It's only 100 meters from the beach and a magnificent garden surrounds all the property and the two pools. There are also two restaurants where you can enjoy every meal of the day.
Rooms provide stunning views of the bay and a coffee machine (yeah!). There's a mini spa with a sauna and beauty treatments, a tennis court, and beach access.
For kids, a dedicated pool, water slides, and a playground too.
PARADISE HOTEL IS RATED 8.4 ON BOOKING.COM – BOOK HERE
Adelianos Kampos – The Syntopia Hotel
Adelianos Kampos is one of my favorite little villages to stay to fully enjoy Rethymnon. It's fairly close to the city center, but far enough to stay away from the hassle of the city center.
The beach area in Adelianos is good, with small pebbles mixed to sand and the sea is clean, while the bottom can descend abruptly. If you are traveling with toddlers or small kids, take this into account and don't leave them all alone by the sea. In the village, there's a small center along the main road with shops, restaurants and good tavernas.
The Syntopia is a hotel a bit on the expensive side, but it's also an excellent all-inclusive choice in the area. The fantastic swimming pool and the surrounding area is one of the main reasons to choose this accommodation.
Suites and rooms are super modern, with every comfort you need. The restaurant has very good reviews as well. Check the rooms with jacuzzi on their balconies!
The hotel is about 6.5 km from the old town, which can be reached by car or public transport.
THE SYNTOPIA IS RATED 9.4 ON BOOKING.COM – CHECK IT HERE
Where to Stay in the Region of Rethymnon
There are endless places to discover all over the Rethymnon region. The southern coast hosts a few of the most beautiful beaches on the island, including the palm tree beach of Preveli (with the beautiful nearby Preveli Monastery) and the unique beauty of Triopetra Beach.
If you want to discover the south of the region and still don't know where to stay in South Rethymnon, this guide will help you make up your mind.
South Crete is a remote and mostly rural place, still maintaining a peaceful atmosphere. The Libyan sea is pristine with an intense deep blue color and the water is sometimes cooler than on the northern coast of the island.
High mountains, spectacular gorges, and a more relaxed lifestyle, far from the city center make the south one of the most privileged places for holidays in Crete. If you feel this is the style of holiday you're looking for, rent a car and explore the south of the island.
>>Check this guide to driving on Crete<<
Best Hotels in Rethymnon by the Sea
Are you dreaming of waking up to the sound of the waves on a tranquil beach? Check these areas in Rethymnon
Plakias
I've often talked about Plakias in different beach guides I've published along the years. It remains one of the most beautiful beaches in the region of Rethymnon and one of my favorite places on the island for subaquatic sports. There are different beaches close to the main Plakias beach such as Ammoudi and Ammoudaki, this last one has gained a position among the top naturist beaches in the island.
There's not much to do in the village of Plakias, and that's exactly what makes it a charming place for holidays. There are a few restaurants and traditional tavernas and some souvenir shops too. Here you can find all available accommodation in the area.
Close to Plakias, you can also check the beaches of Damnoni and Rodakkino.
Places to Stay in Agia Galini
Agia Galini is a famous seaside resort on the south coast of Rethymnon, on the Messara Bay. It's located about 60 km from the city of Rethymnon and it attracts tourists from April to October.
Despite being extremely popular among European tourists, the village has managed to keep its authentic atmosphere almost intact.
If you want to discover all the accommodation options on Booking.com, read reviews, and compare prices, check this link.
Where to Stay in Rethymnon in the Mountains
Check these alternatives for a stay in the mountains villages of the region.
Where to Stay in Anogeia
There are a few villages on the island that have gained a fame for being typically Cretan and for treasuring the most authentic traditions of the island.
Among them, we count Chora Sfakion and Therisso in Chania, Archanes and Viannos in Heraklion, Ziros and Kritsa in Lasithi, and certainly Zoniana, Axos, and Anogia when it comes to Rethymnon. Some of these villages are on this list of the most beautiful villages in Crete.
If you're willing to live and discover how life is in a traditional Cretan mountain village, you should certainly try and book a stay in Anogeia, which has grown its fame under the shade of the imposing Mount Psiloritis.
Unique Cretan customs are still pretty much alive in this village, visible in the way locals dress, cook, play music, and gather in the main square of the village. Check here to find out where to stay in Anogeia, Rethymnon.
Places to Stay in Spili
Another of my favorite villages in the mountains of Rethymnon is the picturesque Spili, and important town on the road connecting the northern capital of the region with the southern beaches of Agios Pavlos, Triopetra, Ligres, and Preveli.
The village is famous for the beautiful lion heads that line up in the central square forming a unique fountain. From each of the 25 lion heads there's a constant flow of water coming directly from the Psiloritis which always keeps the same temperature.
If you would like to stay in the mountain village of Spili, check on Booking.com the best deals and availability.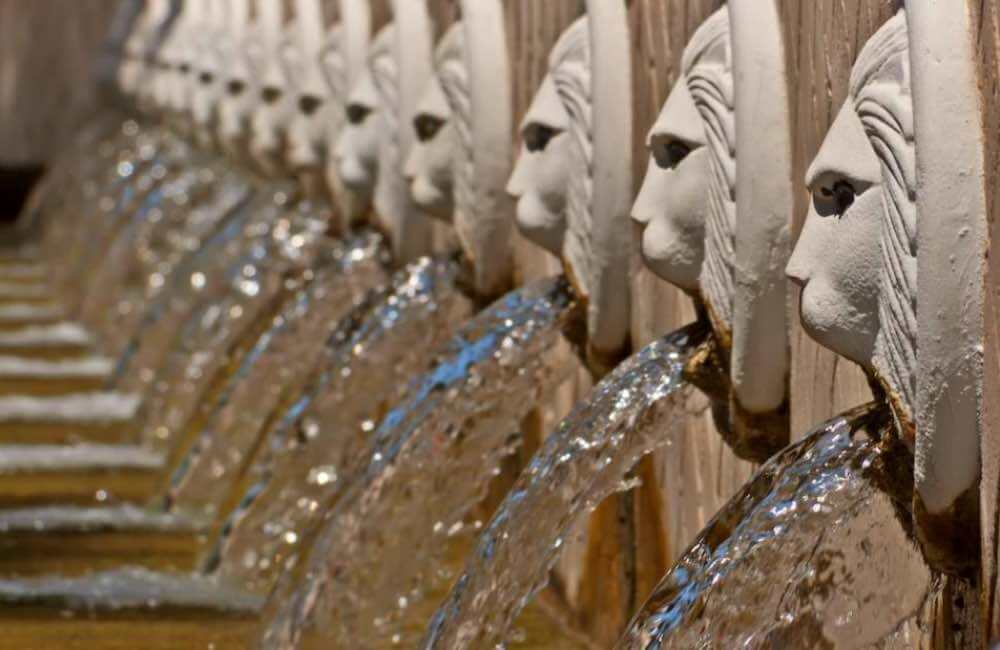 I hope this guide will be of help when it's time for you to choose where to stay in Rethymnon.
You can go for a place in the city center, a boutique hotel in the old town, or stay in a nearby beach resort. In any case, you can be certain that there's a lot to do in the region to have a great time in Crete.
Quick Guide for More Hotels in Rethymnon
---
Have you made up your mind yet? Do you already know where to stay in Rethymnon?
Let me know in the comments below!
---
Coming to Crete any time soon?
These resources will help you organize the trip!
Start by reading these helpful tips to plan a trip to Crete or check family holidays in Crete if you travel with kids. To visit Crete's heavenly beaches, check my guide to the best beaches. Discover what region is best to stay in or check what to do in Crete.
Get in touch if you need extra help to plan your trip. If you want to tour West Crete, check my guide. Want more? Join my Private Facebook Group to connect with like-minded travelers who love Crete as much as you do!
Make sure you've got everything for a hassle-free trip!
I never move around Crete without my Osprey backpack, a sturdy but light travel partner I just love. For short trips, I carry this little crossbody bag. If I'm driving around, I pack my Michelin map and my Nikon.
When it comes to plane tickets, compare prices with a powerful search engine. However, nothing beats traveling by sea in Greece. With Ferry Hopper, you can book in advance at the lowest price.
For accommodation, I personally use Booking.com and Airbnb.
Traveling to remote places is easier with Discover Cars. Other times, I join organized tours with GetYourGuide, which features anything from cooking lessons to airport transfer!
Read more:
Perfect 2-Day Itinerary in Rethymnon: City Break in Crete
Fantastic Things to Do in Rethymnon, Crete
Best Airbnbs in Rethymnon, Crete
Unique Experiences in Crete: Trip to Arkadi Monastery, Rethymno
The Most Beautiful Beaches in Rethymnon, Crete
Don't Leave without Pinning! Pin this Guide to the Best Hotels in Rethymnon For Your Next Adventure in Crete!
About the author of this blog: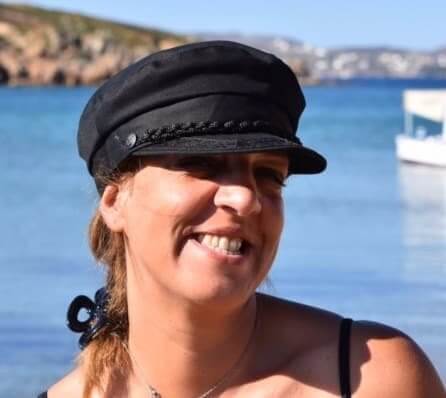 Gabi has been living in Crete for the last five years. Here, she juggles being a solo mom, hosting culinary tours in the summer, translating, and working as a tech advisor.
She's written for Greek Reporter, published two travel guides about Greece, and had more glasses of frappe than any regular person would be able to handle.
---
You might also want to read:
---