Only steps from the center, the old port, and the sea, Pepi Boutique Hotel is a peaceful oasis in the heart of the old Venetian town of Rethymno. A heartwarming atmosphere made of sunshine, fruit trees, and silence, read this review to know why we loved our stay at Pepi's and why you will too!
---
Disclaimer: Posts include affiliate links to products or services. I might earn a commission if you make a purchase, at no extra cost.
---
Review
This is a sponsored post. I was a guest for a weekend at Pepi Boutique Hotel, yet all opinions remain, as usual, my own and unbiased. A heartfelt thank you to all the management and staff for the care and service.
Pepi Boutique Hotel – The Concept
Shaped behind the idea of an adult-only structure, Pepi Boutique Hotel currently offers 13 rooms, 2 maisonettes, and 2 suites all of them surrounding a magnificent garden like most old houses used to have in the old town of Rethymnon.
The courtyard, the heart of the property, is a fantastic place to relax and enjoy some lazy time by the small and inviting pool. Palms and citrus trees, comfy lounges, wood, and traditional stone give character and warmth to the atmosphere.
In fact, Pepi's garden is a place where you will want to spend time any time of the day. Either reading a book by the pool, enjoying a cup of coffee, sunbathing, or enjoying a restoring nap under the orange trees.
Pepi Boutique Hotel has a main goal, and that is to offer guests the best quality of rest possible.
Silence and quietness come together with ample and bright rooms, comfortable mattresses and pillows, luxury bathrooms, and amenities- all ingredients catering to your utter relaxation.
The property was created to protect the style and character of the old town, and still. The studios which have been recently refurbished include in-room facilities such as a small fridge, an espresso machine, satellite TV, A/C, and heating… Because yes, Pepi Boutique Hotel is open all year round! This is very convenient because Rethymnon is probably the most lively city in Crete during winter.
The Stay at Pepi Boutique Hotel
I stayed for just a (very short) weekend… and I would have loved to be able to extend my stay! Our room was huge! And absolutely comfortable. And I felt taken good care of, right upon arrival.
We were received with a complimentary bottle of sparkling wine, flutes, and a platter of fresh fruit. We did make clear it was a special occasion, but we were not expecting such a wonderful reception.
The Premises & The Services
Pepi Boutique Hotel is located in what used to be one of the oldest public primary schools in Europe for boys and girls of the 20th century, known as the primary school, Athina.
The building has belonged to the family since the time when Amalia, the school headmistress, retired. For years, the place stood empty and silent after the school close its doors.
As years passed, the building and garden took to Rethymnon's main market street. Later on, it was transformed into a cotton and silk business.
However, back in 1986, a whole new era started when the family gave life to the former Pepi Studios. Rethymnon's first (and oldest) hotel, The Idedon, also belonged to the family.
The property underwent modern renovations in the last years which made Pepi Studios into today's stunning Pepi Boutique Hotel.
Today, the hotel is an inspiring refuge in the center of town, and you would never say you're staying in the center of such a vibrant city… after all, Rethymnon is known to be Crete's most important university town where noise would be expected.
However, since the rooms and garden are located quite a few meters away from the street, the whole property is very peaceful!
The Gastronomy
Pepi Boutique Hotel pays homage to Crete's gastronomy. As they make it clear through their menu. Crete is the island that inspired the genesis of the Mediterranean Diet. In the hotel, the experience of Cretan gastronomy, even if limited to your breakfast and brunch/lunch, is a holistic experience.
Every morning, you can taste different and equally tasteful breakfast options, including Cretan breakfast. At Pepi's, you will learn that according to Linear B tablets of Minoan Crete, four thousand years ago Cretans had cheese, yogurt, eggs, bread, cereal, olives, rusks, herbal mountain tea, fresh goat milk, smoked pork, and of course our superb thyme honey.
The buffet breakfast also offers vegan options, seasonal fruit, dried fruits, nuts, pulses, fresh cakes, soya, and coconut milk. But there's more, lunch/brunch time!
Guests can choose a variety of enticing appetizers. Ingredients range from sun-kissed fresh vegetables and greens.
Nuts or local cheeses, fresh salads, handmade pasta with goats cheese, spices, and herbs.
Want more? Check the selection of meat and poultry, deliciously seasoned and served with our unique extra virgin olive oil, which captivates the essence of the aromas, tastes, and textures of Crete.
A special word must be spared for the wine cellar. Here, guests can explore the magnificent quality of Cretan wines.
Pepi Boutique Hotel can lead the way in your wine journey with its unique wine tasting sessions. Here you will be able to find several local labels and…
… taste the wine that was enjoyed by Egyptian Pharaohs, Homeric Gods and heroes, Roman generals, Christians of East and West the wine that allured Ottomans…the wine that is either ancient as the Minoans, famous as the Greeks or married with the renowned French vines.
The Awesome Atmosphere
It's true that pictures don't always capture the true essence of a place, and that you have to be there to truly experience each herb fragrance, warm sunray on your skin, or cup of freshly-brewed coffee.
Maybe, these photos, tell a better story than my words do…
Why You Should Stay at Pepi Boutique Hotel
I chose Pepi Boutique Hotel for a short escape during what for us (in Crete) is the last weeks of summer, the stay was simply flawless and the quality of services was amazing. We were received with kindness and hospitality… and touches of authentic Crete everywhere.
The room was extremely comfortable: huge, comfy mattresses, free Wi-Fi, a fantastic in-room coffee station, top-quality bathroom amenities, an out-of-the-world patio with a pool where I had the most delicious breakfast you could imagine!
You should stay at Pepi Boutique Hotel because it's easy to access, close to every important landmark in the old town, and also because despite being in a central position, the premises are silent and the quality of sleep incredibly good
You should stay at Pepi's to enjoy an unforgettable wine tasting session in a suggestive cava, located under those stone Venetian arches that create an old-time, cozy atmosphere.
And because you will rest, recharge, and discover one of the prettiest old cities in Crete while spending a fantastic time in a traditional, historic building.
Pepi Boutique Hotel is an adult-only boutique hotel in Rethymnon Old Town.
Tsouderon 22, Rethymno, 74100, Greece
Book your stay through the hotel website or click here to compare prices
Wouldn't you love to stay at Pepi Boutique Hotel? Let me know in the comments below!
You might also want to read:
– The Most Fantastic Things to Do in Rethymnon, For an Amazing Holiday in Crete – A guide to all the things to do in Rethymnon, Crete.
– The Most Convenient Day Trips and Tours from Rethymnon, Crete – A guide to book the best day trips in the Rethymno region.
– The Most Gorgeous Beaches in Rethymnon That You Must See When Visiting Crete! – A guide to visiting the best beaches in Rethymnon
– Cool Coffee Shops in Rethymnon for Your Crete Vacation! – A guide to the best bars and coffee shops in Rethymnon.
– The Most Fabulous Things to Do in Rethymnon at Night! – A guide to nightlife in Rethymnon.
RESOURCES TO BOOK YOUR TRIP TO CRETE:
FLIGHTS: Use Skyscanner to compare prices before booking a plane ticket.
FERRIES: Check out Ferryhopper for convenient ferry tickets.
ACCOMMODATION: Look for hotels and rental homes on Booking.com.
PRIVATE TRANSFER: Welcome Pickups offers local English-speaking drivers, flight monitoring, and a very convenient (flat) pre-paid fee
CAR RENTAL: Use Discover Cars to find an affordable car to rent.
TOURS: Live unforgettable adventures and cultural experiences with Get Your Guide.
INSURANCE: If things go wrong, you'll get coverage against illness, injury, theft, and cancellations. I recommend Safety Wing for peace of mind.
This Deserves a Pin!
Pin this Review to the Fabulous Pepi Boutique Hotel for Your Next Trip to Crete!
About the author of this blog: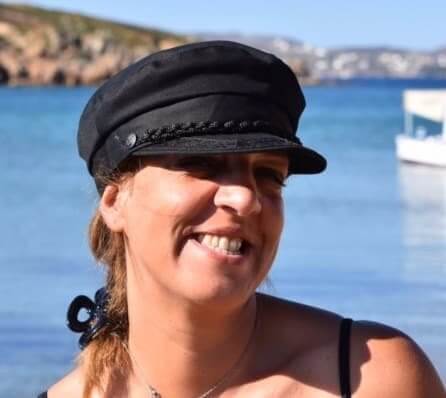 Gabi has been living in Crete for the last six years. On the island, she juggles being a solo mom, hosting culinary tours in summer, translating, and freelance writing for several travel blogs.
She's written for Greek Reporter, published several travel guides about Greece, and had more glasses of frappe than any regular person could ever handle.
COMING TO CRETE SOON?
Get in touch and let me know!
---