Rethymnon is no doubt a must-see city if you are visiting Crete. There are so many choices to spend your time in this fantastic place during the day.
But what about nightlife in Rethymnon? Believe me when I say that Rethymnon never really sleeps!
Dig a little deeper than the relaxing atmosphere of cafes and beaches and you will find a whole new city to discover.
---
Disclaimer: Posts include affiliate links to products or services. I might earn a commission if you make a purchase.
---
Things to Do in Rethymnon at Night
General Info About Rethymnon, Crete
Rethymnon (also known as Rethymno) is the third most important region in Crete.
It's an area home to magic landscapes and nature, beautiful churches and monasteries, traditional villages, and a wonderful coast with stunning beaches to enjoy.
The capital of the region, also called Rethymnon, is a popular summer destination on the island.
However, the city is pretty much alive all year long, as it's home to one of the most important universities in Crete. This makes Rethymnon a perfect place to spend your nights when in Crete.
Best Time to Visit Rethymnon
Of course, Summer is the best moment to discover the region. The beaches are at their best, both in the north as well as on the magnificent Rethymninan southern coast.
However, you can also visit from February to March, you can have fun during the famous Carnival of Rethymnon, which every year attracts thousands of visitors with its romantic Venetian atmosphere.
Those who visit in Spring or during Autumn, find mild, pleasant temperatures, and fewer tourists all over the island.
Rethymnon, however, with a substantial number of young inhabitants, is a great destination for fun and entertaining days on Crete.
And when the sun goes down, Rethymnon puts on a shiny day for you to fall in love with it, no matter the time of the year…
So, are you ready for a midnight walk? Let's see what are the top things to do in Rethymnon at night!
Top Things to Do in Rethymnon at Night
Check out some of the best things you can do in Rethymnon after a long day at the beach or exploring the region, these are some of my favorite activities when I spend an evening in Rethymnon…
Old Town After the Clock Strikes 12
Rethymnon's Old Town has few secrets to reveal during the nighttime. After 10 PM the shops are closing and slowly the crowd is disappearing. So don't rush to return to your hotel and stay a bit longer.
Enjoy delicious Cretan dishes at traditional tavernas accompanied by live music. Whether it is a jazz piano or folk Greek musical instrument band, you won't regret it.
Otherwise find secret bars hidden in the gardens of the houses, or the old buildings, and try some of the signature cocktails with top local ingredients.
If neither of these tempts you, then just wander along the streets and rediscover the narrow alleys under the shining stars. Don't miss passing by the Rimondi Fountain which is beautifully illuminated during the evenings.
Do you think you are done for the night? Oh no, other amazing things are waiting for you!
LOCALS KNOW:
Keep in mind that the kitchen in the restaurants and tavernas operates till midnight, so if you stop for a late dinner, be sure to make your order by 11.30 pm.
Venetian Harbor Under the Moonlight
If you are still up to the night walking then continue to the Venetian Harbor. After the quiet streets, the Harbor is dazzling with the lights and the music from numerous tavernas and bars.
You can stop in one of them for a drink or a nice seafood dinner.
But the most charming is the view over the whole Rethymnon covered with lights.
The silhouette of the Psiloritis mountain in the background finishes the breathtaking picture.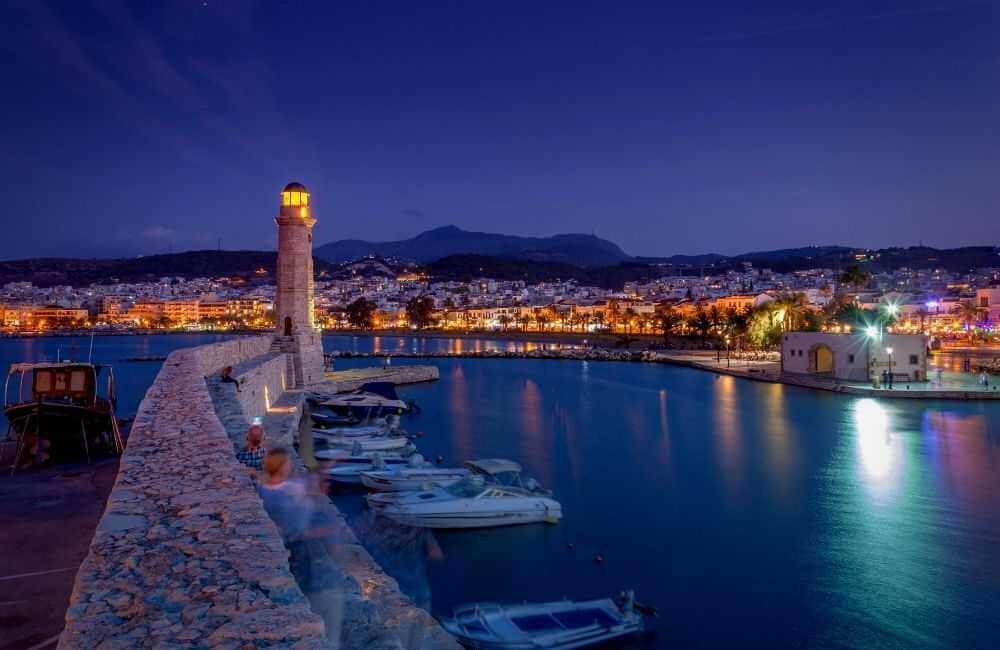 Walk to the Egyptian Lighthouse and enjoy the view over the Venetian Harbor itself (be careful as the way is a little bit bumpy and slippery).
The little fishing boats are slowly rocking on the quiet waters of the marina thus creating an atmosphere of peace and calmness. Stay some time and feel the vibes of the Cretan night.
Rethymnon Beach Stroll
Keen to continue discovering Rethymnon at night? Then I suggest having a walk along the city beach.
Walk from the old building of the former Customs (now it is a Tourist Information Center) in the Old Harbor, along the street of Eleftherios Venizelos to the Square of the Unknown Soldier (Plateia Agnostou Stratioti).
This place becomes a pedestrian area after 6 PM during the summer months.
Wondering where to stay in Rethymnon? Look for the best hotels in the area here.
The street is beautifully illuminated with the lights from the bars, while live music can be heard from all around, the trolleys with sweets are here and there, and the souvenir sellers are sending high in the sky the flying lights that give a feeling of the shooting stars.
Real summer vibes are coming from all around.
During the wintertime, the bars are continuing to be open in this part of the beach. Even though traffic is allowed at this time of the year here at night, there are still great pedestrian passages from both sides of the road.
One is wooden along the seaside, the other one is next to the entrances of the bars. Either way, summer or winter, it is worth a stroll during the night hours.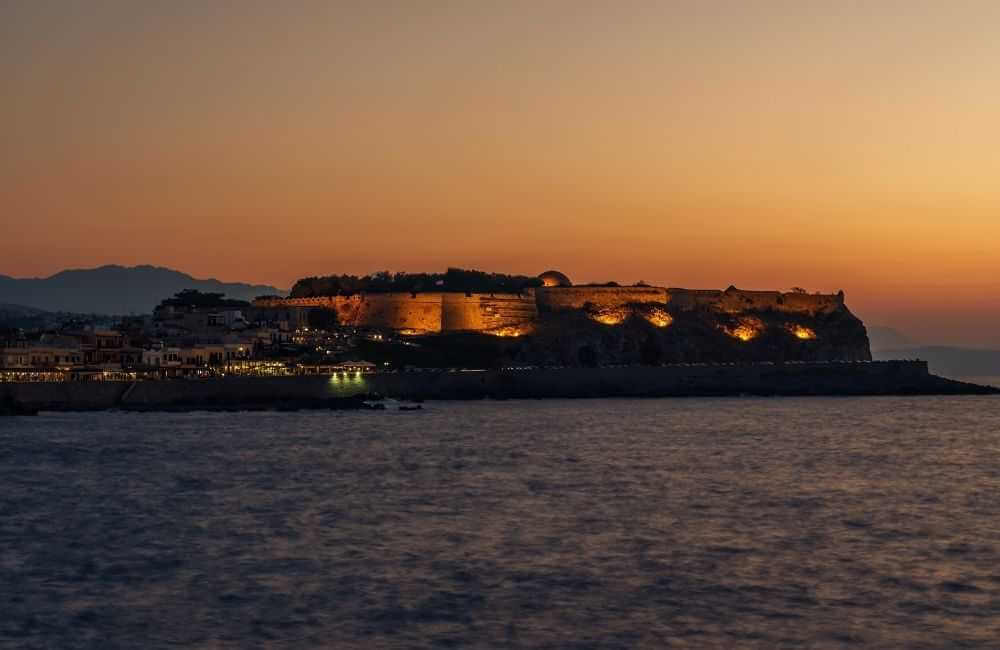 Make your final stop at the Rethymnon Marina, which is situated directly after the Square of the Unknown Soldier.
It's an amazing viewpoint over the Old Harbor and the Venetian fortress, the Fortezza, which is wonderfully lit up all around.
Nighty Night… Or Not?
If the quiet night is not your type then you should visit one of Rethymnon's best nightclubs.
Coffee shops that are calm during the day turn into lively night bars with great music, both Greek and international. It can be a live DJ, live musicians, or just an awesome playlist for the night. Some of the bars offer a small dancing space.
But those few places that you can call a real nightclub are the best of the best. Great dance floors, famous DJs, and endless fun are waiting for you.
Some of the first-rate nightclubs can be found in the Old Town. For instance, you can check out Ice Club near the Rimondi fountain, or you can visit Fortezza Light Bar & Club or Metropolis in the Old Venetian Harbor.
Pay attention to the signs here and there when exploring Rethymnon and you can be surprised at how many hidden places can turn your night into an unforgettable adventure!
Beach Party Never Killed Anybody
Beach parties in Greece are a must-experience if you love partying. Even though Rethymnon is not as a popular party spot as Herssonisos or Malia, it still has a few great places to crash.
First of all, the bars along the city beach of Rethymnon often organize beach parties with live DJs and different thematic.
So choose yours and hit the dancefloor sandy beach! Some of the top-rated bars are situated on Ari Velouchioti Street.
For a bigger scale, make a little trip just outside the city of Rethymnon city to Adelianos Kampos (you can easily get there by bus) which also has a great choice of beach bars.
Baja Beach Club is believed to be a one-of-a-kind place in the Rethymnon area. Here you can spend all day… and all night! They organize parties featuring international DJs and the nights get crazy!
Things locals know: Beach parties are one of the best things to do in Rethymnon at night!
Greek Nights
Many tavernas organize the so-called Greek nights.
This is an evening event when the taverna offers especially regional dishes, including lamb and pork cooked on the open fire.
What's even more interesting is that the evening is accompanied by live Greek and Cretan music and traditional dances.
Dancers in authentic costumes perform various traditional dances and engage customers to take part too. This is an unforgettable experience when one dance can gather dozens of people!
Usually, such parties start around 9 PM and last till midnight.
By the way, many hotels organize Greek nights too, so don't forget to find out at the reception about that.
In case you are searching for an even more exceptional experience, then you can visit one of the nearest villages that host such events.
For example, the lovely mountain village of Axos hosts a Cretan night in Axos Tavern. Axos is a 1-hour drive from Rethymnon, so it is better to hire a car or to get there with an organized tour.
Another great location for Greek night is the village of Argiroupoli, which is a 30-minute drive from Rethymnon.
Here, there are many traditional tavernas surrounded by breathtaking nature and unique water springs. You will need a car to get there.
This tour leaves from Rethymnon every night to enjoy one of these events in a Chania winery, the trip is relatively short and the fun is guaranteed!
Remember: If you wish to spend an amazing night in either of these villages, it is better to organize your transfer in advance, so you will not have trouble getting back to your hotel later.
Annual Festivities
These are some of the great things you can do at night in Rethymnon once a year…
Renaissance Festival of Rethymno
Each summer during June, Rethymno runs a Renaissance Festival dedicated to music, dance, theatre, poetry, and art.
Each evening, the Fortezza fortress has something to surprise you with. Whether it's a ballet performance, or theatre plays, a comic show, or an orchestra performance, among many other activities, you'll find your cup of tea!
Can you imagine a more beautiful amphitheater stage than the one inside the Venetian Fortress under the moonlight?
Add also a stunning view over Rethymnon city illuminated by thousands of lights. Incredible!
So if you are lucky to be in Rethymno during June, don't miss this unique and wonderful occasion.
Wine Tasting at the Fortezza
Once per year, the Wines of Crete organization and the Municipality of Rethymno organize exclusive wine-tasting sessions at night in the fabulous fortress. Usually, it's held during one of the evenings in the last days of June.
The wine fair highlights the best wines from over 26 Cretan wineries. If you don't know what to try first, then a professional sommelier is always there to give you a hint.
The buffet with Cretan cheese and smoked meat will help to intensify the taste of wines.
And of course, live music created an even more pleasant and romantic atmosphere.
The event usually starts around 8 PM and lasts till 11:30 PM. The entrance fee is about 10 Euros per person and includes one beautiful wine glass that you can take home with you!
As you can see, Rethymnon City has plenty of choices to offer you during your holidays, both day and night. In order not to miss anything amusing, don't hesitate to ask locals about the latest events, as not all of them are well promoted.
Are you ready to experience nightlife in Rethymnon?
Read more about Crete
🛌 Suggested Accommodation in Rethymnon:
🗺️ More resources to book your trip to Crete
Pin this Guide to What to Do in Rethymnon at Night For Your Next Adventures in Crete!
---
You might also want to read these posts about Crete's regions:
---
About my blog: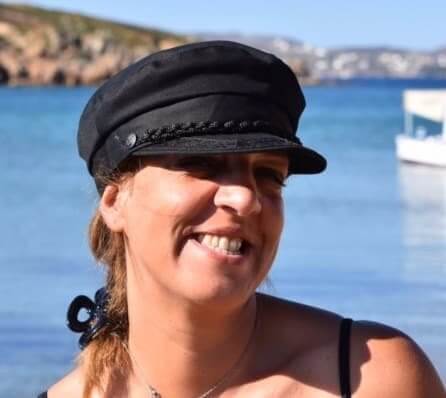 I moved to Crete in 2016. During these years, I learned much about the island.
In Crete, I juggle being a solo mom, hosting culinary tours, and writing for several travel blogs.
I've written for Greek Reporter, published travel guides about Greece, and had more glasses of frappe than any regular person could ever handle.