One of the prettiest cities in the Mediterranean, Chania, on the island of Crete, has turned into a top destination to enjoy all year round. Home to a magnificent, mild climate, the city is full of life in every month of the year. Not all hotels, though, stay open also in the cold season. what better excuse than this to check the best Airbnbs in Chania. Some of them are houses full of charm and history, others are modern and minimalistic… this selection of Airbnbs in Chania will certainly show you the right option for every need.
Where to stay in Heraklion, Crete
This article may have affiliate links to products and services that I use. If you make a purchase through these links, I might earn a small commission at no extra cost to you. Some of the articles in this blog have affiliate links to properties and services provided by Airbnb. As an Airbnb Associate, I might earn a small commission – at no extra cost to you – if you book through one of these links.
Top comfy & convenient Airbnbs in Heraklion to stay in Crete's capital any time of the year
Heraklion, the capital of Crete, is a must place to visit when spending your holidays on the island. It's the place you'll want to stay, at least for a night, in order to visit places such as the Palace of Knossos, the Archaeological Museum, and even Matala beach on a day trip.
There's a lot more to see in town, and sometimes just a night won't seem like enough. If you're looking for a great place to stay where you can relax and feel at home, then check some of these great properties, I'm certain that you'll find your perfect pick among these comfy and convenient Airbnbs in Heraklion.
Boheme Maisonette Home in the center of the city
Why you should stay: This is a small yet comfy maisonette in a perfect position to explore the city even on foot.
Sleeps: 2
Minimum stay: 1 Night
Pets allowed: No
This rental home is located in the center of town, only ten minutes from the sea. From Boheme Maisonette it's easy to reach Morosini Fountain, the heart and soul of Heraklion, as well as the Fortress by the port and many different museums.
It has a beautiful courtyard with comfy sofas for you to enjoy a coffee or a drink after exploring the capital. Right on the upper area, there's a room with a comfortable double bed. The home offers you everything you need, including a hairdryer as well as an iron. The kitchen is well-equipped for you to save some money and cook your own meals. In the bathroom, you'll find a washing machine too.
Cosy Aparment with a Seaview
Why you should stay: To enjoy the comfort of this entire flat and live like a local for a few days.
Sleeps: 4
Minimum stay: 1 Night
Pets allowed: Yes
This great, comfortable apartment is quite near the historical Venetian Port of Heraklion. The place is cozy and bright. It's on a third floor which provides great views of the Sea of Crete.
To reach the center of town from the apartment, enjoy the pleasant 15-minute walk in town. In the surroundings of the apartment, you'll find all the necessary stores, restaurants, supermarkets, and more.
Only minutes from the apartment, you can visit Talos, a shopping mall in town that features shops, a cinema, restaurants, cafés as well as free parking.
In the house, you can enjoy a fully equipped kitchen (with a wonderful espresso machine!) espresso machine), an area dedicated to laundry in the comfortable bathroom, and a great relaxing bedroom. The living room provides a great place to relax or rest after a walk in the city.
Stylish Studio in the city center
Why you should stay: To experience the great city views in this bright and modern apartment in the center of town.
Sleeps: 3
Minimum stay: 4 Nights
Pets allowed: No
This place isn't suitable for infants (0 -2)
Traveling with friends or as a couple? Why not checking this comfortable place in the center of Heraklion, on a beautiful pedestrian street. From this place, it's easy to reach famous local attractions, such as Liontaria Square, Saint Tito's Church, the Open Market, and the Historical Museum. The place is close to several bus stops, traditional restaurants, bars, and trendy cafés. Want to walk to the sea? No problem! You can get there with a short walk and visit the Koules Fortress.
The place has been recently renovated. It's located on the 4th floor (Yes, there is an elevator!). It features a main, bright living area. It can easily accommodate a couple but a group of three people can also feel comfortable and at home. Not that you'll watch a lot of television while visiting Crete, but if you travel in wintertime, you can enjoy some Netflix films and series sitting on the fantastic couch.
>> This is one of the prettiest Airbnbs in Heraklion town.
Spacious and modern apartment downtown
Why you should stay: To enjoy the great terrace in the hot summer nights of Crete.
Sleeps: 4
Minimum stay:

2 Night

s
Pets allowed: No
Check this luxurious newly built apartment located on a third floor. It's located in a quiet family neighborhood featuring private parking and a roomy veranda. It's within walking distance from Heraklion center, not far from Talos Malla, and other city attractions For your convenience, there's a taxi rank just minutes from the flat.
The apartment is nicely decorated and it's a great pick if you're traveling with kids In the living room, there's an amazing sofa that guest rate as incredibly comfortable!
Top Floor Apartment in Heraklion
Why you should stay: The house is in a great location with a fully equipped terrace facing the city of Heraklion, there's probably no better place to relax in town.
Sleeps: 3
Minimum stay:

2 Night

s
Pets allowed: No
Check this great modern style apartment, located in a very quiet area, and also near the city center. The apartment is on the 3rd floor of a family-owned building and features a huge private terrace with stunning views.
Close by you'll find supermarkets, coffee shops, and other convenient stores at a short walking distance. From this location, it's also easy to access the port, the airport, the national road, and the archaeological sites and museums of Heraklion. Other than a great kitchen and comfortable sleeping place, the apartment has a laptop-friendly workspace for its guests.
Modern Home next to the heart of the city
Why you should stay: Creative space with relaxing colors and classy decoration in one of the best areas of town. You should stay here to discover a property with top reviews!
Sleeps: 4
Minimum stay:

2 Nights

Pets allowed: Yes
Why not renting this wonderful house in the city center, next to the Archaeological Museum of Heraklion. It is less than 5 from all the city's history and cultural sights including the Venetian Harbour and seafront. Not far from the property, you'll find lots of restaurants, coffee shops, and shops but you'll still be on a small and quiet side street.
The house has been carefully renovated and decorated with great style. It's perfect for two couples, four friends, or a family.
>> Discover the fantastic beach of Matala in Heraklion region <<
Colorful apartment in the city center
Why you should stay: To fully enjoy a fantastic, bright, and cheerful atmosphere that will definitely put you in the best of moods!.
Sleeps: 2
Minimum stay:

2 Night

s
Pets allowed: No
What a wonderful place to stay in town! Don't you just love the colors and the light, happy atmosphere? I certainly do! This practical and modern apartment is great for the urban traveler. It's close to all Heraklion's sights and shopping areas too.
It provides all the necessary amenities to make your stay comfortable, such as wi-fi, TV, tablet, a fully equipped kitchen, and a washing machine. The flat is smart and ergonomic, ideal for 2 or 3 adults with a double bed and a sofa-bed for 2.
Light Blue Apartment in the heart of Heraklion
Why you should stay: Because the place is simply a beauty!
Sleeps: 5
Minimum stay:

2 Night

s
Pets allowed: No
Light Blue Apartment is in the heart of Heraklion city. It's suitable for all those who want to have easy access to the city center, and since it accommodates up to five guests, it's great for large families or groups of friends. When the sun goes down, get ready for some unique night views through the wide wall-to-wall windows!
The apartment is within walking distance from the central flea market as well as from the old area of the city and its main sights. It is roomy and features all the necessary amenities for a comfy holiday in Crete. There's a comfortable double bed in the main bedroom as well as two sofa beds in the living room.
Lux, design apartment in the historical center of Heraklion
Why you should stay: Because a luxury design and a stylish atmosphere is something you deserve for your vacations in Crete!
Sleeps: 3
Minimum stay:

1 Nigh

t
Pets allowed: No
A fantastic, inviting, luxurious place to stay in the heart of the historical center of Crete's Capital. The place is situated in a prime location just a walking distance from any major site in Heraklion's city center. It features a super comfortable King size bed, as well as a small sofa bed.
There's a functional kitchen, a dining area, a sitting area where you can relax with the flat screen TV. For travelers who also work online, there's a convenient office desk too.
>> This is one of the most practical (and classy) Airbnbs in Heraklion!
Filia's Traditional house in the old area of Heraklion
Why you should stay: Unique and traditional stone space, enjoy the local lifestyle when on holiday in Crete.
Sleeps: 3
Minimum stay:

1 Night

Pets allowed: No
Filia's Traditional House is located in the heart of the old area of the city, just steps from the Venetian Walls and the Cultural Conference Center of Heraklion. You only need to walk for 10 minutes to reach the center of town.
The apartment is conveniently close to the airport as well as the beach of Ammoudara. If you're planning to visit Knossos, the place is just 5 km away.
The stone house is in a quiet neighborhood and it features a private entrance, one double bed and a sofa bed, and a fully equipped kitchen that includes also and a coffee maker.
So, have you decided which of these places is more convenient for your needs?
---
What's your favorite Airbnb in Heraklion?
Let me know in the comments below!
---
Travel plans for Crete?
These resources will help you organize the trip!
Start by reading these helpful tips to plan a trip to Crete or check family holidays in Crete if you travel with kids. To visit Crete's heavenly beaches, check my guide to the best beaches. Discover what region is best to stay in or check what to do in Crete.
Get in touch if you need extra help to plan your trip. If you want to tour West Crete, check my guide. Want more? Join my Private Facebook Group to connect with like-minded travelers who love Crete as much as you do!
Make sure you've got everything for a hassle-free trip!
I never move around Crete without my Osprey backpack, a sturdy but light travel partner I just love. For short trips, I carry this little crossbody bag. If I'm driving around, I pack my Michelin map and my Nikon.
When it comes to plane tickets, compare prices with a powerful search engine. However, nothing beats traveling by sea in Greece. With Ferry Hopper, you can book in advance at the lowest price.
For accommodation, I personally use Booking.com and Airbnb.
Traveling to remote places is easier with Discover Cars. Other times, I join organized tours with GetYourGuide, which features anything from cooking lessons to airport transfer!
Are you coming to Crete any time soon?
Get in touch and let me know!
Read more:
Amazing things to do in Heraklion
Best Books About Crete: Discover Crete from Home
Top tours, day trips, and excursions from Heraklion
Unique Things to Do in Rethymnon at Night
What to do in Heraklion in 1, 2, or 3 days
Pin this article and read it later!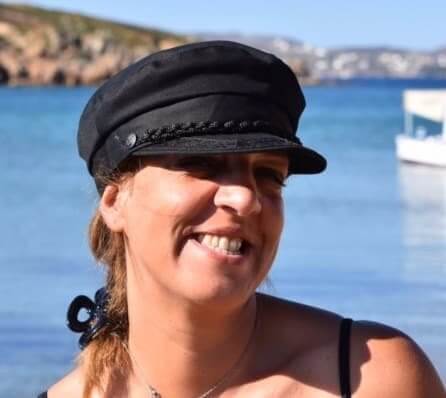 About the Author
Hola! I'm Gabi. Welcome to The Tiny Book – Crete Travel Blog! I moved to Crete to explore the island all year round. I love taking pictures and driving on the mountain roads of Crete. I'm a beach freak and on this island I've found heaven on earth!
---
You might also want to read:
---