Home to good weather all year round, the capital of Crete is full of life every month of the year. Not all hotels, though, stay open also in the cold season. what better excuse than this to check the best vacation homes in Heraklion. Check here the right place to stay for your visit!
---
This site contains affiliate links to products and services. I may receive a commission for purchases made through these links.
---
No time to read it? Check these quick guide to hotels in Heraklion
Top Comfy & Convenient Holiday Homes in Heraklion to Stay in Crete's Capital Any Time of the Year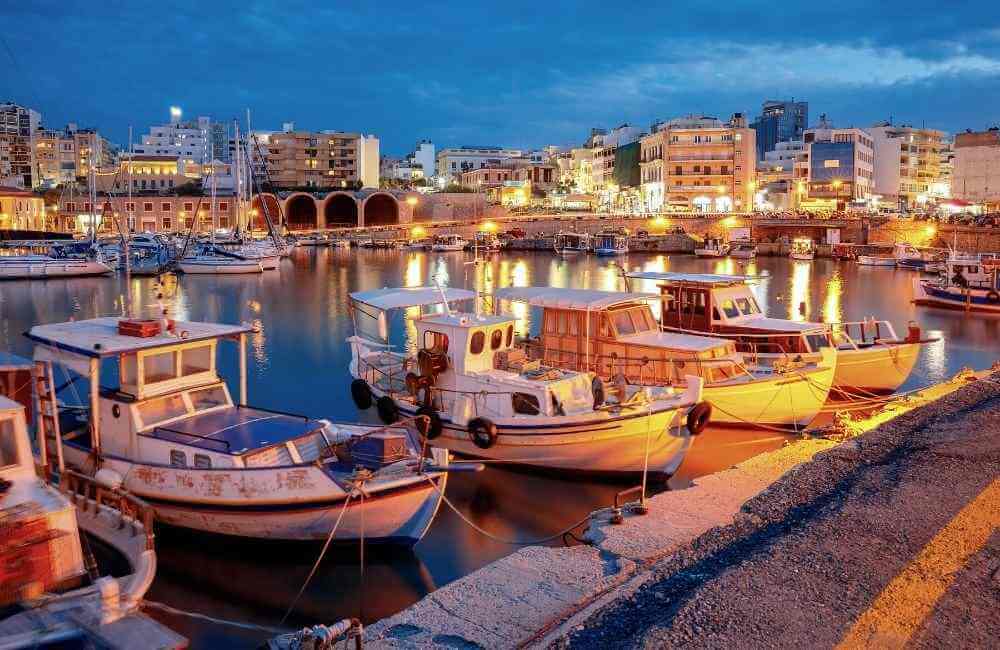 Heraklion, the capital of Crete, is a must place to visit when spending your holidays on the island. It's the place you'll want to stay, at least for a night, in order to visit places such as the Palace of Knossos, the Archaeological Museum, and even Matala beach on a day trip.
There's a lot more to see in town, and sometimes just a night won't seem like enough. If you're looking for a great place to stay where you can relax and feel at home, then check some of these great properties, I'm certain that you'll find your perfect pick among these comfy and convenient Airbnbs in Heraklion.
Wonderful Holiday Homes in Heraklion, Crete
In no particular order, here are the holiday homes and rental places I recommend for your adventure in Heraklion…
Visiting Heraklion soon?
>>Discover what to do in Heraklion in 2 days<<
City Lion
Why you should stay: Because it's a phenomenal apartment in a perfect position to enjoy the best of the city.
This vacation rental home is a beautiful, modern, and super cozy place with welcoming hosts ready to help you with suggestions for the best places to visit in town.
The different flats are just 1.8 km from Ammoudara Beach and only 500 meters from the Venetian Harbour, making it easy for you to reach the center with a short walk.
Among the most popular places near this aparthotel, you can find Heraklion Archaeological Museum, the Venetian Walls, and Morosini Fountain. The airport is 4 km from City Lion.
Sleeps: up to 8 guests, depending on the apartment.
Extras: family rooms and non-smoking rooms available.
Artree Suites
Why you should stay: To enjoy the comfort of these entire flats and live like a local for a few days.
The beautiful and fresh Artree Suites feature great garden views only 2.9 km from the nearest beach in town, Ammoudara. The place is in the center of Heraklion and offers private parking, something not to disregard in the capital of Crete.
The units offer a nice balcony, while the kitchen includes comfy details such as a kettle and a coffee machine. The apartment is close to the Archaeological museum, and only 3 km from the city aiport.
Sleeps: from 2 to 4 guests depending on the unit.
Extras: there's a relaxing shared lounge area and paid airport shuttle service upon request.
Domus Ariadne
Why you should stay: Because this place is ideal to come back after a day of sightseeing, take a hot shower in their stylish bathroom, sleep on the comfy mattress and be ready for the next day. It's pretty, convenient, and covers your basic needs in style!
This is a very stylish place to stay with comfy and interesting design solutions. It's right next to the Archeological Museum and at a walk distance from the center of town. There are bus stops around as well as traditional restaurants, bars, and trendy cafés.
Want to walk to the sea? No problem! You can take a short stroll and discover the Koules, the Venetian Port, and the Walls of Heraklion. All units share a garden and a terrace.
Sleeps: the apartments accommodate from 2 to 4 people, depending on the unit.
This is one of the most comfortable and convenient Airbnbs in Heraklion town.
Chandakos 8 Design Apartments
Why you should stay: To enjoy the great terrace with a traditional local breakfast or at night, during in the hot summer in Crete.
Check this place in the center of Heraklion, less than 2 km from Ammoudara Beach. All units include a nice and comfortable balcony.
For your convenience, there's a fantastic bed, and the kitchen is fully equipped, including a laundry machine, a toaster, and even a convenient dishwasher.
Sleeps: units accommodate up to 4 guests and the penthouse up to 2 guests.
Extras:

complimentary toiletries

and cable TV.
Top Floor Apartment in Heraklion
Why you should stay: The villa is in a great location if you're in Heraklion to visit the Archaeological Site of Knossos. In a quiet position, there's probably no better place to relax in the area.
Check this awesome villa, in the outskirts of the city center, ideal to avoid the hassle and the noise of the capital. The place is 5 km from the Venetian Walls and 6 km from the Archaeological Museum, but only 200 meters from the Palace of Knossos!
Guests can enjoy the garden, private parking as well as all the comforts, including 3 bedrooms, a fantastic kitchen with dishwasher and microwave, and a comfy washing machine. The villa features a terrace as well.
Creticum Suites
Why you should stay: Creative space with vibrant colors and modern decoration in one of the best areas of town. You should stay here to discover a property with top reviews!
Why not renting this great holiday home in the city center? It's close to the Archaeological Museum, the Port, and the Venetian Walls. Besides, there's free private parking for guests.
Each unit comes with a balcony and a comfortable a fully equipped kitchen including a coffee machine and a kettle for your morning te! There's a relaxing sitting area as well to rest after you've explored the city.
The apartments are close to the Koules, while Heraklion International Airport is only 2 km from Creticum Suites.
Sleeps: all units can accommodate up to 3 guests.
Are you a beach fan?
>>Discover the fantastic beaches in the region of Heraklion<<
Dio Downtown Boutique Apartment
Why you should stay: To fully enjoy a fantastic, bright, and cheerful atmosphere that will definitely put you in the best of moods!
This apartment is large and tastefully decorated mixing a touch of classical elegance and contemporary style. It's located very close to the Venetian Walls overlooking the port and the fortress. The place is truly in a central position and great for families or couple who want to spend some time on the island.
The kitchen is well-equipped and the sitting area is comfortable and bright. The famous Minoan Palace of Knossos is 6 km away while the airport is located 3 km from the flat.
Sleeps: up to 4 guests.
Extras:

daily housekeeping is provided upon charge.
Light Blue Apartment in the Heart of Heraklion
Why you should stay: Because the place is simply a beauty!
The place is suitable for all those who want to have easy access to the city center, and since it accommodates up to five guests, it's great for large families or groups of friends. When the sun goes down, get ready for some unique night views through the wide wall-to-wall windows!
The apartment is within walking distance from the central flea market as well as from the old area of the city and its main sights. It is roomy and features all the necessary amenities for a comfy holiday in Crete. There's a comfortable double bed in the main bedroom as well as two sofa beds in the living room.
Oasis City ApARTment
Why you should stay: Because luxury design and a stylish atmosphere is something you deserve for your vacations in Crete!
A fantastic apartment inspired by art is what Oasis City ApARTment offers to guests. The apartment is in a great position just a ten-minute walk from the center where most tourist shops, bars, and restaurants are located.
The place is only 2.3 km from Ammoudara Beach and 200 meters from the Venetian Walls There's a nice balcony where o enjoy your morning coffee, while it's possible to use this place as a base to go hiking, snorkeling, and cycling in the region.
The one-bedroom apartment features a well-equipped kitchen with a dishwasher and a microwave. The flat features a washing as well. For digital nomads and remote workers, the place features also a comfy working area with a desk.
Sleeps: up to 3 guests.
Extras:

the property offers a paid airport shuttle service.
>> CHECK REVIEWS AND BOOK HERE
Luxury Penthouse Apartment Near the City Center
Why you should stay: Because this place features a magnificent terrace for you to relax and enjoy the views of the capital.
Only 3 km from the airport, this is a fantastic spot in town for your holidays. The place is less than one 1 km from the Archaeological Museum of Heraklion and about 15 minutes from the Venetian port. The Palace of Knossos is about 6 km away.
This apartment features a comfy living room, an equipped kitchen with a dining area, and a comfortable washing machine. The terrace is really beautiful too.
So, have you decided which of these places is more convenient for your needs?
---
What's your favorite vacation home in Heraklion?
Let me know in the comments below!
---
Travel Plans for Crete?
More Resources to Organize Your Trip!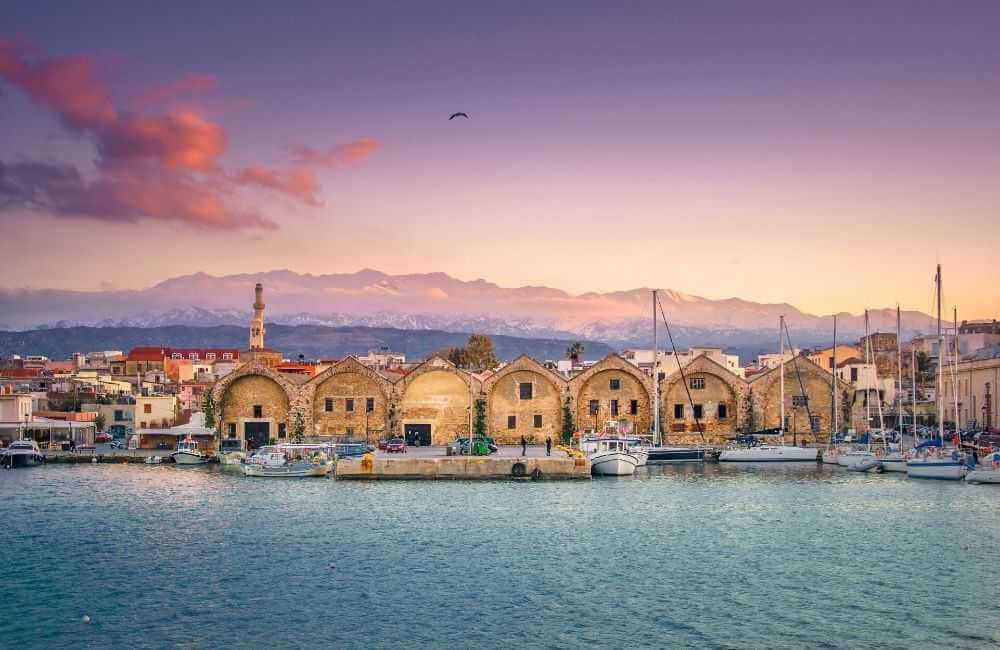 Start by heading right to my tips to plan a trip to Crete for in-depth details you need to know about Greece. You can also check my post to better know what to pack for a trip to the island or read this info to visit Crete with children!
Get in touch if you need extra help to plan your trip. If you want to tour West Crete, check my guide. Want more? Join my Private Facebook Group to connect with like-minded travelers who love Crete as much as you do!
Make Sure You've Got Everything For a Hassle-Free Vacation!
I never move around the islands without my Osprey backpack, a sturdy but light travel partner that I love. For short trips, I carry this little crossbody bag. If I drive, I pack my Nikon D7200 and a good travel guide: Lonely Planet's Best of Greece & the Greek Islands.
When it comes to plane tickets, compare prices with a powerful search engine. However, nothing beats traveling by sea in Greece. With Ferry Hopper, you can book in advance at the lowest price.
For accommodation, I use Booking.com. Traveling to remote places is easier with Discover Cars. Other times, I join organized tours with GetYourGuide, which features anything from cooking lessons to airport transfer!
Are you coming to Crete any time soon?
Get in touch and let me know!
Read more:
Amazing things to do in Heraklion
Best Books About Crete: Discover Crete from Home
Top tours, day trips, and excursions from Heraklion
Unique Things to Do in Rethymnon at Night
What to do in Heraklion in 1, 2, or 3 days
Pin this Guide to the Best Holiday Homes in Heraklion for Your Crete Adventures!
About the author: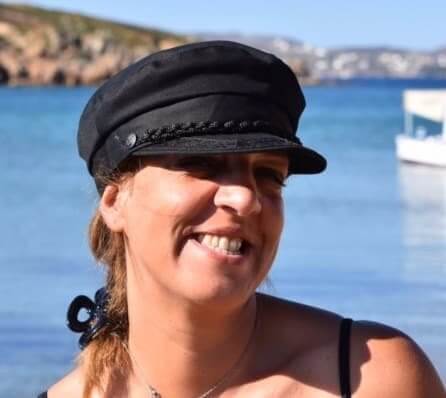 Gabi has been living in Crete for the last five years. Here, she juggles being a solo mom, hosting culinary tours in summer, translating, and working as a tech advisor.
She's written for Greek Reporter, published two travel guides about Greece, and drunk more cups of Greek coffee than any regular person would be able to handle.
---
You might also want to read:
---