It's common for travelers to Crete to spend at least a few days in Heraklion. People are curious about discovering the capital of the island, as well as the several attractions in the area. Although other regions of Crete are often preferred over Heraklion as a place to stay for your Crete holidays, a short stay in Heraklion is great to visit the Archaeological Museum, the Palace of Knossos, and Matala Beach, among other places. The capital of Crete is also close to the island's most important wine region, ideal for you to discover the stunning Cretan wines. With this guide, I want to help you choose where to stay in Heraklion in order for you to visit the top landmarks in the region.
This article may have affiliate links to products and services that I use. If you make a purchase through these links, it might earn me a small commission at no extra cost to you.
Best places to stay in Heraklion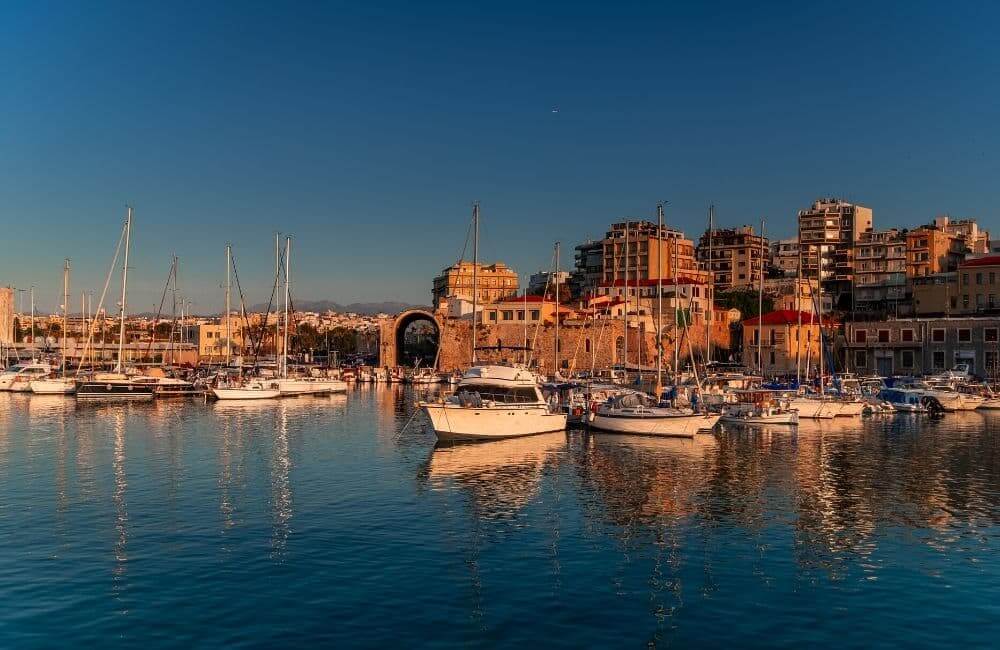 If you plan to stay in Heraklion for one or two nights, the best thing you can do is forget everything about going to the beach. Focus on visiting the city and the archaeological sites. There aren't great beachside resorts close to the city center. And I personally believe that the best beaches in Heraklion are on the southern coast.
Hersonissos and Malia are two important beach resorts close to the center. They are in this guide, however, they don't truly represent the most authentic side of Crete.
There are several city hotels in Heraklion to spend a few days. From very convenient options to more expensive and exclusive accommodation. You can also rent an apartment or go for a hostel to save a few bucks.
The choice of hotels is wide enough for you to find any kind of accommodation no matter the budget. To make things easy, I've divided this guide into budget, mid-range, and luxury accommodation.
Remember that booking your place in advance is the best tactic to get good deals and cheaper fees.
>> Check these awesome organized tours to do in or from Heraklion <<
Where to stay in Heraklion on a budget
Crete can be quite a convenient destination. Having a somewhat limited budget will also let you find a good place to stay without having to spend millions. This is as true for Heraklion as it is for any other region on the island.
Let's begin by check the best places to stay in Heraklion for a reduced fee.
These are some of the best places to stay in Heraklion within a budget limit of €50-€60 per day.
So Young Hostel
Let's start with this great hostel in the center of town. So Young Hostel is only 4 minutes away from Heraklion Archaeological Museum while the Minoan Palace of Knossos is just 5 km away. The bus station to reach the palace is very close to the hostel.
On the premises, you can either book a room with shared or with private bathrooms. To make the offer more tempting, there's a communal kitchen with a coffee machine (personally, this something I cannot do without no matter where I stay!).
And if you're still craving for some beach time, the hostel offers a free shuttle service to Amoudara beach, minutes from the center of Heraklion. The port of Heraklion is about 10 minutes away on foot, while the international airport is a 10 minute ride away.
>> The property has a 9.4 rating on Booking and you can book a room here <<
Rea Hotel
Another place to stay in the center of Heraklion is Rea Hotel starting from €50 per night. It's a simple but functional hotel, very close to the Historical Museum of Crete.
The hotel is also minutes away from the Archaeological Museum, the Venetian port and Heraklion's open market.
The hotel is basic but very clean and super comfortable for a short stay in Heraklion.
>> You can book a room from €50/night, check reviews, pictures, and availability here <<
Sofia Hotel
There are not so many hotels in town with a nice swimming pool, so I always suggest people wanting to stay in Heraklion to book the minute they find it one.
Why? Well, the beaches are not really the best in Crete around the capital. So, it's always a refreshing idea to know that, after a day exploring under the scorching sun of Crete, you can go to your hotel and swim until it's dinner time. Sofia Hotel is one of those places you cannot miss.
Besides, it's just a few minutes from the center, and every room has been recently refurbished.
The hotel is close to Heraklion Airport (about 2 km away), so your transport or transfer fees will also be quite contained. According to most reviews, their breakfast is truly delicious!
Sofia Hotel has an 8.3 average rating on Booking and I wouldn't miss the opportunity.
>> Check more fees and reviews here <<
Studio 21
If you prefer the comfort of an apartment, then do not miss the great offers that Studio 21 offers to early bookers. It's right in the town of Heraklion, only 1.5 km from the Venetian Fortress.
If you plan to rent a car to visit the island, the apartment also offers private parking, another feature that you shouldn't miss, since parking in the center is quite a hassle. To spend some hours at the beach, you can choose Amoudara, just 1.8 km from Studio 21.
The apartment is excellent for two travelers or a couple with one kid. It has a comfortable kitchen and dining area and a comfortable terrace too. The Historical Μuseum of Crete and the Natural History Museum of Crete aren't far from the flat. The airport is just 5 km away.
>> Studio 21 has a 10 score on Booking, so don't hesitate! Head here and book your stay <<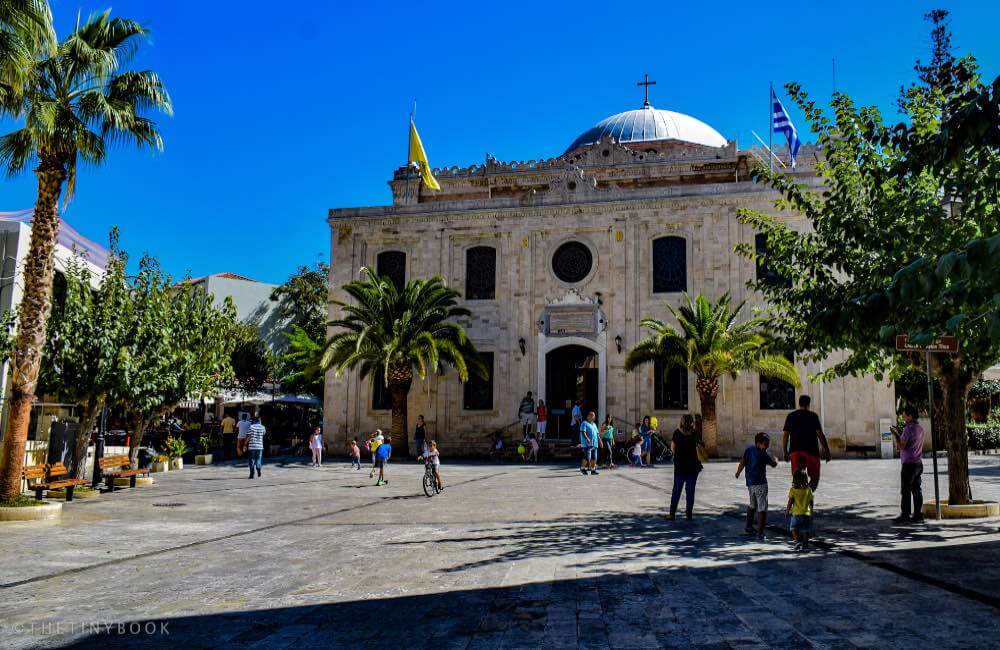 Cozy Little Home
One more excellent apartment you can book in Heraklion is Cozy Little Home. It's not just an inviting name, it's truly a fantastic flat you can rent.
Just 1.5 km from the old port of Heraklion and 2.5 km from the Archaeological Museum, the flat is ideal for 2-3 guests.
Amoudara, which is Heraklion's favorite city beach is just 1.8 km from the apartment. The main landmarks in town and the international airport are quite close as well.
With a convenient location and every comfort you need, this is a top-rated place to stay in Heraklion.
>> Check it here <<
Mid-range accommodation in Heraklion
For those of you with a more flexible budget, the offer widens quite a lot. There are some unique places to stay within a budget between €60 to €150 per night. Let's take a look at the most convenient mid-range hotels and flats to stay in the capital of Crete.
Capsis Astoria Heraklion
Still thinking about that swimming pool in the center of town? Then you should go for it with a room at the Capsis Astoria Heraklion. One of the best accommodation options in the capital of Crete right next to the Archaeological Museum. Besides, the hotel has a magnificent rooftop swimming pool overlooking the old Venetian port of Heraklion.
The charming atmosphere of the hotel is enhanced with fantastic black and white pictures of old Heraklion. The hotel has two restaurants. They serve an amazing Greek breakfast as well as very convenient buffet proposals both for lunch and dinner. The Aegean View Cocktail & Food Bar serves snacks and cocktails right next to the pool.
The hotel is within a walking distance from the most important landmarks in the city center, while the airport is under 5 km from the hotel. One more perk? Right opposite the hotel, you'll find a frequent bus service to beaches and other places of interest in town.
>> Capsis Astoria is rated 9.4 on Booking. Check here prices and available rooms <<
Veneziano Boutique Hotel
Many hotels try to call themselves boutique hotels, but they don't always offer authentic boutique services. If you're wondering where to stay in Heraklion for an unbeatable boutique experience, check the Veneziano.
Veneziano Boutique Hotel is a historical building in the heart of Heraklion, it's elegant, traditional, and offers one to the best service in town. If you book your stay here, don't miss the comfortable internal courtyard for an afternoon cold coffee. The hotel is just a few steps from the Venetian Walls and the Archaeological Museum. The Minoan Palace of Knossos is about 5 km away.
>> The suites are rated 9.3 on Booking, you can check the latest fees and deals here << 
Gaia by Agora Luxury Apartments
If you want to enjoy the comfort of an apartment without giving up on the boutique features, check the spectacular facilities of Gaia, definitely one of my favorite places to stay in Heraklion. At Gaia, every detail is taken care of.
The flat is in the center of Heraklio. It's 2 km from Amoudara Beach and 1 km from the Koules fortress. Among the amenities, you can enjoy a fantastic garden, a terrace, and private parking, as well as bike and car rental. The apartment also offers a wonderful continental breakfast as well as a prepaid airport shuttle upon request.
>> Head to this link in order to book your stay <<
Are you staying in Heraklion for a short time?
>> Check this itinerary for 1-3 days to better know what to do in Heraklion <<
19th Century Luxury Maisonette
If you're traveling with the whole family, you should check the elegant 19th Century Luxury Maisonette in Heraklion's city center with a unique patio and nice. The villa features two bedrooms and a comfortable kitchen and it can accommodate up to five guests.
Other great features include the hot tub and the barbecue on the terrace. The position is quite comfortable to visit Heraklion and it's close to the airport. Hersonissos is only 27 km. Before arrival, it's possible for you to arrange a paid airport shuttle service too.
>> Here you can check reviews and prices to book this unique place to stay in Heraklion <<
Creticum Suites
I absolutely recommend this amazing place to stay in Heraklion, it's really comfortable and decorated with great taste! Any of the suites by Creticum are magnificent spaces to feel like you're at home!
The property offers both free parking as well as free wi-fi and it's centrally located, not far from the Heraklion Archaeological Museum and the Venetian Walls nearby. The kitchen in every suite is fully equipped featuring even an oven, an electric kettle, and a coffee machine.
>> Here you can check all the suites available and book the stay with the most convenient fees <<
Luxury places to stay in Heraklion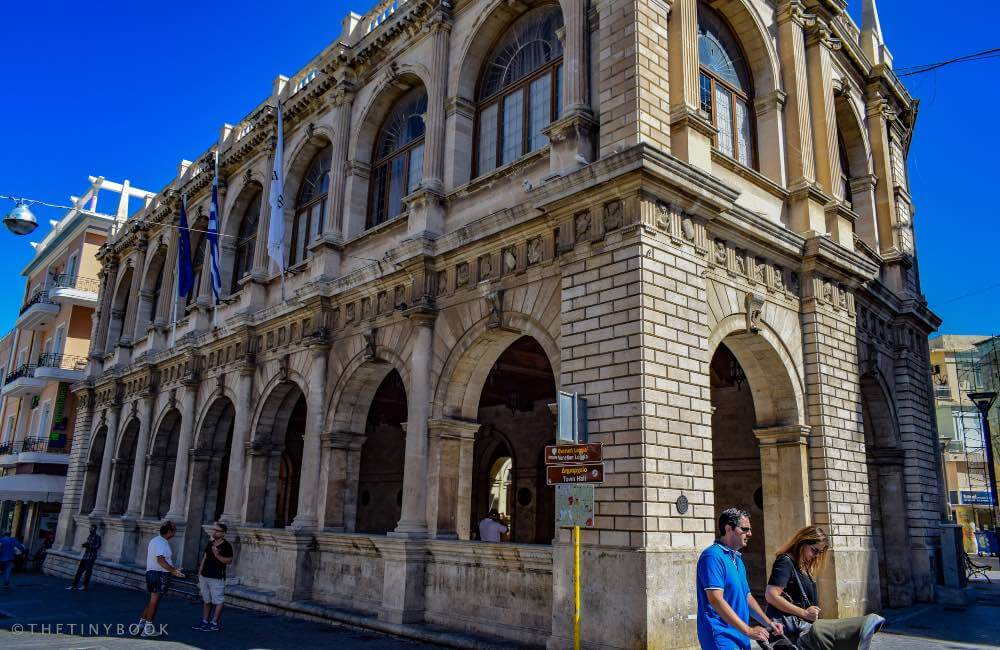 There are amazing hotels in Heraklion and just a few minutes from the center. You can choose unique hotels, beautiful houses restored into amazing rental flats with every kind of comfort for a five-star experience.
A stay in any of these beautiful venues starts from €160 per night. Remember though, that these prices are not really so high if compared with other islands in Greece, so availability can sometimes be scarce. Don't book at the last minute and secure yourself the top possible accommodation in Heraklion.
GDM Megaron, Historical Monument Hotel
A classic landmark hotel in the center of Heraklion, the GDM Megaron is a fantastic place to stay in Heraklion to enjoy a luxury vacation. The hotel is right opposite the old bus station, from where the city buses to Knossos depart every hour.
The Megaron, as locals call it, was built back in 1925 and it's one of the monuments in town. It faces directly the old city port and features a fantastic health club as well as a rooftop plunge pool. Parking is free of charge for the hotel's guests.
If you stay at the Megaron, don't miss a visit to the Plaza Café, a casual indoor café to enjoy your breakfast, any other meal, or just a cup of coffee with the views of the old port as a frame.
On the top floor, don't miss the Megaron 5th, a restaurant serving contemporary Cretan cuisine paired with the best views of the Sea of Crete Cretan cuisine. On the 4th floor, the hotel features a luxurious health club with a steam bath, sauna, and massage.
>> Rated 9.5 on Booking, you can check pictures of the GDM Megaron and book a room here <<
Galaxy Iraklio Hotel
Another favorite of mine in Heraklion (you can read my review here). It's a great place to stay in town as it is in a central position but not in the noisiest part of town. What I loved the most about the Galaxy is the fantastic pool and their open courtyard, with comfortable lounge chairs and lots of plants. Their Cretan breakfast is truly to die for too!
Do check the comfort of their family rooms as well as the allergy-free hotels. My days at the Galaxy were one of my best stays in Heraklion and I honestly recommend you to try the venue.
>> Check the reviews on Booking and book your stay here. Don't miss it if you find availability <<
Aquila Atlantis Hotel
Rated 8.8, the Aquila Atlantis is another superb place to stay in Heraklion. It's comfortably located only 200 meters from the Archaeological Museum of Heraklion and features one of the most beautiful swimming pools in the city. In the hotel, there's also a semi-covered pool.
Every room is elegant and has unique views of the city and the harbor. Don't be surprised if, when reading the reviews of previous guests, you find that their breakfast is highly praised. Aquila Atlantis serves one of the most delicious breakfasts in Heraklion. The cocktails in the lounge bar and the Mediterranean dishes served in the hotel's restaurant are also remarkable.
>> Use this link to book your stay in Heraklion, at the Aquila Atlantis Hotel <<
Best places to stay close to Heraklion
Many people prefer to visit the city without staying in the heart of town. And it's quite a reasonable idea since Heraklion is Greece's 4th biggest city, so it tends to be busy, crowded, and nosy, while the traffic is usually a serious issue too. Some of these resort areas on the northern coast represent a great compromise to enjoy some beach time not far from the city.
Agia Pelagia
The small fishing village of Agia Pelagia is about 25 km west from the city center, facing the northern coast. Agia Pelagia main beach is a wide bay, with tranquil waters, and there are several nice restaurants facing the beach. In the area, you can splurge staying in one of the most exclusive hotels in Crete, or you can check the following accommodation.
Peninsula Resort & Spa
The Peninsula is a lovely beachfront hotel in the best part of Agia Pelagia with endless facilities for you to enjoy. It's located overlooking the deep blue bay of Agia Pelagia, surrounded by lush gardens. It has two private beaches, 2 large pools, 2 pools for kids and 2 tennis courts. In the area, there's also a certified diving center.
The rooms at the Peninsula Resort & Spa are elegant and equipped with every amenity, including air conditioning, satellite TV, and fridge. Do check their buffet restaurant and the Cretan and Greek dishes. There are also 4 different bars available for a cocktail with a magnificent view.
Other remarkable facilities include multi-use courts for football, basketball, and volleyball, as well as a spa center with an indoor pool.
>> The hotel is rated 8.9 on Booking. It's a great idea to book an all-inclusive rate <<
Alexander House Hotel
A less expensive option in Agia Pelagia, Alexander House Hotel is great value for money, rated 8.2 on Booking. The hotel is only 150 meters from the main Agia Pelagia beach and features a stunning outdoor pool with a shallow area for children.
Among the key features, the fantastic buffet breakfast, as well as the possibility to enjoy lunch and dinner in the on-site premises when booking an all-inclusive room. The homemade deserts are really delicious.
>> On Booking you can check the latest rates, pictures and reviews <<
Sunday Life
Probably my favorite place to stay in Agia Pelagia, with super convenient rates as it's not really on the beach. However, it is one of the best places you can choose for a short stay, conveniently close to the center of Heraklion, and just a few minutes drive from Agia Pelagia's main beach.
I do recommend their Cretan restaurant, serving their dishes in an open restaurant facing the bay. If you are traveling with your partner, book their Sky Suite for a very romantic stay!
>> Discover the best prices for a stay in Sunday Life <<
Amoudara
Not far from the center of town, this small village is home to the most popular beach in Heraklion for those staying in the city center. Only 5 km from the center of Heraklion, Amoudara is a great choice as it's close to the city and comfortable to reach Knossos and other landmarks of the region. These are two of the best places you can pick in Amoudara.
Civitel Creta Beach
A convenient hotel in Amoudara, the Civitel Creta Beach is rated 8.4 on Booking. This 4-star resort hotel offers varied room options on the 9 km white sandy beach of Amoudara. Parking is also offered for free.
Other than the standard rooms, it's also possible to stay in one of the several bungalows surrounded by beautiful gardens with direct access to the beach. Buffet breakfast, lunch, and dinner are served in the main restaurant with great sea views.
There is also a large swimming pool and tennis courts too. A mini club and a dedicated pool are some of the features that kids can enjoy in the hotel.
>> Check the best fees and availability on Booking <<
Enorme Lifestyle Beach (Adults Only)
For a romantic escape, Enorme Lifestyle in Amoudara is just about the perfect choice in Heraklion. The resort features stunning sea views as well as 5 sharing and 2 common swimming pool surrounded by a beautiful garden and terrace.
In the main restaurant, you can enjoy a well-assorted buffet station, show cooking, and delicious Greek cuisine.
>> Check the reviews and prices here. The hotel is rated 8.2 on Booking <<
Malia and Hersonissos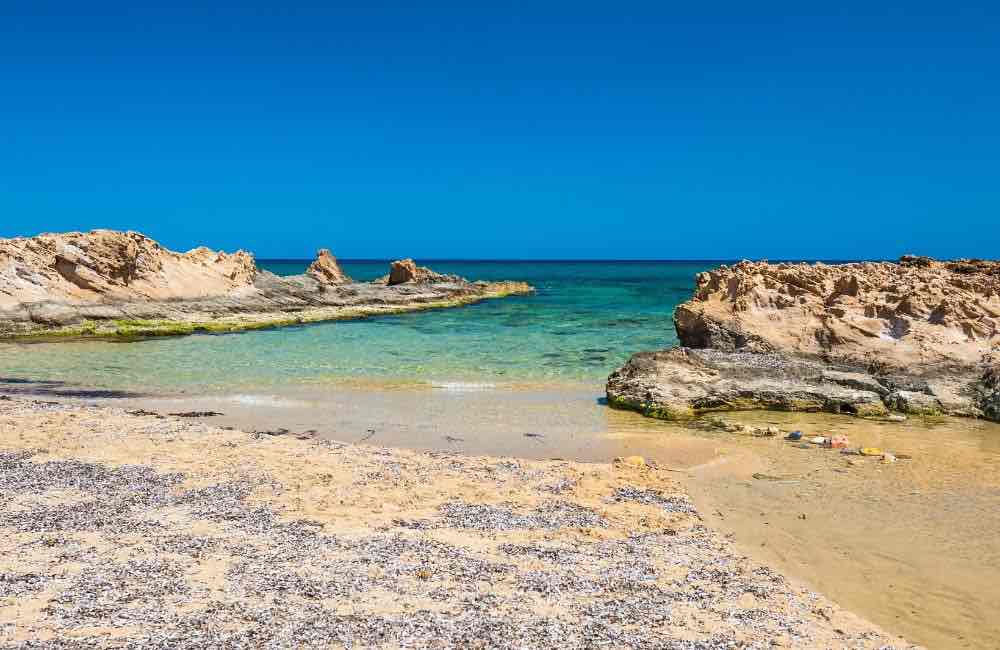 These are the two most important beach resort towns in the Heraklion region, on the northern coast of Crete. Hersonissos is known for its unique variety of shops, restaurants, theme parks, and endless activities to enjoy.
Malia is a favorite for the unique nightlife and the huge variety of discos, beach bars, pubs, and clubs that attract young travelers all summer.
Although none of the towns represent the most authentic Cretan spirit, they are certainly popular for lovers of package holidays, night entertainment, and a wonderful beach. These are the top places to stay both in Hersonissos (24 km from Heraklion city center), and Malia (34 km from the capital).
Abaton Island Resort & Spa (Hersonissos)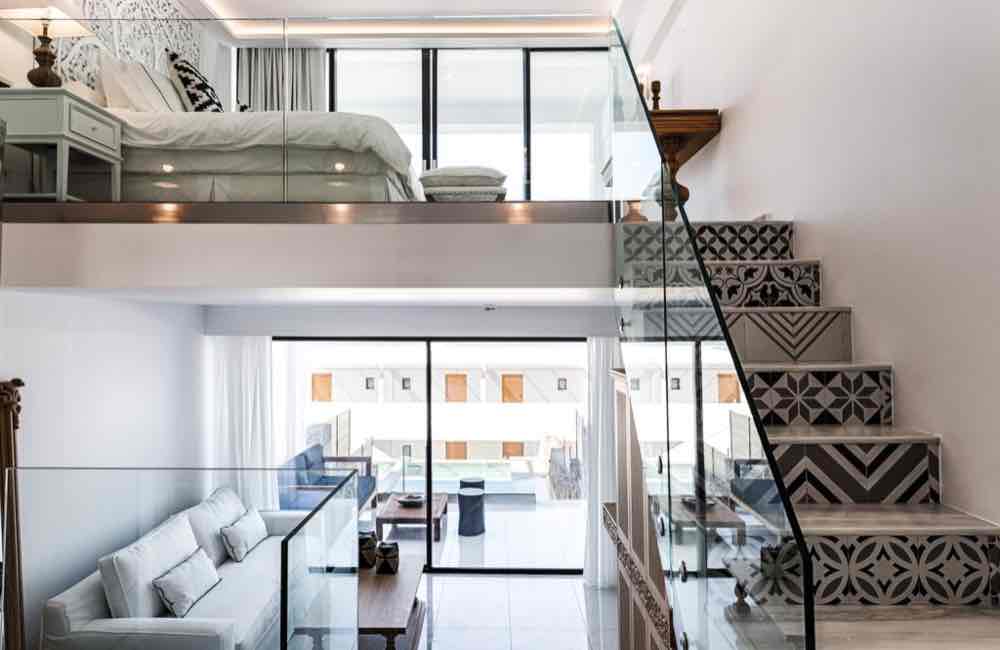 Abaton Island is a top resort rated 9.0 on Booking featuring exclusive services right at the beach of Hersonissos. It features a modern design and luxury rooms, suites, and villas each of them with a private outdoor terrace, private pool, or outdoor hot tub. The hotel also features 5 unique gastronomic spaces inspired by the flavors of the Cretan gastronomic.
The main bar is an ideal place to unwind during sunset and a great place to enjoy cocktails and drinks. Instead, the Buddha Beach Bar serves beverages and wines and a selection of light snacks and inspired platters. The hotel is only 22 km from the airport of Heraklion.
>> Check the best rates and more stunning pictures here <<
Sunvillage Malia Boutique Hotel and Suites (Malia)
Sunvillage Malia is a comfortable place to stay in the area. Cozy and friendly, the hotel is a few minutes from the beach of Malia and features beautiful gardens with a pool and a terrace.
Guests can choose to stay in studios or apartments with beautiful balconies facing either the sea or the mountains.
The hotel is about 5 km from Hersonissos and 28 km east of the capital of Crete, Heraklion.
>> Here you can discover the most convenient fees to stay in this hotel <<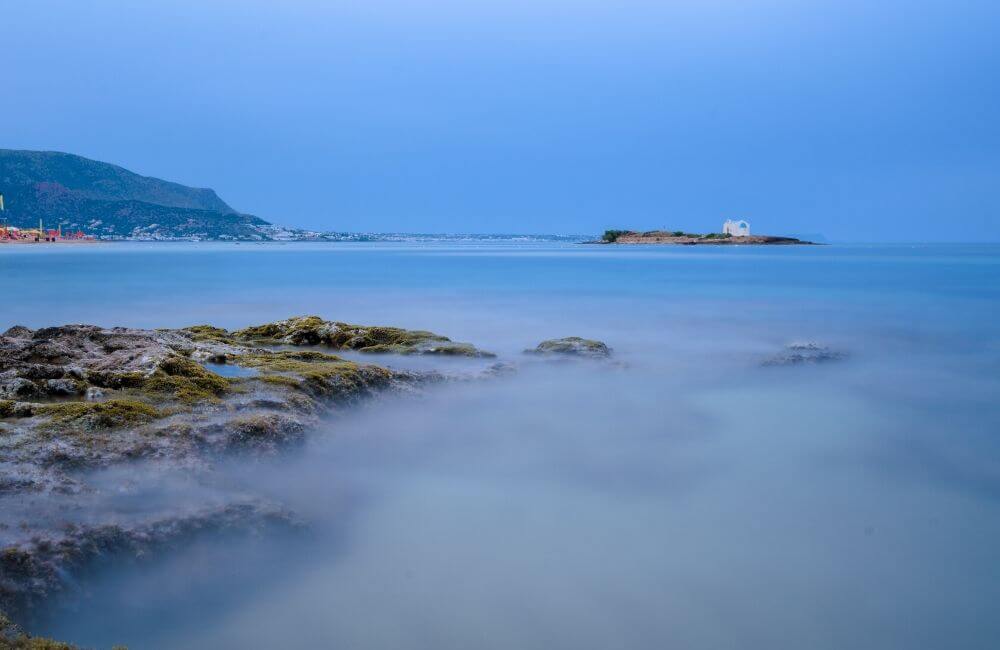 Stalida
Less chaotic than Malia or Hersonissos, but still charming, Stalida (also known as Stalis) was one of the first places I ever visited on Crete (many years ago and when I was still not a permanent resident on the island). The resort is not huge, and it's great for holidays with the family. It's close to Heraklion and the sea is quite shallow, great for small kids.
In my opinion, Stalida is a great place to stay in Heraklion, with easy access to many theme parks, the archaeological sites of Malia and Knossos, and Heraklion's city center.
Blue Sea Beach Hotel
Known among the guests for their frequent free upgrades, the Blue Sea Beach Hotel in Malia is a great accommodation option just a few minutes from the center of Heraklion.
One of the top places to stay in Stalida, the hotel offers 2 different restaurants and features a beautiful spa with an indoor pool, massage rooms, steam bath, and sauna. Among the favorite features, their welcome baskets with delicious Cretan treats has to be my favorite.
The hotel has a daily animation program for small kids who can also have fun at the exclusive sweet-water pool for children. For parents, the free parking area is a great addition to the hotel facilities. The Blue Sea is only 32 km from the International Airport of Heraklion.
Matala Beach, South Heraklion
If you're looking for a place to stay in Heraklion, you've probably already learned everything about the hippie village of Matala and its legendary caves that face the beach. If you haven't, don't waste one more second and head to this article about the best things to do in Matala. The article features a dedicated section with more places to stay.
If you decide to spend a few days in Matala while enjoying the best of Heraklion, why not checking these hotels too?
Marina Hotel
No more than 800 meters from the legendary hippie beach, this family hotel features a pool and a pool bar surrounded by a pretty garden with rooms overlooking the mountains of Crete.
A tasty buffet breakfast is served in the dining area while drinks, coffee, and snacks are available throughout the day right by the pool. The hotel also features free parking facilities.
>> Check the best fees for a stay in Matala's Marina Hotel <<
Valley Village
Simple yet super comfortable and with convenient fees even during the peak season, this hotel is one of the best places to stay in Matala with a pool for kids and another one for adults, a restaurant, a bar, and a barbacue.
The gorgeous bungalows are surrounded by palm trees and a curated garden, only 800 meters from the famous beach of Matala.
>> Find out which are the most convenient fees at the Valley Village on Booking <<
This post contains the most updated information regarding naturist beaches on Crete. So… Are you ready to explore Crete? It can be the trip of your lifetime. Get in touch if you need extra help to plan your itinerary. Or check this guide if you're touring West Crete. You'll find detailed info about where to go, what to see, where to eat, and more!
Want more? Join my Private Facebook Group to connect with like-minded travelers who love Crete as much as you do!
Coming to Crete any time soon? These resources will help you organize the trip!
Start by reading these helpful tips to plan a trip to Crete, which covers details such as when it's best to travel, what documents you need, or how to get a SIM card. Check family holidays in Crete if you travel with kids.

To visit Crete's heavenly beaches, check my guide to the best beaches in Crete. Discover what region is best to stay or check what things you can do in Crete.

For updated information about the island, join my private group on Facebook, or get my West Crete Guide!
Finally, make sure you've got everything you for a hassle-free trip!
I never move around Crete without my Osprey backpack, a sturdy, light, roomy, and super comfortable travel partner I just love. To visit villages, sites, and museums instead, I carry this little crossbody bag.

When driving around, I pack my Crete Michelin map and my Nikon D7200. In Summer I also carry good sunscreen lotion, the sun on the island can be pretty aggressive.

Airfares to Crete can change from one airline to the other, make sure to compare prices with a powerful search engine. Planes are fast, but nothing like the romantic experience of traveling by sea in Greece. With Ferry Hopper, you can book your ferry tickets in advance at the lowest price.

If I need to book accommodation, I personally use different search engines. Booking.com
and Hotels.com are my go-to options.
Sometimes, the best way to make the most of your time on Crete is to join an organized tour. GetYourGuide has top-rated tours to save time and money. From cooking lessons to archaeological site tours, skip-the-line attractions, and airport transfer!

Do you have everything you need? Then you just have to get ready to discover Crete, Greece's most beautiful island!
These posts have been thought just for you!
If you'd like to read more about Heraklion, you should also check this self-guided tour to visit Knossos as well as this unique Heraklion itinerary for 1 to 3 days in town. As you've probably heard, visiting the Knossos Palace is not always enough, so do include a trip to Heraklion's Archaeological Museum on the same day to get a more accurate picture of the Minoan Civilization.
Heraklion is also the region where you can discover a more recent past… so why not travel back to the 60s with a day trip to Matala beach? It's located on Heraklion's south coast which also boasts spectacular beaches facing the Libyan Sea. Families with kids will be happy to know that the capital of Crete has some stunning theme parks for children such as Labyrinth Park and the fascinating Dinosauria. Finally, if you're still in the planning stage of your trip, have some fun learning these fun and interesting facts about Crete, you'll discover many curious things you probably didn't know!
Have you decided where to stay in Heraklion yet?
Let me know in the comments below!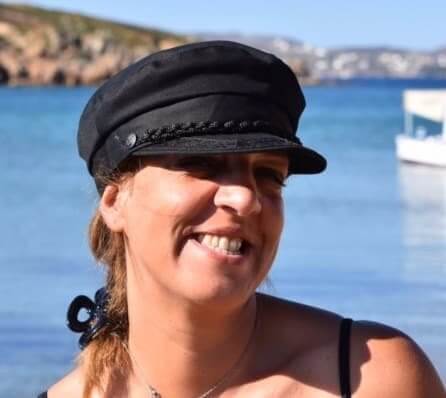 About the Author
Hola! I'm Gabi. Welcome to The Tiny Book – Crete Travel Blog! I moved to Crete to explore the island all year round. I love taking pictures and driving on the mountain roads of Crete. I'm a beach freak and on this island I've found heaven on earth!
---
You might also want to read:
---