A Hippie atmosphere, incredible sunsets, a relaxing vibe… the little seaside village of Matala offers all that and much more to those who pick it to spend some time during their holidays on Crete island. Since the village is small and there's not much accommodation choice, in this guide, I've included a few nearby villages that are also a great base to explore Matala and the surrounding area. So, if you are planning to explore the South of Heraklion, read on to check the best hotels in Matala for a super vacation by the sea!
---
Disclaimer: Posts include affiliate links to products or services. I might earn a commission if you make a purchase, at no extra cost to you.
---
Best Hotels in Matala: Where to Stay in South Heraklion, Crete
Matala, on the southern coast of Heraklion, is not only a great day trip from the capital of Crete, but it can also be an ideal destination to spend a few days… or more.
The village is quiet, and it still manages to create a lively atmosphere that is not overwhelming, but it certainly is fun enough.
During the summer, and loyal to its hippie tradition, there're are rock concerts and festivals, that attract people from all over the island, and sometimes from the rest of Greece too.
For young people, Matala is a great place to make friends, have fun, and enjoy an unforgettable beach holiday.
Families with kids particularly enjoy the picturesque village.
Children adore the tree sculptures, the roads with colorful paintings, and – of course – the caves.
There are not many places to stay right in the village and they tend to be fully booked even before the season begins.
Therefore, this guide also includes several nearby places that offer great accommodation just minutes from Matala, which, by the way, are often more convenient for those traveling on a budget.
I'm confident that here, you will find the best rental homes and hotels in Matala for your next trip!
Landing on the capital of Crete? Discover how to get from Heraklion to Matala.
Best Rental Homes and Hotels in Matala
In no particular order, these are some of the best homes, rooms, and hotels in Matala, in south Crete, take a look.
Thalasso Resort
Thalasso Resort – You could not expect any better location when it comes to a stay by the sea!
Boasting top reviews on Booking.com, this small complex offers two beautiful and brand-new apartments right by the sea.
The place is in the heart of the village, with shops and tavernas two steps away from the front door.
The units feature an ample balcony with amazing views, ideal for an early breakfast or a late glass of wine. From here you can soak in the Matala landscape and marvel at the beautiful sunset on the beach.
If you're not in the mood to go out for dinner, the place comes with a fully-equipped kitchen that's more than enough for you to cook your meals at home.
The reviews of this hotel in Matala are impeccable!
Click here for more information and to check the latest prices.
You might also enjoy reading: Travel Tips: How to Plan a Fabulous Road Trip in Crete.
Matala Luxury Apartments
Matala Luxury Apartments – Everything is a pro when considering this place to stay in Matala. These luxury apartments boast a tremendous location, right in the heart of the village, close to bars, restaurants, and shops.
Located only a very short distance to the beach, this Matala accommodation is often described as spotless, with comfy beds, and a great shower.
The place features a roof terrace with gorgeous views.
Families with teens give extra points to the big flat-screen TVs in each bedroom, while parents praise facilities such as air conditioning, a well-equipped kitchen, and the host's warm hospitality.
Click here for more information and to get the latest prices.
Still not sure how to spend your days in Matala? Check here the best things to do in Matala.
Cactus Room
Cactus Room – Perfect for a couple or a solo traveler, this small apartment is located inside a courtyard, only meters from the center of the village and the beautiful Matala beach.
The apartment features a double bed, a comfortable bathroom, a terrace, and is air-conditioned.
Guests love the simplicity of the place, perfect if you just want a cozy location to spend the night after long days exploring the area.
Top views, and extra points to the friendliness of the owners who will go the extra mile to make you feel welcome and at home!
Click here for more information and to check the latest prices.
Nikkon Summer Home
Nikkon Summer Home – Rated as exceptional online, this is a comfortable place to stay in Matala for a family.
Among the most important characteristics, the house provides air-conditioned spaces, a balcony, and both sea and city views.
The holiday home features 2 bedrooms, a flat-screen TV with satellite channels, a kitchen with a dishwasher, a fridge, a washing machine, and 2 bathrooms.
Perfect also for groups of friends.
Want more? There's a barbecue for guests as well as a car rental service. If you don't want to drive, the property also offers a paid airport shuttle service.
Click here for more information and to get the latest prices.
You might also want to read: Red Beach Matala Crete: Everything about the Stunning Kokkini Ammos.
Fantastic Matala 2
Fantastic Matala – Simple, cozy, and affordable, this is a great place for a short stay only 50 meters from Matala Beach.
The best feature of this place is its super comfortable location, ideal if you're not renting a car.
The hotel is also close to several shops and convenience stores, bars, and restaurants so that you won't need to walk too much if you don't want to.
This family-run Matala property features a pretty garden, and rooms have the basics you need, including a small fridge and a kettle for your morning coffee or tea.
Most reviews praise the location, the clean facilities, and the friendliness of the staff.
Click here for more information and to get the latest prices.
Nikos Hotel
Nikos Hotel – This is one of the most traditional hotels in the village, receiving hosts that return year after year for a summer stay by the sea. Although centrally located, the place is quiet and has a family atmosphere.
Simple rooms with every basic you need even during a long stay, Nikos Hotel is very close to the beach of Matala also featuring nice mountain views.
Just meters from shops, bars, and tavernas, this hotel has great reviews.
Click here for more information and to get the latest prices.
Antonios Villa in Matala
Villa Antonio – Are you looking for a peaceful place to stay with a swimming pool for the whole family? Then look no more, this is it!
This comfy villa features a garden and a terrace with a pool, private parking, air conditioning, and every comfort any house would offer with extra perks such as room service for your convenience (moms just love that extra touch!).
The place is close both to the center and Matala Beach.
All guests' needs are catered to by the owner of the property, who is available to offer suggestions about all the things you can do nearby, including fishing!
In case you were wondering how to get there, this property also offers a paid airport shuttle service.
Click here for more information and to get the latest prices.
You might also want to read: Top Amazing Things to Do in Heraklion, Crete.
Matala Bay Hotel & Apartments
Matala Bay – Another traditional hotel in Matala, this property is on the main street of the village, surrounded by a beautiful garden, and it's only 250 m from the beach.
Matala Bay features a swimming pool, a restaurant, and a snack bar. All rooms have air conditioning, a fridge, and a balcony.
The restaurant serves Cretan dishes with fresh local products.
Evenings are a pleasant moment of the day when you spend them at the bar, right by the pool.
The place can arrange for you to enjoy activities such as horse riding or scuba diving, while kids love to spend time at the on-site playground.
Click here for more information and to get the latest prices.
None of these hotels was what you were looking for? Check more Matala Hotels here.
Where to Stay Near Matala
Since the village is quite small and accommodation is often fully booked by the time you've made up your mind, keep in mind that it's also possible to stay in some of the villages near Matala.
This way, you can either visit the Matala beach but also discover other areas, including Kommos, Kalamaki, the Read Beach, or archaeological sites such as Phaistos and Gortyn.
Vrisi Apartments and Villa in Pitsidia
(Pitsidia is 3.8 km from Matala)
Vrisi Apartments and Villa – Just minutes from Matala, this family accommodation is simple, comfortable, and has convenient prices. Guests enjoy the well-designed property with a small swimming pool and sunbeds.
Most studios feature a well-furnished kitchen, satellite TV, and a large terrace.
What guests like the most are the quiet location, near the main road but also very tranquil with no traffic noise.
Click here for more information and the latest prices.
Korfes Apartments in Kamilari
(Kamilari is 5.8 km from Matala)
Korfes Apartments – Kamilari is the place me and my family choose when we spend time in Matala, it's really easy to reach, the road is in great condition, and there's a very good beach for children nearby too.
Prices are often cheaper than they are in the hippie village, and the atmosphere is a million times more relaxed.
Korfes Apartments offers a beautiful place to stay set amid a well-tended garden in the village of Kamilari, with communal BBQ facilities and a playground for kids.
The self-catered studios open out to a terrace overlooking the mountain and the garden.
In every unit, the kitchen area includes a stove, fridge, coffee and tea facilities, and a small dining table. Perfect both for a short and a long stay in the area.
Click here for more information and to get the latest prices.
Bella Mare Luxury Apartments in Kalamaki
(Kalamaki is 4.2 km from Matala)
Bella Mare Luxury Apartments in Kalamaki – Kalamaki is another favorite of us when it comes to finding accommodation close to Matala. Just steps from the beach, this place offers a terrace and a patio.
You can choose between sea or city views. Every unit features a comfy kitchen, a satellite flat-screen TV and Blu-ray player, a desk, and a washing machine, ideal for longer stays.
A plus? The coffee machine! If you are not into driving in Crete, the property offers a paid airport shuttle service. The place is ideal for those traveling with kids!
Click here for more information and to get the latest prices.
Looking for more areas near Matala?
You can also check villages such as Agia Galini (12 km from Matala), Kali Limenes (9 km from Matala) as well as Lentas (16.5 km from Matala village).
If you're willing to drive a bit more and being close to the beach is not a must, Zaros is one of the prettiest places in Crete, and it's just a bit over 20 km from Matala.
Are you planning to stay in Matala any time soon?
Let me know in the comments below!
You might also enjoy reading these posts about Crete:
Discover the Most Stunning Archaeological Sites in Crete – A complete list of the best archaeological sites in Crete.
Gavdos, Crete: The Only Guide to the Island you Need – A visit guide to check the gorgeous Gavdos Island.
Top Nudist Beaches in Crete: Complete Insider's Guide – A complete list of the best nudist beaches in Crete.
Day Trip to Chrissi Island, Crete: Super Guide to Visit – A guide for you to embark on a day trip to Chrissi Island.
Balos Beach Crete: Complete Insider's Guide – A useful guide to visiting Balos Beach in West Crete.
Let's Start by Getting Ready for Crete!
RESOURCES TO BOOK YOUR TRIP:
Book your flight: I use Skyscanner to compare prices before booking a plane ticket.
Book your ferry: When ferries are more convenient than air travel, I use Ferryhopper.
Book your accommodation: I've tried many different platforms for accommodation, but none of them beats the advantages of Booking.com.
Book your car: The best way to find an affordable car to rent is to use a powerful search engine that compares all the rental companies in the market. I use Discover Cars.
Book your tours: Live unforgettable adventures and cultural experiences with Get Your Guide. For instance, you can Visit Elafonisi, discover Balos Beach, hike Samaria, or explore Knossos.
Don't forget travel insurance: Things can go wrong at times, but travel insurance will protect you against illness, injury, theft, and cancellations. I recommend Safety Wing for peace of mind.
A quick guide to the best hotels in Crete
Budget: So Young Hostel in Heraklio, Cocoon City Hostel in Chania, Matthias Hotel Apartments in Rethymnon, and Villa Galini in Agios Nikolaos.
Mid-range: Capsis Astoria Heraklion in Heraklion, Porto Antico in Chania, Archipelagos Hotel in Rethymnon, or Hotel Port 7 in Agios Nikolaos.
Luxury: Galaxy Iraklio Hotel in Heraklion, Hotel OFF in Chania, Avli Lounge in Rethymnon, or Minos Beach Art Hotel in Agios Nikolaos.
Check more: Where to stay in Crete.
Pin it Now! Pin This Guide with the Best Matala Hotels for Your Next Crete Adventure!
About the author of this blog: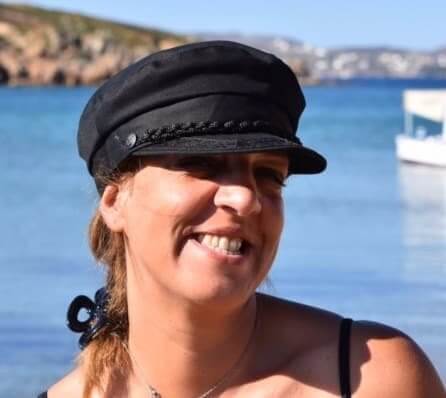 Gabi has been living in Crete for the last five years. On the island, she juggles being a solo mom, hosting culinary tours in summer, translating, and freelance writing.
She's written for Greek Reporter, published several travel guides about Greece, and had more glasses of frappe than any regular person would be able to handle.
---
COMING TO CRETE SOON?
Get in touch and let me know!