Only 14 km off the coast of Ierapetra, on the southern coast of Crete, Chrissi Island is a magnificent gem and a natural ecosystem with pristine beaches facing the Libyan sea. Popular among day-trippers, Chrissi's bare geography features white sand beaches and turquoise clear waters. In this article, you will learn how to organize a day trip to Chrissi Island, one of the last uninhabited spots remaining on Crete.
---
Disclaimer: Posts include affiliate links to products or services. I might earn a commission if you make a purchase, at no extra cost to you.
---
Let's Start by Getting Ready for Crete!
RESOURCES TO BOOK YOUR TRIP:
Book your flight: I use Skyscanner to compare prices before booking a plane ticket.
Book your ferry: When ferries are more convenient than air travel, I use Ferryhopper.
Book your accommodation: I've tried many different platforms for accommodation, but none of them beats the advantages of Booking.com.
Book your car: The best way to find an affordable car to rent is to use a powerful search engine that compares all the rental companies in the market. I use Discover Cars.
Book your tours: Live unforgettable adventures and cultural experiences with Get Your Guide. For instance, you can Visit Elafonisi, discover Balos Beach, hike Samaria, or explore Knossos.
Don't forget travel insurance: Things can go wrong at times, but travel insurance will protect you against illness, injury, theft, and cancellations. I recommend Safety Wing for peace of mind.
Where to Stay to Visit Chrissi Island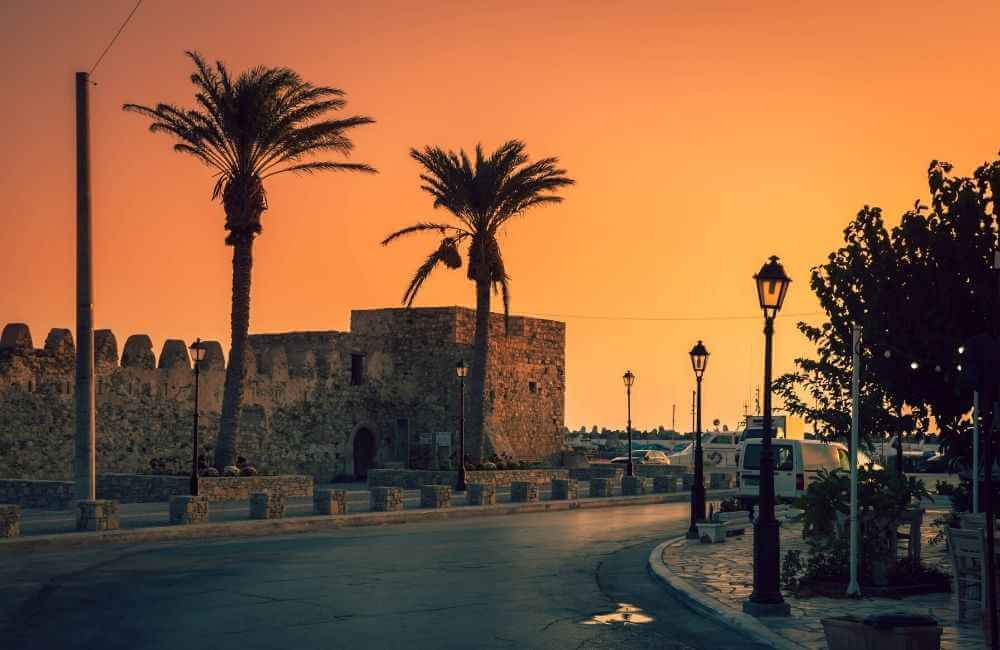 Officially, it's forbidden to spend the night on the uninhabited island of Chrissi, however, we do know that informal camping is something that happens on the island.
I prefer to suggest you check these hotels in the nearby city of Ierapetra, the most logical place to stay when taking a day trip to Chrissi.
Budget: There's a lot you can do in Ierapetra with a limited budget, when it comes to a convenient place to stay, I suggest Astron Hotel. This is a fabulous place in front of the sea with excellent service and facilities. Check reviews and book here.
Mid-Range: With a more flexible budget, I recommend the beautiful Cretan Villa, housed in an 18th-century building, in the center of Ierapetra. Check reviews and book here.
Luxury: One of the best hotels you'll be able to find on Crete is the new and luxurious Enorme Santanna Beach. I suggest you seriously consider this property when looking for a place to stay when visiting Chrissi Island. Check availability, go through the stunning pictures of the property… and finally book here!
Quick Guide to Places to Stay in Lasithi (Perfect Starting Point to Visit Chrissi Island)
Best hotels in Lasithi
Affordable: Porto Maltese and Katia Apartment in town.
Mid-range: Ostria Apartments in Ammoudara or Villa Olga.
Luxury: Elounda Peninsula in Elounda and Miramare Resort in Agios.
Check also Rental Homes in Agios Nikolaos and Best Elounda Resorts.
Chrissi Island: Things to Know
Known as Chrissi Island (often also written Chryssi, in Greek: Χρυσή "golden") but also as also Gaidouronisi (Γαϊδουρονήσι "donkey island"), this very small, uninhabited Greek island is located off the southern coast of Crete, about 14 kilometers south of Ierapetra, on the Libyan sea.
Locals in Ierapetra just call Chrissi the Island, and it has turned into one of the most important reasons for tourists to stop by in the city of Ierapetra.
Chrissi Island is a protected reserve part of the Natura 2000 Program. It covers a surface no more than 2 km wide and 7 km long. Most of the island features a rare cedarwood forest (juniper trees), thought to be the largest in Europe.
The island is uninhabited, and being a protected territory, visitors are not allowed to collect stones, shells, or any kind of plant from Chrissi Island.
Although there are no places where to stay on the island, and even when it's officially forbidden to spend the night.
Many people simply "forget" to get on the last boat back to Ierapetra and choose to stay. You can do so provided you don't light a fire.
Spending the night under the stars of Crete's blue sky, without any other soul in sight must be a unique experience!
If you plan to do so, travel with all the equipment you need, including a sleeping bag or tent.
The Nature in Chrissi Island
The island, which is the southernmost natural park in Europe, is an important ecosystem where you can find a variety of flora and fauna, including lizards, rabbits, and sea turtles (Caretta Caretta, and nonpoisonous snakes).
Chrissi Island hosts a rare forest of juniper trees. These Lebanon cedar trees have deep roots in the sand and grow as much as ten meters in height and up to 1 meter in diameter.
This is the biggest cedarwood in Europe.
A thick layer of solid lava along a few portions of Chrissi Island's coasts reflects the origin of the island, archaeologists and researchers have found over 40 different species of corals and shells trapped in the layers of lava.
Chrissi Island: A Bit of History
The island is popular among fans of snorkeling, an activity that allows you to explore the ruins of pirate ships around the seabed of Chrissi Island. The island was a pirate cove for several years.
There are ancient chapels, ruins, and graves dating from the Roman Empire.
The island, which probably used to be a great place for hermits and fishermen, has been a place of interest for humans since the Minoan period.
There's some evidence showing that the island probably functioned as a salt mine in ancient times.
In more recent times, the island was the place where the locals from Ierapetra would carry their old donkeys to spend their last days after a lifetime of hard work on Crete.
This gained the island the second name, Gaidouronisi, donkey's island.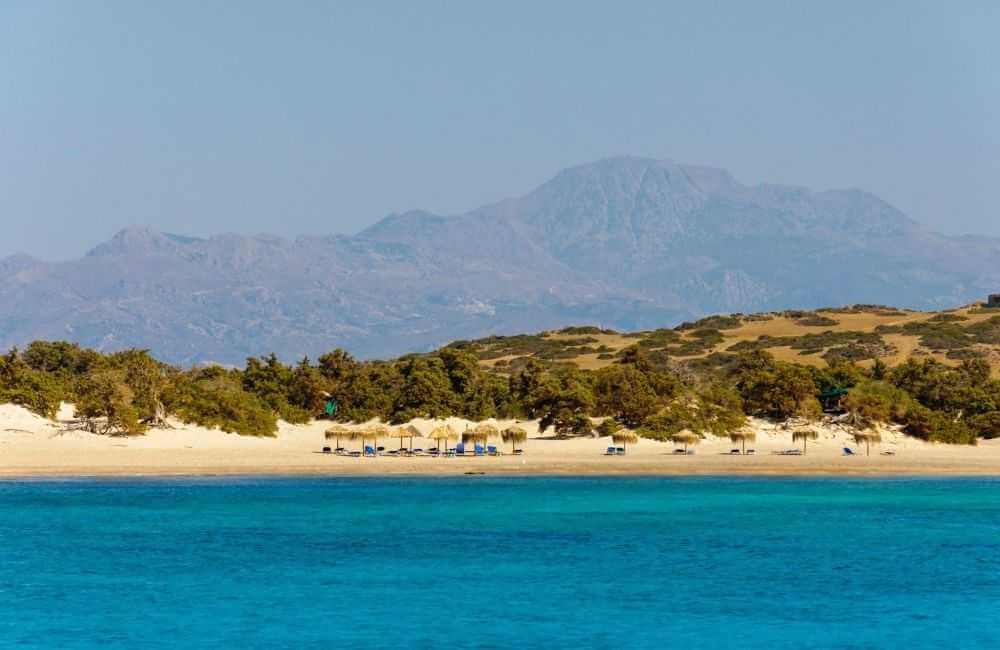 Beaches on Chrissi Island
The island has a beautiful northern coast, quite rugged and exotic, yet not popular as it tends to be hit by winds. The place offers stunning views of the nearby coast of Crete too.
Instead, on the southern coast, the landscape is even more exotic, the sea has incredible shades of blue, and there are unique beaches.
All in all, there's no shortage of stunning beaches to discover on a day trip to Chrissi Island.
Did you know that you can get to Chrissi Island for less than €25?
>>Check this tour<<
Chrissi Ammos
Also known as Golden Sand, or Belegrina, Chrissi Ammos is the beach that's closest to the pier. So it's usually crowded hosting those disembarking from the cruise ship.
People usually leave the boat and follow the main path on the sand that leads to this organized beach.
Most of them don't explore the rest of the island and just hang out there until the time of departure.
The beach is incredibly beautiful, the sand is white and mixed with shells and tiny pebbles (do consider packing a pair of swimming shoes).
Vages Beach
Probably the best place on Chrissi Island if you intend to avoid massive crowds.
Vages is a lonely beach on the southern portion of Chrissi Island. Despite its unique landscape, the area can be hit by strong winds.
Due to the rocky seabed, and the number of shells and pebbles found in the area, do not forget to pack a good pair of swim shoes to explore.
Chatzivolakas Beach
Quieter than Chrissi Ammos, Chatzivolakas enjoys a calmer sea and a long line of cedar trees that offer natural shade under the scorching sun of Chrissi Island.
The area has that unique desert-island feeling that you've dreamed of experiencing. In the surrounding area, it's possible to check the old lighthouse, an ancient salt lake, and the only house on the island.
It's also possible to visit the small church of Agios Nikolaos, the patron saint of fishermen.
Avlaki Beach
When you leave Chatzivolakas and head towards the westernmost point on Chrissi Island, you will come across the remains of an ancient Minoan settlement before reaching the beach of Avlaki.
Mati Beach
Also known as Vogiou or Vogiou Mati, this shore is the place where boats arrive on the beach (on the southern coast of Chrissi Island).
However, you need to walk a little bit towards the west to explore the sea caves and hidden coves with pristine waters which are ideal for snorkeling and underwater sports.
Kataprosopo Beach
Another lonely spot on the island, Kataprosopo features a line of rocks that divide the bay in two creating a set of magnificent shallow pools, perfect for snorkeling.
Opposite the beach, you can admire the tiny Mikronisi, (which in Greek means small island) a place where hundreds of different species of birds find shelter in the middle of the sea.
Not far from here, you can easily reach Kefala Hill, the highest point on Chrissi Island. It's only a bit more than 30 meters high, but once at the top of the hill, you will love the views of the island!
Kendra Beach
If you're looking for a wild landscape, with a rugged coast and endless caves to explore by the sea, reach the westernmost beach of Kendra.
The rocky terrain is better. It's easier to explore safely wearing anti-slippery hiking shoes. Although the area can get windy at times, the magnificent sea pools offer endless opportunities for unique pictures.
Things to Do on Chrissi Island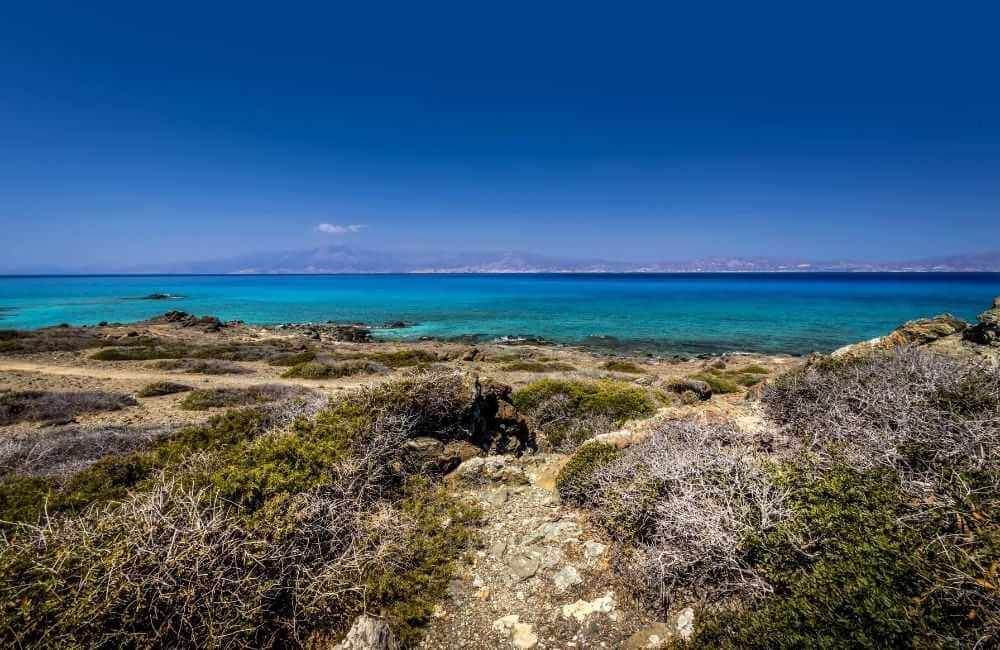 The island is the perfect place to relax and forget everything about your everyday routine. However, other than just lazily lounging under the sun, reading a book, or swimming, Chrissi Island is a perfect place to explore the sea bed.
Snorkeling is a popular activity among visitors, you don't need to carry with you a lot of heavy equipment and you will certainly be rewarded by the amazing submarine landscape off the coast of Chrissi Island.
If you belong to the more active type and enjoy walks surrounded by nature, don't forget to pack comfortable walking shoes, a hat, and good sunscreen protection. Then, you're ready to go…
Walk along the designated paths to discover the ancient cedar trees with imposing twisted branches resembling more bizarre sculptures than actual trees.
The spectacular blue shades of the sea, the shape of Crete, and its mountains in the distance, everywhere you look is a unique collection of breathtaking landscapes.
Walking around Chrissi, you will come across the 13th-century church of Agios Nikolaos, constructed on top of an ancient temple.
In the area, it's also possible to admire the ruins of a well and ancient graves probably dating back from the Roman period.
Check ferry tickets to Greece here!
How to Get to Chrissi Island
You can reach Chrissi Island by sea from the port of Ierapetra as well as from the smaller port of the nearby beaches of Mirtos and Makrigialos, if you depart from these two small beaches, be ready to pay a higher fee.
There are several different ferry companies as well as a few private ships that, between May and October, reach the coast of Chrissi Island.
Departing from Ierapetra to Chrissi Island: The trip is about an hour and it's always better to buy the ticket a few days in advance in one of the offices by the port of Ierapetra.
The return ticket is €23 ($27). Boats depart daily (weather conditions permitting) every morning, from 10.00 until midday. Trips back to Ierapetra are usually between 4 and 5 pm.
Private tours to Chrissi Island: It's also a great idea, if your budget allows, to reach Ierapetra with a private tour. Some of them also include an onboard grill or a lavish Cretan lunch.
Remember: There's a visitor tax (€1) payable on the boat. I always suggest booking the trip in advance, especially if you're traveling in the high season.
Upon arrival, your boat will be docking on the southern coast, and it will be necessary for you to reach the northern coast on foot.
You will walk a well-marked path but don't forget to bring walking shoes or sandals, other than your flip-flops.
Essentials Resources to Visit Chrissi Island
Bring a good pair of walking shoes or sandals for trekking and swimming shoes, especially if you travel with kids or if you don't enjoy pebbles or shells.
If you need more details about what to pack for your day on Chrissi Island, check out this beach bag guide.
A whole day on an uninhabited island calls for water, lunch, fruit, a book or Kindle, sunscreen, and whatever makes your day more comfortable. Don't forget a hat and sunglasses.
Consider a fee ranging from €10 to €15 for an umbrella and sunbeds. Carry your beach towels too as often the umbrellas are already taken when you get there.
Please, help us protect the beaches in Crete. Respect the environment and don't leave any trash on the beach.
---
Have you ever been on a day trip to Chrissi Island, Crete?
Let me know in the comments below!
Read more about Crete!
Before you Leave, Pin this Guide to Your Perfect Chrissi Island Day Trip for your Crete Adventures!
About the author of this blog: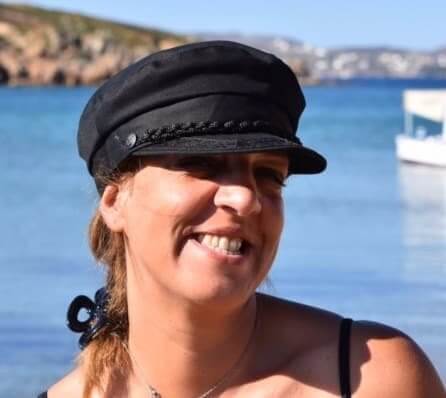 Gabi has been living in Crete for the last five years. On the island, she juggles being a solo mom, hosting culinary tours in summer, translating, and freelance writing.
She's written for Greek Reporter, published several travel guides about Greece, and had more glasses of frappe than any regular person would be able to handle.
---
You might also want to read:
COMING TO CRETE SOON?
Get in touch and let me know!