The capital of the easternmost region of Lasithi, Agios Nikolaos, is a popular seaside resort attracting tourists during the high season. During the rest of the year, many Europeans choose Agios to escape colder winters and settle here for longer terms.
One of the first things to choose when planning your holiday is your accommodation. Agios Nikolaos is great to explore the region of Lasithi. Choosing a home rental helps you save some money while feeling at home away from home.
In this article, I present some of the most beautiful rental homes and Airbnbs in Agios Nikolaos for you to discover east Crete.
---
Disclaimer: Posts include affiliate links to products or services. I might earn a commission if you make a purchase, at no extra cost.
---
Top Vacation Homes and Airbnbs in Agios Nikolaos, Crete
Agios Nikolaos is a lovely town, with plenty of amazing things to do, a varied cultural proposal, and mouthwatering gastronomy.
Close to the exclusive Elounda, there are also tons of pristine beaches to discover in the area. Places of interest, such as the island of Spinalonga, the fantastic Lasithi Plateau, the palm tree beach of Vai, or the cave of Zeus are just some of the things to do in Lasithi.
Renting a car and exploring the area is a great way to experience the coast on the Gulf of the Mirabello.
Exploring the pristine beaches in East Crete as well as remote archaeological sites, lonely monasteries, and a unique variety of landscapes.
A holiday in Lasithi can include unique walks in the mountains, fantastic days by the sea, and unique experiences in some of Crete's most traditional villages too.
Those who decide to stay in the area can take advantage of the beautiful homes available for rent, most of them are new or have been recently renovated with taste and simplicity, including every comfort you need, as you will see from the pictures.
Wondering how to reach Agios? Read this guide on how to get from Heraklion to Agios Nikolaos.
Where to Stay in Agios: Best Airbnbs in Agios Nikolaos, Crete
The list below features the most beautiful Airbnbs in Agios Nikolaos for an unforgettable holiday in Crete!
The Splash, Agios Nikolaos Town
Why you should stay: A unique apartment in the heart of the city, with fantastic views of the sea and just meters from the beach.
General info: The Splash is one of the nicest homes for rent in Agios Nikolaos and it has a privileged position. The home features and light and cozy environment where every detail has been taken care of.
Location and details: Often rated as sparkling clean by guests and with great reviews, the place is ideal for a short-to-medium stay in Agios Nikolaos. Suitable for couples, groups of friends, or small families, the place is only meters away from the wonderful beach of Ammoudi.
Good to know: Those who love to enjoy Agios Nikolaos in the cold season will be interested in knowing that this host especially decorates the flat for Christmas and New Year.
Seaside Studio Lato 1, Opposite Lake Voulismeni
Why you should stay: To enjoy a fantastic view of Agios Nikolaos and its lake every morning from your own balcony. Wouldn't you love to enjoy your morning coffee looking at that view?
Location: Seaside Studio overlooks the magnificent Lake Voulismeni, one of the most central places to stay in Agios Nikolaos and ideal to reach every place you want to see in town without the need for a car. The studio is just 3 minutes away from the city beach in Agios.
Facilities: The place is ideal for a couple, a small family, or a small group of friends. It's a roomy studio apartment located on the 1st floor, it features a fully equipped kitchen (with a coffee machine and there's a washing machine too). There is also a comfortable sofa that turns into a bed to host a third traveler.
Gargadoros Apartment
Why you should stay: To enjoy a relaxing evening on the beautiful terrace overlooking the marina that you won't forget!
Location: This is a great place for a couple, a solo traveler, or a couple of friends and it's only 1.5 km from Ammoudi Beach. The apartment has a beautiful terrace and a balcony to enjoy the stunning views of the town.
Facilities: The one-bedroom apartment features a fully equipped kitchen that provides guests with a microwave, a fridge, a washing machine, an oven, and a toaster.
Extras: For guests, the property offers a paid airport shuttle service.
This is a simple but comfortable apartment in a great area, one of the most convenient holiday homes in Agios Nikolaos.
You might also enjoy reading: The Most Amazing Things to Do in Agios Nikolaos, Crete.
Elounda Casa Elia Architect's Dream
Why you should stay: Because everyone deserves to experience the unique beauty of this villa in Elounda, one of the most fantastic seaside areas in Crete.
Location: Don't hesitate to check every picture of this superb villa on the VRBO platform. You'll be enchanted by one of the most exclusive holiday homes in the magnificent seaside town of Elounda, only 15 minutes from Agios Nikolaos.
Facilities: This ground-floor apartment was recently renovated. It features a large bedroom with a top-quality mattress, a distinctive shower room, a fully equipped kitchen, Smart TV (Netflix), and a gorgeous luxury living room. It's only 5 minutes from a sandy beach and Elounda Bay, very close to Elounda main square.
Cozy Home in Milatos Beach
Why you should stay: To discover the pretty and lesser-known Milatos beach while staying in a recently renovated apartment without spending a fortune!
Location: Check out this gorgeous house in Milatos, a largely unspoiled and traditional village in Lasithi featuring both an inland area and a beach region.
Milatos' inland is a picturesque place surrounded by olive groves, where you can stroll through its narrow streets or visit the cave just outside the village. Milatos Beach has a small fishing harbor with fish tavernas and several pebble beaches and secluded coves.
Facilities: The house has a pretty living room area with a cozy fireplace, a dining room, a fantastic kitchen with new appliances, and a comfortable bedroom.
Almyros Beach Apartment
Why you should stay: Just a few minutes from the center of Agios Nikolaos, Almyros is one of the most fantastic beaches in Lasithi. Wouldn't you love to stay in the area?
Facilities: This home features two comfortable bedrooms with seaside views, a fully equipped kitchen with a dishwasher and coffee maker, and a comfortable lounging area as well as a great terrace overlooking the Gulf of Mirabello.
Extras: There is also a fantastic swimming pool on the property.
Anemone Seaside Traditional Homes – Maisonette
Why you should stay: Because the maisonette is located in a wonderful position with stunning views, and features every comfort for a fabulous holiday in Lasithi.
Location: This complex is located about 11 km from Agios Nikolaos, close to the beautiful Kalo Horio over the crystal clear water beach of Istron.
Facilities: The host features several apartments on a hill slope above the main road, in a quiet and peaceful environment with breathtaking panoramic views of Mirabello Bay and the town of Agios Nikolaos. Enjoy your stay surrounded by rugged hills and mountains, ideal for walking or hiking while discovering wildflowers, cedar trees, and Cretan herbs.
Details: The apartments are fully furnished. They feature two levels, with a living room on the ground floor and a separate fully equipped kitchen.
A wooden ladder takes you up to the second floor where there are two twin-bedded sea view bedrooms and a bathroom.
There's also an individual veranda to spend pleasant evenings dining under the stars.
Studio Marika
Why you should stay: Because If you are good on foot, everything can be done without a car!
Location: This apartment is less than 1 km from Lake Voulismeni and a 7-minute walk from the Archaeological Museum of Agios Nikolaos. Popular points of interest near Studio Marika include Ammoudi Beach, Ammos Beach, and Almiros Beach.
Facilities: The apartment has 1 bedroom, a flat-screen TV, and a fully equipped kitchenette that provides guests with a microwave, a fridge, a washing machine, and a toaster
Extras: A car rental service is available at the apartment.
Sea View Apartments
Why you should stay: This place is ideal to experience the best of Agios Nikolaos, it's in a wonderful location and offers every comfort for an unforgettable holiday in Crete!
Location: Perfect for couples, this comfy flat is just minutes from the center of town, 500 meters from Ammos Beach, and 1.2 km from Ammoudi Beach.
Facilities: The host offers air-conditioned accommodation with a balcony and a terrace on the beachfront. The apartment features a very comfortable bedroom, an equipped kitchen, and a washing machine, always comfortable when traveling!
Relux Agios Nikolaos
Why you should stay: This holiday home in Agios Nikolaos features unique comfort for a perfect stay in the region of Lasithi.
Once you've checked the reviews as well as the pictures of this house it will be hard for you to even consider a stay in any other place.
Facilities: This wonderful apartment features modern furniture and inspiring decor that blends natural materials with a bold aesthetic of black and brown tones. There's an ample and comfortable kitchen, a great lounging area, and a beautiful dining room with great views.
Extras: Guests can also work out in the exercise space or even have dinner on the magnificent patio with a swing.
You might also enjoy reading: Most Stunning Beaches in East Crete: Complete Insider's Guide.
Naiades Almyros Beach Villa
Why you should stay: To enjoy the simplicity of a top place where you will truly feel at home.
Location: This is an awesome holiday home in Agios Nikolaos next to Almyros beach. Less than a kilometer from the center of Agios, this is a great place to stay when exploring Lasithi. There are several restaurants ad cafeterias just a few steps from the property!
Facilities: The property boasts a sauna and guests may enjoy Almiros River, mountain, sea, and scenic Agios Nikolaos views. The 2-bedroom property boasts a sauna in the master room, a comfortable sitting area, and a fully equipped kitchen.
Extras: The place is really comfortable, featuring good air conditioning, super necessary in Crete. It features a great terrace with gorgeous views, a garden, and barbecue facilities.
Mirabello Sea House
Why you should stay: To enjoy a comfortable home only steps from the sea!
Location: The house is a 12-minute walk from the beach. Situated in Agios Nikolaos, fishing is available nearby the property. The house is only 1.3 km from Ammoudara Beach and 6 km from the center of Agios.
Facilities: Mirabello Sea House offers accommodation with air conditioning, a garden, and a terrace. There's also free private parking. The holiday home features 2 bedrooms, 1 bathroom, bed linen, towels, a flat-screen TV, a dining area, a fully equipped kitchen, and a patio with garden views.
Extras: The holiday home is in an area where guests can engage in activities such as hiking, snorkeling, and cycling. Pets are allowed.
Didn't find the pale you were looking for? Check these hotels in Agios:
Best hotels in Lasithi
Affordable: Porto Maltese and Katia Apartment in town.
Mid-range: Ostria Apartments in Ammoudara or Villa Olga.
Luxury: Elounda Peninsula in Elounda and Miramare Resort in Agios.
Check also Rental Homes in Agios Nikolaos and Best Elounda Resorts.
---
Which are your favorite Airbnbs in Agios Nikolaos?
Let me know in the comments below!
You might also enjoy reading these articles about Crete:
– Discover + 45 Most Gorgeous Beaches in Crete (A guide by an insider!) – The best beaches in Crete.
– Day Trip to Chrissi Island, Crete: Super Guide to Visit – A visit guide to the uninhabited Chrissi Island.
– Cool Things to Do in Crete with Teens – The best things to do on the island with teenagers.
– Everything You Need to Know to Visit Vai Beach – A guide to discovering the Palm Tree Beach of Vai.
– Best Things to Do in Sitia, East Crete – A visit guide to the city of Sitia in Lasithi.
Get Ready for Crete!
RESOURCES TO BOOK YOUR TRIP:
Book your flight: I use Skyscanner to compare prices before booking a plane ticket.
Book your ferry: When ferries are more convenient than air travel, I use Ferryhopper.
Book your accommodation: I've tried many different platforms for accommodation, but none of them beats the advantages of Booking.com.
Book your car: The best way to find an affordable car to rent is to use a powerful search engine that compares all the rental companies in the market. I use Discover Cars.
Book your tours: Live unforgettable adventures and cultural experiences with Get Your Guide. For instance, you can Visit Elafonisi, discover Balos Beach, hike Samaria, or explore Knossos.
Don't forget travel insurance: Things can go wrong at times, but travel insurance will protect you against illness, injury, theft, and cancellations. I recommend Safety Wing for peace of mind.
It Would Be a Sin Not to Pin!! Save this Guide to the Best Holiday Homes in Agios Nikolaos, Crete!
About the author of this blog: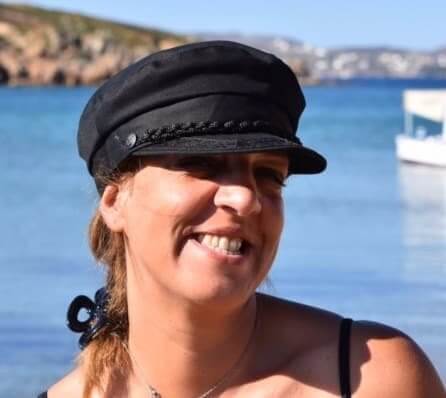 Gabi has been living in Crete for the last five years. On the island, she juggles being a solo mom, hosting culinary tours in summer, translating, and freelance writing.
She's written for Greek Reporter, published several travel guides about Greece, and had more glasses of frappe than any regular person would be able to handle.
---
COMING TO CRETE SOON?
Get in touch and let me know!