Lasithi is the easternmost area in Crete, unfortunately often overlooked. The capital of the Lasithi region, Agios Nikolaos, is a great seaside resort where to spend your vacation in Crete, especially if you're looking for a relaxing time, far from the buzz that bigger towns such as Chania, or Crete's capital — Heraklion — often entail.
Many of the people who finally decide to discover this region, often book a place to stay in Agios Nikolaos. If this is your case, you may be also wondering what fun activities and day trips you can take in the area. In this post, I've included some of the most convenient and reasonably priced day trips from Agios Nikolaos, Crete. Take a look!
---
Disclaimer: Posts include affiliate links leading you to products or services, I might earn a small commission if you make a purchase. This has no extra cost to you but allows me to continue writing articles that are helpful for your travels. I only recommend things I use myself or that I believe will deliver value to you. 
---
Holidays in Agios Nikolaos, Crete
Tours and Day Trips You Shouldn't Miss
Tranquil, and often quite off the beaten track, you can do hundreds of things in the Lasithi (also written Lassithi) area.
The region, in certain aspects, still unspoiled and lonely, gives visitors hundreds of opportunities to approach the local culture differently, maybe more authentic and genuine.
If your goal is to discover the area surrounding Agios Nikolaos, either on your own or by booking a guided tour, this is the guide you were looking for!
If you're one of those who has decided to explore the island by car, then you've followed my advice, congrats! Enjoy the adventure, read these tips about driving in Crete and then come back here for more ideas.
Instead, if you prefer to have a professional company take care of your guided visits, day trips, and excursions from Agios Nikolaos, check the tour alternatives at the end of each day trip idea… and don't forget to have fun!
REMEMBER: Visiting Lasithi has its advantages: Being the less-visited region in Crete, the area is perfect for car travel having quite a few routes that are not trafficked at all, even in the peak summer months!
Best Agios Nikolaos Tours and Day Trips in Lasithi
In no particular order, these are some of the most entertaining day trips you can take in Crete when staying in the Lasithi region.
Katharo Plateau Tour from Agios Nikolaos
Quite off the beaten path, and certainly less popular than the Lasithi Plateau, the Katharo Plateau offers some of the most impressive landscapes in East Crete for you to discover.
To reach Katharo Plateau, you will start your trip by reaching the small mountain village of Kritsa (among the most fantastic traditional villages in Crete). Traveling from Agios Nikolaos to Kritsa will take around 20 minutes, and on the way, it's a good idea to stop at the Byzantine Church of Panagia Kera. Keep driving to Kritsa, and after you've dedicated some time to explore this picturesque, tiny village, get back on the road (Epar. Od. Kritsas-Katharou) and drive for about 16 km more until you reach Katharo.
Once you've reached the village of Katharo, you can hike on the plateau and reach the small church of Timios Stavros, and then follow the route to explore Havgas Gorge where you can marvel at the springs, or discover what locals call the pool of the Fairy (Νεραιδακολυμπος) or also the Ball.
Neraidokolympos is a large swimming area where a large round block (which has fallen to the bottom of the gorge) diverts the water's flow. From that point on, the canyon becomes inaccessible, so only experienced climbers should venture further on the route.
This is a perfect day trip in Lassithi that you won't regret taking! You can take a very similar day trip booking this top-rated adventure via the Viator tour platform:
Katharo Route Tour from Agios Nikolaos
One of the best day trips in Lasithi, this is a full-day excursion exploring the island's unpopulated mountains and small villages. You will off-road by 4×4 as you traverse the rugged mountain terrain, stopping to visit a shepherd's refuge (known as mitato), tasting local cheese, and exploring the agrarian ways of life in Lassithi Plateau. It includes a fantastic lunch too!
Click here to check prices and reviews.
Richtis Gorge and Waterfall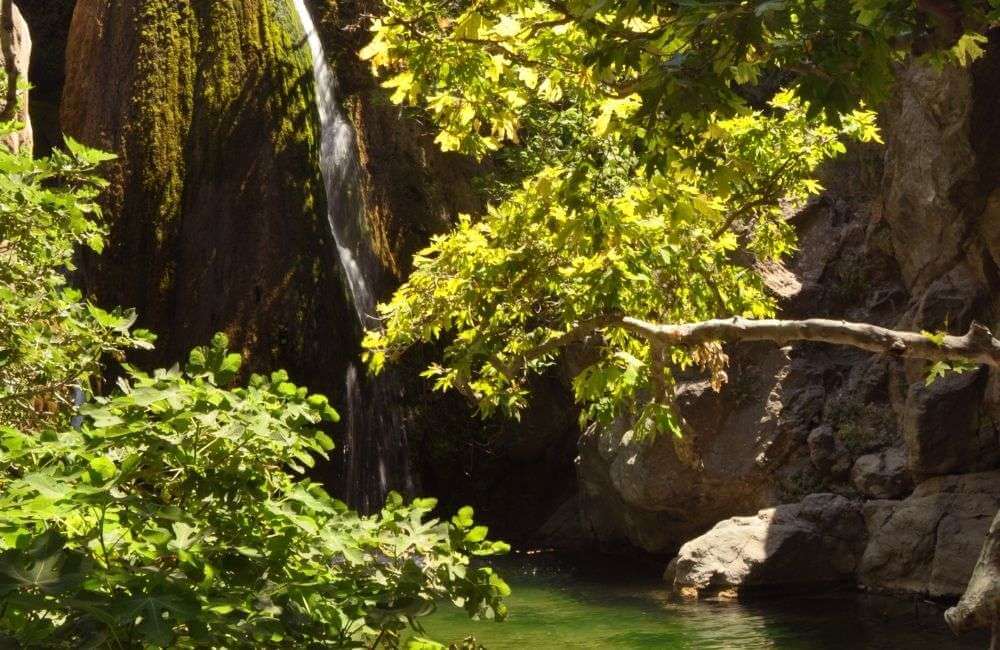 Jump on your car and leave Agios behind to reach the beautiful Richtis gorge and its waterfall, this can be a highlight during your holidays in Agios Nikolaos!
Some define this as one of the prettiest hikes on the island, and although I would not go this far when describing it, the adventure is worth it. Richtis gorge is located on the northern coast, between the cities of Agios Nikolaos and Sitia.
The hiking trail begins outside Exo Mouliana (another village worth a visit) to end on the small Richtis beach. The route is quite short (about 3 km), it will take about 3 hours to hike and there's abundant water all year long, and finding the gorgeous Richtis waterfall is the top reward of this adventure!
Looking for an extra something to add to this day? Check this luxury Richtis experience on the Viator platform:
Richtis Waterfall, Minoan History, Oldest Tree, North Coast (Luxury Adventure)
This is a full-day tour on a Land Rover that you will not want to miss! This excursion takes you to discover some of the island's most beautiful and hidden places. Those who are short on time and eager to get away from the crowds will appreciate this budget-friendly, all-inclusive outing that visits waterfalls, herb farms, and ancient olive groves and includes lunch at a local taverna, a nature hike, and swimming in a cool spring.
Click here to check prices and read reviews of this tour from Agios Nikolaos.
You might also want to read: Most Stunning Beaches in East Crete: Complete Insider's Guide.
Lasithi Pleateau and Zeus Cave
Arguably the best Agios Nikolaos tour that you can plan on your own is the one that explores the Lasithi Plateau. The area of the Lasithi Plateau, surrounded by the imposing Dikti Mountains, stands over 850 meters a.s.l. Along the circuit, which can be perfectly covered in one day, there are different traditional villages to visit where you can discover more about the local life and eat amazing traditional food.
One of the best stops when driving around the plateau is in the small Psychro village, where you can have access to the beautiful Psychro or Zeus Cave. I've reviewed the visit to the Zeus Cave here. The whole drive around the plateau is 23 km and it can be started either from Heraklion or from Agios Nikolaos.
From Agios, you will need to travel along the Neapolis-Chersonusou road for about 1 hour and twenty minutes (the road is a bit more than 43 km) until you reach the area of Mesa Lasithi and pass the village of Agios Kostantinos.
If you want to join an organized tour for this day trip from Agios Nikolaos, check this proposal on Viator which has earned a Badge of Excellence!
Zeus Cave & Lassithi Plateau Trip from Agios Nikolaos (Safari Adventure Offroad Excursion)
This day trip takes you to marvel at the rugged side of Crete on an off-road adventure tour. You'll get high up into the Dikti mountain range and explore both the Lassithi Plateau and the Zeus Cave. When you've worked up an appetite, you will have a delicious Cretan lunch in a local taverna is provided.
Click here to check this day trip from Agios Nikolaos.
Sarakina Gorge
This trip takes you to the southern coast of Lasithi to visit Sarakina Gorge. The gorge, not far from the gorgeous southern seaside village of Myrtos and the city of Ierapetra, is only 1.5 km long but features imposing high walls, climbing up to 150 meters while there are narrow passages (from 10 to 3 meters wide).
Most of the gorge is accessible even if you're not a highly experienced climber, however, some experience and equipment will be needed to pass certain points. For this reason, we eagerly suggest you join an organized tour led by expert guides to make the most of your day in total safety, being able to enjoy the impressive waterfalls and ponds that form along the trail. This is the one I recommend:
Sarakina Gorge, High Mountains, South Coast and Luxury Adventure
Top-rated reviews also for this tour! A guided off-road safari adventure that includes discovering ancient Minoan paths, stopping at spectacular vistas, including a peak where you can see both the Aegean and Libyan Seas. During this Agios Nikolaos day trip, you will also visit the villages of Kritsa and Kroustas, and the beach of Myrtos, other than Sarakina Gorge. Highlights include a full lunch at a scenic lookout as well as hotel pickup and drop-off.
Click here to check more details and the prices of this tour.
Spinalonga Trip from Agios Nikolaos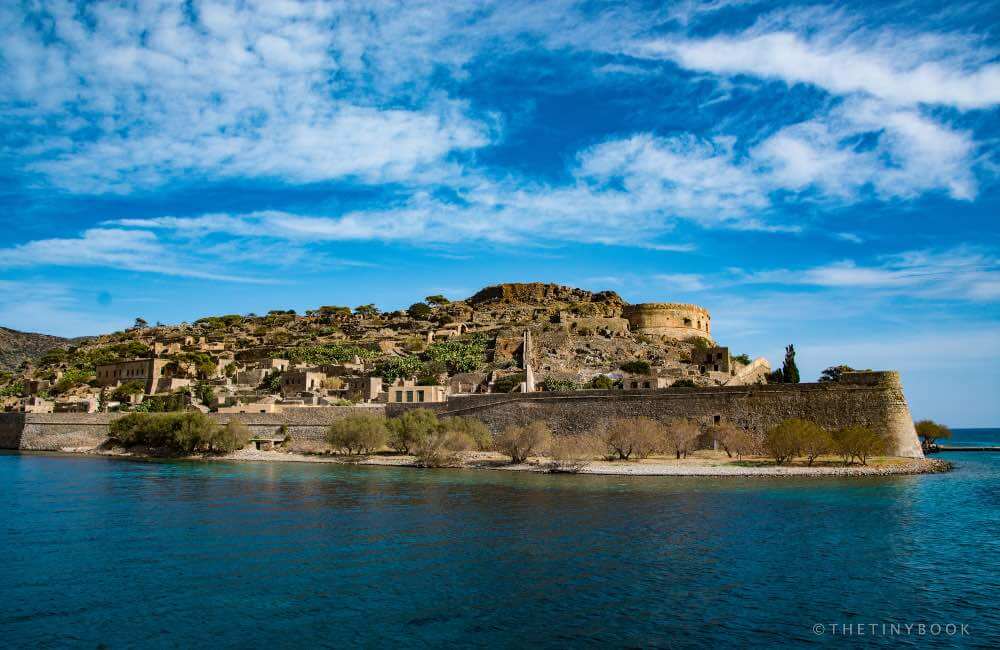 This amazing trip from Agios Nikolaos (or also from the nearby Plaka and Elounda) includes what is probably the best boat trip from Agios Nikolaos, a trip to Spinalonga!
You can easily reach the port of Elounda on your car and, from there, board one of the many boats that take you to explore the former leper colony island. Personally, this is the best day trip you can take in the area and one that you don't want to skip. You can learn everything about this mysterious island here.
If you have no clue about Spinalonga and would like to learn from a local guide, then check the following tour
Spinalonga and Milatos Cave
This tour has a little bit of everything! You'll venture into the mountains of Crete on a 4×4 vehicle, discover valleys and villages, and visit also an olive oil factory. Then, you will depart from Plaka to visit Spinalonga on a speedboat and take a short tour of the former leper colony before heading back to Crete.
Click here to check this Spinalonga tour.
More Day Trips in Lasithi & Excursions and Tours from Agios Nikolaos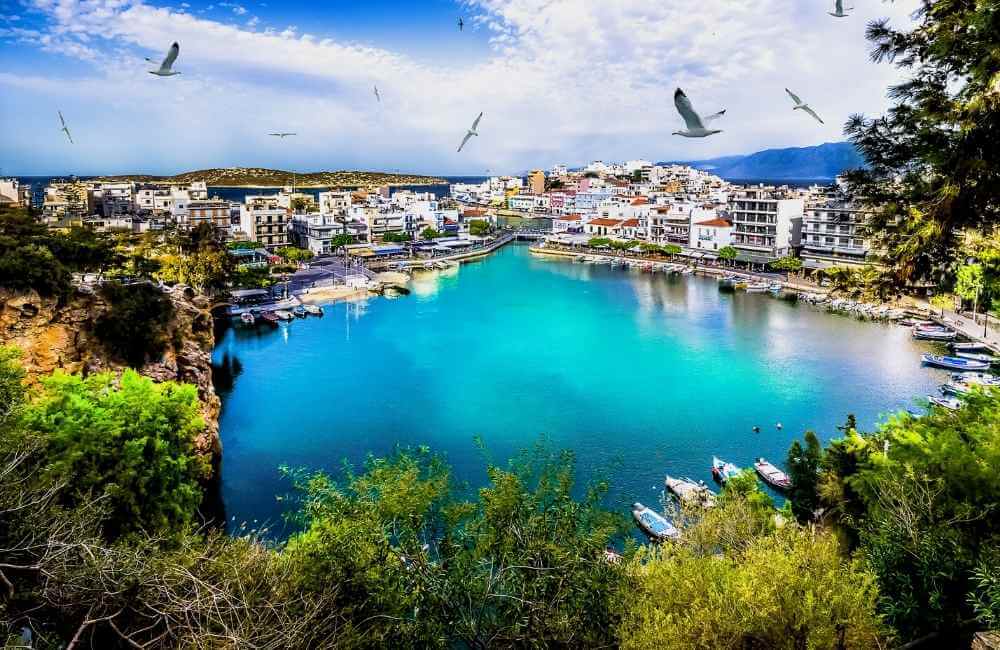 These are some less usual day trips you can take from Agios and that we recommend checking before planning your Lasithi adventure:
Sea Breeze And Cool
Overview: The experience starts from Agios Nikolaos and follows a 100 km-long route to check temples, holy monasteries, museums, and abandoned or traditional hamlets. You will hang out with shepherds, beekeepers, and the people who live in mountain villages.
Highlights: A visit to Panagia Kera and Ancient Lato, Katharo Plateau, Lassithi Plateau, Zeus Cave, and several traditional villages.
Click here to check prices and reviews.
You might also want to read: More than 35 Fun & Interesting Facts about Crete that will Surprise You!
The Stone Roads
Overview: Discover Elounda, a renowned tourist destination with a landscape of unparalleled beauty, you will visit the submerged ancient city of Olous, Cape Aforesmenos while a visit to the island of Spinalonga is optional!
Click here to check the latest prices and reviews of the tour.
Private Full-Day Knossos, Lasithi Plateau, Cave of Zeus from Elounda
Overview: Another fabulous full-day trip that will show you a lot of Crete in a short time. Perfect for those traveling to Crete for a short time! Although this tour can be a bit on the expensive side, you will certainly save money on-road travel and entrance tickets.
Highlights: You will discover the traditional villages of Mochos and Krasi, discover the Diktaion Andron (Zeus Cave) and the Lasithi Plateau, visit the Knossos Palace. You will also have the option to check the Archaeological Museum of Heraklion.
Click here to read more about this tour.
As you can see, there are many good and interesting opportunities to discover Lasithi with a tour from Agios Nikolaos.
The area of Lasithi is full of hidden surprises and checking them, either on your own or with a private tour, will give you a great opportunity to learn a lot more about Crete.
LAST-MINUTE PLANS FOR CRETE?
– Use Ferryhopper and Skyscanner for the best ticket rates.
– Find great accommodation deals on Booking.com.
– Compare car rental prices with Discover Cars.
– Check the best tours with GetYourGuide.
– Visit Elafonisi, discover Balos Beach, hike Samaria, or explore Knossos.
– Pack the Lonely Planet Guide to Crete or get my digital guide to Chania.
Best hotels in Lasithi
Affordable: Porto Maltese and Katia Apartment in town.
Mid-range: Ostria Apartments in Ammoudara or Villa Olga.
Luxury: Elounda Peninsula in Elounda and Miramare Resort in Agios.
Check also Rental Homes in Agios Nikolaos and Best Elounda Resorts.
---
More Things to Do in Lasithi
If you plan to head South during your trip to the East, check the best things you can do in Ierapetra, including beaches, landmarks, and nearby villages.
Do you agree that a visit to Spinalonga is among the best things to do in Agios Nikolaos? Then, this complete guide to Spinalonga will show you the way.
With enough time to explore East Crete, why not dedicate a day to the Lasithi Plateau? Once there, don't forget to stop for a visit to Zeus Cave, in the village of Psychro.
Dedicate a day to discover the beaches of the East. Enjoy Voulisma, Istron, and Mochlos.
Visit the nearby Archaeological Site of Gournias or your way to Sitia. Explore the monumental ancient olive tree of Kavousi, and venture into the stunning Richtis Gorge.
Explore the best beaches of Crete's extreme East: Vai, Itanos, Zakros, and Xerocampos.
Discover one of Crete's best wineries in Toplou Monastery.
---
Have you ever been to Lasithi?
Let me know in the comments below!
---
Pin it Now! Best Day Trips from Agios Nikolaos, Crete!
About the author of this blog: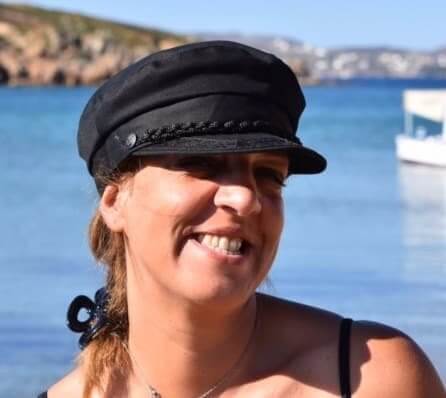 Gabi has been living in Crete for the last five years. Here, she juggles being a solo mom, hosting culinary tours in the summer, translating, and writing for The Tiny Book and her other blogs.
She's written for Greek Reporter, published three travel guides about Greece, and had more glasses of frappe than any regular person would be able to handle.
---
COMING TO CRETE SOON?
Get in touch and let me know!