If you are visiting the south of Crete, you need to check this super complete guide to Ierapetra, in the Lasithi region. Also known as the southernmost European town, or as the bride of the Libyan sea, Ierapetra is a small city full of life.
Its name means sacred stone, and it's a quiet place, with a different rhythm if compared to other coastal towns in Crete. However, despite its calm atmosphere, there are plenty of things to do in Ierapetra, here I've listed some of the best.
---
Disclaimer: Posts include affiliate links to products or services. I might earn a commission if you make a purchase, at no extra cost to you.
---
What to Do in Southeast Crete: Things to Know Before Going to Ierapetra
Let's Start by Getting Ready for Crete!
RESOURCES TO BOOK YOUR TRIP:
Book your flight: I use Skyscanner to compare prices before booking a plane ticket.
Book your ferry: When ferries are more convenient than air travel, I use Ferryhopper.
Book your accommodation: I've tried many different platforms for accommodation, but none of them beats the advantages of Booking.com.
Book your car: The best way to find an affordable car to rent is to use a powerful search engine that compares all the rental companies in the market. I use Discover Cars.
Book your tours: Live unforgettable adventures and cultural experiences with Get Your Guide. For instance, you can Visit Elafonisi, discover Balos Beach, hike Samaria, or explore Knossos.
Don't forget travel insurance: Things can go wrong at times, but travel insurance will protect you against illness, injury, theft, and cancellations. I recommend Safety Wing for peace of mind.
Best hotels in Lasithi
Affordable: Porto Maltese and Katia Apartment in town.
Mid-range: Ostria Apartments in Ammoudara or Villa Olga.
Luxury: Elounda Peninsula in Elounda and Miramare Resort in Agios.
Check also Rental Homes in Agios Nikolaos and Best Elounda Resorts.
STAY IN IERAPETRA: It's a good idea to stay in town to make the most of your time. Popy Apartments is an affordable place to stay, Cretan Villa is an amazing traditional stone building. Enorme Santanna Beach is a chic hotel facing the Libyan Sea.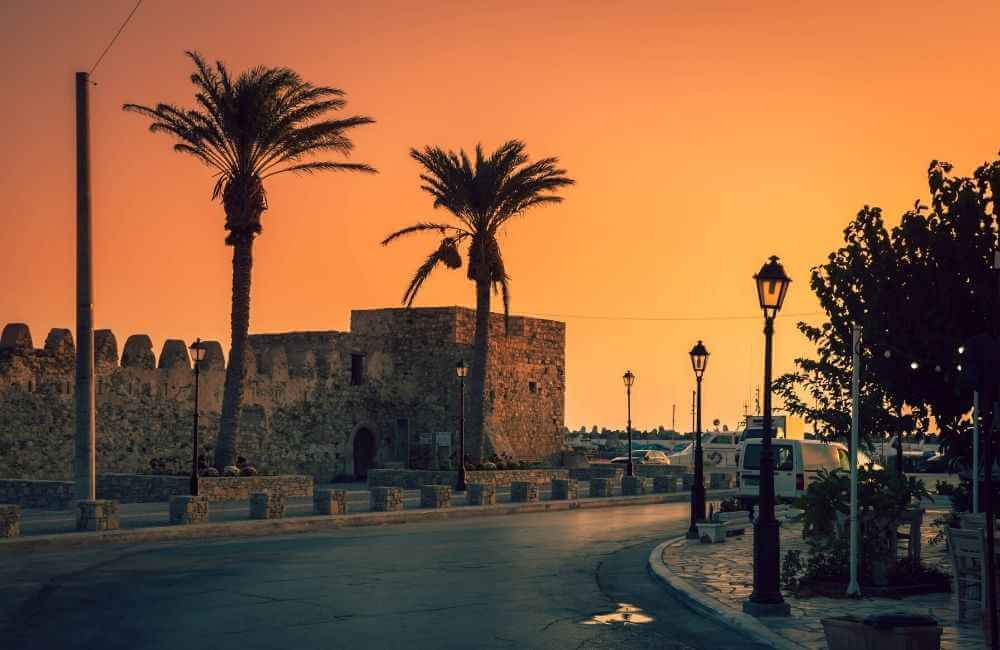 Useful Information about Ierapetra
Regional unit: Lasithi
Location: Southeast Crete.
Distances to Ierapetra from Crete's main cities:
From Agios Nikolaos: 30,8 km, 45 m
From Sitia: 60 km, 1 h 10 m
From Heraklion: 140 km, 2 h
From Rethymno: 173 km, 2 h 30 m
Things to Do in Ierapetra, East Crete
Ierapetra is an important town on the southeast coast of Crete. You can reach Ierapetra by driving west from Sitia, or south both from Heraklion or Agios Nikolaos.
It's the only important town on the southern coast of the island, and the fourth all over Crete in population. Despite all that, Ierapetra is a peaceful coastal village, where nothing much happens.
Above all, Ierapetra remains the place where to spend the night if you plan to visit Chrissi island.
However, Ierapetra had a huge importance in the past of the island thanks to a strategic position facing Africa.
It's not surprising though, that there are a few buildings worth seeing in town, and the remains of several monasteries all over the region.
There are many beautiful beaches as well, and wonderful gorges to explore near Ierapetra.
Kales, the Venetian Castle
Located at the edge of the ancient port of Ierapetra, this medieval fortress, known as the Fortress of Kales dates back to the early Venetian era. Locals claim it was built in 1212 by Pescatore, a Genoan pirate.
Not many know that the Republic of Genoa indeed ruled over Crete for a short time before passing to the hands of the Venetians.
Instead, we do know that in 1626, Francesco Morosini, the Captain-General of the Venetian forces in Crete, ordered special works to make it a safer and stronger castle, which had been damaged during an earthquake in 1508.
Ierapetra fell to the Turks in 1647, while the fortress was undergoing reconstruction. Its name derives from the Turkish word Koules, which means tower in Turkish.
The well-preserved facilities usually host cultural events, especially during the summer.
The Archaeological Museum of Ierapetra
If you walk towards the opposite end of the seaside promenade, you will find the Ottoman school or Mehtepi.
This beautiful building is part of the town's history. It was built for the Turkish kids of Ierapetra in 1899 after Crete was liberated from Ottoman rule.
The Ottoman school houses a tiny but important archaeological collection including Minoan, Geometric, and Roman artifacts.
There is also a fascinating mold of a Minoan ax as well as a marble head of a man found near the ancient theatre of Viglia, dating from the Roman period.
The museum opens daily every day from 8.30 to 15.00 and it's closed on Mondays. The admission fee is 4 €, a bit expensive for such a small collection.
Kato Mera, the Old Quarter
When visiting the old quarter of this small town, don't forget to check…
The House of Napoleon
About a hundred meters from the Kales, in the area of Kato Mera, it's possible to visit a small building known as to spiti tou Napoleonta, the house of Napoleon.
People from Ierapetra claim that the famous French statesman spent a night in town, in the house of a local family, on his way to Egypt, in June 1798, before the Battle of the Pyramids (July 1798).
The legend tells that Napoleon was incognito, while he left a note to be found after his departure in which he revealed who he was.
The very small house has been under renovation for a long time, and it's not possible to enter the building.
The Mosque of Ierapetra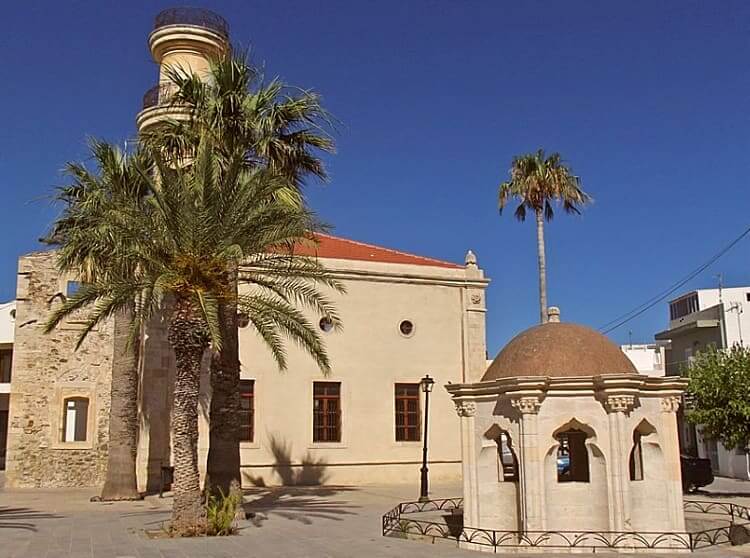 The former church of Agios Ioannis in Tzami square, in the old quarter of Kato Mera, is another place worth a stop.
While Crete was under Ottoman rule, the Turkish took the church and transformed it into a mosque that locals usually call Tzami.
The Turkish added a marble with a Muslim inscription on the entrance, as well as a minaret.
Opposite there's a sebil fountain that the Turks used for ablutions. The careful restoration works highlight the beauty of the square building and its wooden roof covered with tiles. Agios Ioannis is now a music school.
The Church of the Virgin of the Kales
The Diocese of Ierapetra is one of the oldest dioceses of Crete, there is news of its bishop participating in the Synod of Sardica in AD 343.
It's easy to understand why there are so many important churches and monasteries in the area.
The church of Afendi Christo, also known as the Virgin of the Fortress (Panagia tou Kale) is the oldest in town, built between the 12th and 14th centuries.
The church acquires special importance for the residents during Easter when families and children burn a Judas in a unique ritual.
Beaches in Ierapetra
The main seaside of Ierapetra is mainly a walking promenade full of bars, restaurants, and shops, and it extends both to the East and the West of the port.
To reach the beaches of the city, you will need to walk past the port of Ierapetra.
Paralia Ierapetras, the Beach in Town
Paralia Ierapetras is the main beach of the city, and it's right next to the port. This black-pebbled beach is rather big but tends to get very crowded.
Although Ierapetra is a great place for a relaxing holiday, I suggest exploring, towards the east and the west, to find beaches of unique beauty.
>>Check this guide to renting a car on Crete to discover the beaches around Ierapetra<<
West of Ierapetra: Mirtos
Just 14 km west of Ierapetra, the small village of Mirtos is worth more than a trip to the beach to enjoy its traditional atmosphere.
There's also a small archaeological and folk art museum with artifacts found in the nearby Minoan sites of Pyrgos.
The well-organized beach of Mirtos is rather long and one of the favorites in Crete for families with kids. Villagers claim that winds never touch Myrtos, and indeed, strong winds don't seem to affect the beach.
All the Beaches East of Ierapetra
Take the national road that connects Ierapetra and Sitia to the East. You will encounter Koutsounari, Ferma, and Agia Fotia, as well as Koutsouras.
Next up is the immense bay of Makrigialos, where you can choose different small beaches to spend your day. However, when you have passed the big bay of Makrigialos, it's when things get more interesting.
Along the shore, there are unique beaches that are worth a day trip. Many of them are practically unknown, so crowds won't be a problem.
I strongly recommend you explore the coastal road, always taking the necessary precautions. Many beaches are completely deserted, so there's usually no organization, let alone a lifeguard.
The terrain tends to be rocky and harsh, and hiking or climbing is not uncommon if you want to reach the coves.
So pack some food, watch your step… and enjoy the stunning southeast coast of Crete. These are some of the best beaches east of Ierapetra.
Koutsounari Long Beach
If you are interested in water sports, you can find a good beach for that purpose 5 km east of Ierapetra. Koutsounari is also known as Long Beach since it's almost 2,5 km. long.
The beach is organized, and there are also several beach bars and restaurants and a nice camping site nearby too.
Ferma Beach
Ferma is a little seaside village, no more than 10 km from Ierapetra. Many tiny bays populate the coastline of Ferma, with two important beaches, Livadi and Ferma or Xerokamara.
The beach is stunning not only because of the blue deep waters but also of the rock formations that surround it. The stunning landscape includes a small number of date palm trees.
Agia Fotia
If you drive for another 2 km towards the east, you will find one of the most beautiful beaches in the area.
Agia Fotia is a small bay surrounded by the lush vegetation of tamarisks and cliffs.
This gorgeous beach is located at the mouth of a narrow river that comes from the mountains. In the area, there are restaurants and beach bars, as well as some rooms to rent and hotels.
Koutsouras Beach
20 km from Ierapetra, Koutsouras village offers a series of pretty but blue flag beaches to spend your day.
Most of them are small and have very dark pebbles, but they are still good for kids because they are not hit by the wind. The water is of beautiful turquoise color and some trees offer shade.
Makrigialos
Makrigialos is probably one of my favorite beaches in the area of Ierapetra. It's only 20 km away, and it's a rather small town with different beaches one next to the other.
The sea is shallow and calm and it has always been one of my kid's favorites since it's sandy.
There's a long promenade with traditional tavernas along the beach. But, all in all, the area remains unspoiled, offering a traditional seaside landscape, great to spend a morning before heading further towards the east.
Dragon's Cave
Driving towards the east of Makrigialos, for about 20 minutes, there's a point rather lonely, with difficult access, but extremely beautiful.
The locals know it as the Dragon's Cave, but the official name is Ammoudi.
This tiny beach is not visible from the paved road, and you will find it only thanks to the restaurant opposite, The Cave of the Dragon.
If you bring hiking shoes or trainers, you can go down a fairly steep hill to find this beautiful cove. Protected from the strong winds, this beach with crystal clear waters is surrounded by a rocky formation in the shape of a sleeping dragon.
The area is completely secluded, so it's a good idea to pack your lunch if you intend to spend the day. Locals also claim that the calcareous limestone and mud in the area have excellent properties for your skin.
Beaches Further East
After the Dragon's Cave, the road extends to the east. Along the coast, beaches such as Kalo Nero, Asprolithos, or Goudouras are incredibly beautiful.
This is the road that will take you to the easternmost part of Crete, where you can also visit Xerocampos and, after a while, the well-known Kato Zakros.
You can read more about these beaches in this guide about Lasithi beaches, as well as in this guide to the naturist beaches of Crete.
Day Trips from Ierapetra
When spending a few days in this area of Crete, check out these great day trips from Ierapetra to spend a great time!
Selakano Forest
About 35 km north of Ierapetra, it's possible to visit the unique forest of Selakano (also known as Selekano), the plateau, and the picturesque village.
Considered the most remarkable pine tree forest in the Mediterranean, the protected area is part of the Natura 2000.
Among other species, there are maple trees, platans, and cypresses. Natural mountain springs are also easy to find in the area.
The forest, locally known as Selakanou, ends at the peak of Mount Dikti (2148 m). This is one of the largest areas on the island dedicated to apiculture, therefore bees are not unusual. Around Selekano, it's also possible to discover vines and walnut trees.
Orino Gorge
Usually known as Butterfly gorge, this canyon is located in the area of Makrigialos.
The best way to access and walk the gorge is to depart from Orino village, in the north, drive up from Kolimbos, and from there start your way towards the sea (South).
REMEMBER: The gorge is fairly easy to walk, but some portions of the way require some attention since you need to change the path since there is a torrent otherwise impossible to cross.
Achlia Gorge
This small and rather wide gorge is fairly easy to walk in about an hour, even with children, as there's no need for any special equipment.
Along the walk, you will find several waterfalls and unique views. The best way to access the gorge is from the beach of Achlia, 7 km from Agia Fotia beach, a small and usually uncrowded seaside village.
Sarakinas Gorge
Not to be confused with the homonymous gorge located in Meskla (the White Mountains, Chania prefecture), the gorge starts 6 km north of Mirtos and is also known as Mirtos Gorge.
The gorge's width ranges between 3 to 10 m, reaching up to 150 m in height. There's a river flowing all year long, which forms small pools along the canyon.
Sarakina gorge can be partially visited if you have no experience in canyoning, but still, want to have a feel of what the landscape looks like.
If you walk for about 20 minutes, you will see a tiny waterfall and a pool too. The legend goes that one of Zeus' sons stopped at the river to drink and he cut the mountain in half with his long beard.
If you intend to cross this gorge, check with local experts about rainfall in the previous winter. This will determine if venturing into Sarakinas is a possibility.
Ha Gorge
Ierapetra is home to one of the most impenetrable gorges in Crete. Only those with extreme experience and the right equipment could try crossing the canyon.
About 1.5 km long, and just under a meter wide at its narrowest point, the gorge is up to 1000 m deep.
Ha is one of the largest fissures in the world and any local strongly discourages venturing in the canyon. The crossing requires over 25 technical descents, and only experienced climbers might manage.
Fatal attempts to cross the gorge are not rare.
Despite these facts, the narrow entrance of the gorge is stunning, there's a pond fed by a little waterfall coming from an overlying lake rarely visible.
To reach the entrance of the gorge from Ierapetra, you need to drive for about 15 km on the Ierapetras-Pachias Ammou road, until you get to the village of Vasiliki.
>> Looking for more gorges in Crete? Check this article
From Ierapetra to Chrissi Island
Learn about the weather in Ierapetra (Essential if you're planning a boat trip to Chrissi Island!)
When you visit southeast Crete, chances are that, like many other visitors, you will use Ierapetra as your base point to sail to Chrissi island.
My suggestion is to be as flexible as your schedule allows. It's a well-known fact that there are very few rainy days in Ierapetra per year. But it's also true that it does rain sometimes.
Try to spend more than one night in Ierapetra in case your boat trip gets canceled due to weather conditions. In my personal experience, when I visited Chrissi, the boat left early in the morning, and it was sunny in Ierapetra.
However, at about midday, from sunny Chrissi island, we could see the Cretan coastline covered in dark clouds and heavy rain.
Gaidouronisi (Chrissi Island)
Chrissi (Χρυσή "golden") Island or also Gaidouronisi (Γαϊδουρονήσι "donkey island") is a very small, uninhabited Greek island off the southern coast of Crete, about 14 kilometers south of Ierapetra, on the Libyan sea.
The island, about 2 km wide and 7 km long, is a protected reserve belonging to the Natura 2000 program.
Most of the surface of the island is covered by a rare cedar (junipers) forest, the largest in Europe.
Chrissi Island Tour
The highest point on the island is Kefala (head), over 3o m above sea level.
In the western area, you can visit the church of Agios Nikolaos built on top of an ancient building that dates back to the 13th century. On the same extreme of the island, it's possible to see a small lighthouse.
Explore the Beaches on Chrissi Island
There are a few different bays you can choose from on the island. Chrissi Ammos (Golden Sand, or also Belegrina) is the one closest to the pier, which means you're likely to find it crowded.
Everyone following the path heads there and stays there until the time of departure.
It's a beautiful white and pink sand beach, a mixed composition of tiny shells and pebbles, which kids will certainly do with a pair of swimming shoes.
There is a (rather expensive) bar where you can buy drinks and sandwiches. It's always a good idea to pack your lunch.
Chatzivolakas is a nearby rocky coast, ideal for snorkeling since it's usually calm and protected from the wind. In the area, you can visit the remains of an old salt lake
Towards the east of Chrissi Ammos beach, the beach of Kataprosopo is right across another uninhabited island, Mikronisi.
There's just one beach on the southern part of the island, usually solitary, it's Vages, ideal for naturism and diving.
REMEMBER!
– There is no drinking water and just a couple of seasonal bars. Take your provisions for the day.
– Bring comfortable shoes if you want to explore, and also because the sand tends to get extremely hot.
– If you arrive with the later boats, chances are you won't find a free umbrella to rent. Bring a hat, there's not much shadow on the beach.
– Take good care of the environment, it's a protected area of unique natural beauty.
Chrissi Island Boat Trip
You can reach Chrissi by sea from the port of Ierapetra as well as from the smaller port of the nearby beaches of Mirtos and Makrigialos (with higher fees).
Different ferryboats and private ships reach the coast between May and October.
The trips departing from Ierapetra last about an hour and the tickets can be purchased in advance at one of the many offices in the seafront area, near the port of Ierapetra (Ticket: 25 €).
Daily boats depart every morning from 10.00 until midday, while the trip back is usually fixed at 16.00.
It's also possible to reach Ierapetra with a private tour which can even include an onboard grill or a lavish Cretan lunch, but prices will be higher.
Remember that there's a visitor tax equivalent to 1.00 €, payable on the boat. I always suggest booking the trip in advance, especially if you're traveling in the high season.
Upon arrival, your boat will be docking on the southern coast, and it will be necessary for you to reach the northern coast on foot.
You will walk a well-marked path, through the juniper forest, so it's essential to bring walking shoes or sandals, other than your flip-flops.
>> Find more information about trips to Chrissi here<<
What and Where to Eat in Ierapetra
It's fairly common for people to believe that, since Crete is an island, our diet includes lots of fish. This is not particularly true on the northern coast, where locals tend to prefer lamb and sheep.
However, if there's a place to splurge on delicious dishes of fresh fish and seafood, that has to be Ierapetra.
Any of the restaurants on the seaside promenade serve inviting fish platers at very convenient prices. Mezes, raki, and salads are also common proposals by the sea.
For a great dinner, prefer the restaurants located after the port (to the West, right before the Kales), while the ones on the eastern side are better for coffee or afternoon drinks.
One place I love is Gorgona, for an informal meal.
They serve huge dishes in grandma's style. Always ask for suggestions, and the owners are very friendly. For a more sophisticated meal go to Zorba's, in the same area.
Check this article about the best places to eat in Lasithi for more suggestions.
Nightlife in Ierapetra
You might not find the kind of nightlife that you could enjoy in bigger cities, however, there are a few places worth checking out at night in Ierapetra.
The most popular music bars and pubs are on the seaside, mostly towards the east. You can relax, and enjoy music and a few drinks in The Saxo Bar.
Right by the sea, Island Cafe Bar is great both for a night cocktail but also for a quick brunch.
If you enjoy jazz music and a cozy atmosphere, Parodos is a favorite in tow, but it's not located on the seaside (Emmanouil Ploumidi street).
---
Which place did you like the most in Ierapetra?
Let me know in the comments below!
Don't Leave Before You Pin! Pin This Helpful Guide to Plan a Trip to Ierapetra For Your Next Crete Travels!
About the author of this blog: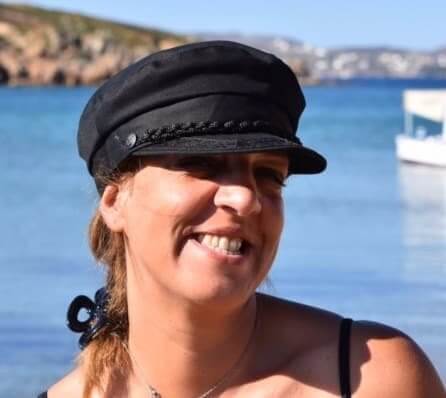 Gabi has been living in Crete for the last five years. On the island, she juggles being a solo mom, hosting culinary tours in summer, translating, and freelance writing.
She's written for Greek Reporter, published several travel guides about Greece, and had more glasses of frappe than any regular person would be able to handle.
---
You might also want to read:
COMING TO CRETE SOON?
Get in touch and let me know!