Whether you're just looking for your early coffee fix or trying to discover the wonders of a traditional Cretan breakfast, the city of Chania offers plenty of places for you to start the day the right way.
In this article, we show you some of the top places where you can enjoy the best breakfast in Chania!
---
Disclaimer: Posts include affiliate links to products or services. I might earn a commission if you make a purchase.
---
Only 24 hours in Chania? Check this story!
Breakfast in Chania: Best Spots in Town
Freshly-brewed coffee, orange juice, a cup of local malotira tea… no matter how you'd like to start the day, let's admit it: breakfast when on holiday has a different taste.
Maybe because it's someone else making it for us, or maybe because we don't have to rush our cuppa before heading to the office…
The truth is that there is bigger pleasure than taking a good, long hour to enjoy a warm croissant while taking in the views of a stunning city, just like Chania.
You can have a regular breakfast buffet at your hotel, sure… But you can also go for an inspiring adventure to learn about the local breakfast.
Traditional Breakfast in Crete
I learned a lot about Breakfast in Crete… not so much by eating it as I did by translating it! Yes, translation has been my lifetime profession, and I've worked with many restaurants translating some of their breakfast menus.
One of the people that taught me more about this unique meal on the island was Katerina, who owns a fantastic restaurant in Rethymnon.
Her place is well-known for its gastronomic awards but also for serving the authentic type of breakfast that was once common in small villages on the island…
I discuss their food here, or you can head to this link to check out this restaurant's Breakfast menu.
On Crete and for long years, breakfast was the main and most important meal, the food men would eat before heading to the fields for a long day's work.
It would normally include eggs cooked the Cretan way, cold cuts and meat, potatoes, and fresh cheese.
Oftentimes, it would be a dish from the meal served on the previous dinner, and it was not odd to find a small glass of wine at the table too.
Today, some very old taverns still serve stews, soup, bread, and wine for breakfast (in small villages and even in Chania's municipal market), but the trend has slowly changed to keep up with today's faster pace of life.
Let's now take a look at some unique dishes you can try and then dive right into the best places for breakfast that you'll find in Chania!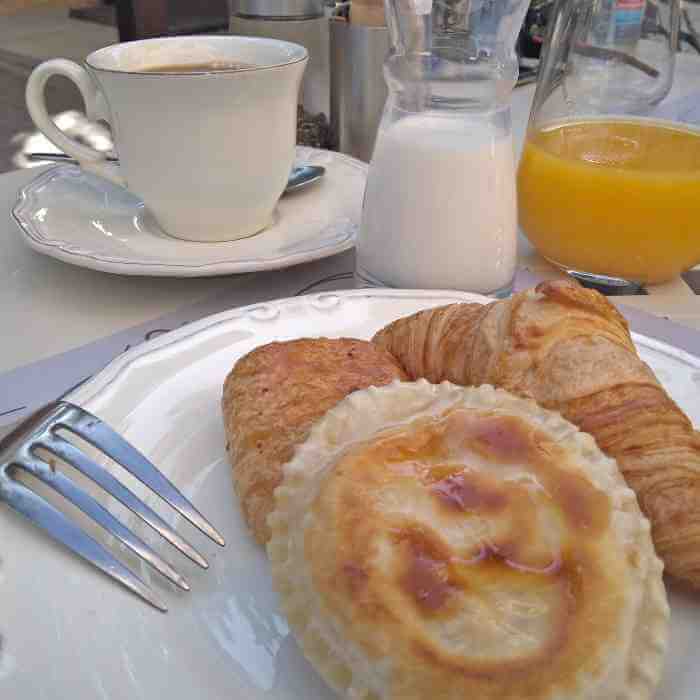 Top Places to Have Breakfast in Chania
These are the top places in town for great breakfast! Take a look…
Iordanis Bougatsa
Location: 24, Apokoronou Street, Chania – website
Definitely, my go-to place when I have some extra free time, Iordanis has been serving bougatsa in Chania for over a hundred years!
Probably one of the most traditional bakeries in the city, this place serves just one bougatsa variety (made right on the spot with fresh myzithra cheese and phyllo dough). Greek coffee is also available.
Looking for a traditional Cretan delicacy? There's no other place like Iordanis.
In the mood for nothing but a cup of coffee? Check out these 33 Chania Coffee Shops that You Shouldn't Miss During Your Stay in Crete
Ginger Concept
Location: 36, Sarpaki Street, Chania – website
Fairly new in town, this is a gorgeous spot in the heart of Splantzia, one of the most traditional corners in the old town.
Here, you will find anything from traditional Cretan breakfast to more modern proposals including juice, eggs, bacon, fresh bread, and fragrant pastries. Vegan and vegetarian options are also available.
… and you can find a lot more than just breakfast, including great music (playlists are available to download on their website) and
To Artopolion
Location: 36, Karaoli Dimitriou, Chania – website
You can have your breakfast to go or sit and enjoy it on-site. This is one of the must-go places in town for the first meal of the day, it's popular among the locals and tourists love it too.
Looking for an unforgettable experience? Then try a Cretan Croque Madame, the French classic with a local twist
Pallas
Location: 15, Akti Tombazi, Chania – website
Yes, over here you can have a delicious Cretan breakfast… if you can resist the view of the impressive international breakfast plates that have made Pallas the breakfast place in town where locals love to meet every Sunday morning!
This unique proposal is served in one of the most beautiful historic houses in Chania, according to the legend, once home to Ali Pasha, one of the many Ottoman rulers of the city.
Phyllo Breakfast and Brunch
Location: 35, Kondilaki Street, Chania – website
Located in the heart of Chania's old town, this picturesque place is a top-rated breakfast restaurant.
They serve handmade fresh products and you can see how they are being cooked in their open kitchen. Delicious fragrant pastries, hot and cold coffees, tasty juices… you choose!
Adami Breakfast, Brunch & Beyond
Location: 64, Portou Street, Chania – Instagram
What about a tower of freshly made pancakes, with Cretan honey and fresh fruits in a picturesque old-town garden? I'm in!
This is the right place to enjoy authentic products, locally sourced in the Chania area, fresh coffee, some sunshine, and fragrant coffee. Any better idea to kickstart the day?!
Aroma Restaurant and Bar Chania
Location: 4, Akti Tombazi, Chania – website
One of the classic bars for the most traditional breakfast in Chania. Including eggs, dakos, feta cheese, tomatoes, olives, fresh juice, frappe, or Greek coffee.
Another place often overcrowded on Sundays, Aroma offers incredible views of the Venetian harbor and the Lighthouse for an all-Cretan breakfast experience.
Monterno Patisserie (1866 Square)
Location: 43 Koraka Street, 1866 Square, Chania – official website
Although there are plenty of Monterno Patisseries scattered all over town, this one is fairly close to the old town and the Central Bus Station and their coffee is simply fantastic!
Head here to try their take on chocolate eclairs, cakes, croissants, and a huge variety of traditional sweets including kataifi, baklava, orange cake (portokalopita), and a lot more!
Fresh Point Juice Bar
Location: 24, Zabeliou Street, Chania – website
I've mentioned Fresh Point Juice Bar as a great place to enjoy a glass of cold coffee, juices, sandwiches, or other homemade delicacies in my street food article. And that's because this is one of the best-rated places in Chania for snacks and brunch, and – of course – it serves affordable and delicious breakfasts!
Its great location in the heart of the old town makes it a perfect place for a quick stop while exploring the pedestrian alleys!
Bougatsa Chania
Location: 37, Apokoronou Street, Chania – website
Locals often take sides when it comes to bougatsa… and while some people swear by the freshness of Iordanis Bougatsa (mentioned above), many others cannot live with the bougatsa made by Bougatsa Chania (locally known as Bougatsa Xanion – Μπουγατσα Χανιων).
Order a cold or a Greek coffee to go with it, and don't forget to abundantly sprinkle your bougatsa with cinnamon, sugar… or both!
Feidias Cafe Bar
Location: 2, Eleftherias Square, Chania – website
The area known as Dikastiria, where the Court of Chania is located, is quite an aristocratic corner of Chania, where you will find plenty of trees, a small square, beautiful Neoclassic buildings, and some incredible coffee shops.
One of them is Feidias, a local favorite when it comes to morning breakfast (but also for lunch, brunch, and a late-night drink).
The Red Bicycle
Location: 25 D. Episkopou 25 and Skrydlof Street, Chania – website
Locally known as To Kokkino Podilato, this is one of the most beautiful places for breakfast in Chania, right in the heart of the pedestrian area.
Affordable prices paired with huge portions are always a winning combination. Kids love their ice creams while the whole family will appreciate their authentic Cretan breakfast.
Papanikolakis
Location: 139, Kissamou Street, Chania – website
Leave the old town behind and reach the modern city of Chania to taste one of the favorite places for a local (and also international breakfast).
Here, you will be greeted by a kind staff ready to suggest the best dishes to start the day!
Spoiler alert: Their cakes and pastries are to die for!
Koukouvaya
Location: 1, Alexi Minoti Street, Venizelos Graves, Chania – website
You cannot, should not, and definitely must not visit Chania and leave without trying Kookouvaya's legendary cakes!
Making one of the best Pavlova cakes in town, incredible varieties of cheesecake, and their trademark: Zoumero!
What is Zoumero? Read their own description…
Ever since 1997, the brand name Koukouvaya has been identified with one of its creations: Zoumero® (Greek for "juicy"), which is a fluffy chocolate cake dipped in rich, warm, chocolate syrup topped with whipped cream. Ζoumero®, always remaining fresh and packed in a specially designed package, travels with you now.

Koukouvaya
Yes…! You won't only be able to taste the Zoumero cake from the incredible setting of Koukouvaya… but you can also take it home with you!
Check out all their sweets and cakes here.
From their terrace, you can have some of the best views of Chania. And the local decor… well, you must see it to believe it!
Enasma Cafe
Location: Lake Agia, Chania – website
Even when not right in the center of Chania, this is a great place you can visit if you're heading to Omalos, or plan to visit the area near Samaria Gorge as it's located more or less on your way.
Surrounded by the impressive orange fields of Agia and facing the iconic views of Agia Lake, this place is incredibly atmospheric, ideal for a cold espresso with ice cream, a cup of local tea, and a variety of breakfast options.
Sit in the garden for a magical experience!
As you can see, there are plenty of great places for a little bit more than a morning cup of coffee. Which one of them will you visit this summer?
Have you visited any of these spots for your Chania breakfast before?
Let me know in the comments below!
Read more about Chania
🛌 Suggested Accommodation in Chania
🗺️ More resources to book your trip to Crete
Pin it! Pin this Guide to the Best Spots for Breakfast in Chania, Crete!
---
You might also want to read these posts about Crete's regions:
---
About my blog: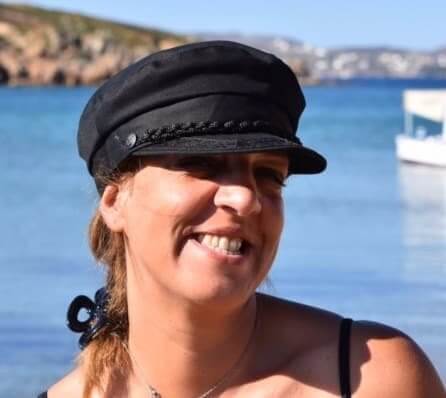 I moved to Crete in 2016. During these years, I learned much about the island.
In Crete, I juggle being a solo mom, hosting culinary tours, and writing for several travel media.
I've written for Greek Reporter, published travel guides about Greece, co-authored DK Eyewitness Top 10 Crete, and had more glasses of frappe than any regular person could ever handle.