As soon as you arrive in Greece you will feel the unforgettable blend of a sea breeze and a smell of fresh ground coffee.
Yes, coffee is an important part of the locals' life. Drinking coffee in Greece is not just a habit or a way to wake up in the morning, it is a whole ritual that can't be missed.
And in Crete, it didn't have to be any different! Let's check here some of the best coffee shops in Chania so that you get ready for your breakfast in town!
---
Disclaimer: Posts include affiliate links to products or services. I might earn a commission if you make a purchase at no extra cost.
---
Best Coffee Shops in Chania, Crete
Greek Way to Drink Coffee
These are some of the most common traditions that locals enjoy when it comes to coffee…
Going Out for Coffee
If you observe the Greeks, you will see that throughout the day the coffee cup is an inseparable part of their hand.
In the morning, they enjoy a cup of coffee at home to then definitely stop on their way to work at a favorite coffee shop, and get one to go.
During the working shift, coffee breaks are also very important… Because no job in Greece can be done without at least two coffee breaks a day.
After work, they will either meet with friends for… guess? Yes, yet another cup of coffee, or they will relax at home with another cup of coffee.
When it comes to local habits, it's also very common to go out for a coffee.
It doesn't matter that you already had 3 different types of coffee at home, if you are Greek, you will get out and drink coffee in a coffee shop (which can actually be just around the corner or across the street from home!).
Visit Friends… and Share a Coffee
If you are going to visit friends at their homes, the first thing you'll be offered is some coffee, this is part of philoxenia, that Greek hospitality that has made the country famous.
Even if you were invited for dinner for example, still the first thing first you would all have would be coffee, then have a chit-chat, and only after that, you would sit at the table.
Coffee Types
Now let's see what types of coffee you can get in Greece, as there are several.
The traditional Greek coffee, called Ellinikó, is a must if you are looking for the most authentic local taste.
Ellinikó Kafé
Ellinikó is prepared in a small pot known as briki which in the past was heated in hot sand, something that only traditional places still do.
Grounded Greek coffee goes inside the briki with water (and sugar if you drink it sweet) until it starts to boil.
This is an important moment; you can't let it boil totally as it will spoil the taste! Greek coffee is usually served in small cups with a glass of water and sometimes a traditional sweet called loukoumi.
Brewing a perfect Ellinikó is a delicate secret that only Greeks know how to manage.
Cold Coffees for Summer
During the summer, iced coffee is the chosen drink. Locals love their Freddo Espressos and their Freddo cappuccinos. It's really the chosen beverage for most locals all day round.
Another choice when it comes to cold coffees is Frappé, and I'm a fan of it! Frappé was actually invented in Greece during the fifties and it's made with instant coffee.
Another coffee you can order is filtered coffee, known as Gallikó (French), but locals are not really a fan of it and is mostly chosen by tourists.
When you order your coffee, remember that you'll be asked how sweet you would like to have your drink. So you can ask to have it made with or without sugar. Here are some terms that will help you to order the coffee the way you like it:
Sketo – without sugar
Metrio – 2 teaspoons of sugar
Pros Gliko – 3 teaspoons of sugar
Gliko – 4 teaspoons of sugar
Me mavri – with brown sugar
Me zaxarini – with sweetener
Me gala – with milk
Coffee Shops in Chania: Best Places for Coffee in Town
Now that you have a little background of Greek coffee culture let's have a look at the best places for coffee in Chania.
Koukouvaya
Location: Alexi Minoti, Profitis Ilias.
This iconic place is a must and who hasn't heard of it?
Koukouvaya is perfectly located on top of Prophet Elias Hill for you to admire the breathtaking views over the city of Chania as well as to enjoy excellent coffee varieties.
And their cakes are to die for. Lemon pie, cheesecake, Pavlova, and their stunning Zumeró, a chocolate cake with a soft heart of hot chocolate.
You can't miss this place at sunset, provided that you find a free table. Prices are not on the cheap side, but locals adore it and it's usually full.
Dagkli by M&Co.
Location: Dagkli 6.
This nice little coffee shop serves a huge variety of coffee blends and the professional baristas brew them perfectly! There are tables outside on the street just opposite the historical house of Eleftherios Venizelos.
This is a great place to enjoy your coffee while you are taking a break between museums, their legendary sign outside is a landmark in the neighborhood and it will certainly put you in a good mood!
Aroma Café
Location: Akti Tompazi 4.
Located right in the Old Venetian Harbor, this is another of my favorite places for coffee in Chania. Right next to the Mosque at the port, it's a great place for you to sit after a walk in town or to simply rest and watch the harbor.
The café is set in a historical stone house and has a beautifully decorated interior that will make you want to stay forever! The place is very popular, so it's usually crowded.
Pro Tip: Try their Cretan breakfast!
Monogram Roaster Coffee Shop
Location: Daskalogianni 5.
This trendy place offers an incredible selection of coffee blends as well as a delicious variety of teas (which is extremely rare in Greece).
Whatever coffee you choose, you will get a perfectly brewed, amazingly flavored cup of coffee from an always smiling staff.
Most people pop in for takeaway, but there are a few tables inside and outside where chilled vibes are guaranteed.
Kross Coffee Roasters Tzanakaki
Location: Tzanakaki 58.
A modern and stylish spot to enjoy coffee from some of the best roasters in Chania! The place has plenty of room, so choose a table next to the window and observe Chania's busy life.
It can also be a good place where to buy your coffee before a walk in the Municipal Garden that is just across the street.
Apollonia Coffee Shop
Location: Grigoriou E. 5.
This place is a favorite among the locals. And no wonder, as the café serves amazing coffee to suit each taste. The interior design directly catches your attention.
Many small niches on the walls are filled with different coffee-related items like candles and vintage coffee boxes. All these create a colorful and cozy atmosphere.
This place is also a sports café, so if you are on vacation but don't want to miss an important game, this is the place to go.
Εllinikó Speciality Coffee Bar
Location: Akti Miaouli 4.
As the name says this place is the place to go if you want to try a traditional Ellinikó. Besides, they serve many other types of coffee for those who are not fans of such strong flavors.
There is also a tasty selection of food and sweets. The space is very beautiful featuring wooden elements, but what is really great is the sitting area outside, just above the sea. The views from here are stunning!
Sinagogi Café-Bar
Location: Parodos Kondilaki.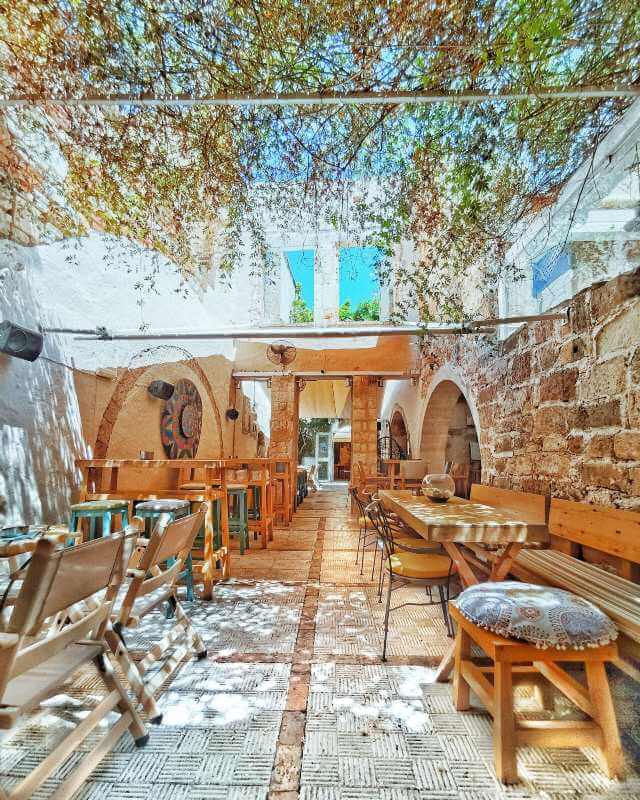 This amazing place is located next to the old Jewish Romaniote synagogue. The old stone walls, beautiful decorations, and almost no roof create a magical atmosphere, also at night.
Enjoy your cup at the bar or at one of the many tables.
I'd suggest you visit this place both in the daytime when you can see sun rays through the roof beams and in the evening when everything is decorated with candles and when, for a change, you can have a cocktail and hear some music.
Ginger Concept
Location: Sarpaki 36.
Hidden in the colorful narrow streets of the Old Town, this stylish café is ideal for a coffee break. The place is busy all day, especially during the morning hours as it is one of the favorite places for a delicious breakfast.
Ginger Concept is always full and you might need to wait. Don't worry, the surrounding area is simply gorgeous to walk around… Be patient! It's worth the wait. The smell of fresh coffee will not disappoint you.
Coffee Lab Chania
Location: K. Tsismenaki 2 &, Daratsos
This place will show you that coffee is a mixture of science and passion blended together in one cup! Check out this stylish place just minutes from town, in Daratsos.
The best-selected blends are brewed by skillful baristas to have your drink in place but you can also buy the blends that you liked to make your coffee at home.
Whatever you choose it will be grounded right in front of you. You can't miss the special pancakes. Trust me, this place will become your favorite!
Neighbor's
Location: Karaoli & Dimitriou 6.
The cute little spot is located in the Old Town. They serve amazing coffee as well as fresh pastry and sandwiches. The place doesn't have a lot of space so it has become popular mostly for takeaway.
It features a lovely balcony on the second floor where you can enjoy your coffee while observing the streets of Chania.
Pro tip: Their pasta dishes are delicious, and the apple pie is to die for!
To Brikaki
Location: Kondilaki 26.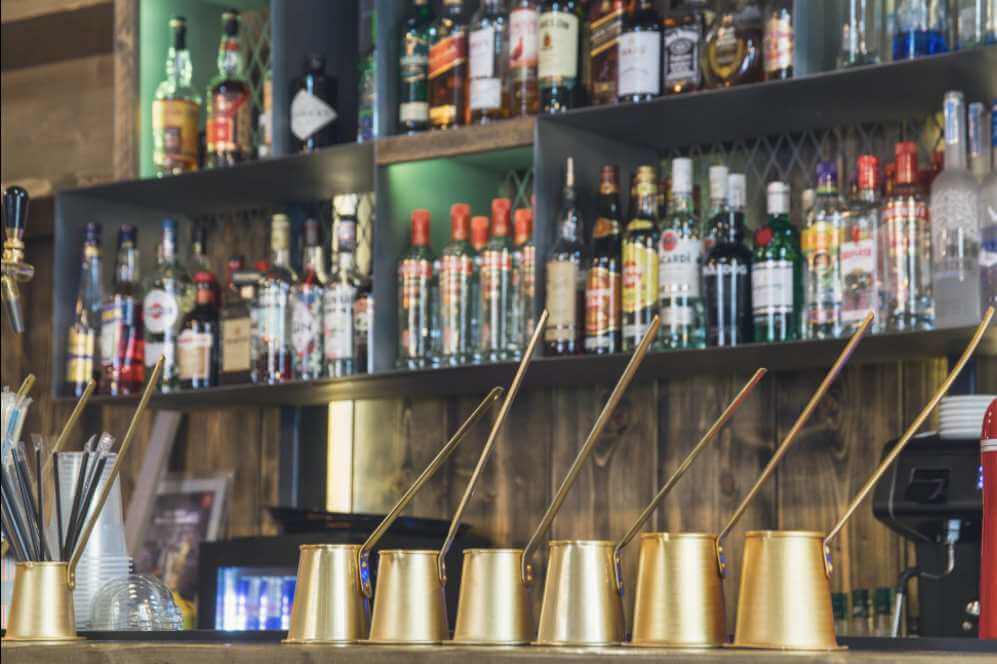 This sweet little coffee place is also in the Old Town not far from the Venetian Harbor. The name Mprikaki means "small briki" (the pot to prepare Greek coffee). So, as you can imagine, Greek coffee is really good in this place.
To Brikaki has an amazing design, featuring stone walls and dark wooden tables. And of course, elegant golden coffee pots in every corner!
Καφενείο ο Τσάκαλος
Location: Chrisopigis 50.
This traditional kafenio is quite tucked away and far from the busy streets of the Old Town. In fact, you won't easily find tourists in this place, just local men.
But don't be shy, if you come here to savor a cup of a traditional Ellinikó you will be served in no time by the friendly owner.
Ababa Bar Gallery
Location: Isodion 12.
A very busy espresso bar that is very popular due to its incredible interior design, excellent coffee, and signature cocktails. Besides, the service is impeccable!
There are bright pictures covering every inch of the walls and the flavorful and aromatic coffee is served in colorful cups. Beware that it gets very crowded, especially in the evening. This place is worth a visit.
Τa Baranakia
Location: Konstantinou Manou 44.
A small family-run kafenio that will steal your heart with its flavored Greek coffee. The owners are very friendly and always treat their guests with some homemade specialties such as sweet pies that perfectly pair with your cup of coffee.
Greek families usually come here to have a good time and to relax. It's not odd to find a whole group of people celebrating on special occasions when tables display a plentiful selection of delicious home-cooked food.
This place is a picture-perfect portrait of the Greek way of life!
London Coffee and Pastries
Location: Kissamou 122.
A stylish café that offers a great variety of coffees and sweets. The elegant décor and overall atmosphere easily combine with the name of the place. There is a lot of space both inside and outside too. I like the open space area!
Go ahead and choose a table somewhere in the corner so you can enjoy your coffee and observe the busy streets.
The very friendly staff will serve you in no time plus the music brings nothing but peaceful moments.
Nymphes Coffee & Desert
Location: Agorastaki 7.
An amazing place with amazing views!
Here you can enjoy a cup of delicious coffee while watching the city of Chania in the distance. You can find that the service is a little bit slow but the place is really busy. Use that time to take plenty of memorable photos on the terrace while waiting for your order.
The coffee is as awesome as the view, and the mouthwatering sweets are worth sampling!
Pro tip: Order one item at a time, the portions are huge.
Apothiki All Day Espresso Bar
Location: Akti Tombazi 3.
Another great place facing the Old Venetian Harbor is Apothiki All Day Espresso Bar, it's also a favorite among locals who love to meet here for hot cappuccinos and cold espressos.
Apohitki also serves rich Cretan breakfasts as well as evening cocktails, and a great selection of ice cream. The soft music in the indoor space makes the atmosphere even more pleasant.
Pallas
Location: Akti Tombazi 15-17.
Probably the trendiest coffee place facing the new Marina. Pallas is housed in an old mansion that used to belong to a Turkish ruler back in the day, just steps from the old Venetian docks.
The place serves great coffee as well as delicious food and wine in the evening.
The views of the Lighthouse are amazing from this corner, so make it even more romantic, and come for your cup of coffee while the sun is going down. You will love it!
Salty Drop House
Location: Kallergon & Sarpidonos
Coffee shop and surf shop together, Salty Drop is in one of my favorite corners of the old town. Go for a unique shopping session of colorful beach clothes and accessories, and then sit back and relax while you sip your glass of cold expresso.
Prices are very reasonable when it comes both to clothing items and their coffee list!
Boheme
Location: Chalidon 26-28.
Another favorite place of mine is Boheme, it's not just a great place for dinner and wine tasting at night, but one of my go-to places for a cup of delicious latte, a freddo, or even a cup of tea.
Your coffee will come with a complimentary portion of homemade cake or baked delicacy that you will be able to enjoy in one of the most delicious gardens in town. Don't miss this place. Seriously, don't!
Feidias Urban Spot
Location: Plateia Eleftherias 2, Dikastiria.
One of the best places in town for coffee, snacks, and great food too! Feidias is located in the area of Dikastiria, where most offices are in Chania.
The place is popular among locals, and although the service can be a bit slow, it has earned fame because of its quality coffee.
Running errands in Chania Court? Then don't miss this place!
Puerto Coffee, Food & Cocktails
Location: Akti Tompazi 13.
A place to go if you're a fan of pancakes! Here you'll find some of the arguably best in town! The place stuns with the port views, the great coffee, and the chill-out music.
Enjoy the whole package sitting on one of their comfy sofas and trust me, you won't want to leave! Looking for a place for a romantic date with tasty cocktails at sunset? Try Puerto's Spritz Veneziano, you'll love it!
Barbarossa Café
Location: Akti Tompazi 12.
One more spectacular waterfront venue for a great coffee with views of Chania's Lighthouse. Popular among locals and visitors alike, this place tends to be full at any time of the day or the evening.
They play loud but cool music and the atmosphere is really cheerful. If you're in the mood for a bite, ask for the Club Sandwich, it's really delicious.
Enasma Cafe
Location: Agias Lake.
I've been to this place just once, but I loved the location, the atmosphere, the coffee, and the complimentary sweets they serve their guests.
Enasma is located in the beautiful setting of Agia Lake, a few minutes by car from the center of town.
It's a great place to stop for a coffee if you're driving on your way to Omalos Plateau or the Botanical Park, or if you're in the mood to discover this off-the-beaten-track area in the region.
Carte Postale
Location: Kalorizikou 2, Profitis Ilias.
My go-to place when I want to stay close to my house in a stylish and pleasant environment. Located right next to Venizelos Graves, on the Prophet Elias Hill, the place offers great coffee choices, cakes, sweets, and a stunning view of Chania Bay and the old harbor from above the hill.
The place opened only a few seasons ago, but it quickly became a place of choice for the citizens when it comes to breathtaking views and even better coffees and cocktails.
Oxo Nou Studio
Location: Agias Kiriakis 29, Tambakaria.
I discovered Oxo Nou by chance last winter, and I simply fell in love with the cozy atmosphere.
Hidden in the area of the old Tanneries, Oxo Nou features amazing windows facing the sea. In winter, you can just sit close to the fireplace and enjoy a comforting cup of hot chocolate.
In summer, instead, grab a table by the sea and enjoy this peaceful off-the-beaten-track spot in town that not many tourists know about.
Debonair Café Bistrot
Location: Nikiforou Foka & Akti Miaouli.
Coffee shop and hookah lounge, Debonair serves coffee, snacks, food, and wine until very late at night on the seaside promenade, in Koum Kapi.
What else could you ask for? Great music, unique views, and amazing coffee. Friendly staff and a chilled atmosphere transform this place into another place that both locals and visitors love in town.
Coffee Island
Location: Plateias 1866 32.
There's no place to sit in the Coffee Island located at Plateias 1866 just around the corner from Chania's Public Bus Station.
However, I've more than often stopped her for a coffee to go before catching a bus, or for a quick sandwich after a long ride back from Heraklion.
Their freddo espresso is amazing. They also sell homemade sweets and pastries, and yummy baguettes stuffed with super fresh ingredients. I just love Coffee Island!
Theatro Chocolaterie
Location: Plateia Chortatson 5.
Right at the corner of the Public Market, Theatro is a coffee house that has always caught my attention because it never fails to be full! Once you visit, you'll taste why! Everything here is about chocolate!
Other than brewing great coffee, there's a great selection of desserts, savory pies, and snacks. Prices can be a bit on the high side, but their crispy waffles with Nutella deserve your visit!
Pro tip: In the mood for chocolate? Order a chocolate fondue!
Woodstock
Location: Akti Papanikoli 1-2.
The place is just lovely not only for coffee. With stunning views of the new Marina, this place also has a good menu for you to enjoy both lunch and dinner.
Service might be a bit on the slow side, but it is a very valid choice for a simple morning coffee or a rich breakfast with a view
Kipos Café
Location: Public Gardens, Chania.
One of Chania's most traditional cafeterias is Kipos Café, a member of the Historical Coffee Road, which is located inside the Public Garden and has been serving coffee since 1870!
A place that belongs to other times, you'll be mesmerized by the collection of old pictures and ancient memorabilia that decorate the elegant coffee place.
One of the few remaining traditional places in the city that you cannot miss if you visit Chania's Public Garden.
Το Kafekouti
Location: 12 Akti Miaouli, Koum Kapi.
This is a popular café and cocktail bar located in another area that locals simply love and that tourists don't really visit, the waterfront of Koum Kapi Beach.
There are many different coffee shops you can visit here, one right next to the other, and they're all really good, but this is a special place that I adore and where I love to spend the afternoon enjoying a good frappé or even a bottle of beer.
The atmosphere is calm and the environment is full of cute details that make it really a unique place to visit, the staff really friendly so it won't take you long to also fall in love with this coffee bar in town.
So… have you decided where you'll be sipping your next cup of coffee when in Chania?
Have you been to any of these coffee shops in Chania?
Read more about Chania
🛌 Suggested Accommodation in Chania
🗺️ More resources to book your trip to Crete
Pin This Super Guide to the Best Coffee Shops in Chania for Your Next Trip to Crete!
---
You might also want to read these posts about Crete's regions:
---
About my blog: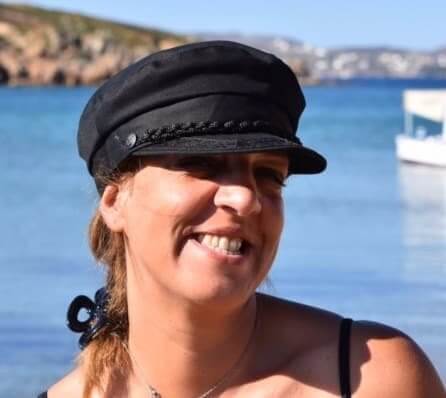 I moved to Crete in 2016. During these years, I learned much about the island.
In Crete, I juggle being a solo mom, hosting culinary tours, and writing for several travel blogs.
I've written for Greek Reporter, published travel guides about Greece, and had more glasses of frappe than any regular person could ever handle.